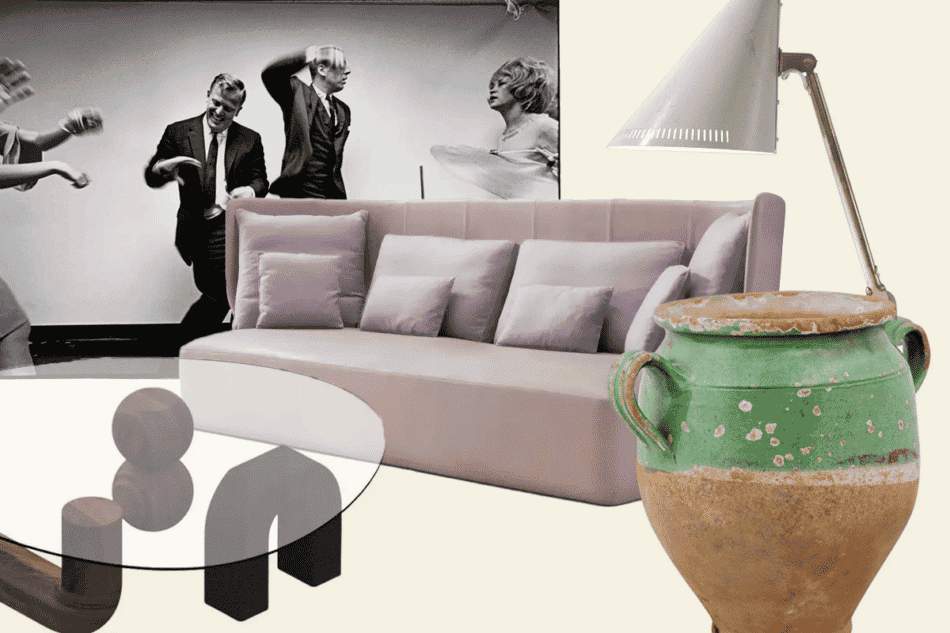 From now until Memorial Day, you can save on all things art, furniture and design. We've rounded up some of our favorite items below.
---
Peter Zumthor Bauhaus Chaise Longue
Seen around the thermal baths in Vals, Switzerland, this curvaceous chair of bent mahogany and chromed tubular metal was designed by Pritzker Prize–winning architect Peter Zumthor and made by Dietiker, the third-oldest chair manufacturer in Europe.
---
19th-Century Confit Pot with Two Handles
Formerly used in the South of France for duck or goose confit, this ceramic pot from Jacqueline Adams Antiques would make a one-of-a-kind addition to an indoor or outdoor garden.
---
Office Party, by Leonard Freed
Mad Men enthusiasts (and those tired of working from home) will appreciate this high-energy photo of a New York City company shindig by Leonard Freed. The American lensman was known for his visual storytelling of life in the 1960s, including the civil rights movement.
---
Rosedal Coffee Table
This coffee table is by Mexico City interior and furniture design studio Comité de Proyectos, whose pieces are handmade by local craftsmen. The bases, crafted from volcanic stone and wood, are sold with or without the glass cover and can be arranged to fit tabletops of different shapes and sizes.
---
Paavo Tynell Desk/Table Lamp
For those who favor a mid-century modern aesthetic, this brass and perforated painted-metal lamp from famed Finnish lighting designer Paavo Tynell makes an excellent addition to a home office. The versatile pieces feels just as sleek and functional today as it did when it was produced.
---
Jean-Michel Basquiat Throw Blanket
Based on the work of Jean-Michel Basquiat, this cozy Peruvian alpaca throw is approved by the famed artist's estate. The creative take on a functional piece is especially attractive now, with Basquiat seeing a resurgence in interest.
---
Stefano Bigi Wazaa Sofa
Cheekily named for the slang shortening of "What's up?," this sofa from Amura strikes just the right balance between comfortable and eye-catching. Its rounded back makes it the perfect piece on which to catch up with friends and family.
---
Red, by Kobi Raz
Israeli contemporary artist Kobi Raz foregrounds primary colors in this oil on canvas. Pair the painting with an otherwise neutral scheme to add a pop of pattern, or embrace maximalism by hanging it in a color-and-texture-filled space.
---
Warren Platner Dining Table and Chairs
Warren Platner's designs are bona fide iconic, so outfitting a dining room with his marble-topped table and set of armchairs in their original maroon fabric is a collector's dream.
---
Piero Fornasetti Chair
This hand-painted Piero Fornasetti piece, with its heart-shaped back, resembles an ornate guitar. The epitome of artistic design, it gives a whole new meaning to "musical chairs."