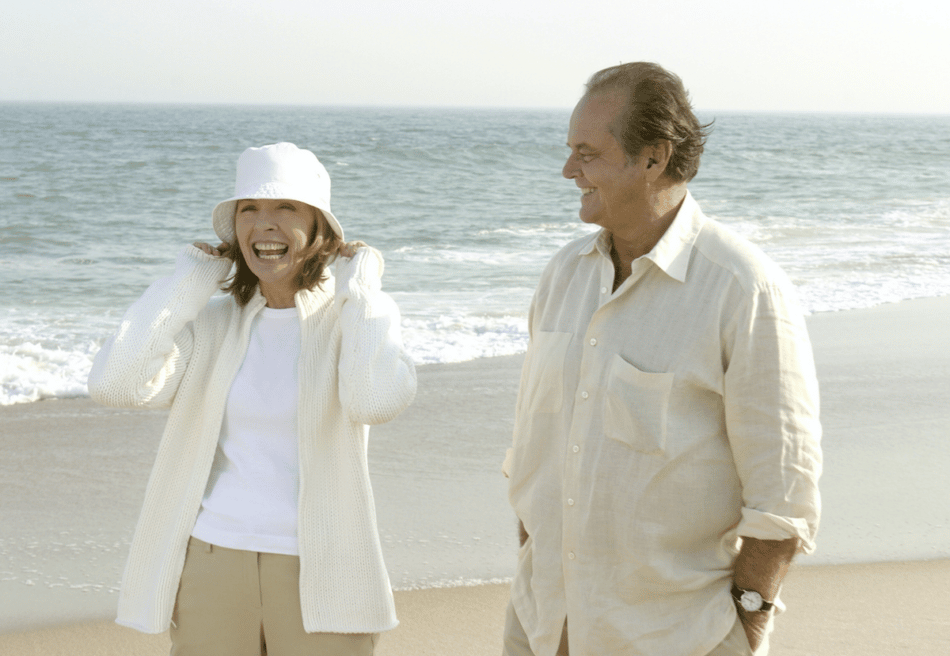 Lately, social media seems awash in all things #coastalgrandmother. A quick scroll through Instagram posts with this hashtag reveals a clear sartorial vision — one characterized by soothing neutrals and a classic (though not preppy) aesthetic. But coastal grandmother style is about more than bucket hats and button-downs. Let's dive in.
---
What Is Coastal Grandmother Style?
Relaxed yet refined, timeless yet fresh, the coastal grandmother aesthetic is, at its heart, about elegant simplicity, with clean lines, soft colors and light, airy fabrics. It embraces mature sophistication but is not limited to well-heeled ladies of a certain age.
The term "coastal grandmother" was coined this spring by TikToker Lex Nicoleta, who flashed through scenes of beach walks and bright, well-appointed kitchens, inviting anyone who "loves Nancy Meyers movies, coastal vibes, recipes and cooking, Ina Garten, cozy interiors and more" to join her in adopting the style.
But although Nicoleta gave it a name, the look had been quietly taking shape for years along the East Coast. It crosses generations, celebrating the legacy of icons like Diane Keaton while igniting the imaginations of millennial and Gen Z social media influencers.
---
Key Materials
Coastal grandmother style is about tactile as much as visual experience — it should feel as elegant and sumptuous as it looks. Here are some essential coastal grandmother textiles:
Linen: This breathable, lightweight fabric elevates your look while keeping you cool and comfortable in warm, sunny weather.
Cotton: Favored for garb from structured button-downs to flowy maxi dresses, cotton is another soft, breathable fabric that embodies seaside ease.
Straw: In accessories like wide-brimmed hats and roomy totes, straw adds a pleasing textural element.
Cashmere: Cooler weather calls for light, luscious cashmere — think cozy cardigans for beach strolls as the fall chill sets in.
---
Coastal Palettes
Coastal grandmother style is inspired by littoral living, hence the name. So, the palette comprises neutrals like cream, beige and white, along with soft blues, sage greens and earth tones. Accent colors tend to be ones found in nature — muted rather than bright, avoiding dark or jewel shades.
This mix of neutrals and soft hues make it easy to mix and match items for a versatile, multipurpose wardrobe. The style, after all, is about ease and comfort — getting dressed shouldn't be a source of anxiety.
---
Coastal Grandmother Wardrobe Staples
Vintage design lends itself perfectly to coastal grandmother style. Items like bucket hats, button-downs, wide-legged pants and soft cardigans form the foundation of the look, which can be individualized with creative details like embroidered accents and accessories like wicker handbags. When it comes to footwear, espadrilles add a seashore vibe to any ensemble.
---
The Coastal Grandmother Silhouette
When in doubt, keep it simple. Coastal grandmother style embraces the minimal and unembellished. When details are present, they're understated — vintage pearl buttons, a simple ribbon around a straw sunhat or a lace hem on a white sundress.
The silhouette is generally open and flowing, but it allows for a belted trouser or gathered cuffs on a long-sleeved blouse. Accessorize with plain jewelry, like a pair of stud earrings or a few basic bangles.
---
Celebrity Fans of Coastal Grandmother Style
Coastal grandmother style has taken TikTok by storm, but social media trendsetters aren't the only ones embracing it. Celebrities have given the look their own unique chic spins.
Diane Keaton starred in Something's Gotta Give, a film that was a major inspiration for coastal grandmother style. Now in her 70s, she exemplifies a graceful balance in her dress among simple timeless and modern. Her coastal grandmother style is classic yet fresh, expressed in clean, minimal pieces in neutral tones, like khaki trousers and a white bucket hat.
Oscar winner Anne Hathaway declared in an Instagram post that this is a trend she's been waiting for since "before TikTok was born," adding, "May this moment never end." Her take on the look is a simple, white button-down tucked into cream-colored cropped pants, topped off with large black sunglasses and a straw hat.
Proving that this is an aesthetic for every age group, sisters Dakota and Elle Fanning were photographed in coastal-grandmother-esque ensembles, with Dakota in an oversize button-down and Elle wearing loose trousers and carrying a straw tote.
---
Coastal Grandmother-Inspired Home Decor
In Nancy Meyers's films, it's not just the characters that radiate coastal grandmother vibes. Her sets do as well, with their dreamy white kitchens and inviting living rooms and overall air of luxurious relaxation. The spaces feel lived in and layered, full of pieces that their occupants have loved and collected over many years.
Bring coastal grandmother style into your home with pieces in some of the same materials you would incorporate into your wardrobe: cozy cashmere throws, rattan chairs and textiles in neutral shades with pops of soft blue and green. Accessorize with touches like a tidy vase filled with fresh blossoms, a striped area rug or a set of gilt-framed botanical drawings.
---
Coastal Grandmother Style Is for Everyone
Effortless, breezy and refined, the coastal grandmother aesthetic blends the aspirational with the down-to-earth, and you don't need a house in the Hamptons to embrace it. Though often termed a trend, coastal grandmother feels more like a lifestyle, defined by laid-back, easy dressing and airy, casual home decor. In other words, coastal grandmother is anti-trend. It's about throwing on your cardigan and staying in your carefree beach vacation mindset all year long.