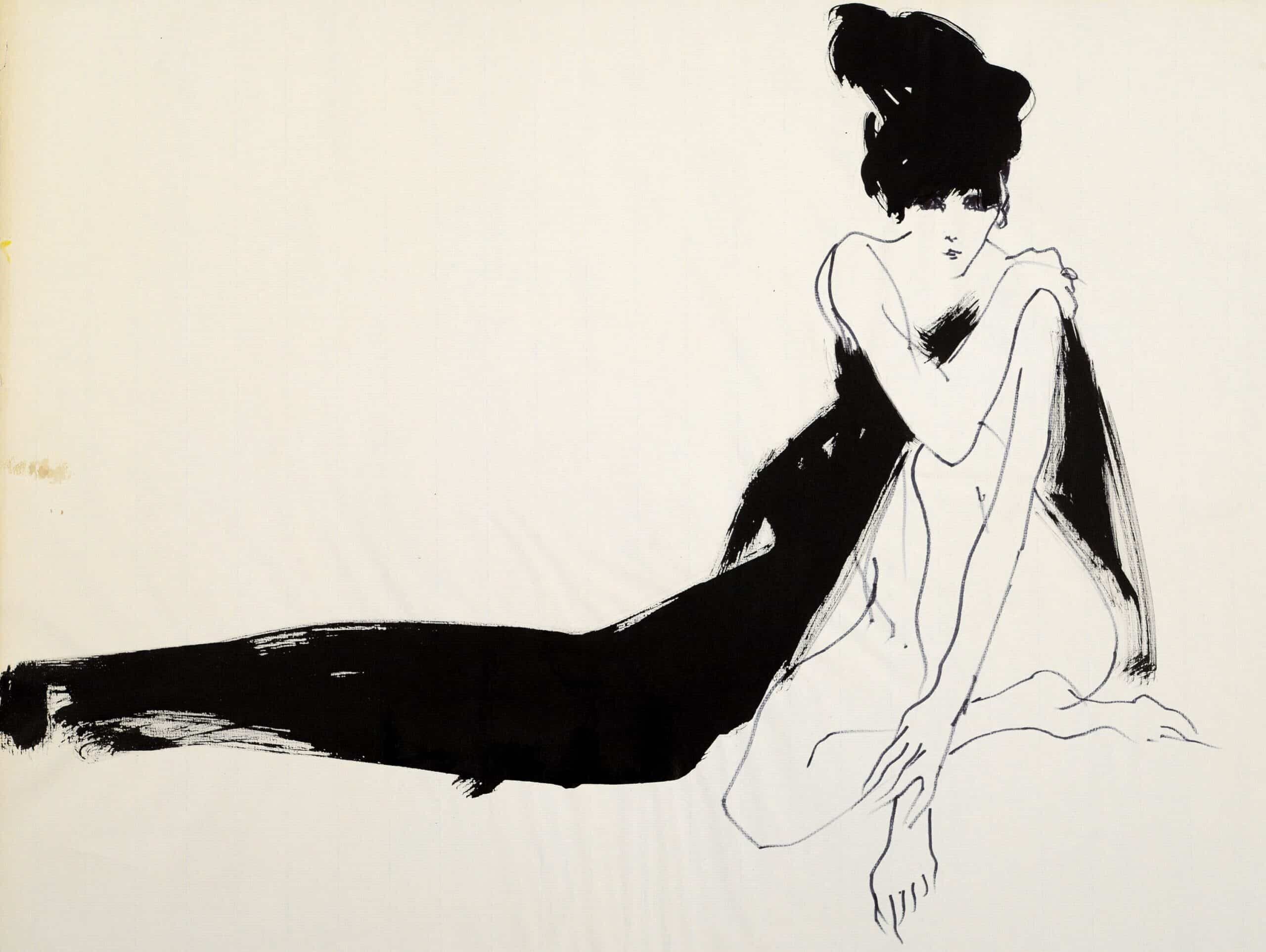 "The eye has to travel." Legendary editor Diana Vreeland's decree lives on in the assured lines of fashion illustrators Kenneth Paul Block, Bil Donovan and Jason Brooks, whose work is the subject of an exhibition on view September 5th through 10th at Cheryl Hazan Gallery in Lower Manhattan. Timed to coincide with New York Fashion Week, the show marks the stateside debut of London gallery Gray M.C.A.'s ongoing "Drawing on Style" series.
"Illustration was enormously important in the 20th century as a way of communicating fashion," says Connie Gray, who organized the exhibition. "And then it went to sleep. It became no longer fashionable in itself, and photography completely and utterly took over."
Bolstered by digital tools and social-media platforms, a contemporary comeback is afoot. "Now, your eye is really drawn to fashion illustration because it's different. It's interpretative," she adds. "And as a result, people are looking backwards and beginning to recognize what I call the 'masters' of the form."
Chief among them is Block (1924–2009), whose elegant sketches enlivened the pages of Women's Wear Daily and W magazine for almost 40 years. "More than any single designer, he gave New York fashion its sophistication," Isaac Mizrahi has said of the artist. Block's pioneering work is joined in the show by that of two contemporary illustrators: New York–based Donovan and London-based Brooks. "They are absolutely at the top of their field," says Gray. "Yet each has a unique language."
Right before "Drawing on Style" set sail for New York (aboard the cruise ship RMS Queen Mary 2, in partnership with Clarendon Fine Art), Gray offered a preview of the approximately 60 works in the exhibition.
---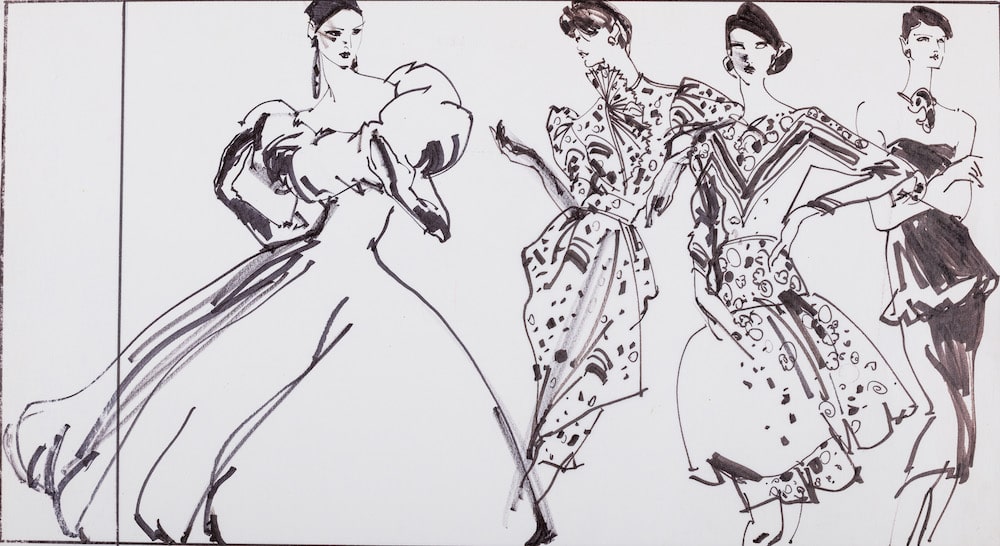 Kenneth Paul Block, Evening wear for W Magazine

In his role as chief features artist for WWD, Block regularly covered the Paris runway shows — occasionally without leaving his Manhattan office. "So sophisticated was his talent that when unable to attend, he would produce dynamic and accurate drawings from the descriptions telephoned through to him," Gray says.
---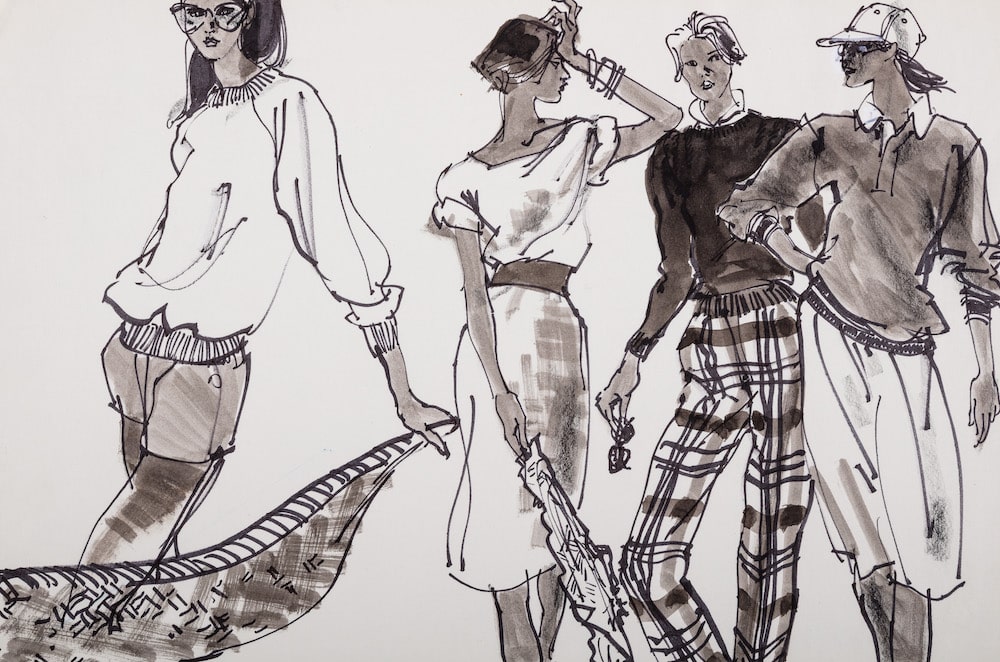 Kenneth Paul Block, Summer sportswear for W magazine, 1981
"Gesture to me is everything in fashion," Block has said. "It is in the way we stand, sit, walk and lie. It is in the bone." To Gray, Block was the ultimate 20th-century fashion influencer. "You can see the change in the looks as they come through the decades, through Block's felt-tip pen," she says. "In the '70s and '80s, he predominantly used felt-tips, which is not considered to be a 'fine art' instrument, but it suited him perfectly because he worked incredibly fast. He could execute a sketch in a matter of minutes, with so much energy."
---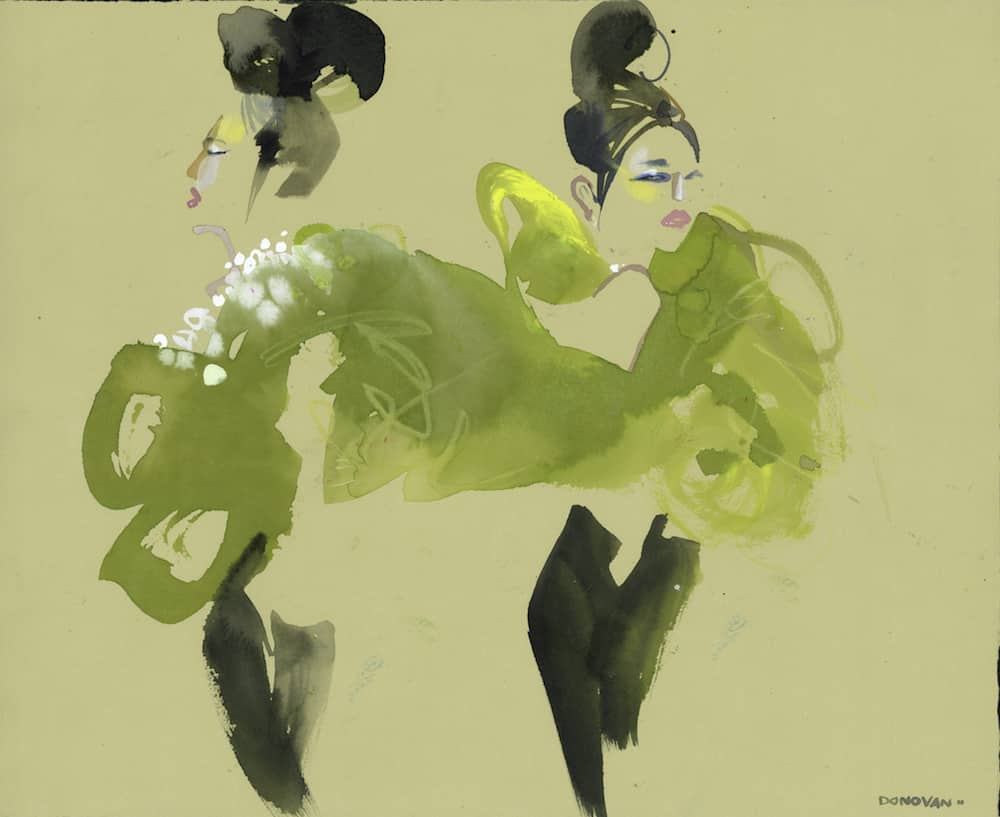 Bil Donovan, Society of Illustrators sketch, 2014

Donovan credits a childhood viewing of Sabrina, starring Audrey Hepburn, with an early career epiphany. "In one scene Hepburn floats across a ballroom in a Givenchy gown — it was a vision I wanted to last forever," he has said. "So I began to draw figures in fashion, to emulate or recapture that ethereal moment." During the exhibition, Donovan will be on hand for a "live illustration demonstration." A similar event he hosted at New York's Society of Illustrators (on whose board he serves) yielded this Hepburn-esque sketch.
---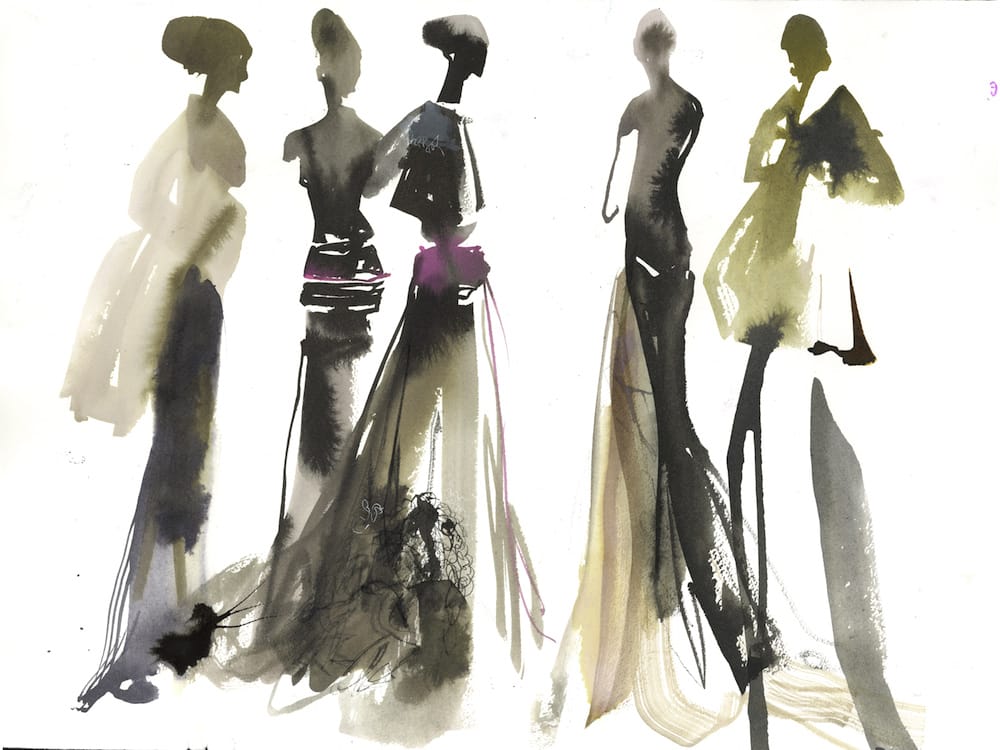 Bil Donovan, Ralph Rucci couture spring 2015

"His work captures the essence of proportion and gesture, and it's entirely spontaneous," Gray says of Donovan, who has often sketched the creations of designer Ralph Rucci (a fellow Philadelphia native and graduate of the Fashion Institute of Technology). "But he transforms his images. Even though he's rooted in tradition, he uses his brush in an entirely contemporary style that transports the viewer into the world of elegance and style and harmony."
---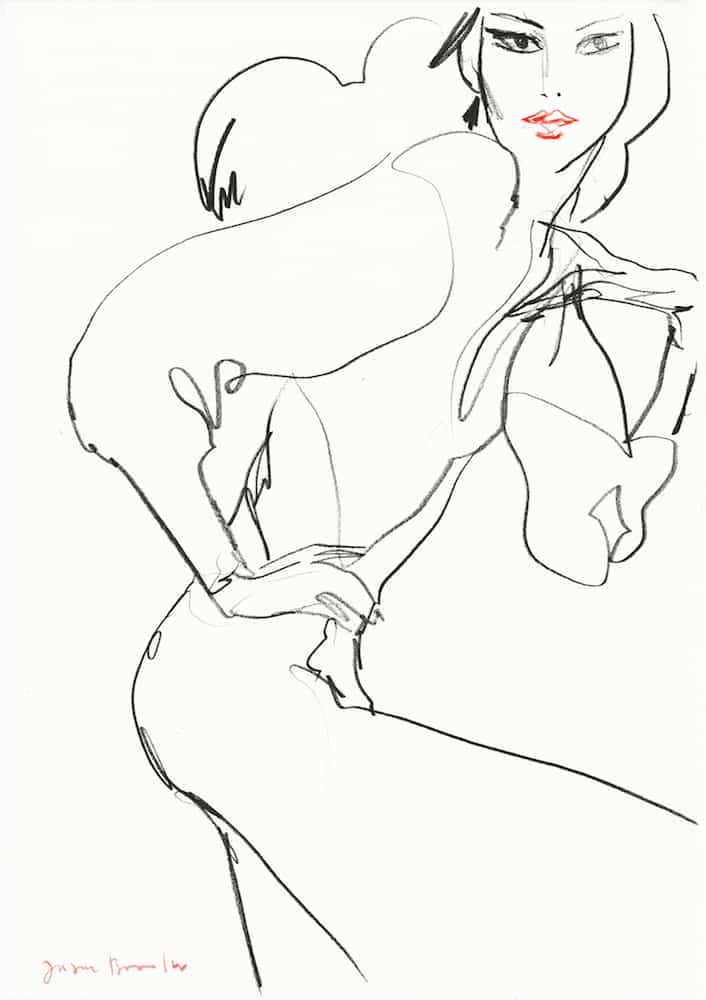 Jason Brooks, Fendi

"His key style is silhouette," Gray says of Brooks, a graduate of Central Saint Martins and the Royal College of Art in the United Kingdom. "He works with really bold lines that jump out of the page. His strength lies in the communication of a look that sends an instant message." Italian fashion house Fendi is among Brooks's personal favorites: "Their collections are consistently perfect material for my style," he has said.
---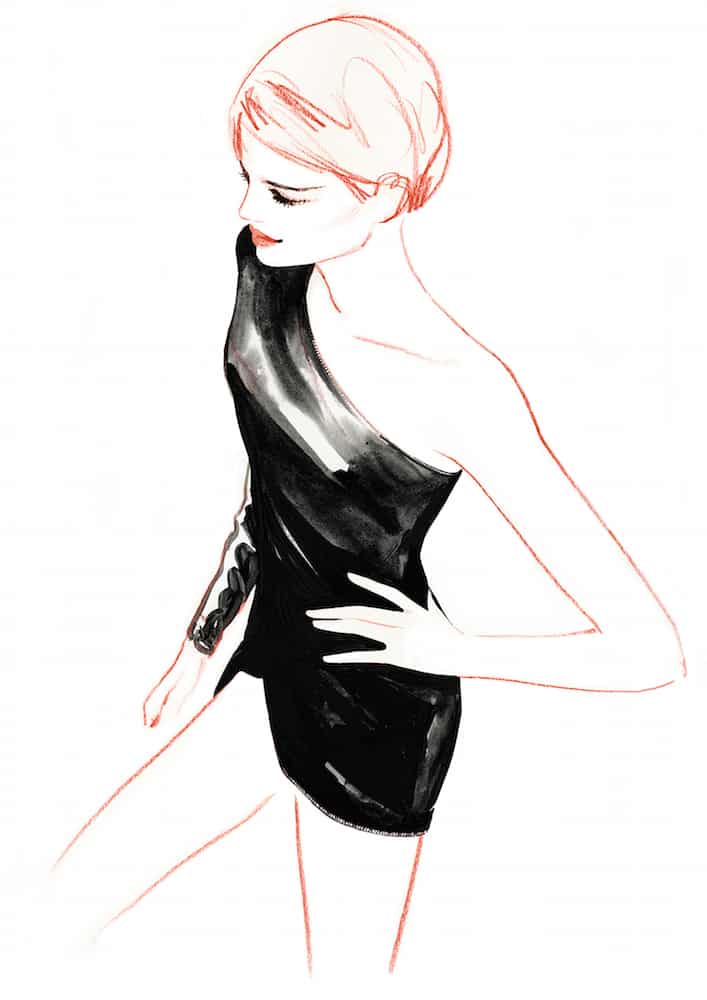 Jason Brooks, Saint Laurent perspective, 2017

Brooks often scans his drawings and paintings and digitally manipulates them in Photoshop. His subjects are composites of people he knows or sees. "During the '90s, I began to draw a certain facial type with almond-shaped, catlike eyes, full lips and a strong bone structure that didn't necessarily belong to a particular nationality but somehow combined European, African and Asian features," Brooks explains. "Combinations of nationalities are often among the most interesting and beautiful people, and I think that global-looking style is what makes 'the Jason Brooks woman' distinctive."