"While a walk-in closet implies a generous storage space, a dressing room is where one would actually dress, be able to display clothing and accessories and even spend some time," says San Francisco interior designer Suzanne Tucker. She should know, having created quite a few of these glamorous spaces in clients' homes with her firm, Tucker & Marks.
But for Tucker, what truly makes the dressing room fabulous is simply how it is a world unto itself, where organization and opulence converge and equally reign. "A truly well-appointed dressing room is a beautifully designed space where everything has its place in a luxuriously functional cocoon," she says.
Not to mention, the decadent dressing room has also long held appeal on the big screen, including in the 1974 version of The Great Gatsby as well as Sex and the City, Tucker points out. "Those were classic dressing rooms!"
The Study chatted with Tucker to get her best advice for creating a dressing room that's both comfortable and impossibly chic.
---
Start with Luxe Upholstery
"If one has the luxury of space to have a chair or chaise in addition to having a packing area, go for the sumptuousness of a silk velvet or plush chenille," advises Tucker, citing an upholstered bench or chair among the furnishings every elegant dressing room needs.
"If seating has to double as a packing area, then I always use a darker, more-durable fabric or even a great leather — something that can take the wear and tear of luggage," the designer says. A sumptuous tufted chaise longue in cream silk velvet takes center stage in this dressing room for a 6,000-square-foot San Francisco apartment that Tucker outfitted with traditional decor.
Photo by Matthew Millman
---
Plan a Place for Everything
When it comes to creating a dressing room, let function lead the way. Tucker says that "laying out every inch is paramount to a well-functioning space." That translates to having adequate storage, including "rods placed at varying heights to accommodate clothing, pullout and stationary shelving, plenty of drawers both shallow and deep, storage for bags, shoes, jewelry and accessories," she notes.
What are Tucker's fundamental rules? "Two-feet deep for clothing; 12-inches deep for shoes." This sophisticated men's dressing room is outfitted with bleached white oak cabinetry and floors inlaid with a herringbone pattern inside the same 6,000-square-foot San Francisco home.
Photo by Pieter Estersohn
---
Create a Soft Landing
"I would always opt for something soft and luxurious underfoot," says Tucker, noting that any gorgeously textured rug or carpeting is fair game as long as it suits your style.
"I've done everything from safe and neutral wool to a custom-woven silk tiger pattern," she says. "That was the 'cat's meow' for sure!" In a Pacific Heights townhouse, Tucker brought in a botanical Gracie wallpaper that complements the quiet palette of the dressing room.
Photo by Edward Addeo
---
Add Ample Lighting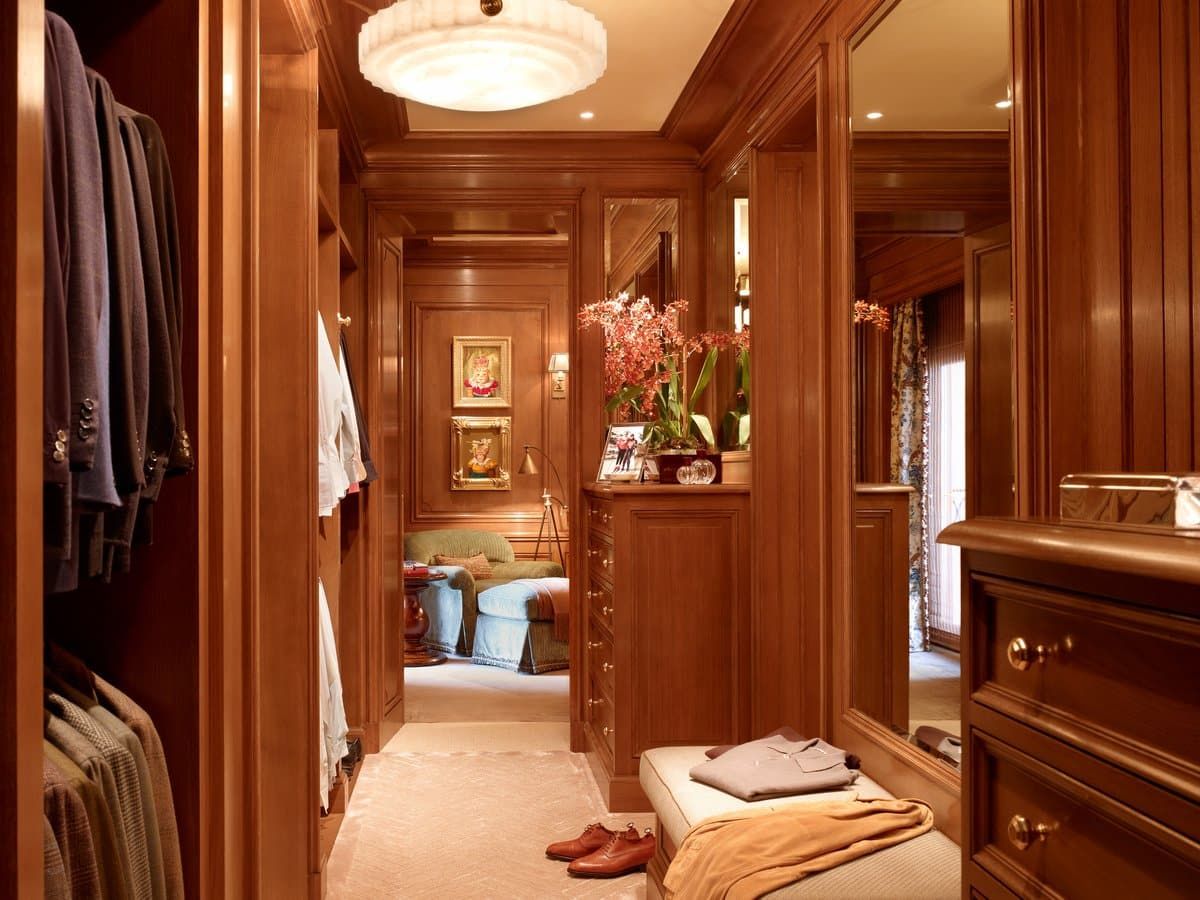 "Lighting is particularly important, both inside and outside the cabinetry, at various height levels throughout the room," says Tucker, whether it's pendants or a chandelier overhead, under-cabinet and shelf lights, or multiple sconces and table lamps. "Just like any room in the house, plan for flexibility with maximum lighting from several sources," she says.
Tucker also suggests setting lights on a dimmer, which will allow you to adjust the brightness (and mood) as needed. "The worst is to have shadows in a dressing room where you can't see your clothes well or whether the socks are blue or black." For this wood-paneled men's dressing room in a San Francisco apartment, Tucker spread around various light sources for a well-lit and perfectly refined atmosphere.
Photo by Matthew Millman