Jewelry expresses the personality of both the designer and the collector. Truth be told, a diamond solitaire is not for everyone. Here, we highlight four jewelry designers with decidedly edgy appeal.
---
Betony Vernon
The paradigm shift took place over lunch in Florence, Italy, circa 1992. Betony Vernon, a striking flame-haired jewelry designer, was showing off her most recent creation: the 18-karat-gold O-ring, designed with a nod to a bondage collar, with a smaller ring affixed to its front. Playfully, her partner put his pinky through the smaller ring as she donned the larger one. Then, the unexpected happened. "There was an electric impulse running through this piece," she recalls. "We both felt it." The feeling changed her life. "That was the moment I knew that jewelry can provide sensation and reinforce an intimate bond."
Enabling others to experience electric moments like that — to "bring luxury, fantasy and sensual possibilities to the fine-jewelry world" — has been her aim ever since. "Sex and luxury were never associated," Vernon noticed, and she set out to change that. The result was her 1992 Sado-Chic collection, which became the Paradise Found collection.
Vernon grew up in Virginia and studied art history, religion and goldsmithing at Virginia Commonwealth University. Following her graduation in 1990, she moved to Florence, later earning a master's in industrial design from the Domus Academy in Milan. Europe has been home ever since.
Her designs are provocative, sexy. But if you look no further than that, you're missing a much bigger (and more interesting) point. Vernon's jewelry represents a vital part of what she sees as her life's mission. "Pleasure," she explains, "has been associated with sin, wrongness and naughtiness, not with joy, happiness and bonding." Vernon has set out to demolish that "pleasure taboo."
So, how is pleasure reflected in the design of her jewelry (and remember, we are talking sensuality not sexuality)? Early in the design process, Vernon asks, "How many senses can I turn on?" Every detail relates to a sensual experience. That crisp snap a clasp makes when opening or closing? A pleasure to the ear. The softness and spring of noble metals, silver and gold? A pleasure to the touch. And always, she believes, jewelry embodies memory, legacy. A pleasure for the soul.
---
Bond Hardware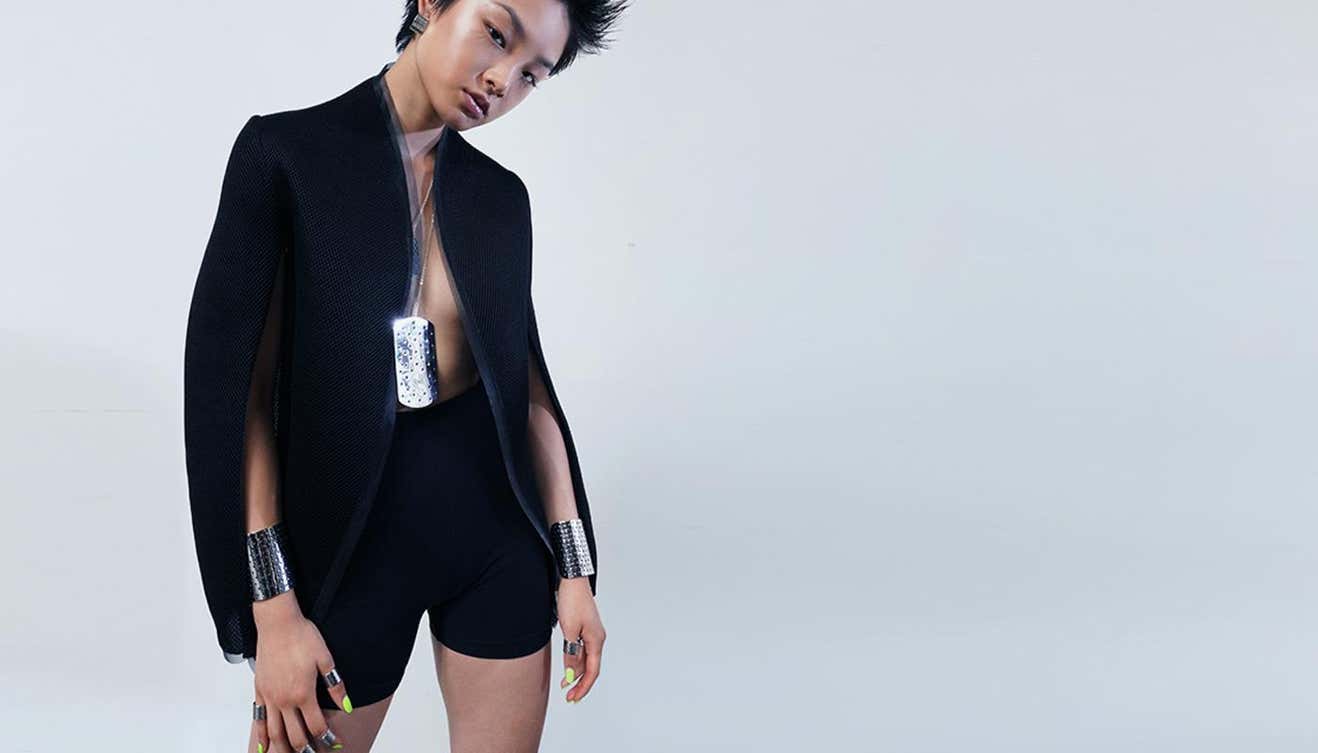 Strength. Sustainability. Creativity. Innovation. These big-picture ideas are everyday concerns for Dana Hurwitz and Mariah Pershadsingh, partners since 2017 in Bond Hardware. "Our customers are united by a psychographic, not a demographic," says Hurwitz. "It could be somebody with a bold political or aesthetic point of view — definitely somebody who understands the creative potential of sartorial expression."
Of course, those words also perfectly describe Hurwitz and Pershadsingh. Hurwitz launched the brand in 2012, when she was an art student at New York's Pratt Institute and "bopping around hardware stores" to create edgy designs for her club-kid friends. Although the materials and execution have become much more sophisticated, the design inspiration remains the same.
"Dana will take something that hasn't previously been wearable and make it wearable," says Pershadsingh, pointing to pieces like a ring modeled on coupling hardware or a hammer ring in gold-coated steel. "I think that with a lot of these recognizable motifs comes nostalgia."
Sustainability guides every decision. Recent innovations have made this easier. For example, the partners use surgical stainless steel that's resistant to corrosion as well as hypoallergenic 935 Argentium silver, which doesn't include nickel and so won't oxidize. Using metals that are resistant to corrosion and tarnish, Hurwitz explains, not only circumvents the need for toxic chemical baths (and the subsequent dumping of the chemicals used) but also increases the "longevity of the pieces, because they maintain their original luster."
Bond Hardware was accepted in March 2020 into the Council of Fashion Designers' Elaine Gold Launch Pad program, a residency offering design and business mentorship, as well as funding "to support idea activation." Unfortunately, the day Hurwitz and Mariah Pershadsingh learned they had been accepted — with the program's highest monetary award — was the day New York City shut down due to the coronavirus. Nonetheless, the city continues to inform their work. "New York has such grunge and glamour to it, right on top of each other," says Hurwitz. "That feeling imbues everything that we do. Our work is not for the faint of heart."
---
Angie Marei
Angie Marei describes the scenario that inspires her continued creativity: "I'm on the train wearing my Damian ring," she says, referring to a particularly attention-grabbing design, with two sharp horns. "People are intrigued, but they're also kind of scared. Sometimes, they say, 'What the hell is that? Like, it looks like a weapon — but it's also really beautiful.' I love that reaction."
Indeed, that reaction motivates much of her work, which she defines as "luxe-noir." In designing for her eponymous brand, which launched in 2013, she deploys symbols of power, spirituality and sexuality, drawing from the ancient world. "My father was really proud about his Egyptian heritage," she explains. "That definitely had a huge impact on me — I grew up learning about ancient Egyptian archaeology and traveled to Egypt as well."
Marei had a multicultural upbringing in Queens, New York, with a Dominican mother in addition to her Egyptian father. While jewelry was important to both sides of her family — it was "a traditional form of savings," she explains, in which "you wore your mortgage around your neck" — designing it wasn't originally in her plans. She earned a degree in communications design from Pratt Institute and went on to become a creative director in advertising for such luxury brands as Gucci, Yves Saint Laurent and Tom Ford.
Marei began taking weekend courses in jewelry design as a creative outlet. What began as amusement evolved into passion. When she was laid off during the financial crisis of 2008, she spent the next two years studying full-time with a master jeweler. "This is your calling," he told her. Marei didn't disagree.
Her goal is to create pieces that people will wear, "like a talisman," she says, "something that will carry powerful healing or empowering energy." And will continue to do so for generations. "With jewelry," Marei explains, "you keep it forever. That is a legacy that really draws me."
---
Eva Fehren
Eva Zuckerman doesn't need a verdant field or beachside abode to spark ideas. "A lot of designers are inspired by nature," says the founder of Eva Fehren fine jewelry, "but first and foremost, I am a born-and-raised New Yorker. I've always been attracted to the aesthetics of New York City — to things as simple as scaffolding, architectural details and cracks in the sidewalk. It's my landscape."
And like a true New Yorker, Zuckerman entered the world of fine jewelry with the intention of shaking things up a bit. When she launched Eva Fehren, in 2011, "there wasn't a ton of fashion fine jewelry in the market," she notes. "I thought there was something interesting about being a bit irreverent in that space." It was a chance to create the kind of work she didn't see a lot of — a "tougher, more minimal aesthetic."
Zuckerman studied painting at the Cooper Union, in Manhattan's East Village, and after graduation, she used her portfolio to interview for jewelry-design work. "When I started making jewelry, something really clicked for me," she says. "I just soaked everything up like a sponge."
After a few years working for others, she was ready to express her own creative vision and launch her own company. ("Fehren" is a play on Zuckerman's mother's last name "Fehrenbacher," which is also the designer's middle name.) It proved to be in tune with the zeitgeist: Her original X-Ring was a design home run. Delicate but not fragile, it evoked the crisscross pattern she saw everywhere in New York, from water towers to the Williamsburg Bridge. It has since been copied extensively. At first, she worried, "What if I don't come up with anything else?" A decade later, that has clearly not been a problem.
For this committed city dweller, even the worst of times had a touch of urban idyll. During the pandemic lockdown, she recalls, "my husband and I would walk the empty streets. I got wrapped up in how beautiful my city is and nostalgic for its energy and spirit. I fell in love with New York all over again." Will this fresh enchantment inspire new designs? Time will tell.