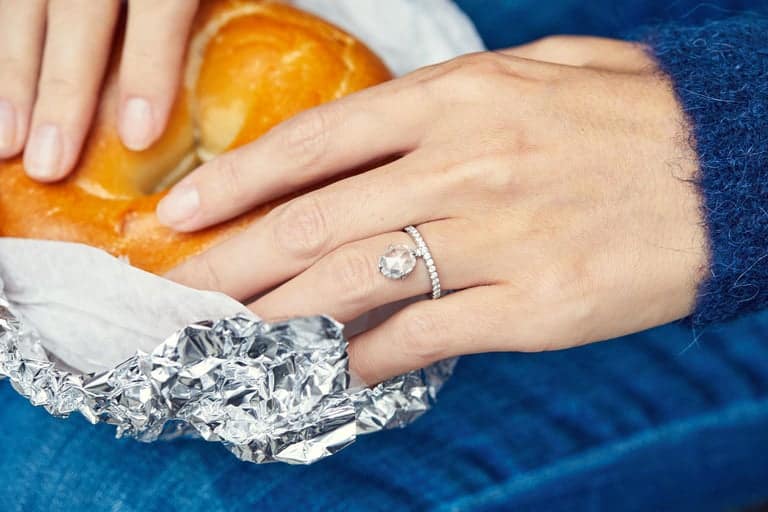 So, you've decided to take your relationship to the next level, and you're looking for the perfect engagement ring. Before considering diamond quality — as measured by color, cut, clarity and carat weight, the so-called 4 Cs — you should think about what type of design you want.
That may sound like fun (and it is), but the number and variety of options available can be overwhelming. A search for "engagement ring" on 1stdibs turns up more than 14,000 results. Reviewing all of them would take more time than even the most devoted jewelry lover wants to spend.
To help you narrow your quest, we have identified five fashionable styles. They all go beyond the classics, which focus on the center stone — a solitaire prong-set oval-cut diamond, for instance, or an emerald-cut gem like the one in the jewel A-Rod presented to J. Lo. Incorporating an assortment of bells and whistles, the designs in our selection includes recent looks worn by high-profile brides-to-be along with time-tested ones.
---
Cluster Engagement Rings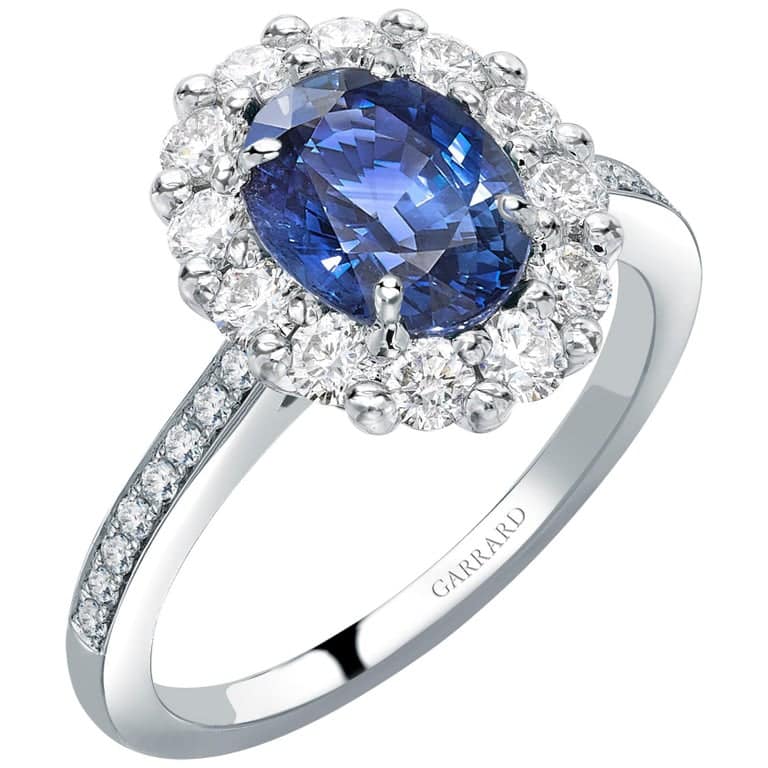 A cluster design is a great choice for a future bride who wants romance with a strong dose of color. These rings, which date back to at least the 19th century, generally center on a ruby or sapphire surrounded by round diamonds in a doily pattern. The style has been experiencing a revival since 2011, when Kate Middleton began wearing Princess Diana's sapphire and diamond ring, made by Garrard in the 1980s.
In 2018, it got another royal boost after Jack Brooksbank presented Princess Eugenie with a Padparadscha sapphire–set cluster ring similar to the ruby-and-diamond one her father, Prince Andrew, gave her mother, Sarah Ferguson. That same year, Lady Gaga flaunted a stunning pink sapphire and diamond example during her brief engagement to talent agent Christian Carino. Whether you prefer vintage jewelry or contemporary pieces, you'll find plenty of clusters to choose from.
---
Halo Engagement Rings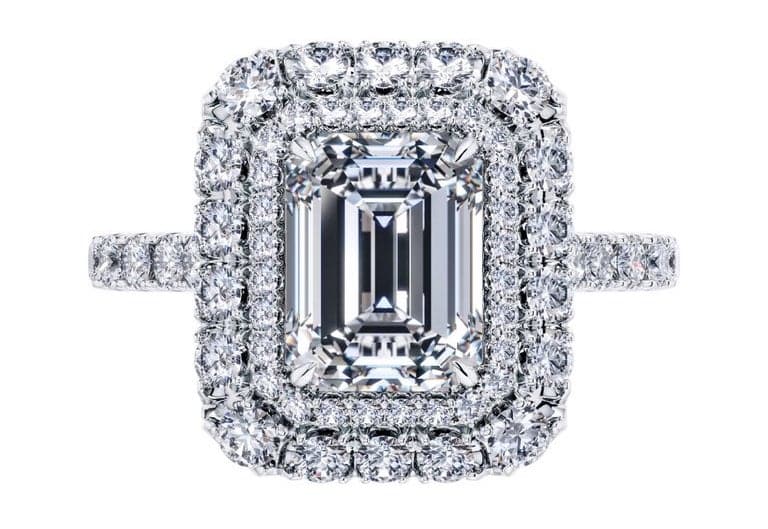 Halo rings take their name from the band of small pavé diamonds surrounding the center stone, forming a subtler frame for the stone than the one provided by the flamboyant round stones in a cluster. The design emerged on the engagement scene in the minimalist 1990s, initially with a round stone at its center but soon encompassing all diamond shapes, including emerald cuts and ovals.
A chic variation on traditional prong-set styles, these elegant rings — which can also sport two bands of diamonds in a version called a double halo — have been favored by several celebrity fiancées, including Amy Adams and Natalie Portman. One big bonus of the halo: It makes the center stone appear larger than its actual carat size.
---
Toi et Moi Engagement Rings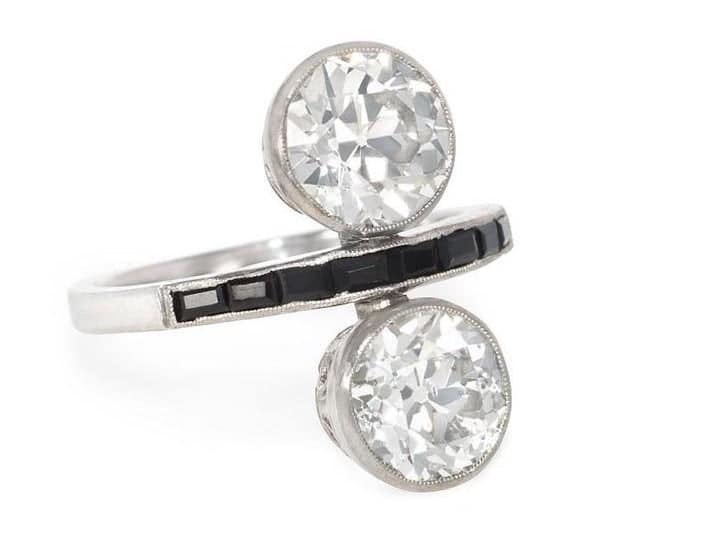 Napoléon and Joséphine were the first famous couple to popularize the toi et moi design. In 1796, the future emperor of France offered his true love a gold ring adorned with a pear-shape diamond and a sapphire of equal size set side by side.
The design is always referred to as toi et moi rather than the English equivalent, you and me. French is the language of jewelry, but also, of course, the language of romance. And nothing is more romantic than an antique toi et moi ring in which a lyrical design element surrounds or connects the twinned gems.
---
Eternity Band Engagement Rings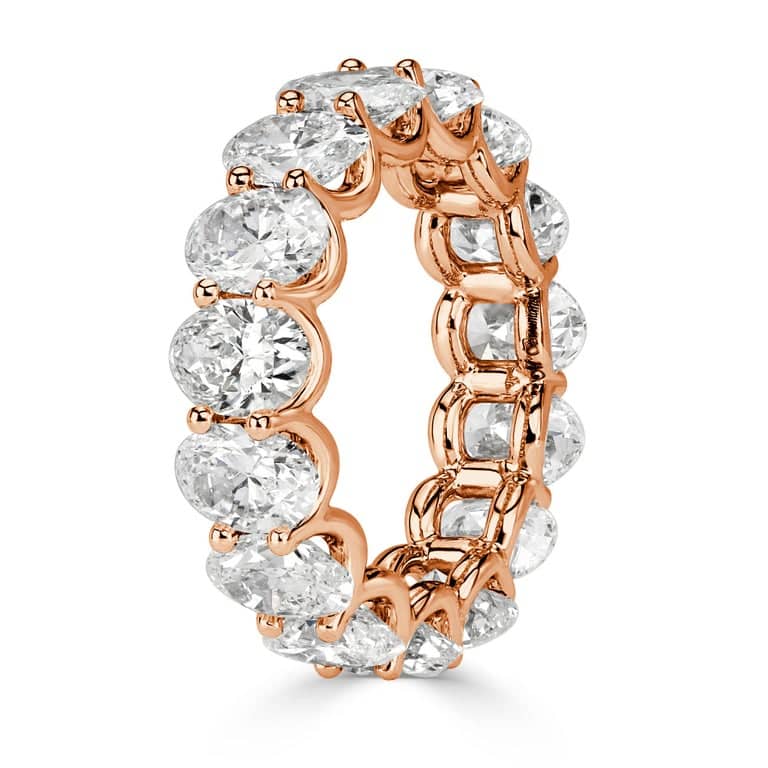 Sleek and easy, eternity bands, with gems going all the way around, are a great alternative for brides-to-be who prefer to pass on a center stone. Symbolizing eternal love, the design originated during the Art Deco era, when lapidaries mastered the technique of cutting gems into geometric shapes. Over the years, several famous fiancées have worn these rings.
Joe DiMaggio gave Marilyn Monroe an eternity band set with 36 baguette-cut diamonds before they wed, in 1954. That same year, Mel Ferrer also chose a baguette-cut band, to present to Audrey Hepburn. In 1995, John F. Kennedy Jr. had a special version, set with round diamonds and sapphires, made for his fiancée, minimalist fashion queen Carolyn Bessette. Eternity bands are available today in a variety of metals and gems and in wide and narrow widths.
---
Alternative Styles for Engagement Rings
There is no official style for an engagement ring, so fiancés can use their imagination. Recent celebrity brides-to-be have sported adventurous designs, like the stunner Scarlett Johansson received from Colin Jost, composed of an approximately 11-carat light-brown pear-shape diamond with a brown ceramic band that sits under the pear's rump.
Gwyneth Paltrow went equally far outside the box with her ring, believed to be by JAR, comprising a ginormous sapphire in a blackened micro-pavé mounting. Obviously, it is impossible to re-create these iconoclastic pieces, but you can refer to them for inspiration.
Look for designs with center stones in unusual mountings, like an emerald-cut gem held by two swooshing arms set with diamonds or a rose-cut diamond suspended above a slender band. Or go the vintage route with an Art Deco ring composed of three diamonds each surrounded by a halo of specially cut buff-top sapphires.