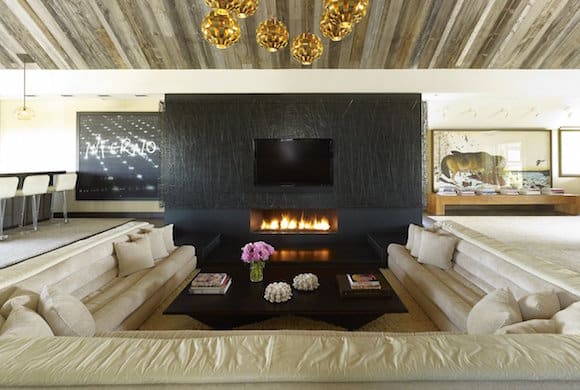 Fox-Nahem Associates turned the living room of this Southampton, New York, beach house into the ultimate hangout space, with a cozy conversation pit for fireside chats and movie nights.
Photo by Peter Murdock
---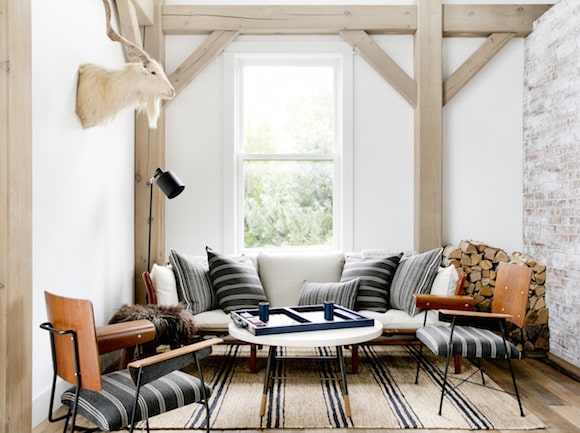 Timothy Godbold created a games nook in the Sag Harbor, New York, home of two avid backgammon players. "We were able to custom create a board with a beautiful navy blue color," Godbold says, adding, "with the space's dazzling light, it's easy to pass the time playing for hours." He chose a palette of charcoals, navy and sand. "It looked like colors and fabrics I would wear as well as sit on."
Photo by Rikki Snyder
---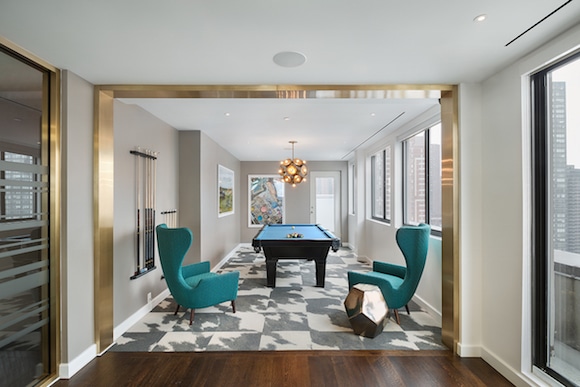 This communal area by Tamara Eaton is located at the top of an Upper East Side apartment building in New York City. "The bronze details were the starting theme to make the space feel warm and give a slightly vintage vibe, however the articulation of furniture and color is clearly modern," Eaton says. The Blatts Billiards pool table has a custom blue felt top, and the carpet is a cowhide print by FLOR. Julian Chichester created the wingback chairs and the bronze side table is by Made Goods. The artwork is by Gray Malin.
Photo by Jeffrey Kilmer
---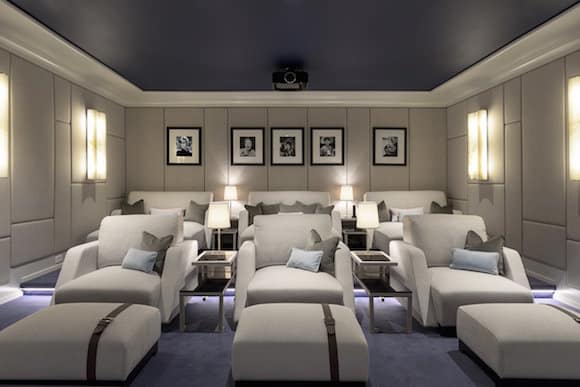 Achille Salvagni designed the screening room in this Southampton, New York, estate as a space where the whole family can indulge in their love for movies. The custom lounge chairs are upholstered in Dedar's Alexandre fabric, while the walls are covered in Dedar's Chambray. The Salvagni-designed Angel sconces are part of an edition of 20, available through Maison Gerard.
Photo by Gianni G Franchellucci
---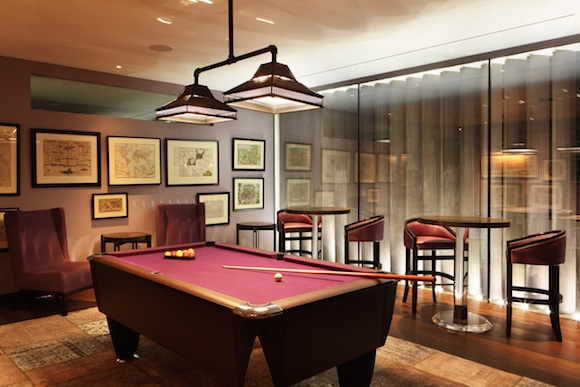 At this Carden Cunietti–designed vacation home in Cap d'Antibes, France, the billiards room is designated for use by adults at night (the kids have their own playroom). The space features the clients' favorite color, purple, and their collection of antique maps hangs on the back wall. Carden Cunietti designed the wood and Plexiglas tables, and the chairs are by India Mahdavi.
Photo by Alexander James
---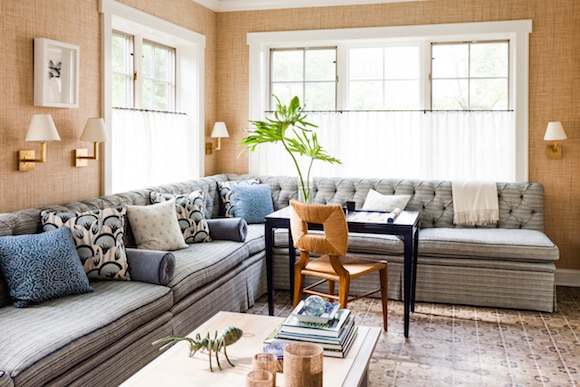 Sara Gilbane designed this sofa to run the length and width of the room to maximize seating capacity in this Rye, New York, room. The woven rush chair at the backgammon table is by Hollywood at Home and the sconces are by Vaughan Lighting. "It is a great spot to sit and read during the day, play games at night or sit by the fire," Gilbane says.
Photo by Zach Desart
---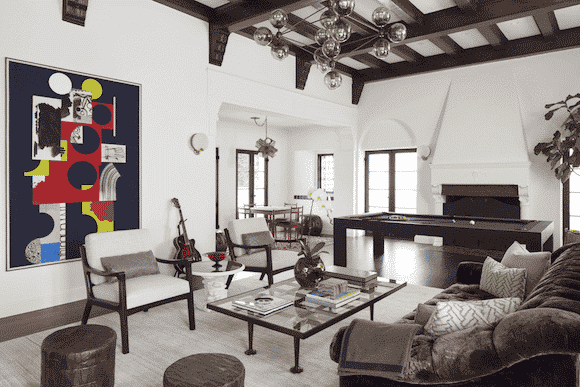 "This room serves as a functional living room and is used for entertaining, playing instruments and games," says designer Natasha Baradaran, who created the games and entertainment space in this Spanish contemporary home. "The client is a composer, who enjoys playing piano, drums, guitar with his family." Here, a Modo chandelier from Roll & Hill hangs in the living room, which also contains No. 27 chairs by Holly Hunt, a Cuadras coffee table from Downtown and vintage leather stools from Hollywood at Home. The custom pool table by James Perse can be converted into a ping pong table.
Photo by Roger Davies
---
Jamie Bush designed this Lake Tahoe playroom, which is outfitted with Ligne Roset Togo sofas by Michel Ducaroy, Phoenix coffee tables by Patricia Urquiola and a custom Moroccan rug by Bush. The ceiling light is by Serge Mouille from Guéridon.
Photo by Ngoc Minh Ngo
---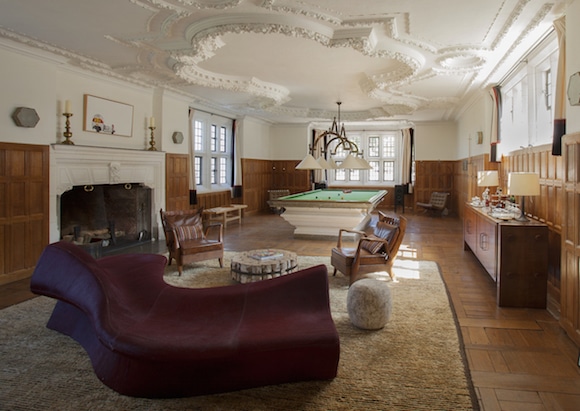 The ground floor of this English country home by Robert Couturier was designed was for frequent weekend entertaining. The sitting area, which flows into the billiards room, includes a burgundy Zaha Hadid for Sawaya & Moroni sofa and a pair of vintage Italian armchairs. The billiard table is carved from solid chalk.
Photo by Tim Street-Porter
---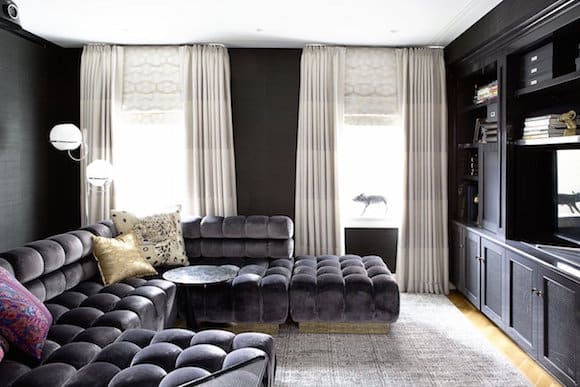 For the media room of this New York apartment, Fawn Galli had a tufted sectional custom built by Todd Merrill. The piece is designed to fit together and create a bed for overnight guests. The pillows are actually vintage dresses that Galli's firm repurposed, the floor lamp is a vintage 1960s Reggiani design and the custom rug is by Jan Kath.
Photo by Costas Picadas
---
The owners of this Nantucket beach house wanted a space that could act as a playroom for their children, so interior designer Katie Ridder worked closely with the clients' architect, Botticelli and Pohl, "to make sure that the room had plenty of open storage for their kids to store their games and for our client to display their collection of antique accessories," Ridder says. "All the pieces we chose for the playroom are not only functional and durable, but also fun for a playroom."
Photo by Eric Piasecki
---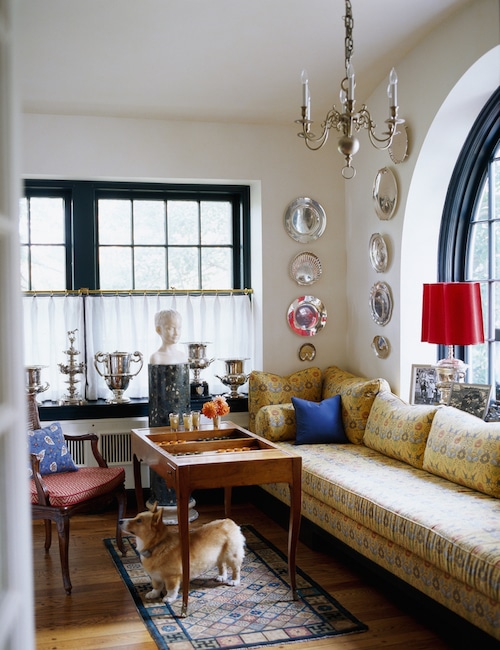 Brockschmidt & Coleman updated the interiors of this 18th-century farmhouse in Pennsylvania, including the bar area of the home's early 20th-century addition. To make the room more attractive for everyday use, and not just for parties, the firm added a cozy built-in sofa below the large arched window and displayed part of the homeowner's collection of family horse trophies and silver-framed photos. The antique furniture in the room, including the French games table, all came from the owner's collection. The marble portrait bust is of the owner as a child.
Photo by Tria Giovan for Traditional Home
---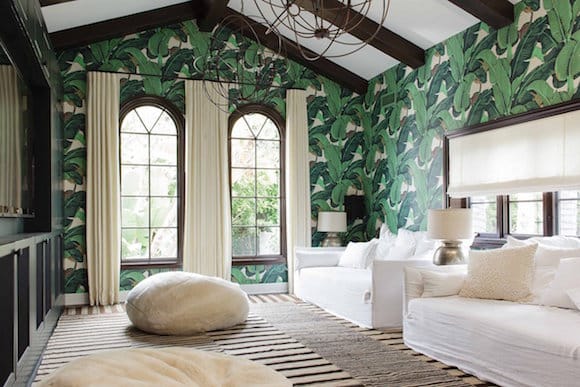 "Our clients were very clear that they wanted this room to feel fun and special but still really comfortable for lounging and watching movies," Frances Merrill of Reath Design says of this Malibu living room. "We picked the palm wallpaper to match the planting outside the windows."
Photo by Andre Vippolis
---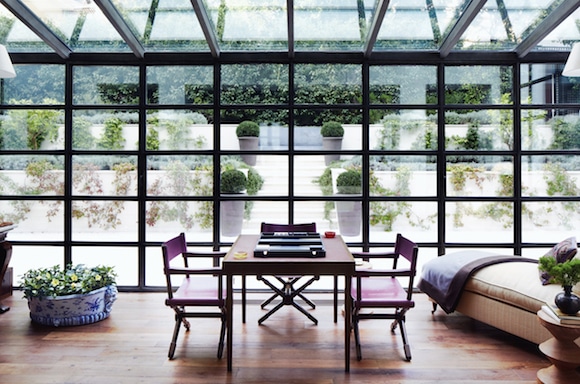 "The clients love reading and playing games, so I wanted them to have a place where they could do both and enjoy the beauty of their surroundings," says Timothy Whealon of this villa in Monaco. "They can relax and read on the chaise lounge or sit down for a game of backgammon at the custom designed table and chairs inspired by Jean-Michel Frank." Whealon custom designed the furniture, and Michele Costello of Costello Studio did the leather work on the chairs and table.
Photo by Simon Watson
---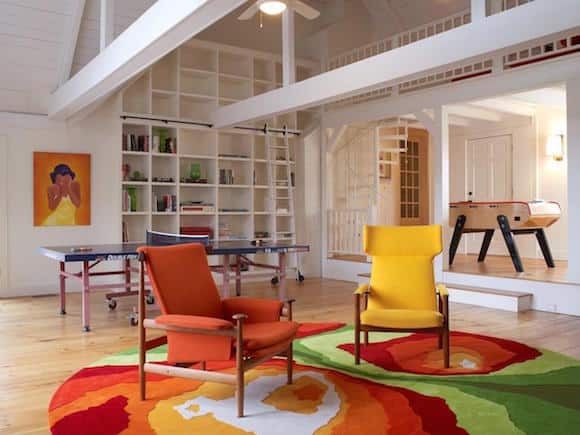 A vibrant color palette and mid-century furniture sets a playful mood in the games room of this Connecticut barn home by John Barman.
Photo by Eric Laignel