"Whether you're an emerging designer just starting out in your career or someone who's been making ceramics for 20 years, and whether you have an architecture design studio out of L.A. or are working in Tennessee, being a woman in design impacts us all," says Lora Appleton, of Kinder Modern. "And bringing us together creates more opportunity."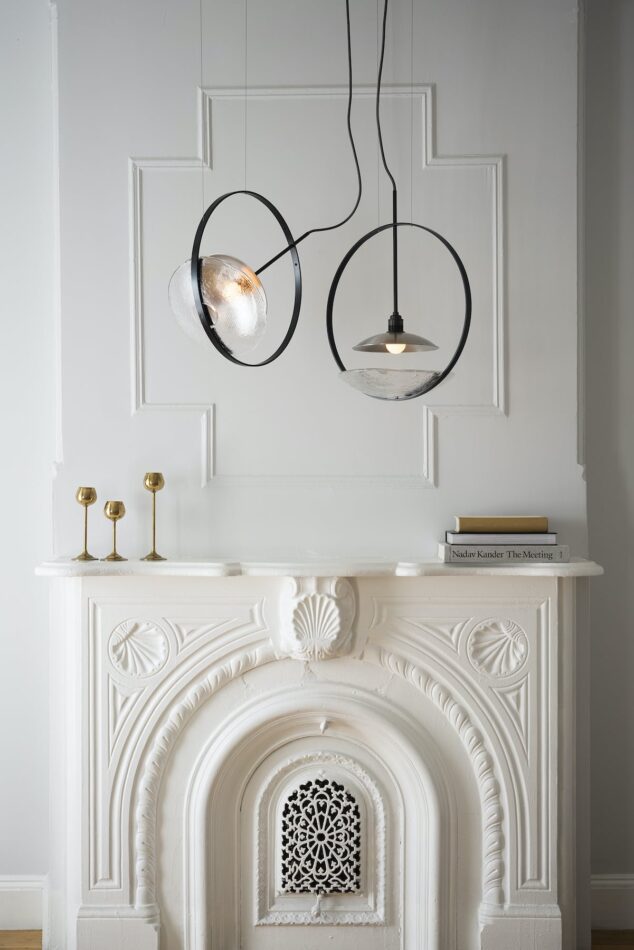 Appleton founded the Female Design Council in the wake of the 2016 presidential election to elevate women designers through a professional community that would offer support and opportunities. Now, during this era of pandemic lockdowns and the dawning of a new political cycle, she wanted to highlight how the council's more than 300 diverse members are adapting and innovating.
The FDC's latest curated collection on 1stDibs, "Womxn's History Month," comprises more than 60 genre-bending pieces, ranging from lighting and chairs to textile art and ceramic sculpture.
"The goal this year was really about celebrating a collection of work made by women who are also balancing the weight of the world that we're all experiencing right now," Appleton says. "It was about highlighting materiality and focusing on different disciplines."
The showcase includes art and design by Elodie Blanchard; Colleen Carlson; Season Evans; Frampton Co. (founded by Elena Frampton); Lisa Hunt; Laun (Molly Purnell and Rachel Bullock); Erin Lorek; Susan Maddux; Materia (cofounded by Megan Sommerville); K'era Morgan; Keavy Murphree; Cheryl R. Riley; SinCa Design (cofounded by Maria Camarena); Arielle Assouline-Lichten, of Slash Objects; Sunshine Thacker; and Corinna Warm.
Appleton explains that, in 2021, the FDC is emphasizing equity and inclusivity in its projects, which, in addition to curated showcases, include a grant program, events and mentorships. At the council's core is its community of designers, who network, share resources and amplify one another's practices.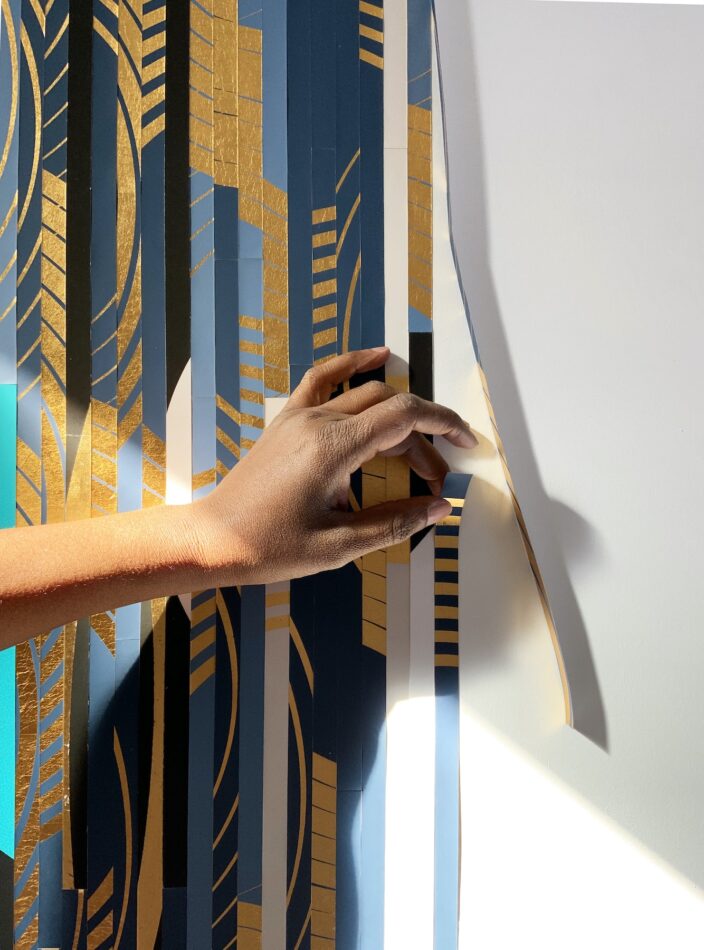 In 2019, Appleton curated an FDC show at the now-shuttered 1stDibs Gallery. In shifting to an online platform this year, she selected works with a strong visual presence that reveal the artisanal and craft techniques behind them.
The community's female-identified members represent a range of creative professions, with furniture makers, jewelers, painters, quilters, ceramists, sculptors and interior and industrial designers. That rich diversity is important to Appleton, since the design fields continue to be male-dominated. As the 2019 AIGA Design Census reported, although 61 percent of designers surveyed identified as female, only 11 percent of industry leadership positions were held by women and there were major gender-based wage gaps.
"Young creatives need to be able to see themselves in the profession to recognize that they deserve to be here and that their ideas are valid," Appleton says. "Having female-identified persons who work in different disciplines, who are all different ages and from all different backgrounds enables every young person to see potential in themselves."
The "Womxn's History Month" collection reflects that scope in the diversity of its materials, techniques and forms. There is, for instance, New York–based textile artist Elodie Blanchard's "Growing out of scraps forest" series of tree-like soft sculptures, whose trunks and branches are constructed from a kaleidoscopic array of fabric scraps.
"I am a textile hoarder," Blanchard states. Both the forest and her "Masked Feelings" series of stitched characters were born from a desire to playfully recycle and repurpose the fabric remnants she accumulates through her work, with the masks spawned from excess felt from a recent commission for a hotel. "I loved the contrast between the dark felt and the thin colorful stitches," she says, "and how I could create all these emotions and different volumes with it."
Los Angeles–based Susan Maddux also engages with color and material through unexpected shapes, folding painted canvases to create vibrant wall hangings with flowing fields of pigment. "My use of color is very much about a sense of place, often referring to where I grew up in Hawaii," Maddux says. "The light, landscape and colors are so much a part of my aesthetic, and the Pacific Ocean connects me to all of that. My painting process is very much about water."
Her practice involves soaking wet canvases with acrylics to give the paints a watercolor quality. The individual canvases are then layered in a method she compares to assembling a puzzle. "It's a balance between planning and intention and working with what happens in the process to find something that feels really interesting," she says.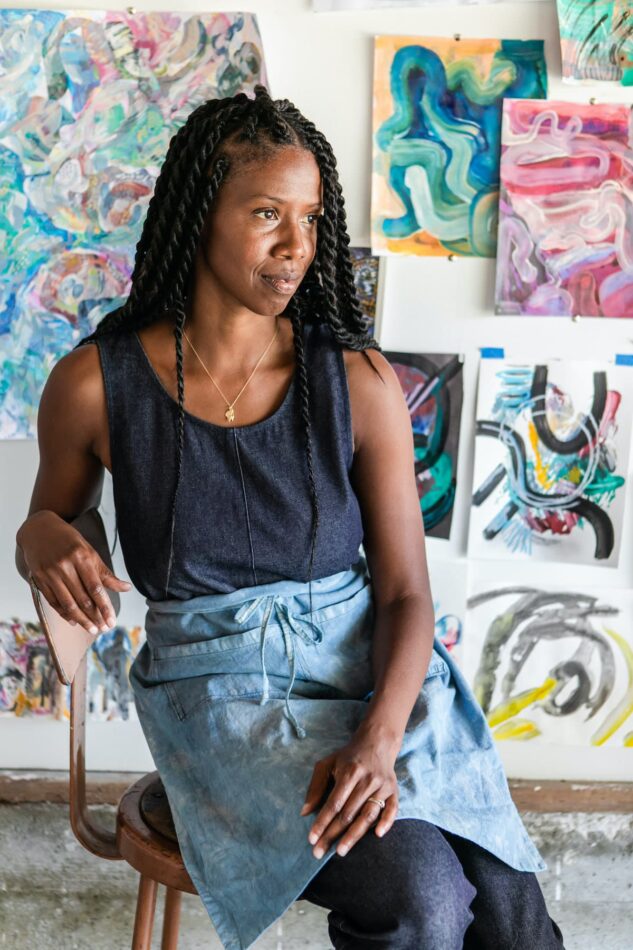 A similar melding of process and experimentation informs the mixed-media art of fellow Los Angelina K'era Morgan, whose works on paper are influenced by her study of global textile traditions. "I liken my paintings to quilts," Morgan says, "because I use a lot of found paper that I then manipulate and piece back together to tell a new visual story."
Employing collage and painting, she creates vivid abstractions that often respond to a specific memory or place. County Line, for instance, evokes the light on the water and the variety of people at a California surf break, while Red Moon captures the impact of huge natural forces like lunar cycles on our daily lives.
"Painting for me is a way to process what's going on in the world," Morgan says. "I love the idea of collecting and then destroying and rebuilding. I feel like that's very much a replication of life in many ways."
Like Morgan's collage-paintings, New York–based ceramist Colleen Carlson's innovative pieces explore how the process of manipulating materials shapes an artwork's form.
Carlson draws on her fashion background in weaving strips of clay into sculptures and lights whose intricate patterns create a feeling of movement.
"I like pattern — it can suggest motion," Carlson says. "This can be very striking and seductive. I'm challenged to execute this in clay." The free-standing Androgynous and the wall sculpture Vanishing Point both evoke motion through lattices of clay that reflect her interest in geometric shapes and optical effects.
Like Carlson, all the female-identified creators in the "Womxn's History Month" collection use artisanal practices in a fresh way, bringing together elements of fine art and design to make new statements about the intersection between material and technique.
"There's so much overlap between design, art and craft," Appleton says. "I think it is really important to show items from the made world so we get a real understanding of what craft and artisanal practices are. This curated collection celebrates the diversity of work by the dynamic members we have in our community."