When it comes to the ultimate at-home spa experience, be sure your bathroom has a few such luxurious amenities as heated floors, plush seating, open spaces and floating bathtubs.

Opt for a Calming Color Palette
"This is part of a large master bathroom in the desert where 'modern oasis' was the concept," Brent Leonard, cofounder of FORMarch says of the bathroom in this California villa. "We wanted the bathtub to appear like it was floating on a private stream, as we had the opportunity to integrate space and light here."
He continues: "In order to design a spa-like bathroom, it is important to incorporate elements that support wellbeing such as water, light, sky and air, and to create a flow between inside and outside. There also must be a gentle balance of architecture, furnishing and objects."
Add Indoor-Outdoor Elements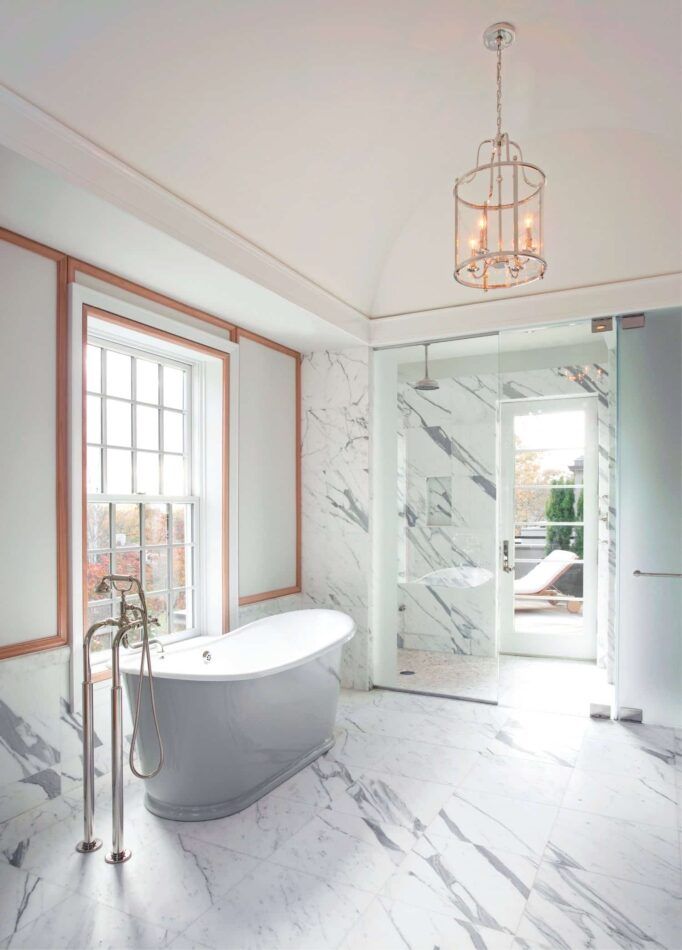 "This barrel-vaulted space puts the focus on the custom-painted tub. However, the hidden jewel is the shower with French doors that open directly onto a private balcony," says Marty Dykas. "This privacy allows you to shower with the door fully open, essentially creating an indoor-outdoor shower."
He adds: "My favorite spa environments relate to nature, either directly or indirectly. Here, I was able to maximize the connection to the rolling lawn and massive trees of the surrounding property in Chestnut Hill, Massachusetts."
Use Several Natural Materials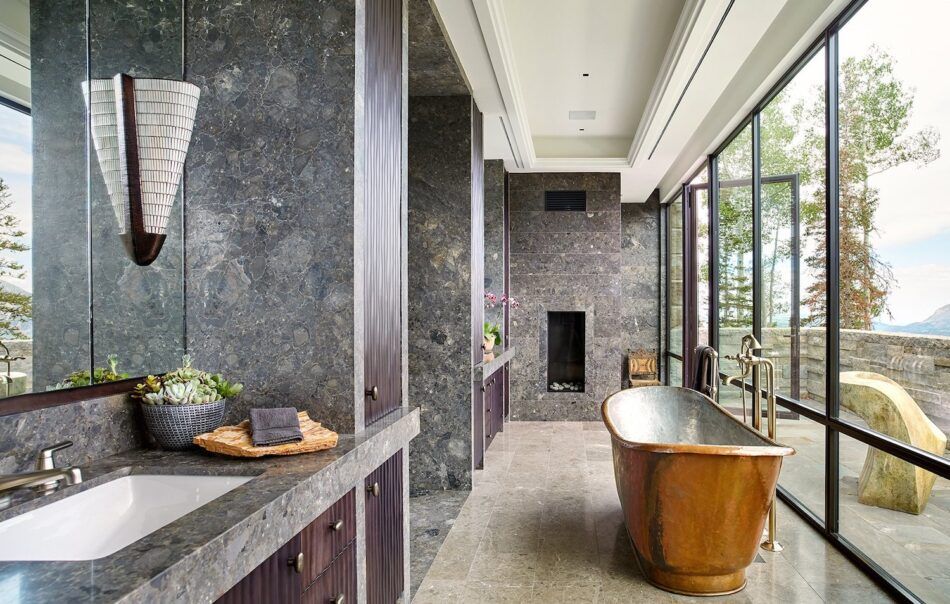 "The entrance to the room is very important so we wanted to enter through monolithic slab like portals of grey stone that became the storage cupboards on each side of the vanity," says Thomas Hamel of this chalet in Telluride, Colorado. "We wanted the bathroom to look like it extended through to the terrace wall, so we kept the windows as a sheer steel and glass wall."
Regarding the furnishings, he adds, "the antique copper bathtub was sourced in New York and offered that sense of patina to the new house. As an added luxury there is a gas fireplace at each end of this bathroom to add warmth to the vanities."

Swap Tiled Floors for Hard Wood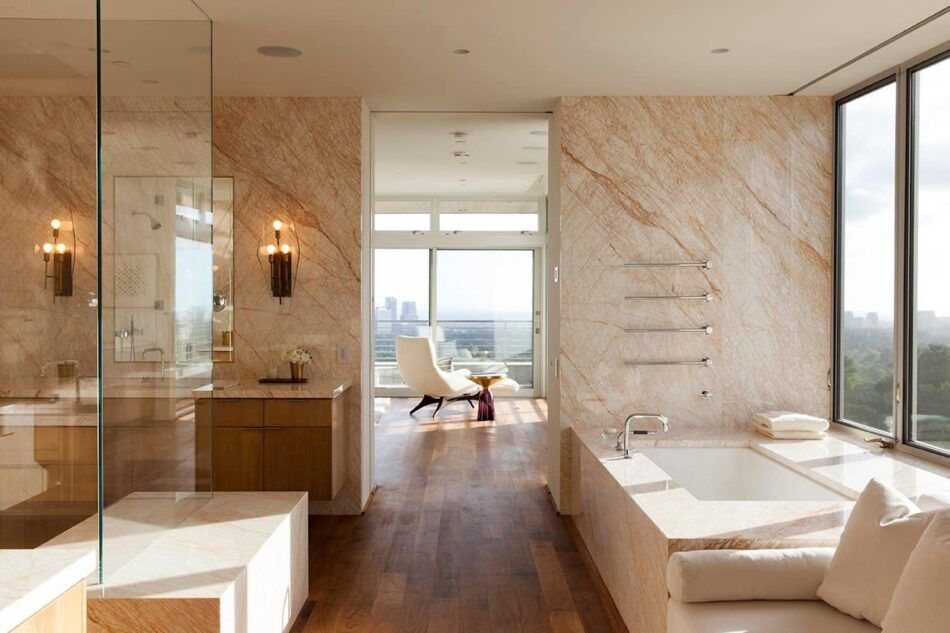 "In the master bath of this Beverly Hills home, we paired gold spider marble surfaces — walls, countertops and tub deck — with bleached walnut casework produced by our shop," says Ron Radziner, cofounder of the California firm Marmol Radziner. "We wanted to create a sanctuary that fulfilled our client's wish for a light, soft and feminine space with a bit of edge and flair.
"Peripheral luxuries like radiant floor heating, a heated towel rail, and built-in speakers complete the experience. The key to creating a spa-like bathroom is to restrain the material palette, streamline the hardware and detailing and provide seating — whether that's a marble ledge or plush built-in sofa."
Let History Inspire You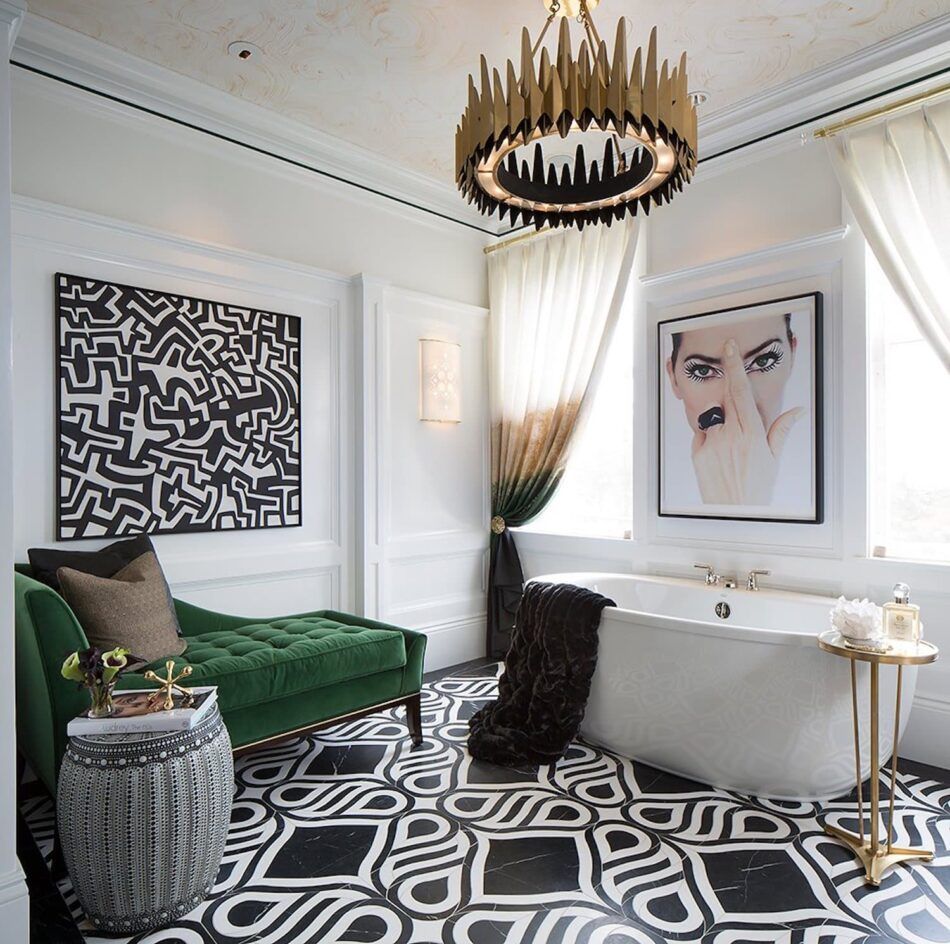 "The design for this bathroom at the San Francisco Decorator Showcase was inspired by the July 1966 cover of Vogue — a quintessential moment in American history that broke the mold for women in the '60s," says Tineke Triggs. "I love designing bathrooms full of luxurious elements to inspire and elevate your senses. They should energize and pamper the soul. Sumptuous materials combined with something unexpected are the keys to creating a spa-like bathroom."
Embrace Contrasting Colors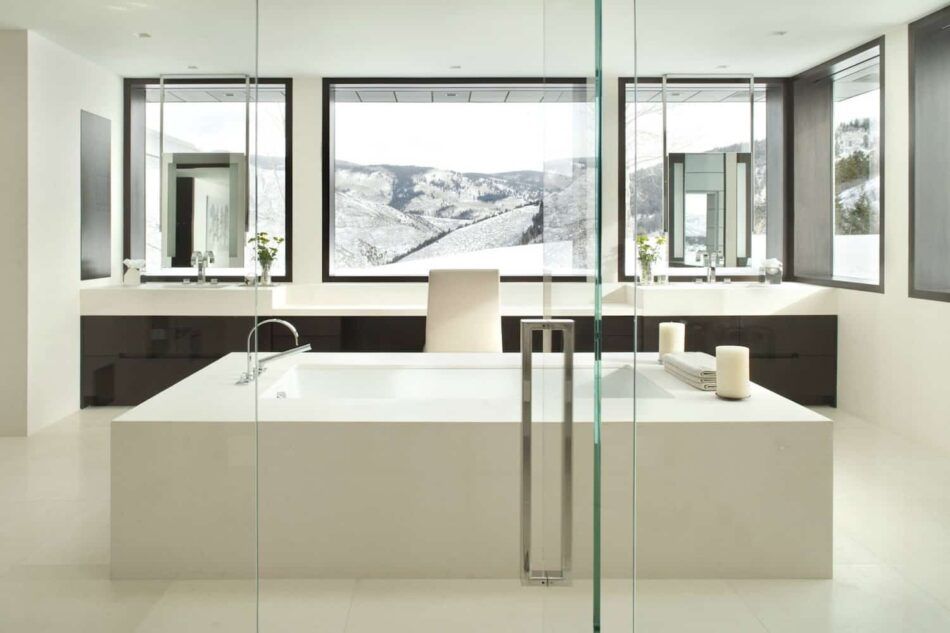 "Expansive vistas instantly channel serenity in this Aspen, Colorado, master bathroom, whether you're breezing through your morning routine or taking a long sunset soak. Here, we used espresso-stained oak to construct a deep frame, which not only connects with the colors and materials outside, but gives the space an element of contrast with the interior limestone," says Andrew Sheinman, founder of Pembrooke & Ives.
He adds: "An element of spa-inspired design is creating a luxurious destination within the space. This could be a shower for two boasting the latest in bathing technology or something as simple as what we created here with a deep soaking tub, which serves as a sculptural focal point for the master suite."
Keep the Lines Soft
"What gives a bathroom a spa-like feeling has more to do with scale, lightness and natural light," says Thad Hayes of this bathroom in Boston. "Historically, a spa was a place to rejuvenate the body and mind, so when we design a bathroom, that idea is present." He adds, "To me, that means soothing colors, soft whites and durable materials that are beautiful to the eye."
"The soft mauve walls recall the bedroom, which produces a calming effect. By enclosing the shower and toilet room with matching glass doors in opposite corners, symmetrical with the vanity, we set up a rhythm of glass and light inside the bathroom."

Mood Lighting Is Key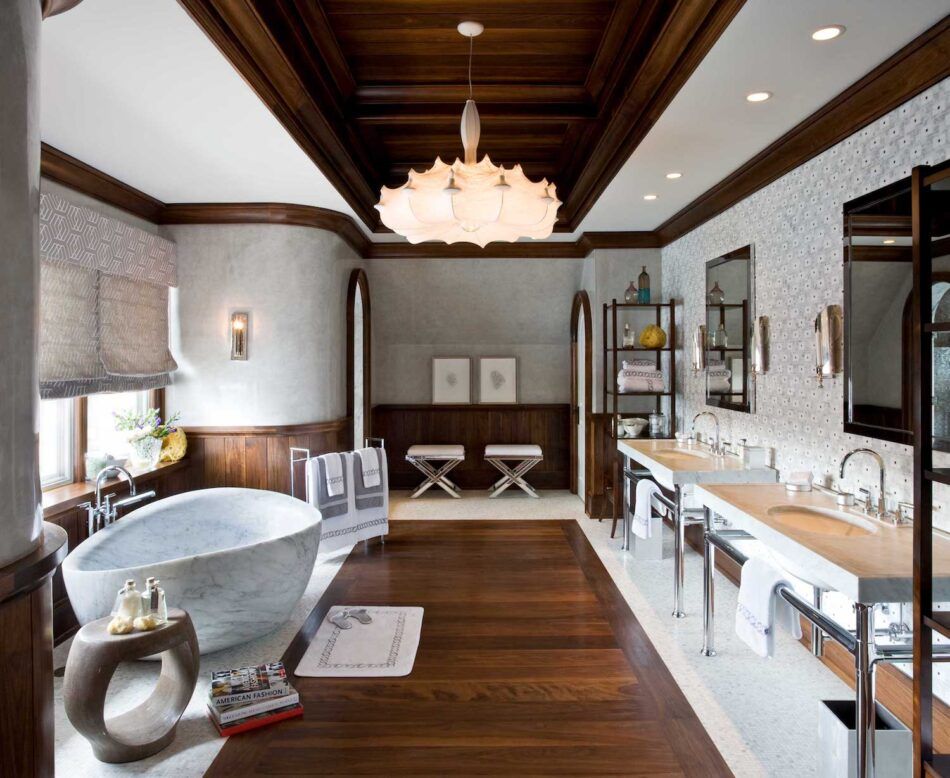 "It was important for the master bathroom to feel grand, albeit warm," says Nicole Fuller of this Suffern, New York, home's main bath. "We had the egg-shaped tub carved from a single block of marble in Italy and we worked closely with my partners at Ann Sacks to secure the perfect tile mosaics. One of the most important things in any space is layered lighting installed on dimmers. This will eternally set the mood for a cozy and romantic backdrop."
She adds: "The vintage Art Deco benches wrapped in a luxurious terry cloth are from 1stdibs. When creating a bathroom that feels like an at-home spa, I suggest removing any clutter and be sure to design a space for everything. Mood lighting is key, as are heated floors, which give a feeling of extreme comfort. Then layer it all with cozy soft textures that feel organic yet elevated and rich."

Use Architecture as a Guide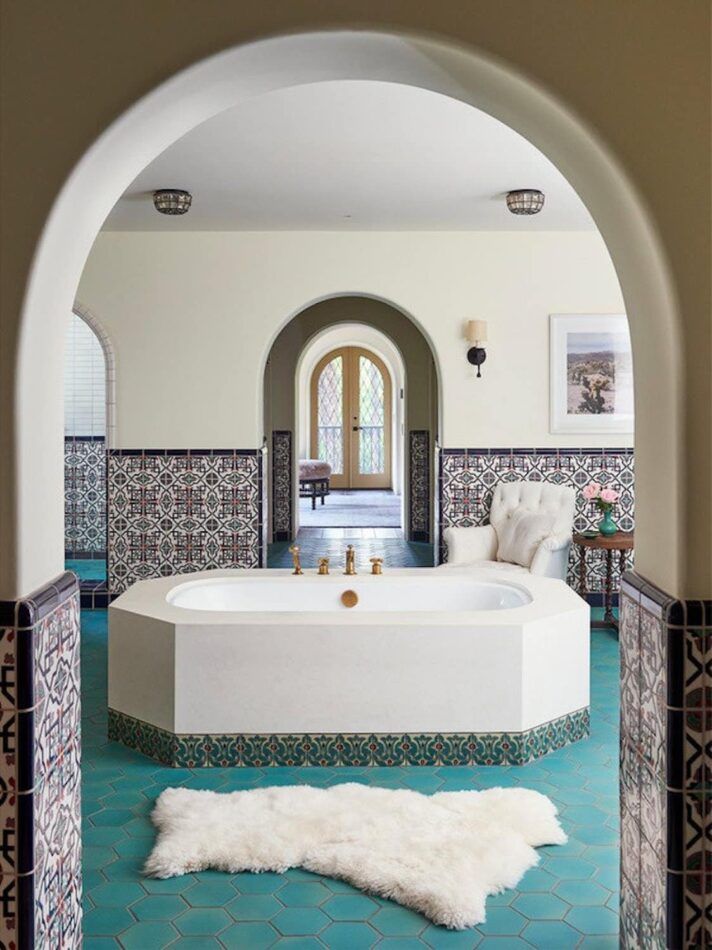 "We designed this master bath suite for a historic Spanish Revival in Beverly Hills," says Steven Johanknecht, principal at Commune. "The bathroom had gone through an unfortunate redesign in the 1980s that did not reflect the heritage of the house. Our intention was to remain true to the architectural period but update the layout and function. We referenced colors used in the master bedroom for the bath and customized classic Spanish tile patterns in new colorways.
"The central soaking tub is flanked by a long his-and-hers vanity wall on one side and a working fireplace on the other. For the bathroom and dressing areas, we used white oak on the cabinetry and doors for a lighter feeling. Natural light, elegant layout and rich materials create the spa-like experience."

Keep It Simple
"The vision for this Water Mill, New York, bathroom was to create a serene space where the clients could really spend time and indulge with a fireplace and lots of fresh air and light," says Steffani Aarons, partner at DHD Architecture & Interior Design. "The inspiration came from the client's desire for something fresh and uncomplicated yet still luxurious. The floating tub is nicely balanced by its placement against the windows and under custom millwork shelving.
"I recommend a floating tub because it makes the bathroom feel like a special experience due to all of the surrounding empty and clean space. Natural sunlight and a warming element, such as a fireplace, set the mood for relaxation. The more simple and uncluttered the room is, the better."