To build a collection, one must combine passion, patience and connoisseurship. But to beautifully display a collection? This requires equal measures of organizational ingenuity and ruthless editing. To help inspire your own home, we've gathered images of 15 rooms that deftly showcase personal taste, minus the clutter. Call it the art of accumulation.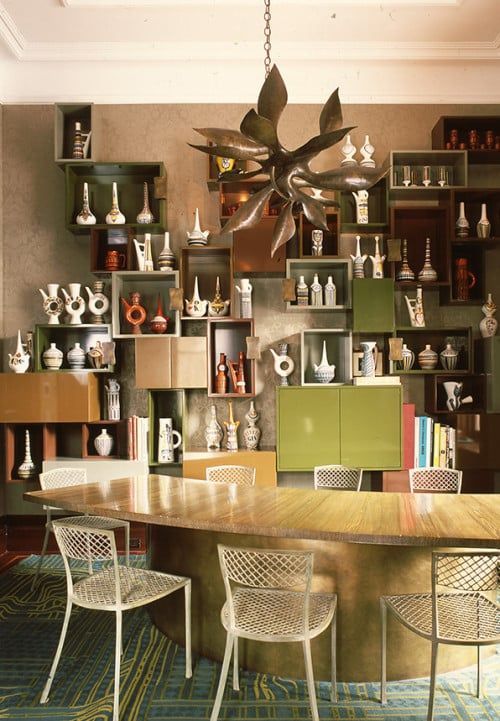 In this New York City apartment by interior designer Muriel Brandolini, a colorful and dynamic box shelving unit contains an arrangement of Vallauris ceramics.
Photo by Tim Street-Porter.
---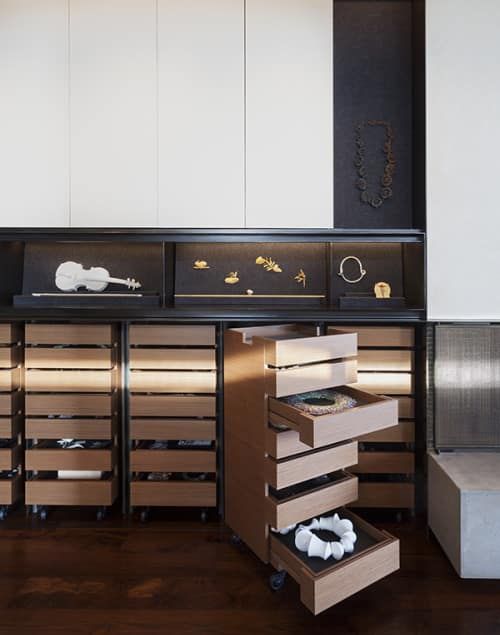 In this Marin County house, architecture firm Aidlin Darling created an ingenious system of movable display cases to allow their clients to showcase their expansive jewelry collection throughout this Marin County home.
Photo by Richard Barnes.
---
In Milan, the former home of legendary designer Piero Fornasetti is filled with a collection of mirrors, some created by the artist himself.
Photo by Richard Powers.
---
For his Miami home, interior designer Frank de Biasi housed a collection of seashells inside a two-part rattan and cane cabinet. A Curtis Jere brass model of a sailboat sits on top.
Photo by Mark Roskams.
---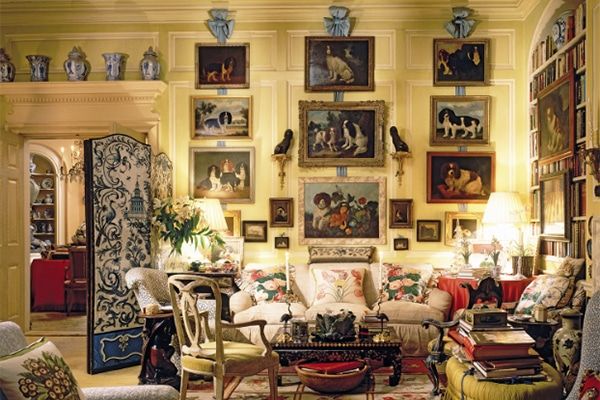 In his Manhattan living room, interior designer Mario Buatta decorated his living room with a salon-style hanging of canine oil portraiture.
Photo by Scott Frances.
---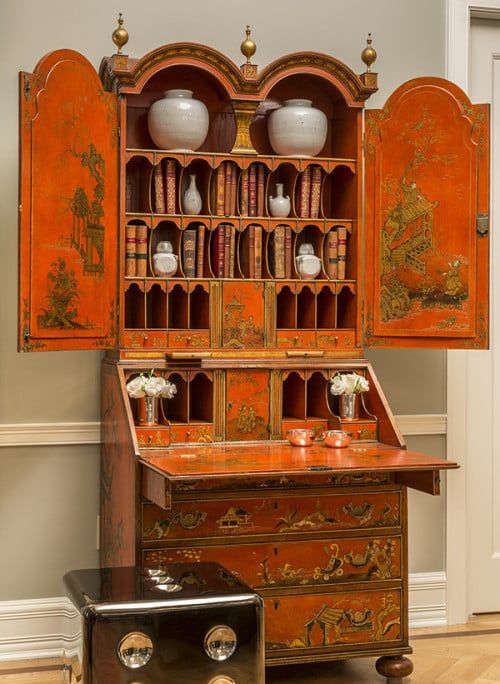 For a New York City home, interior design duo Villalobos Desio utilized an intricately painted secretaire to display a collection of vintage books and ceramics.
Photo by Marco Ricca.
---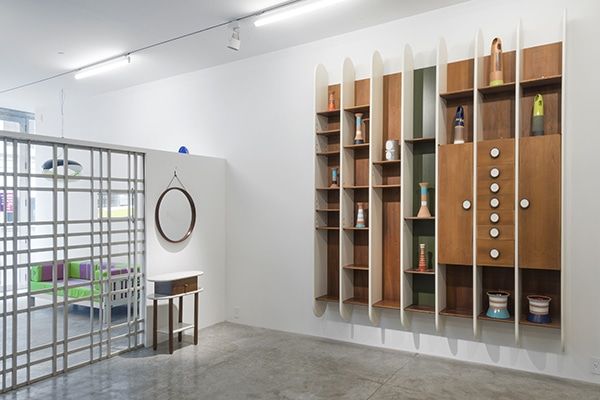 At the Chelsea gallery Friedman Benda, a shelving unit designed by Ettore Sottsass for Poltronova in 1965 is adorned with Sottsass ceramics from the 1950s.
Photo by Adam Reich.
---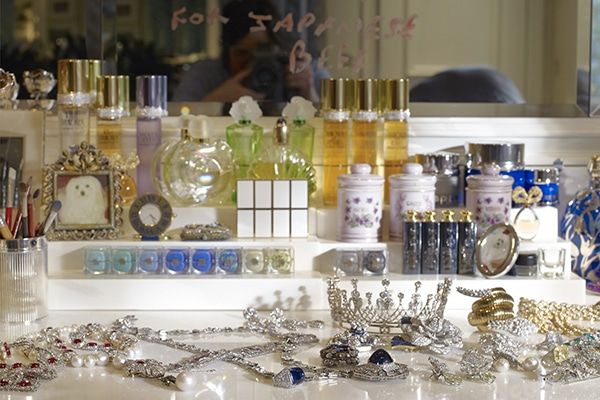 Photographer Catherine Opie spent three months creating a "portrait" of Elizabeth Taylor by documenting the late screen goddess' personal effects. Taylor's vanity included an assemblage of fragrance bottles and jewelry pieces.
Photo by Catherine Opie.
---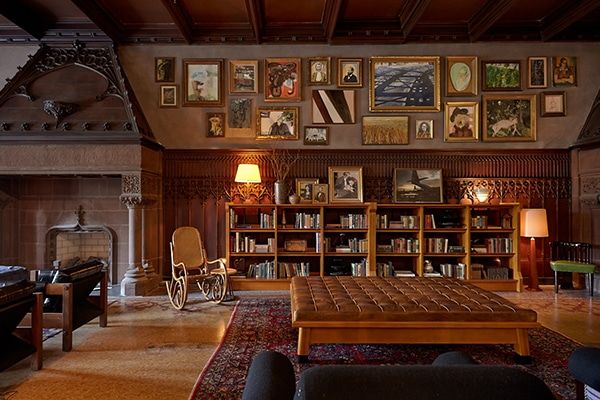 The New York City–based designers Roman and Williams turned the historic Chicago Athletic Association — Henry Ives Cobb's 1893 Venetian gothic landmark — into a stylish, sports-inspired hotel. In the drawing room, salon-style art keeps guests company.
Photo by Alan Shortall.
---
In the breakfast room of Cole Park, interior designer Anouska Hempel's English country residence, porcelain collections are displayed on the wall, mantle and dining table.
Photo by Fritz von der Schulenburg.
---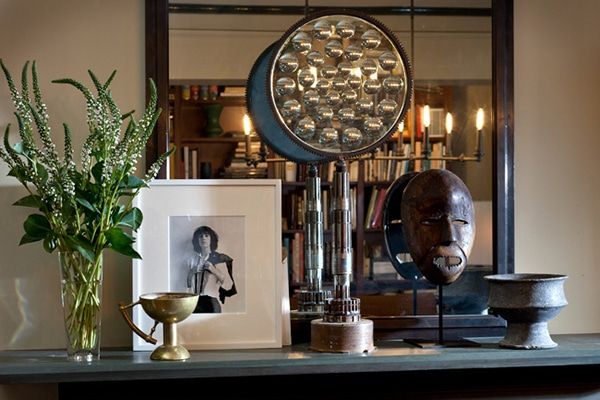 Interior designer Glenn Gissler is a collector of objects ranging from silver to basaltware. In his Brooklyn home, the mantlepiece — arrayed with a Robert Mapplethorpe photograph, an antique African mask, a 19th-century Christopher Dresser candlestick and a 1970s glass sculpture — represents a sliver of his diverse collection.
Photo by Gross & Daley.
---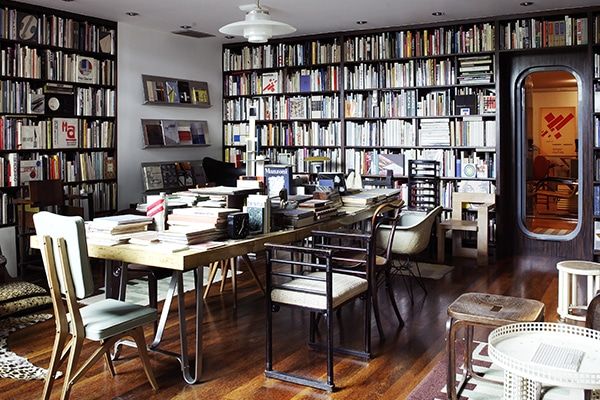 To accommodate his extensive collection of design books, architect Michael Boyd converted the garage of his Oscar Niemeyer-designed Santa Monica home.
Photo by Richard Powers.

---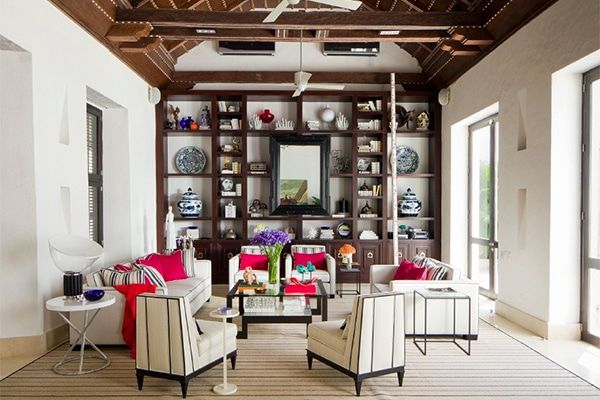 When designer Richard Mishaan outfitted the living room of his Cartagena vacation home, he imagined that the shelves were filled with the personal effects of "a historic king's most trusted sea captain." Mishaan created this highly curated assemblage using Pre-Colombian artifacts, antique rosaries, Fornasetti plates and gilded jewelry.
Photo courtesy of The Monacelli Press.
---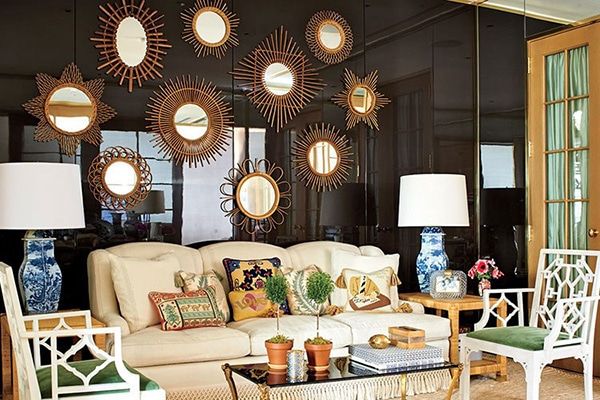 Interior designer Daniel Romualdez fashioned a celestial arrangement of framed mirrors over a lacquered wall for the office of Tory Burch. Below, a collection of needlepoint pillows adorns the sofa.
Photo by William Waldron.
---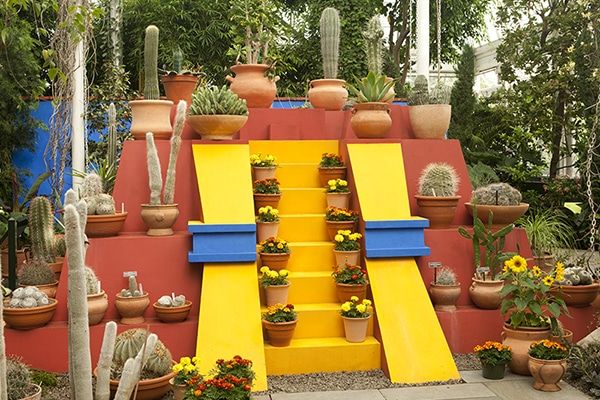 Last spring, the New York Botanical Garden recreated the colorful gardens that Frida Kahlo maintained at her Mexico City residence, Casa Azul. An exuberantly colored stepped pyramid, used to house Kahlo's collection of succulents, was a focal point of the grounds.
Photo by Ivo M. Vermeulen.
---