As The Gilded Age, the lavishly designed HBO series about New York in the 1880s, opens in Central Park, grazing lambs scatter as carriage after carriage rumbles by loaded with imported furnishings and statues. These European treasures are on their way to fill the Fifth Avenue mansion of nouveaux riche couple Bertha and George Russell (played by actors Carrie Coon and Morgan Spector).
The scene signals the gorgeous architecture and interiors to come. And, as every period-drama viewer knows, a house and its decor tell you everything about the people who live there.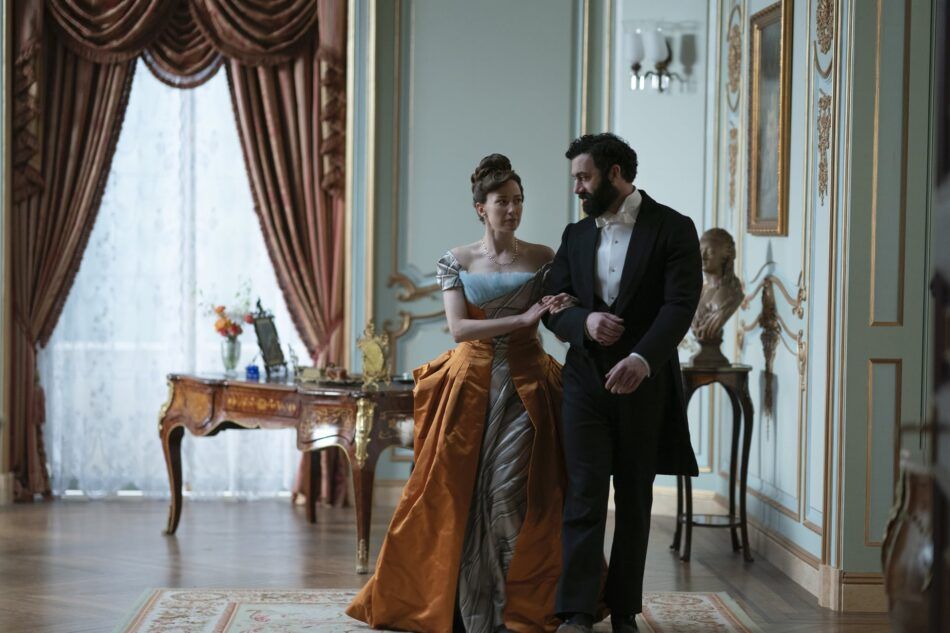 A team led by production designer Bob Shaw and set decorator Regina Graves devised the show's many sets, including the Russells' mansion, which flaunts their new money, and the older neighboring brownstone inhabited by sisters Agnes van Rhijn (Christine Baranski) and Ada Brook (Cynthia Nixon), which bespeaks their established wealth and status.
Graves, who studied to be an interior designer, landed at New York City's largest prop house straight out of college. She describes her job as similar to that of a designer: She finds the furniture, light fixtures, drapery, art, decorative objects, wallpaper, hardware and flooring for each room.
Graves and the rest of the production team worked with the director to craft environments with layers of life that visually tell each character's story. They scoured the Internet, as well as antique stores and prop houses, for Victorian pieces.
"There was a certain look that we had to re-create," Graves says, "especially with the show's old-money-versus-new-money storyline." In the Russell mansion, newly designed by Stanford White (the real-life 19th-century architect is played here by John Sanders), everything is grand, large and imported from Europe. Mrs. Russell is trying to impress, or at least entice, New York society with a home boasting acres of marble, hundreds of yards of fabric and elaborate crystal chandeliers.
The Russells' drawing room includes a Louis XV canapé, side chair and fauteuil upholstered in what Graves describes as a "ginger bronze-silk," as well as a French Aubusson parlor set. "A beautiful, rich French Aubusson rug anchors the room," she adds.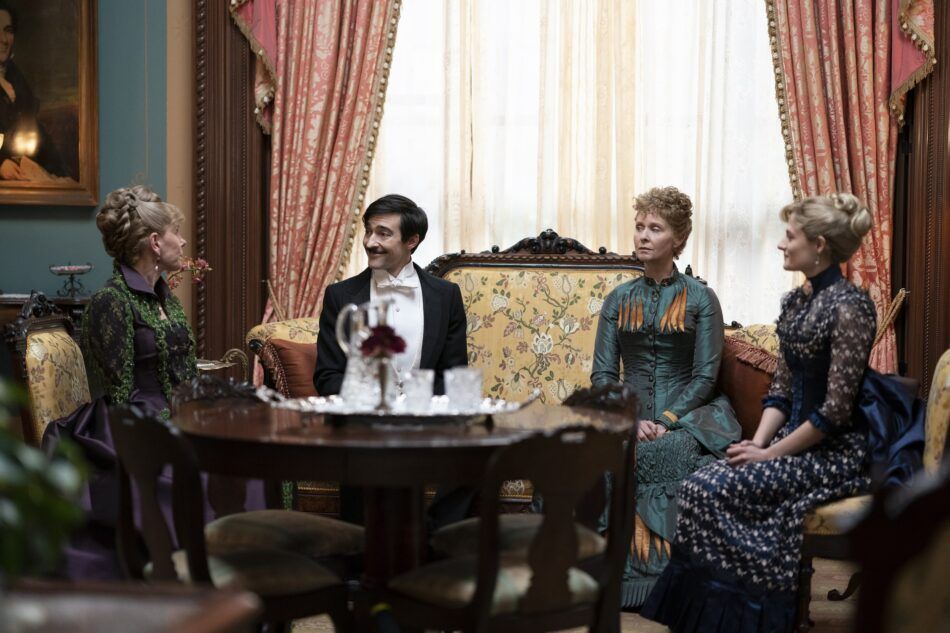 The established Mrs. van Rhijn doesn't need to impress. Her station is assured, and her brownstone reflects its older heritage. "We decided to wallpaper and dress the rooms in richer colors," says Graves. "The house is furnished in the traditional American Victorian-era style, with heavily carved ornate furniture covered in damasks, velvets, needlepoint and brocades."
In the van Rhijn parlor, "the five-piece walnut-and-ebony Herter Brothers–style set was reupholstered in an Italian floral lampas fabric," she continues. "The centerpiece of the room is an American Empire mahogany table surrounded by four matching chairs of the same period. The silk draperies are by Scalamandré."
When asked how many rooms she devised over the almost two years she worked on the production, Graves laughs. "So many, I wouldn't be exaggerating if I said over 100." That includes rooms on location in historic mansions like Lyndhurst, in Tarrytown, New York; and the Breakers, Chateau-sur-Mer and the Elms, all in Newport, Rhode Island.
These homes were period authentic, but Graves estimates the production crew still had to remove 80 to 90 percent of the furnishings and redecorate with pieces they had acquired.
"We replace the furniture because what's there isn't made for being sat in and moved around all day," she says. "It's just as much work to redress a location as it is to decorate a stage set."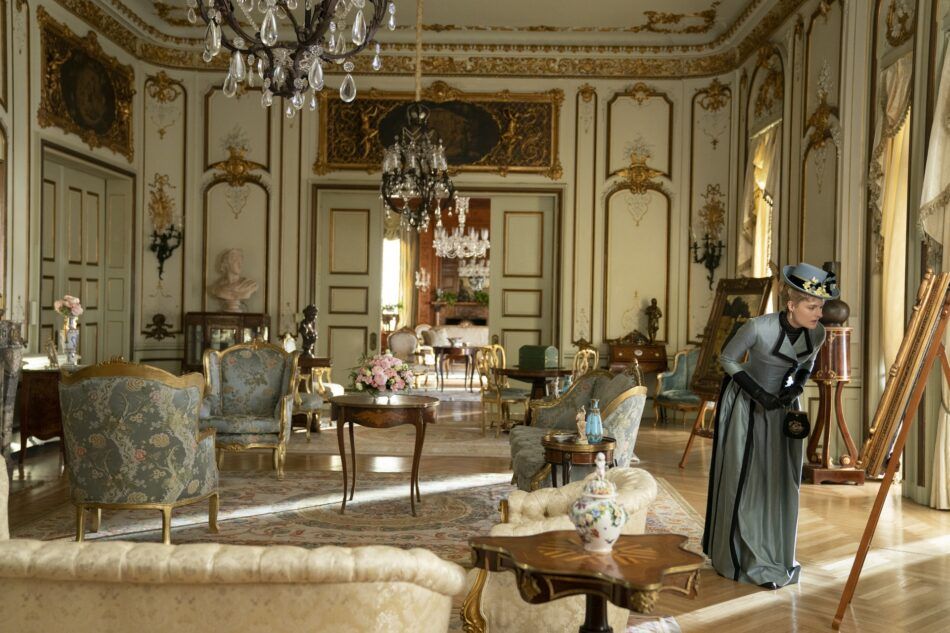 Graves recounts one example of how far the team would go to ensure period accuracy and filming continuity. Several scenes were shot in a hallway at the Elms, which was used to depict parts of the Russell house. The walls in the hallway were upholstered in a 100-year-old red Scalamandré fabric that was no longer in production.
The problem was that the hallway could be glimpsed through the door of Mrs. Russell's bedroom, which was on a soundstage. Graves worked with Scalamandré to find the discontinued fabric in its archives and produce enough to cover the sound stage hallway so that it would match that of the historic location. "You can't just paint it red," Graves notes. "It has to match exactly."
The series was created by British screenwriter Julian Fellowes, and many think of it as the American cousin of his wildly popular English upstairs-downstairs drama, Downton Abbey. Of course, The Gilded Age wouldn't be a Fellowes production if viewers didn't also get a glimpse of the working areas of the New York mansions. Graves loves, in particular, the servants' area of the van Rhijn household.
Those sets lack the rich fabrics and ornate decor of the upstairs rooms, but they are still spectacular, with miles of white subway tile and beautiful built-in cabinetry. "They were decorated in the period but as functional spaces," Graves explains. "We were able to layer in copper pots and spices. I love the lived-in look."
Decorating the rooms of The Gilded Age will always be a career highlight for her. "Julian and the producers wanted a feast for the eyes," she says. It's one that design-loving viewers have been more than happy to devour.