Moroccan-Inspired Pool by Studio Vero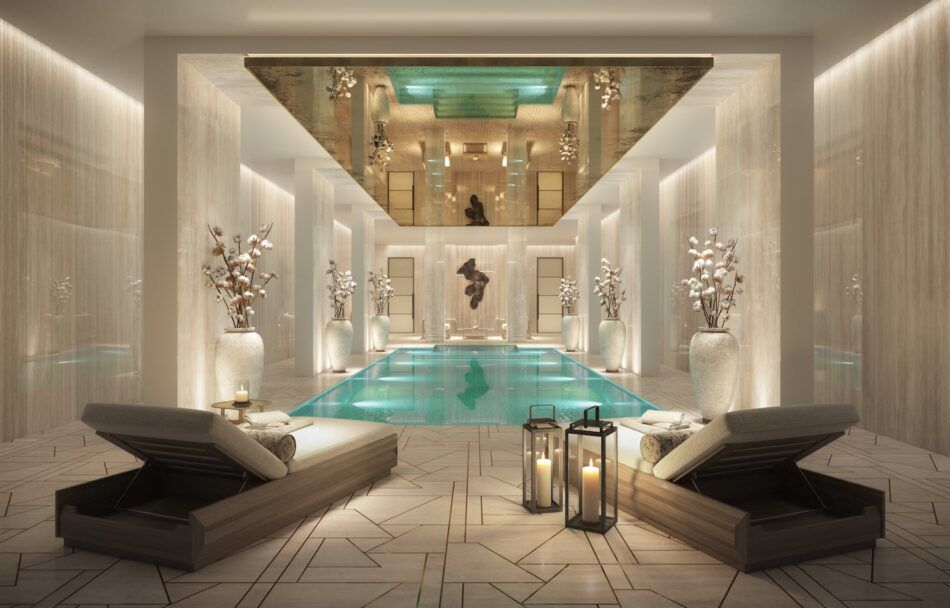 "The key to creating a serene and inviting feel in this basement pool area was using a delicate palette, light marbles in striking patterns and contrasting foliage, ceramics, limed timbers and linen upholstery," says Romanos Brihi, cofounder of Studio Vero.
"Soft indirect lighting, reflective materials and meticulous symmetry through feature columns, Crittall doors and sculptures all combine to produce a calming oasis. Inspiration came from the repetition, geometry and natural materials characteristic of Moroccan spas but developed in a contemporary style for a London home."
---
Massage-Ready Master Bath by Sofia Aspe
"This bathroom is part of a master suite in a beautiful house located in Valle de Bravo, Mexico," interior designer Sofia Aspe says. "I wanted to create a luxury space to relax in. A big window invites a lot of natural light inside and offers views of the internal garden. It is a monochromatic area with many textures provided by marble, wood and the fabric on the BoConcept bench. The big mirror and smaller Restoration Hardware round ones help to reflect the garden and plants." The Roll & Hill lamps were designed by Jason Miller.
---
Old-Timey Weight Room by Dan Scotti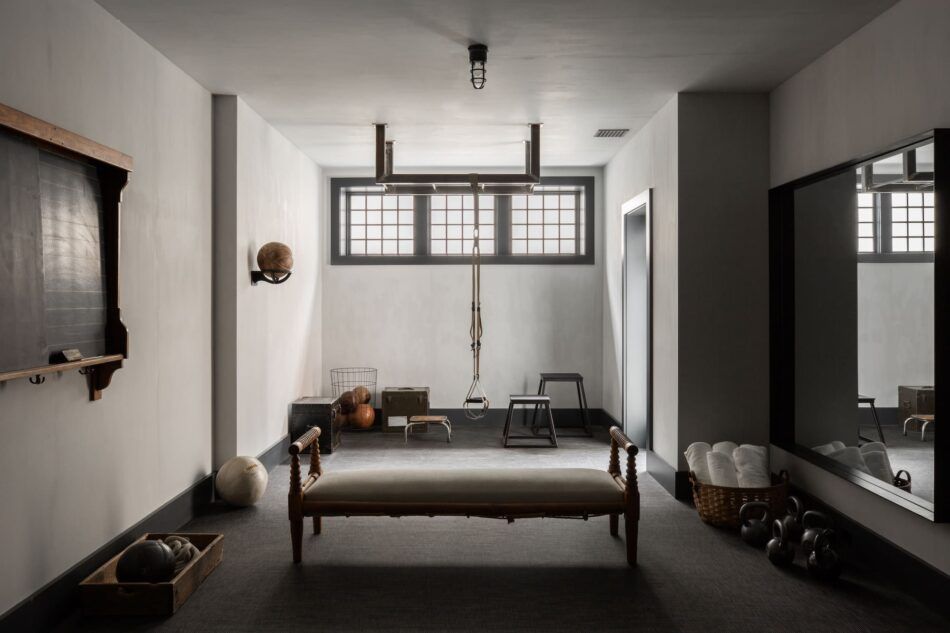 "Since the gym in my East Hampton home is located on the lower level, I decided to embrace a dark and moody vibe," says Dan Scotti. "I hand-brushed the walls and ceiling with lime paint to provide a neutral backdrop and a bit of patina. I designed an oversize blackened-steel mirror to echo the color, weight and texture of the exercise equipment, including the kettlebells and the monkey bars.
"I'm totally obsessed with cool vintage accessories, particularly when I find objects that can be repurposed. I found a wall-mounted cradle that is perfect for displaying one of the many vintage medicine balls I have collected over the years. The 1920s English oak chalkboard from Obsolete and 19th-century workman's daybed add warmth to the space and help tie it to the overall design aesthetic of the rest of my home."
---
Marble Hammam by 1100 Architect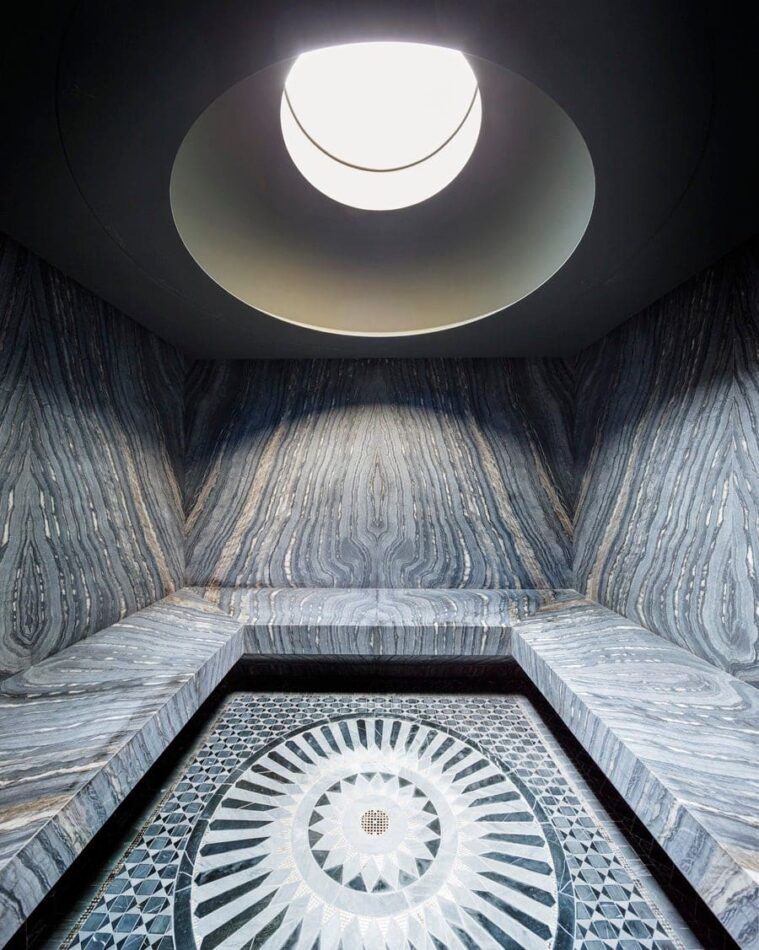 "We knew natural light would be important for a wellness space. By inserting the hammam beneath the backyard, we were able to create a skylight set in a cast-concrete dome," says David Piscuskas, a founding principal of 1100 Architect and the lead designer for the project, in Manhattan's West Village.
"Because this hammam is used for relaxation and meditation, we wanted to create an immersive environment fully distinguished from the rest of the house. By using Negro Madera marble slabs for walls and seating, we brought a sense of full immersion to the space."
---
Barn Workout Loft by WRJ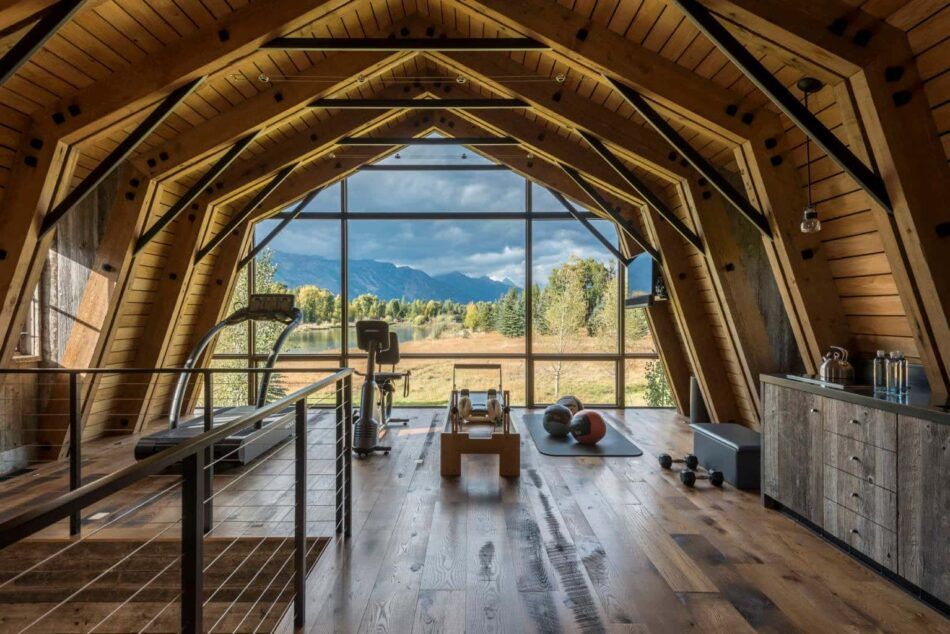 "Living in Jackson Hole, our clients are especially active. When they are not outside skiing, biking or hiking in the mountains, they like to stay in shape at home," says Rush Jenkins, CEO and creative director of WRJ Design Associates.
"This fitness room is located in the upstairs portion of a guest house that was built to look like a rustic converted barn. With sleek wood floors and giant floor-to-ceiling windows that offer inspiring views of the beautiful Teton Range, it's easy to spend a lot of time working out in this space."
---
Calming Yoga Studio by Joe McGuire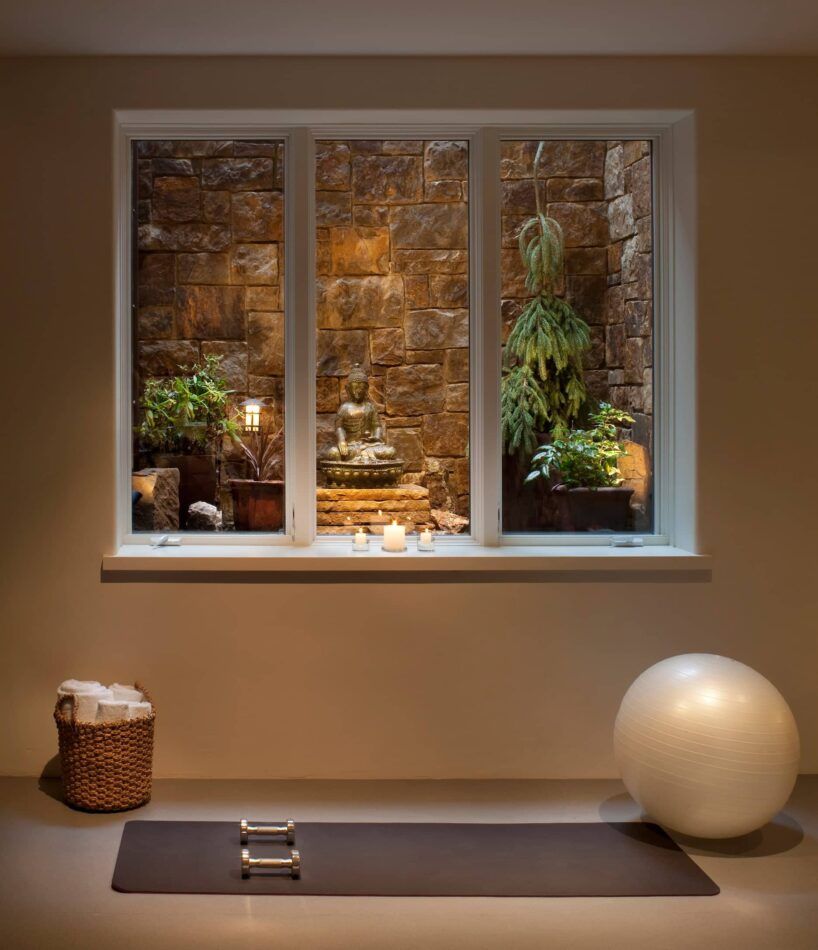 "This space was a project we did in Aspen for a client who had just completed yoga-teacher training," designer Joe McGuire says. "We wanted to create a space for her that would support and inspire her yoga practice. The challenge with the room was that it was located in the lower level of the house, and the only natural light was through this window well. Our solution was to create a tiny contemplative 'garden.' We chose low-light plantings arranged around an antique Buddha statue. We installed a small lantern, as well as some discreet spotlights, to illuminate the space and make it glow."
---
Lakeside Treatment Room by Godrich Interiors
"This treatment room in the Cotswolds, United Kingdom, has two large windows affording an uninterrupted L-shaped panoramic view of the lake. The sense of tranquility is enhanced by specialized soundproofing, underfloor heating and tactile surfaces throughout," says Godrich Interiors creative director Ed Godrich.
"The upcycled vintage sideboard was converted into a wash vanity, providing ample storage for towels and treatment essentials. The industrial floor lamp is a studio favorite, from Heal's, and the recycled book pendants are from Lulu Dot. The massage table was sourced from Earthlite at the client's request, to provide a portable solution for summer months."
---
Industrial Gym by Hubert Zandberg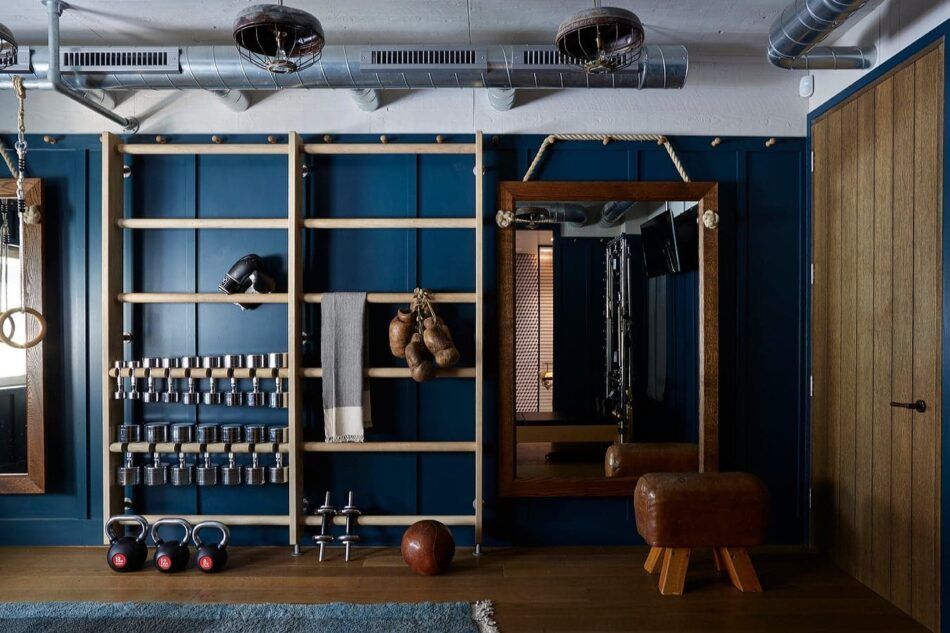 "While considering the design for what is effectively a practical utility space, we always aim to stimulate all the senses — creating an environment that makes physical exercise pleasurable and comfortable in an aesthetically beautiful setting," says Hubert Zandberg.
"Natural oak, leather and raw metals add to a warm relaxed feel. In London, home gyms are often in basements, and the use of color, materials, mirrors help to distract from the fact that there's often limited or no natural light. Good ventilation is essential. Here, we embraced the industrial approach, with the mechanical elements on show."
The wall paneling, mirrors and gym bar were all custom designed by Hubert Zandberg Interiors. The vintage gym items are from a Brussels flea market, and the industrial lights are from Paris's Clignancourt flea market.
---
Multipurpose Wellness Retreat by Stephen Stone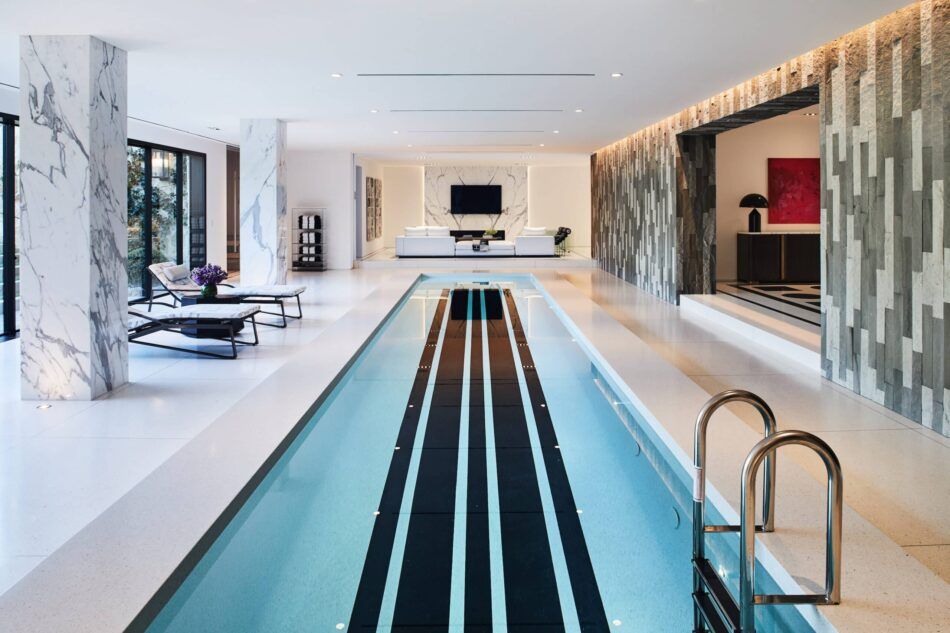 "In this Los Angeles residence, we converted a dark and dated basement to a new home wellness retreat, with a full cross-fit gym, a lap pool with lounge areas and a private massage room," says designer Stephen Stone.
"In the gym, we used an antique oak floor and rubber matting to help warm up the space, making it an inviting workout area. We gave the lap pool and massage room a white terrazzo floor and crisp white walls to create a sense of peacefulness and relaxation."
---
Farmhouse Fitness Space by Haus of Design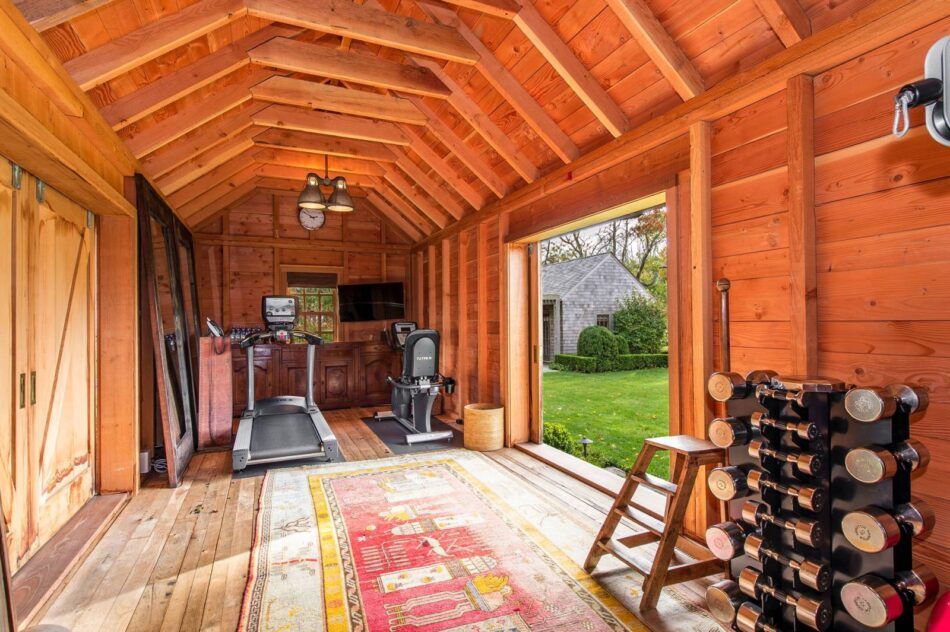 "We wanted to keep this space raw and rustic. Sometimes less is more!" says Clint Nicholas, of Haus of Design. "We put unfinished reclaimed American white oak on the floors, and we found industrial lighting fixtures at the Brimfield flea market. Adding a couple of rustic antiques in a space like this elevates the room and gives it character. We purchased an antique wooden ladder and sourced the buffet and large floor mirror locally, in the Hamptons. To give it a pop of color, we added an antique rug."