At the invitation-only L'Hôtel du Marc (located in the Champagne capital of Reims, France), interior designer Bruno Moinard crafted a dark, moody dining space by combining a Matthieu Lustrie chandelier with the room's original, 1840 wall sconces.
Photo by Jacques Pépion.
---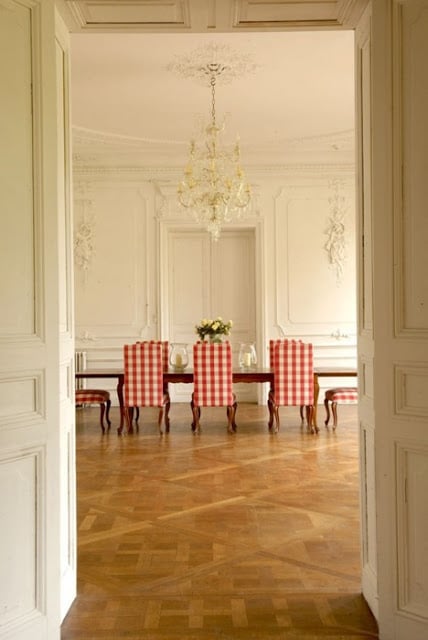 An unexpected ingredient — oversize red gingham upholstery — adds a rustic, homespun note to this grandly proportioned, boiserie-covered dining room.
---
In the West Village, New York townhouse of Ali Cayne — proprietor of cafe-cum-culinary school Haven's Kitchen — used a palette of creamy neutrals to construct a gallery wall in her home's dining room.
Photo by Lesley Unruh.
---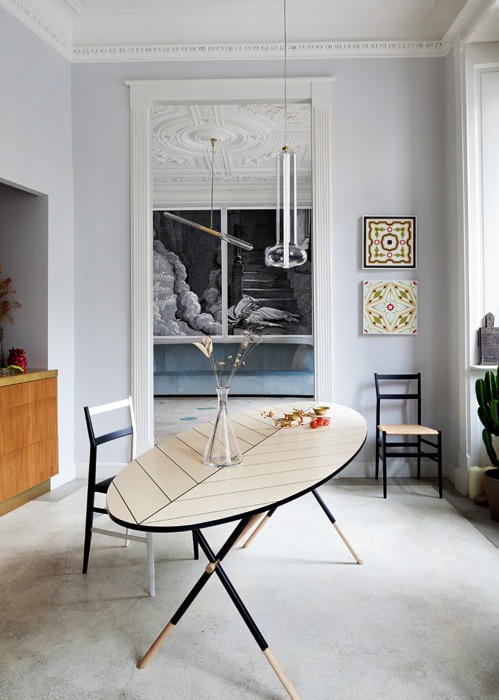 Interior designer Pietro Russo preserved the architectural embellishments of this 19th-century, Art Nouveau Milan apartment, but introduced furnishings — like this dining table of his own design — to introduce a more contemporary sensibility.
---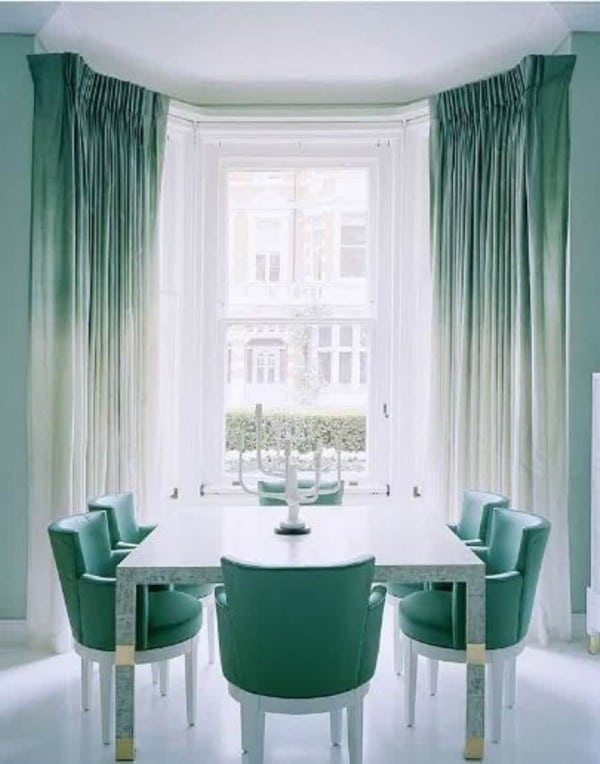 The late British designer David Collins was known for his particular faculty with the color blue. This seawater-hued London dining room, complete with softly ombréd draperies, is evidence of his gift.
---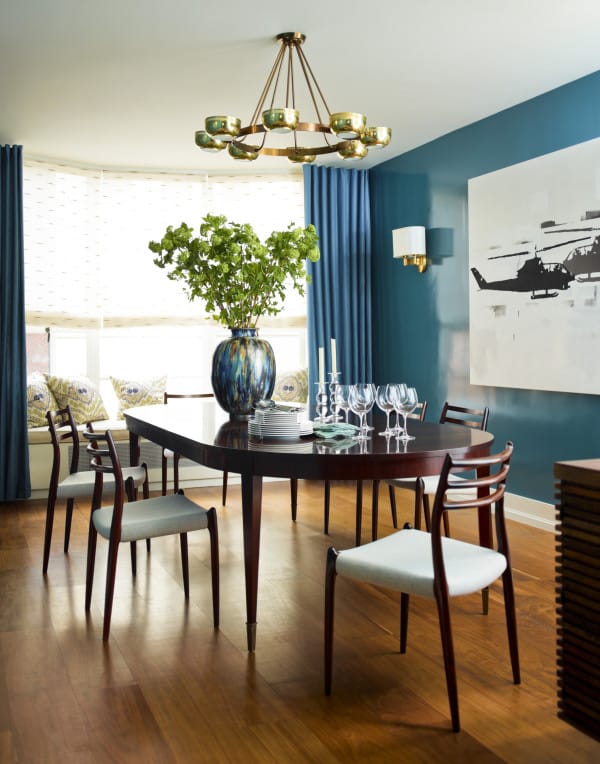 Interior designer Gideon Mendelson used slim-lined teak Niels O. Møller chairs for this Manhattan dining room. A dainty, tapered leg has become one of Mendelson's signatures: "I like to say about some of the furniture I use that if you are not looking, it might walk away."
Photo by Eric Piasecki.
---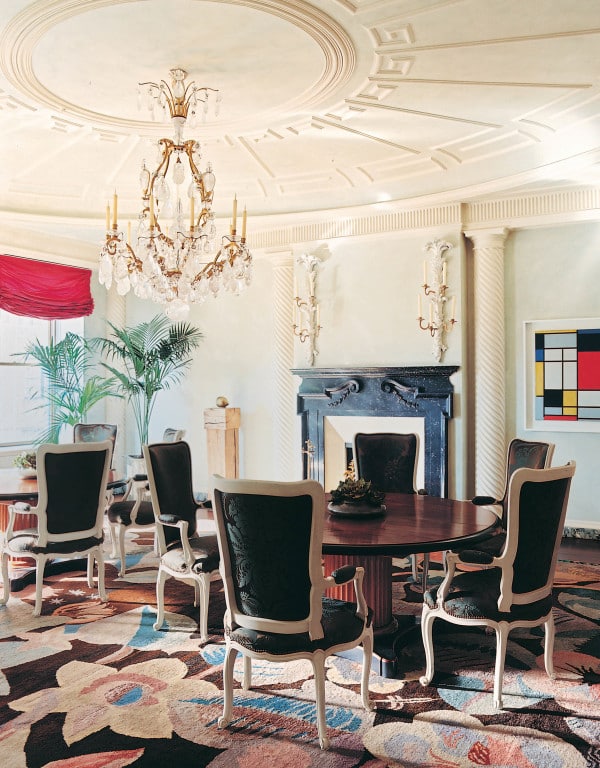 For this 1920s Park Avenue apartment, interior designer Jacques Grange relied on the owners' extensive art collection and damask-upholstered antique French chairs to create a playful, convivial dining space.
Photo by François Halard.
---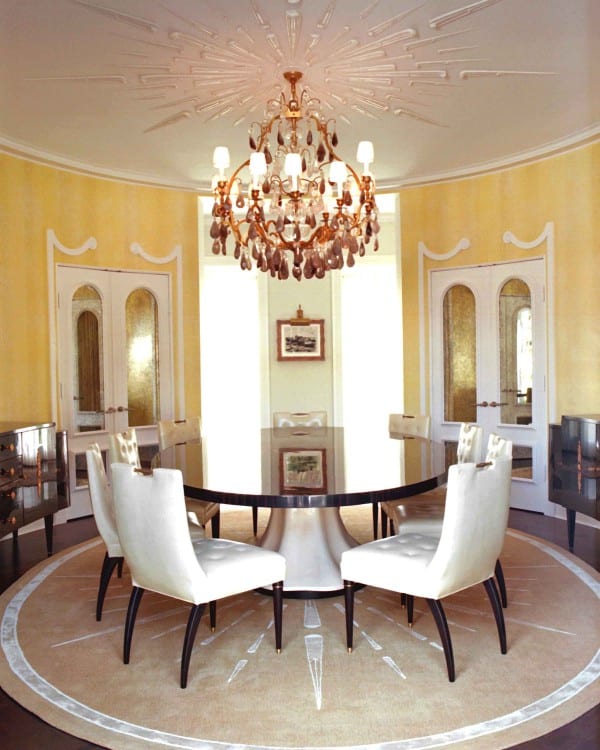 In Bel Air, California, interior designer Kelly Wearstler used sunny, citrus tones, high-gloss lacquered surfaces and a round, neoclassical Savonnerie rug to impart a subtle glamour to this oval-shaped dining room.
Photo courtesy of Kelly Wearstler.
---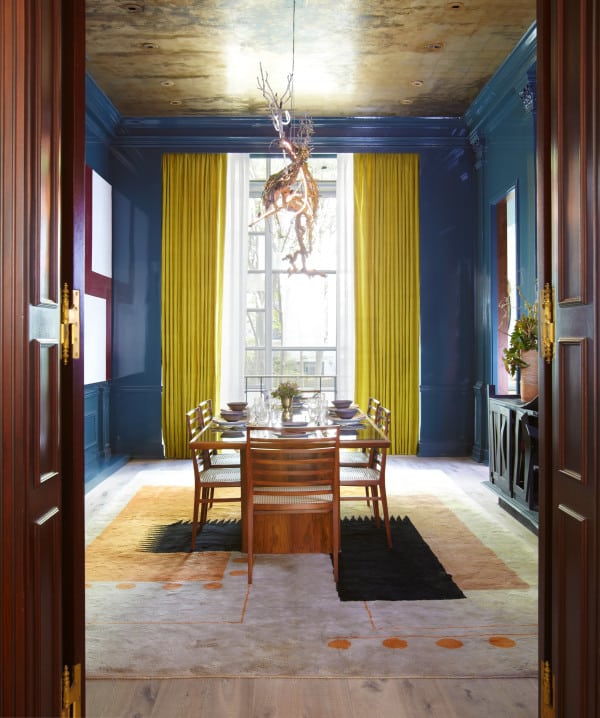 For the 2013 Kips Bay Decorator Show House, New York-based talent Kristin McGuiness paired a 1949 Joaquim Tenreiro dining table with glossy, slate-blue walls and a graphic, 1930s carpet by Ivan de Silva Bruhns.
Photo by Timothy Bell.
---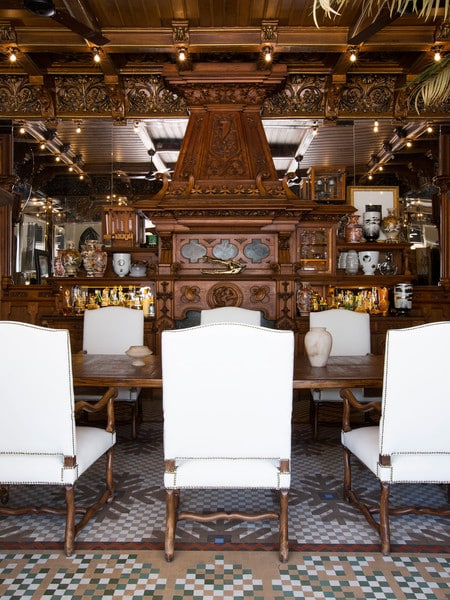 Intricate oak boiserie adds a formal richness to the dining room of designer Lázaro Rosa-Violán's Barcelona home. Rosa-Violán utilized recycled parquet flooring to create the dining table under his contemporary furnishing label, Contemporain Studio.
Photo by Mari Luz Vidal via Lonny.
---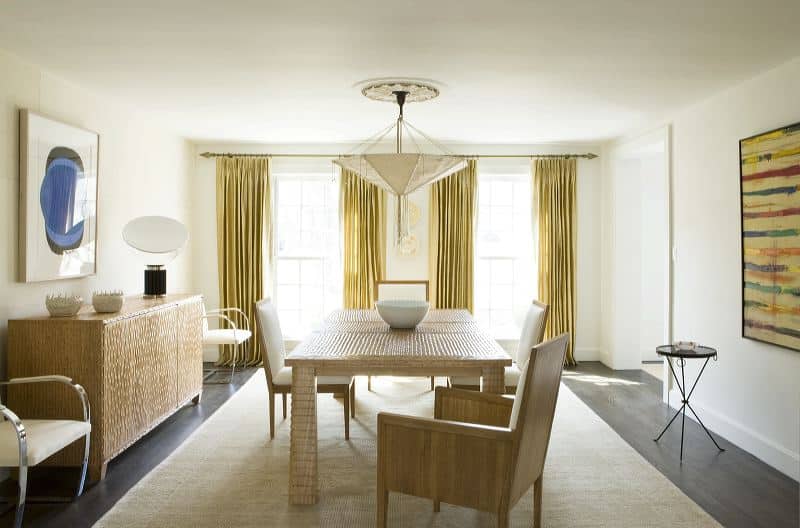 For a project in Maryland, interior designer Nestor Santa-Cruz used a palette that he describes as "a cacophony of whites and ivories." A small iron-and-glass table by Jean-Michel Frank sits to the right.
Photo by Angie Seckinger.
---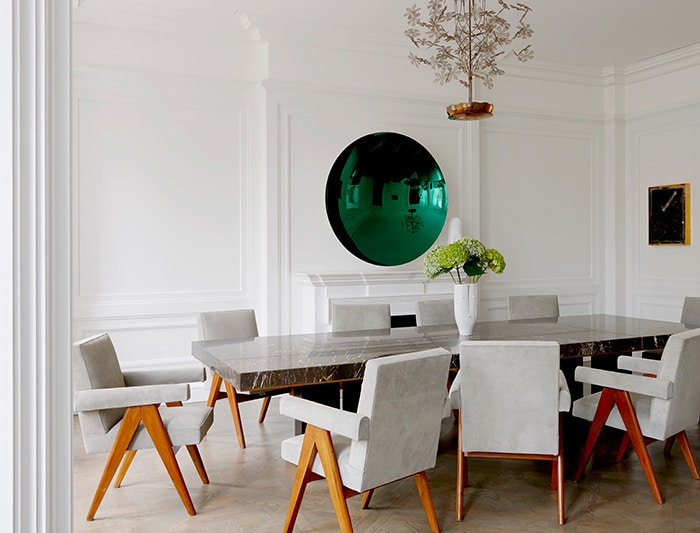 For a Queen Anne-style apartment in London, interior designer Joseph Dirand created a tonal, pared-down dining space that utilizes Pierre Jeanneret armchairs and a Paavo Tynell chandelier.
Photo by Adrien Dirand via AD France.
---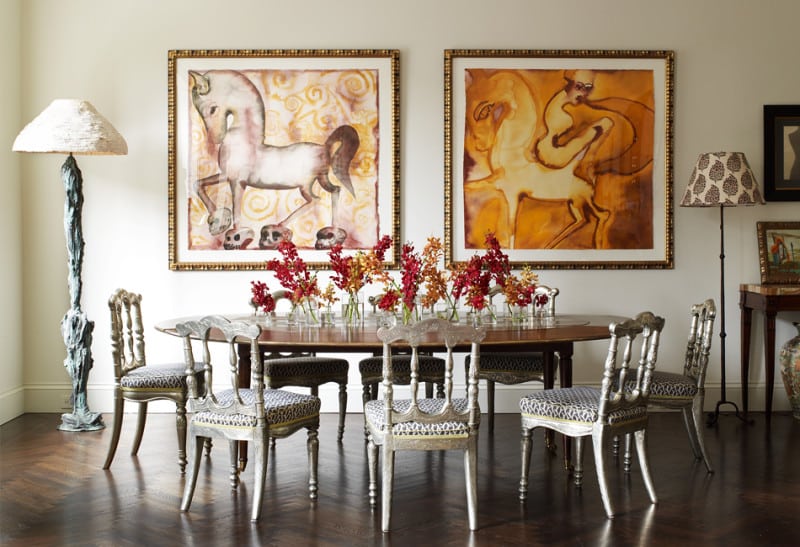 In this Upper Manhattan dining room by interior design duo Sachs Lindores, frescoes by Francesco Clemente form a dramatic backdrop for an antique French table surrounded by custom John Robshaw chairs.
Photo by Ngoc Minh Ngo.
---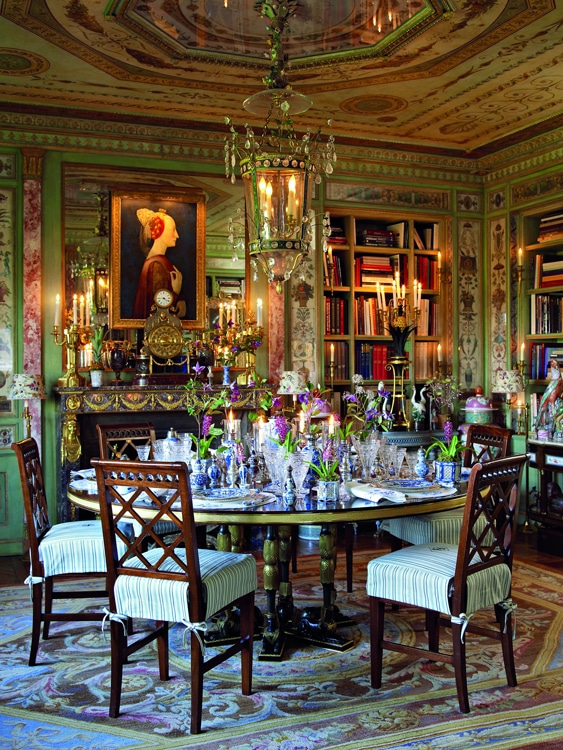 Designer Howard Slatkin's legendary Fifth Avenue apartment is a study in thoughtful maximalism. In the home's dining room — which was inspired by Raphael's Loggia at the Vatican — hand-painted wood panels sit alongside a French Empire Savonnerie rug and a pendant light salvaged from a Russian imperial palace.
Photo by Tria Glovan courtesy of Vendome Press.
---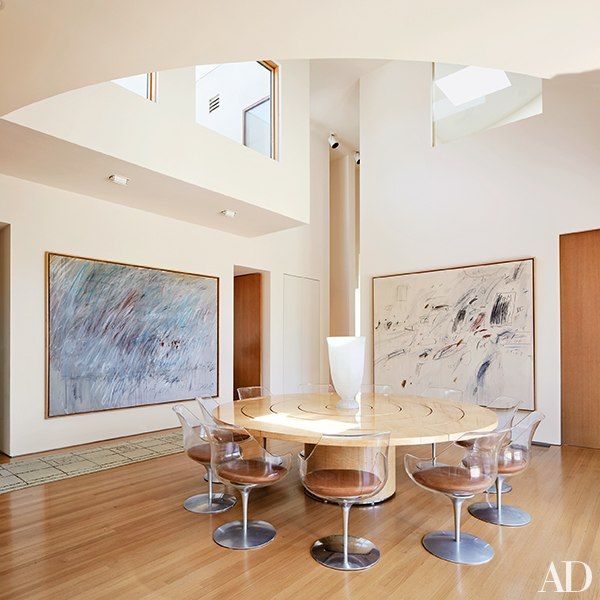 In the Los Angeles home — designed by architect Frank Gehry — of renown art collector Eli Broad, interior designer Rose Tarlow used Lucite dining chairs by Estelle and Erwine Laverne to subtly offset two canvases by painter Cy Twombly.
---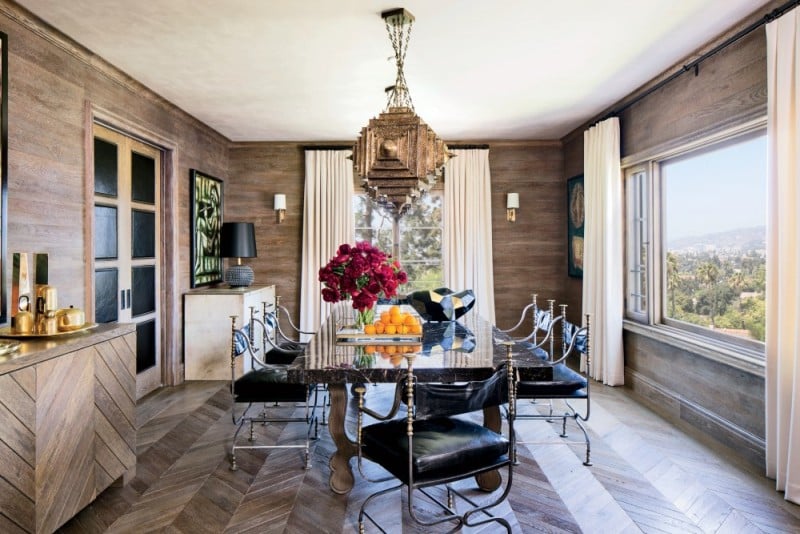 For the Los Angeles dining room of actress Ellen Pompeo, interior designer Martyn Lawrence Bullard used white oak to create chevron flooring and paneled walls.
---