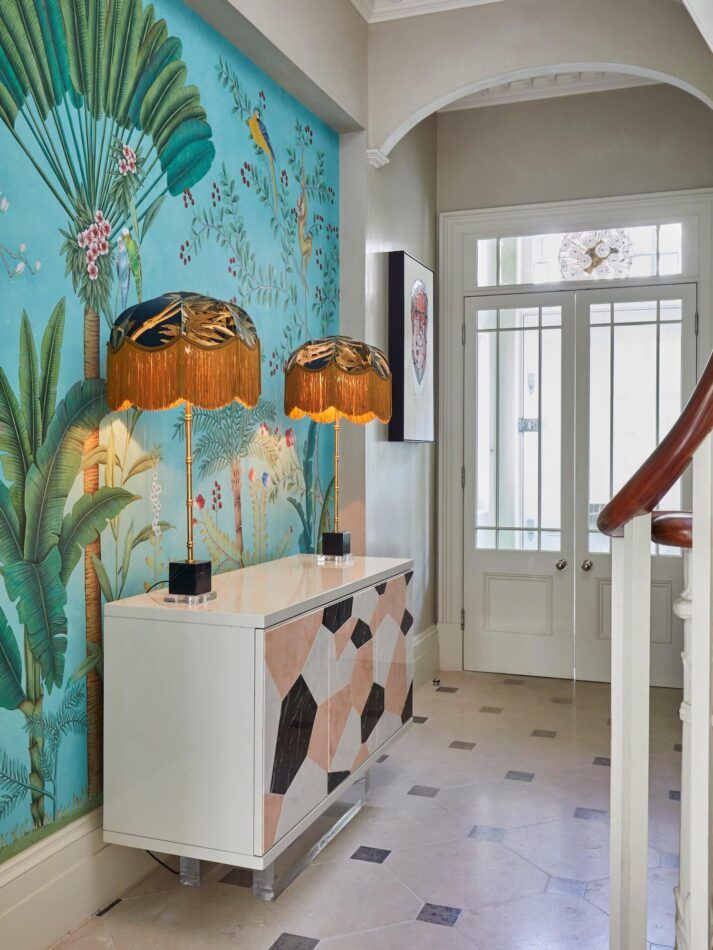 Nicky Mudie brought a touch of whimsy to London's Kensington neighborhood, a bastion of traditional style, with her design for a Holland Park townhouse. "I'm not usually a fan of an accent wall," says the Violet & George director and founder. "I would generally prefer to wallpaper all of the walls in a room. But I agreed to the accent wall in the entry because the de Gournay pattern was so dramatic that it looked more like a piece of art."
The drama continues with the lamps, which — with bases from the Chelsea auction house Lots Road and shades from House of Hackney — seem to have sprung from the paper behind them. The Ginger & Jagger credenza brings it all down to earth, its patterned front echoing the tiled floor.
---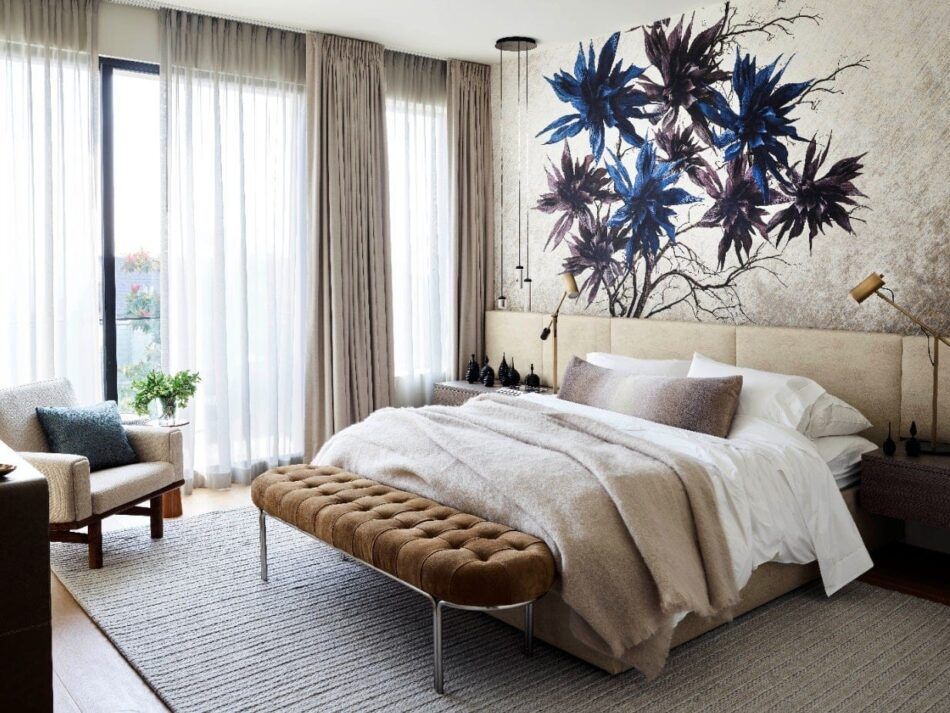 "The clients wanted a calm bedroom but didn't want it to be boring," says Martin Kobus Home VP Chris Bergin, referring to this serene space in a San Francisco residence. "So, we used a neutral palette with soft textures and added drama with the wallcovering by Wall & Deco."
---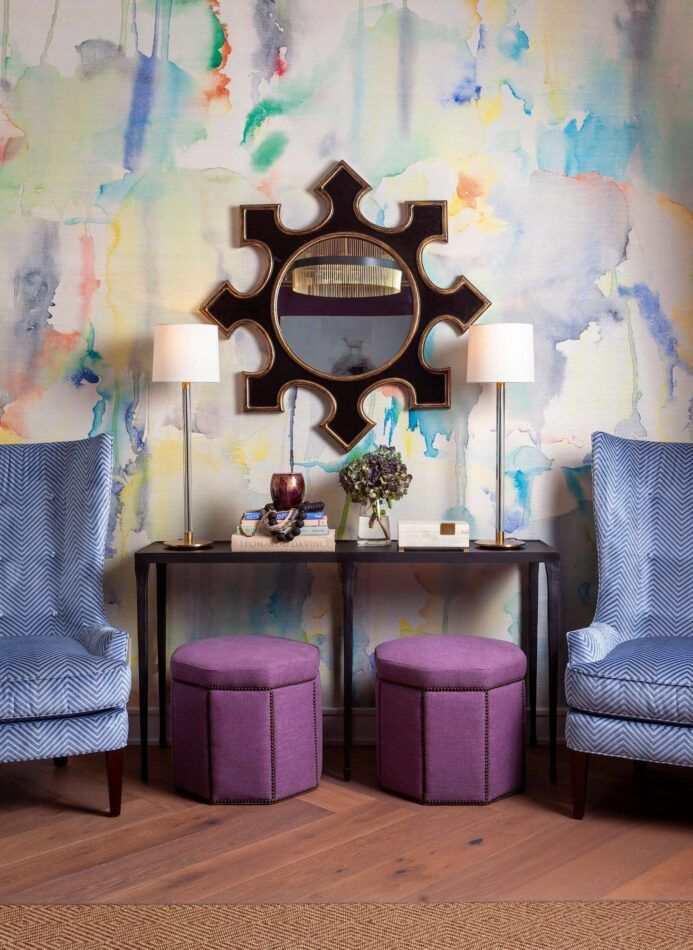 "The client really wanted to infuse her Austin, Texas, home with lots of cheery, bright colors," says designer Titus Muncy of Butter Lutz Interiors. "But she wanted to balance that lighthearted feel with an air of sophistication and luxury." The accent wall mural does all that and more. Its swirls of happy hues stand in stark but stylish contrast with the darkly angular Surya mirror and at the same time set the tone for the rest of the room's decor.
"Doing a chevron-patterned velvet on the chairs and a purple linen on the ottomans added another layer of depth and complexity against the custom grasscloth mural," says Butter Lutz senior designer Martha Hunter.
---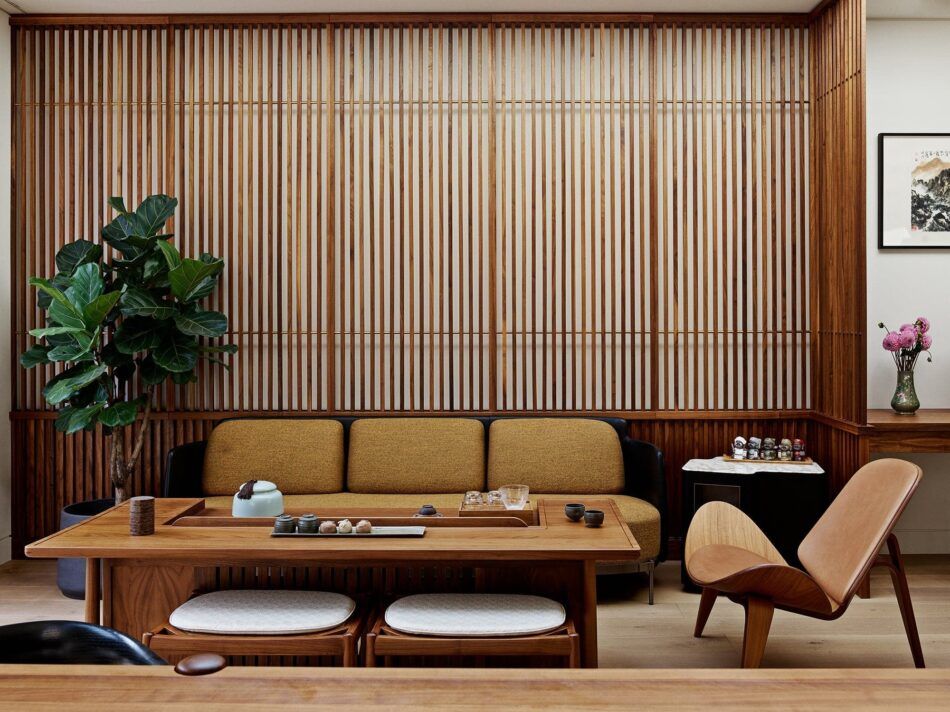 For the London dwelling of a keen yoga and meditation practitioner, Carden Cunietti cofounder Audrey Carden crafted spaces dedicated to promoting well-being and mindfulness. "Our client is Chinese, so we wanted to create an area in the house where she could enjoy tea," says Carden, referring to this peaceful living room. "She has an amazing collection of teapots."
The table is specially designed for serving the restful brew. And the wall behind forms an appropriately serene backdrop. "We wanted to provide a contemporary take on Asian room screens," the designer explains. A Hans Wegner for Carl Hansen Shell chair and a Minotti sofa blend in perfectly.
---
In this Hollywood Hills bedroom, Jeff Andrews played his decor off the house's architecture. "Two of the walls are all glass," he points out. "So, we needed to warm up and personalize the space with color and pattern." He started with the dark teal jute rug, to anchor the palette.
"The accent wall is Nobilis wallpaper that is meant to be installed vertically," Andrews notes. "However, we installed it horizontally to give this wall a hand-painted look. It almost looks like the fine veining in marble."
This horizontal "veining" is echoed in the large painting above the bed, by Armando, while the white chairs, from the designer's own collection for A. Rudin, pop against the somber background.
---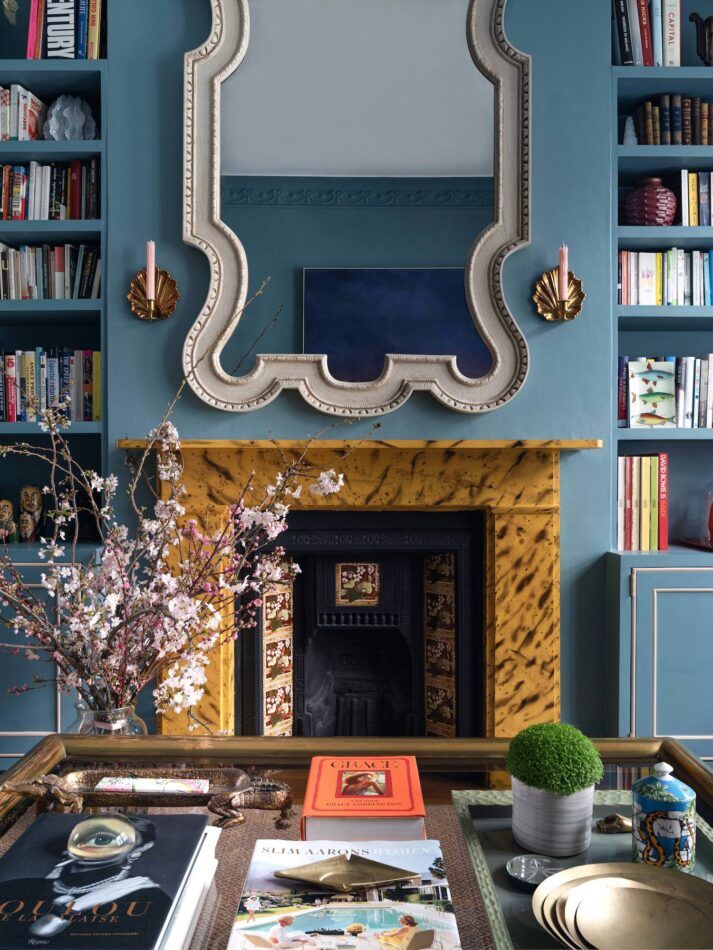 "My Mexican heritage always leads me to using color as a way to create warmth within a space," says Stephanie Barba Mendoza. Her approach is vibrantly illustrated in this living area she designed in a London home on Kingsley Road.
Taking the place of a traditional accent wall, the combo of oversize antique mirror and tiger-striped Victorian fireplace makes an equally bold statement. It "offers a pause amongst the blue," explains the designer, who considers the room a harmonious balance of textures, finishes and decorative items.
---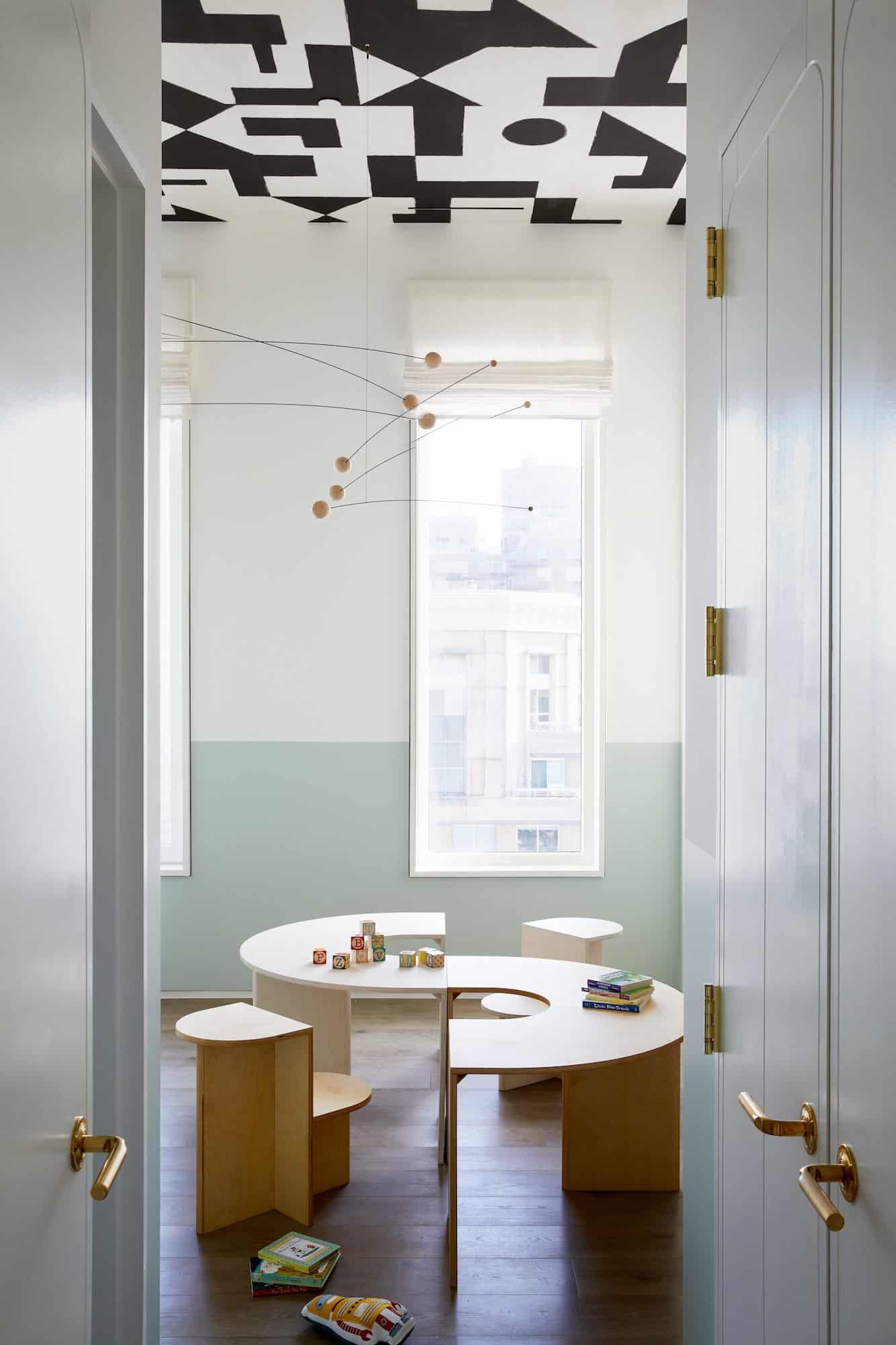 "We envisioned a playroom for two-year-old twins that was fun and playful yet felt cohesive with the design aesthetic of the rest of the Upper East Side apartment," says GRISORO Studio partner Gabriela Gargano. "The owners are contemporary-art collectors, and we thought a bold, graphic wallpaper design would capture that perfectly."
The Schumacher paper by Porter Teleo gives an unexpected jolt to the otherwise demure space, which is outfitted with Kinder Modern furniture. Even more surprising, though, is where it's applied. "The home has a serene, minimal design with high-impact furnishings," says Gargano. "In keeping with that, we felt that a dramatic wallpaper applied to the ceiling would not only draw the eye up but add a big personality to the fifth wall." Call it an accent ceiling.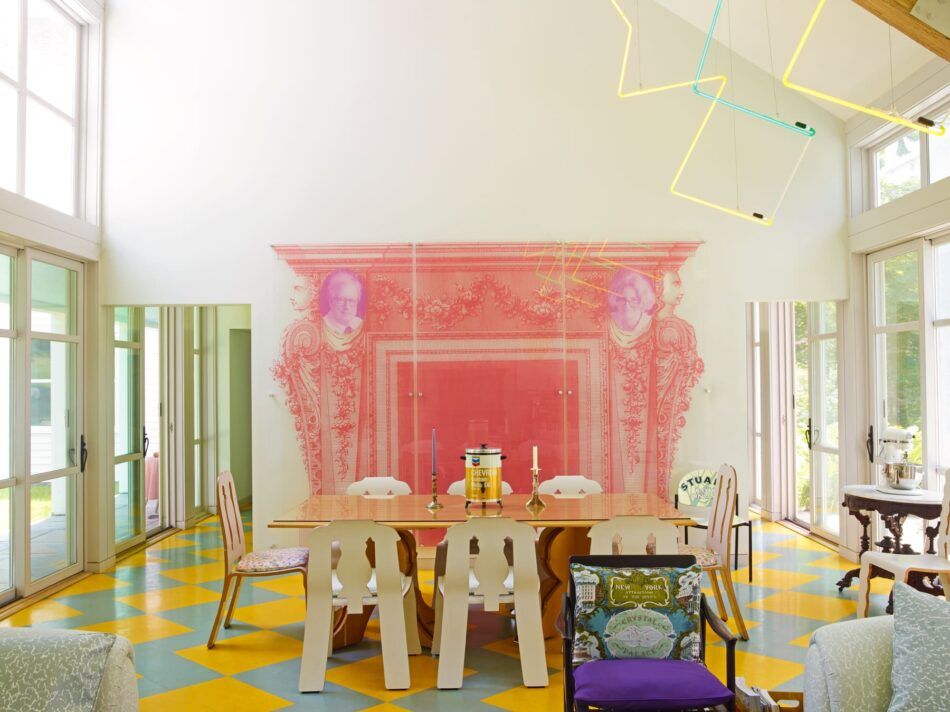 Artist Cary Leibowitz and landscape designer Simon Lince commissioned postmodern design legends Robert Venturi and Denise Scott Brown to expand their eclectic, centuries-old home in Upstate New York by one room. The resulting addition is multipurpose and elaborately decorated, including Venturi and Scott Brown's flattened Queen Anne chairs set around the dining table. But most eye-grabbing is the painted mural of a fireplace mantel featuring cheeky portraits of the architects' faces, captured here by photographer Simon Upton.
---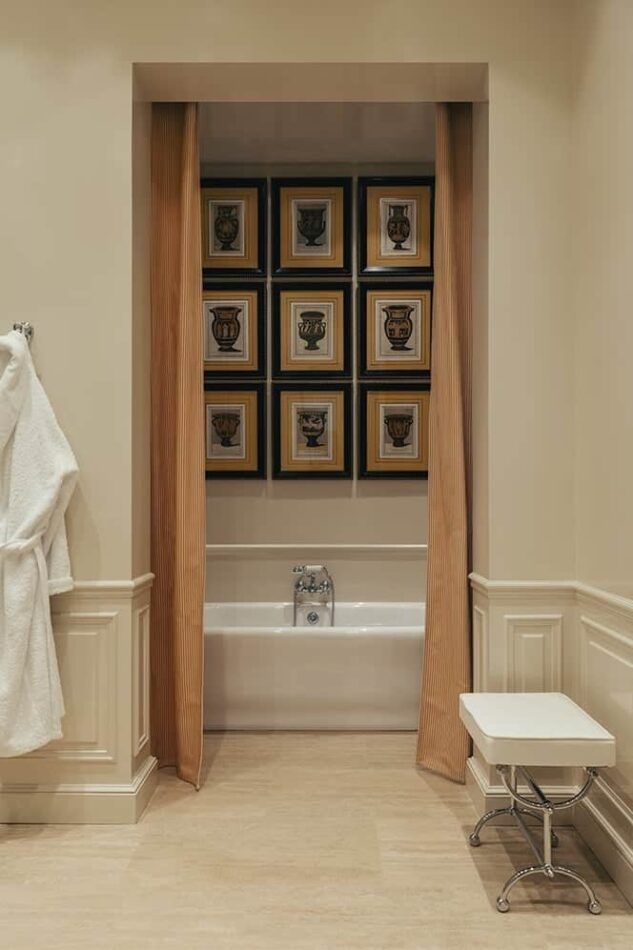 "The idea was to create a sort of a private and cozy alcove for the bathtub," says Fabrizio Casiraghi, explaining his design for this nook in a Parisian apartment. "I love to treat bathroom walls as normal-room walls, which is why I use paintings, boiseries and curtains."
In this case, he covered the wall with vintage etchings in antique frames. "It is a rare collection I fell in love with during a visit to a gallery in Paris," he says. "Actually, [the client and I] both fell in love with them, and we knew that they would be perfect for this bathroom accent wall."
---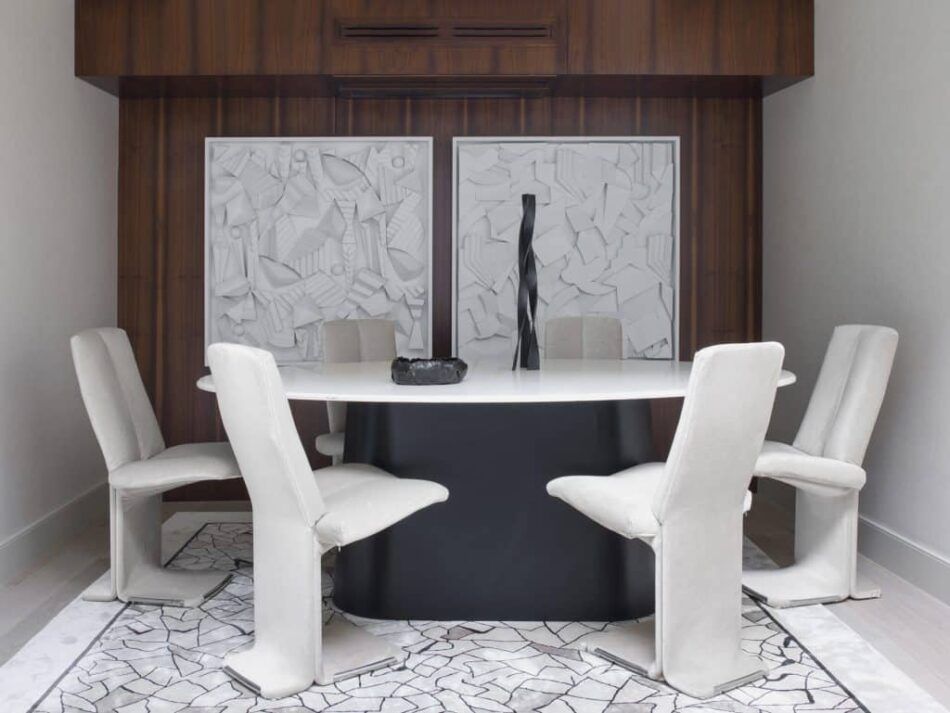 In the dining room of a South Kensington Edwardian townhouse, Moscow-based decorator Irakli Zaria set the stage with an accent wall composed of a pair of 1980s Japanese wooden panels. He then populated the scene with 1970s Gaston Rinaldi chairs placed around a custom wood-and-travertine table and topped it all off with a collection of Osanna Visconti di Modrone bronze accessories.
---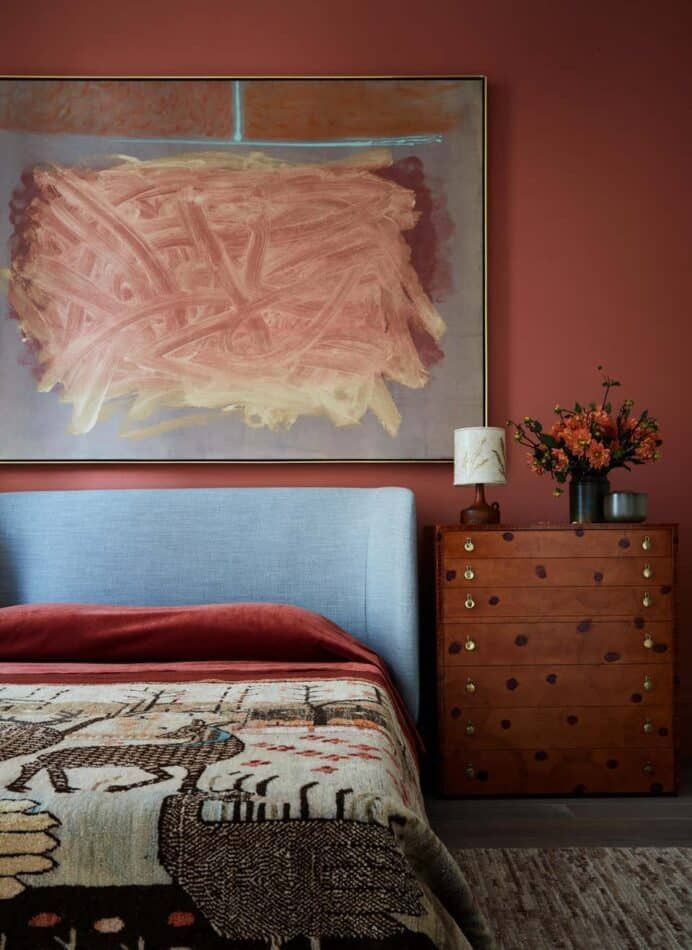 Enlisted to design the House of Elle Decor — a 4,141-square-foot New York penthouse in a McKim, Mead & White structure — by the magazine of that name, Neal Beckstedt did not disappoint. "Playing off the rich history of the building, my objective was to showcase a home that effortlessly blends modern with traditional," he says.
That seamless mix is very much in evidence here. As Beckstedt explains, "A curation of hand-selected furniture and textiles, with punches of resplendent color, were the elements that served to transform the bedroom into a distinctive space that is seasoned and sophisticated, yet current and playful." Dan Christensen's 1980 Tetin-2 makes a statement above the bed, while beside it, the designer placed a Renzo Rutili chest of drawers from 1955.