In their recently published Houses That We Dreamt Of (Rizzoli), which features lush, evocative photographs by Ivan Terestchenko, Delphine and Reed Krakoff open the doors to the extraordinary homes they've designed during their 15 years of marriage. He's a famed fashion and design impresario who is the chief artistic officer at Tiffany & Co.; she's a successful interior decorator and antiquaire. Together, they have pursued an enduring passion for contemporary design, antiques, historic architecture and the fine art of creating environments that are at once welcoming and entirely unforgettable.
---
Paris Drawing Room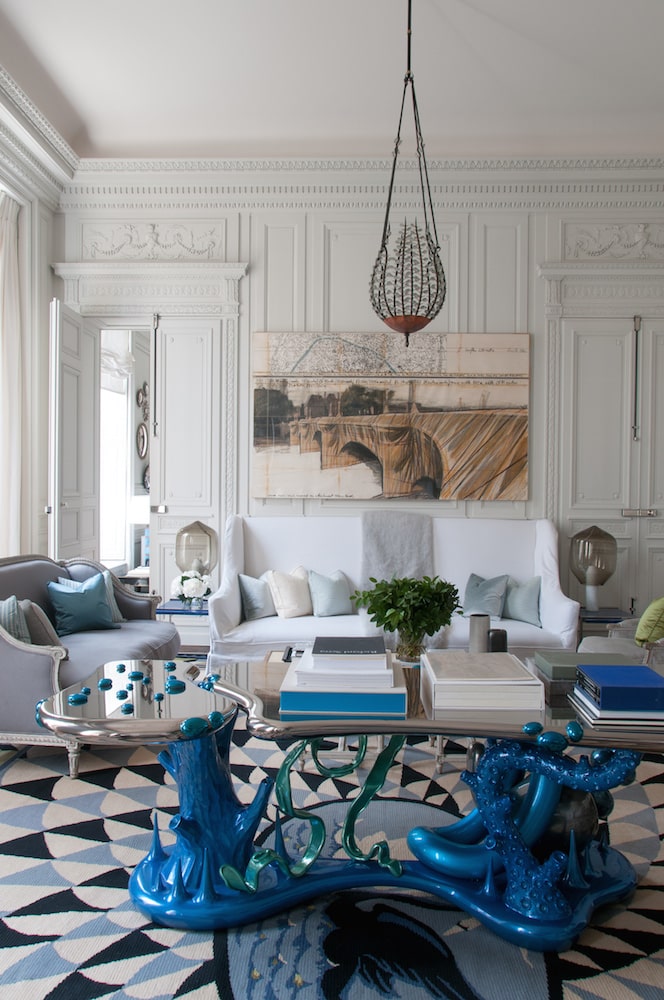 Delphine: I commissioned this Mattia Bonetti table for Reed's birthday, and it was in our house in Palm Beach for a long time before finding its way here.
Reed: And we came across the Emilio Terry carpet long after we had started this project, but it fits perfectly.
Delphine: There's literally one foot all around. It could have been custom designed for the room — it's insane.
Reed: The Christo drawing depicts the Pont Neuf, which is just down the street from the apartment.
Delphine: The paneling, which dates from the last quarter of the 19th century, is so strong, we wanted furniture that is also strong, but unexpected. We didn't want to create a period room.
---
Palm Beach Living Room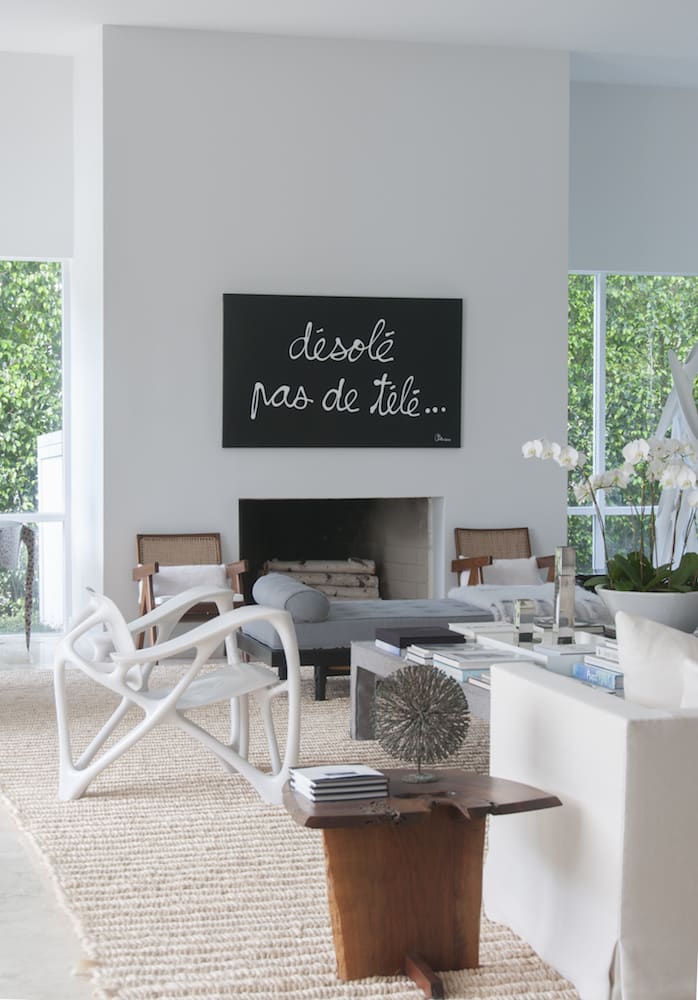 Reed: We were thinking about making a joke — a visual joke! — about TVs above fireplaces in sitting rooms. The Ben painting's translation from the French is '"Sorry No TV."
Delphine: We never think about putting only the best pieces in the best rooms. So alongside the George Nakashima Minguren slab table and the Joris Laarman Bone armchair we have the funny Ben painting and a coffee table that we made out of primed wool felt.
---
New Canaan, Connecticut, Library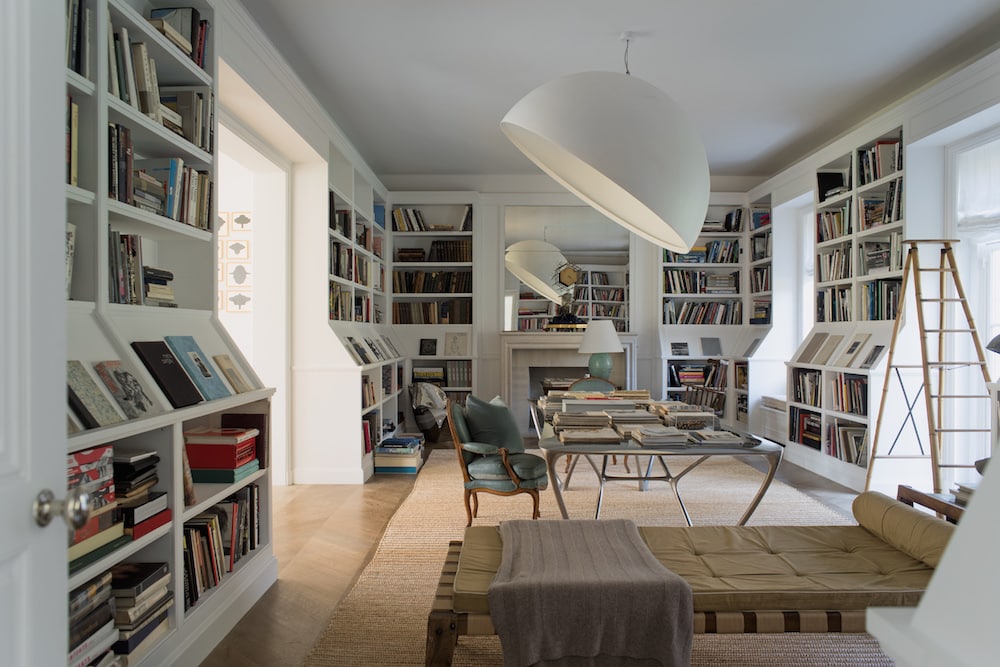 Reed: It's not a room to take a picture of, it's a room to work in. Delphine came up with the idea for the shelving and the angled display surfaces.
Delphine: The room is very large and could take it. The angle is derived from a lutrin, or lectern, and is perfect for showing Reed's rare or oversized books.
Reed: The clock on the mantle is by André Dubreuil. I'd seen it 25 years ago and later found it at an obscure Austrian auction house. He's amazing, but he doesn't have a large following in America.
Delphine: Talk about an unlikely grouping of objects. Here, you also have a Paul Cocksedge light hanging over a Joris Laarman desk that's surrounded by Louis XV armchairs upholstered in robin's-egg blue. Ron Arad's mirrored stainless steel Big Heavy chair and a Pierre Jeanneret daybed round out the ensemble.
---
New York City Townhouse Library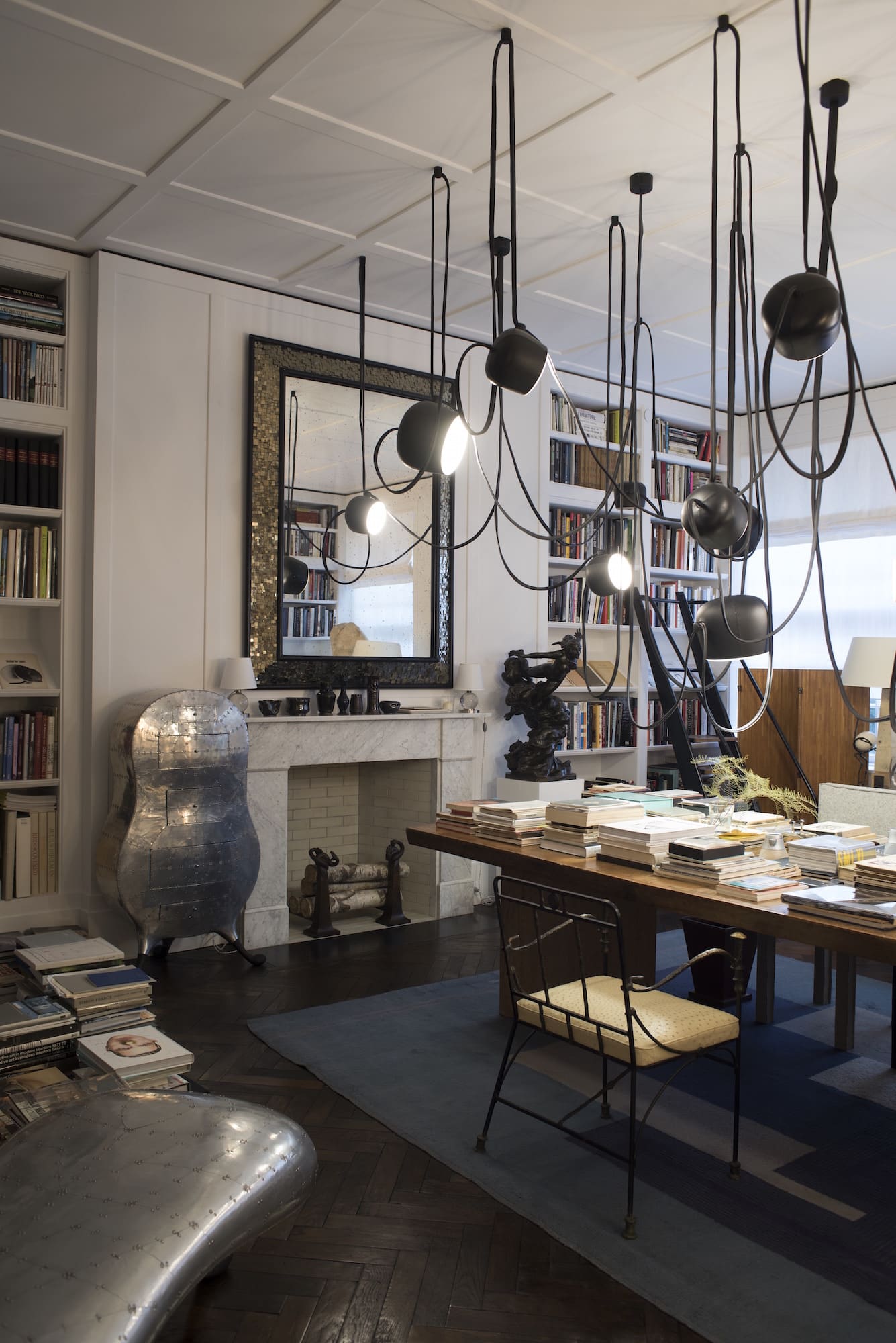 Reed: The Bouroullec brothers' leather light fixture came from Paris, but some things here were purchased specifically for this house, like the Ivan da Silva-Bruhns carpet.
Delphine: But we didn't know where exactly it was going.
Reed: And this room is always changing. There are stacks of books on the floor, and Marc Newson's aluminum Lockheed Lounge and Pod of Drawers happen to be near a bronze Diego Giacometti armchair.
Delphine: The books are just waiting to be put on the shelves. It's not a styling decision.
---
East Hampton Foyer and Dining Room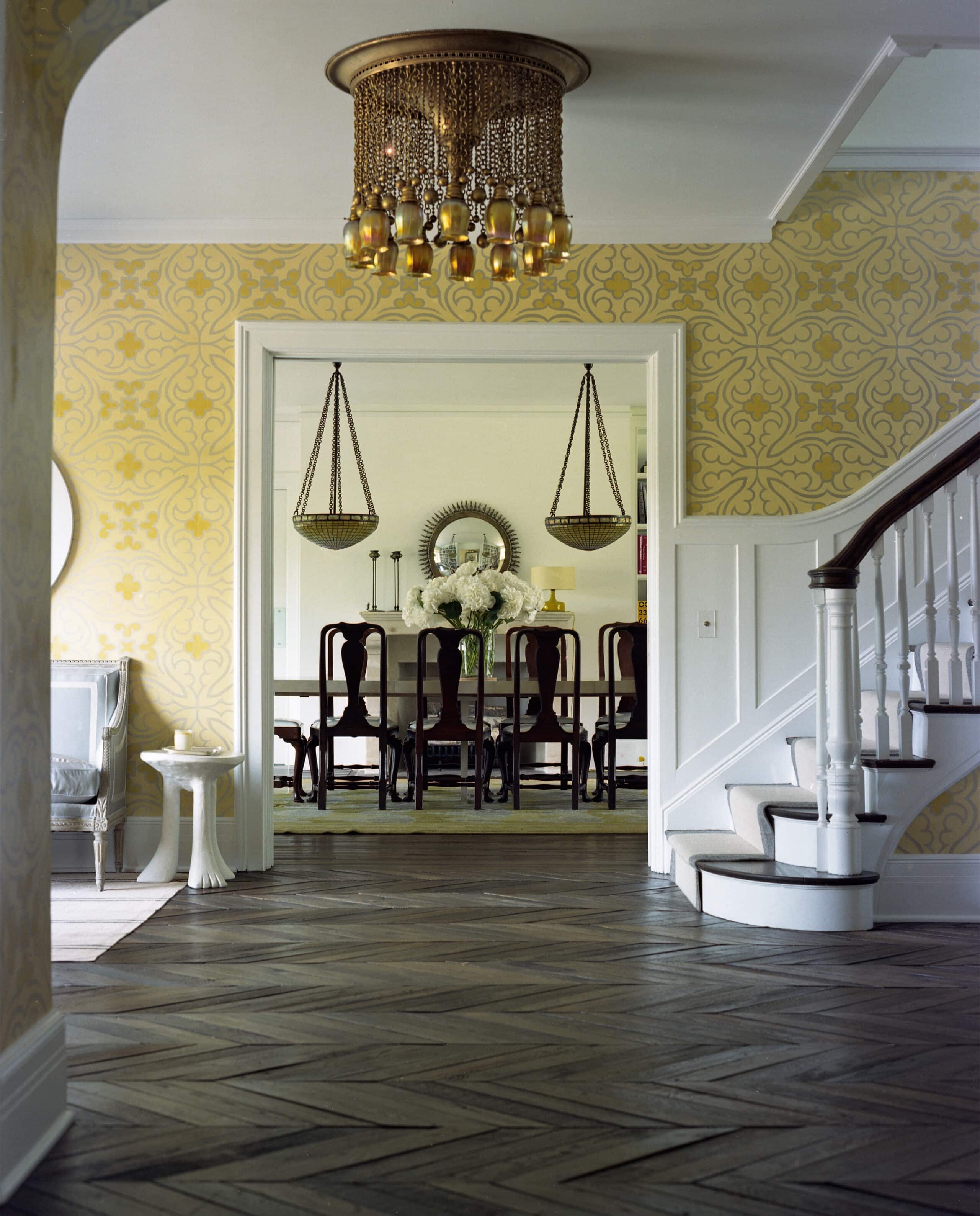 Reed: As Delphine has said, this mix probably wouldn't work on paper, but somehow it does in practice. We had decided not to put in any recessed lighting, to keep some of the feeling of the period of the house, so Tiffany lighting sort of made sense, but maybe not mixing Tiffany with a super geometric Samuel Marx acrylic and lacquer table, and then Line Vautrin mirrors and American Queen Anne chairs.
Delphine: In the foyer we designed custom wallpaper, which feels like cleaned-up Arts and Crafts, and placed a John Dickinson side table next to a Louis XVI settee. We bought the settee from the previous owners of our former house in Southampton.
Reed: Whenever possible, we like to have a few pieces from the previous owners.
Delphine: It's good karma!
Photos by Ivan Terestchenko