Aquazurra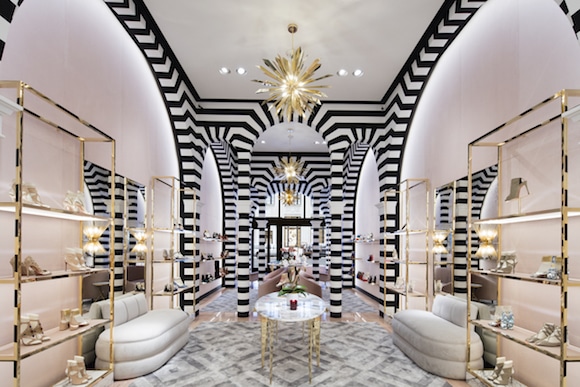 For Aquazurra's New York flagship, designer Ryan Korban said he wanted to create a space that merged classic Florentine elements with a contemporary Manhattan aesthetic to reflect the store's surroundings while paying homage to the shoe company's Italian roots. He was inspired by monumental spaces from around the world, including European churches, palaces and Versailles, along with 1970s design elements.
Photo by Ryan Korban
---
Trina Turk
In 2012, Bestor Architecture renovated Trina Turk's Palm Springs flagship store located in a 1960s Albert Frey building. The space had originally been designed by Kelly Wearstler a decade earlier, but Bestor updated the expanded 5,000-square-foot store with a more bohemian vibe, bringing in light-toned wood accents and patterns derived from Turk's swimwear designs.
Photo by Lisa Romerein
---
Smythson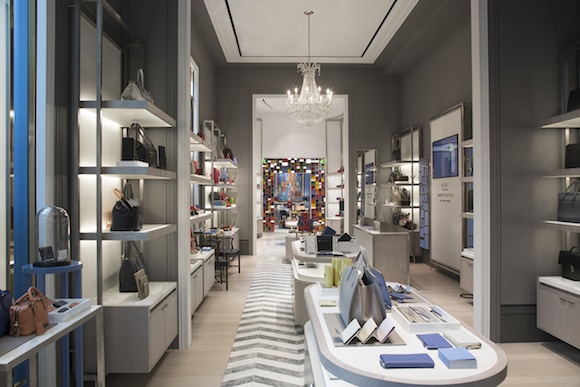 Smythson's New York outpost pays homage to the British brand's London store, both of which were designed by Waldo Studio. The space is divided into four departments — the Collection Hall, the Atrium, the Library and the Bespoke Room — each with its own identity. The Collection Hall (above) features an Evalina chandelier by Ralph Lauren, a herringbone marble floor and antique Windsor chairs upholstered in Smythson's Burlington deerskin.
Photo by Skyler Smith
---
Pas de Calais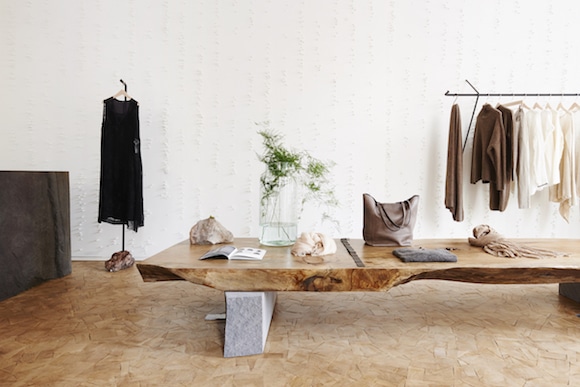 Raphael Navot designed the first Paris boutique of Pas de Calais, where the furnishings' wabi-sabi character underscores the refined simplicity of the Japanese company's clothing. A focal point of the space is a table made from a slab of untreated exotic lumber on two blocks of washed lava stones. The floor is a patchwork of handcut wooden blocks.
Photo by Adrien Dirand
---
de Grisogono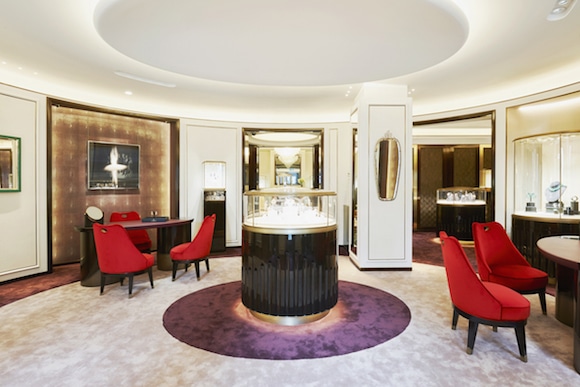 David Collins Studio collaborated with de Grisogono founder Fawaz Gruosi to design the jewelry and watch brand's New York flagship. Each of the store's three rooms has a specific purpose and unique design. The Corte (above) showcases the main jewelry collection in shades of amethyst and shimmering white; the dark, dramatic Stanza Del Tempo features the watch collection; and the Grand Sala is lined in pistachio silk and serves as the drawing room.
Photo by Adrien Dirand
---
Alexander Wang
When Ryan Korban designed Alexander Wang's New York flagship, he wanted to create a space that felt personal, because the fashion line reflects so much of Wang's individual style. Since Korban also did Wang's apartment, he decided to incorporated many of the home's elements into the store — including the large windows and columns — to create a clean, monolithic interior.
Photo by Ditte Isager
---
Lulu Frost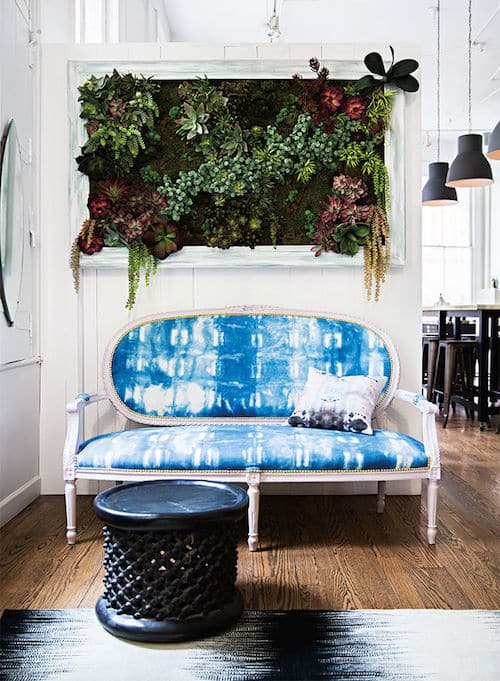 The New York loft of jewelry brand Lulu Frost serves as a wholesale showroom, retail shop, production space and design studio, so Katie Martinez stuck to mostly black and white in order to highlight the merchandise as well as the original details of the 1850s building. However, the designer strayed from the monochrome palette in certain areas to create relaxing vignettes, like this lounge with a French settee in shibori cloth placed underneath a living wall.
Photo by Brittany Ambridge
---
Fortnum & Mason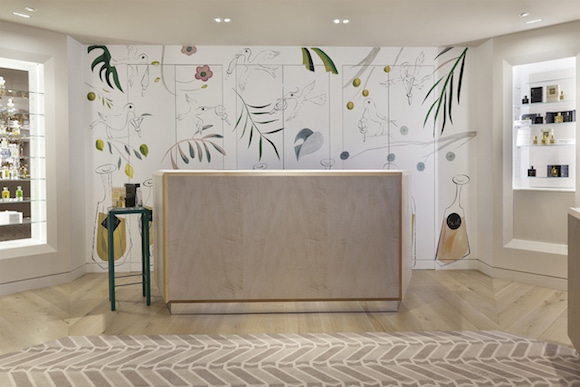 Waldo Studio's design of the scent and beauty department of Fortnum & Mason in London was inspired by Georgian ladies' salons, reflecting the heritage of the company, which was established in 1707. The goal was to create an elegant, serene space with touches of whimsy — one that feels like walking through a fabulous woman's boudoir suite.
Photo by Ruy Teixeira
---
Sonkes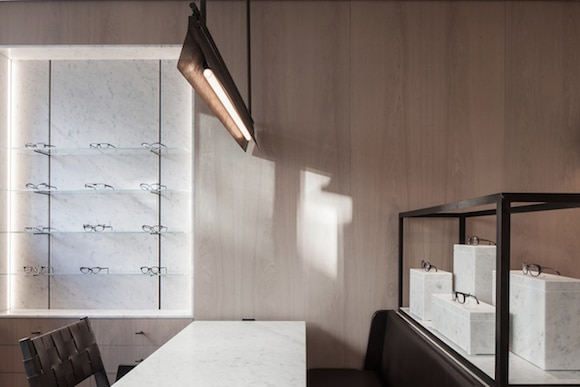 Architect Nicolas Schuybroek redesigned the Sonkes optical shop in Brussels with luxurious yet retrained interiors that combine marble display boxes and stained sandblasted oak panels on the walls with gray herringbone oak floors. The leather furniture and bronze accents are intended to give the space a more masculine edge.
Photo by Thomas de Bruyne
---
Alexander McQueen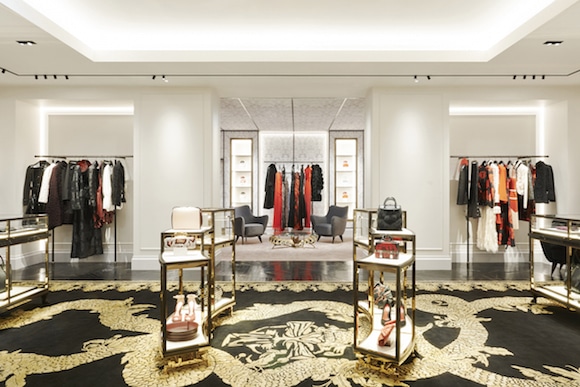 For Alexander McQueen's Paris flagship, Sarah Burton, the company's creative director, worked with David Collins Studio to design a space that is simultaneously classic and contemporary, familiar and subversive.
Photo by Adrien Dirand
---
Fendi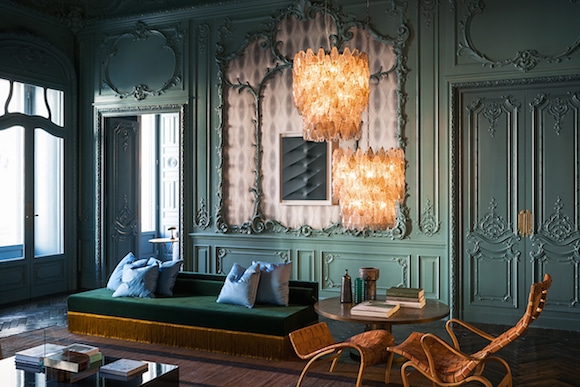 Emiliano Salci and Britt Moran of Dimore Studio designed the Fendi VIP apartment — a private space to host the brand's top clients, celebrities and friends — in the 17th-century Palazzo Fendi in Rome. The living room features vintage Venini chandeliers and custom green velvet daybeds with gold silk fringe.
Photo by Andrea Ferrari