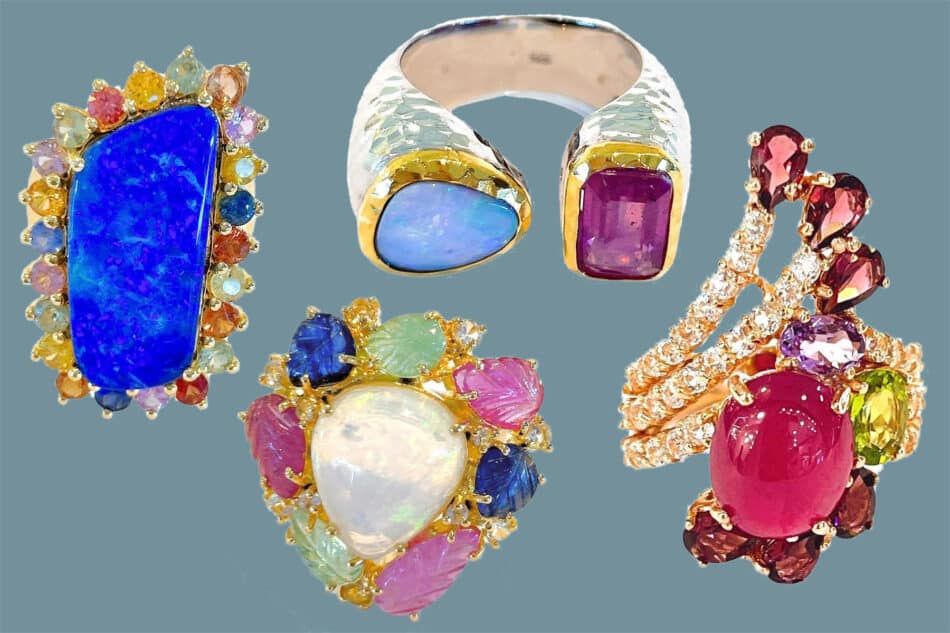 Popularized by daring women flouting Prohibition in the 1920s, cocktail rings were conceived to make a bold statement, drawing attention with their outsize glamour to coupe-clutching hands. That exuberant style is just as fashionable today and close to jewelry designer David Joseph's heart. Adventure and history were what he had in mind when he founded the New York–based jewelry brand Bochic in 2004. "I wanted to create a brand that was influenced by the old way of traveling and exploring — the attire, the romance of the journey and how these experiences would be incorporated into personal style," he says.
Joseph, who grew up around his family's jewelry business, came to jewelry design after a career in music management. He first found inspiration through travel to India and other international destinations but now gets ideas everywhere. "Whenever I experience something new, whether it is music, art, a film or a place, my mind is automatically translating that experience into design," he says. He and his wife, Miriam Salat, who is also a notable jewelry designer, frequently incorporate daring and unusual details into Bochic's large collection of cocktail rings and other pieces. Their designs have achieved red-carpet renown, adorning such superstars as Halle Berry, Angelina Jolie, Jennifer Lopez and Oprah Winfrey.
With images of smoky speakeasies in mind, we asked Joseph to take us back to the heyday of the cocktail ring and to show us how to wear these historically charged accessories today.
How did the cocktail ring get its name?
The cocktail ring dates back to the American Prohibition era of the 1920s, when people held illegal drinking parties. The 1920s were a time of great social change, especially for women, who expressed their newfound freedom in the flapper fashions of the time — short hair and short skirts. At the same time, the Art Deco jewelry of the time reflected a newfound consumerism. Women of the Jazz Age would sip sumptuous drinks at these clandestine parties while clad in their most glamorous outfits, which included oversize gemstone "cocktail" rings worn on a cocktail-holding hand. They were the ultimate accessory of excess.
What stones were typically used in cocktail rings?
In the 1920s, the most valuable cocktail rings showcased large diamonds or other precious gemstones such as emeralds and sapphires. Most were set in platinum or gold and surrounded by pavé diamonds. More interesting designs used colorful gemstones like opals or tried novel and abstract shapes. Nowadays, the possibilities for cocktail rings are limited in some ways due to the decreasing availability of large gemstones. But this can be solved by using other gems such as quartz, tourmaline, blue topaz or citrine.
When is it appropriate to wear a cocktail ring in this day and age?
These rings can be worn for almost anything — dinners, date nights, parties, special events, on the red carpet.
Can you wear cocktail rings with other rings?
In my opinion, cocktail rings should stand on their own since they showcase a large gem in the center.
Some cocktail rings blur the line between fashion jewelry and fine jewelry. What's the difference between the two categories?
When I started designing, most independent fine-jewelry brands created classic collections and did not take creative risks with designs. The general thinking was that by incorporating very expensive materials, designs could remain relatively classic and safe. As a result, unusual designs often wound up considered fashion jewelry. Today, it is the norm to be a little eccentric, even in fine jewelry.