No country can claim as many iconic designers and high-end furniture brands as Italy. "From the 1950s to the '80s, Italy produced an unparalleled amount of work in the field of furniture design," says Patrizio Chiarparini, founder of New York's Duplex gallery, specialists in Italian postwar and contemporary design. "But also in cinema, fashion and industrial manufacturing. Think of Fellini, Pasolini, Pucci, Furla, Armani, Pirelli, Olivetti, Fiat, Ferrari, Alfa Romeo and Piaggio — to name a few. These achievements are specifically Italian."
In the wake of the destruction wrought by World War II, architects and designers teamed up with manufacturers who had resources, workshops and factories, Chiarparini explains, adding that il miracolo economico — the Italian economic boom — made possible the expansion of broad-scale consumption.
Chic Italian furniture and lighting have exercised a worldwide allure ever since, and design firms have kept up with demand by issuing new editions of vintage forms. Chiarparini has an in-depth knowledge of all the players in the field, and Duplex, which he founded in an industrial loft in Williamsburg, Brooklyn, in 2015, has an extensive inventory of both mid-century and contemporary Italian wares.
Given Chiarparini's eye for high style, it's not surprising to learn that his aesthetic was heavily influenced by the radical Italian architect Carlo Scarpa. As a child growing up in San Vito d'Altivole, northwest of Venice, he spent his days exploring Scarpa's modernist concrete masterpiece, the Brion Tomb and Sanctuary (1968­­–1978). "I would go there daily, intrigued by this extraordinary dream playground of concrete, water, water lilies and goldfish," he remembers. As a young adult, while studying economics in Venice, he spent evenings visiting the art collection at the Pinacoteca Querini Stampalia, on which Scarpa left his mark during a partial renovation in the early 1960s.
Chiarparini moved to New York in 2004 and went to work managing the Italian design brand Giorgetti. In 2015, he struck out on his own and founded Duplex. "The goal was to promote brands that I felt particularly drawn to, especially from the golden era of Italian design, that did not have enough exposure to the U.S. market," he explains.
We asked Chiarparini to shed light on the postwar Italian design boom and the proliferation of Italian companies bringing the work of international designers to life, as well as what to look for when assessing vintage and reissued pieces.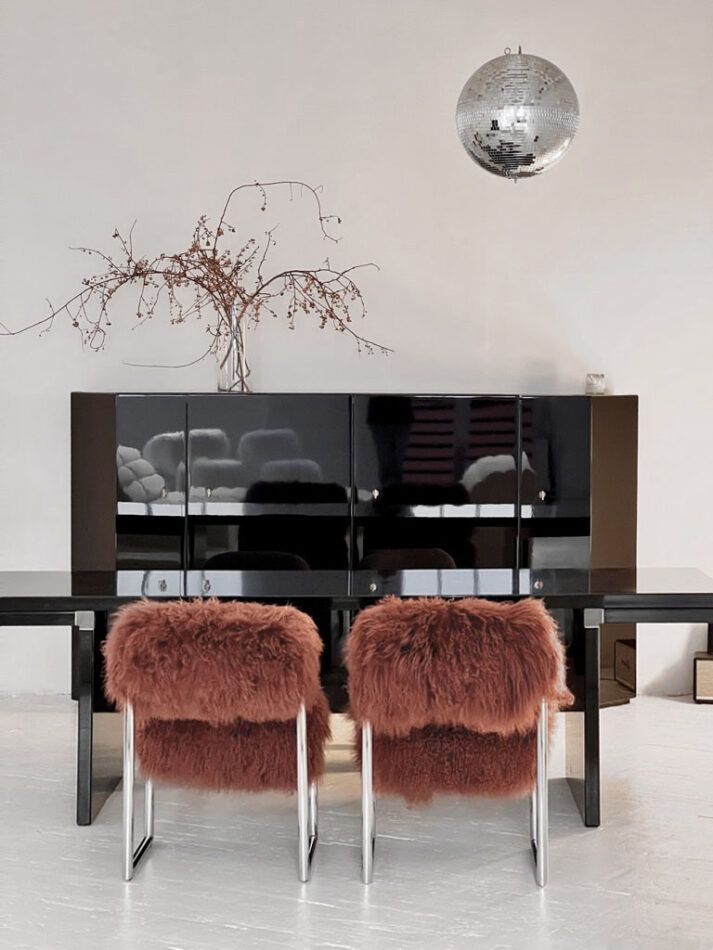 What sets postwar Italian design apart from mid-century movements elsewhere around the world?
American firms like Herman Miller and Knoll International produced well-designed, high-quality and inexpensive furniture made from new materials like fiberglass and plastics. Japanese designers embraced Western architecture and design to create a balance between traditional Asian and international modern aesthetics, while still evoking national values. Scandinavian designers preferred to combine the traditional beauty of natural materials with modern technology.
Italian designers initially looked to traditional forms and materials for inspiration. However, they soon embraced new materials and technologies to produce designs that reflected the radical aspect of the social and political environment of the 1960s and '70s in Italy. There is a utopian quality to their work that mirrors the extremes and contradictions specific to Italian society at the time. It defines the new high-style international modernism and pop-culture lifestyle. I see an incurable optimism and a fierce hunt for the new.
What ignited Italy's design boom after World War II?
World War II left the world with a generation full of hope for the future, as well as new materials and technologies that helped free design from tradition. A questioning of the social order and conventions went hand in hand with experimentation in the household. New designs reflected the radicalism of the social and political environment of the 1960s and '70s in Italy, and progressively more abstract and sculptural creations emerged, as did lower prices for mass-produced objects.
When was the golden age of Italian design?
Some of the most interesting architecture personalities emerged in the 1930s: Gio Ponti, Mario Asnago, Claudio Vender, Franco Albini, Piero Bottoni and Pietro Chiesa, who became art director of Fontana Arte in 1933 and designed decisively innovative pieces like the Fontana coffee table (1932) and Luminator lamp (1933).
But the real industrial-design revolution took place after World War II, when other architects could finally put into practice their training and knowledge for a much wider and international clientele.
The 1960s is when the creation of truly revolutionary pieces became incessant, when economic growth and international trade, coupled with serial industrial production and a change in lifestyle, propelled the diffusion of these products to the middle class. Some essential modernist architects and designers of this golden era are Luigi Caccia Dominioni, Vico Magistretti, Marco Zanuso, Achille and Pier Giacomo Castiglioni, Gae Aulenti, Mario Bellini, Cini Boeri — and Carlo and Tobia Scarpa, of course!
Can you tell us about the radical turn that Italian design took in the 1970s?
In the '70s, the postmodern style became the most significant movement in Italy, as the world of design started taking many trajectories. I particularly love what the radical Superstudio designed — the Quaderna series by Zanotta, for instance — along with the Memphis Group, where provocation and kitsch became the watchwords. Some of the most avant-garde designers of the period are Andrea Branzi, Michele De Lucchi and Ettore Sottsass.
There were so many productive relationships between designers and manufacturers in Italy. Do you have any favorite collaborations?
The history of design is made up of great friendships, like the one that Dino Gavina — founder of Gavina, Flos, Studio Simon and Paradisoterrestre and possibly my most revered entrepreneur — developed with Lucio Fontana. That connection led to collaborations with Carlo Mollino, Pier Giacomo Castiglioni, Carlo Scarpa and later Kazuhide Takahama.
I love these stories so much. To remind myself of the original inspiration, in my office I have an original 1973 Orseolo desk designed by Carlo Scarpa and a masterpiece 1975 Bramante sideboard by Kazuhide Takahama for Studio Simon, as well as new-production Botolo chairs by Cini Boeri for Arflex.
Many historical designs have been reissued for contemporary consumers. What are some of the best?
I am greatly impressed with what Tacchini has done in recent years in terms of branding and curation of the reissues — for example, the Le Mura sofa by Mario Bellini and Sesann sofa by Gianfranco Frattini. But there are also extraordinary historical pieces that are still in production today, including many of the objects designed for Fontana Arte, which are available through Duplex.
What should we know about buying vintage postwar Italian design versus a contemporary version or reissue?
The buyer for a historical object takes pleasure in collecting a piece of history, an artifact that represents a certain moment, that was produced with the industrial techniques of the era. It's a sort of time capsule — an original story as told in its time.
There is something to be said about reeditions, though, especially when thinking about a broader market that wishes to make actual use of the pieces for what they are: household commodities.
Scarcity and practicality often call for a reedition that allows one to enjoy the same aesthetics without the restrictions that the preciousness of an original piece carries with it. Often, the reeditions are far more comfortable than the original ones and can pass any flammability requirements — essential requirements in today's marketplace. But that is another story!