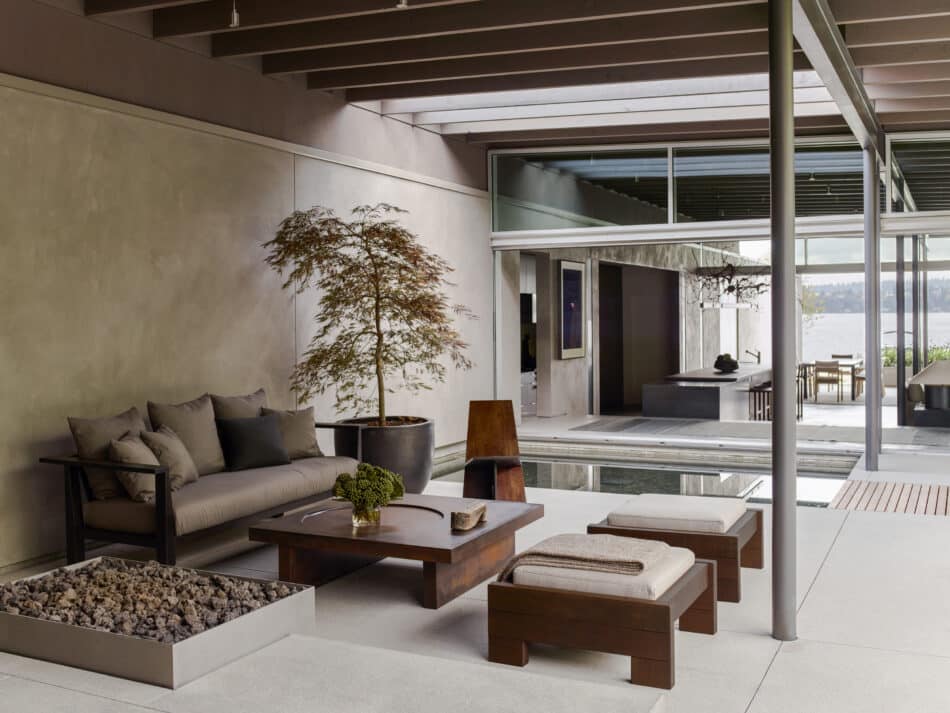 In designing this Seattle lake house, Kylee Shintaffer adopted one of the key precepts of Japanese design: minimalism. She stripped the decor down to the essentials, which include a Japanese maple in a simple glazed pot. "The furniture, finishes and palette were curated to bring warmth and texture to the rigor of the architecture," says Shintaffer, "resulting in spaces that feel organic and serene."
Her favorite elements? "I love the vintage chairs from Axel Vervoordt. I also love the earth-colored oil stains we imparted to the teak furniture to give each piece individual distinction."
---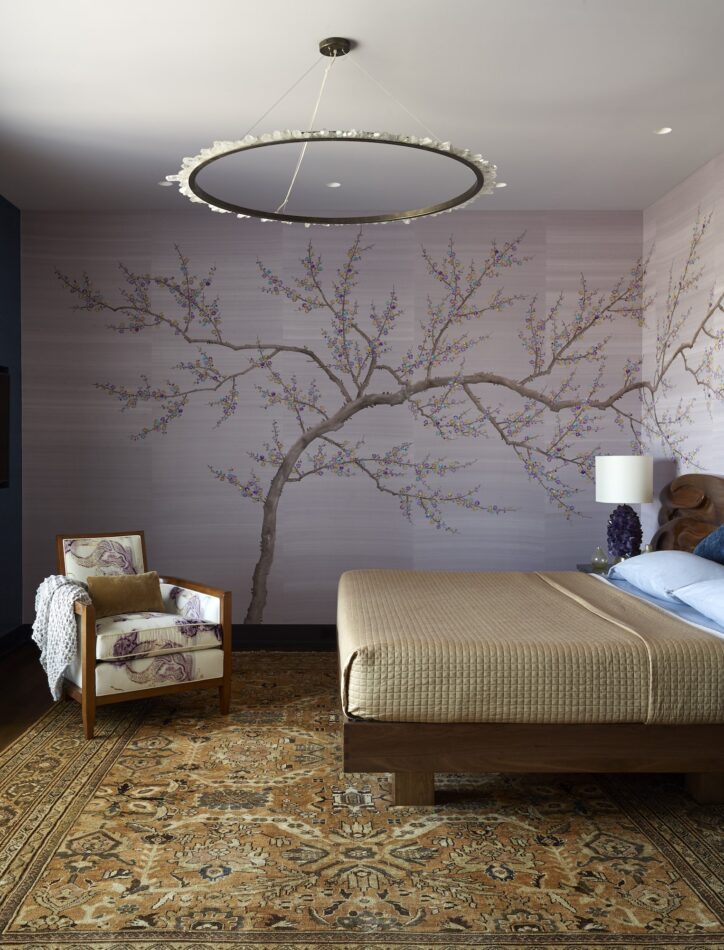 The defining feature of this New York City bedroom, hands down, is the custom embroidered-silk paper by Fromental. "The design is customized for the space," explains the space's creator, Elena Frampton, "with the branches expanding into the adjacent wall. We wanted to envelop the clients with the flowering tree. We selected the background silk and all the flower petal colors."
The homeowners wanted Japanese spareness tempered by modern glamour, so Frampton paired the cool-toned silk wallpaper with a crystal chandelier.
---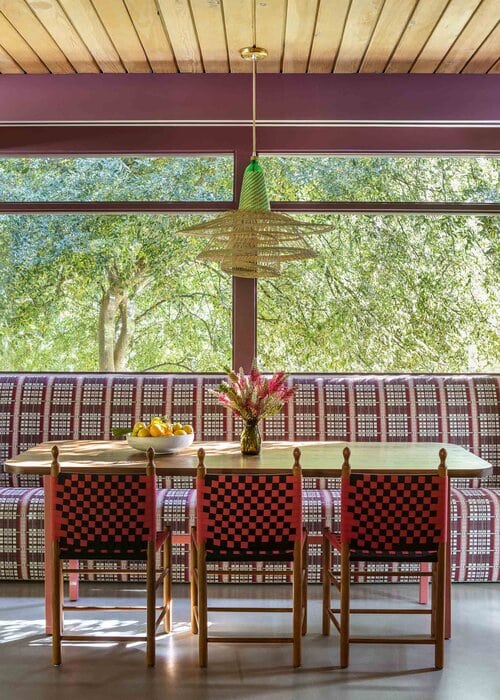 In crafting this Altadena, California, dining area, Reath Design founder Frances Merrill may not have been consciously channeling the Land of the Rising Sun, but the paneling overhead has definite Japanese resonance. "When we stripped the ceiling," says Merrill, "the space took on a warmth and solidity that allowed us to play with vibrant patterns without the overall effect being too crazy."
Perhaps that's why the woven Shaker chairs and Knoll-covered banquette work so well together!
---
Madeline Stuart decided this Bel Air, California, home needed an infusion of Euro-Asian flair. Accordingly, to liven the traditional bedroom, she designed a Japanese-style console, covering it in gesso-coated linen finished with thick coats of lacquer.
Stuart hung a vintage Chinoiserie mirror above the console, which she topped with two lamps, also vintage, flanking a contemporary vase custom-made by Japanese artist Suzuki Souji. "The confluence of Continental and Eastern elements appears throughout the house," she says.
---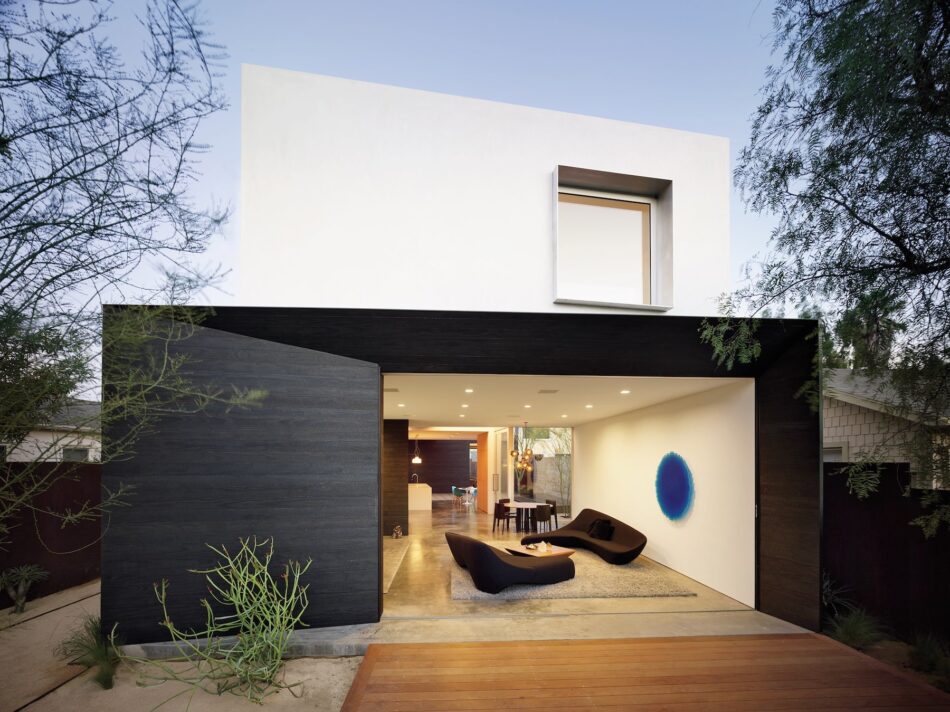 In Venice, California, Takashi Yanai and Steven Ehrlich, of EYRC Architects, collaborated closely with their client, artist Johannes Giradoni, to create a home that is also an immersive art experience.
The structure is an artwork in itself, composed of three two-story living blocks, with the upper level coated in smooth white stucco and the lower clad outside and in with cedar boards charred black and waterproofed using the 18th-century Japanese method shou sugi ban. Photo by Matthew Millman
---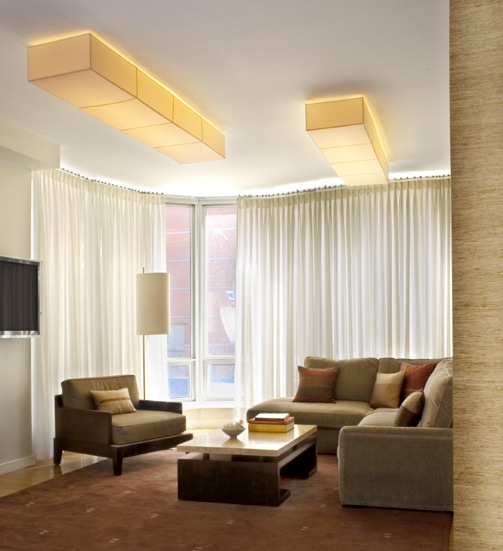 Eastern influences suffuse this New York City living room by Robert Kaner. "The color tones are pretty much all natural organic Japanese tones," explains the designer, "and I think that zen sensibility comes across." In addition, the block-like ceiling fixtures were designed using laminated authentic Japanese rice paper, which diffuses light in a warm and comforting glow.
"I love the custom coffee table, which we designed," says Kaner. "It has an Asian sensibility, with the top appearing to float on the base, which is similar to some classical Japanese tatami tables and some Asian chests that were designed to be lifted and carried and set down on bases."
---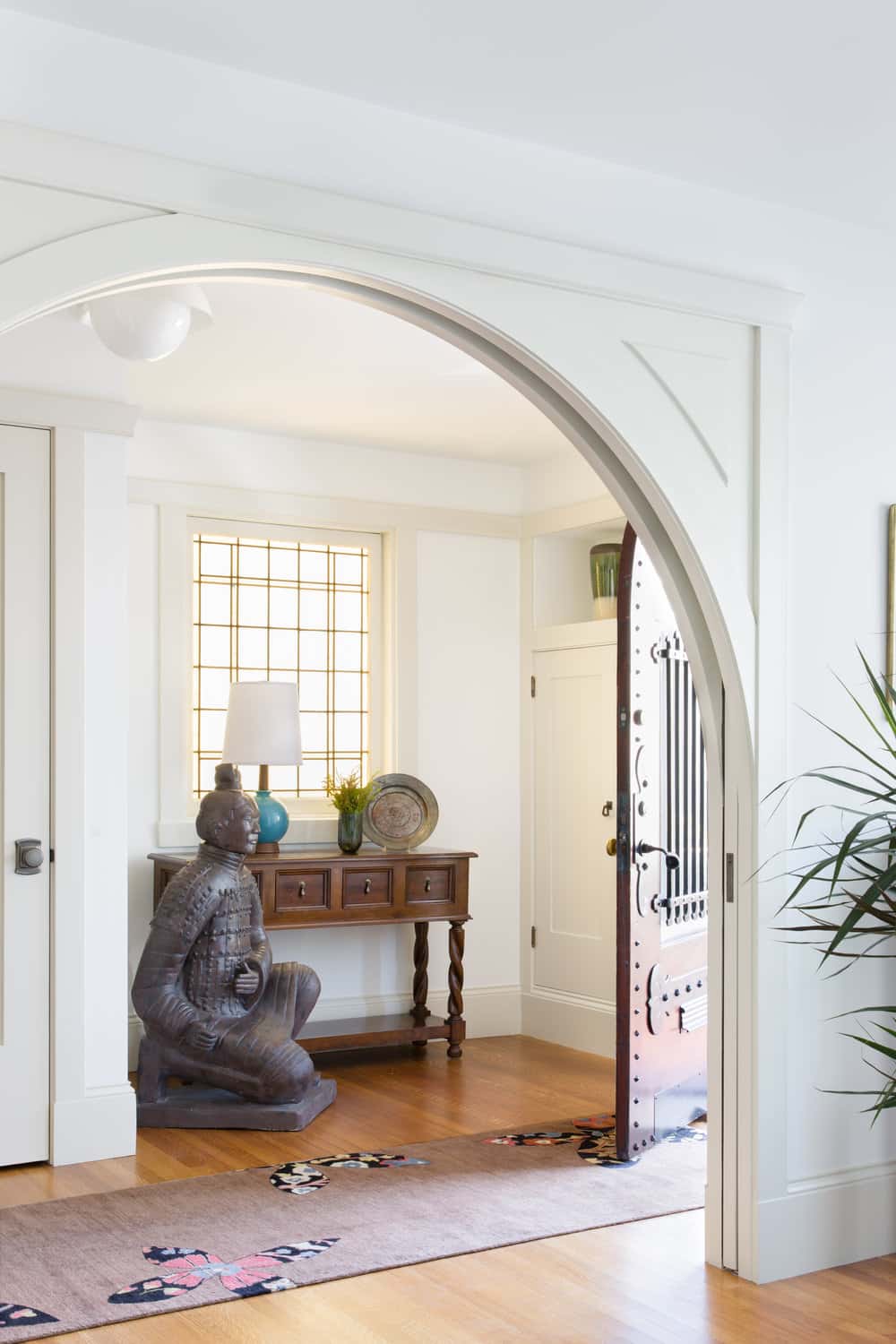 What better way to greet guests than with a life-size bronze sculpture? Regan Baker placed the bold Asian artwork right behind the front door in the San Francisco home's entryway, where it fits snugly into the stylish scheme. "We evolved the space," explains Baker, "to be a bright, relaxed reflection of the family's time together."
---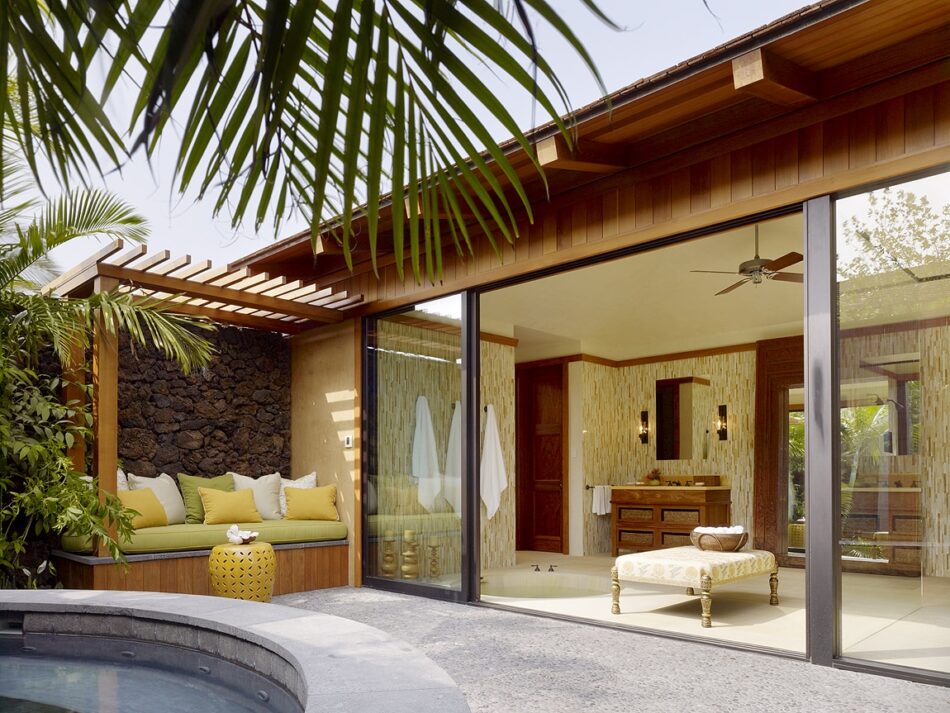 For the owners of this residence on the grounds of a resort on Hawaii's Big Island — "The best of both worlds!" says Christine Markatos — a traditional Japanese soaking tub big enough to comfortably fit the whole family was a must. Markatos obliged, designing a suitably soothing environment for it.
"One of my favorite elements is the glass tile that we used throughout the bathroom on the walls," she says." We ran it vertically, which created the illusion of bamboo stalks surrounding this serene space."
---
For British-born furniture designer Andrianna Shamaris, the Japanese concept of beauty in imperfection isn't limited to her Wabi Sabi collection. She embraces it in her New York City apartment as well. In the living area, for instance, she retained the fireplace's original black marble while swathing its frame and the rest of the room in bright white.
"We left the fireplace very clean and wabi-sabi so that it blended into the wall," says Shamaris, who further appointed the space with a hand-carved antique daybed whose plush pillows are upholstered in antique textiles from the Indonesian island of Sumba.
---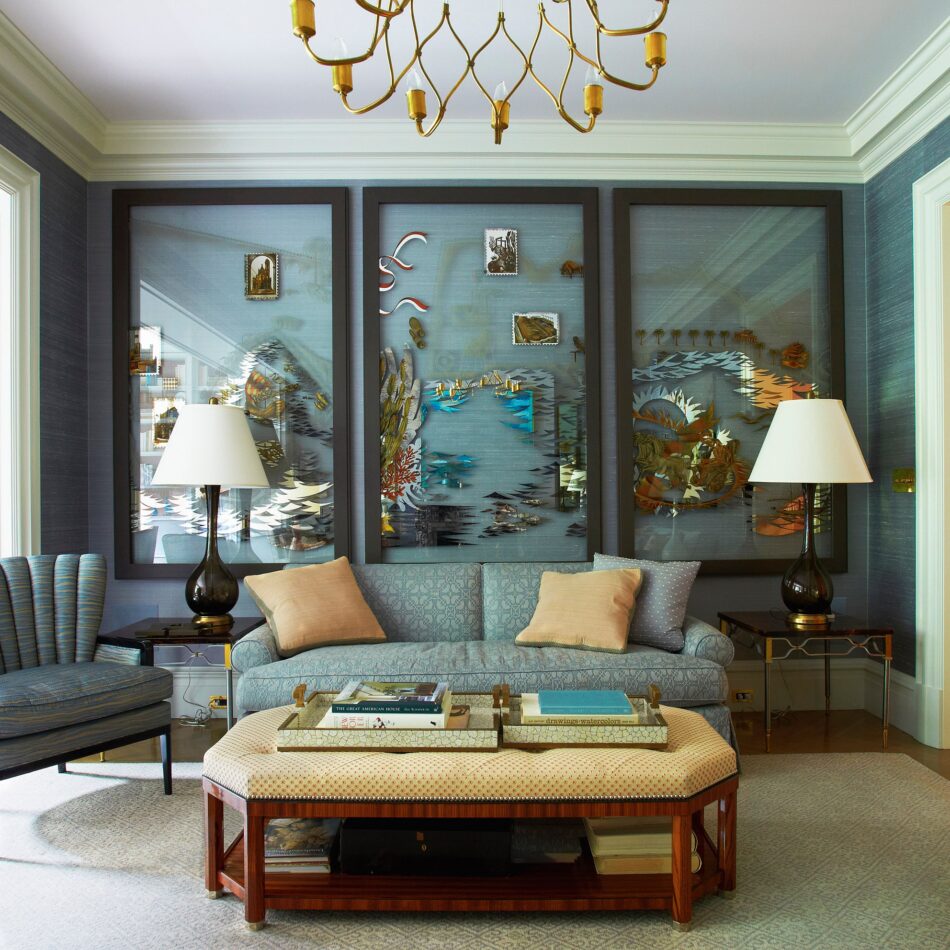 "The client and I were going for light and airy interiors with soft, soothing colors and layers of subtle overlapping textures," says Steven Gambrel, describing this West Village living room. Although picked up at a Parisian flea market, the eglomise panels behind the sofa add a distinctly Japanese touch, "given their reflection and clarity," notes Gambrel.
---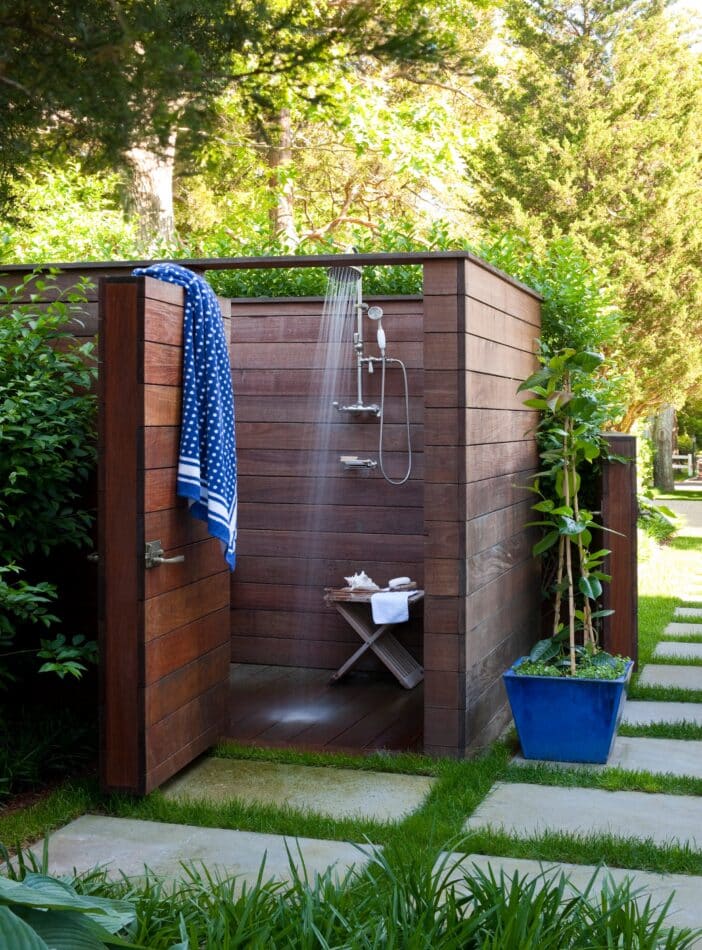 When Foley & Cox designed this oiled-mahogany outdoor shower in Sag Harbor, New York, they were thinking of the traditional Japanese bathhouse — but a more practical and, of course, more discreet version. Explains Michael Cox, "It allows guests to luxuriate under a leafy canopy and relax in complete privacy while showering with open sky above."
---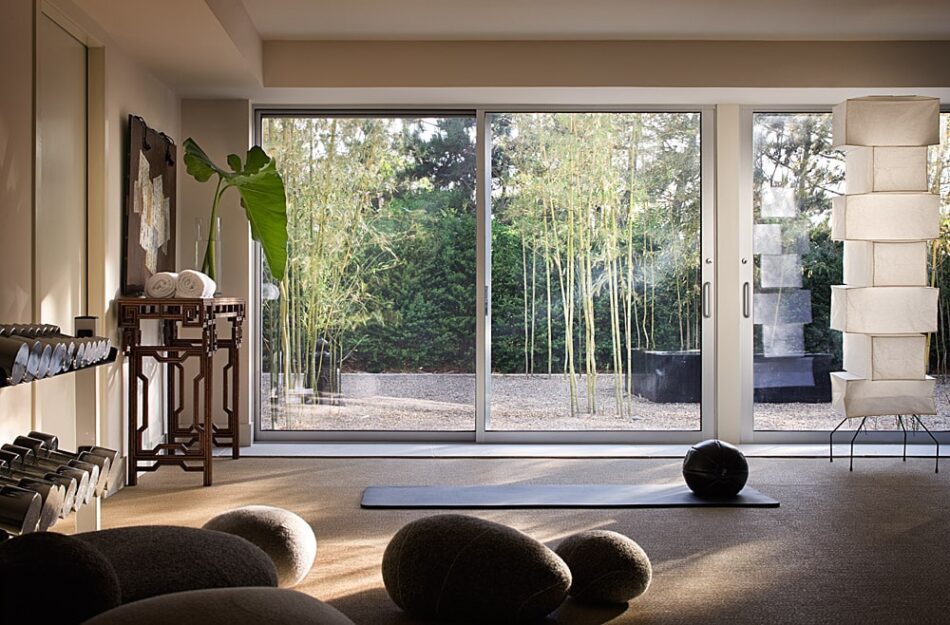 For an American-Japanese family in Watermill, New York, Thad Hayes brought the zen garden indoors. Wanting the home's fitness studio to have a natural feel, Hayes deployed a soothing color palette, Isamu Noguchi paper lantern and upholstered faux boulders. "The pieces I chose," he says, "are directly associated with nature and its organic, tactile qualities."