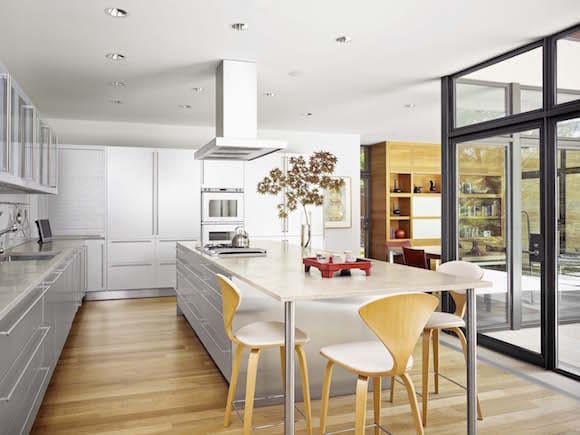 "The kitchen of this reclaimed residence overlooking a heavily wooded creek lot, takes full advantage of the view with its floor to ceiling wall of windows," Emily Summers says of this home in Dallas. "All of the kitchen functions were kept on the back wall to allow a completely unobstructed view to the outdoors, inviting nature into the home." The room includes Bulthaup brushed-aluminum cabinets, limestone countertops and beech Cherner stools.
Photo by Casey Dunn
---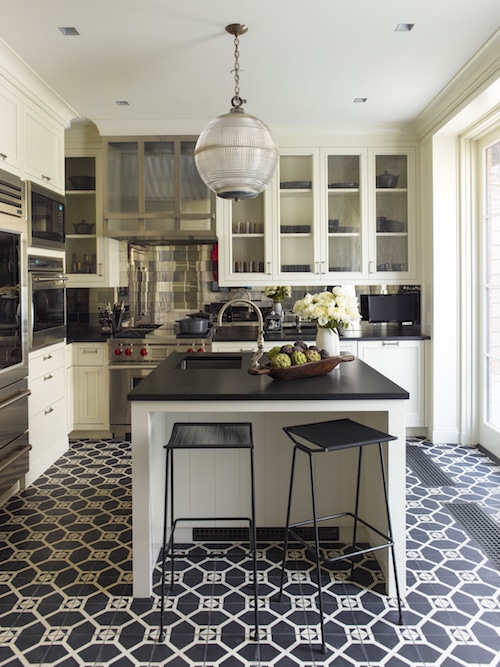 Architect Peter Pennoyer lowered the floor of this New York City kitchen in order to create a stronger relationship with the adjoining terrace garden. His firm designed the bespoke glass range hood, and collaborated with interior designer Shawn Henderson to source the concrete mosaic floor tiles and the circa-1950 French holophane light.
Photo by Eric Piasecki/OTTO
---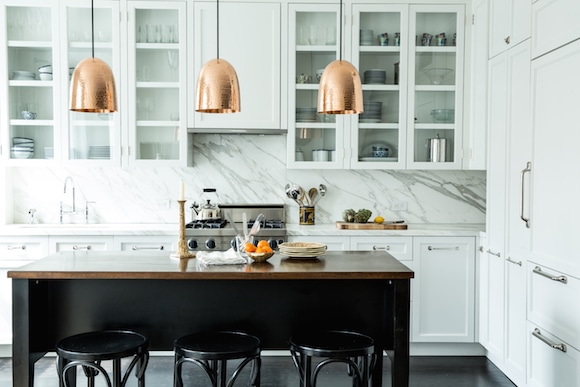 In a 150-year-old brownstone in Manhattan's Greenwich Village, Katie Martinez chose enduring materials to honor the old building's bones, including the kitchen's Stanley 1 brass pendants by Original BTC. "I was hoping to create interiors that were timeless and classic, but also youthful and current, much like the owners' own sense of style," she says.
Photo by Aubrie Pick
---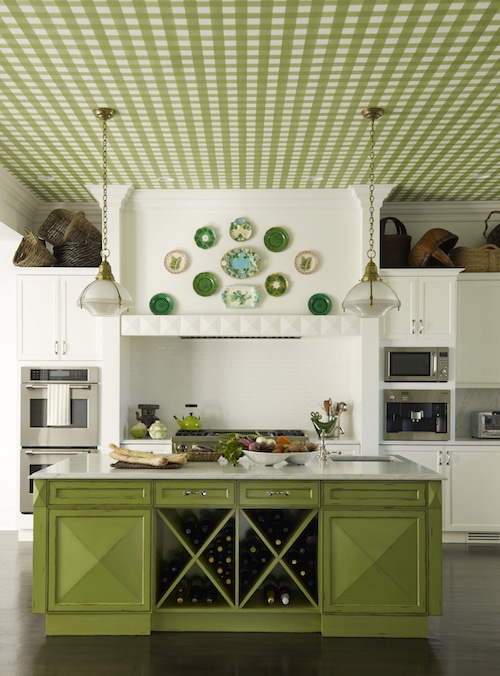 "The custom-painted ceiling by Silvère Boureau is the standout of the room," Gideon Mendelson of the Mendelson Group says of this kitchen in Purchase, New York. He adds that the ceiling informed the rest of the room, from the island — custom designed by his firm and fabricated by Eppley Building & Design — to the collection of ceramics over the hood. The brass and glass pendants are by Ann Morris, countertops are honed Carrara marble and the backsplash is by Waterworks.
Photo by Eric Piasecki
---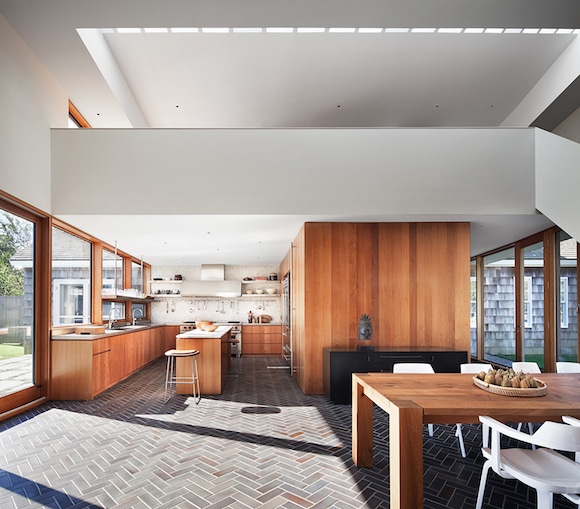 The architects behind Christoff:Finio say this double-height Sagaponack, New York kitchen acts "as a mediator" between three 19th-century barns and a more modern bedroom wing. The firm describes the effect as "that of a palimpsest, where generations of building are layered one over the other."
Photo by Scott Frances
---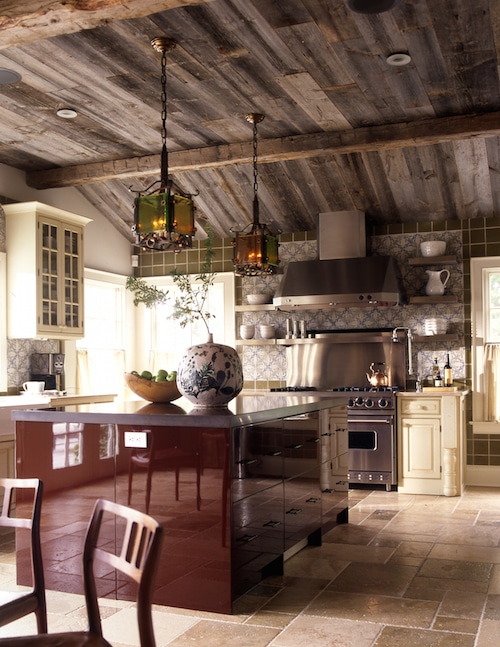 In Amagansett, New York, Fox-Nahem Associates used 18th-century Dutch tiles and antique barn planks to add personality to a formerly bland spec kitchen. The oxblood lacquered cabinetry offsets a lava-stone counter.
Photo by Pieter Estersohn
---
"This time I was the client, which is always a bit odd – I'm not used to having to run everything by my husband for approval!" Kelly Behun says of designing the kitchen of her Long Island, New York, beach house. "I wanted to have multiple seating options. The 'hand' barstools were purchased with my kids in mind, so they could talk to me while I'm cooking." Those "hand" stools were hand-carved in Bali, and the round walnut dining table is a custom piece by Kelly Behun Studio. The wicker and iron hanging lamp is 1940s French, purchased from Van den Akker.
Photo by William Waldron
---
"The cabinets are a dark walnut, which was carefully chosen to feel warm and rich," Tamara Eaton says of this kitchen in Brooklyn's Carroll Gardens neighborhood. She also added brass accents throughout the kitchen. "Because unlacquered brass quickly gets a patina, it helps new things feel antique quickly. In a modern townhouse, we try to tie the modern with the traditional setting of a townhouse so I like to mix in unlacquered brass to create the warmth of history quickly." Not all her design elements were so serious. "I had some fun with the barstools and covered them in sheepskin!"
Photo by Rachel Stoller
---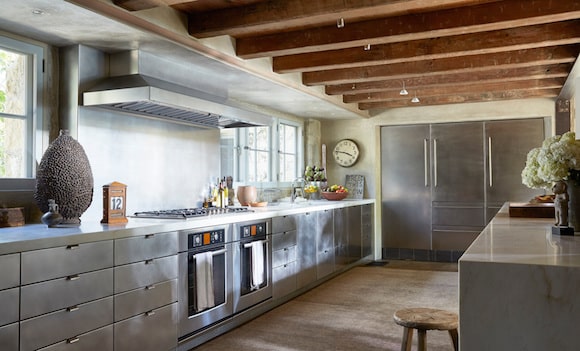 The industrial-style stainless-steel cabinetry, hood and appliances juxtapose with the wood beams in this modern-rustic kitchen by the Saladino Group, Inc., in a Santa Barbara, California, home designed by Cliff Fong of Matt Blacke Inc.
Photo William Abranowicz
---
Doug Meyer created this bold, abstract kitchen in New York's Chelsea neighborhood for his longtime friend, a fashion designer, and her husband. The couple isn't into color, so Meyer covered the walls, ceiling and floor with black artist's tape.
Photo by Mark Roskams
---
For this country house in Washington, Connecticut, Groves & Co. highlighted the historic home's naturally distressed wood beams and wide-plank flooring and contrasted them with modern appliances and cabinetry.
Photo by Eric Piasecki
---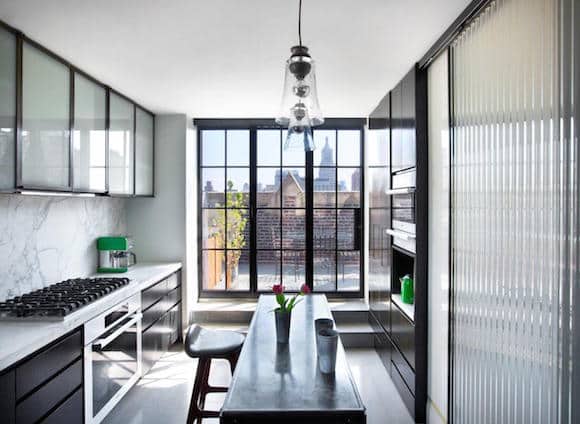 "We designed the custom glass-tube door framed in blackened metal to allow for privacy from the dining room, while allowing natural light to filter through the space," Sara Story says of this triplex in Manhattan's Gramercy Park neighborhood. "The upper cabinets are framed in blackened steel and we selected a blacked wood finish for the lower cabinets to contrast with all the metal. I wanted a figurative marble for the backsplash to create an interesting focal point. The light fixtures are Austrian from the 1940s and highlight the verticality of the space."
Photo by Eric Laignel
---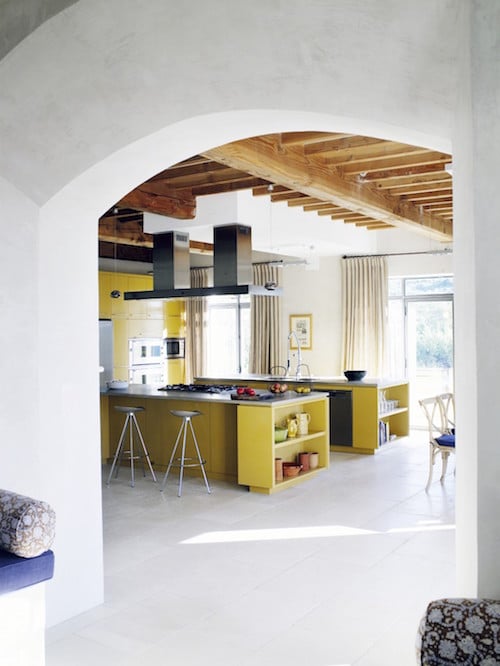 Samantha Todhunter designed this kitchen in Montlaur, France, which was part of the conversion of a very large ancient wine cuve (or storage barn) into a six-bedroom vacation home. "We designed large double islands in the middle of the room rather than divide the space — they form a strong, monolithic statement within the volume," Todhunter says. "The sassy, glossy mustard-yellow cabinets are a fresh contrast to the polished-plaster walls in soft gray, and the Pierre de Bourgogne stone floors. The colors are also a play on the wild landscape of Southwest France."
Photo by Oliver Clarke
---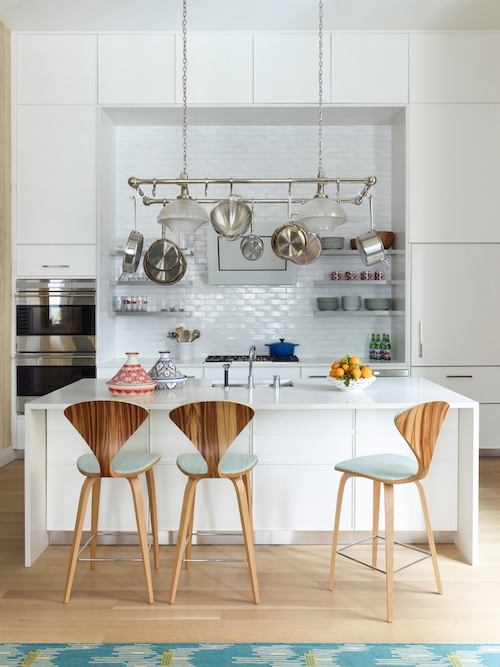 This Katie Ridder–designed kitchen in Manhattan's West Village features an chef-style pot rack, which, along with the open shelving and Cherner counter stools, warms up the sleek, modern space.
Photo by Eric Piasecki
---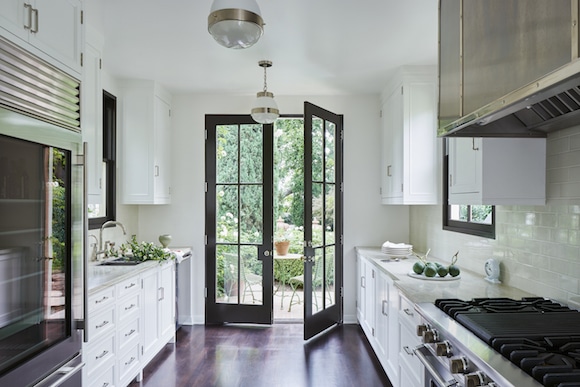 Madeline Stuart punctuated the bright galley kitchen of this Hollywood Hills home with black trim on the windows and French doors. The pair of pendant lights are from BK Antiques.
Photo by Dominique Vorillon
---
Ben Pentreath designed a 21st-century take on a farmhouse kitchen for this show home in South Wales. The walls are painted in Farrow & Ball's Castle Gray, and the antique kitchen table was purchased at auction.
Photo by Simon Bevan
---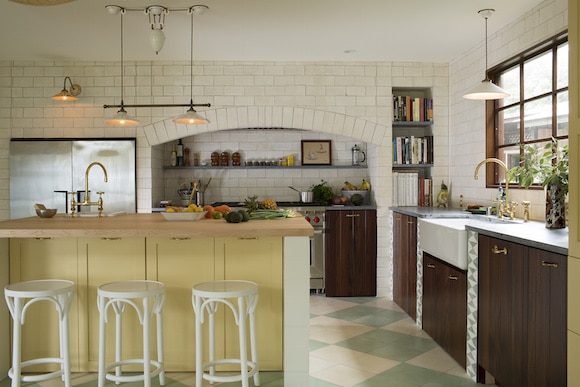 Studio MRS Interiors crafted the kitchen of this Hawaiian vacation home for a pair of New York–based chefs. Designer Michelle R. Smith used a mix of tile and custom cabinetry to give the space an island feel.
Photo by Olivier Koning
---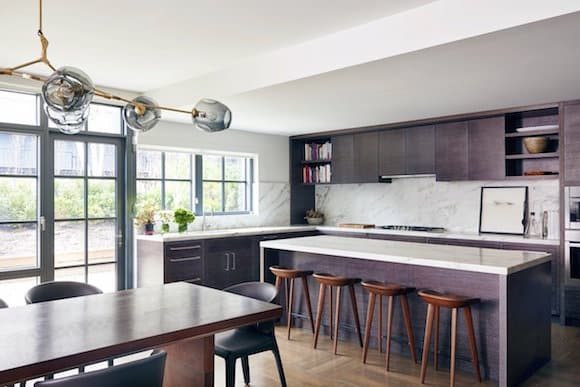 "The building was designed with a French, industrial point of view," Mark Zeff says of this Manhattan residence. "I created a kitchen that has the appearance of built-in furniture so that it disappeared into the space, as it's an open plan design with the kitchen facing the living room."
Photo by Michael Mundy
---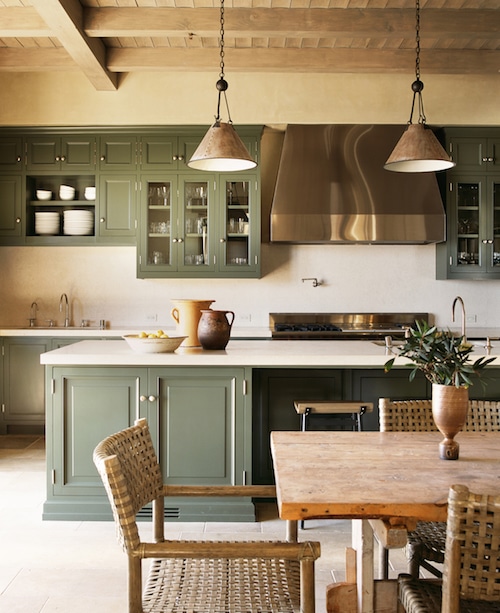 Madeline Stuart designed the kitchen of this equestrian estate in Malibu, California, with a warm, rustic vibe, combining modern conveniences like a pot filler and stainless-steel appliances with traditional cabinetry painted sage green.
Photo by Dominique Vorillon
---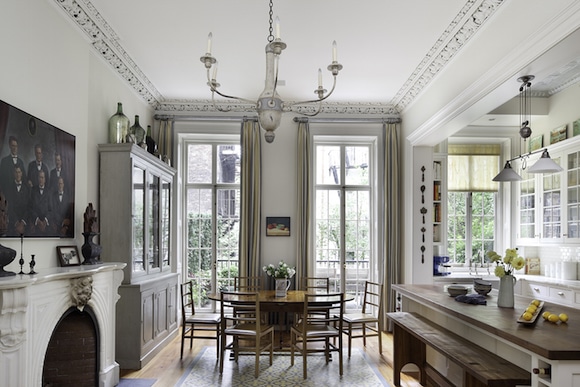 Sheila Bridges updated this traditional townhouse in Manhattan's Gramercy Park neighborhood, preserving the historic details while making it work for a young family. The bright kitchen features glass-front cabinets and an island with bench seating.
Photo by Dana Meilijson
---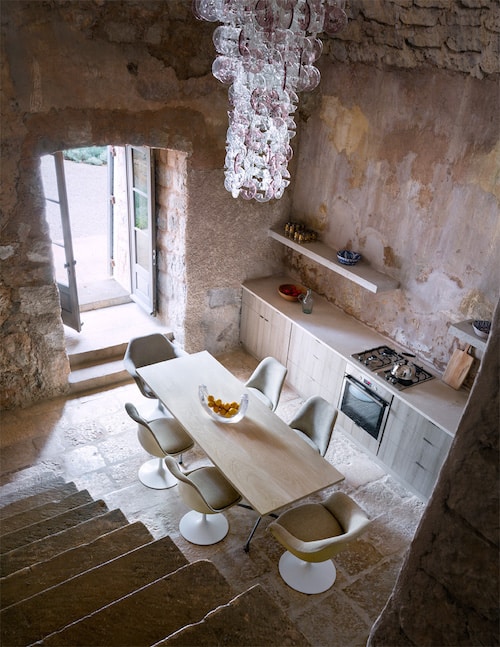 Rees Roberts & Partners designed this kitchen, which is located in a 15th-century tower on an island off Croatia, with sleek, modern elements that contrast with the rustic structure. The simple table is paired with Eero Saarinen dining chairs.
Photo by Scott Frances / OTTO
---
The landscape itself was the inspiration for the overall design of this home in Westport, Massachusetts, which Thad Hayes designed with architect Maryann Thompson and landscape architect Douglas Reed, who is the homeowner and Hayes's college roommate. A Stilnovo chandelier hangs above a Saarinen table surrounded by Hans Wegner's Wishbone chairs.
Photo by Scott Frances
---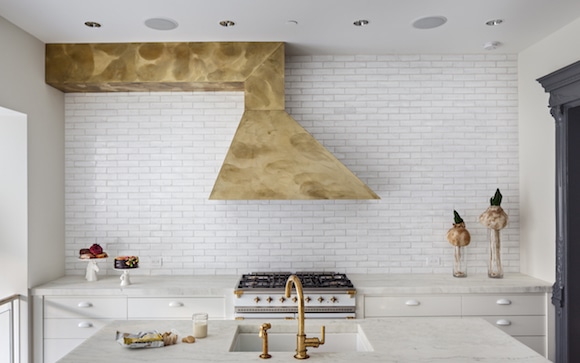 The brushed-metal hood pops against the white subway tile and marble countertops in this Brooklyn townhouse kitchen by Tamara Eaton. The hood, along with the brass faucet and stove details, act like jewelry in the spare space.
Photo by Francis Dzikowski
---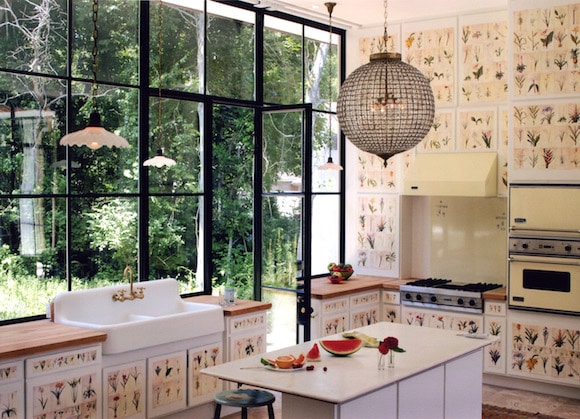 "The decoupage of images of French botanical prints, many vegetables and herbs, was inspired by a Josef Frank's floral cabinet that we have loved for a long time," Michael Haverland says of this kitchen in East Hampton, New York. A 1960s Austrian crystal chandelier hangs above the island. "A vintage porcelain farm sink and unlacquered brass plumbing fixtures add to an eclectic mix of extraordinary artifacts with warmth and richness," Haverland says.
Photo by Chris Bausch
---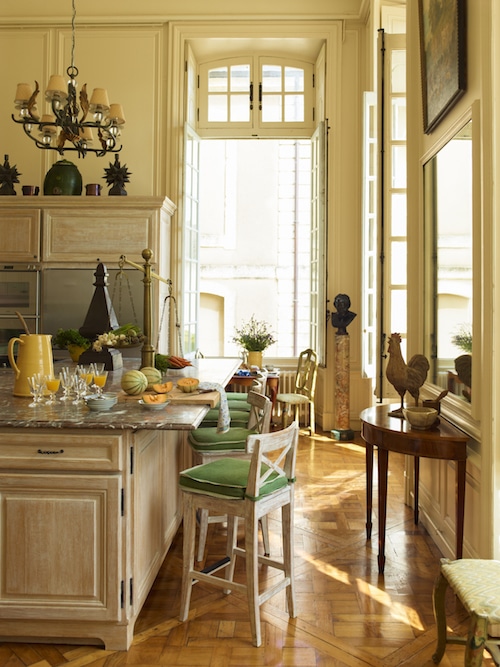 At Château du Grand-Lucé, this 18th-century country house in France, the kitchen had been built as a separate structure for fear of fire. So when designer Timothy Corrigan bought the home, he had to create one in what was originally a boudoir. "As its one of the château's most protected historic rooms, we couldn't attach the cabinetry directly to the walls — that would have irreparably damaged the 18th-century boiserie. Instead, the new insertions are floating on a freestanding wall that enables air to circulate, thereby preventing mold and dry rot," Corrigan says.
Photo by Eric Piasecki
---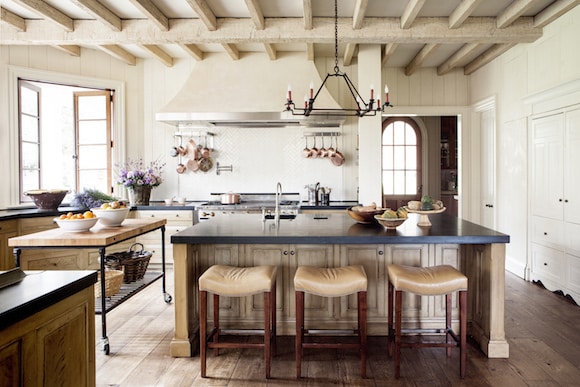 Suzanne Kasler designed this airy kitchen at Blackberry Farm in Knoxville, Tennessee, which includes whitewashed cypress beams, a herringbone-tile backsplash and leather-seated stools with nailhead trim.
Photo by Erica George Dines
---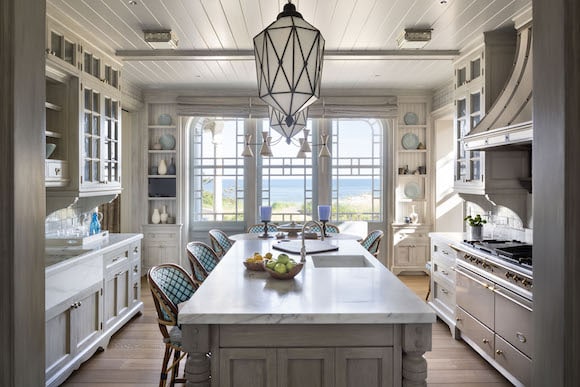 A pair of vintage lanterns from Olde Good Things hang over the island of this beachfront kitchen in East Quogue, New York, by Robert A.M. Stern Architects.
Photo by Peter Aaron / OTTO
---
Jeffrey Alan Marks designed this Austin, Texas, kitchen, which has a rustic-meets-industrial vibe with eclectic touches like a set of wire chairs around the long dining table and a pair of pineapple-shaped pendant lights hanging over the island. "I often use a kitchen as a palate cleanser for the rest of the house," Marks says. "Simplicity wins in a room that has to meet a multitude of demands from residents large and small."
Photo by Douglas Friedman
---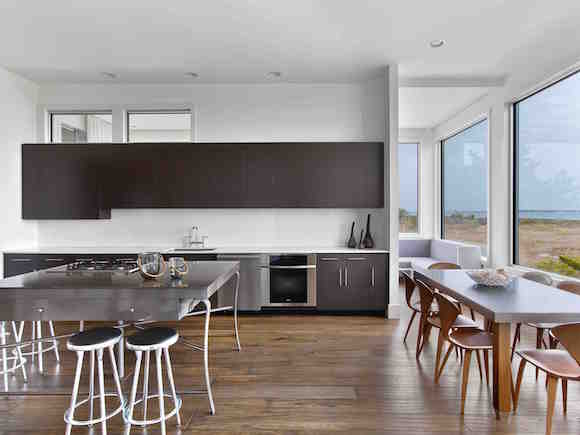 Mark Zeff designed this kitchen in Southampton, New York, which "takes full advantage of the simplistic beauty of the property being located right on the ocean informed the direction for the design," Zeff says. "The kitchen faces the bay, and the view from the windows is always green and gray in the winter, so we selected the chocolate cabinetry because it contrasted beautifully with the surroundings."
Photo by Eric Laignel
---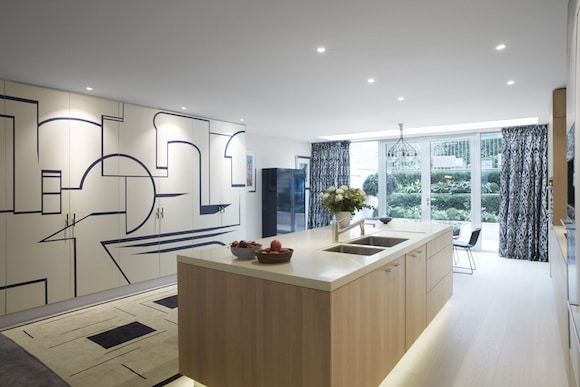 Northwick Design created this London kitchen for an international family who wanted a space where they could entertain and that would also be comfortable for their kids. The designers commissioned an artist to paint the storage cabinets, making the room feel even more glamorous and original.
Photo by C Connolly