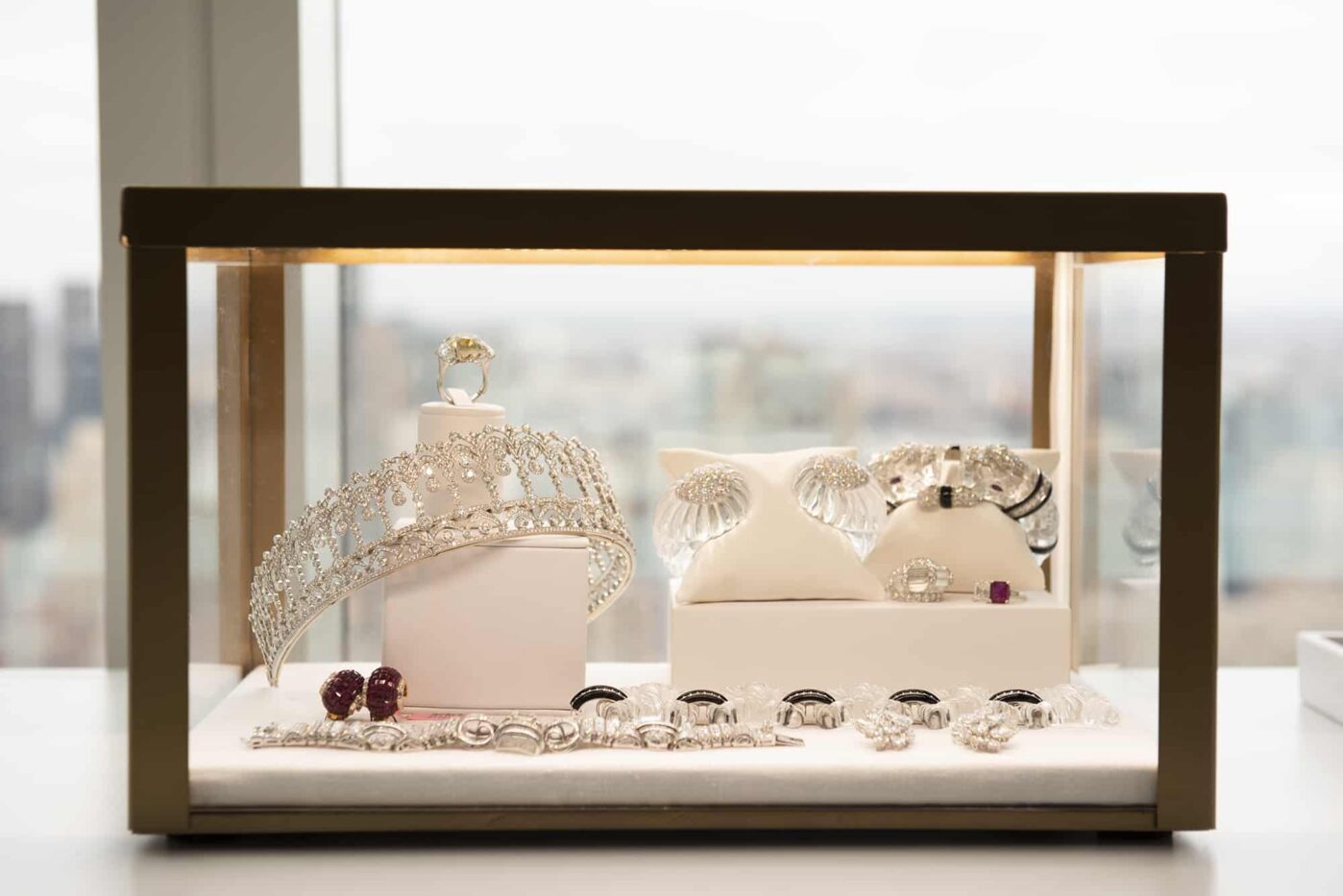 Picture this: An elevator swiftly whisks you up to the top of a high-rise building in Manhattan, where the doors open to reveal the lights of the city twinkling through floor-to-ceiling windows. And as you wend your way through the apartment, you discover that each room is filled with sparkling jewels and elegant watches.
It sounds like a scene from a rom-com (the kind where a regular girl discovers that her unassuming boyfriend is actually the prince of an obscure European country), but it was, happily, the very real setting in which 1stdibs invited seven notable dealers to show off some of their finest wares during New York City Jewelry Week.
Over two days, which included an evening event and a day of private appointments, jewelry enthusiasts were welcome to explore and shop singular pieces amid the luxe surroundings of a 57th-floor penthouse. Get to know the dealers who turned this airy aerie into a veritable jewel box.
---
Stephanie Windsor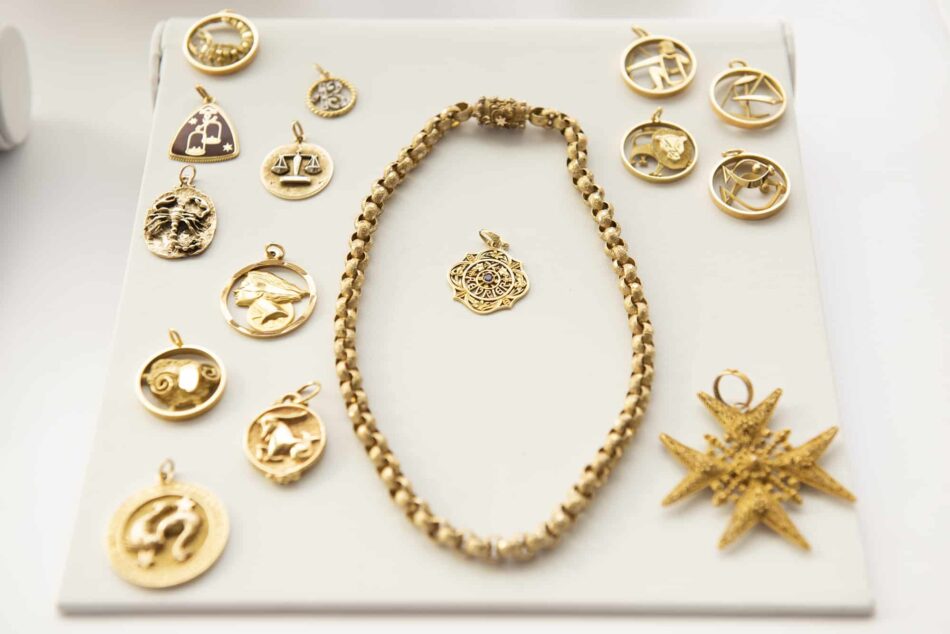 The vintage and antique jewelry and watch expert behind Stephanie Windsor, Stephanie Levy is new to 1stdibs, but she has more than three decades of experience in the industry, including a stint at Barneys curating its antique and vintage jewelry and pre-owned watches. Levy, who also produces documentaries, spotlighted her extensive collection of charms and chains, which she has found to be trending lately among her clients. The most popular pieces? "Everybody wants zodiac symbols," Levy says.
Big, chunky examples from Van Cleef & Arpels are especially sought after. "When I find them, those sell instantaneously," she notes, adding that 1970s versions from Cartier and Tiffany & Co. are also in demand. As for why people are gravitating toward astrological totems and charms, Levy has a theory: "People are into creating their own stories."
---
Mahnaz Collection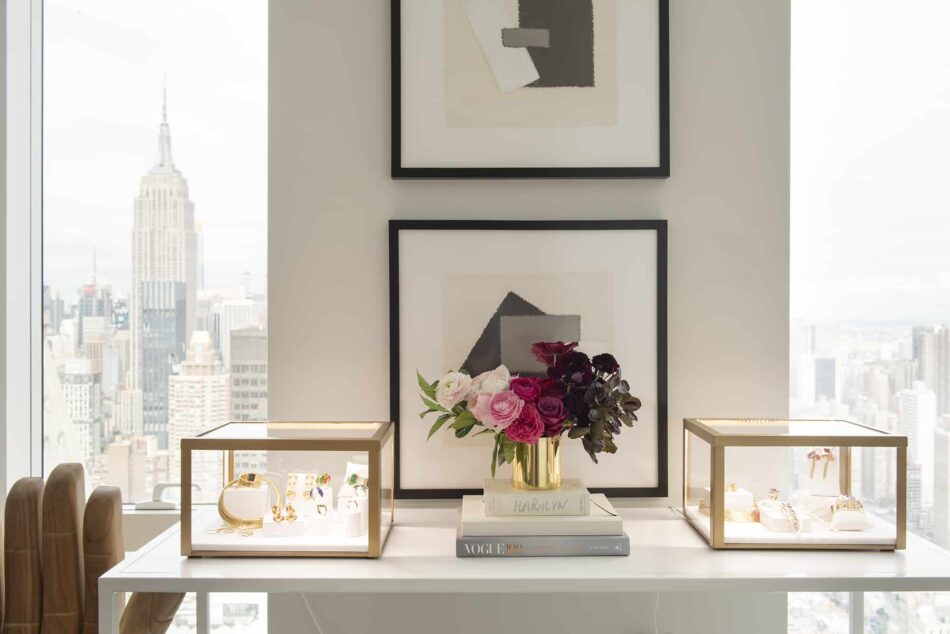 "Our gallery specializes in fine design and artist-made jewelry from the 1960s and 1970s, so we showcased some of our most expressive jewels from that era," says Victoria LaMantia, of Mahnaz Collection. "Highlights included an early 1970s tiger's-eye sautoir with matching bracelets by the British firm Kutchinsky and an oversize, textured yellow-gold medallion by Van Cleef & Arpels from the same period. We also showed a minimalist 1960s white-gold and diamond ring by German artist-jeweler Friedrich Becker and a kinetic gold and diamond ring by Swedish jeweler Mats Eskils.
"We pride ourselves on resurfacing and highlighting the work of makers whom we call Lost Masters. These jewelers were important and successful in their time but have been almost forgotten today except among the cognoscenti. Someone may come to our gallery looking for a 1970s neckpiece by Buccellati but fall in love instead with the intricately detailed, gold, enameled and bejeweled sautoirs of Angelo Giorgio Cazzaniga, a refined Italian master jeweler working in the 1960s and '70s whose work we collect."
---
Yafa Signed Jewels / Maurice Moradof
When it comes to a fantasy jewelry experience, is there anything dreamier than a tiara? Fortunately, Maurice Moradof, of Yafa Signed Jewels, brought one along — a regal 1950s piece featuring more than 40 carats of brilliant-cut round diamonds mounted in platinum.
But the tiara was far from the only jaw-dropping piece he displayed. Gem-encrusted Bulgari Serpentine bracelets, giant cocktail rings by David Webb and a Van Cleef & Arpels mystery-set ruby bracelet were among his other treasures.
"We specialize in name brands, like Bulgari, Cartier and Van Cleef & Arpels, so we brought the most iconic pieces from each house," Moradof explains, "like the Bulgari Serpenti and Van Cleef Alhambra." Yafa offers many other exceptional pieces — from a diamond Art Deco brooch to a 1960s yellow-gold and turquoise bracelet — in addition to its emblematic jewels from major maisons.
At the moment, though, the firm's clients are clamoring for the products of one jewelry house in particular. "Right now Van Cleef is by far the strongest," Moradof says.
---
Finn New York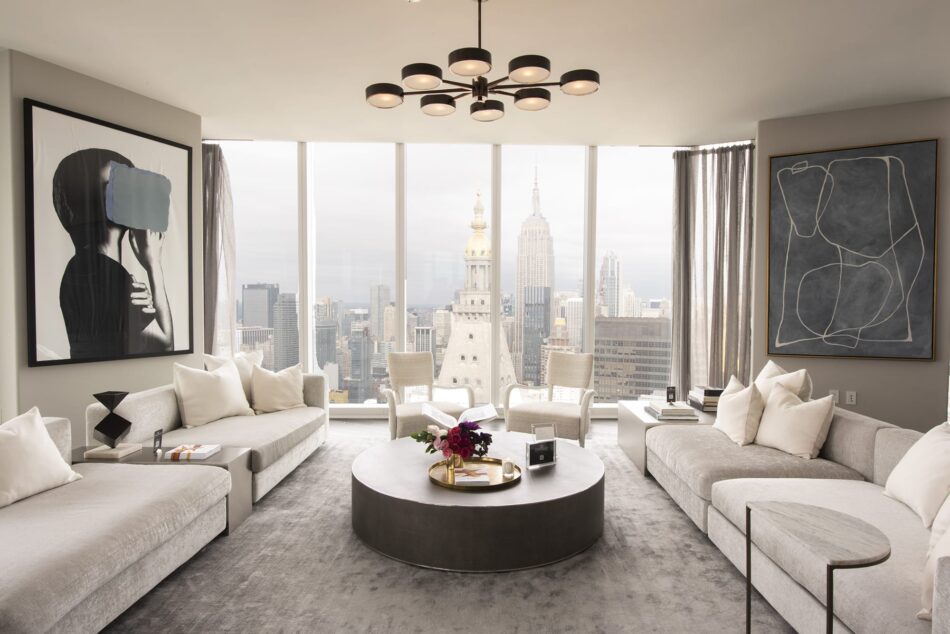 The very best jewelry is often an investment but not necessarily a commitment. The ladies of Finn New York decided to rethink that idea. "The majority of Finn jewelry is meant to be worn all the time, so a few years ago, we decided to really commit and developed permanent chains," says Karoline Bolt, the firm's head of operations.
Called Chains of Love, the delicate 18-karat bracelets are affixed to wearers' wrists with a micro laser (which doesn't touch your skin) that zaps and seals the chains closed, a service Finn performed at the event for several participants open to long-term jewelry relationships. "They are a semipermanent accessory," says Bolt, "kind of like a piercing or tattoo, but unlike tattoos, there is no pain, and they are much easier to remove!"
---
Mark Davis
Mark Davis is known as a pioneer in jewelry upcycling, taking vintage Bakelite and turning it into singular pieces — notably, vibrant gem-studded bangles. "Because just about every item we produce is one-of-a-kind, we made a point of bringing our latest pieces," says Greg Vaughan, of Mark Davis, noting that the firm's uncommon creations have a loyal following.
"Our product is so unique and unlike anything else in the marketplace that our clients become collectors. Repeat clients often know exactly what they're looking for, but we also always try to have something to surprise them," he says. "More than 90 percent of our clients are self-purchasers, and they are often buying to add to their collections. We happily assist them when needed, but most know exactly what they're looking for."
---
The Collective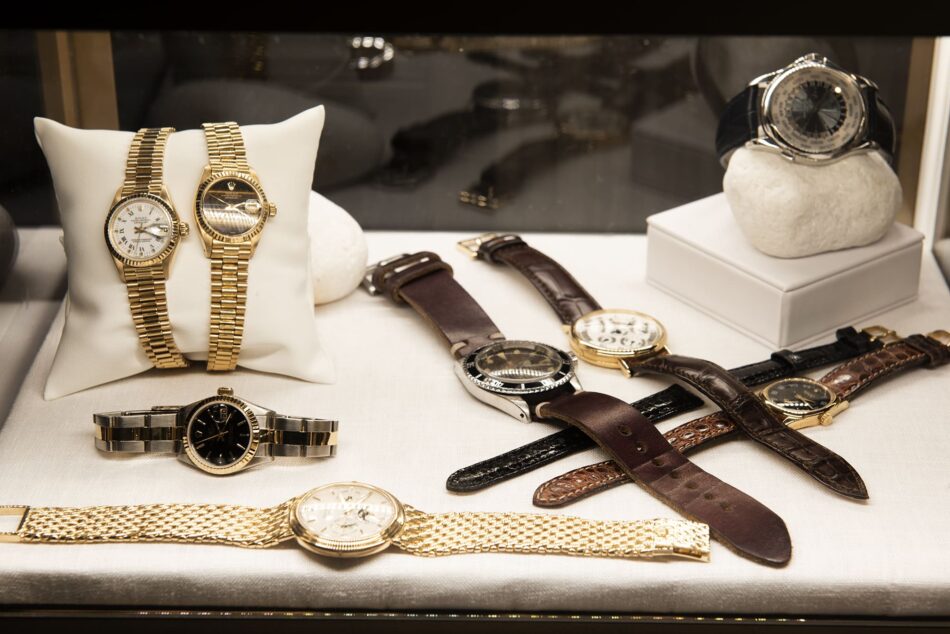 "When I think about 1stdibs customers, they want a gem," says John Cormier, of The Collective, which, as its name suggests, is a collective of watch and jewelry sellers from around the world. With this audience in mind, the group decided to bring a variety of one-of-a-kind pieces, among them an A. Lange & Söhne Grande Lange 1 Luminous watch. "It's not an easy-to-find piece," Cormier notes.
Uniqueness was a critical criteria even when it came to selecting items from the most popular brands, each chosen for the special details that set it apart. "Everyone likes Rolexes, but we wanted to bring those that you can't find every day, like one with a tiger's-eye dial and one with a mint dial," Cormier explains. Among the pieces making the cut were some vintage Rolex Submariners. They're in excellent condition, he notes, but "with vintage, people want to feel it, touch it.
"People typically know what they want," Cormier continues, referring to the group's clients. And when they want a specific piece, The Collective will procure it for them. These days, Cormier says, some of the most in-demand items are Cartier Tank watches, Patek Philippe Aquanauts and Rolex two-tone Datejusts.
---
Ella Gafter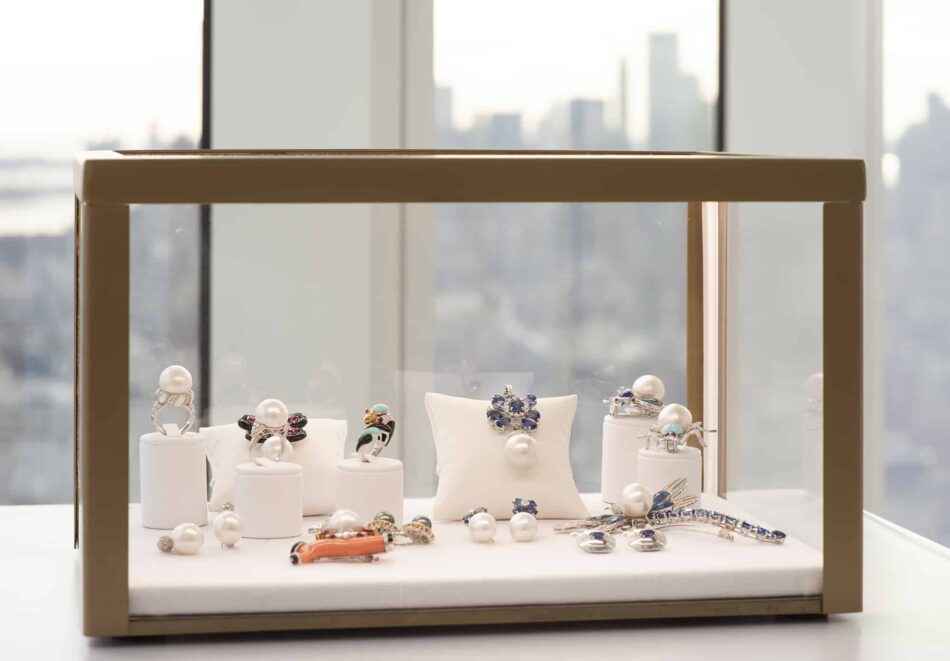 "Large pearls of fine quality have historically been used in very traditional settings, typically with diamonds — to make 'black-tie jewelry,' so to speak," says Talila Gafter, CEO of Ella Gafter and daughter of the eponymous founder. Her firm, she goes on to explain, has tweaked that tradition, setting such pearls in designs that incorporate not only diamonds but precious colored stones, coral, onyx and crystal accents.
For the 1stdibs event, Gafter chose jewels representative of the firm's Italian workshop production — "pieces that are at the same time classical and creative/whimsical," she says. "Since we have developed this niche as pearl jewelers — rather than pearl dealers — over the years, most clients come to us because they have seen our work in a publication, or perhaps on a friend, and want to tap into our aesthetic."
What do clients seem to be favoring? "We have noticed a trend back toward an intimate consideration of the beauty of the object and how well it is thought out and executed — perhaps away from a tendency we noted in the past few years toward what mostly makes an impression, a statement of wealth," Gafter says, adding, "That is encouraging for future creators of our profession!"