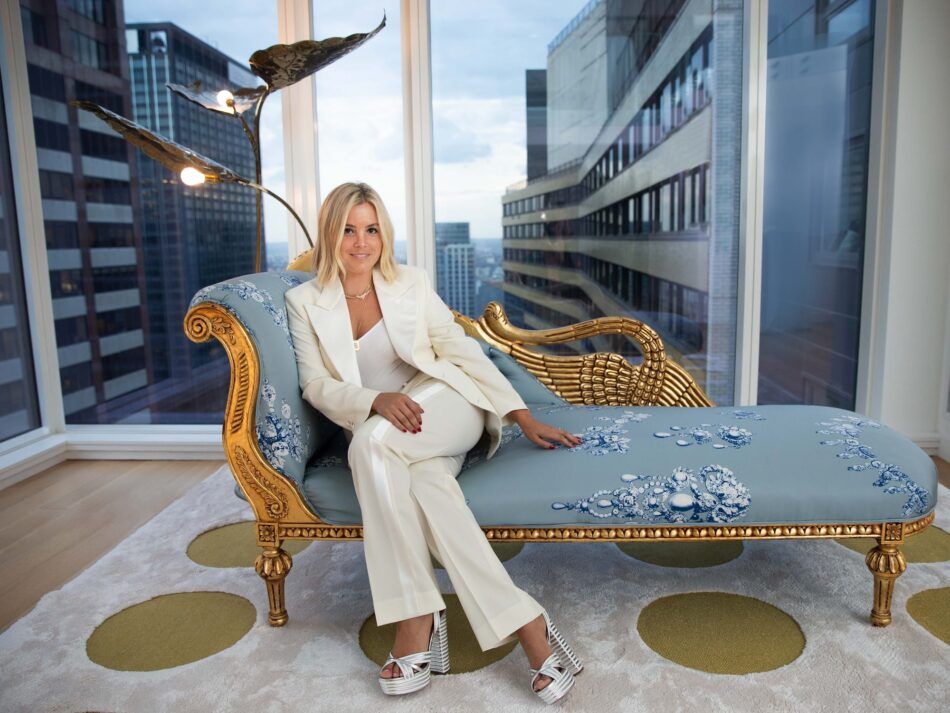 It's been a year of firsts for interior design's rising star Sasha Bikoff. With her signature brand of upbeat glamour — a mix of Italian and French mid-century finds and vibrant Art Deco colors — the New York designer and dealer has captured the gaze of the decor world and beyond.
Bikoff ignited viral buzz earlier this year with her kaleidoscopic Memphis-inspired staircase at the Kips Bay Decorator Show House, which put her squarely in the spotlight. Since then, she has started work on a villa in Lake Como, another first, as well as homes all over the Hamptons.
Without skipping a beat, Bikoff is topping off the milestone year with her first-ever rug collection, manufactured by Stark and sold exclusively on 1stdibs. Not surprising, the designs — inspired by 1970s and '80s disco culture, as well as astrology — have just the cheeky, chic irreverence that underscores Bikoff's outré style. We caught up with Bikoff to get the full scoop on her debut.
---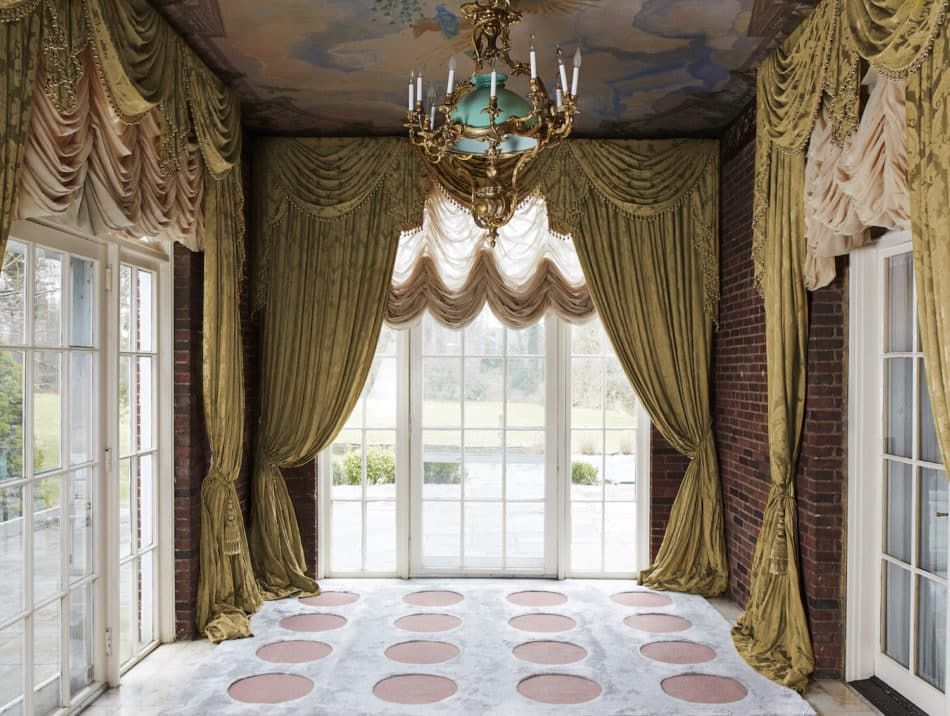 It's been quite the year for you! Tell us how your rug collection came about.
My mother is Iranian, so I always grew up with these insane Tabriz antique Persian rugs in my home. They were mixed with European antiques and furniture from the 1970s and '80s, and it was an interesting blend that resonated with me.
When I was thinking about launching a product line, I didn't find that there was a carpet out there that made a statement but was easy to relate to, and that you can mix with everything. There wasn't anything that was neutral but not boring and had some funk and flavor to it. That's when I thought of the Disco Dots.
Why the disco reference? What's the story there?
I'm obsessed with disco culture and Studio 54 and anything from the late '70s, early '80s when New York City was super glamorous and everyone was dressed in Halston and Bill Blass and women started wearing power suits. I love that whole vibe.
With the Disco Dots rugs, I was referencing large disco balls, but the proportion of the circle pattern is so large that it's not just your typical polka dot. From there, I decided to do this very glamorous, high-style, almost shaggy — but not too shaggy, where it feels dirty — carpet that felt like velvet.
There are similarities between your rugs and your Memphis-style stairwell at Kips Bay. Did you mean for them to relate?
Kips Bay was based on 1980s Memphis Milano Italian design. It was a whole bunch of Memphis graphics that I had contorted, cropped and put together in a patchwork. But the Disco Dots have more like a champagne and cocaine, New York City penthouse, Wolf of Wall Street type of feel to them.
When I thought of designing the rug, I was walking up and down the stair of Kips Bay, dancing. You want to do a little catwalk on one of these rugs. And as you walk around the rug, they shine at different points. It's the ultimate glamour.
Now on the opposite end, what inspired your Zodiac rug?
Obviously, I'm super into anything whimsical and anything that tells a story. For me, it just goes with all these quirky, fun things that I love. This rug is such a conversation piece.
What's your sign?
I'm a Virgo. [It was her birthday when we spoke.]
Round rugs are not as common. How do you see yours being used in a home?
We tend to always go for what's safe, and one of my personal conquests as an interior designer is to encourage people not to be afraid to do things that are different and to have fun with design. A lot of us live in boxed-out apartments or boxed-out homes, and a circle in a square is a very beautiful way of thinking about design.
Round rugs create such an ambiance in a space and you can move furniture in a conversational way with one. It's more unique to start playing around with different shapes and sizes.
So, what's next for you in terms of collaborations?
I'm actually doing a fabric collection with Fabricut. It's taking a bit of time but it will be out eventually, and I'm super excited about that. I'm going to continue to sell antiques and find beautiful fabrics and upholster everything.
But I think that my next goal would be to start re-creating furniture that's really hard to find, like 1960s French Space Age, the '70s, the '80s. I'd love to take some of my favorite furnishings from different time periods and re-create them in proportions that suit our needs nowadays. It would be a collection that combines everything.