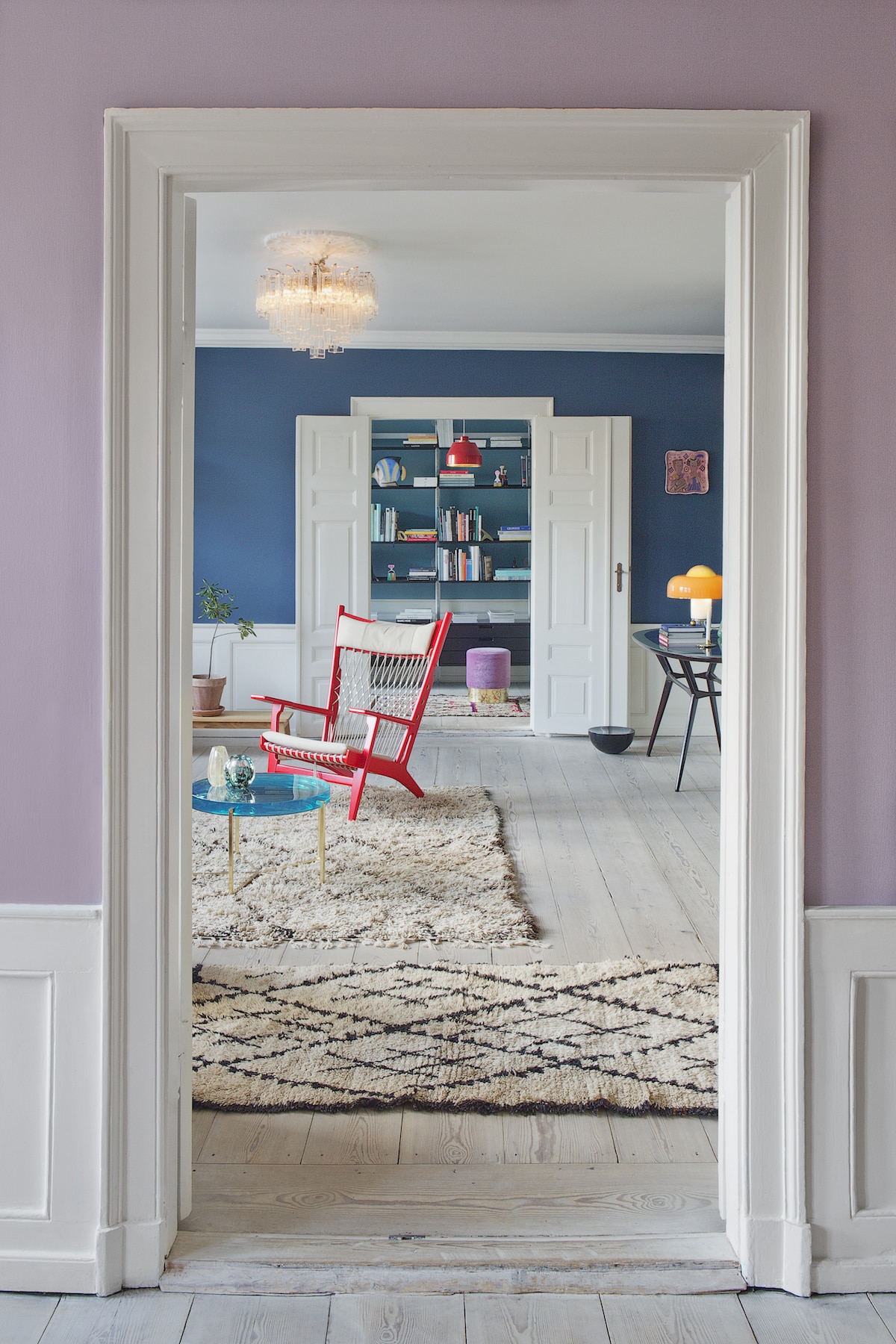 At The Apartment, Tina Seidenfaden Busck's showroom in Copenhagen, she paired a Hans Wegner PP129 armchair with a McCollin Bryan table and a Moroccan rug.
Photo by Heidi Lerkenfeldt for The Apartment
---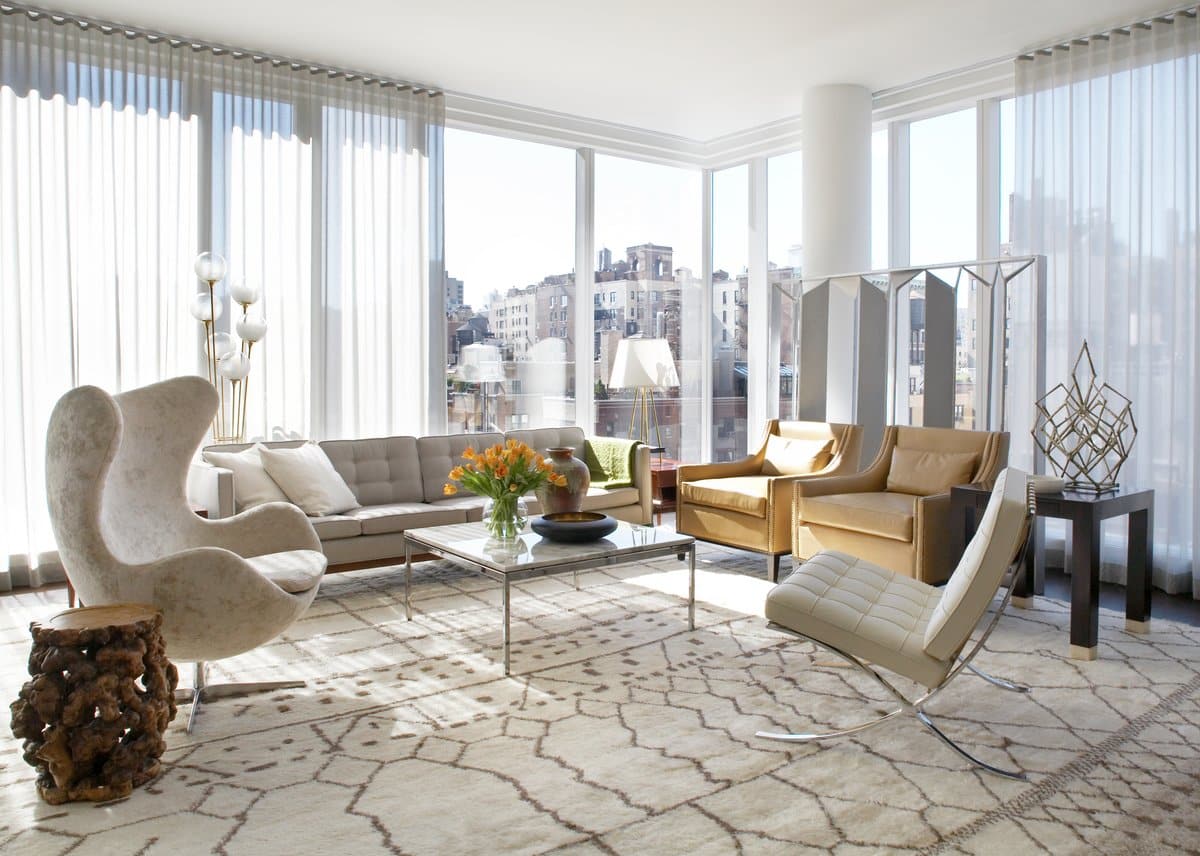 "The key elements of Scandinavian design are my guiding design principles for all projects I work on – natural and functional as well as simple and sophisticated," says Neal Beckstedt, who employed these principles in this Upper East Side living room. The space features a Milo Baughman sofa, an Egg chair by Arne Jacobson, a Stilnovo floor lamp, a Mies van der Rohe Barcelona chair and a Florence Knoll coffee table.
Photo by Marili Forastieri
---
In designing the kitchen of this family castle in Sweden, Sigmar brought together several generations' worth of furnishings: a traditional grandfather clock, mid-century Hans Wegner dining set and contemporary lighting and storage.
Photo by Christoffer Rudquist
---
For this Long Island, New York, beach house, Groves & Co. employed a neutral palette to create an understated, serene effect. The space features natural and heavily textured materials, a live-edge wood side table, mid-century wood-and-leather armchairs and a sisal rug.
Photo by Anastassios Mentis
---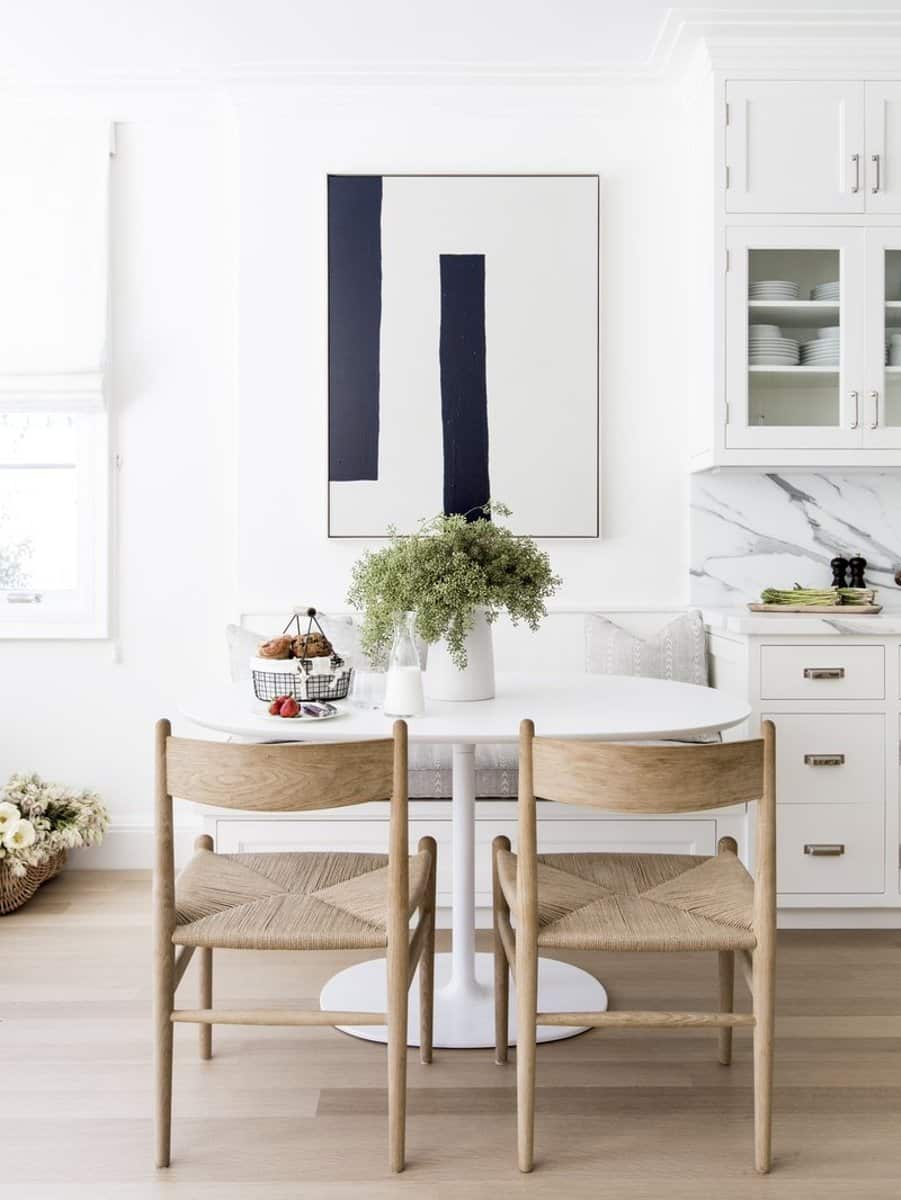 "The client wanted her kitchen to feel relaxed, casual and warm, so Scandinavian accents were the perfect fit," says Alyssa Kapito of this Los Angeles home. "We loved the way the Hans Wegner chairs blended beautifully into the rift oak floors and worked with a more modern dinette table." The dining table is by Arper and the banquette fabric is from Holland & Sherry.
Photo by Laure Joliet
---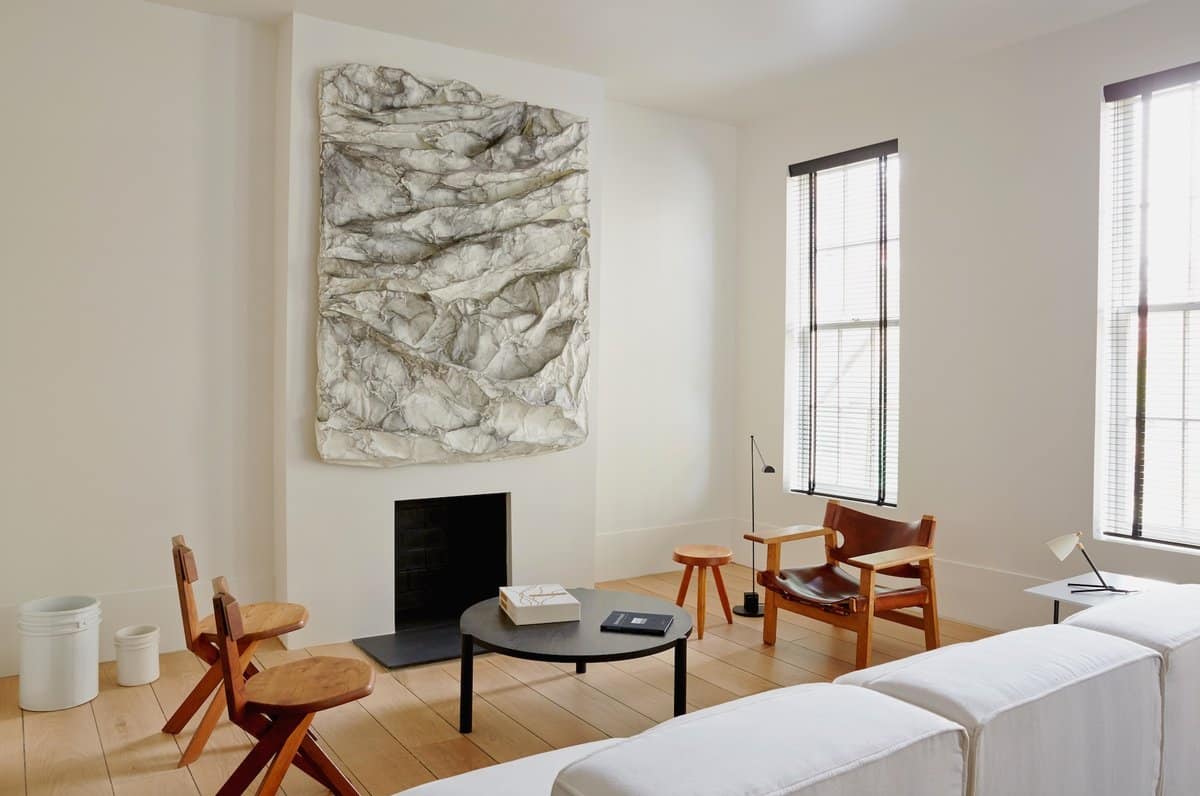 "Working towards such a minimalist setting, one must be careful in balancing a feeling of warmth and comfort," according to Ash NYC, who designed this West Village townhouse. "The furniture has simple lines and a limited palette allowing the space to feel clean. However, the varied textures and rich patina in the leather and wood ward off any notion of sterility. The lack of a rug is also a Scandinavian tradition." This living room features a WC1 cocktail table by Ash and, on the left, a pair of Pierre Chapo S34 chairs and a Børge Mogensen Spanish chair on the right.
Photo by Christian Harder
---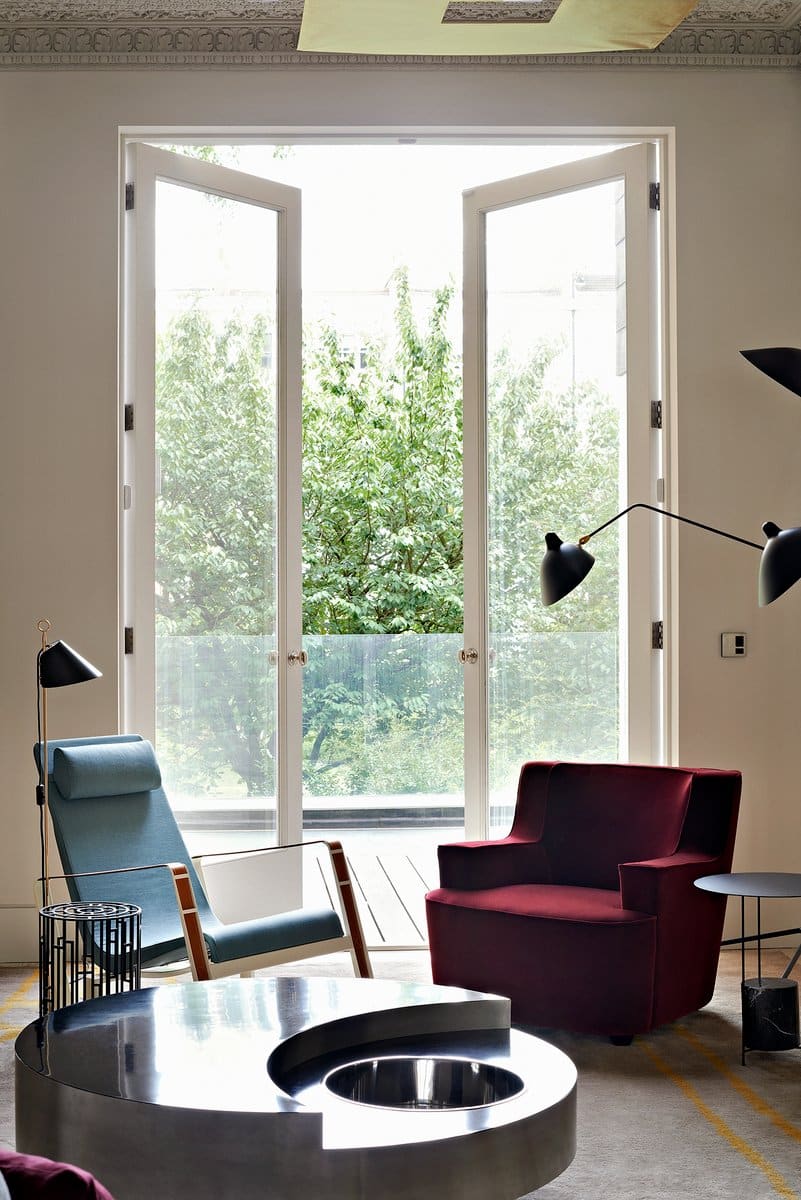 "This project was the marriage of a minimalist architecture within the warmth of a home for both grown-up entertaining and family life," Tom Bartlett of Waldo Studio says of designing this five-story London townhouse. "The couple were clear from the start of the project that they wanted to invest in quality pieces by good modern designers as well as contemporary art. They had an understanding of the intrinsic value in these pieces, and they were also following their passion." The space features a Cité armchair by Jean Prouvé and a Driade chair in burgundy red velvet, along with Serge Mouille floor lamp and a Willy Rizzo coffee table.
Photo by Tom Mannion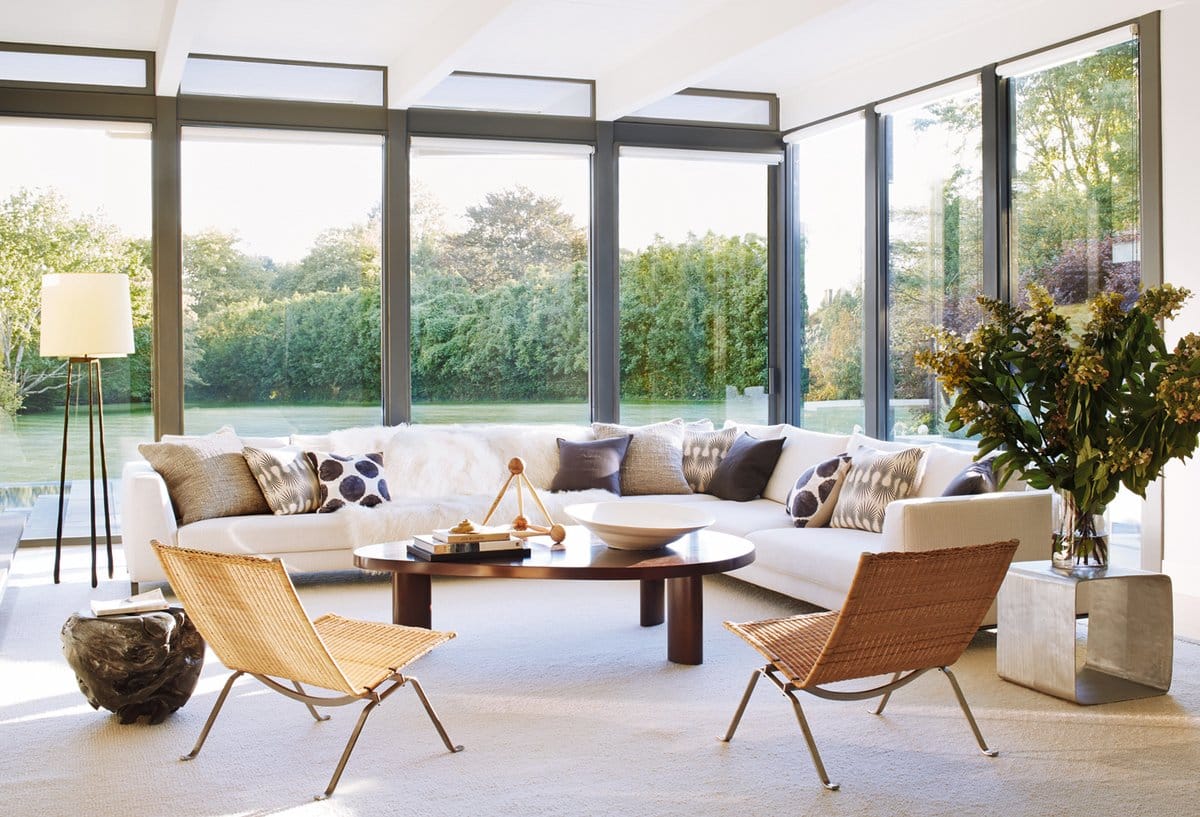 In this Southampton, New York, living room by Timothy Whelan, a pair of Poul Kjaerholm PK-22 chairs sit opposite a sectional sofa.
Photo by Max Kim-Bee
---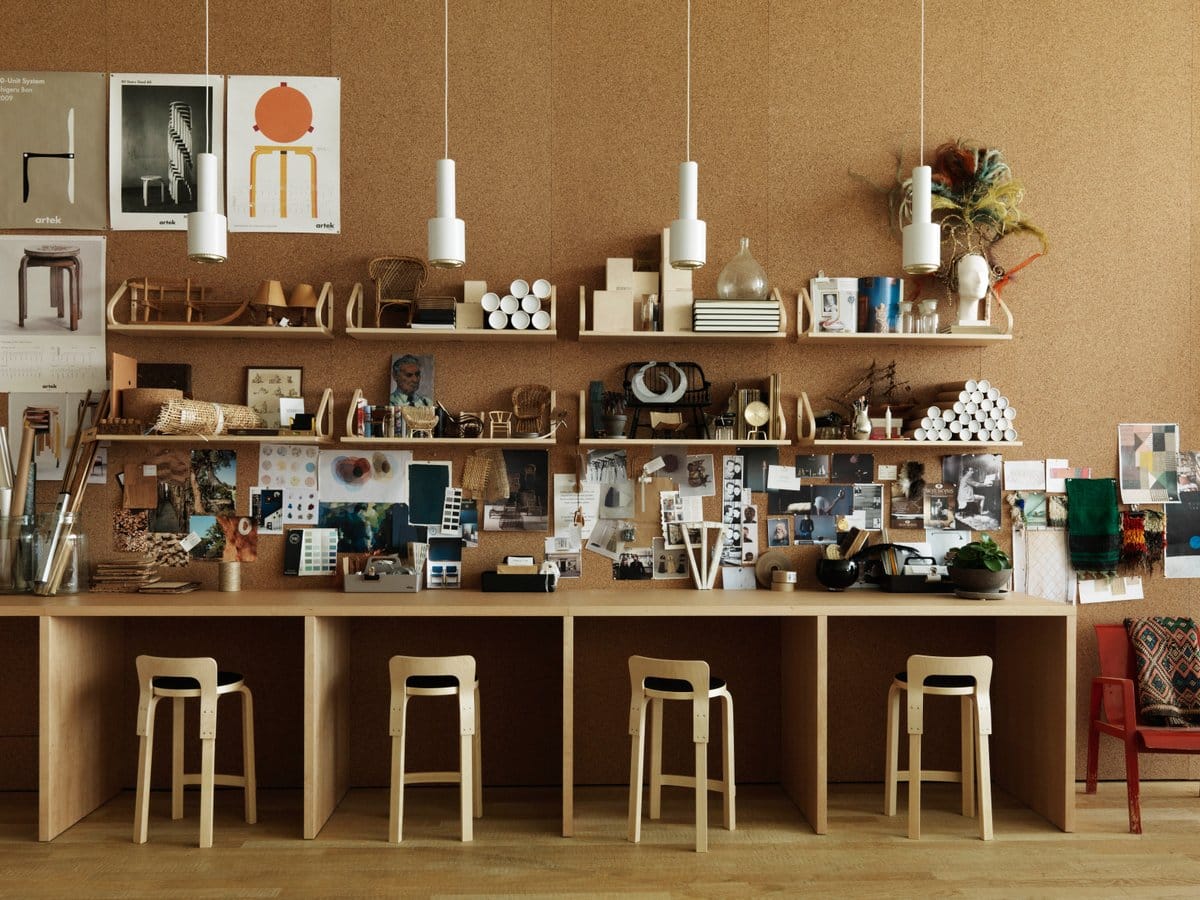 Studioilse designed this study, part of an installation in the loft of Herzog & de Meuron's VitraHaus in Germany, which features Alvar Aalto pendant lights and cork walls.
Photo by Felix Odell
---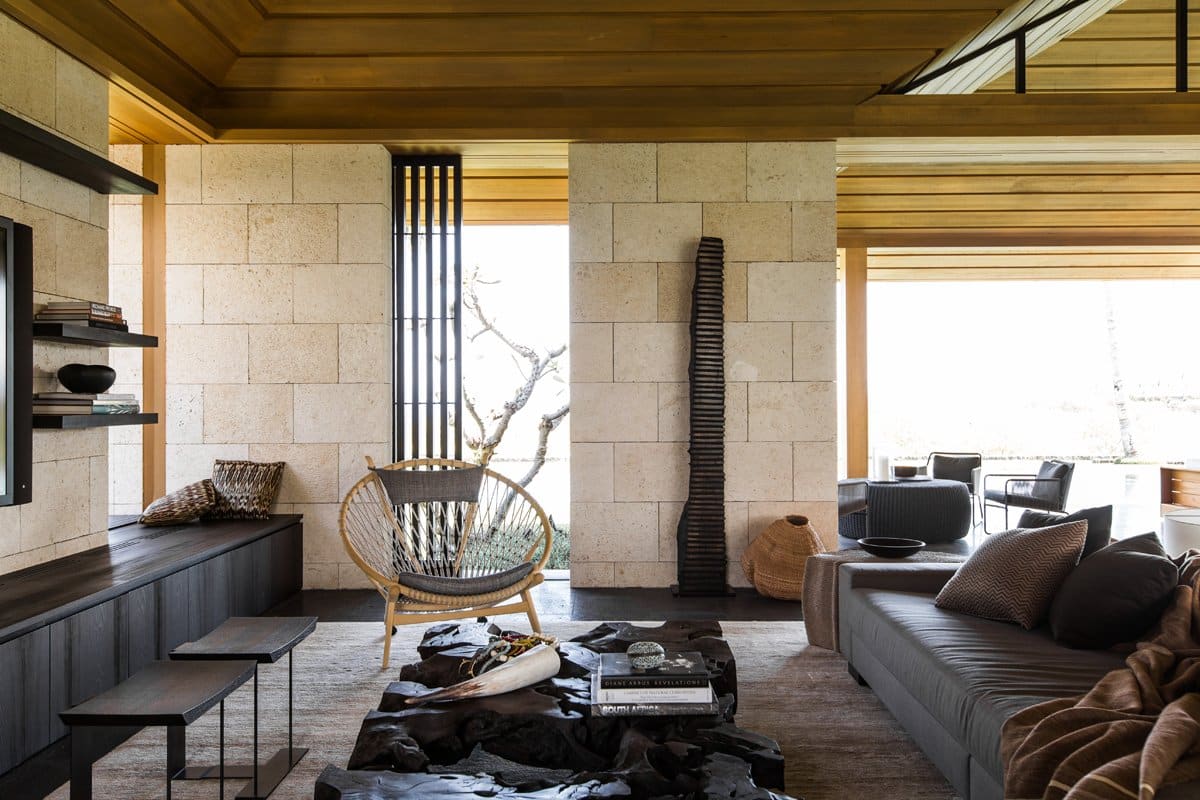 "For this residence, we looked beyond the clichés of Hawaiian design such as ukuleles and palm prints," Nicole Hollis says of this home in Kailua-Kona, Hawaii. "Scandinavian design is known for a pared-down sensibility combined with organic materials, so this Circle chair by Hans Wegner ties the room together perfectly. It has a graphic look that anchors the space but this is balanced by its soft circular curves and warm natural materials such as oak and rope." The room also includes a Christian Liaigre sofa, a custom media cabinet and shelves by Hollis and Pierre Chareau T-1927 stools.
Photo by Laure Joliet
---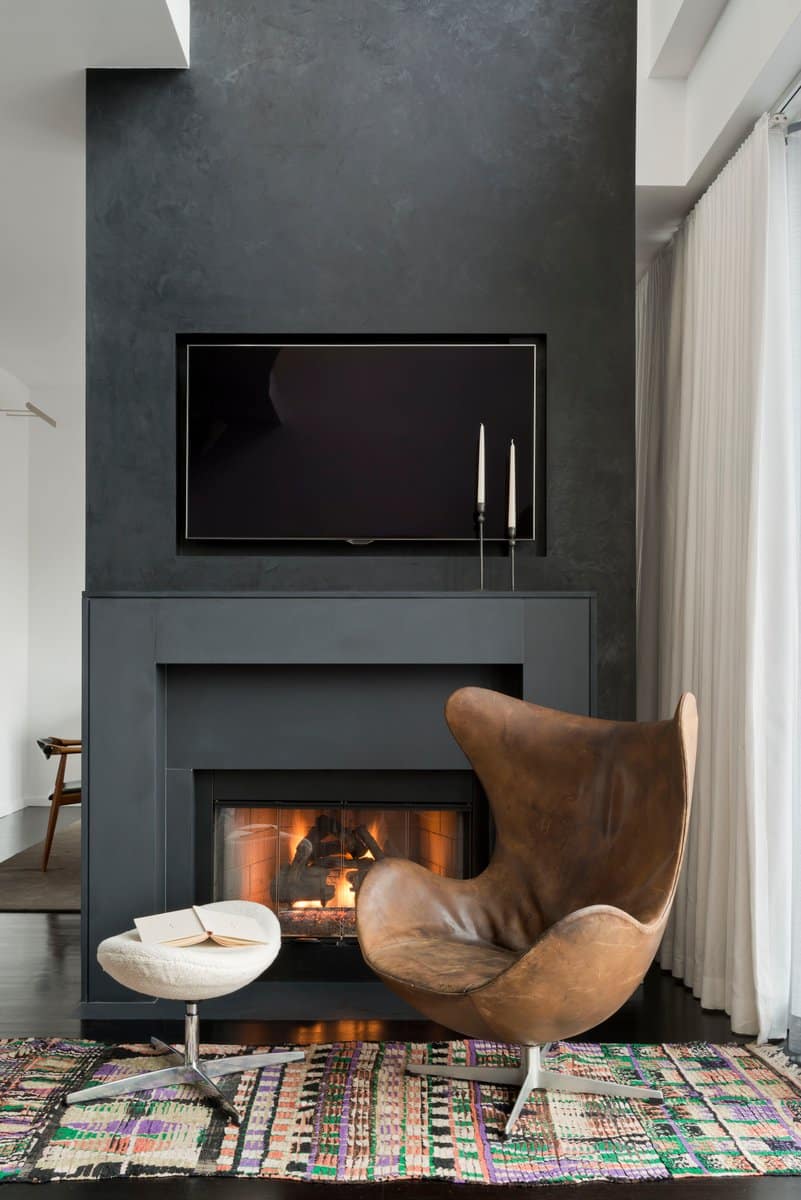 "This is one of the early production Egg chairs by Arne Jacobsen," says Tatum Kendrick of Studio Hus, who designed this Greenwich Village penthouse. "I selected it for its beautiful, well-worn patina. We purchased a new production foot stool and covered it in shearling wool to add texture and warmth. I designed a large basalt stone mantel and had the full two-story volume covered in black venetian plaster. This created a contrasting feature that connected the spaces in the house and also helped to conceal the flat-screen TV."
Photo by Peter Margonelli
---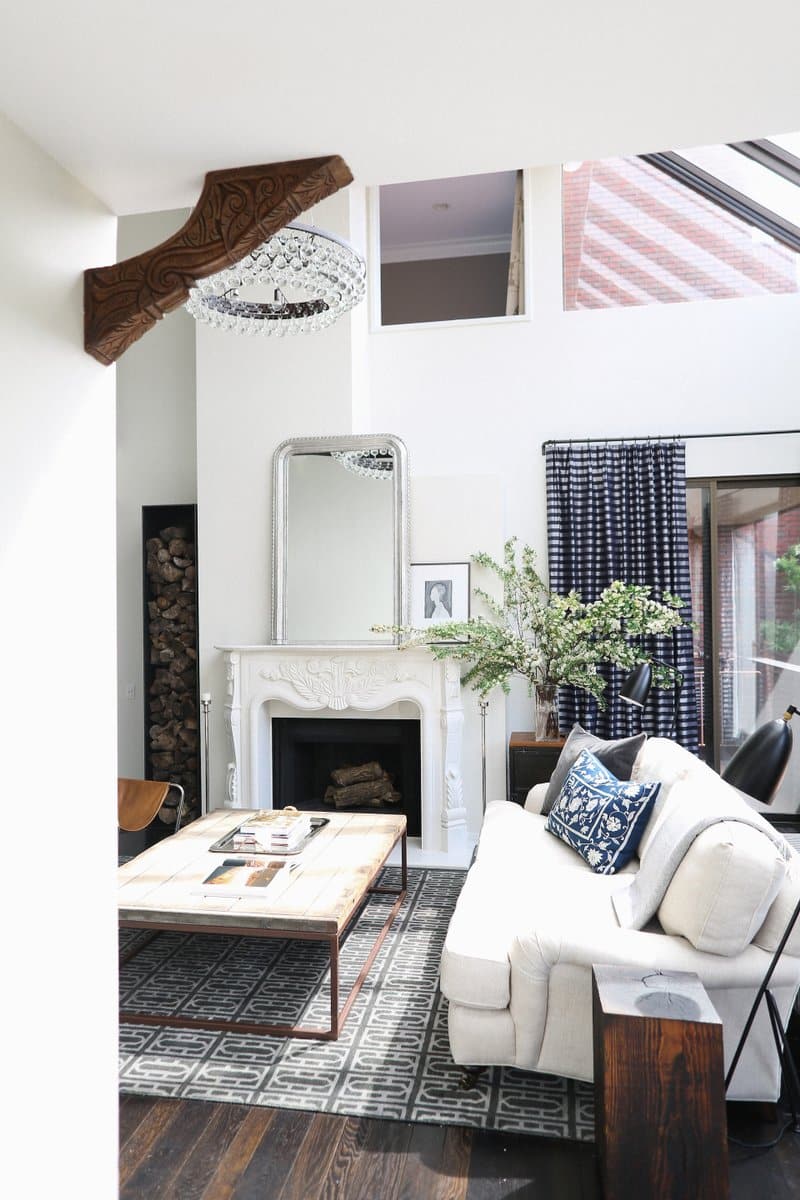 "The architecture and light in this home lent itself perfectly to the clean lines and use of natural materials, which are hallmarks of Scandinavian design," Catherine Kwong says of this loft in San Francisco. Starting with a palette of grays, muted blues and taupes, set against white walls, we layered in pieces that exemplify the rich heritage and simple elegance of Nordic design, including a rolled-arm sofa, upholstered in Belgian linen, an 800-pound custom steel firewood holder, a pair of leather sling chairs and a Gustavian-inspired fireplace."
Photo by Bess Friday
---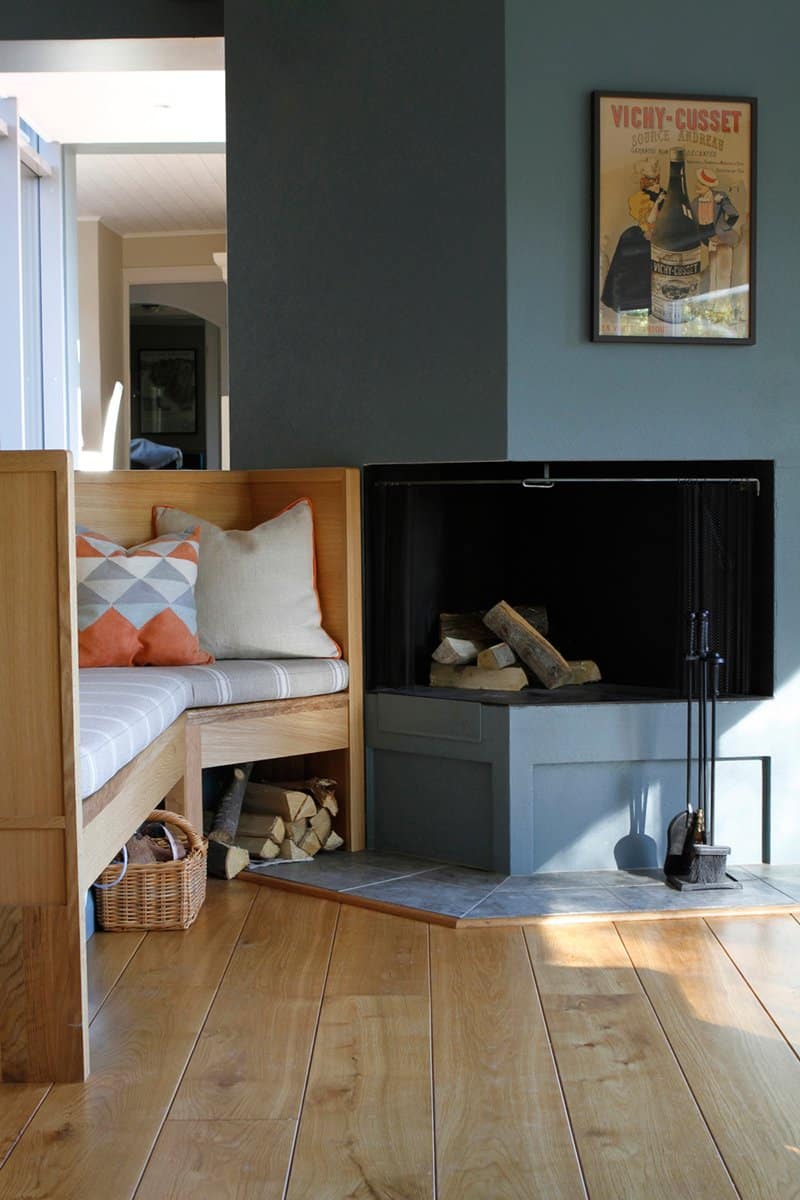 In this 18th-century lakeside farm house in Sweden, Sigmar created a cozy nook with a cushioned wooden bench that echoed the angles of the fireplace.
Photo by Erica Bergsmeds
---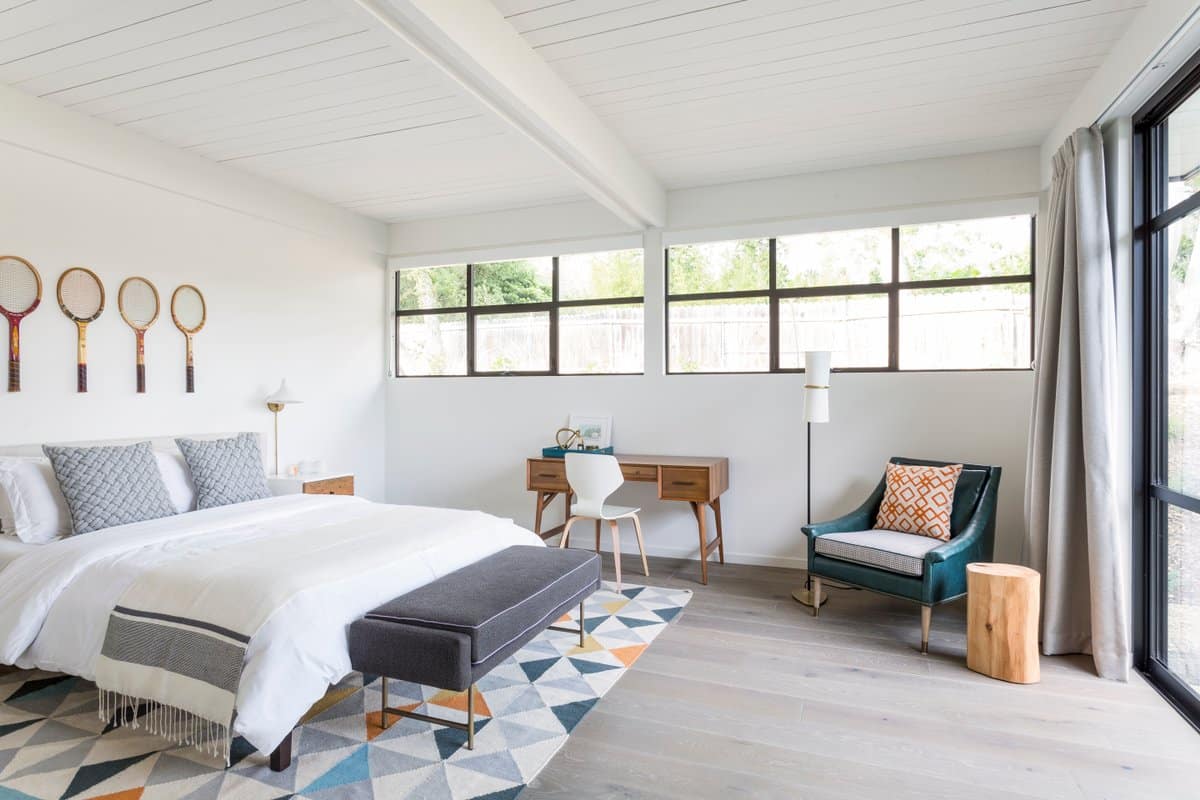 A collection of vintage tennis rackets serve as wall art in this Santa Barbara bedroom by Brown Design Group, whose limited palette and wood elements create a relaxed vibe.
Photo by Matt Wier
---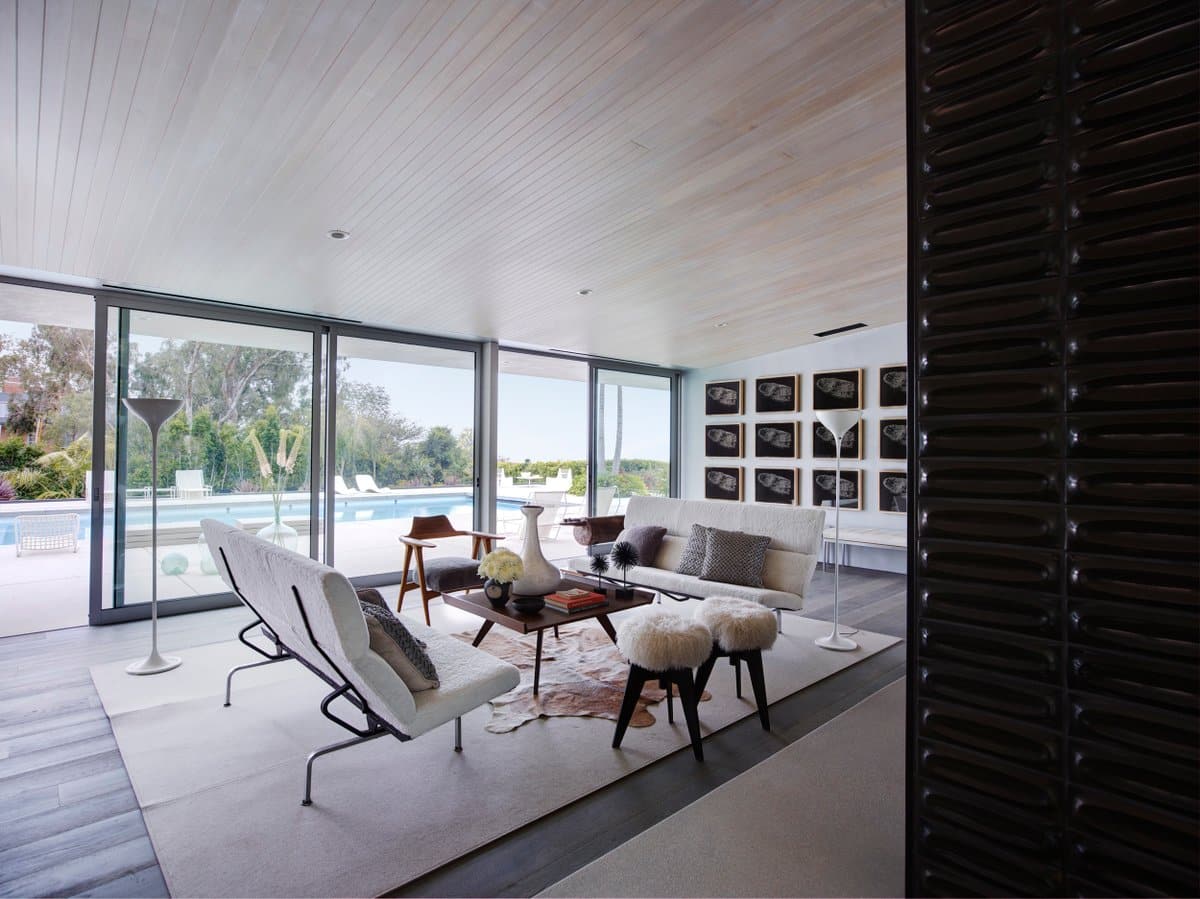 "The idea was to infuse European Modernism with California craft tradition, and try to transform strict minimalist design into something more casual and informal," Michael Boyd says of Shed House, a Malibu residence he designed with Laurel Broughton. The living room includes a pair of Charles and Ray Eames for Herman Miller white shearling Compact sofas and a George Nakashima for Knoll coffee table. Boyd designed the teak-and-gray-shearling Paddle chair.
Photo by Richard Powers
---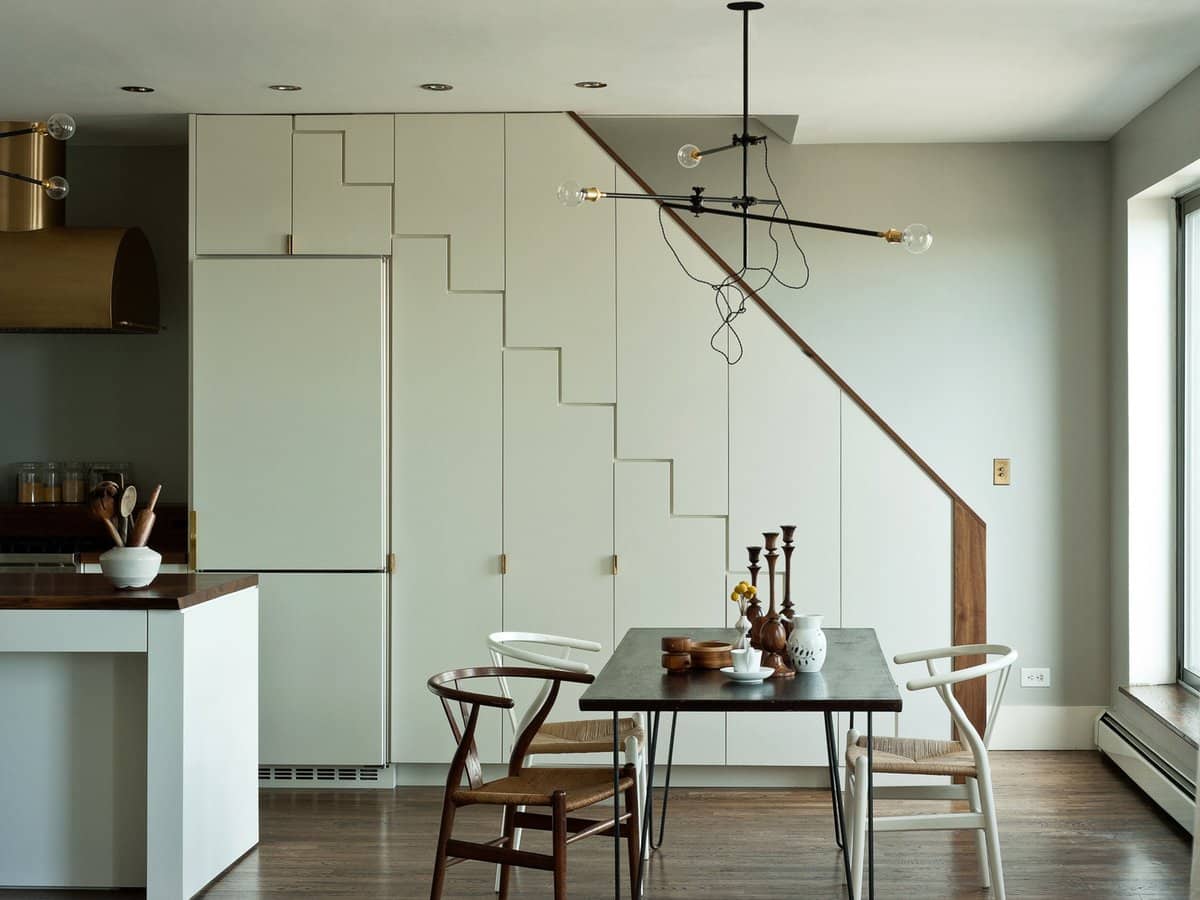 "The Hans Wegner Wishbone chairs were a key part of the design of the dining room, as we mixed new editions of the chair (in white) with vintage editions of the chair (in wood)," Robert Highsmith of Workstead says of this Brooklyn apartment. The space also includes an Industrial chandelier by Workstead and a vintage mid-century hairpin table.
Photo by Matthew Williams