Achieving the right balance between history and modernity is not easy, but Matthew White and Frank Webb of White Webb make it look effortless. On one side, White is passionate about different periods, cultures and the decorative arts. On the other, Webb is a modernist who worked in the financial services industry for 17 years before deciding to explore creative fields, leading him to discover a passion for Italian design.
Mixing clean lines with antiques, classic touches and trendy accessories, White Webb's projects exude a sense of warmth and balance, as shown through these six impressive transformations.
---
Blue Bedroom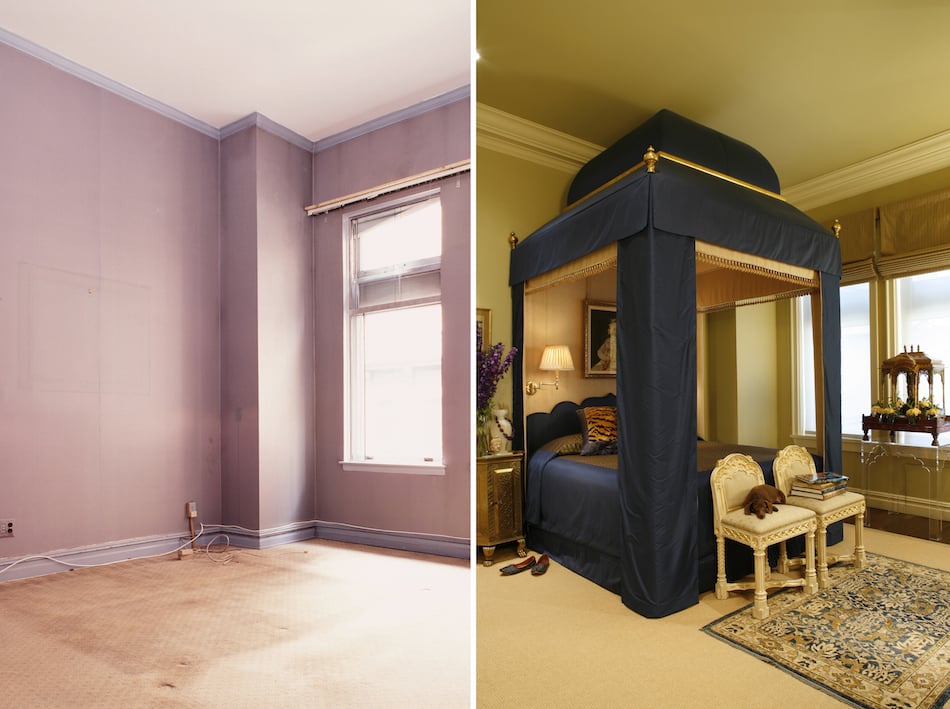 "This Manhattan bedroom is in a 19th-century building, but the only thing the space had going for it was a 12-foot ceiling. "We replaced anemic moldings with ones more in keeping with the scale of the room and the architecture of the building," White says.
"To highlight the height of the room, we designed a custom bed, complete with dome. This 'room within a room' is swathed in sapphire silk and set in an otherwise ivory space, making the bedroom both elegant and cozy."
The Paisley silk bedcovering is by Schumacher and the blue fabric by Pindler & Pindler.
---
Living Room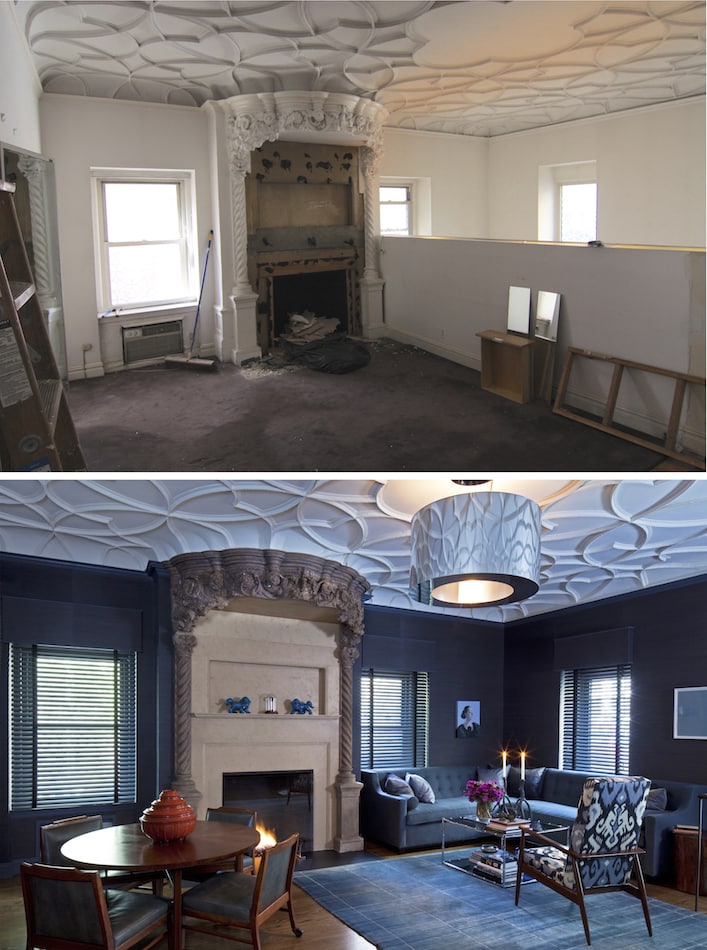 "The ravages of time and some unfortunate renovations had left this turn-of-the-century beauty in a sorry state. To provide an unnecessary view to this duplex's lower floor, prior owners had erected a half wall in this sitting room, effectively negating seating and turning it into an unfortunate pass-through area," White says.
"In addition, the fireplace's mantel had been covered by a glued-on mirror and its stone work had been painted white. The room's ornate tracery ceiling had also suffered water damage and neglect. We eliminated the half wall and extended the room's flooring to permit fuller use of the space as a combined living and dining room.
"Finally, we unmasked and restored the fireplace surround and restored the ceiling tracery to its original glory. Aesthetically, we wanted to evoke a swank gentleman's club, which we achieved through a mix of dark, rich color; simple, streamlined upholstery; and an eclectic blend of vintage and contemporary furnishings."
The Tian Xia HAL suspension lamp by Artemide illuminates the living room. A custom sofa by White Webb is paired with a 1960s Danish armchair. On the left side, the chairs are from Era and the game table is by Harvey Probber.
---
Modern Bedroom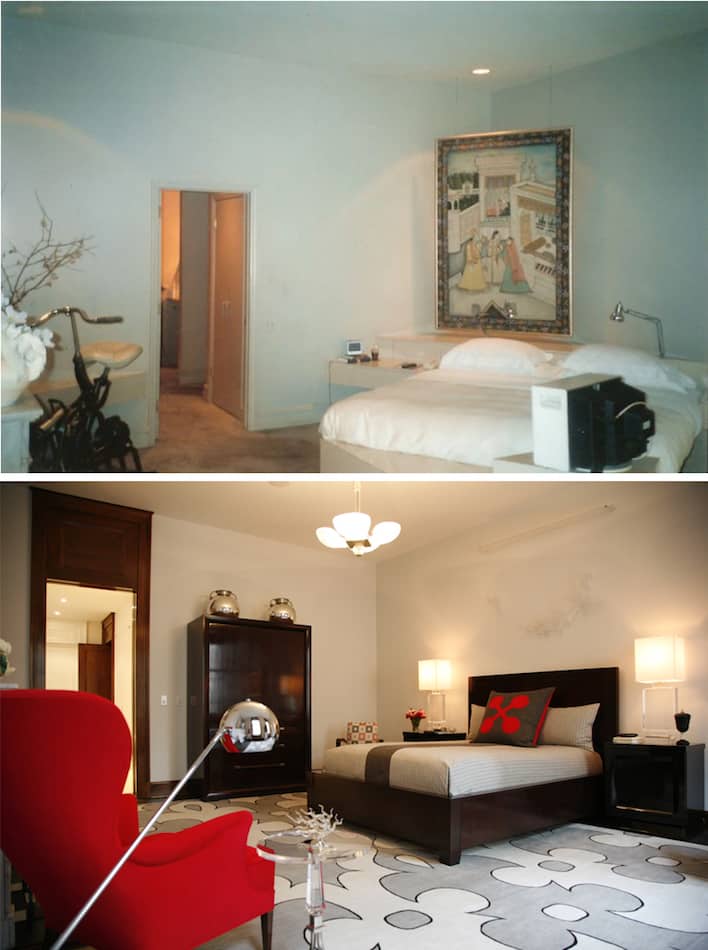 "This master bedroom hadn't been updated since the late '70s, when its defining theme was a mix of Feng Shui and disco. While the new owners didn't object to a little drama, they wanted to eliminate the mirrors and angled built-in furniture that imprisoned it in the boogie era," Webb explains.
"Befitting the building's prewar grandeur, we chose to incorporate more classic architectural detailing and to blend vintage and contemporary furnishings for a more timeless feel. A soft gray-blue palette serves as the foundation for the room, while dark woods and pops of cherry red provide contrast and punch. A custom rug based on an over-scaled reimagining of a Moroccan tile design lends a touch of exoticism and luxury to this serene and inviting space."
The Murano glass pendant light is from Bernd Goeckler Antiques, the bed and armoire are from Ralph Lauren and the 1930s mahogany nightstands and modern Lucite table lamps are from Craig Van Den Brulle. The 1970s chrome floor lamp is by Gueridon and the acrylic and chrome side table is by Charles Hollis Jones. The 1930s Fritz Heningsen red wingback chair is by J.F. Chen and the rug by Ralo Tibetan Carpets was custom designed by White Webb.
---
Red Media Room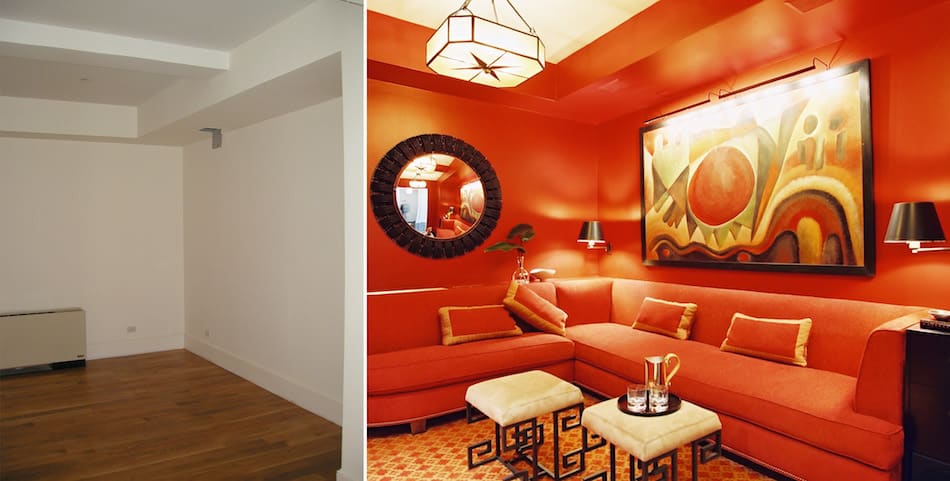 "The windowless 'bonus' room is an all-too common feature in Manhattan apartments, but a welcome challenge for us. For this featureless, dark interior space, we chose to pump up the volume with bold color, sumptuous upholstery and custom lighting and art," says White.
"Taking the building's Art Deco style as a jumping off point, we designed furniture and lighting whose streamlined curves and industrial-chic vibe were common to the era. Walls in Benjamin Moore's Million Dollar Red envelop and enliven the room, while commissioned artwork and a button-framed mirror bring light and movement. With renewed purpose as a swank media room, this previously troublesome space became the vibrant heart of the home."
A custom sofa by White Webb sits on a handmade Tibetan carpet. White Webb also designed the amber glass chandelier and the two small coffee tables. The convex mirror is by Clare Graham.
---
Kitchen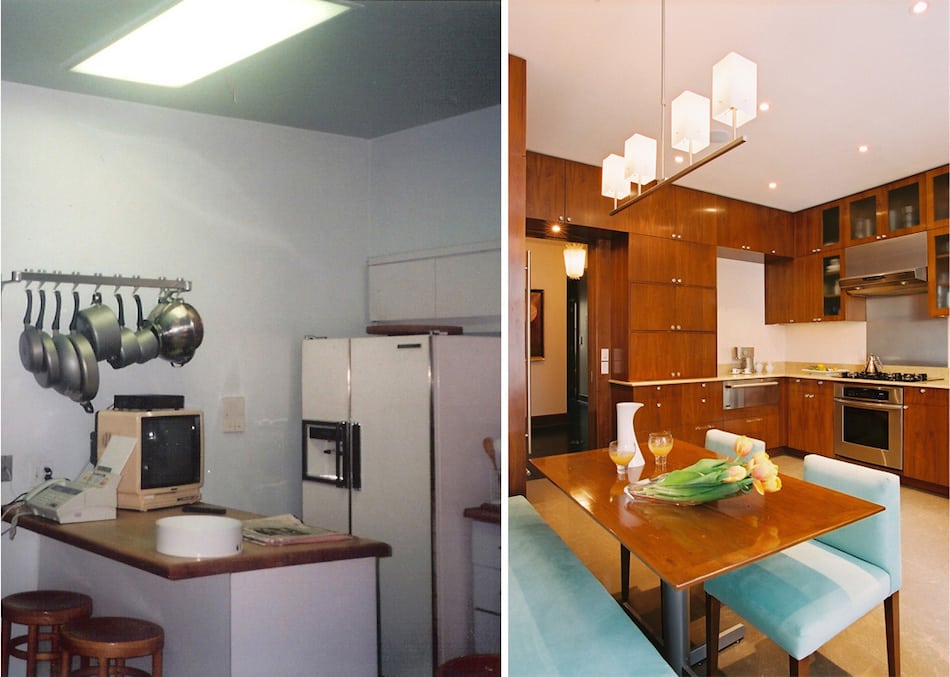 "According to New York City standards, this kitchen was spacious but not exactly space-age when it came to its design. Untouched since the early 1980s, it was a virtual time capsule of obsolete technology, and its nondescript white cabinets and wooden counters had seen better days," Webb says.
"To bring things up to modern standards and inject a touch of sophistication, we abandoned white for walnut, wood for golden limestone and a touch of aqua upholstery for fresh contrast. With these more refined materials and improved cabinetry design, courtesy of SPG Architects, the kitchen reads more like a stylish bar but still functions as a modern chef's kitchen."
The Casino Suspension fixture is from LBL Lighting and the Nell chairs are from Room.
---
Study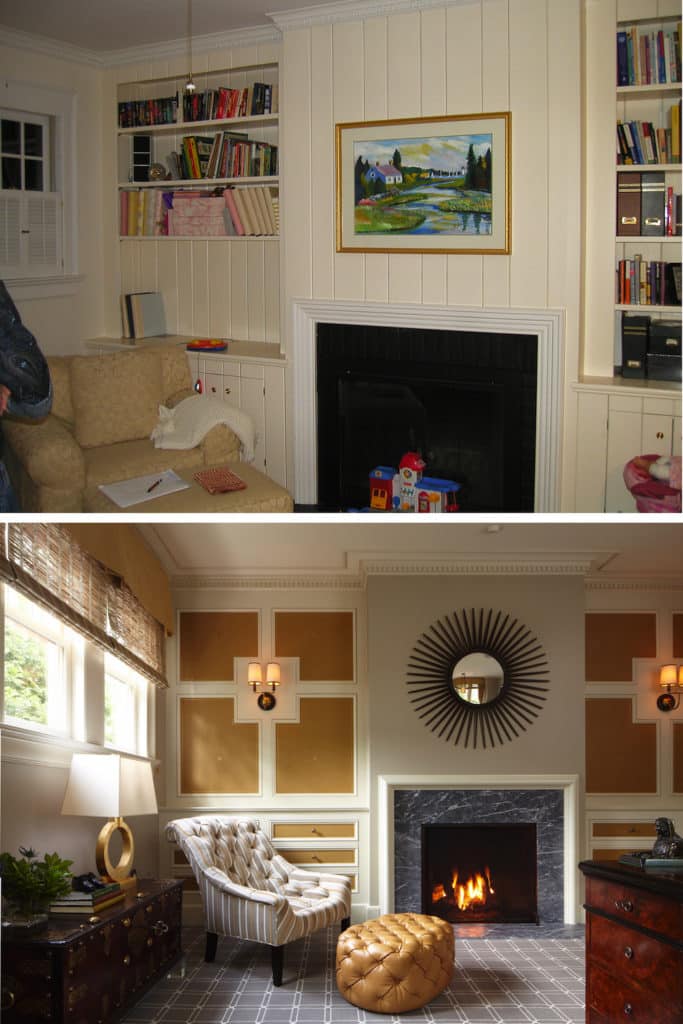 In this stately New Jersey home, the study's original design didn't provide much inspiration for quiet reflection or any real reason to linger, except for the warmth of the fire. To create a sense of visual warmth, we opted to forgo the paneled library look in favor of a lighter palette of gold, gray and camel," says Webb.
"Much as we love a book-filled library, the family had a greater need for closed storage, which we achieved by the creation of custom, tooled-leather cabinet doors. Smart sconces and a clean-lined sunburst mirror provide light and punch, while a gorgeous antique partner's desk and comfortable fireside seating blend for the perfect mix of work and relaxation."
A club chair with a Manuel Canovas fabric for Cowtan & Tout is paired with a custom tufted ottoman by White Webb.