Today, with a few clicks on 1stdibs, a design connoisseur can purchase vintage editions of the B9 Thonet chair, a favorite by Le Corbusier, or the Wassily armchair by Marcel Breuer from dealers all over the world. Yet in 1960, it was hard to come by those chairs in any form in the U.S. How they got here was the work of one unlikely man, Charles Stendig. He became the exclusive American importer not only of Thonet and Breuer classics but also of some of the most cutting-edge furniture made in Finland, Switzerland and Italy in the 1960s and early '70s.
Stendig's story is very much of a time and place — New York during the postwar economic boom, when trade burgeoned between America and Europe. Born in New Lots, Brooklyn, the only child of a union engineer and his homemaker wife, Stendig served as a paratrooper during World War II and then got a degree in business at NYU through the G.I. Bill. Around 1950, Stendig went to work for Raymor, a trailblazing tastemaker in the field of modern-design china and accessories, best known for distributing Russel Wright's immensely popular American Modern line. The commission for selling Wright's collection was very low, so the ambitious young Stendig concentrated on the company's less popular pieces, imported from Italy and Scandinavia. "Very few stores cared about modern dinnerware in those days," recalls Stendig, who at 92 is as charmingly affable as he is sharp-witted. "You had to focus on jewelry stores and gift shops."
During the five years he spent with Raymor, Stendig says, he "got the bug" for design. After he left the company, in 1955, he hoped to become the East Coast representative for a Californian furniture maker. In a meeting one hot summer day, however, he learned that shipping the furniture east would be prohibitively expensive — the Interstate Highway System did not yet exist. Stendig ducked into a bar for a beer to cool off and reflect. There, he happened to meet a Finnish trade representative looking for export opportunities. He mentioned to Stendig that his country had a thriving furniture industry and could transport product by cargo ship to East Coast ports relatively cheaply. (Seldom has the thirst for a beer proved so serendipitous.)
The man put Stendig in touch with someone at a company called Asko, from which a catalogue soon arrived at Stendig's home. "The designs were not super exciting, and they were all of light-colored wood, which wasn't very popular in the States," Stendig recalls. "But the price point was right, so I asked if I could send over a designer to help make the furniture more appealing to the market here." The Finns not only agreed but even sent plane tickets for Stendig as well as Joseph Carreiro, a professor at Philadelphia's College of Art whom he'd recruited to help the Finns adjust their designs.
The flight in a Finnair prop plane took 26 hours and four refuels. At the air terminal in Finland, which was a Quonset hut, a man who spoke no English picked up Stendig and Carreiro and drove them several hours away to Lahti, the country's furniture-making capital. Up to that point, Stendig hadn't known that Asko was one of the largest companies in Scandinavia. He was shocked to discover its state-of-the art facilities, seemingly  in the middle of  nowhere. U.S. furniture factories were typically covered in sawdust; this one was as pristine as a lab. The designers he met on that and subsequent trips were fascinated by America and American taste and how they might best cater to the market. These talents included Eero Aarnio, who later became famous for his Ball chair, Jussi Peippo and Ilmari Lappalainen, along with Tapio Wirkkala and Ilmari Tapiovaara. Together they helped shape America's taste for contemporary European design.
Stendig opened his first eponymous midtown Manhattan showroom in 1956 with a $300 loan from his friend Paul Secon, the founder of Pottery Barn, which was then an outlet for good-quality irregular ceramics located far west in the Chelsea neighborhood of New York City. As his business took off, Stendig looked around for other import possibilities and hit upon Thonet, whose bentwood furniture hadn't been imported since before the war. He wrote to the company's headquarters, in Prague, several times with no result. At the suggestion of Asko's export manager, who regularly did business with the Soviet bloc, he contacted the USSR's minister of foreign trade. This finally prompted a reply, along with the unexpected arrival at his office of a member of Czechoslovakia's UN delegation. "After requesting that I never bother Moscow again, he promised that I would receive a catalogue from the factory. It came with a letter inviting me to Prague." (At the time, the only way to travel to a Communist country was with an official invitation from the government.)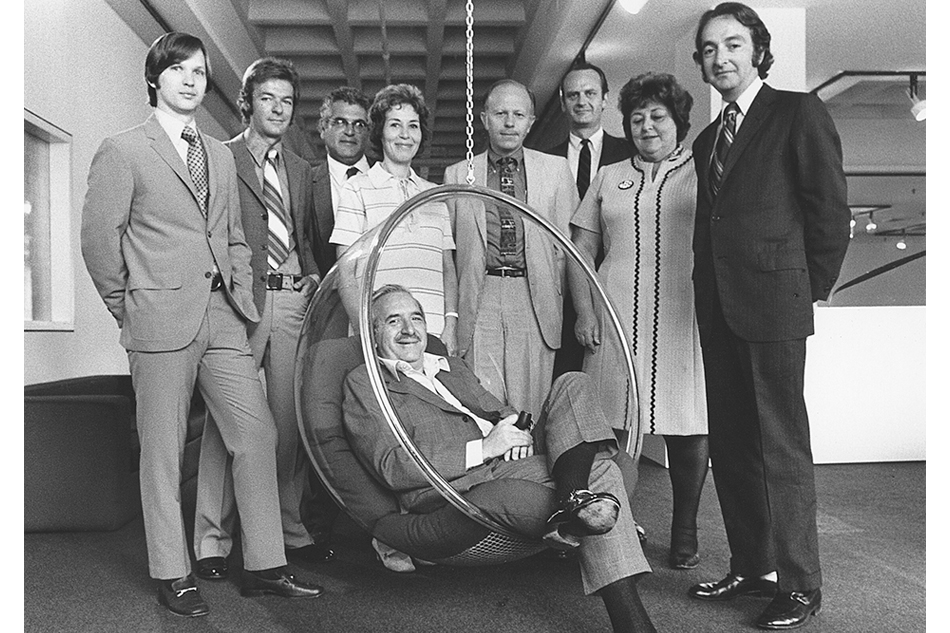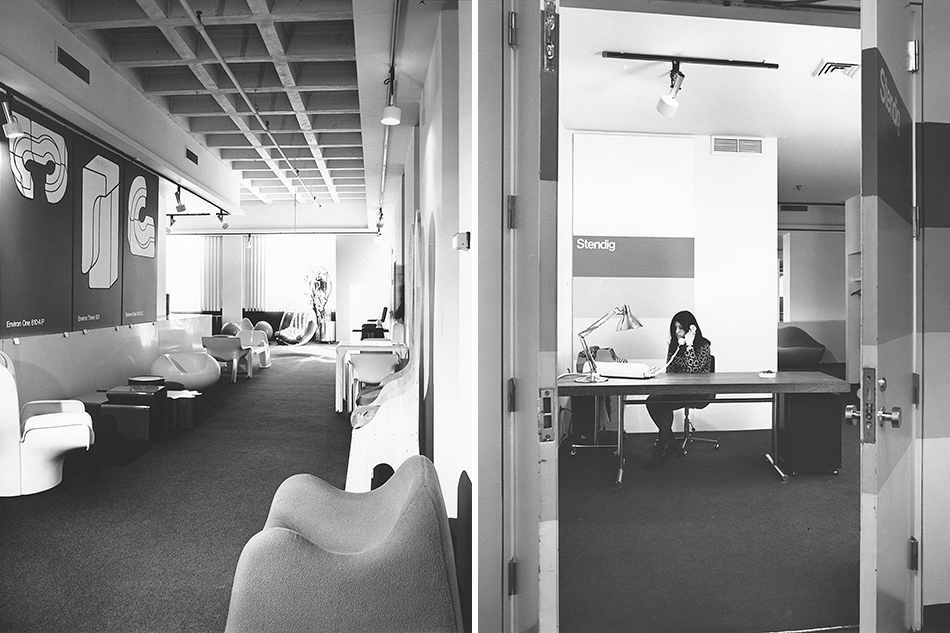 A delighted Stendig made plans to visit the next time he went to Finland. Since there were no direct flights, he flew from Helsinki to Zurich, with the plan of spending the night, so he could steel himself for the privations of travel behind the Iron Curtain. On an evening walk around Zurich's Old Town, Stendig came upon a little shop with Bauhaus-style chrome-and-leather furniture in the window. The shop was closed for the night, but when Stendig returned the next day, he learned that the work was by three Swiss designers — Hans Eichenberger, Kurt Thut and Robert Haussmann — the last of whom owned and ran the shop with his brother. The furniture was locally made and sold only in Switzerland, as the country hadn't yet developed an export market. Stendig soon became the exclusive U.S. importer, not only of the collection in the window, but eventually other work, including De Sede's supremely luxurious leather offerings.
After making this unexpected deal in Switzerland, Stendig set off for Prague. "Switzerland had been so clean, neat and efficient, and in Prague, everything was grimy and everyone grim-faced," Stendig recalls. Picked up at the airport by a Thonet executive in a Russian Zil, the Soviet equivalent of a Rolls, he traveled six long hours to the factory in Slovakia. When he met with the production managers, their discussion was cordial until he told them he was interested in importing only the B9 and the 811 chairs, the former designed by Le Corbusier and the latter, reputedly, by Josef Hoffmann. "At the mention of those models, the managers started yelling and screaming among themselves," says Stendig, laughing at the memory. It turned out that both chairs were extremely difficult to manufacture. The caning alone took eight hours to complete. Eventually they agreed, and the managing director proudly showed Stendig the official mold for the B9.
Charles Stendig's Most Iconic Imports
There was a catch, however. Stendig had to agree to guarantee the cost of all U.S. production for a year. If the venture proved profitable, he would become the exclusive U.S. importer. This was a very worrisome gamble for a small businessman, but it paid off handsomely. His Thonet imports sustained the company through much of its existence. In fact, they helped bankroll his introduction of Radical Italian Design to the States a few years later.
That adventure began with yet another chance encounter. In 1960, at a design conference in Zurich, Stendig met Dino Gavina, a man who was almost as unlikely a player in the design world as Stendig. A former professional cyclist with a small workshop that produced soft roof covers for Jeeps and the occasional piece of furniture, Gavina was a passionate lover of theater and avant-garde art. He became interested in furniture design through his close friend artist Lucio Fontana, who took him to the 1953 Triennale X in Milan. There, he made the acquaintance of some of Fontana's buddies, all towering figures in modern Italian design: the three Carlo's — di Carli, Mollino and Scarpa — and Pier Giacomo Castiglioni. By the end of the decade, Gavina had set up a furniture factory, with Castiglioni and Scarpa as design partners. (Later, he and Scarpa founded Flos, the cutting-edge lighting company.)
At first, Stendig was interested in only one of Gavina's offerings, the Sanluca chair by brothers Achille and Pier Giacomo Castiglioni. A milestone in the neo-Liberty movement, this piece evidenced the brothers' ability to pare down the design of the upholstered armchair almost to the point of abstraction. Although this chair was exemplary, Stendig warned Gavina that the American contract market was not as adventurous as Europe's. The Italian was nevertheless convinced that his business would grow rapidly in the States once he acquired the rights to produce the classic early modernist furniture of Marcel Breuer. Many had tried to get Breuer, who was now practicing architecture in New York, to license the designs, but he had always refused. Stendig was dubious that Gavina could succeed where so many others had failed.
In 1962, Gavina flew to New York to meet Breuer, accompanied by Mitchell Wolfson, a friend of both Gavina and Stendig and a formidable expert on Italian design (He's the Wolfson in Miami Beach's Wolfsonian-FIU Museum.) Stendig recounts that, according to Wolfson, when Gavina met Breuer, the Italian spoke not about furniture but only about art and architecture. After chatting for a long while, Gavina opened a Gladstone bag he'd brought with him and dumped long-out-of-circulation American bills onto Breuer's drafting table. A deal was done. Gavina extended his good fortune to Stendig, giving him exclusive distribution of Breuer furniture in the U.S. This further burnished the prestige of Stendig's company and enhanced its bottom line.
Through Gavina, Stendig gained access to all the Italian manufacturers of cutting-edge design. Before long, he was representing Poltronova, which produced designs by Archizoom; Gae Aulenti; Ettore Sottsass; Superstudio; Massimo Vignelli and his wife, Lella; and the puckish troika Jonathan De Pas, Donato D'Urbino and Paolo Lomazzi. However, only the latter trio's Joe chair, shaped like a giant baseball glove and named for Joe DiMaggio, and the Vignellis' Saratoga seating collection sold well.
The good times were short lived: Stendig lost his Breuer exclusive when Knoll acquired Gavina's company in 1968. He never found another Italian manufacturer with a similarly lucrative line. He did, however, discover Gufram. The Turin-based manufacturer, established by two brothers in their garage, produced much of the Pop furniture — the Cactus coat rack by Guido Drocco and Franco Mello and the Bocca loveseat, in the shape of big red lips, by Studio 65 — that came to define the Anti-Design movement. Stendig's connection to the company boosted his reputation as a contemporary tastemaker.
By the late '60s, Stendig had a large headquarters on East 62nd Street and showrooms in Chicago, Los Angeles and San Francisco. Yet despite its high profile, the business was challenging to run. And when Burlington Industries approached him with a buyout offer in 1971, Stendig agreed, staying on for five years to oversee it. In 1976, he retired.
Once again, Stendig's timing turned out to be brilliant. The enthusiasm for bold, expressive and forward-looking design was waning, and postmodernism was on the rise. A new era had begun.