A large bay window provided the perfect framing for a free-standing bathtub in this Beverly Hills home by Burnham Design. The floor and countertops are Calcutta marble, and the chair, rug and chandelier are all vintage.
Photo courtesy of Burnham Design.
---
M. Elle Design used organic textures and a muted palette to evoke a modern-day farmhouse in this Sun Valley, Idaho home. The wood and iron chandelier comes from Lucca & Co., and the vintage kilim rug was sourced at FJ Hakimian.
Photo by Miguel Flores-Vianna.
---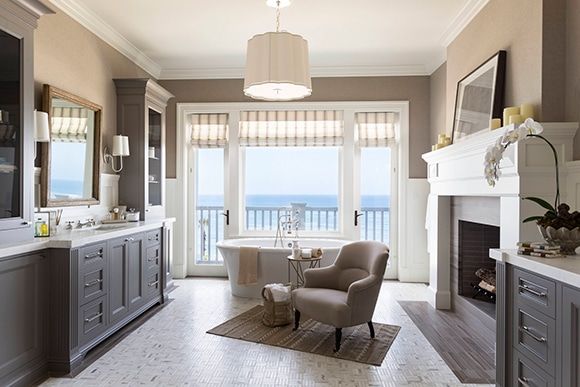 Using linen-covered walls and a vintage rug from Nickey Kehoe, Brown Design Group created a Cape Cod-meets-California bathroom for this oceanfront Dana Point, California property.
Photo by Matt Weir.
---
Polished terrazzo concrete floors and clean-lined geometric volumes offset a dramatic, cast-bronze wall in this Long Island vacation home by Christoff:Finio. According to the architects, the wall extends outdoors to "record its own aging, juxtaposing the portion subjected to the seasons with the protected portion."
Photo by Mark Jenkinson.
---
Nate Berkus Associates used 18th-century French marble floor tiles and antique gilt side tables to create an airy, glamorous bathroom suite in Los Angeles. The mirrored sconces are by Maison Jansen.
Photo by Roger Davies.
---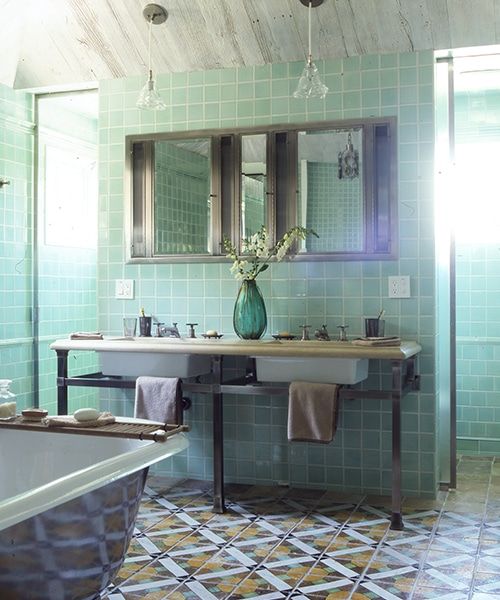 Seeking to add patina and richness to a newly constructed spec home in Amagansett, New York, Fox-Nahem Associates used 19th-century Italian floor tiles and a bespoke medicine cabinet to one of the home's bathrooms.
Photo by Pieter Estersohn.
---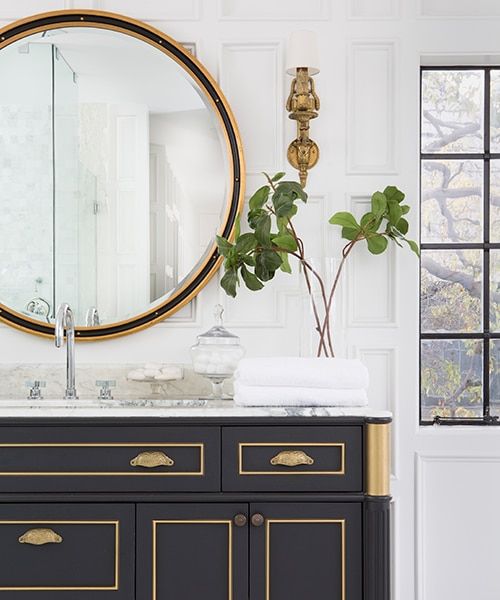 In a 1920s Tudor in Los Angeles' historic Hancock Park neighborhood, Kishani Perera designed a custom vanity that preserved hardware and sconces original to the home.
Photo by Noah Webb.
---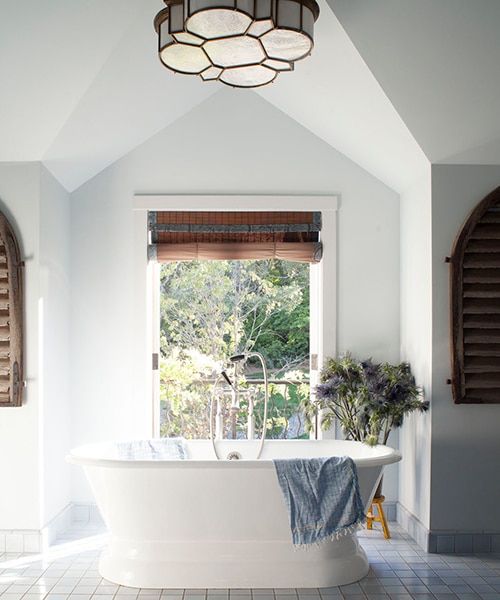 Huniford Design Studio created this open, airy and bright bathroom for a client in Marin, California who asked for a soothing space with views of neighboring Mount Tamalpais.
Photo by Max Kim Bee.
---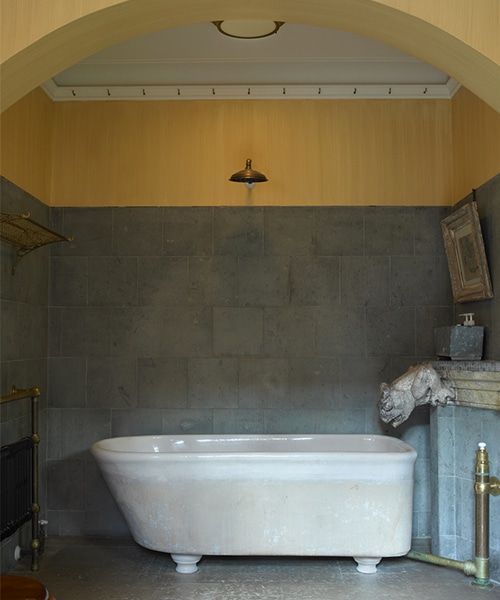 For a Brooklyn townhouse, Kathryn Scott wanted the bathroom to appear as if it could have been original to the 1850 property. Accordingly, she sourced vintage plumbing fixtures and modified a stone gargoyle, drilling a hole in the statue's mouth so that it could double as a faucet.
Photo by Ellen McDermott.
---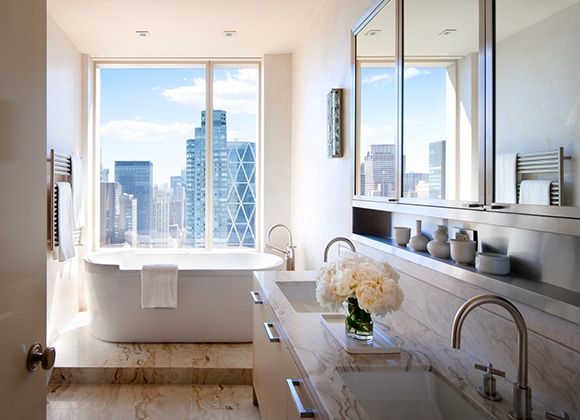 Shawn Henderson's bathroom design for a Manhattan pied-à-terre takes advantage of the apartment's sweeping views of Central Park and the New York City skyline.
Photo by Steve Freihon.
---
At his 18th-century Loire Valley estate Château du Grand-Lucé, Timothy Corrigan reconfigured the home's original 20-bedroom layout to create 10 bedrooms and 10 en suite bathrooms. As a result, the new bathrooms possess a unique warmth and feature architectural elements like fireplaces.
Photo by Eric Piasecki.
---
The deliberate addition of organic accents adds warmth to this all-white bathroom by Nicole Hollis in Larkspur, California. The lambs wool stool is a custom design by Hollis.
Photo by Laure Joliet.
---
Madeline Stuart's bathroom design for this 1940s home was inspired by the elegant work of architect Paul Williams, who built the Brentwood, California property. The mirrored vanity was designed by Stuart.
Photo by Dominique Vorillon.
---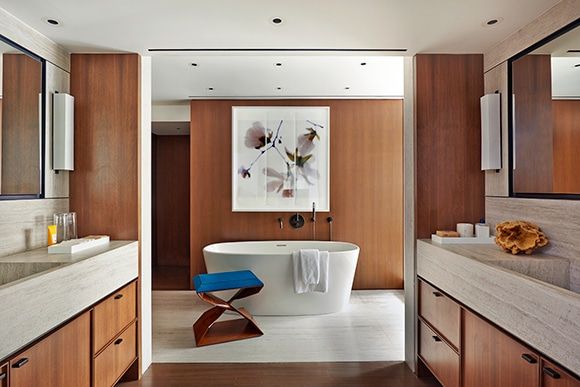 For this Park Avenue apartment, the owner — a well-known cosmetics mogul — tasked Groves & Co. with creating a spa-like bathroom suite. The firm used heavily grained travertine countertops and glossy walnut paneling to create a space that is both serene and sophisticated. The hand-carved wooden stool is by Carol Egan and was sourced at Maison Gerard.
Photo by Anastassio Mentis.
---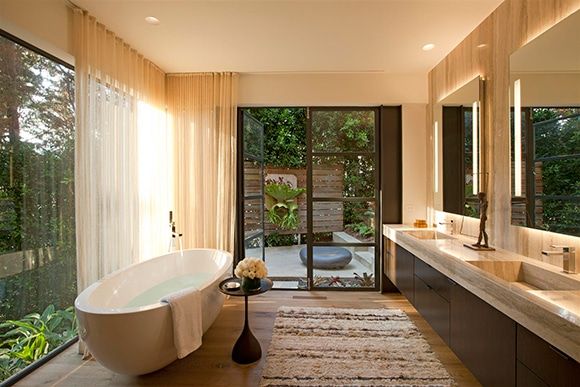 Nestled into the Santa Monica Canyon, this hillside home by Rios Clementi Hale Studios is a paradigm of California indoor-outdoor living. The meditative bathroom was inspired by Japanese spas, and incorporates striated travertine finishes that mimic garden textures.
Photo by Undine Pröhl.
---
This Brentwood, California bathroom reflects designer Peter Dunham's sophisticated-yet-colorful sensibility.
Photo by Karyn R. Millet.
---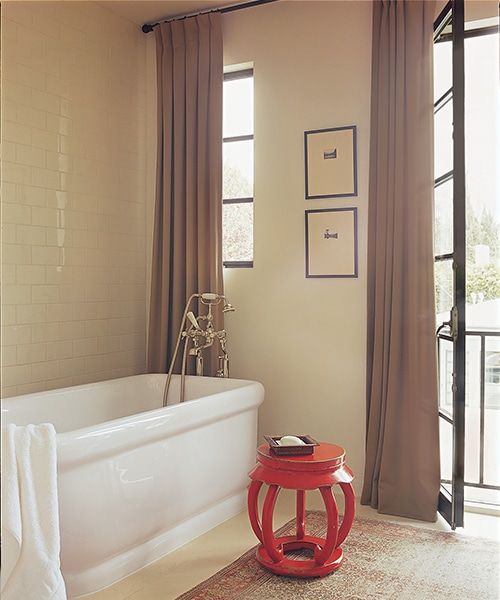 Steel windows, white limestone floors and worsted wool draperies lend this Beverly Hills bathroom by Burnham Design a refined-yet-masculine appeal.
Photo by Grey Crawford.
---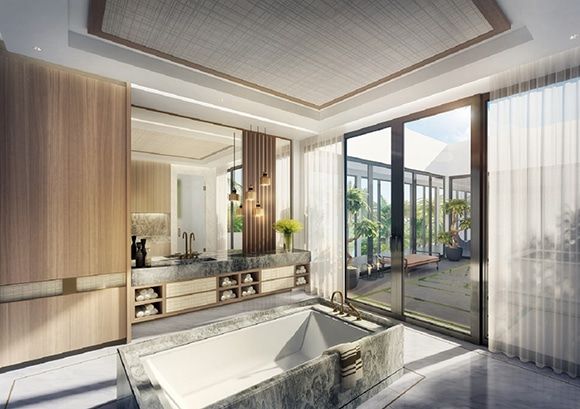 In Miami, Argent Design created a master bath suite inspired by the lush, tropical foliage of the city. The quartz vanity and bath surround are bespoke and feature gesso and bronze inlays.
Photo courtesy of Argent Design.
---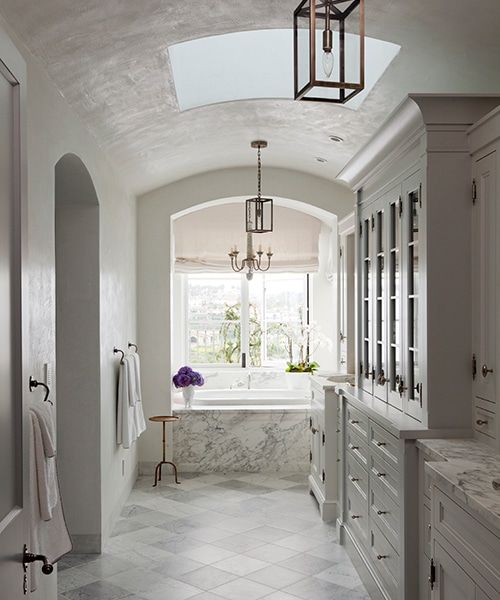 M. Elle Design referenced traditional Moroccan plaster baths in their design for this soft, cool Southern California bathroom. The firm used three types of marble to create a subtler variation on a traditional checkerboard floor.
Photo by Roger Davies.