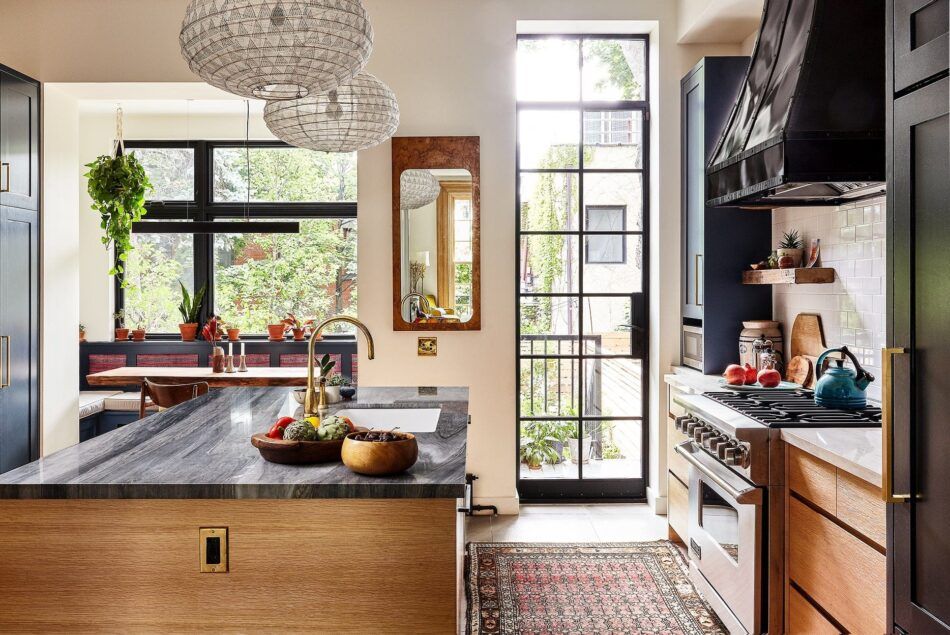 "I've always incorporated vintage rugs, art and textiles in the kitchens I've designed over the years, and this one was no exception," says Indigo & Ochre Design principal designer Shanti Crawford, describing this space in a Clinton Hill home.
Despite their vintage vibe, the pendant lights are completely contemporary creations, from Paris au mois d'août. The skinny mirror, on the other hand, is made from decades-old burl wood.
---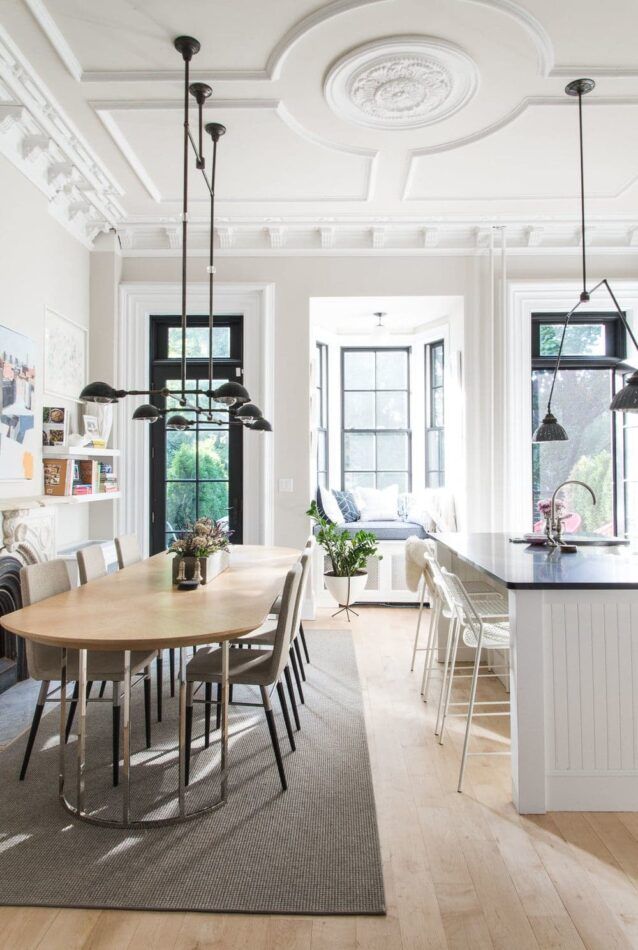 "When I was renovating the home, I started with the kitchen," says interior designer Louisa Roeder, describing how she modernized her landmarked 1870 Prospect Heights townhouse while preserving its historic charm. "To maximize the natural light, I knocked out the back wall to create a bay window and two French doors."
The resulting space is altogether amazing, but to our eyes the coolest element is the fixture over the kitchen island — a 1950s dentist lamp that Roeder painted gray.
---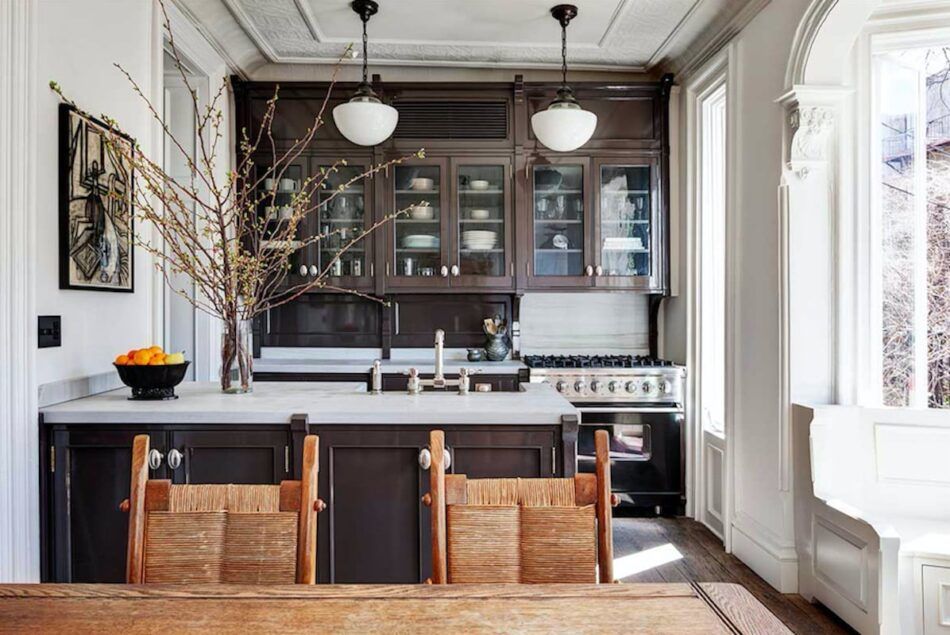 Tasked with redoing a minimalist 19th-century Park Slope brownstone in a style closer to its historic roots, Roman and Williams took a cue from the clients' careers — one's an English synth pop star, the other CEO of the Morbid Anatomy Museum — and imbued it with a dark, feminine aesthetic.
In the kitchen, the somber cabinets are brightened by white surfaces that reflect the sunlight streaming through the high windows.
---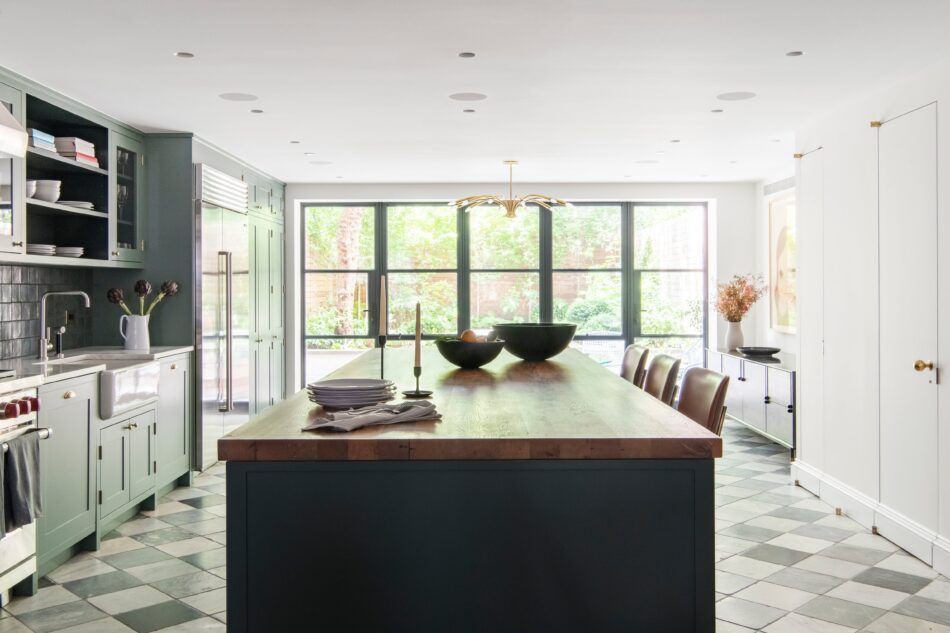 "This client had a very sleek, all-white, modern kitchen in her previous home, and this Brooklyn Heights kitchen is the opposite of that," says Elizabeth Roberts, pointing to the gray-and-white checkerboard floor of antique Spanish marble, which adds warmth to the space.
Another element key to her concept is the island. At 11 by 4 feet, it's huge, but just right for the expansive kitchen. And, says Roberts, "the rustic wood top saves it from being too imposing." The light fixture from John Salibello Antiques provides a funky note.
---
You wouldn't know it to look at it, but this kitchen area belongs to a mid-19th-century Brooklyn Heights brownstone. "Previously, the rear wall of this historic building had been mostly solid, creating darkened interiors," says 1100 Architect principal designer Juergen Riehm. "The new extension does the opposite.
"Using floor-to-ceiling glass walls and sliding panel windows," he explains, "we created a direct connection to the garden both visually and spatially."
In renovating the home, Riehm was careful to keep a connection with its past. "Maintaining that sense of history was an important priority for the project," he says, "so our design keeps many of the building's historic features."
Here, Riehm balanced the kitchen's contemporary look with mid-century modern furnishings, like the Eero Saarinen Pedestal table, Arne Jacobsen chairs and Rodolfo Dordoni for Artemide pendant.
---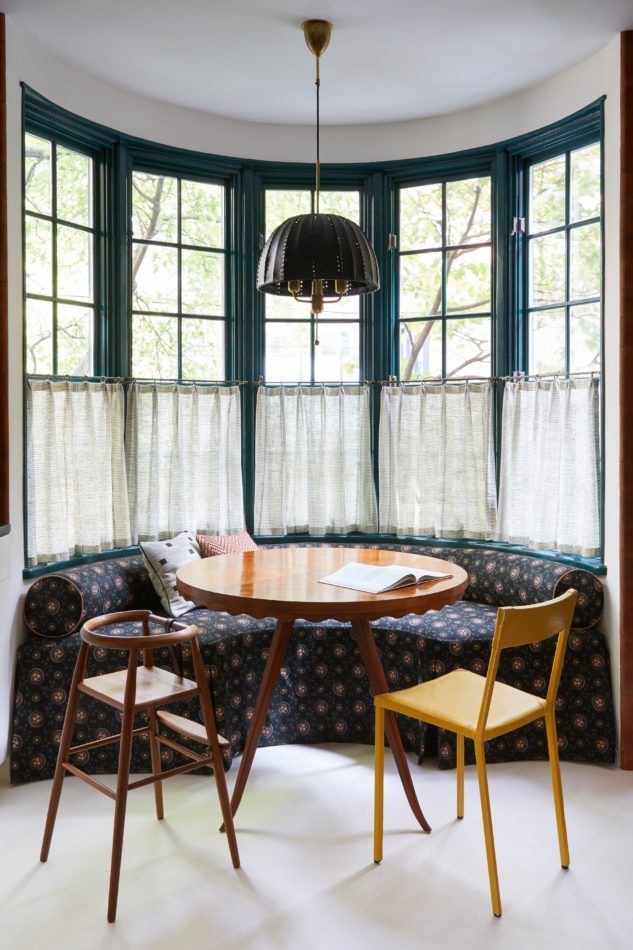 "Our inspiration for the kitchen came directly from the historic envelope of the house," Amanda Jesse, from the firm Jesse Parris-Lamb, says of this space for last year's Brooklyn Heights Designer Showhouse. Although the building is at least one hundred years old, most of the furnishings are mid-century modern. Case in point: the Osvaldo Borsani dining table, Nanna Ditzel highchair and Hans-Agne Jakobsson pendant in the breakfast nook.
In the cooking area, the appliances, of course, are brand-new. But there are modernist touches like the painted stripes on the floor, influenced by Anni Albers's familiar design.
---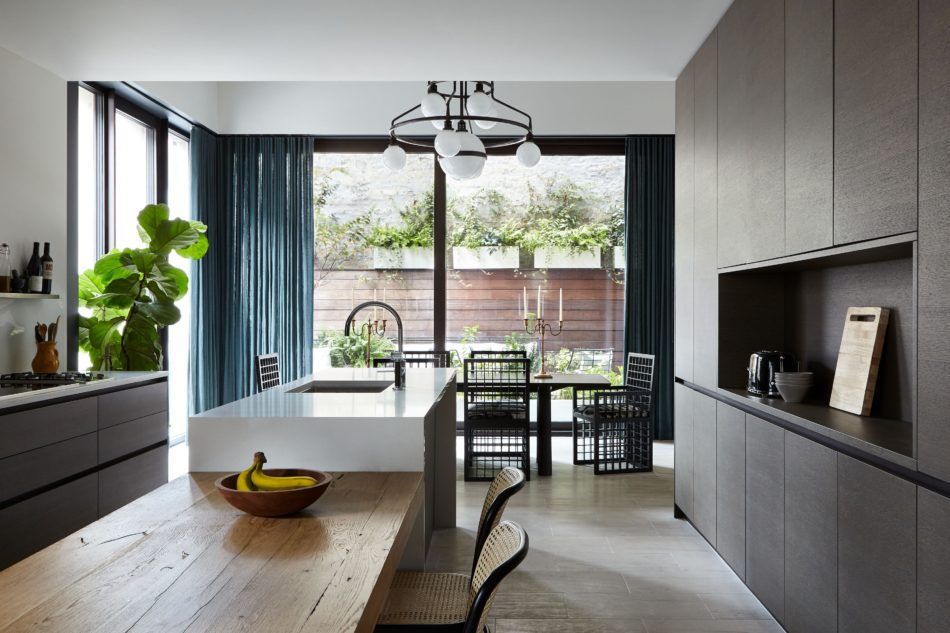 For the Dumbo kitchen of Viennese transplants, Josh Greene looked to Austrian design as his main source of inspiration. "We used pattern sparingly," says Greene, "mostly geometrics harking back to turn-of-the-century Vienna and the Wiener Werkstätte."
Perhaps the most obvious nod to the clients' native country are the breakfast table chairs by Josef Hoffmann, a founder of the Wiener Werkstätte design movement.
---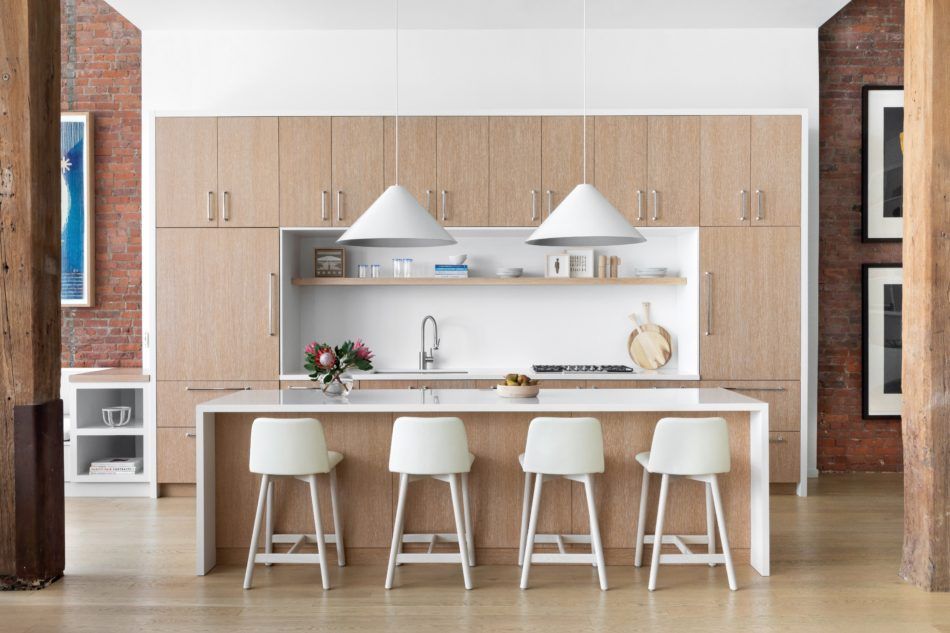 In designing this space in a Dumbo loft, says Susana Simonpietri, Chango & Co's creative director and owner, "our inspiration was the family's vision of a brighter, more inviting kitchen."
With that in mind, the team kept the palette neutral but airy. "It's the main focal point," explains Simonpietri, "so we replaced dark, industrial finishes with light oak cabinetry and bright white marble countertops."
---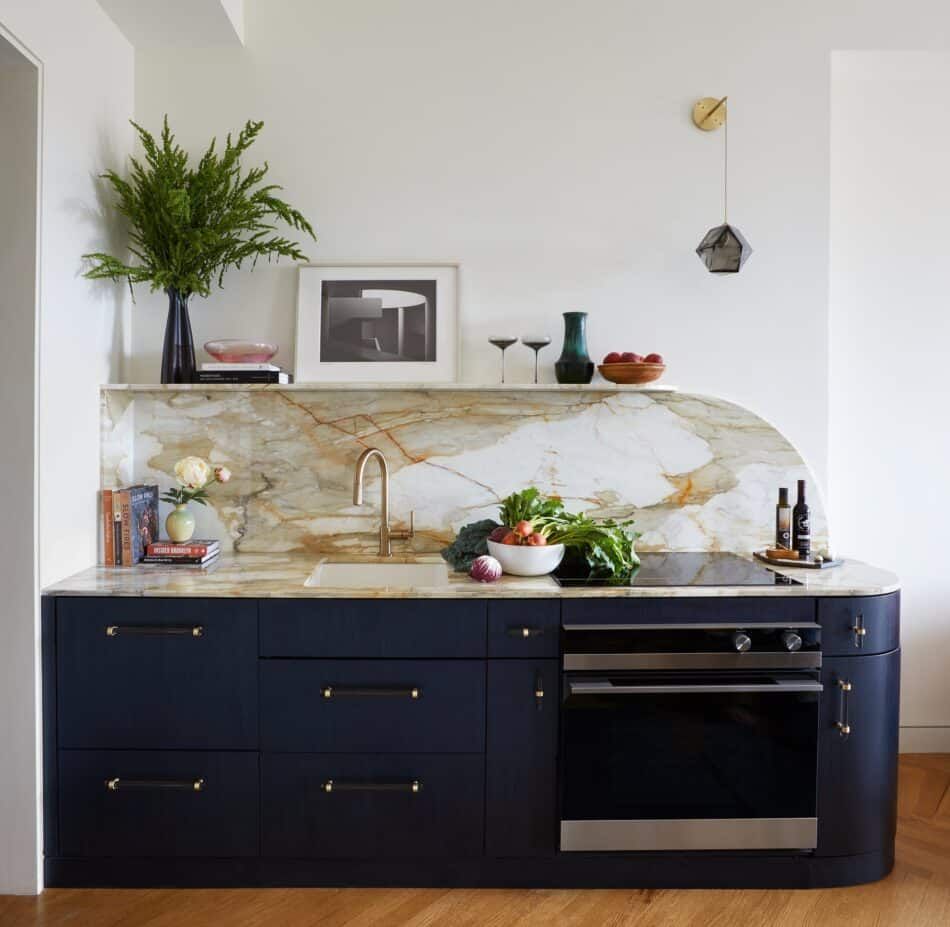 "The apartment is in a landmarked Art Deco building, so the clients felt strongly that we should take the design in a direction that honored that past," FIG Interior Design's Nina Garbiras says of a Downtown Brooklyn duplex on which she collaborated with JAM Architecture.
The kitchen area, part of an expansive living space, pays homage to the era's glamorous style with its curved edges and warm hues. Gabriel Scott's smokey wall light provides the perfect finishing touch.
---
"I wanted to create a kitchen that feels classic but is functional, with a plenty of storage," Jae Joo says of this space in a Fort Greene home.
For Joo, that meant concealing as many appliances as possible. The result: an ultra-contemporary minimalist look topped off by a Michael Anastassiades for FLOS ceiling light.
---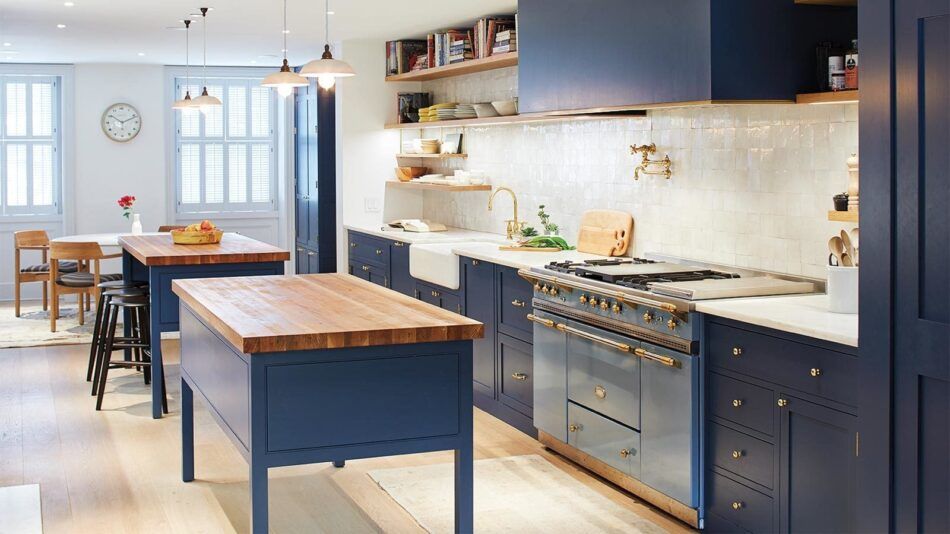 Hired by a professional chef to fully redesign his Clinton Hill home, Hadley Wiggins knew the kitchen had to be extra-special. The one she created is indeed awesome, occupying an entire floor of the double-wide brownstone and containing not only a Lacanche range but a wood-burning oven.
"We aimed for a timeless language and avoided any major kitchen trends, Wiggins says. "It's just a beautiful, well-built, relatively simple space that relies on texture and color for interest." Beautiful, simple and well-built certainly describes the John Devoluy pendants. "The space is polished, for sure," Wiggins adds, "but not precious."
---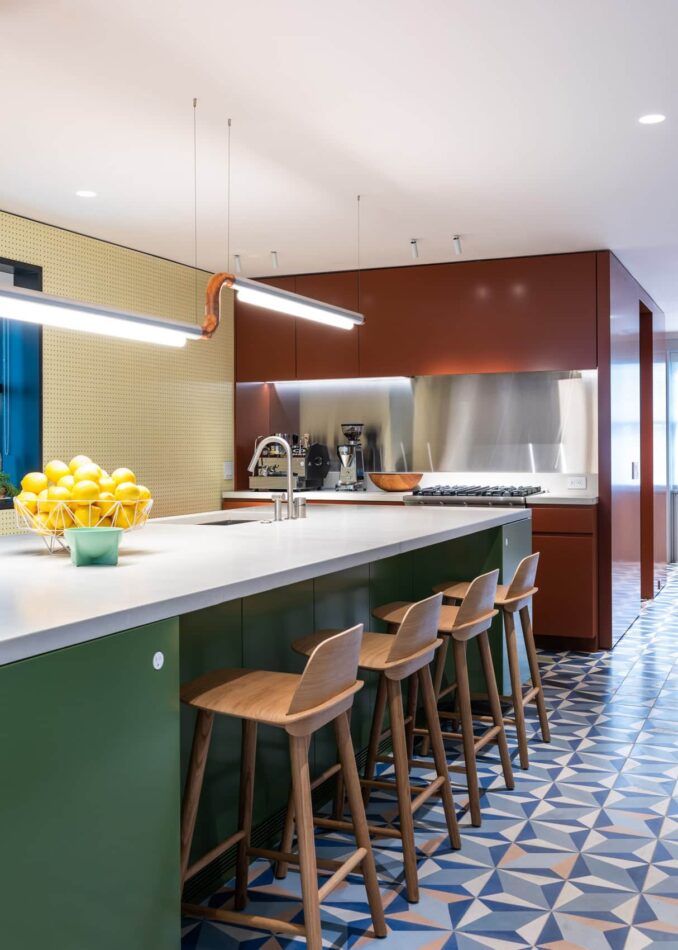 "As with the house overall, we took a playful and immersive approach to color in the kitchen," says Michael Chen, explaining his plan for this room in an 1895 Clinton Hill brownstone he gut renovated. "It was a way to enliven the space and to make it feel fresh, and modern and youthful."
Our eye goes straight to the floor, which is exactly what Chen wanted. Running throughout much of the house, it's composed of 2,800 encaustic cement tiles in 17 custom colors, transitioning from black and white in the entry to blue and green in the kitchen, to ocher, pink and red as it slips out the back, becoming a paved terrace.
---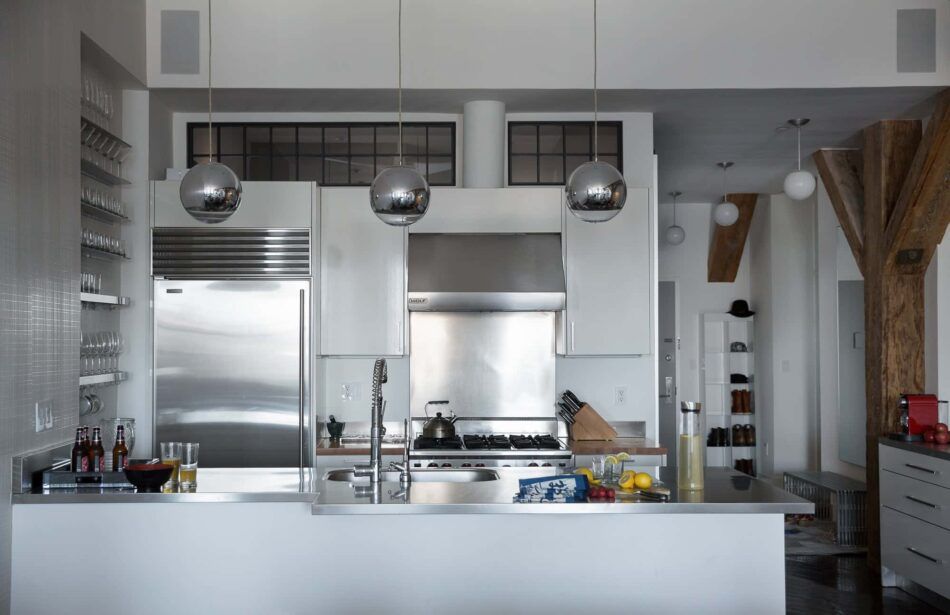 Michael Garvey designed this gleaming space in a Williamsburg loft. "It's in the Mill Building, a former warehouse from the 1850s," he explains. "I added the clerestory windows, which I designed to mimic casement windows in old manufacturing buildings, to bring light into the room behind the kitchen."
If the windows evoke the building's past, stainless-steel elements like the Tom Dixon globe pendants give the space a contemporary panache.
---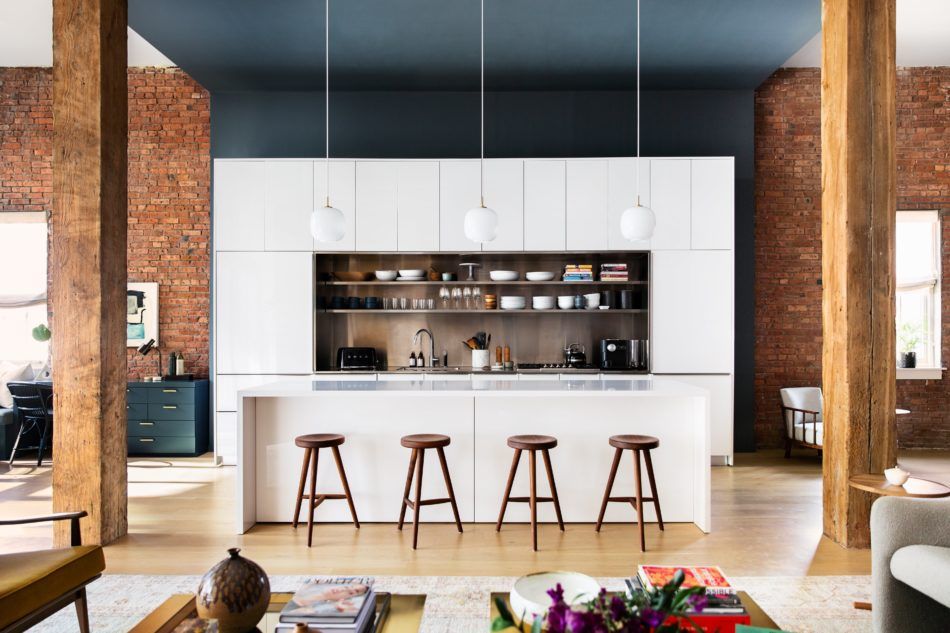 In a loft in Dumbo belonging to a young family of four, Bella Mancini designed a kitchen that is modern, central and functional.
It's also supremely stylish, thanks to Louis Poulsen's minimalist Radiohus pendants and wooden tripod stools.
---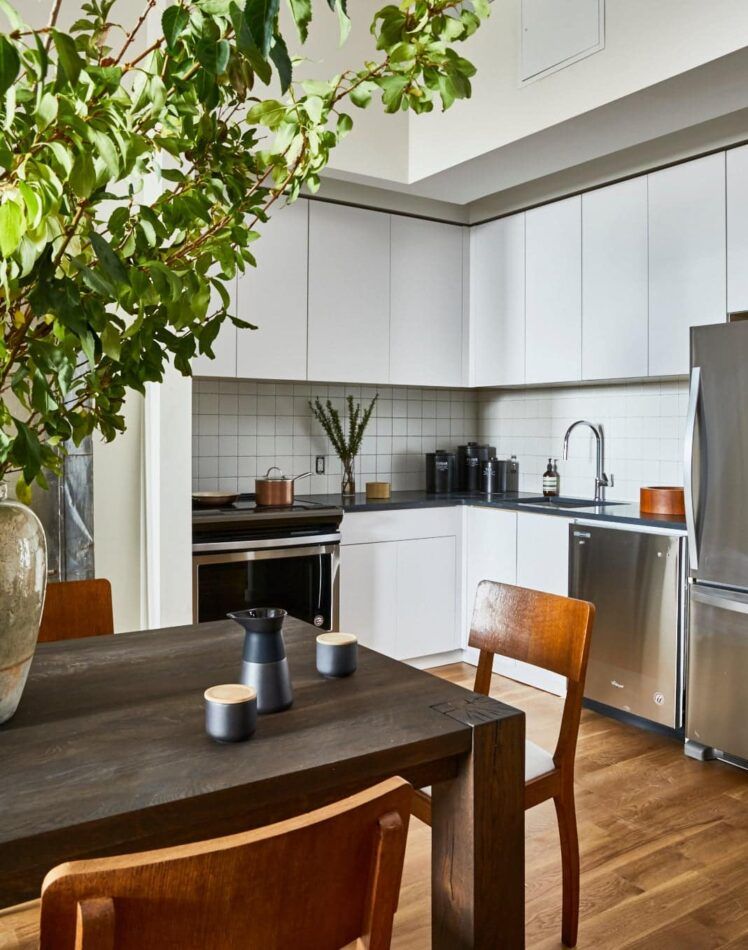 This light-filled high-ceilinged kitchen is carved out of a Bushwick loft located in a historic glassworks factory building, says ASH NYC's Andrew Bowen, who explains that "much of the inspiration was drawn from its bones."
Those bones include heart pine columns, echoed here in the solidly built dark wood table and, more delicately, in the 1950s Art Deco chairs, purchased in Paris.
---
Brooklyn Home's Holly Waterfield had a particular goal in designing this Brooklyn Heights kitchen: to keep it grounded. "The home is very grand," she explains, "but with such details as the wood table, wool rug, leather seating and handmade ceramics, the space feels warm and inviting."
The most eye-catching piece? We vote for the Natalie Page light fixture, aided and abetted by the BDDW stools.
---
As you might expect, the kitchen of Glenn Gissler's duplex in a 19th-century Clinton Hill townhouse is a model of style — his style: traditional with a hint of edge and a lot of sophistication.
"It is right as you enter the apartment," he says, "not my ideal scenario, so I tried to 'un-kitchen' my kitchen. I had custom wire-glass mirror made for the backsplash and for the inset panels of the upper cabinets to address another issue of townhouse living: less light in the center space of each floor."
Gissler crowned it all off by replacing the old recessed downlights with fresh, cool sconces from Schoolhouse Electric — "ye old downlights," he cleverly calls them.
For more on pendants, sconces and other kitchen light fixtures, see our guide to types of lighting.