Throughout history, women have played pivotal roles in the fields of art, architecture, furniture, fashion and jewelry. They channeled their passions and creativity into successful businesses and social change, shaping the designs we see all around us.
Influential and iconic, these women have much to offer both the present and future generations. We've compiled a list of 22 powerful female creatives from the past century along with their words of wisdom, to inspire your own creative endeavors.
---
Advice on Confidence
1. Zaha Hadid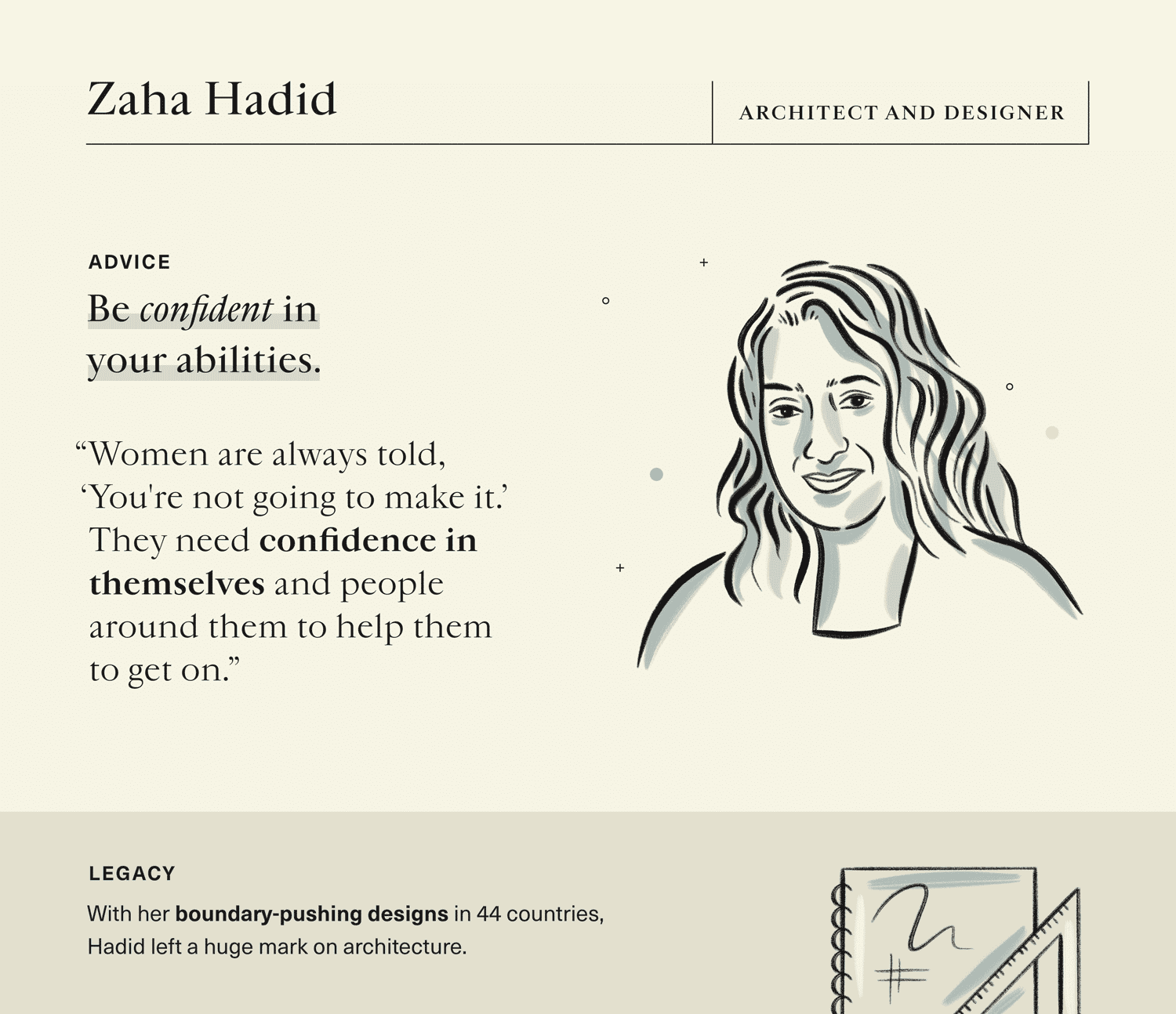 British Iraqi architect, artist and designer Zaha Hadid (1950–2016) was a pioneering figure in modern architecture. Nicknamed "Queen of the Curve," she was known for radically innovative structures that were both serpentine and geometric.
Inspired by modern life, abstract paintings and Arabic calligraphy, she created futuristic designs, working with difficult materials like steel, concrete and glass. Among her most famous structures are the Guangzhou Opera House, in China, and the London Aquatics Centre. In 2004, she became the first woman awarded the Pritzker Architecture Prize — essentially the Nobel Prize for architecture.
2. Florence Knoll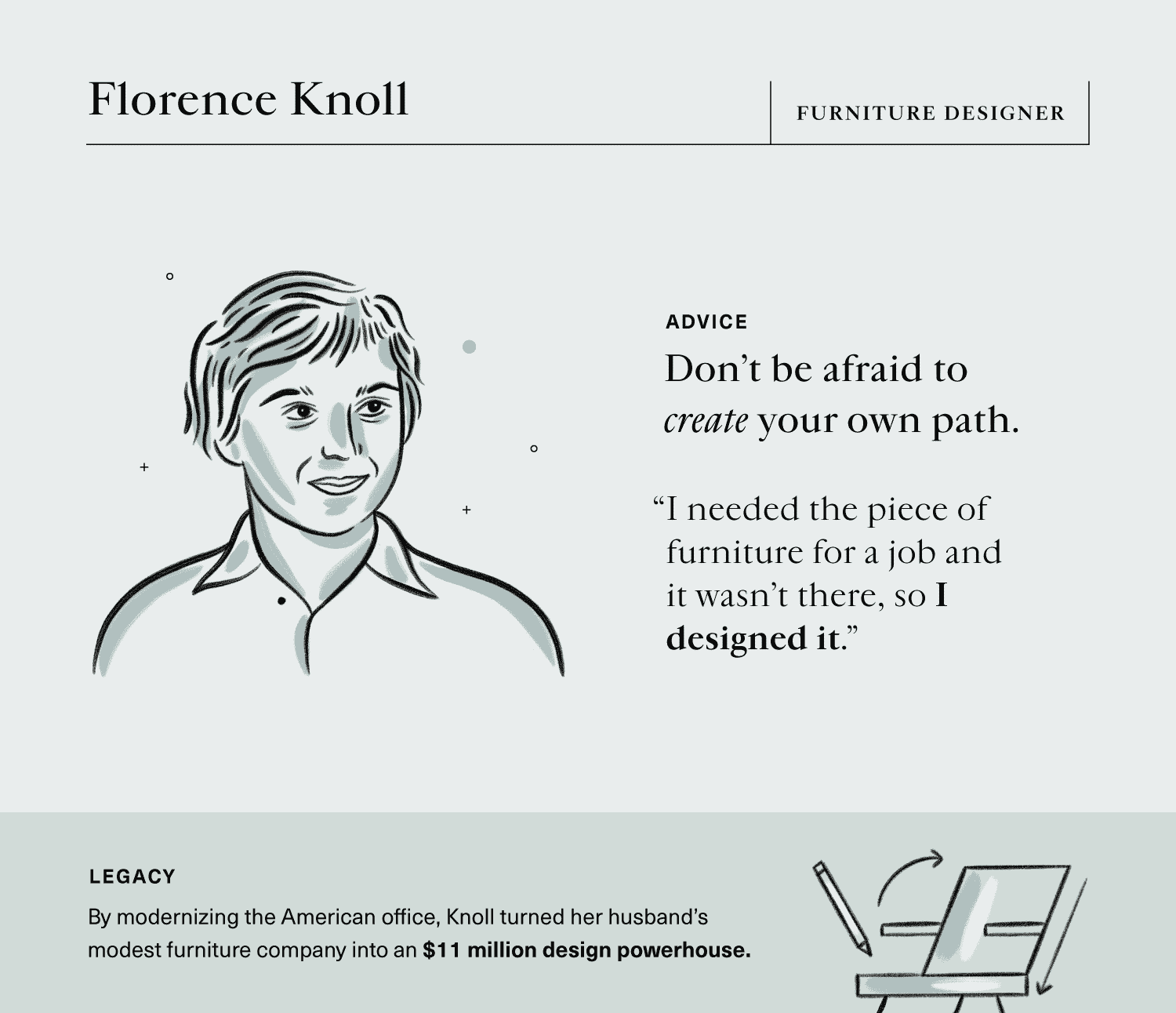 Designer and businesswoman Florence Knoll (1917–2019) completely transformed the aesthetic of the corporate American office. After World War II, she helped turn her first husband's furniture company, Knoll, into an iconic firm that still produces prestigious modern designs today. She brought talented designers' work into production there, helping create furniture classics like the Womb chair.
A notorious perfectionist, she also conceived her own sleek, geometric designs, which she modestly referred to as "fill-ins" but which were hugely influential. Originally intended for corporate spaces, her pieces grace residential interiors as well.
3. Diane von Furstenberg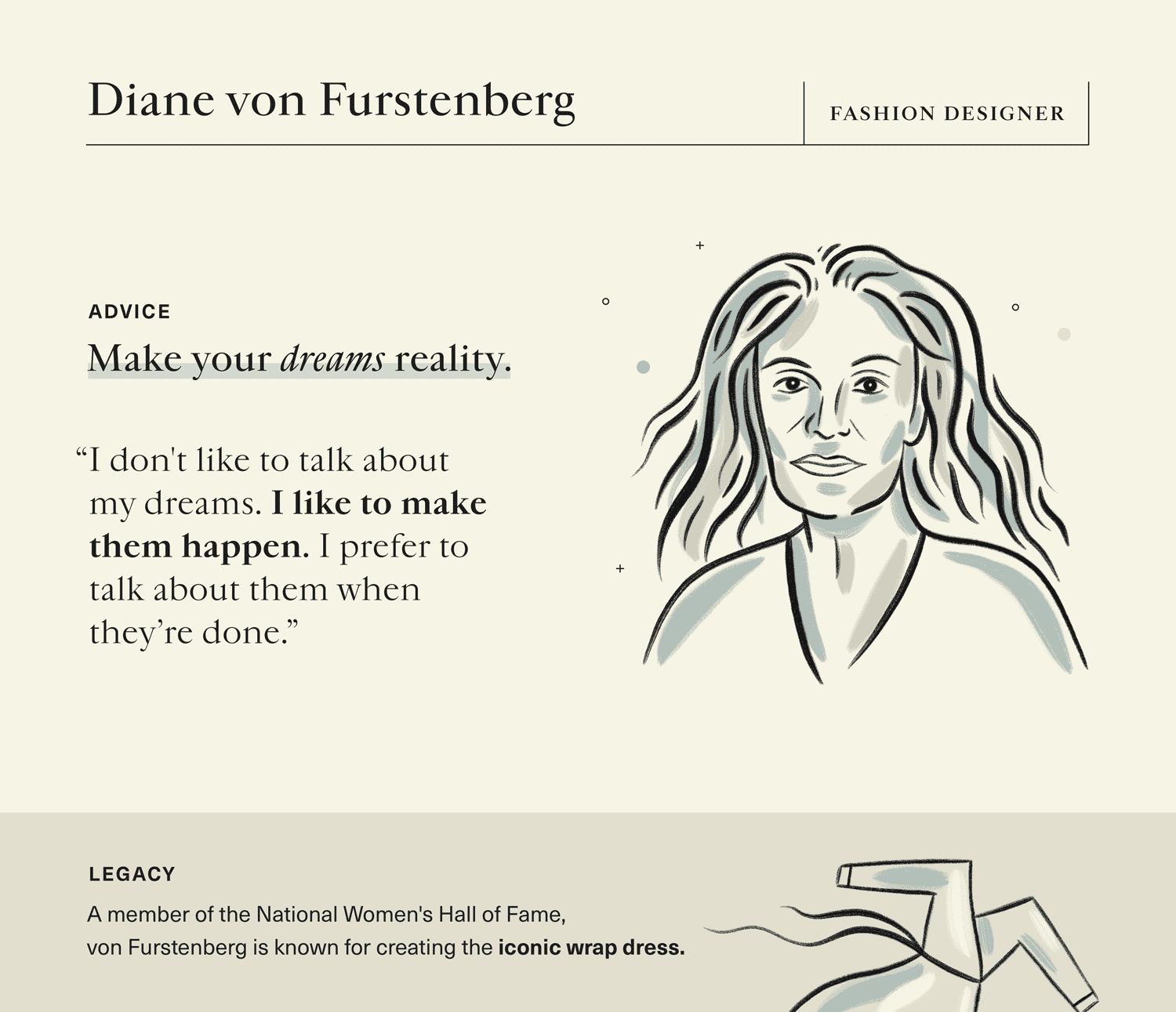 Known for her bold colors, prints and flattering silhouettes, Belgian fashion designer and businesswoman Diane von Furstenberg (born 1946) finds inspiration in women's strength, natural forms and fine art. Seeking to create a garment that was both feminine and empowering, in 1974 she introduced the iconic wrap dress, which more than four decades on continues to exercise a timeless appeal.
A mother and philanthropist, Furstenberg is on the board of Vital Voices, an organization that empowers emerging female entrepreneurs and leaders.
4. Greta Magnusson-Grossman
"The easiest way to show what you can do is to do it on your own."
When award-winning Swedish furniture designer Greta Magnusson-Grossman (1906–99) immigrated to the United States in 1940, settling in California, she became one of the first designers to introduce Swedish modernism to the country.
In the 1940s, Magnusson-Grossman was the only female architect and designer in Los Angeles to own her own practice. With her industrial furniture and lighting designs, especially her unique floor and table lamps, she helped define California modernism.
5. Faith Ringgold
"You can't sit around and wait for somebody to say who you are. You need to write it and paint it and do it."
Painter and textile artist Faith Ringgold (born 1930) centers her practice on political subjects like racial inequality and women's rights. The daughter of a fashion designer and a minister, she developed an early interest in art but was unable to major in it as an undergrad at the City College of New York, which allowed women to major only in certain fields. She instead studied art education but continued to pursue her artistic passion on her own.
Ringgold is best known for her story quilts, such as Tar Beach, which deal with social justice and the civil rights movement. She cofounded Where We At, a collective of Black female artists associated with the Black Arts Movement, and has been awarded two National Endowment for the Arts awards.
6. Tracey Emin
"Don't be afraid to take the past head-on."
English artist Tracey Emin (born 1963) works in diverse media, including drawing, painting, sculpture, film, neon and embroidery. A member of the Young British Artists group, she draws inspiration from her childhood and painful personal experiences to create work that is confessional, authentic and intimate.
One of her best-known works is My Bed (1998), an installation displayed at the Tate Britain that shows her messy unmade bed after a tumultuous time in her life.
---
Advice on Creativity
7. Maya Lin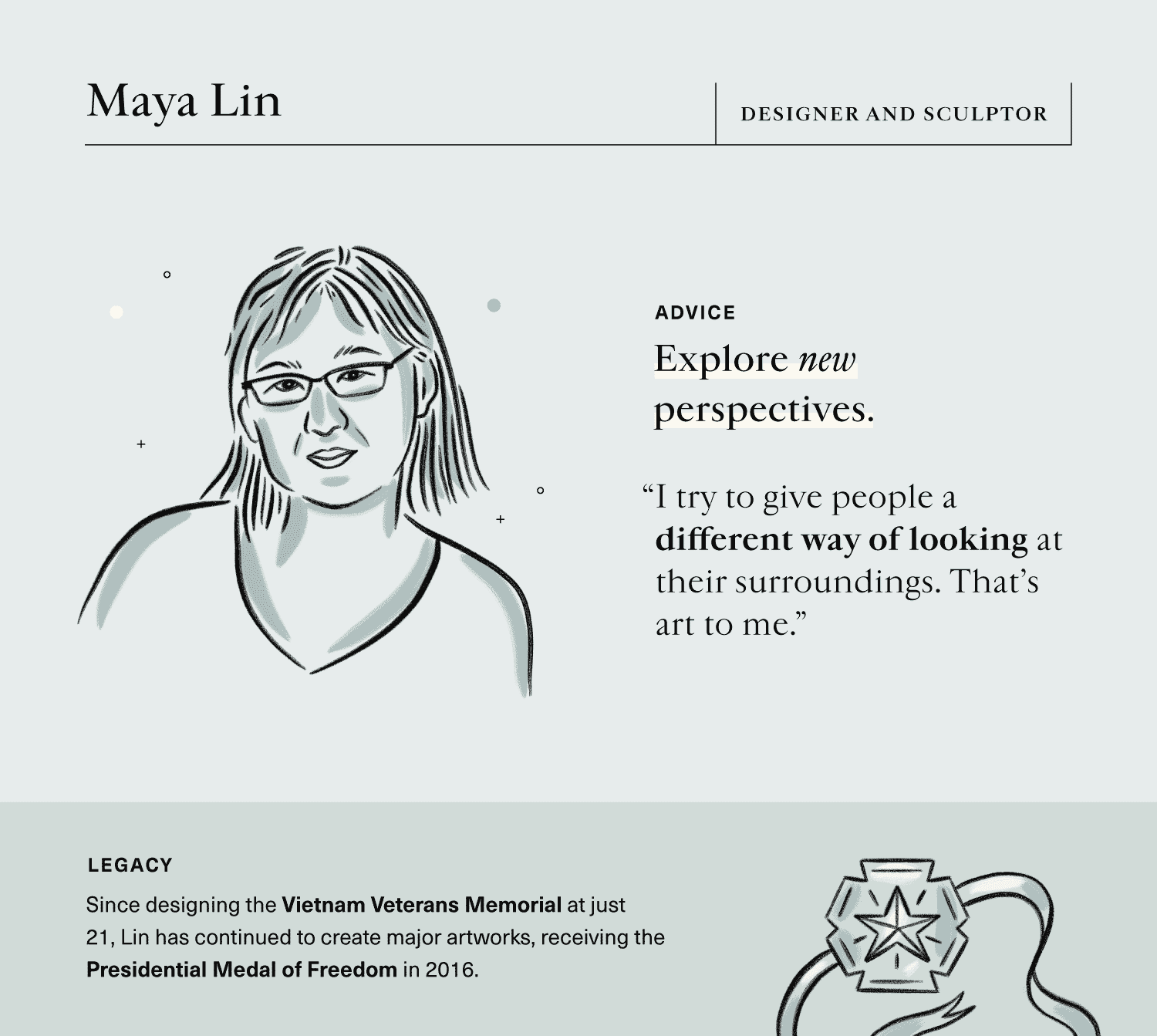 Chinese American designer and sculptor Maya Lin (born 1959) rose to fame when she won a national design competition for the Vietnam Veterans Memorial in Washington, D.C., while still a student at Yale University. Her minimal and moving creation represented a break from traditional monuments centered on heroic sculptures, instead inviting the viewer to read the names of fallen soldiers on a reflective black surface.
The daughter of Chinese immigrants, Lin has created many other memorials and art installations around the country, exploring environmental issues and humans' relationship with the landscape.
8. Elsa Peretti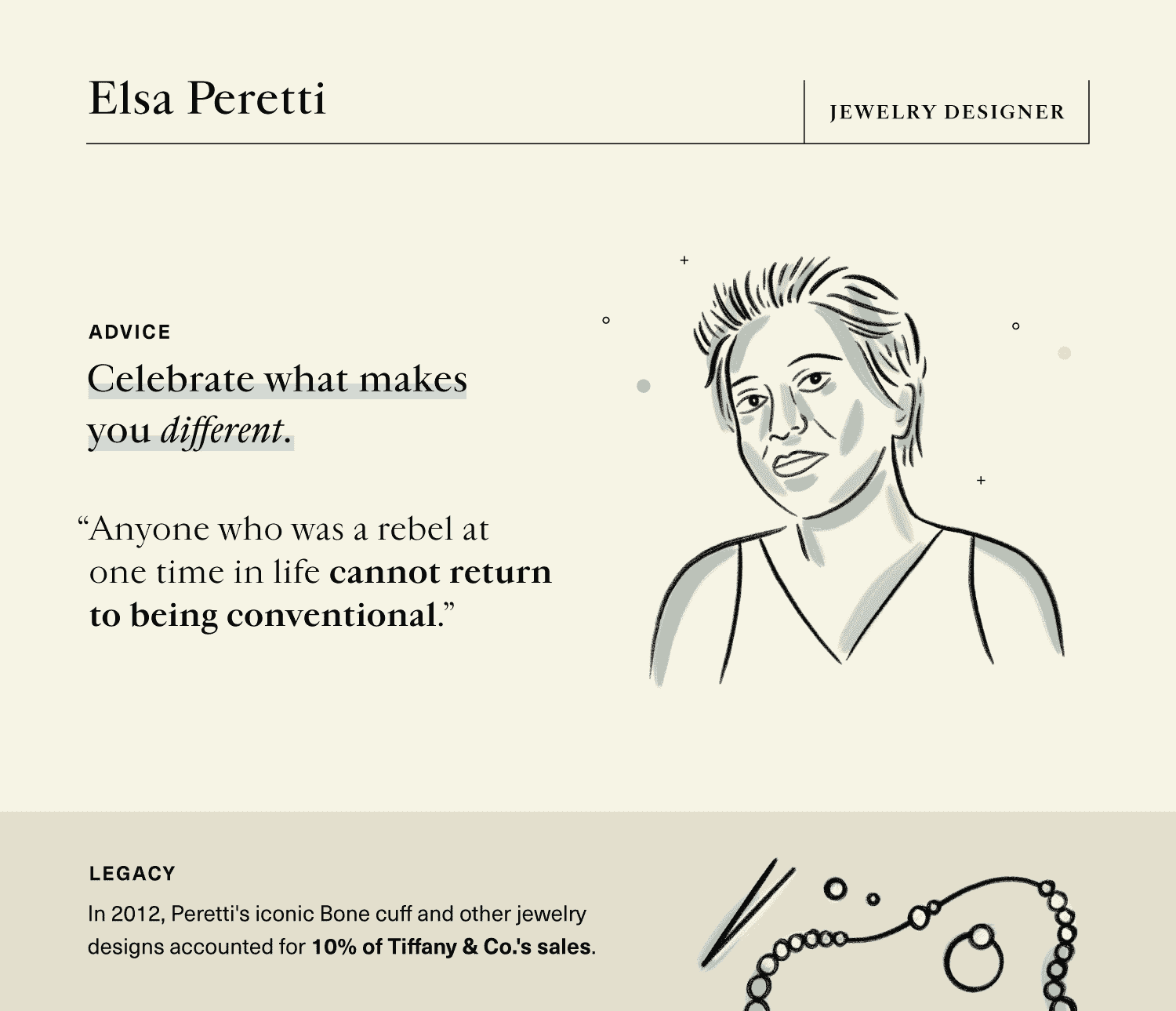 Italian designer Elsa Peretti (1940–2021) created timeless and influential jewelry for modern women. Inspired by the shapes of natural objects like bones, stones, hearts, snakes and beans, her pieces are sculptural and elegant in their restrained minimalism.
Originally a fashion model, Peretti began working with Tiffany & Co. in 1974, and by 2012, her pieces accounted for 10 percent of the company's sales. In a departure from traditional practice, she used sterling silver instead of gold for many of her designs, which she crafted to appeal to women buying jewelry for themselves. Among her most iconic pieces are the Bone cuff, Open Heart and Diamonds by the Yard.
9. Cindy Sherman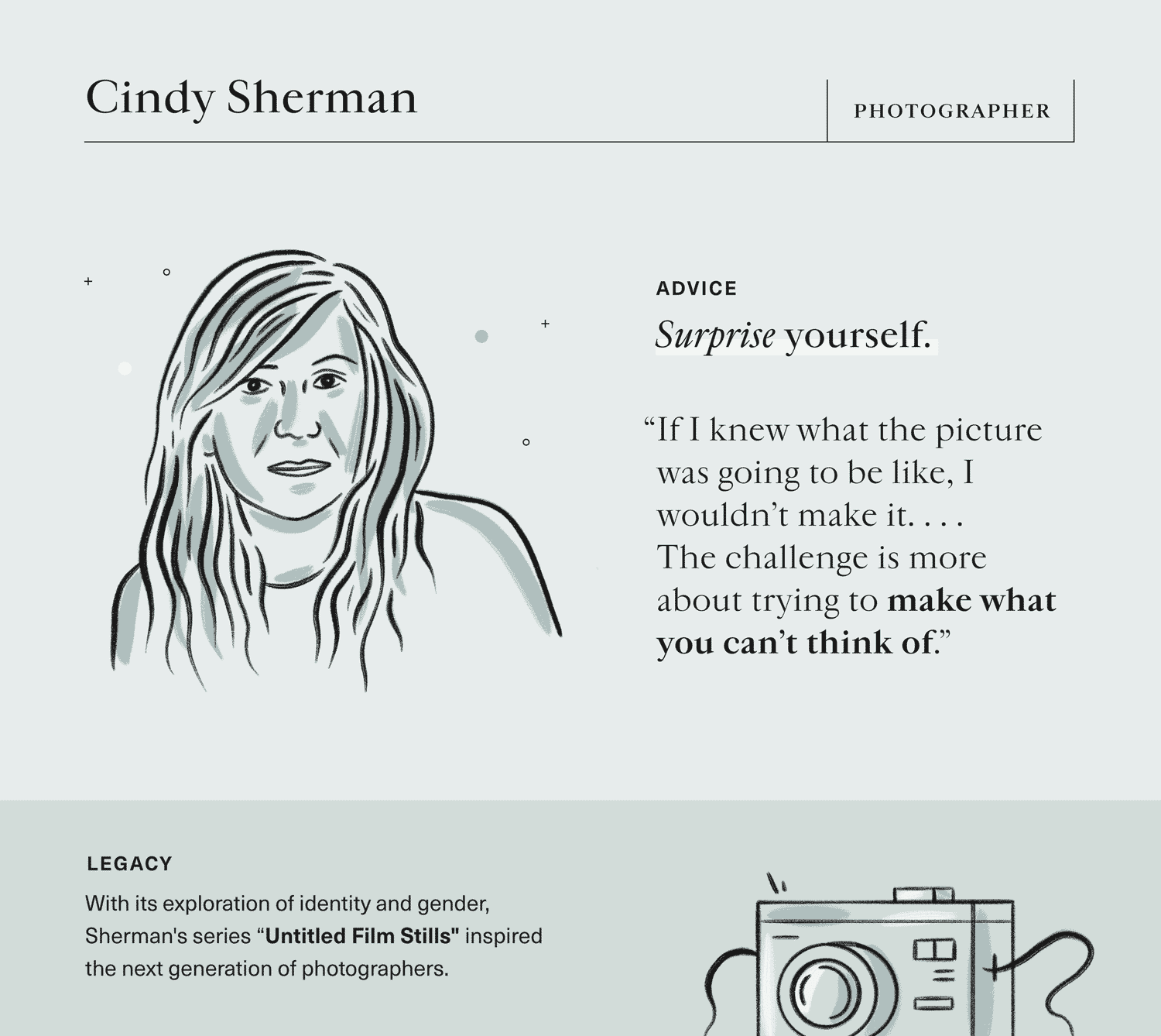 An important figure in the 1970s Pictures Generation, a group influenced by and in conversation with pop culture images, American photographer Cindy Sherman (born 1954) is known for her pictures in which she assumes various personas to critique how identity and gender are represented in film and TV.
Sherman's most famous body of work is "Untitled Film Stills" (1977–80), a series of black-and-white photos in which she portrays different female stereotypes. Her pictures, which have influenced generations of photographers, are displayed in the Museum of Modern Art.
10. Judith Leiber
"I think everything we do should have whimsy in it."
Fashion designer and businesswoman Judith Leiber (1921–2018) overcame much in her life. A Holocaust survivor who lived through the Nazi occupation of Budapest with her family, she rose to fame for her beautifully crafted accessories.
Leiber is best known for her minaudières — small, decorative handbags often shaped like animals or food and covered in colorful crystals. Her dazzling and imaginative designs have been carried by first ladies and celebrities alike, and are displayed in major museums.
11. Faye Toogood
"I am interested in humans and the way they live — the spaces they inhabit, the clothes they wear, the objects they surround themselves with."
English artist Faye Toogood (born 1977) is a prominent figure in contemporary design, with pieces in museum collections worldwide. Although she works in sculpture, furniture, fashion and textiles, her most famous work is the Roly Poly chair, a chunky design that defined avant-garde furniture in the 2010s.
Recently, Toogood has sought to "unlearn" the conventions of design, creating multiple series of furniture maquettes, or rough drafts of unfinished pieces, from everyday studio materials.
12. Dorothea Lange
"To me, beauty appears when one feels deeply, and art is an act of total attention."
American photographer Dorothea Lange (1895–1965) shot humanizing, empathetic photographs of migrant farmers undergoing extreme hardship during the Great Depression. She traveled around California and the southwestern United States to document the harsh reality of families living in poverty.
Lange is best known for her photograph Migrant Mother, Nipomo, California (1936), which captured the troubled face of a struggling mother with her children. A defining image of the Depression, it is also one of the most recognizable photographs ever taken and had a lasting impact on photojournalism.
---
Advice on Innovation
13. Eileen Gray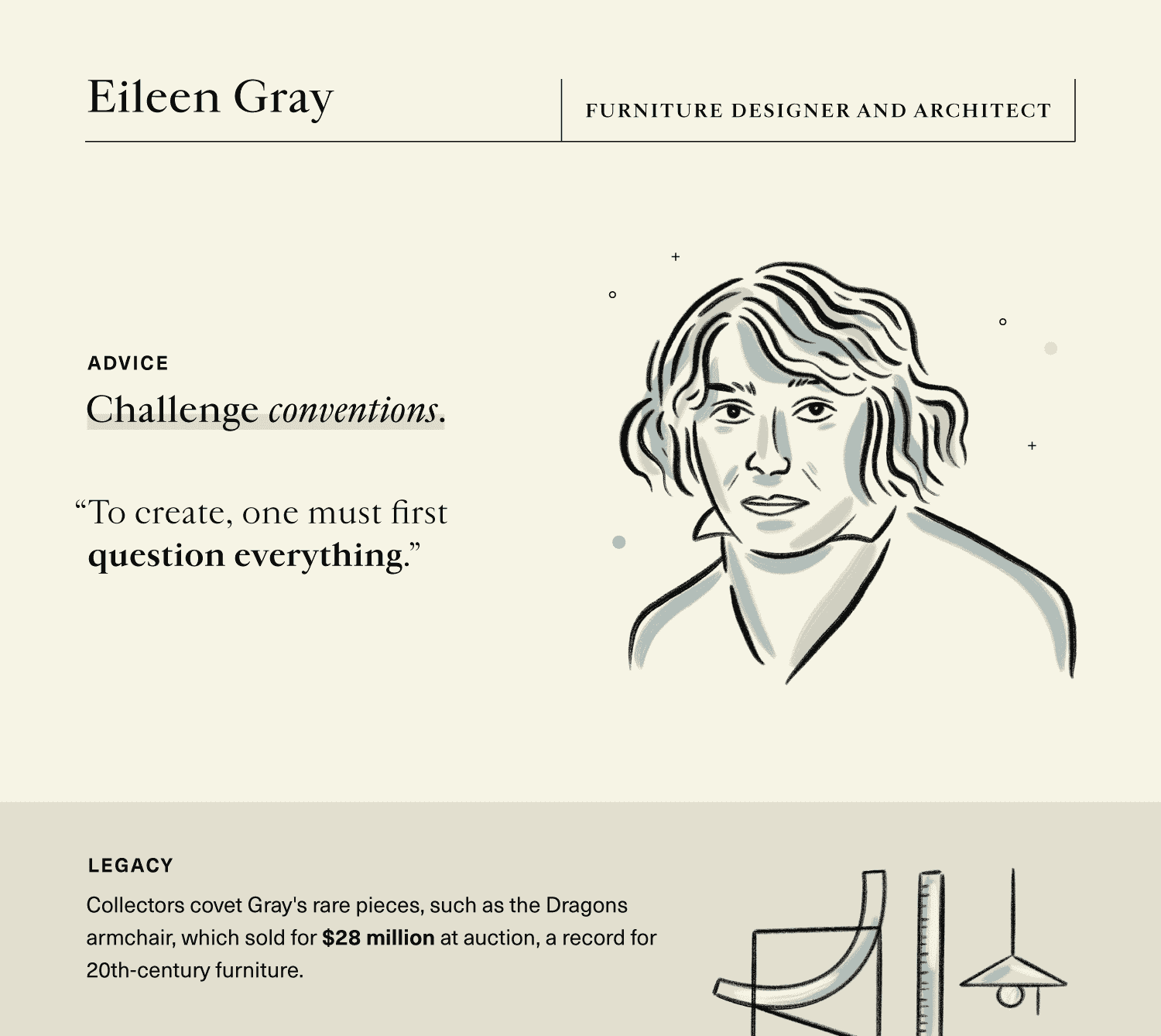 Designer, architect and artist Eileen Gray (1878–1976) was a hugely innovative and inventive exponent of 20th-century design. She embraced Art Deco in her famous lacquered works, later moving closer to modernist design.
Her pieces display an elegant simplicity and, because she only produced a few of each design, are now highly sought after. Not one to promote herself, Gray for years was underappreciated in the architecture and design worlds. Today, however, she is regarded as one of the pioneers of unconventional design.
14. Helen Frankenthaler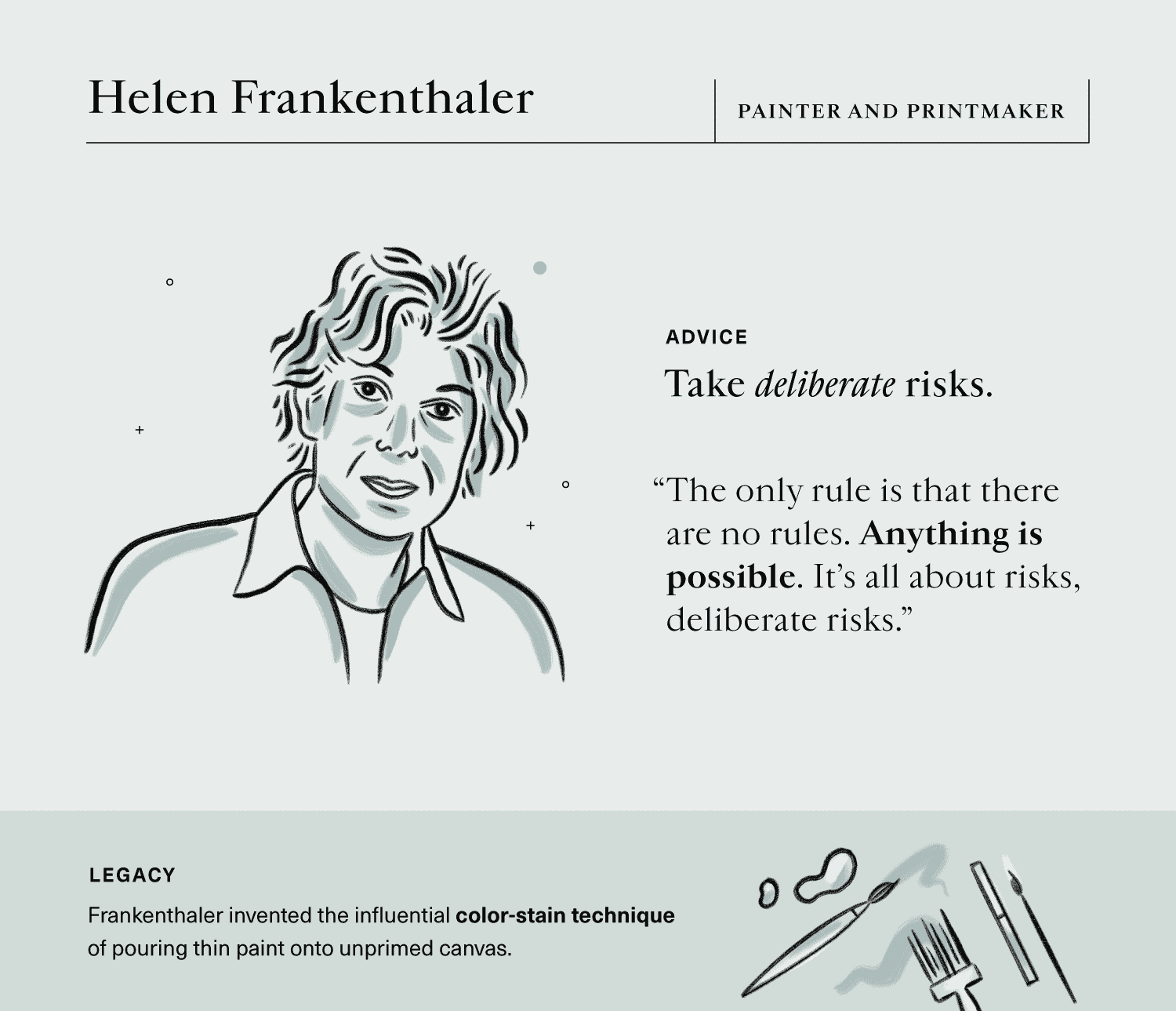 Abstract Expressionist painter and printmaker Helen Frankenthaler (1928–2011) was a significant figure in the postwar American art scene. Influenced by such artists as Willem de Kooning and Jackson Pollock, she experimented with new techniques, eventually developing her signature color-stain method. Pouring watered-down paint across an unprimed canvas, she created images reminiscent of landscapes and intended to evoke different emotions.
"She is willing to risk everything on inspiration," poet Frank O'Hara once said about Frankenthaler, who famously based her process on improvisation. Her most iconic piece is Mountains and Sea (1952).
15. Rei Kawakubo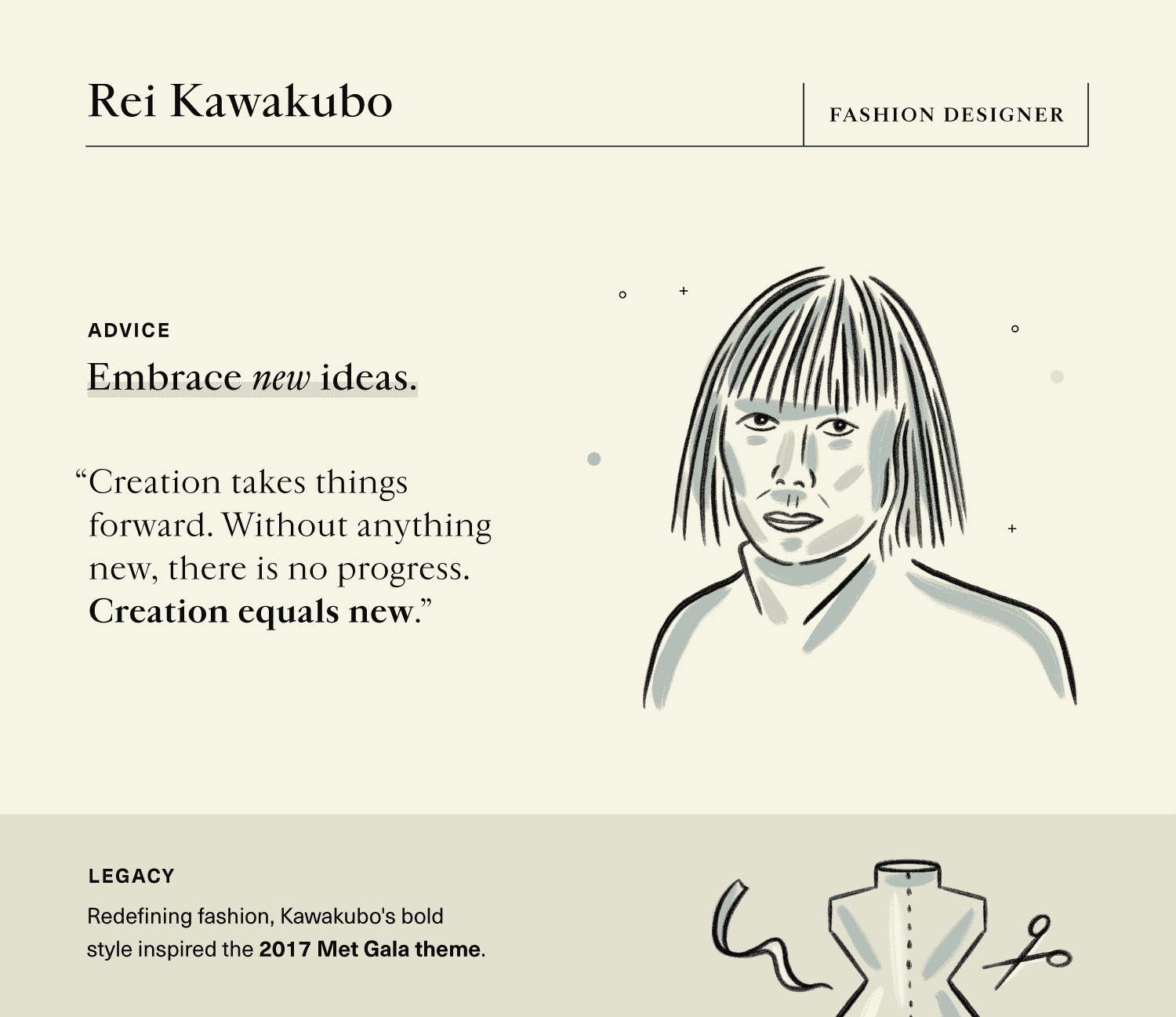 Self-taught Japanese fashion designer Rei Kawakubo (born 1942) is the founder of high-end fashion label Comme des Garçons. She is known for radical clothing designs inspired by abstract art and featuring bold silhouettes.
Rather than form-fitting, Kawakubo's pieces are unconstrained. Completely reimagining the shape of the human body, they have earned her a place as one of the most influential fashion designers of all time.
16. Charlotte Perriand
"Everything changes so quickly, and what is state-of-the-art one moment won't be the next. Adaptation has to be ongoing — we have to know and accept this."
French architect and designer Charlotte Perriand (1903–99) was a visionary who espoused functional design. In collaboration with the famous architect Le Corbusier, she created such modernist icons as the LC Fauteuil Grand Confort set of living room furniture.
Perriand's style evolved throughout her career, from tubular designs to more naturalistic ones. Although not as well-known as some of her male peers, she produced equally influential work.
17. Mary Cassatt
"It is as well not to have too great an admiration for your master's work. You will be in less danger of imitating him."
American painter and printmaker Mary Cassatt (1844–1926) was an important exponent of Impressionism. Growing up, she was discouraged by her parents from studying art, but she pressed on, determined to make an independent living from her work. Using pastel colors and fluid brushstrokes, she portrayed intimate and domestic scenes.
Cassatt's paintings often portray mothers with their children, capturing their special bond and providing a glimpse into the private lives of the women of the time.
18. Ray Eames
"What works good is better than what looks good, because what works good lasts."
American artist and designer Ray-Bernice Alexandra Kaiser Eames (1912–88) partnered with her husband, Charles Eames, on designs that transformed the fields of architecture, furniture, film and graphic design.
Trained as an artist, Ray made the perfect collaborator for Charles, who was an architect. Together, they created some of the most influential designs of the 20th century, such as the Eames lounge chair. The duo's company, Eames Office, is still celebrated today for making high-end furniture.
---
Advice on Self-Expression
19. Elizabeth Catlett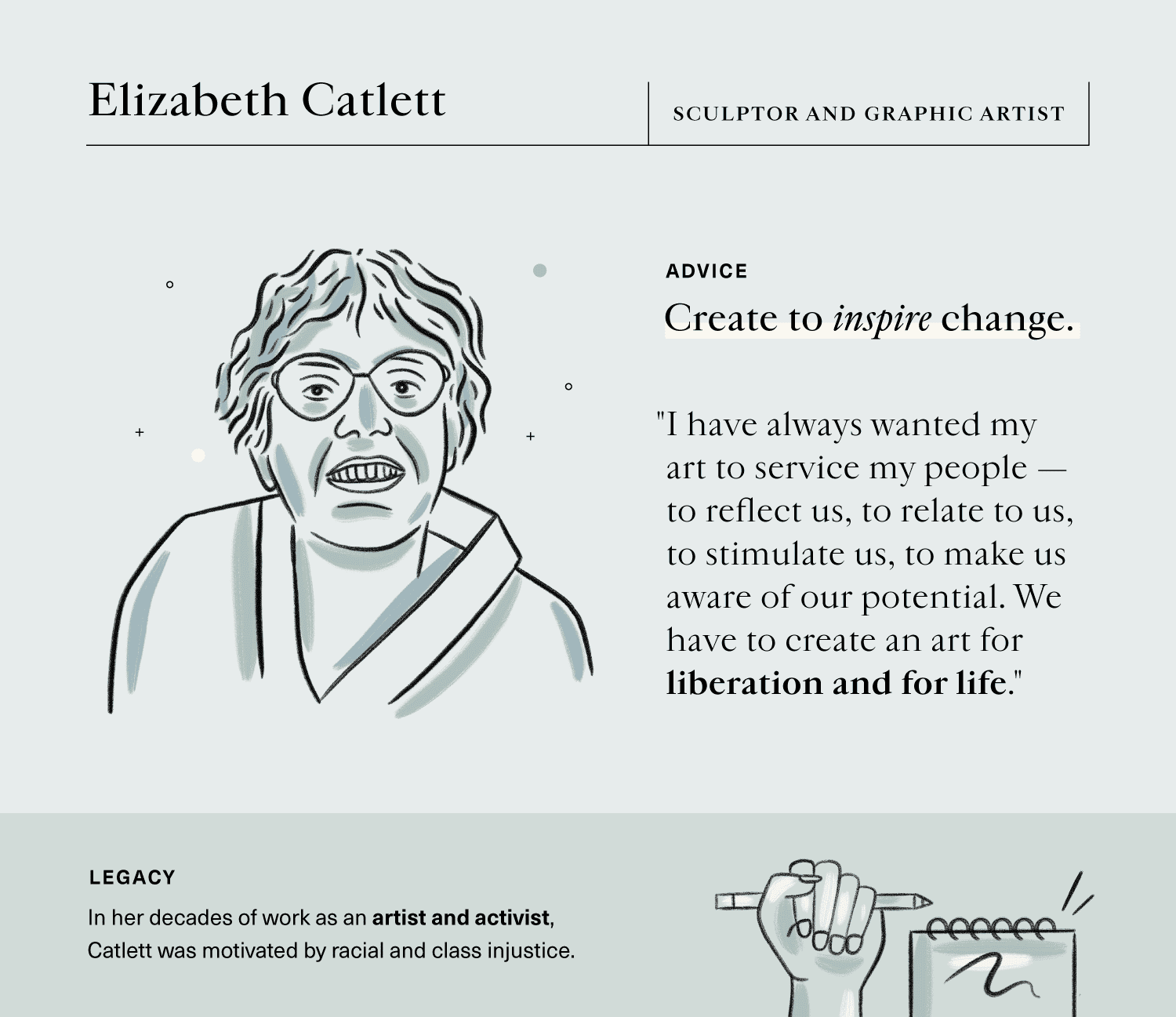 The mother of three sons, Mexican American sculptor and graphic artist Elizabeth Catlett (1915–2012) often portrayed mother-child relationships and dignified Black women in her sculptures and drawings. Her work is frequently politically charged, confronting racial inequalities and informed by the Black female and working class experience.
As a child, Catlett knew she wanted to be an artist, drawing and cutting out paper dolls to sell to girls in her neighborhood. After receiving her undergraduate degree from Howard University, she enrolled in the University of Iowa's graduate program, becoming one of the first students to receive a master's of fine arts, in sculpture, from the institution. She later moved to Mexico, where she pursued teaching.
20. Frida Kahlo
Mexican painter Frida Kahlo (1907–54) translated a life full of hardship into vivid self-portraits and drawings. As a result of being injured as a teenager in a harrowing bus accident, Kahlo had health problems throughout her life and famously began painting while bedridden. She also had a tumultuous relationship with her husband, artist Diego Rivera.
These traumas and her emotional reactions formed the subject matter for 200 paintings, which also incorporated elements drawn from indigenous Mexican culture and nature. Kahlo's explorations of identity and the female experience have made her one of the most famous artists in the world. She is also one of the highest-priced female artists, with one of her self-portraits having sold at auction for $5.62 million in 2006.
21. Louise Bourgeois
"Tell your own story, and you will be interesting."
French American artist Louise Bourgeois (1911–2010) created paintings, prints and sculptures. She studied mathematics before switching to art to express her experiences and childhood trauma. Bourgeois's pieces, often large installations, combine figuration with abstract shapes and deal with dark themes, like loneliness, sexuality and family.
Although she has been associated with Surrealism, Bourgeois is not defined by any one art movement. She is best known for her huge spider sculptures, which embody fear, protection and creation.
22. Yayoi Kusama
"Every time I have had a problem, I have confronted it with the ax of art."
Japanese contemporary artist Yayoi Kusama (born 1929) has a varied practice that includes paintings, sculptures, performances and installations. Kusama rose to prominence in the New York avant-garde art scene with her vibrantly colored works marked by patterns and dense polka dots. Her famous infinity mirror rooms, offering a sort of celestial immersion, have appeared in museums worldwide.
Kusama has described her work as a way to cope with her mental health struggles. Since childhood, she has suffered from hallucinations and an obsession with repetition, and she now lives in a psychiatric hospital near her studio in Japan, where she continues to create daily.

Let these empowering words of advice spur your own creative ventures. For more inspirational artists and visionaries, take a look at our featured creators.