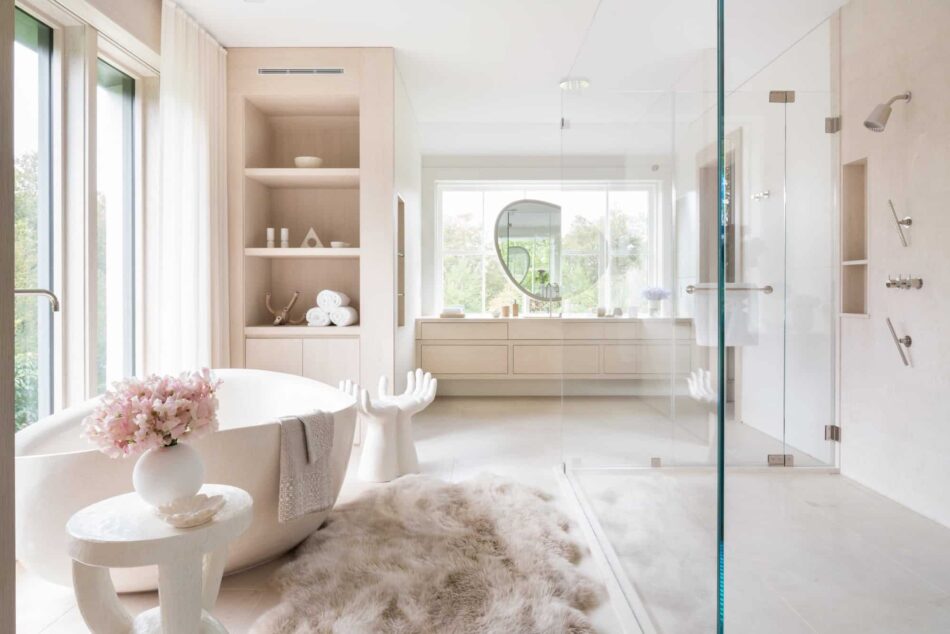 Kelly Behun had a special effect in mind when she hung a funky mirror she designed at each end of this bathroom in an expansive house on the East End of New York's Long Island: "We wanted it to appear to be floating in front of the windows," she says. And the "hands" stool? It may look like a Pedro Friedeberg piece, but Behun found it in a garden supply shop!
---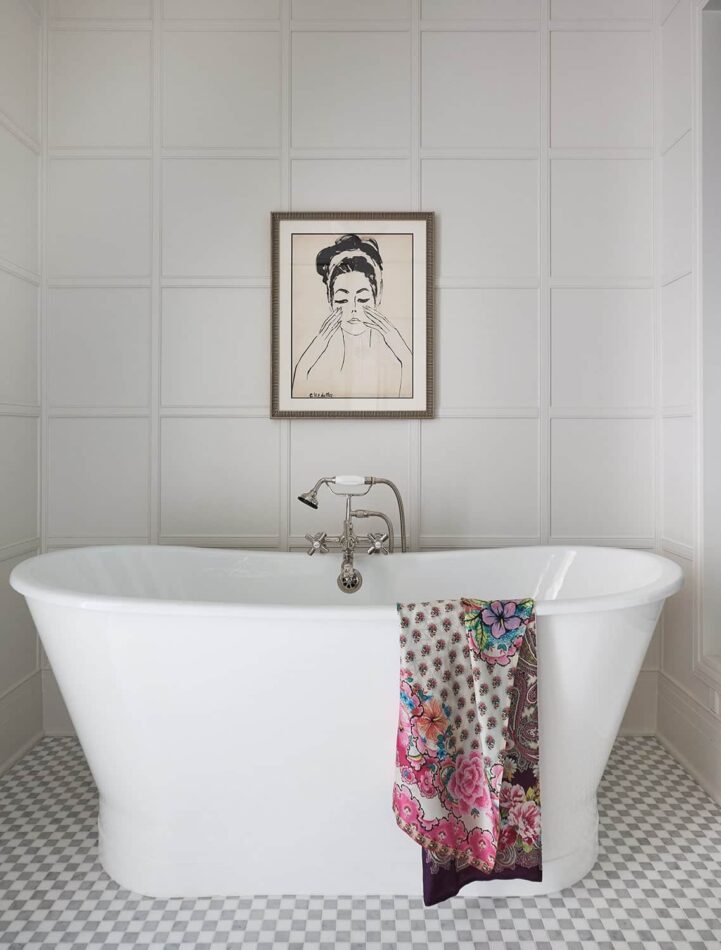 Redesigning an apartment in Chicago's famed Art Deco Palmolive Building takes a special touch — and Summer Thornton has it. Thornton worked her magic, creating a home that, as she puts it, is "dressy enough to entertain Gatsby but still feels fresh, not heavy." Case in point: this bright bathroom, complete with vintage soaking tub and 1960s portrait by an unknown artist.
---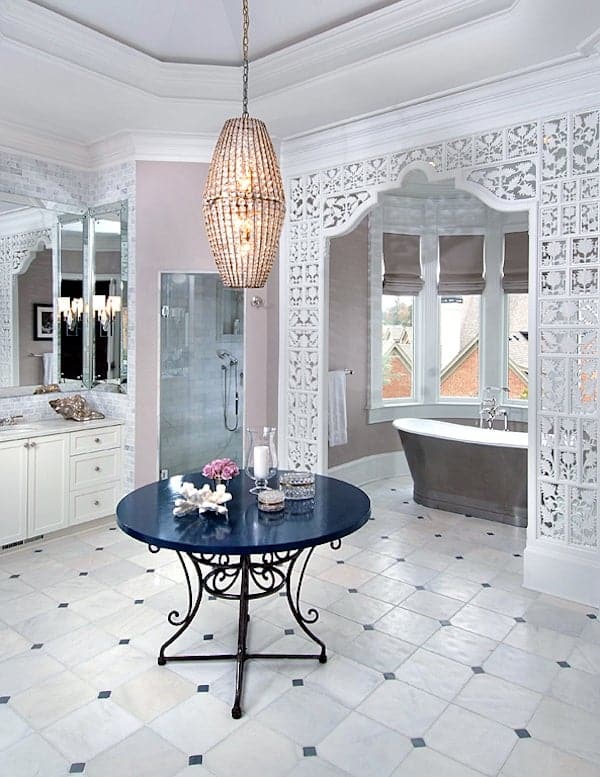 Nate Berkus often goes for glamour with a subtly masculine tinge, but here he deferred to the homeowner's taste. "Our client was really the impetus for all of the design decisions for her Atlanta house," he says, noting that the project "took on a whimsical, colorful and feminine direction." That's certainly true in the bathroom, whose centerpieces, the chandelier and iron table, are both vintage finds.
---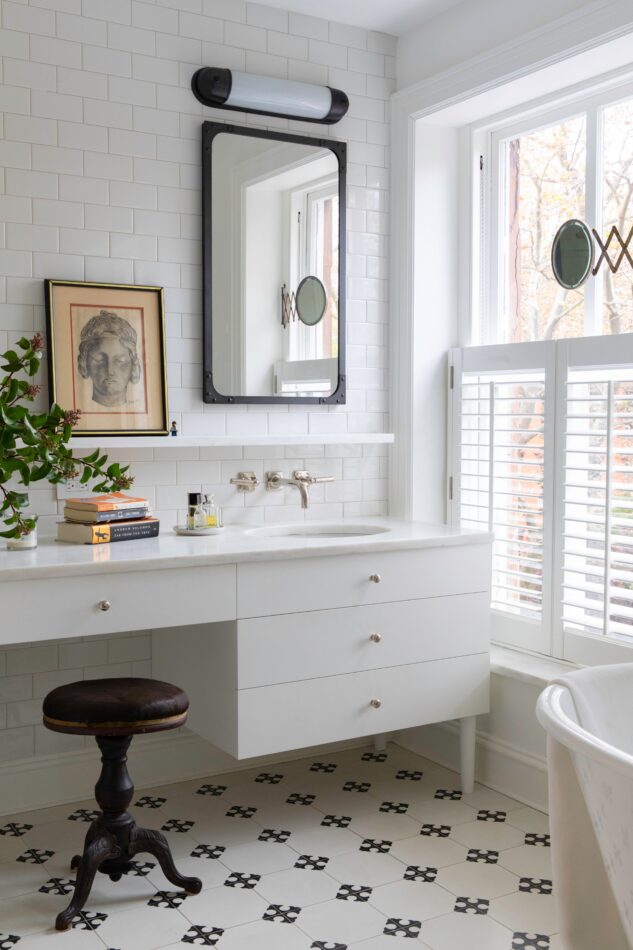 Leave it to Hadley Wiggins-Marin to make an industrial-style bathroom serene and feminine. "I wanted to create something timeless to fit with the bones of this incredible Brooklyn brownstone," says Wiggins-Marin, "and provide a space of refuge and quiet sophistication in an otherwise bustling family home."
"Quiet sophistication" certainly describes the Thomas O'Brien wall light, vintage mirror, antique piano stool and Clé tile with which he outfitted the room. "The artist of the drawing on the countertop is Helga Erber, the client's beloved grandmother, who drew it when she was an art student in pre–World War II Holland," the designer says.
---
FORMarch cofounder Brent Leonard wanted this master bath in Indian Wells, California to be a modern oasis. His first order of business: design a bathtub that seems to drift on a private stream. Says Leonard, "There must be a gentle balance of architecture, furnishing and objects."
---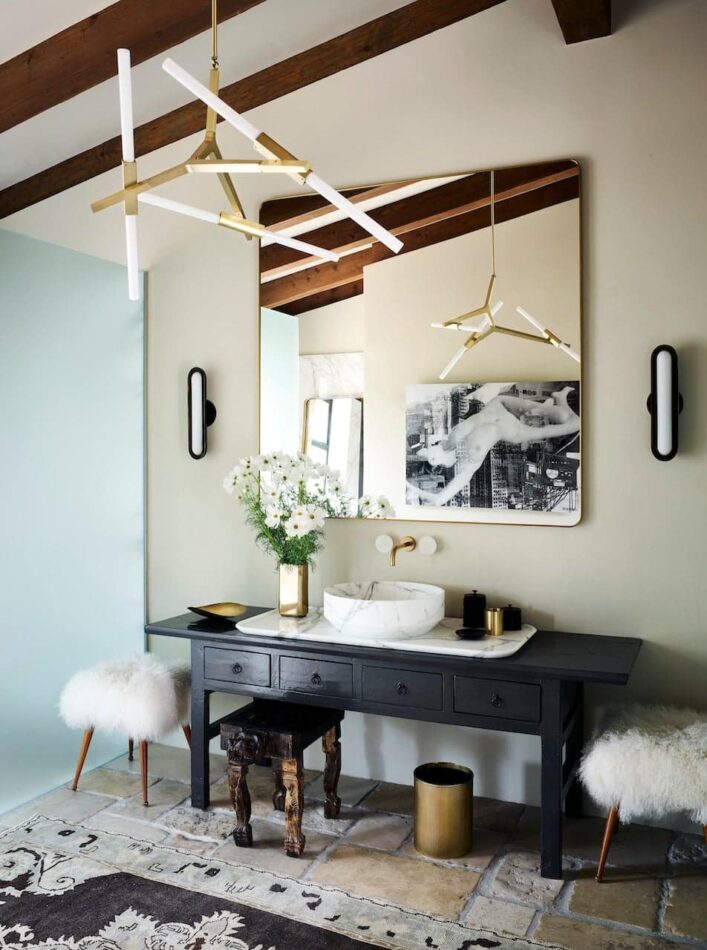 "The idea with this Napa, California, bathroom was to create a sexy space that was warm yet contemporary, with old-world accents and modern lighting," says John Hurley, cofounder of Hurley Hafen.
Hurley executed his concept masterfully, deploying chic of-the-moment pieces like the Lindsey Adelman light fixture and hand-carved KREOO vessel sink while adding character with the upcycled vanity and Nepalese stool.
---
"The client wanted a contemporary design that felt glamorous," Francis Nicdao, a design director at Pembrooke & Ives, says, describing this Aspen, Colorado, project. "And we wanted to pay respect to the architecture by using clean lines and very luxurious materials."
In the bathroom, that meant deploying onyx, for drama, and different woods, for warmth. Soft lighting creates a relaxed feel. "The home is both comfortable and elegant," Nicdao says, "with layers of materials and textures that give it richness."
---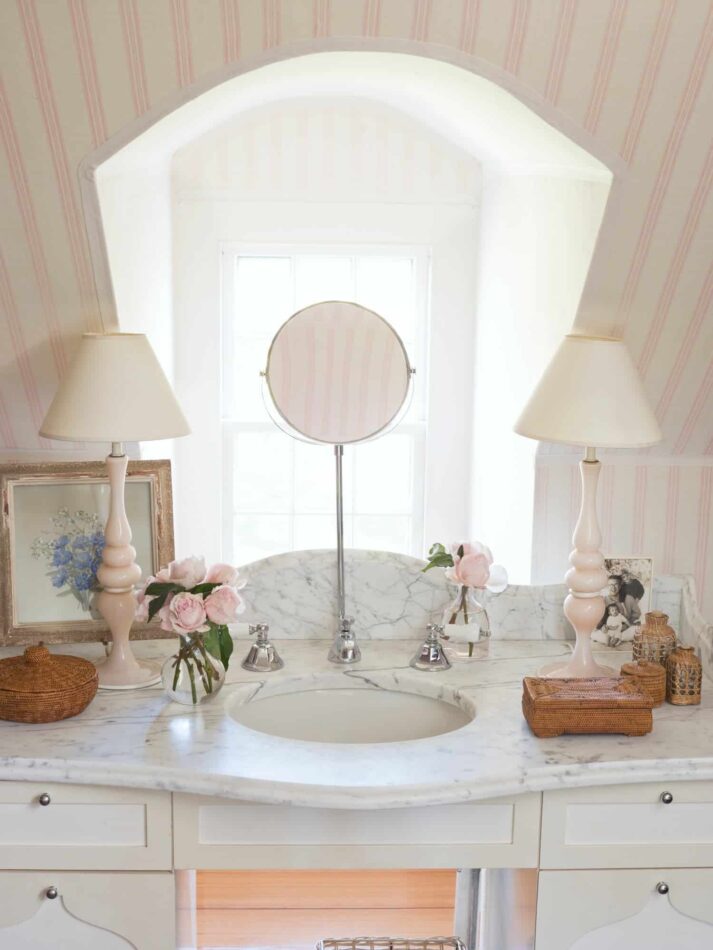 "This bathroom was conceived from the beginning as being specifically feminine. It's one of two for the master suite, and this one was really meant to be a private retreat for the lady of the house," says Tom Scheerer, who reimagined the clients' 18th-century East Hampton, New York, home in French country style.
While the striped cotton wallcovering from Chelsea Editions makes the boldest statement in the space, the lamps are the craftiest design move. Scheerer made them from vintage Venetian glass candlesticks. "The milky pink is something very unusual," he says.
---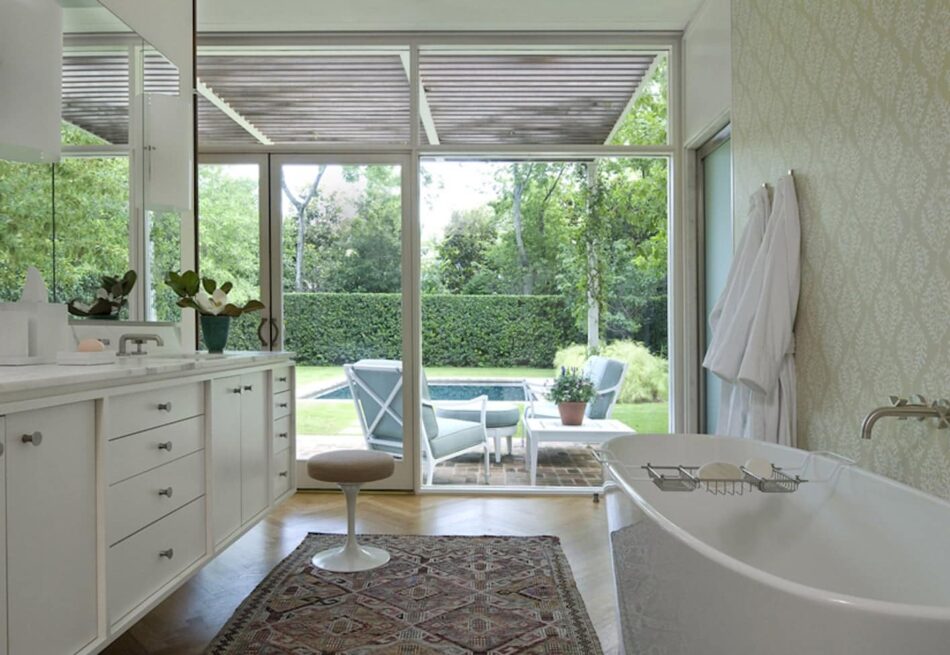 In renovating the interiors of a Howard Barnstone–designed house in Houston, Ann Wolf sought to create a bathroom that was a peaceful haven. "We decided to make it warm by adding an antique rug and wall covering on the wall behind the tub," says Wolf, who honored the home's mid-century spirit with the Eero Saarinen Tulip stool.
---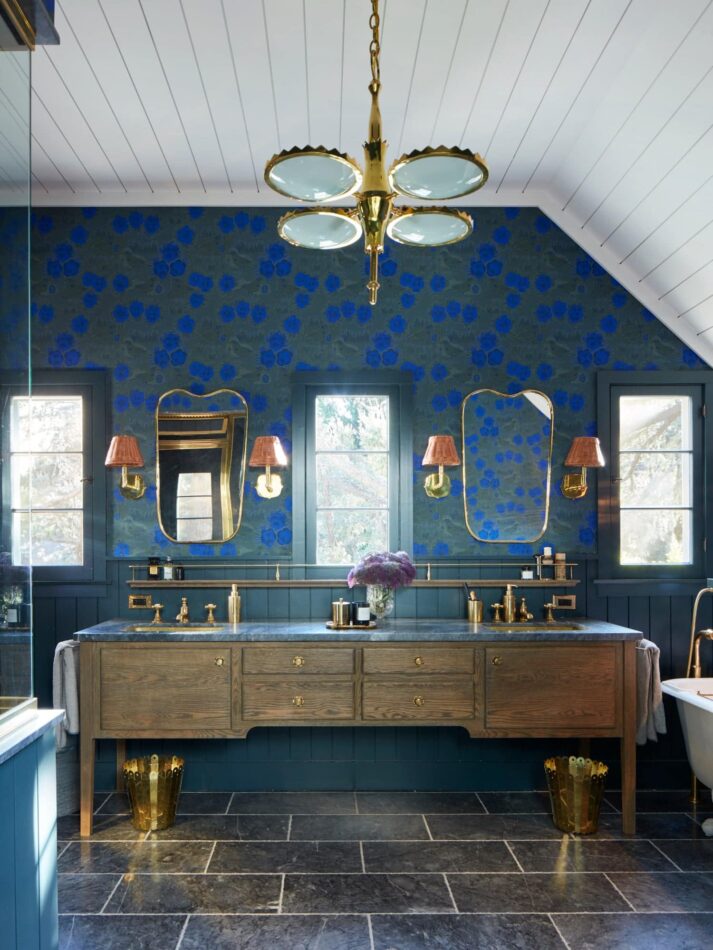 Pared down and neutral — those adjectives perfectly capture the rest of the home Nickey Kehoe designed in California's Santa Monica Mountains. In this master bath, though, the duo went a little wild, with colorful quirky elements like blue and green floral wallpaper and custom shaded sconces.
---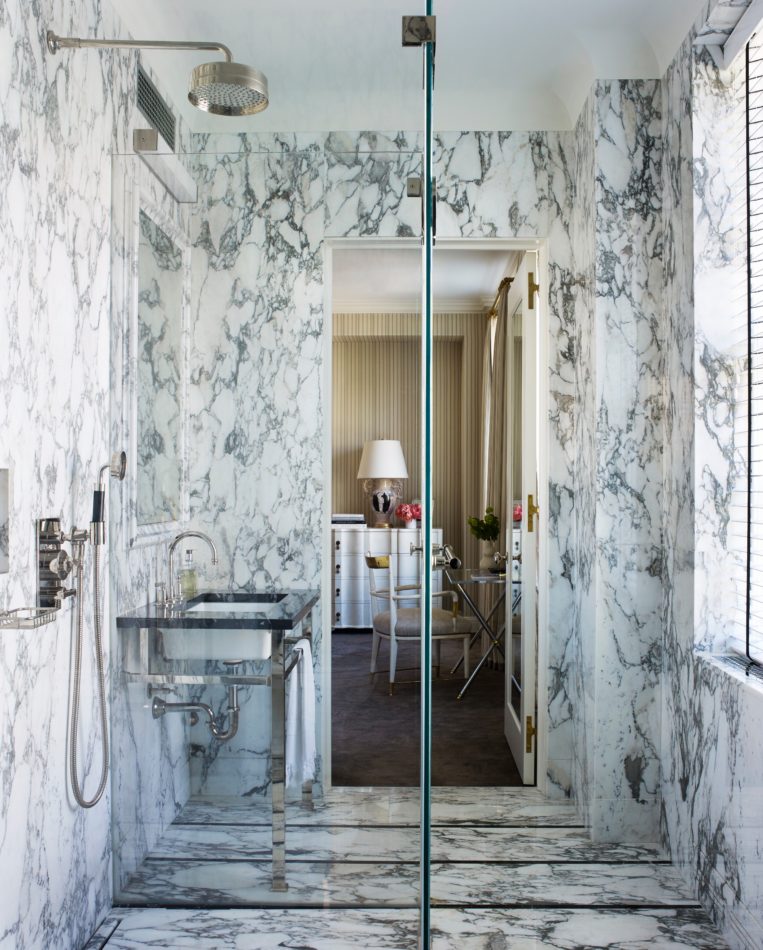 "Our inspiration was the strong vein marble. We wanted to give a graphic quality to the small space," says David Kleinberg, referring to this bathroom in a residence on Manhattan's Fifth Avenue. "Then, we wanted to break the natural veins with a very hard geometry. Hence, the black marble insets on the floor, which help mitigate the room's narrowness."
---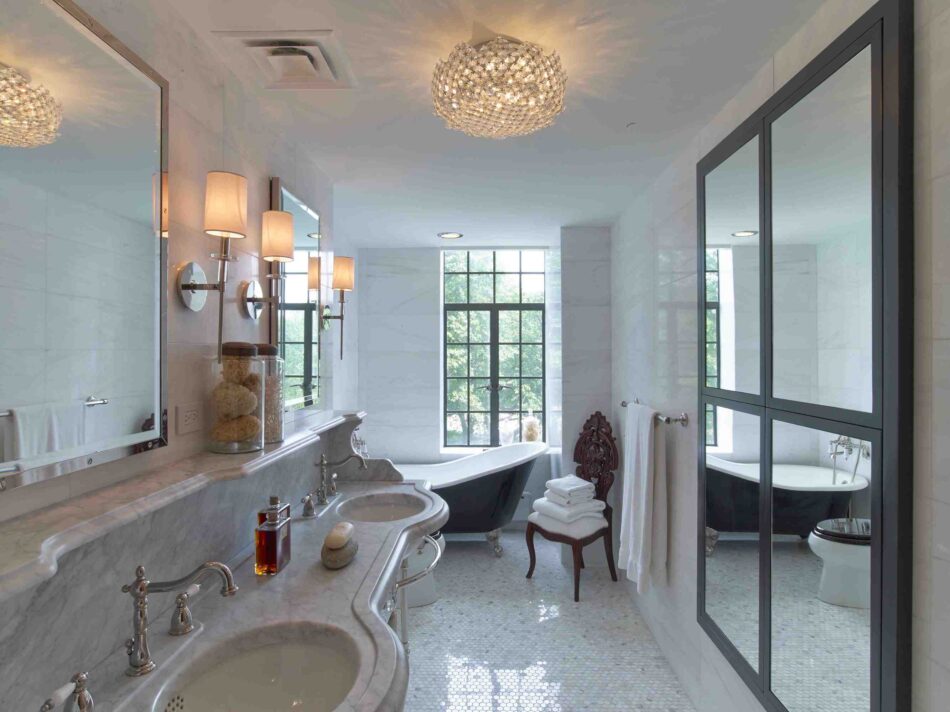 An Upper West Side apartment got a gleaming facelift, courtesy of New York designer Mark Zeff. He outdid himself in this spa-like bathroom. "This is the lady of the house's favorite sanctuary," says Zeff, who accented the calm, light palette with funky elements like a South African wooden chair and 1930s chandelier,
---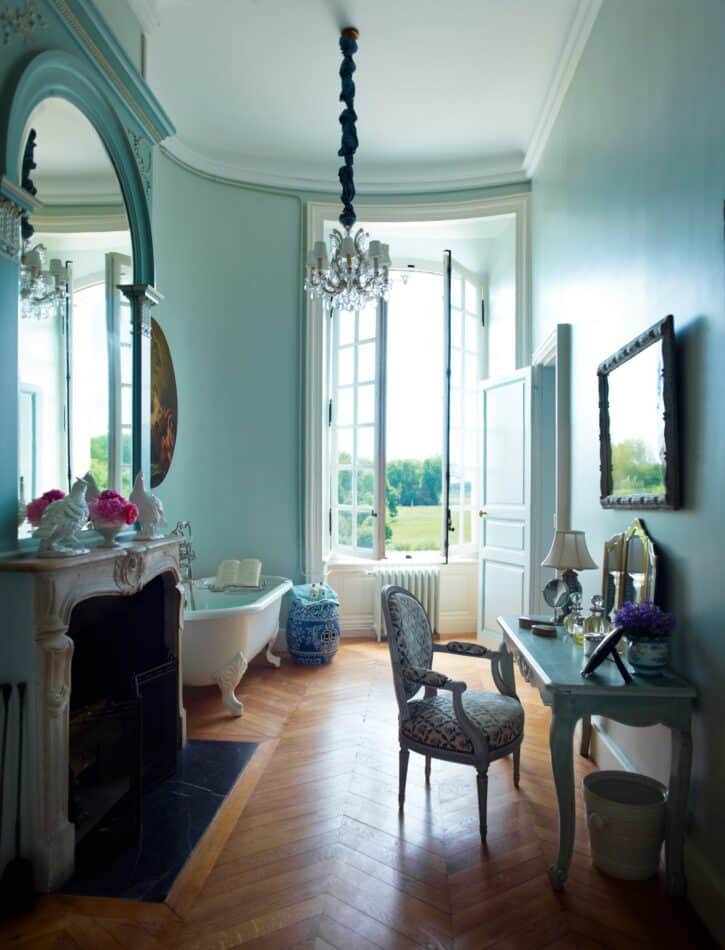 In restoring the landmark Château du Grand-Lucé, his palatial estate in the Loire Valley, Timothy Corrigan expertly blended American ease and European elegance. This Tiffany-blue bathroom is a perfect example. "I wanted to create a bathroom that looked like bathrooms might have when they were first added to historic châteaux, approximately a century ago," says Corrigan.
And the ease? The tub is positioned to overlook the garden and outfitted with a bookstand — "in case," he says, "my guests prefer to read while soaking."
---
"I always love to incorporate family heirlooms into my designs, and this vanity stool was one of those pieces. We just had a new custom cushion made for it," says Tori Rubinson, describing the furnishings of this Fort Worth, Texas, bathroom. As for the overall plan, "we wanted it to have a classic feel with some clean and modern elements," notes Rubinson, who found just what he needed in the Visual Comfort sconces and cafe curtains.
Grounding the room while adding a bit charisma are an antique metal accent table and rug.
---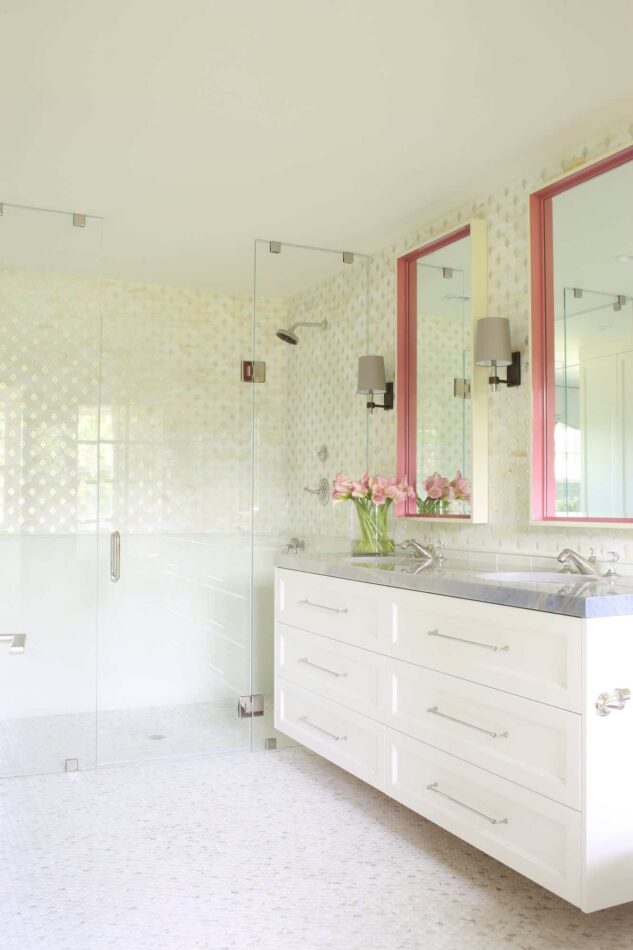 Believe it or not, this Boston bathroom used to be a somber cave. Then Lisa Tharp took it in hand. "This design is inspired by our client's desire for a sybaritic daily bathing experience," Tharp says. Our favorite element? The pink lipstick accent on the Shadow Box mirrors from Tharp's new collection.
---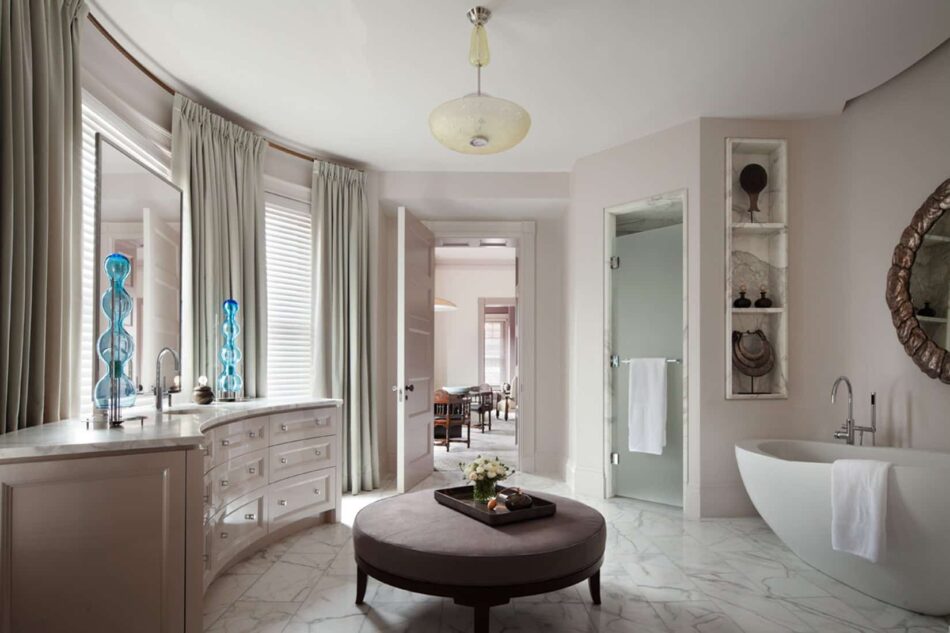 In a grand bathroom of a historic Boston townhouse, Thad Hayes deployed curved lines, subdued hues and artful details. "The soft mauve walls recall the bedroom, which produces a calming effect," says Hayes. "By enclosing the shower and toilet room with matching glass doors in opposite corners, symmetrical with the vanity, we set up a rhythm of glass and light."
---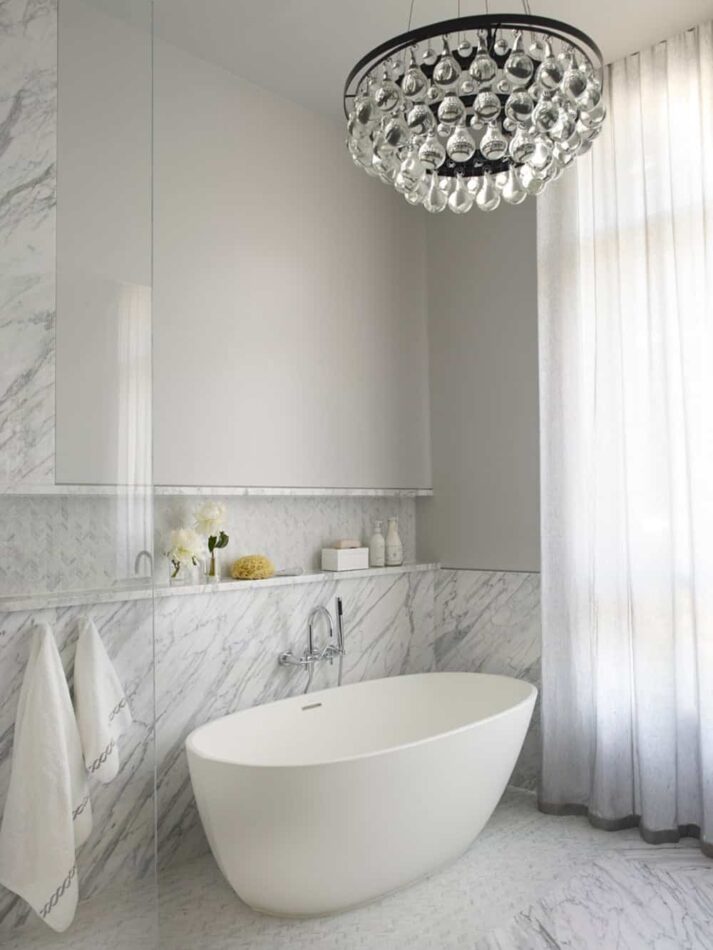 This bathroom in a downtown Manhattan home demonstrates the beauty of simplicity. Shawn Henderson outfitted the space in a cool marble, providing a delicate elegance with the Ochre chandelier.
---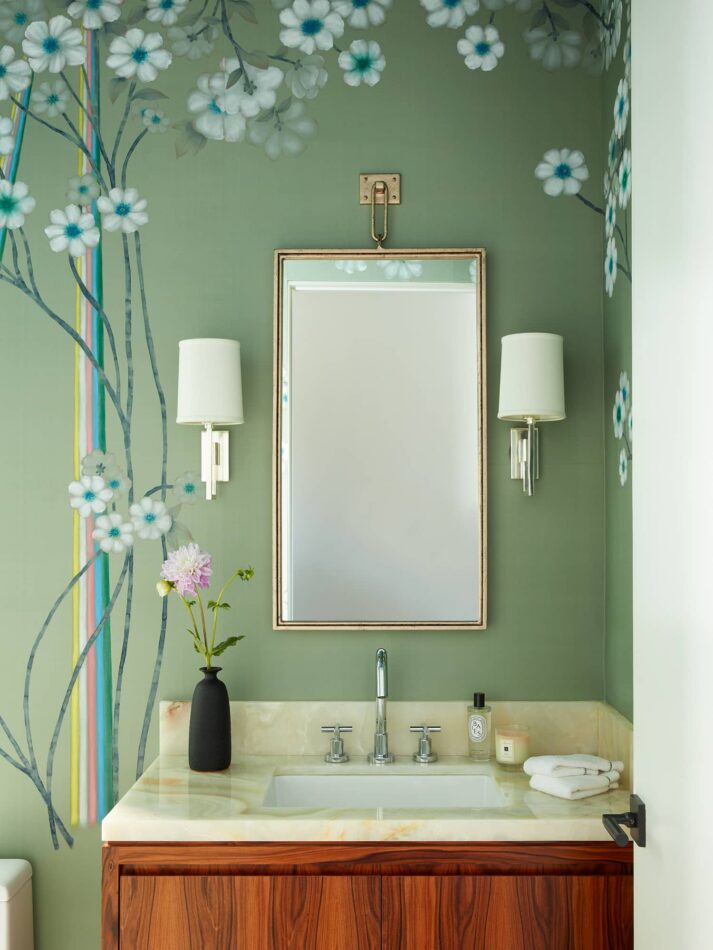 Much of this Los Angeles bathroom's charm comes from the de Gournay wallpaper. "The goal was to create a whimsical and elegant powder room," explains designer Sara Story. We'd say she achieved it.
---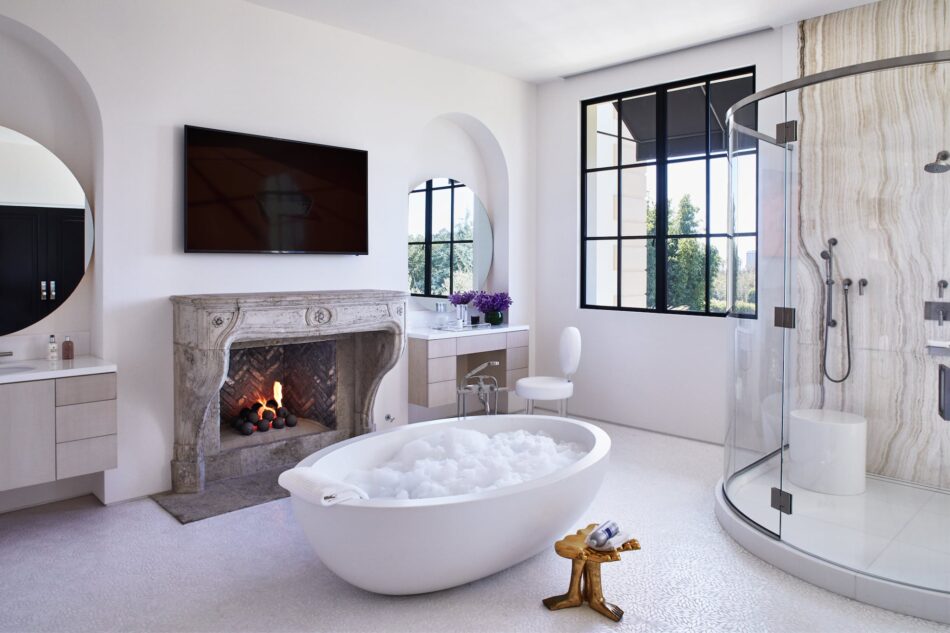 In the course of gut-renovating a dated Holmby Hills, Los Angeles, villa, Stephen Stone transformed one of the bathrooms into a cosseting sanctuary. "This new master bath was created for today's woman, who expects every luxury in her complete bathroom and dressing suite," Stone says of the space, which features a Pedro Friedeberg stool, onyx accents and floating vanities.