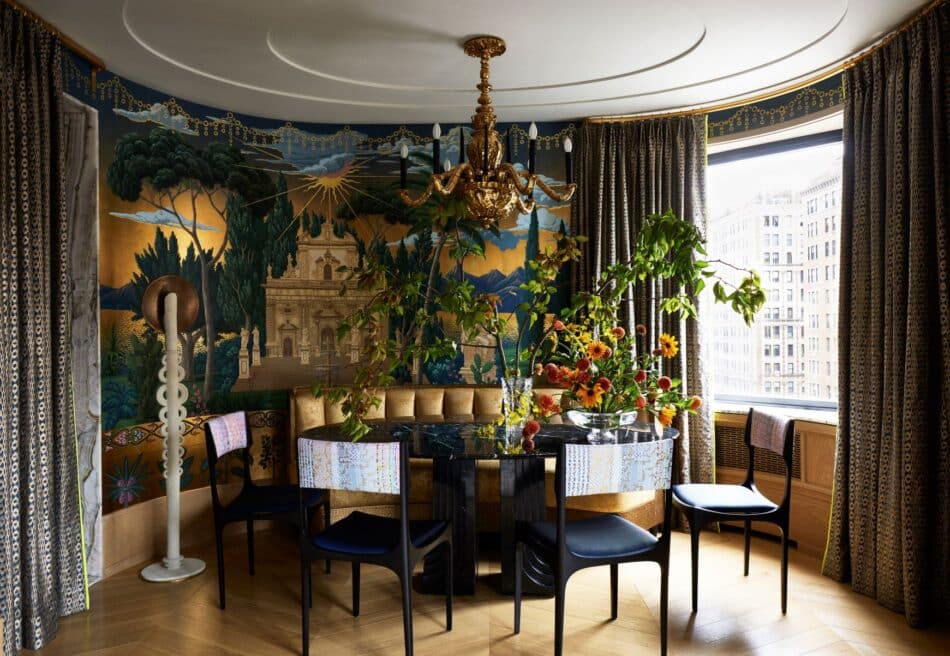 Wesley Moon's New York dining room reflects the designer's affinity for maximalism. "I have a love of history and travel, which were the inspirations for the design of my home," he says. "I'm always trying to figure out what the contemporary version of something classical is so I can get that old-world feeling but adjusted to modern times."
The centerpiece of the space is the custom wallpaper, which Moon created with de Gournay. The design, painted on gold leaf with matte pigments, depicts the Church of Maria Santissima del Carmelo in Palermo, along with iconic Sicilian flora and fauna.
Another custom piece is the banquette, modeled on one the designer saw in a Parisian brasserie. As for the gilded ceramic chandelier, it can accommodate either bulbs or candles depending on the desired effect.
---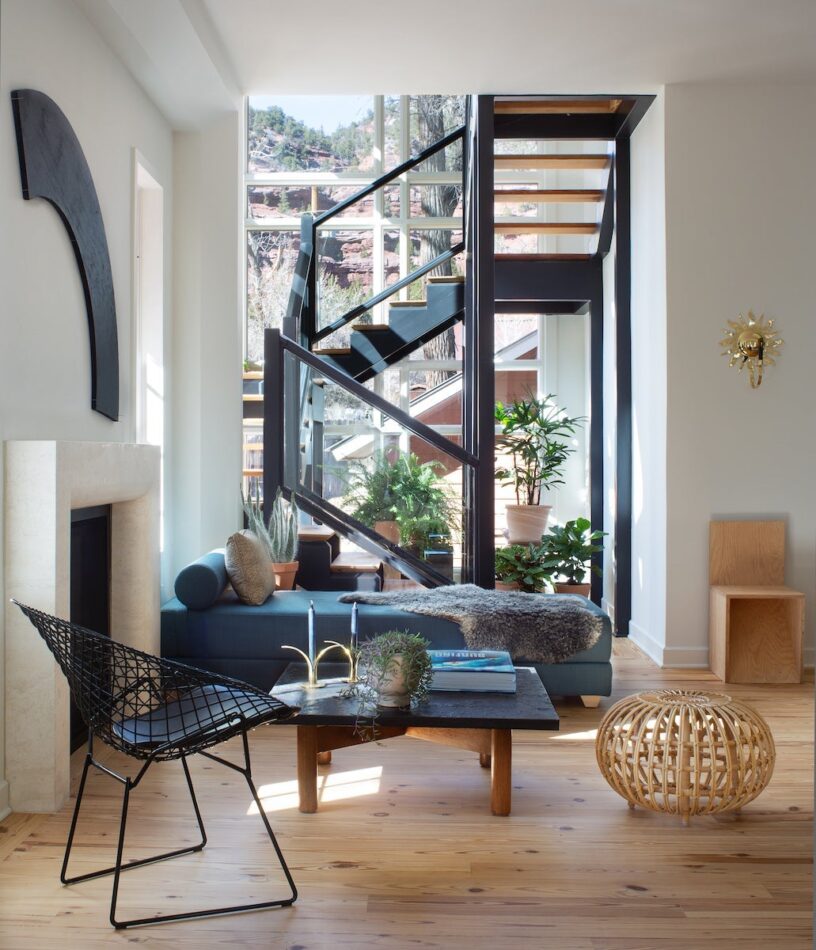 In designing her Telluride living room, Kimille Taylor drew inspiration from mid-century-modern Scandinavian country homes. She describes the look as "pared down, clean, minimal but with lots of texture so that it feels warm and inviting."
When she moved in, she scaled back the staircase, which was original to the James Bowen–designed house. "Each post went all the way to the ceiling," she says. "We wanted to minimize the visual confusion by cutting them down and painting the stairway black."
For the decor, Taylor chose a Harry Bertoia chair and Franco Albini rattan pouf, as well as a 1950s coffee table and a Svenskt Tenn sconce.
---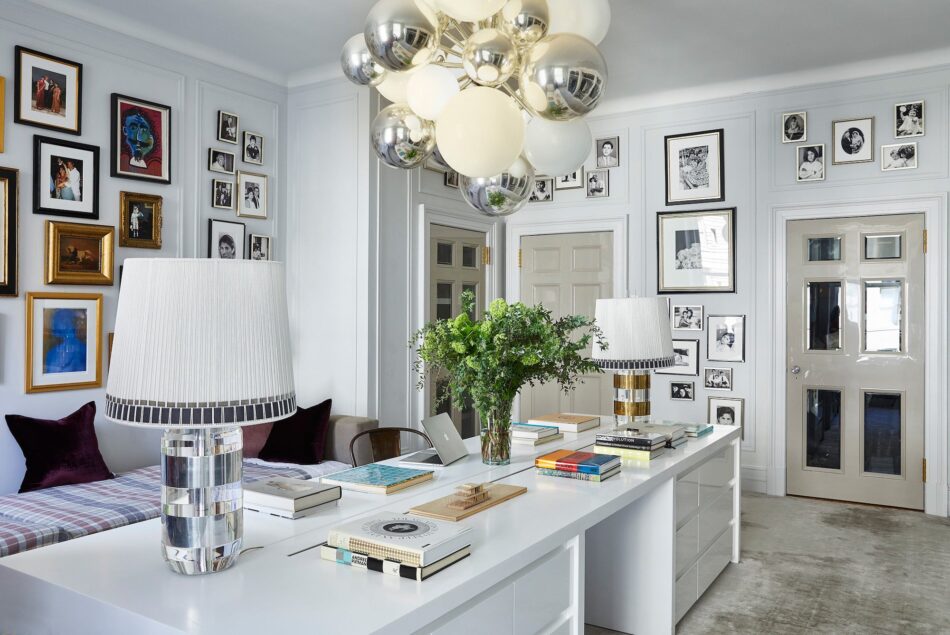 Andrew Sheinman, the founder of Pembrooke & Ives, fitted out one room in his New York City apartment to be multipurpose. "It's an office, the primary closet and a guest bedroom when we have visitors," he says.
An Emmanuel Babled chandelier illuminates the space, including his carefully curated gallery walls. The display is composed mostly of family photos, although there is one Picasso. For extra reading light, the designer added two Karl Springer lamps to the desk.
---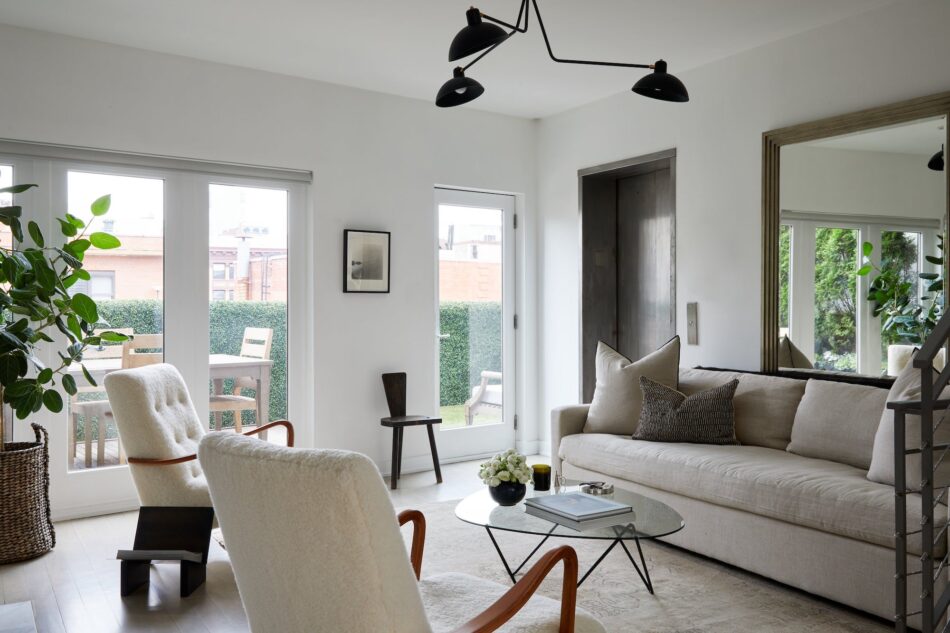 In her New York duplex, Grisoro Studio principal Gabriela Gargano kept the look fresh and light. "It's really an extension of our design philosophy, which is to create warm, clean spaces that are authentic to the owner," she says.
"As the owner of this space, I wanted to create a peaceful atmosphere for my family that was dynamic yet livable," she explains. "As a designer, I love to collect, so my home is a place to enjoy the pieces I've gathered over time." Her serene, monochromatic living room features a pair of vintage Swedish chairs and a vintage brutalist French stool.
---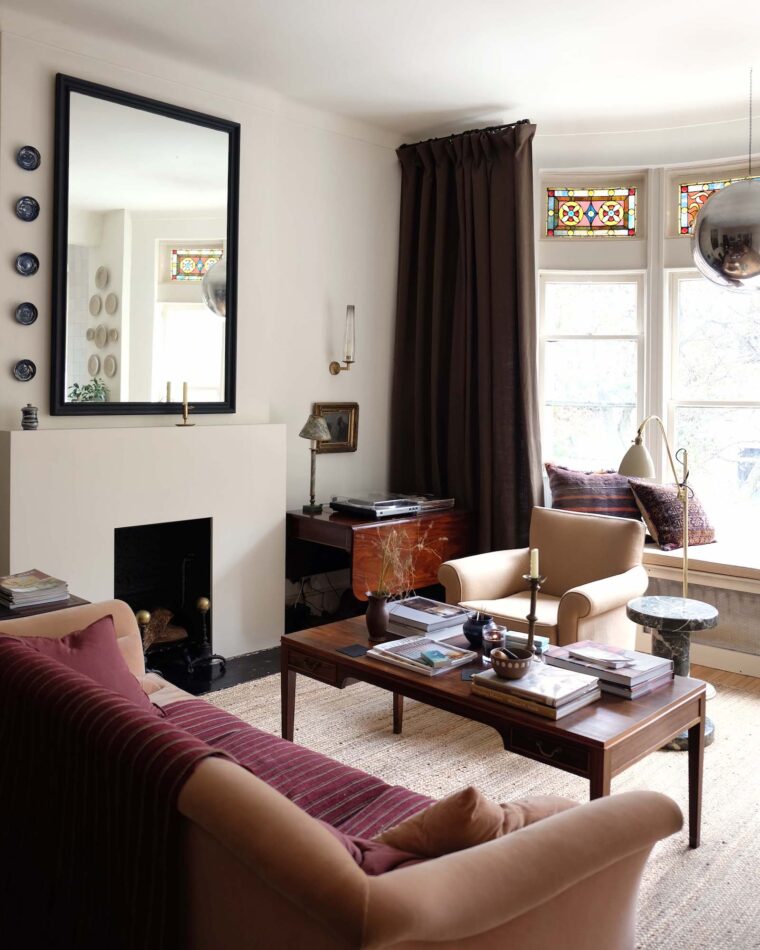 Studio Dorion cofounder Peter Dolkas sought to play up the history of his circa 1890 apartment, located on a landmarked block in Brooklyn Heights. "The inspiration was to capture some that turn-of-the-century feel while balancing the needs and tastes of contemporary living," he explains. He achieved that balance in part by mounting the living room television on an extendable arm and concealing it behind a curtain.
Most of the furniture is vintage, such as the Frits Henningsen coffee table. A few pieces are older, like the 19th-century drop-leaf table next to the fireplace. "I inherited it from a job, and think it's kind of fun to use as a record player table," Dolkas says.
---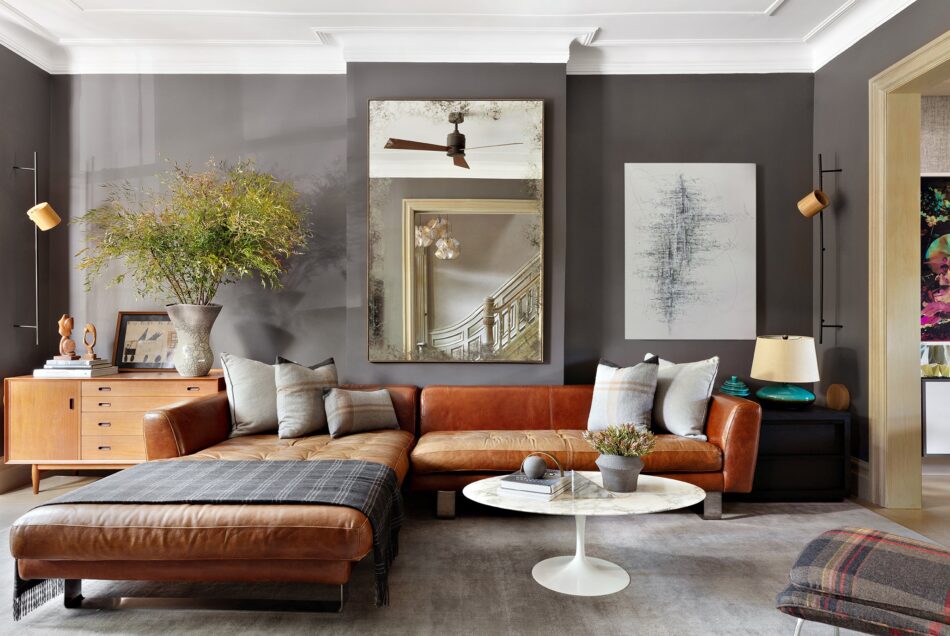 Workshop/APD principal Matt Berman's design for the townhouse he and his family share in the Park Slope section of Brooklyn was guided by his desire to create a highly personal, art-filled home that preserved the property's 20th-century character. "I like spaces that have an immersive quality to them," Berman says, "places that engage the senses and invite exploration and conversation."
"Each room in the house tells its own story through the art, furniture, lighting and accessories we've chosen together," he explains. In the living room, those pieces include a vintage Arne Vodder teak sideboard, an Eero Saarinen Tulip coffee table, a Saarinen Womb chair and ottoman in a moody plaid and a custom antique-glass mirror.
---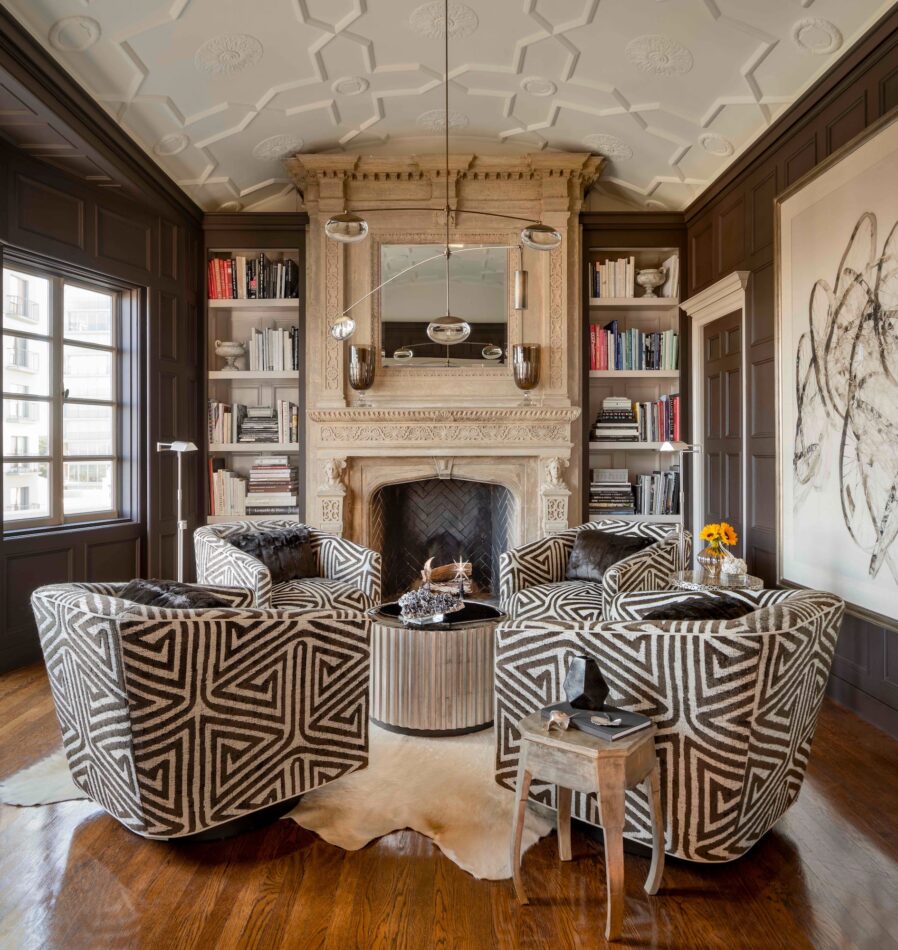 Candace Barnes's San Francisco residence is in the penthouse of the Chambord — the Nob Hill landmark where such interior designers as Billy Baldwin, Eric Cohler, Paul Wiseman and Billy Gaylord have also made their homes over the years. The apartment is a case study in old-world charm, Barnes says, "but with a contemporary twist."
In a nod to Baldwin's famed Manhattan apartment, she painted the library chocolate brown. In the middle of the room, four boldly patterned custom swivel chairs surround a mid-century fluted coffee table.
---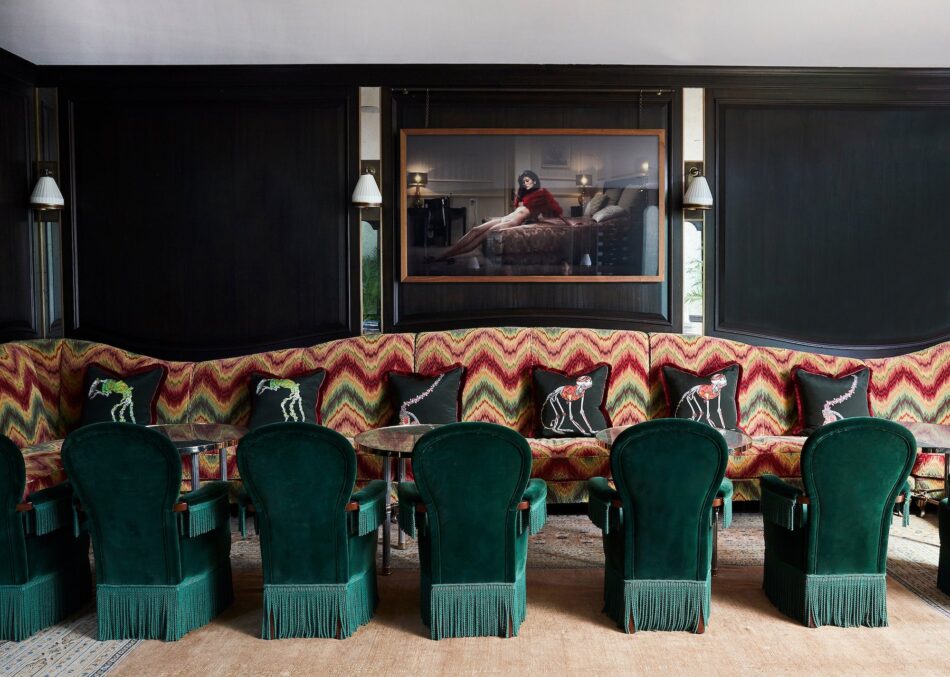 Brigitta Spinocchia Freund says her villa in London's Notting Hill neighborhood "was designed to be the backdrop to gatherings filled with laughter and fun," describing it as "chic, comfortable and transportive to another time."
In the game room, Spinocchia Freund paired an expansive banquette upholstered in a colorful Pierre Frey fabric with an antique rug that she found on a trip to New York. "The mirrors set into the paneling," she notes, "create a soft glow and warm reflections after dark."
---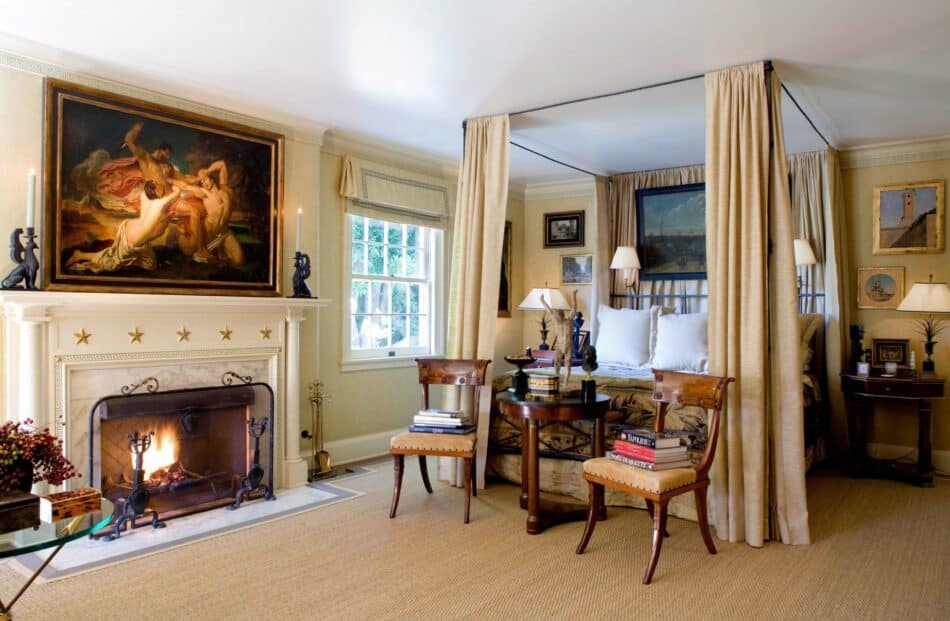 For his Los Angeles bedroom, Timothy Corrigan's goal was to create a calm and soothing environment, so he covered the walls in a muted gold linen. "An upholstered room provides the most wonderful feeling of coziness and tranquility," he says. Nearly every furnishing is vintage or antique. The sitting area, for instance, includes Regency klismos chairs and a French Empire table.
---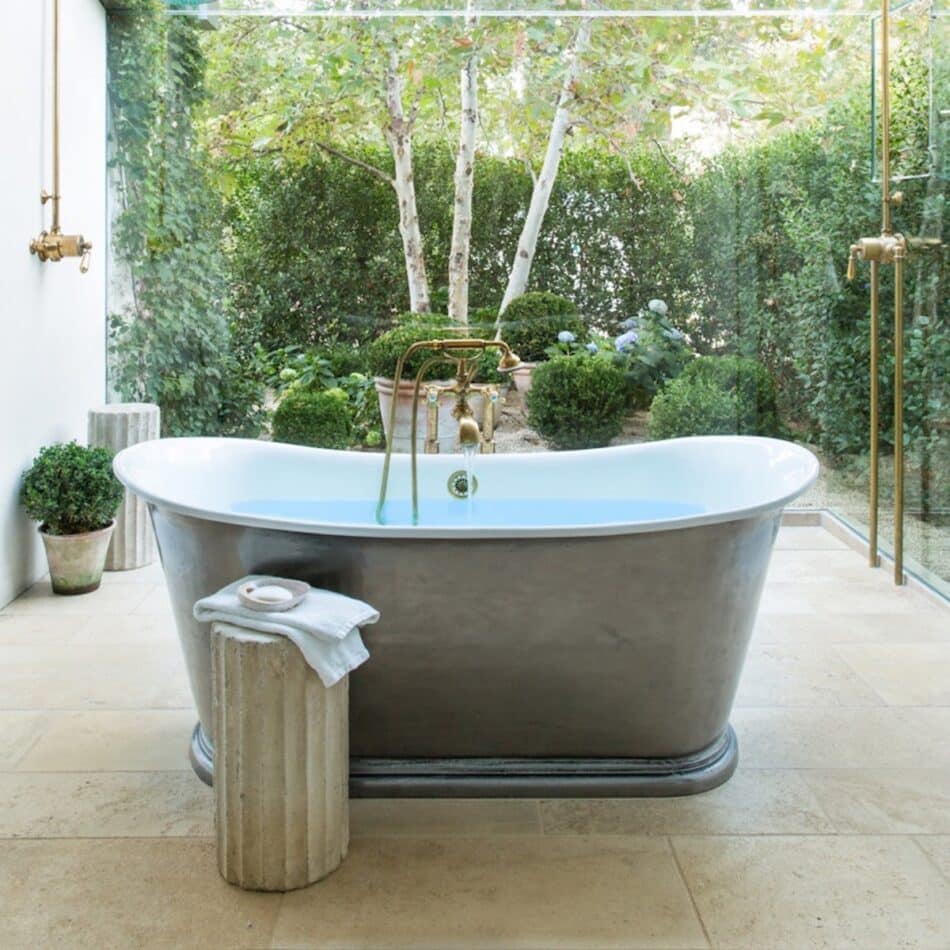 Brooke and Steve Giannetti's Ojai, California, bathroom is definitely not the typical windowless space. Says Brooke, "Steve designed it as an homage to the glass architecture of the Apple store in New York. We love how the sheets of glass allow us to be seamlessly connected to the garden."
The furnishings are spare, including only such essential items as a tub from Bathworks and stools designed to mimic the shafts of ancient columns.
---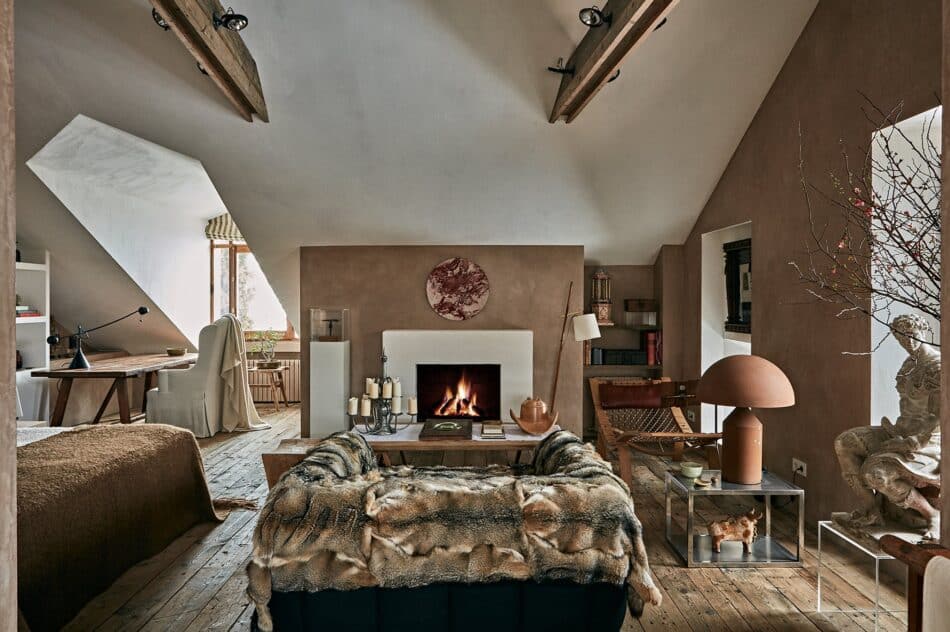 When Mafalda Muñoz and Gonzalo Machado, the Spanish couple behind Casa Muñoz, moved into an apartment in the Muñoz family's country home just north of Madrid, their first order of business was redecorating.
The space now features a 1970s sofa designed by Muñoz's father, a Hans Wegner chaise longue and a metal coffee table from Casa y Jardin, which is topped by a Vico Magistretti Atollo lamp.
---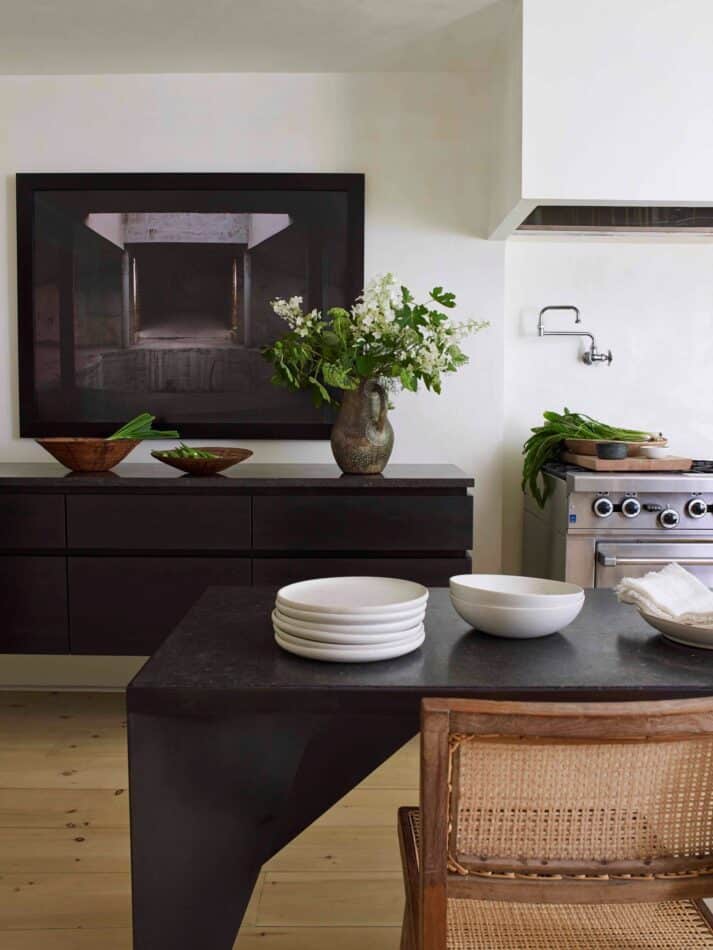 "I can't say I had a specific inspiration when designing my kitchen, which is on the garden level of a townhouse my husband and I share with my sister and her family. I just wanted it to be comfortable and functional," says Juniper Tedhams.
Eye-catching style — as in the bronze cabinet hanging next to the stove — combines with functionality. "I designed the table to be flexible. It was my desk originally but ended up looking fantastic in the kitchen," says Tedhams, who surrounded the table with Pierre Jeanneret chairs.
---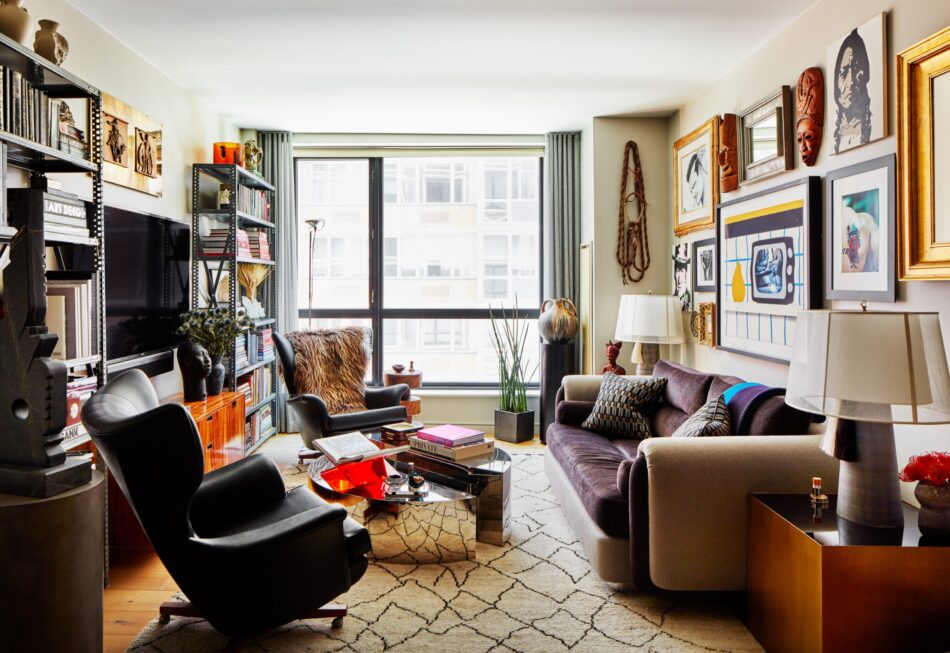 Andrew Torrey leans toward minimalism in his work, but he took a more expansive tack with his own Manhattan apartment. In the living room, the designer positioned a pair of G-Plan Blofeld chairs across from a gallery wall featuring works by Pablo Picasso and Tom Wesselmann, among others.
An Hermès throw on the sofa and a metallic coffee table add a bit of bling to the masculine space.
---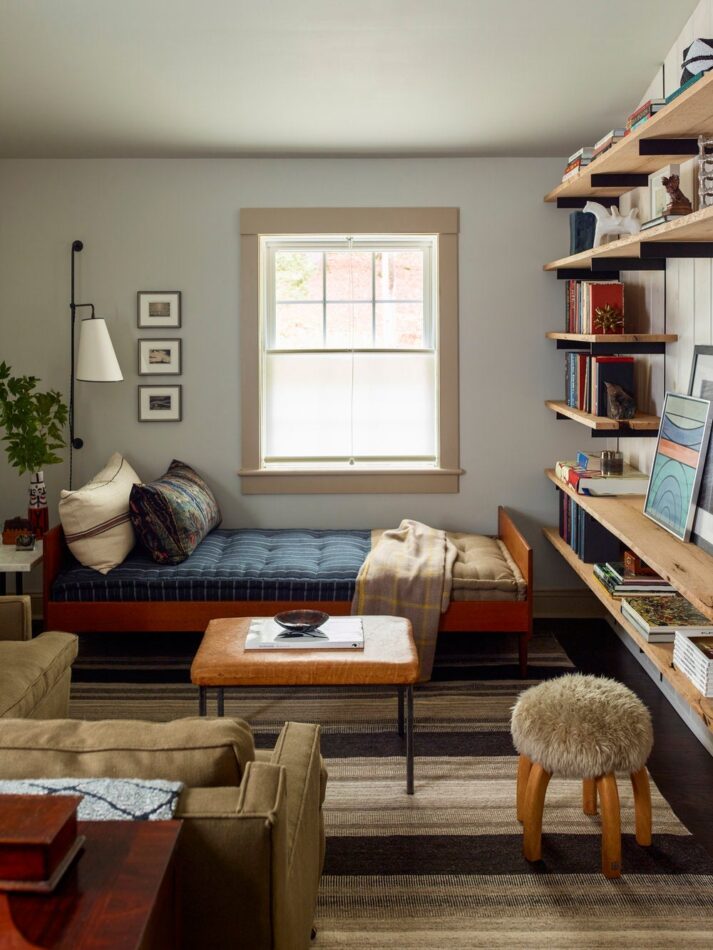 "We wanted to create the feeling of a master suite with this room as the study," says Kevin Dumais, describing this cozy space in the Litchfield, Connecticut, house he shares with his husband, lighting designer Charlie. "We wanted it to feel private, intimate and layered with inviting textures."
Dumais outfitted the room with a vintage daybed and a fuzzy stool from Desiron, along with an ottoman by RT Facts in Kent that is upholstered in leather from vintage Belgian vaulting benches.
---
"What I wanted for my country house in Hillsdale, New York, was for it to look like a Scandinavian summerhouse but a little more dressed up," says Shawn Henderson.
---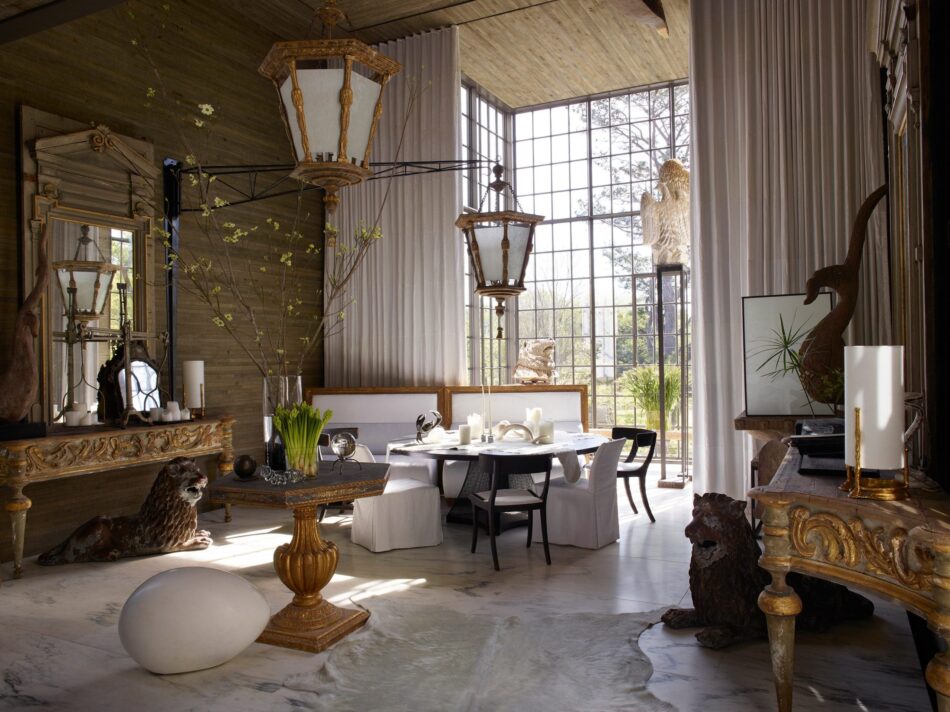 "The weathered, slatted walls portray the house as a crate holding precious, imperfect objects," says architect Bobby McAlpine, describing his Atlanta home. It's a look he terms the "new romantic modernism." We call it magnificent!
The "precious, imperfect" items in the living room include klismos dining chairs, terracotta lions, giltwood tables and Venetian-style lanterns.
---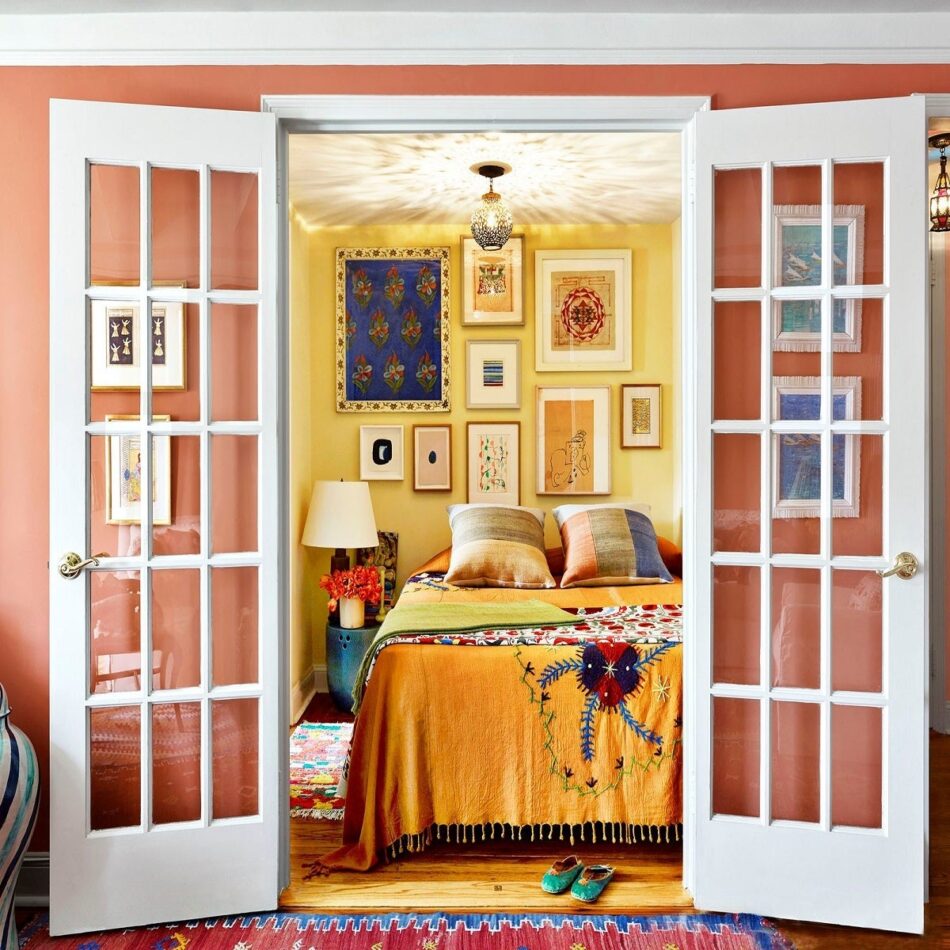 "In my bedroom, I wanted to create a sunny and warm oasis, a room in which to regenerate and to make me feel as if I am on a mini-vacation each night," says designer Sara Bengur, who lives and works in New York City. "The bedcover, throw and pillows are my own custom designs, the Suzani on the bed is from one of my many trips to Istanbul, and the light fixture and rug are from Marrakech.
"The artworks on the wall are gifts from my friends Véronique Gambier, John Robshaw and Alexander Gorlizki, to name only a few, as well as pieces I have collected over the years during my travels. The art, for me, creates a layer of comfort and inspiration — beautiful memories enveloping me like a virtual headboard!"
---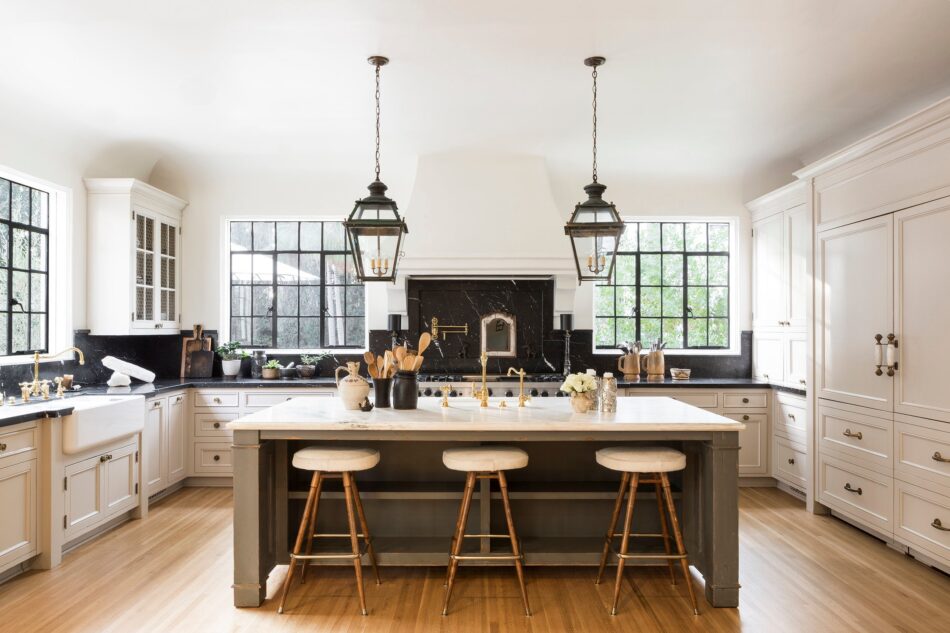 When they first visited it, Nate Berkus and Jeremiah Brent felt that the nearly 9,000-square-foot 1928 Spanish Colonial house in Los Angeles's Hancock Park neighborhood was much too grand for them. "Our immediate reaction was 'Who lives like this?' " Berkus says. But after discovering the charm of the interior spaces and gardens, the couple changed their minds, transforming it into the perfect family home for themselves and their daughter, Poppy, and son Oskar.
In the elegant yet cozy kitchen,1960s French bar stools from Blend Interiors pair with 19th-century French lanterns from Antiques on Old Plank Road to offer a contemporary version of a French farmhouse kitchen.
---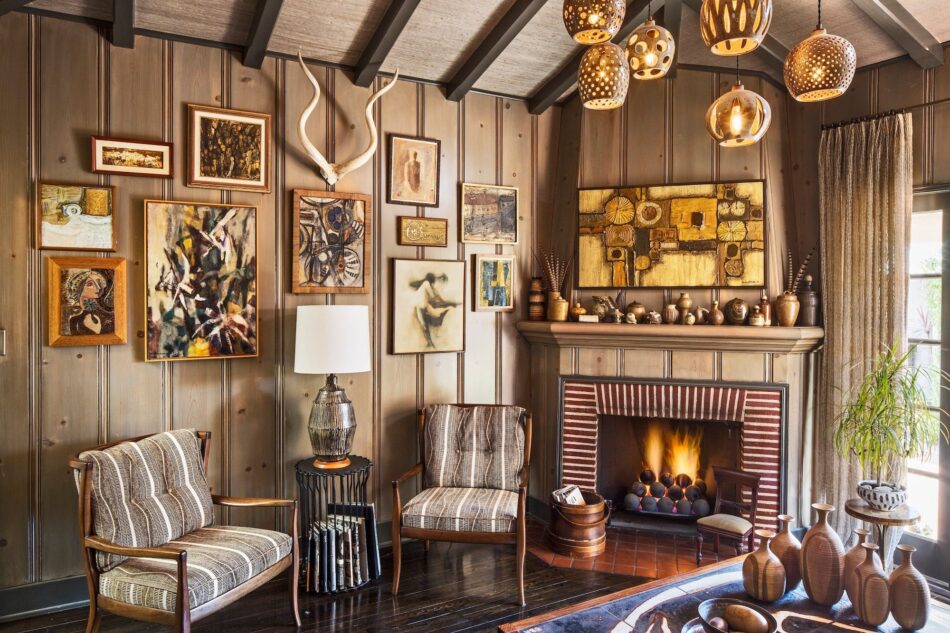 "This room, which opens up to my garden and a small bar area, is my den at home in Los Angeles," says Jeff Andrews. "The walls are covered in their original pine paneling. When I bought the house, they were painted white, so I stripped and stained the paneling and ceiling beams. I added grasscloth on the ceiling for texture — I love a wallpapered ceiling."
Furnished with #856 chairs by Andrews for A. Rudin covered in a Pierre Frey fabric, the den also features a custom chandelier made with ceramic vessels by Heather Levine and vintage art and pottery collected over the years.
"My grandparents had a room like this in their home," recalls Andrews. "It was really one of the key selling points for me with this house, and the starting point for the vibe."
---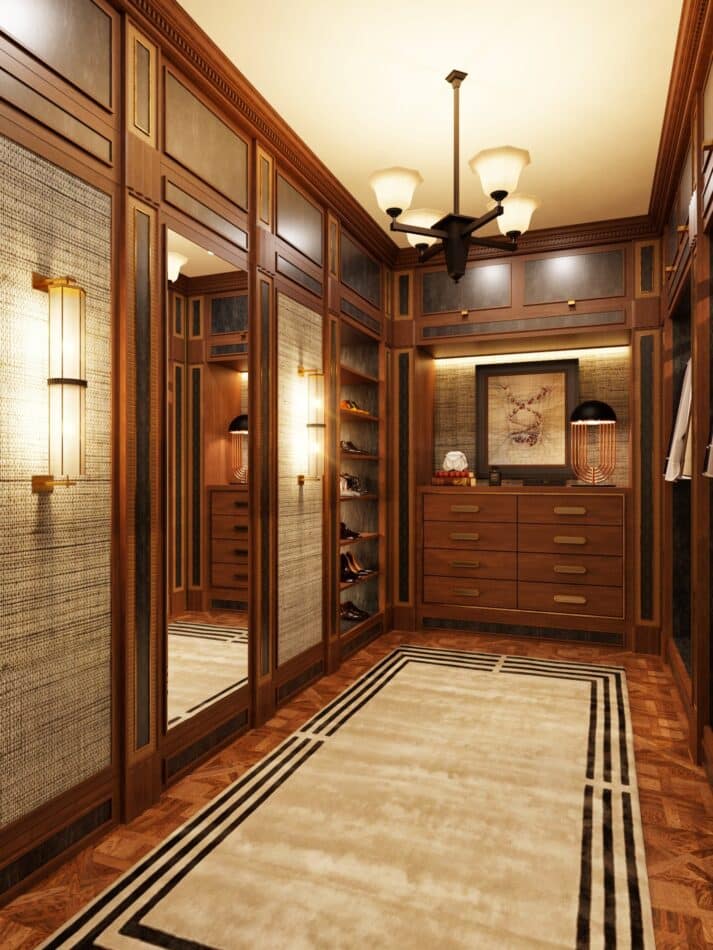 For this historic home in the San Francisco Bay Area, "tremendous effort was spent in delicately preserving its grandeur and classic beauty while modernizing it to be effortlessly functional," say the cofounders of Tiller Dawes Design Group. Adorned with rich materials, this dressing room features hand-crafted Venetian parquet floors; handmade walnut wall panels inlaid with zebra wood, aged brass and leather; and antique Art Deco light fixtures.
---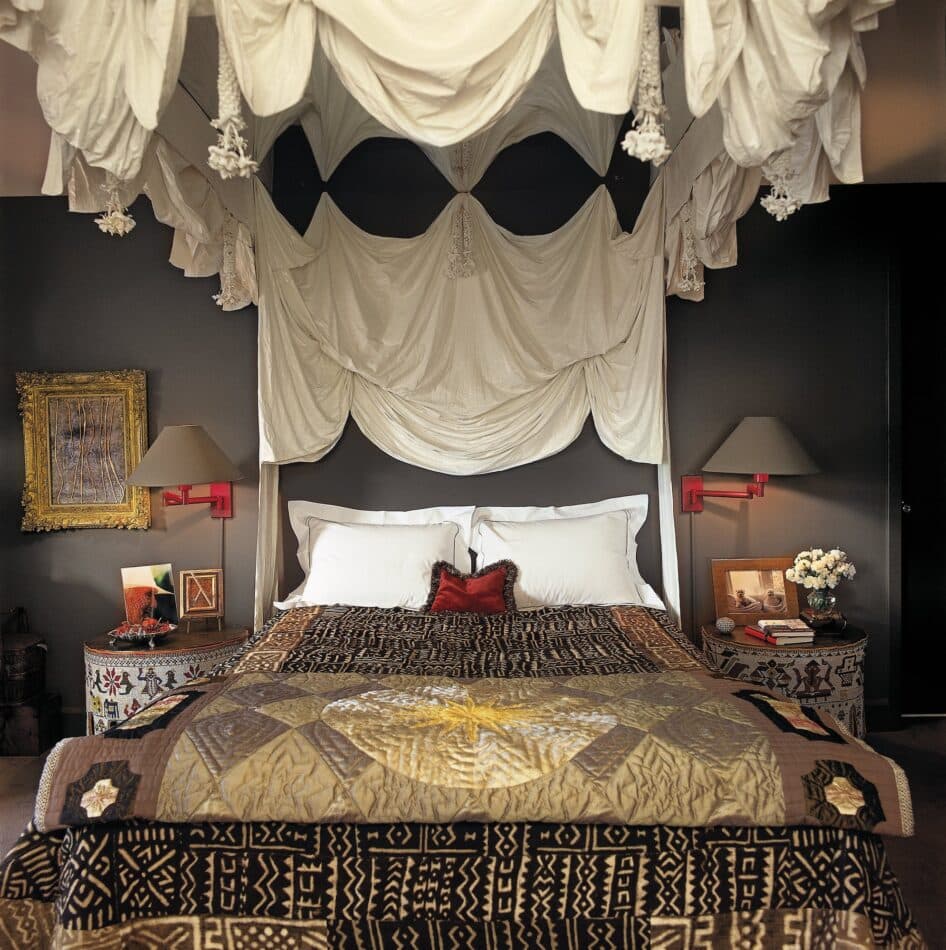 "The ceilings in the bedroom were less than eight feet high and felt even lower because of the 20-foot ceilings in the adjacent living space, so I decided to mirror the ceiling over the bed," says Fisher Weisman Brugioni cofounder Andrew Fisher, describing the San Francisco loft where he lived in the 1990s. "I created a canopy of canvas drapery that I dipped in plaster, coated with gesso and painted a low gloss white. Thai temple ceiling decorations of multicolored plastic, similarly camouflaged with gesso and white paint, hang between the swags."
Fisher collected the Kuba cloth and beaded skirts on the bedside tables in Africa and hand-quilted the throw for the bed. The work on the wall is his favorite creation from his days in art school.
---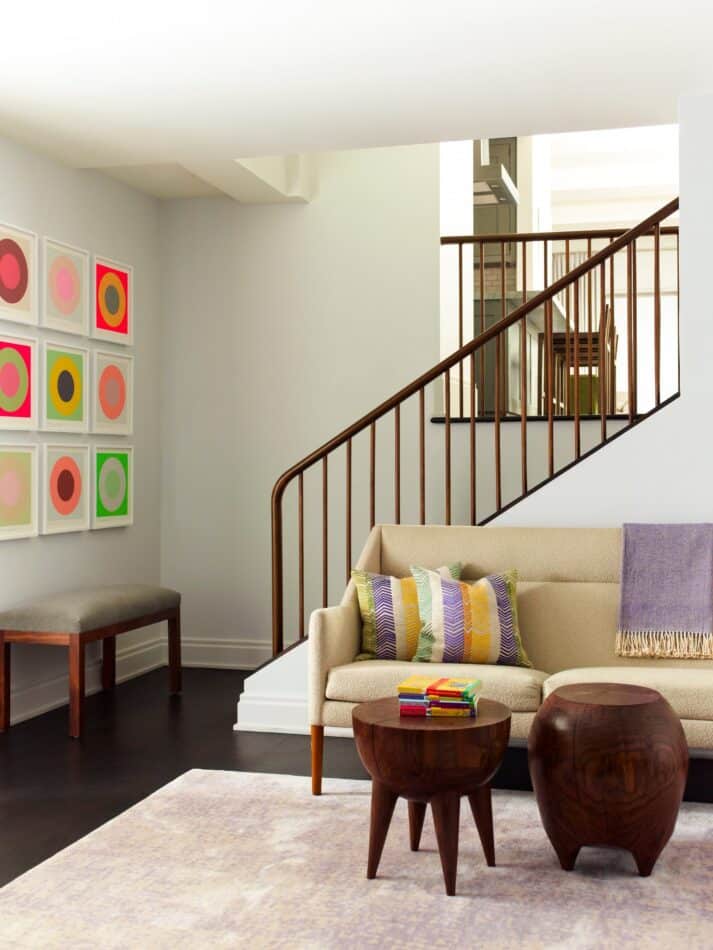 "This room is off the primary living space in our New York City residence," says Damon Liss. "We wanted it to be an informal family room that could also serve as a playroom for our two daughters. It is comfortable and elegant but has funny additions, such as art by Peter Gee, colorful accessories and Kieran Kinsella wood stumps." A fabric by Holland & Sherry covers the vintage Danish sofa from 1stdibs.
---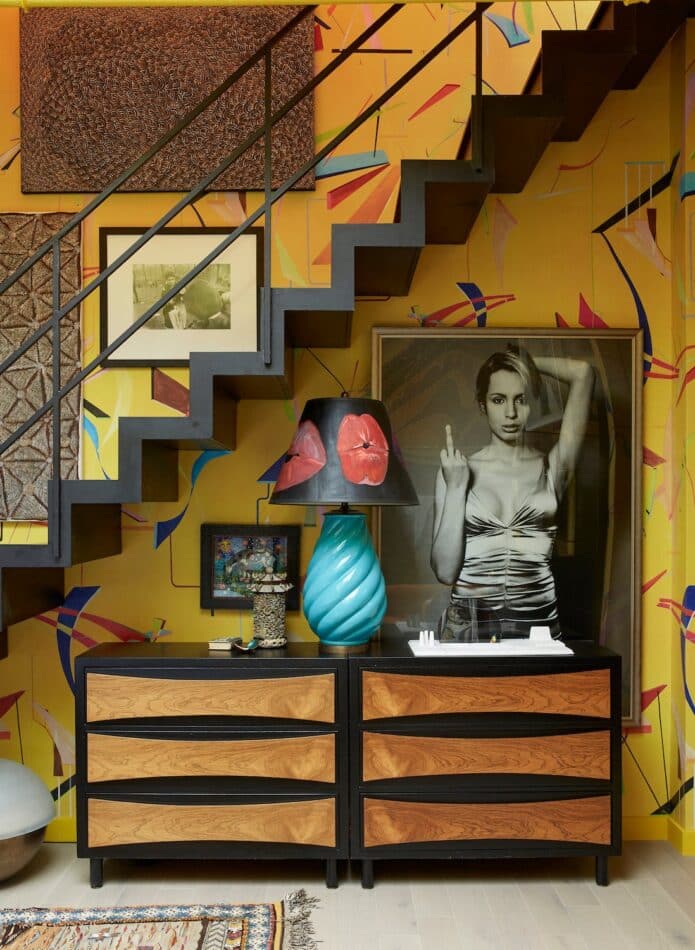 "The George Chinoiserie wallpaper by Voutsa was the inspiration for this space in our Chelsea loft," says New York–based designer Drew McGukin. "The room was all about achieving harmony by celebrating a lot of competing voices and personalities."
Notable works include Aboriginal paintings and photographs by Diane Arbus and Cindy Sherman. "I also have two personal portraits by different artists — one at age 30 by Emily Kate Boyd, the other at age 40 by Mark Beard," McGukin says. A few mid-century pieces, rugs from Morocco and a lighting by Apparatus contribute to the overall eclecticism.
---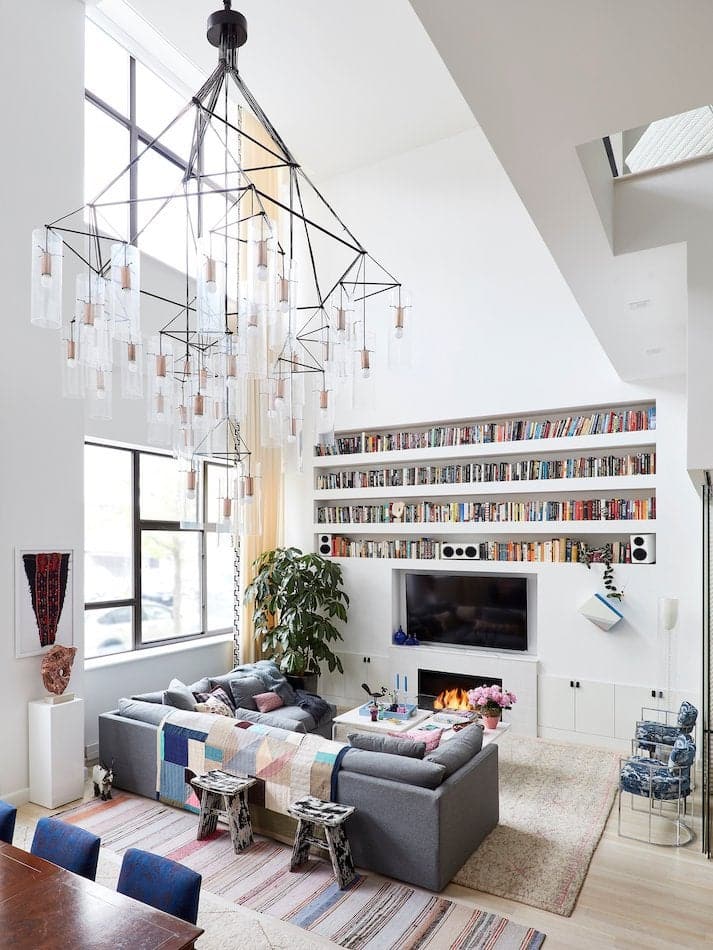 "I love the scale, vastness and wonderful bright light in this space," designer Jenny Dina Kirschner, of JDK Interiors, says of her Brooklyn home. "The giant 8-by-14-foot, mid-century modern chandelier that hangs between the living and dining areas was brought over from a church in Amsterdam, and I got it from Venfield. It's now the anchor of the entire space, and I love lying on the rug below it, looking up at the 48 lights dangling above."
---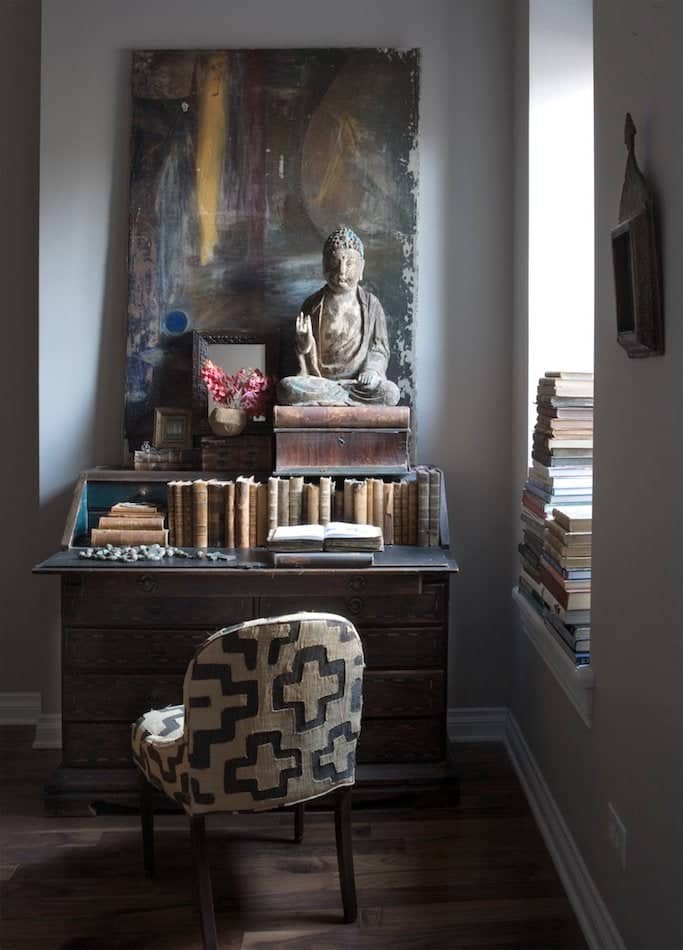 "This space is an embodiment of my traveled and textural aesthetic," Michael Del Piero says of her Chicago home office. "I designed this room in my mind while on a buying trip in the Netherlands. I was inspired by the courtyards and scenes I saw in residential windows there."
An 18th-century Swedish secretary is topped with antique leather books and a Buddha. A 19th-century Argentine oil painting leans against the wall.
---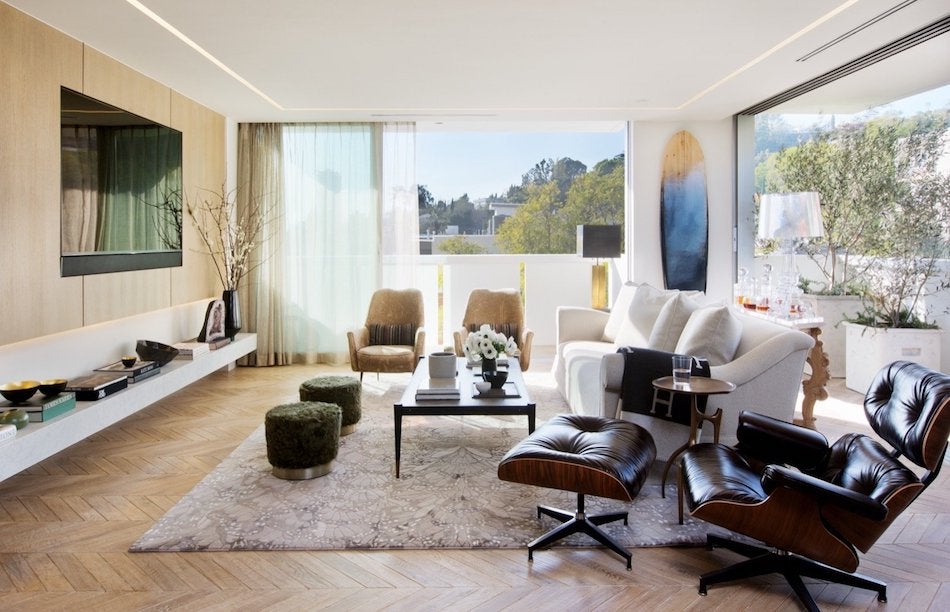 "I wanted this space to feel like a spa retreat where texture plays a leading role over color," Adam Hunter says of his home in the Hollywood Hills. "Of course, in California, it is all about indoor/outdoor living. The expansive view of a lush green, rolling landscape against the blue sky is really the star here!"
The living room features an Eames lounge chair and ottoman. An Hermès throw is draped over the arm of the sofa.
---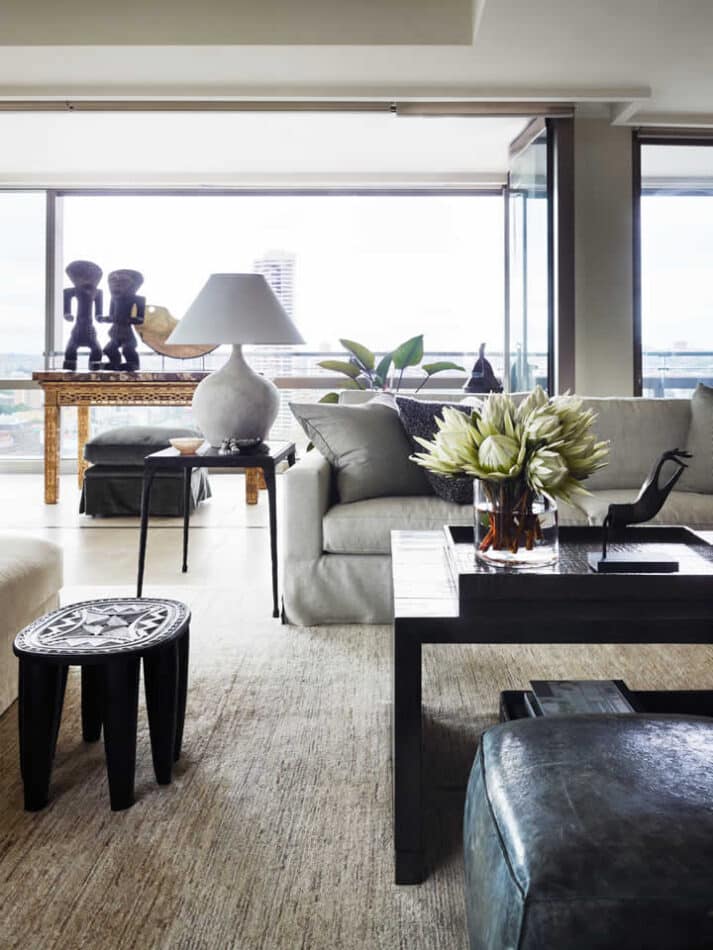 Thomas Hamel's Sydney, Australia, living room contains several pieces by Gregorius Pineo for Kneedler Fauchère, including the sofa, coffee table and side table. The George III giltwood console table by the window holds African wooden sculptures, all from Martyn Cook Antiques.
---
The dining area in the Los Angeles loft of husband-and-wife design team Scott Jarrell and Kristan Cunningham, founders of Hammer and Spear, features an antique French wine-tasting table paired with a set of T chairs by Katalavos for Laverne. The black pottery is by Conrad Buff.
---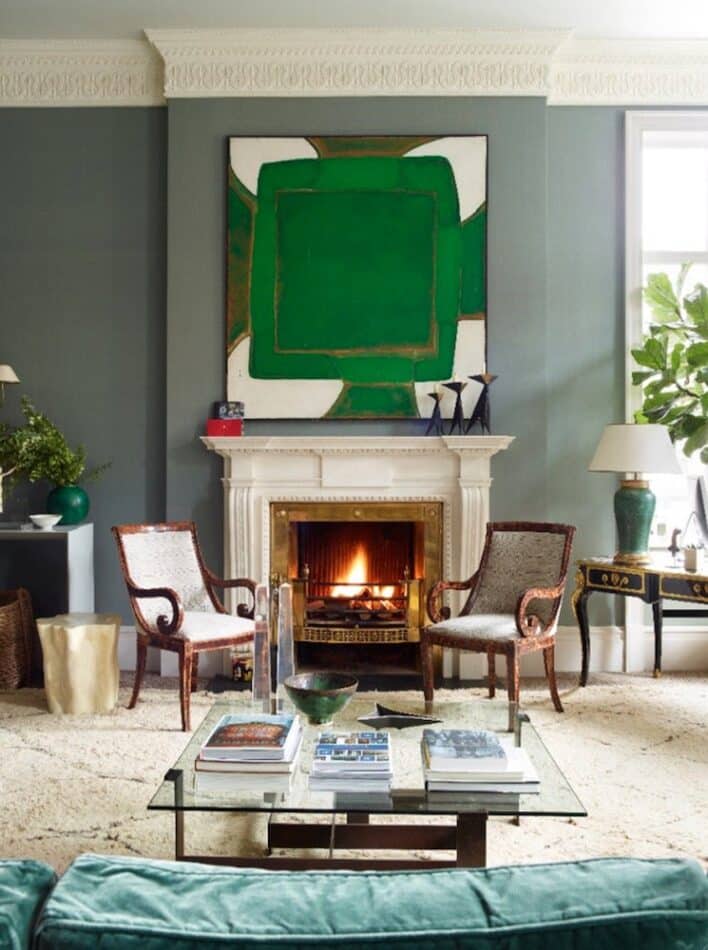 "The room is on the first floor of an 18th-century house in Marylebone, London, that I renovated five years ago," Douglas Mackie says of his living room. "I spent nearly six months restoring cornices, replacing the modern fireplace with an 18th-century-style one by Jamb and replastering the entire apartment to create a setting for my collection of largely 20th-century British art." Above the fireplace is a 1960s painting by Sandra Blow that Mackie says "was the starting point for the decoration of the room."
---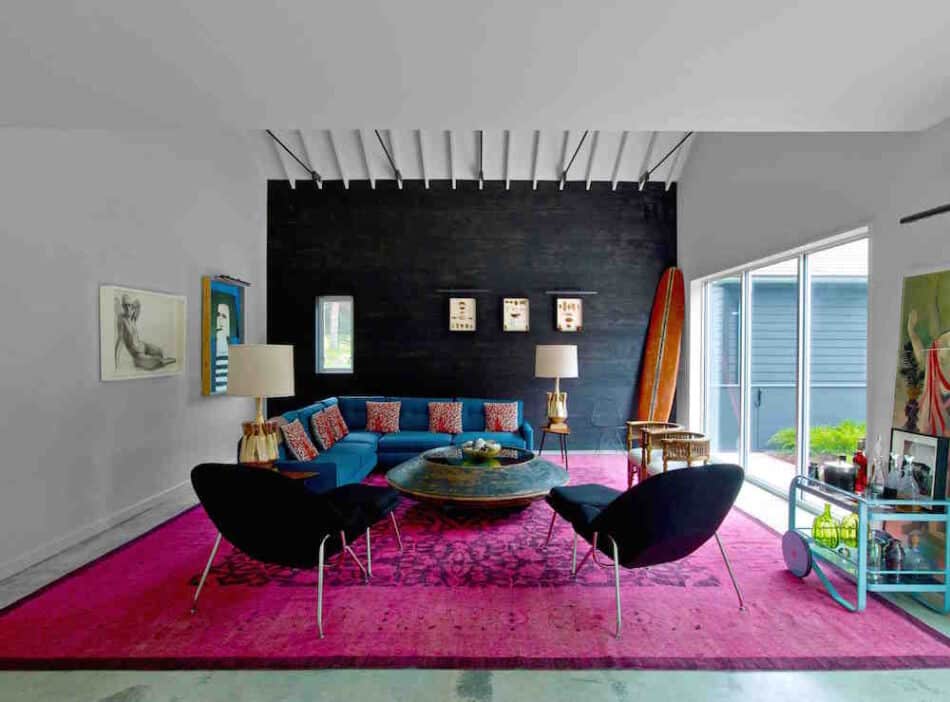 "Instead of playing it safe, I decided to go with the statement-making pink rug," Kristen Zeff says, describing the living room of the East Hampton, New York, home she shares with her husband, architect Mark Zeff. "Then, I juxtaposed the pink rug with the blue sofa. Since we spend most of the warmer months outdoors, the colors in this room make it the perfect cozy winter hideaway." The overdyed rug, from ABC Carpet & Home, mingles in the space with a pair of Eero Saarinen Womb chairs.
---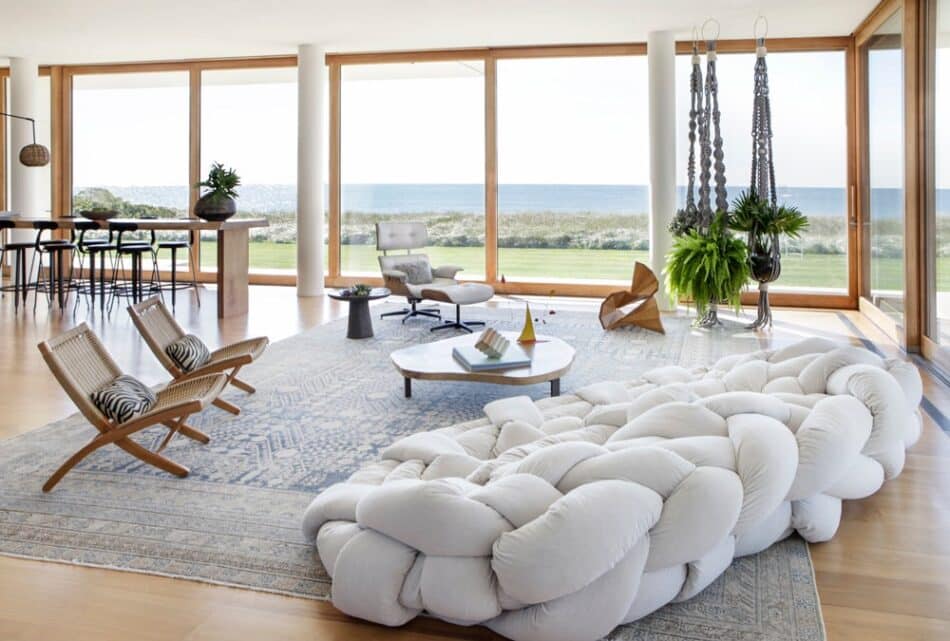 "This room was designed to function as a kitchen/family room, and since kitchens are generally gathering spaces, it makes sense to integrate comfortable seating whenever possible," Kelly Behun says of this space in her Long Island beach house.
"I enjoy being able to cook and see my family and friends sprawled out all around. Whether dining, chatting, lounging or napping, there's something for everyone!" The room contains a Boa sofa by Humberto and Fernando Campana, a vintage Samarkand rug from Doris Leslie Blau and custom macramé plant hangers by Kelly Behun Studio.
---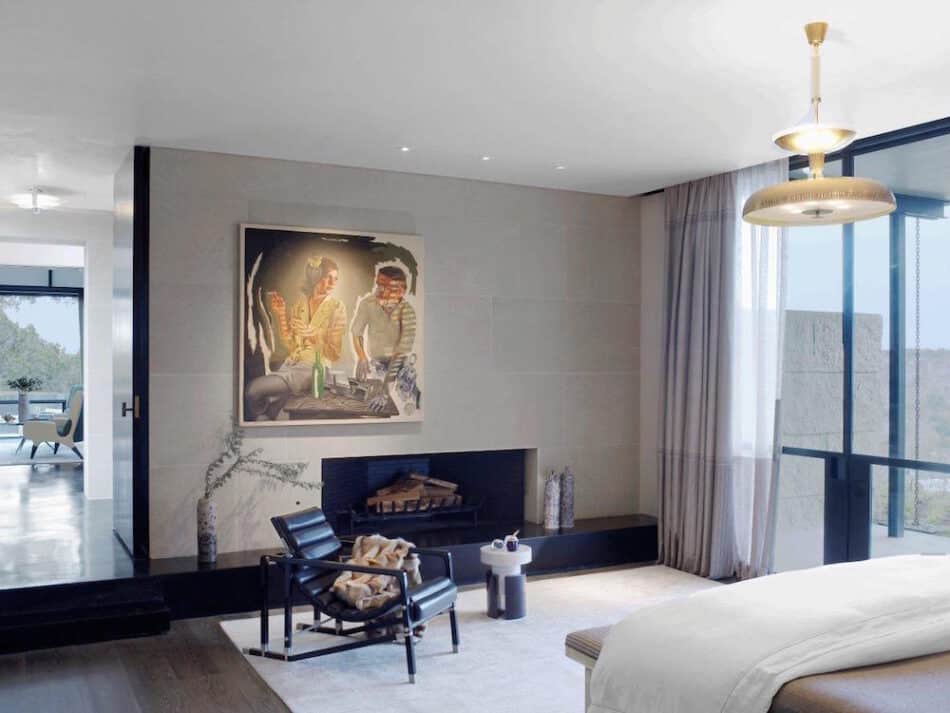 "I strive to create serene, peaceful and multilayered bedrooms," says Sara Story, adding that she wants her spaces to "inspire and unfold and have a timeless aesthetic." This bedroom in her Austin home, SK Ranch, features an Eileen Gray Transat chair topped with a fur throw and a Kati Heck artwork, above the fireplace.
---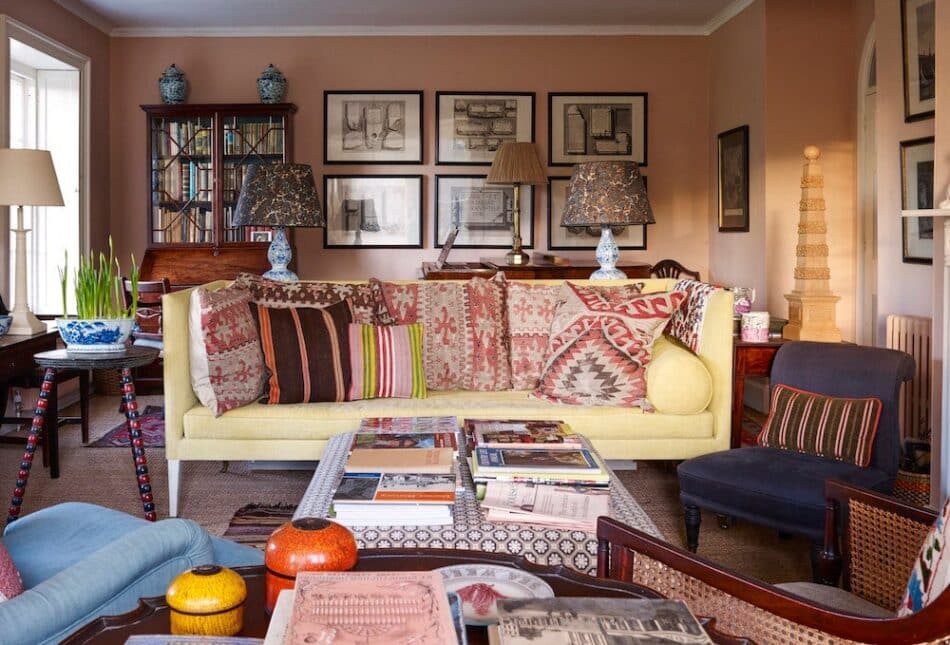 In putting together the sitting room in his country house, an early 19th-century parsonage in Dorset, England, Ben Pentreath kept the mood light and quiet, creating a restful feel. The yellow sofa is from Max Rollitt, and the lampshades and bases are from the designer's own shop, Pentreath & Hall.
---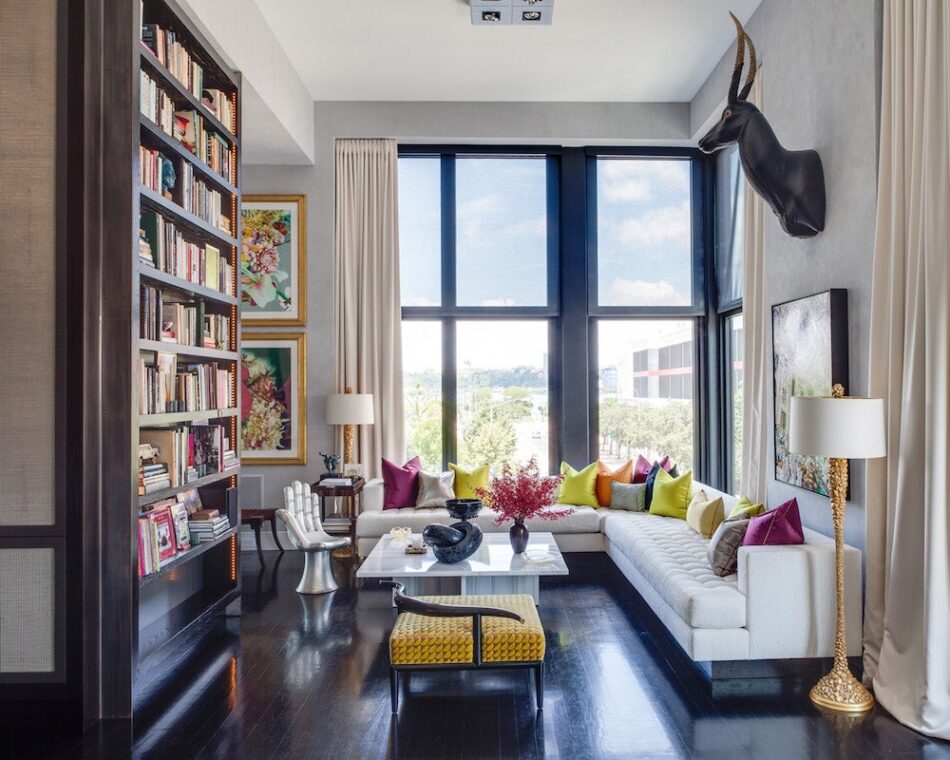 Jamie Drake's apartment in New York's Chelsea gallery district is "the realization of his personal vision," according to his firm, Drake/Anderson. A structural column in the middle of the space was a design challenge, which he dealt with by encasing it in custom millwork and creating floor-to-ceiling bookshelves. Accompanying these are a 1960s Hand chair by Pedro Friedeberg, a Drake-designed sectional sofa and photographs by Alexandra Penny.
---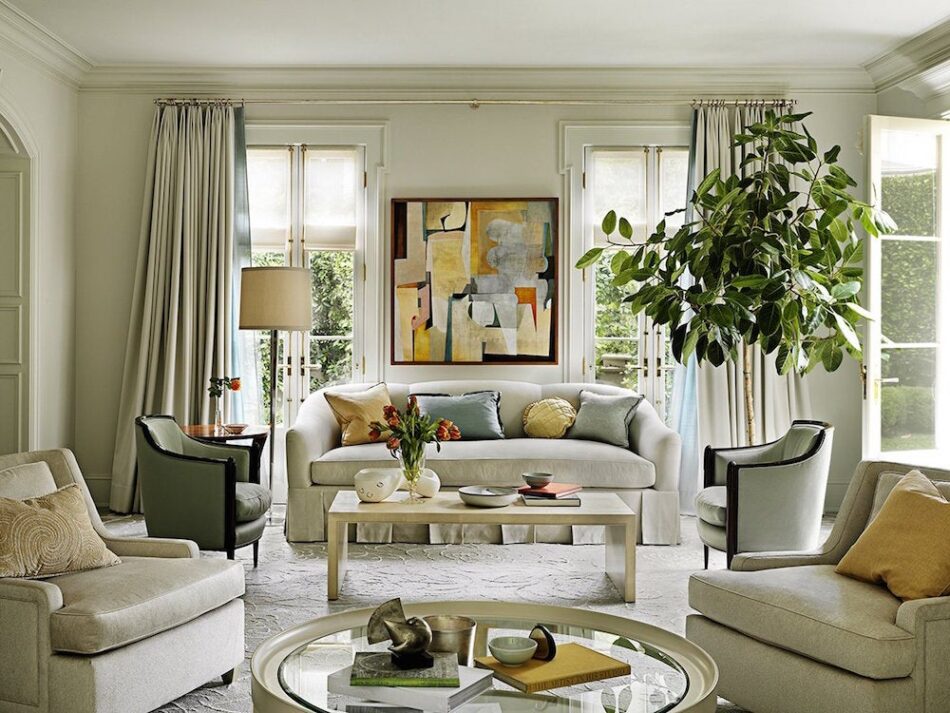 "Every room is like a painting, where composition requires balance and harmony. Here, a backdrop of neutral gray holds the punches of color," Barbara Barry says of her Beverly Hills living room. A pair of Barbara Barry for Baker Furniture chairs flank a round Barbara Barry Realized by Henredon cocktail table.
---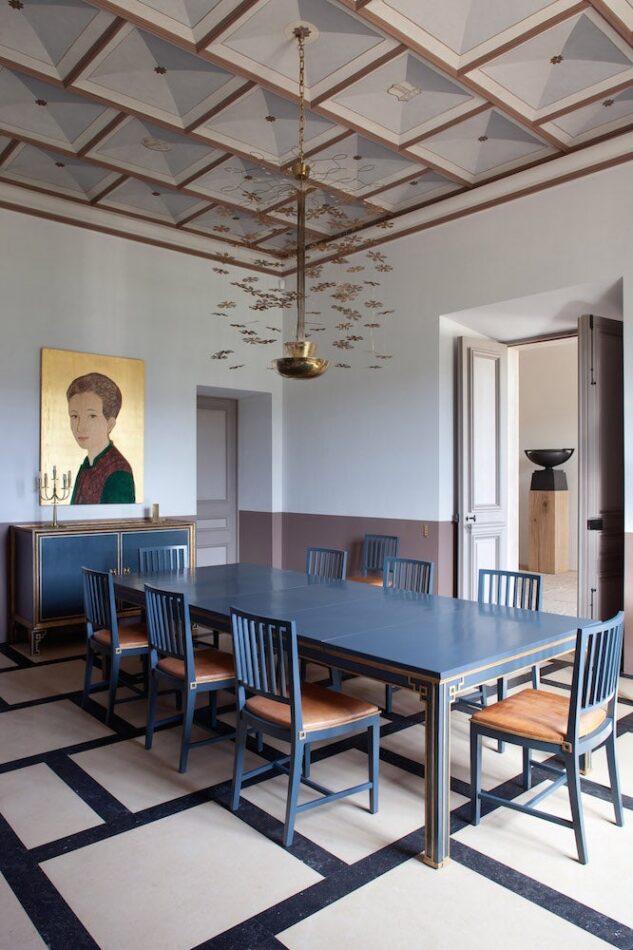 Paavo Tynell's brass Snowflakes ceiling light hangs over a 1923 lacquered table surrounded by Christen Emanuel and Kjaer Monbergis chairs in the dining room of Pierre Yovanovitch's 17th-century château. A Stephan Balkenhol painting is mounted above the matching dresser, which holds a Tommi Prazinger candelabra.
---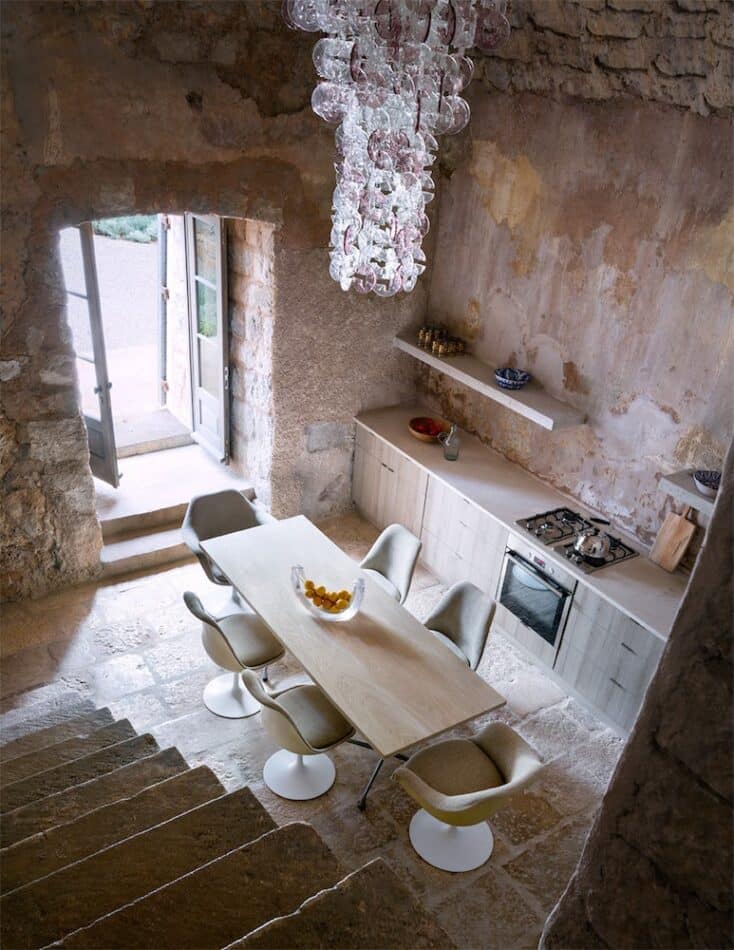 The kitchen and dining area of architect Steven Harris and interior designer Lucien Rees Roberts's Croatian vacation home is located in a cistern tower constructed in the 1460s. "The walls feature original plaster and stonework, while antique stone was used for the floor," say the pair. "The clean lines and natural textures of the furniture are a great complement to the original character of this space." Furnishings include vintage Eero Saarinen Tulip chairs and a 1960s Italian Murano glass chandelier.
---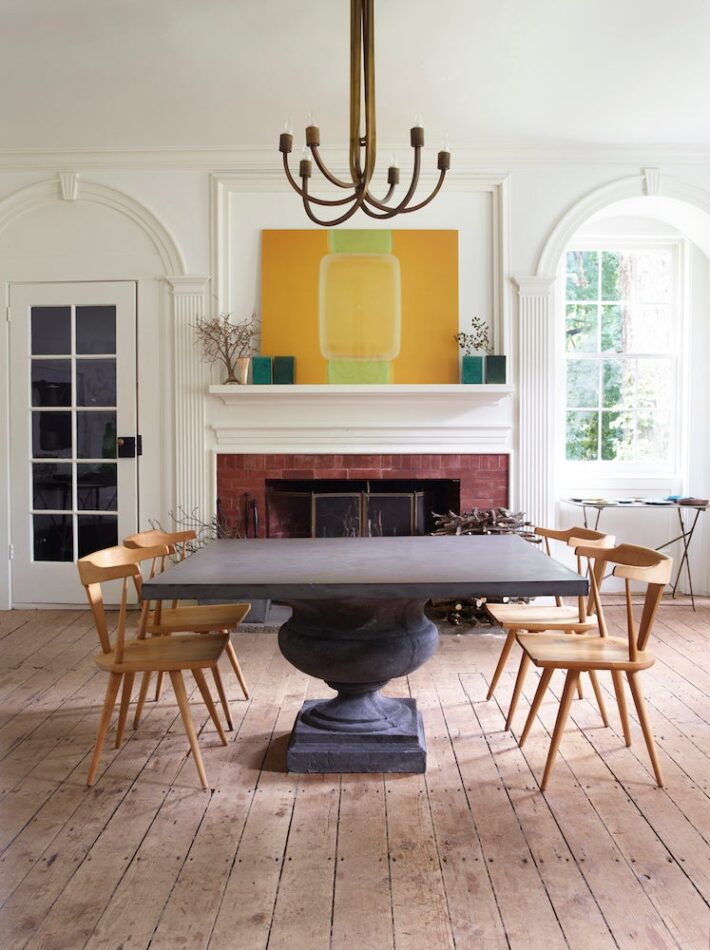 The dining room of the Hudson, New York, home of MR Architecture + Decor's David Mann features a cast-concrete table surrounded by a set of vintage Paul McCobb chairs. The space also includes a 1940s brass chandelier and original wood flooring and Federal-style wall trim. Above the mantel is a photograph of Tupperware by Richard Caldicott.
---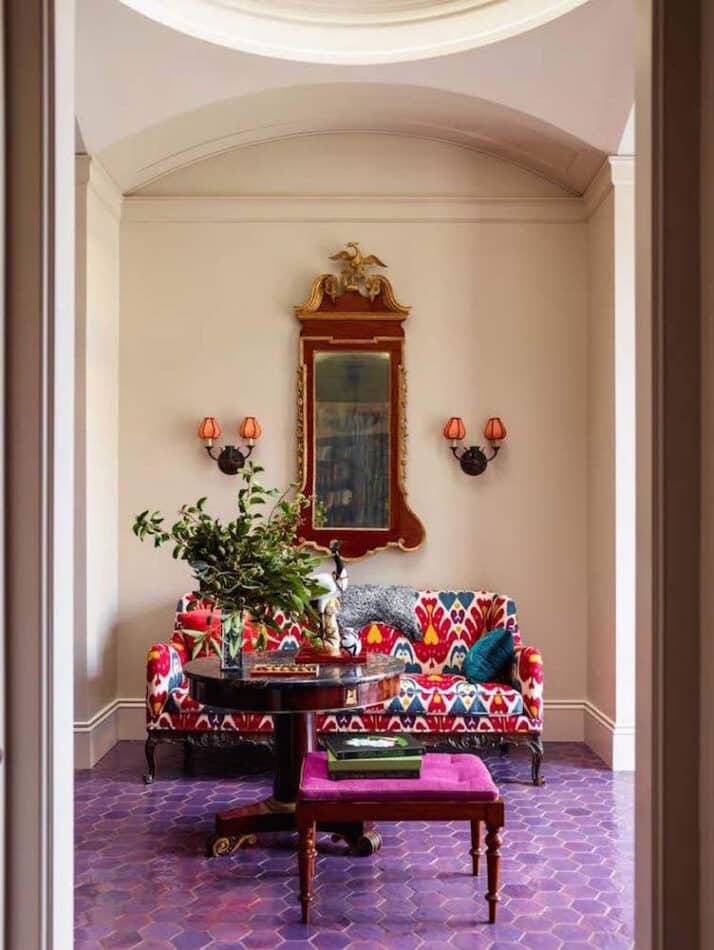 "Peter and I had a great time designing the house," Katie Ridder says of the Millbrook, New York, country home she built with her husband, architect Peter Pennoyer. "Starting with the tile in the front entry, I wanted a really unusual color and scale. I've always loved Moroccan glazed tiles from my trips to Marrakesh, so the palate started with the purple tile. From there, it was working with complementary colors. I wanted the house to be open, so that when just Peter and I were there, it would be comfortable — even when he was in one room and I was in the next."
---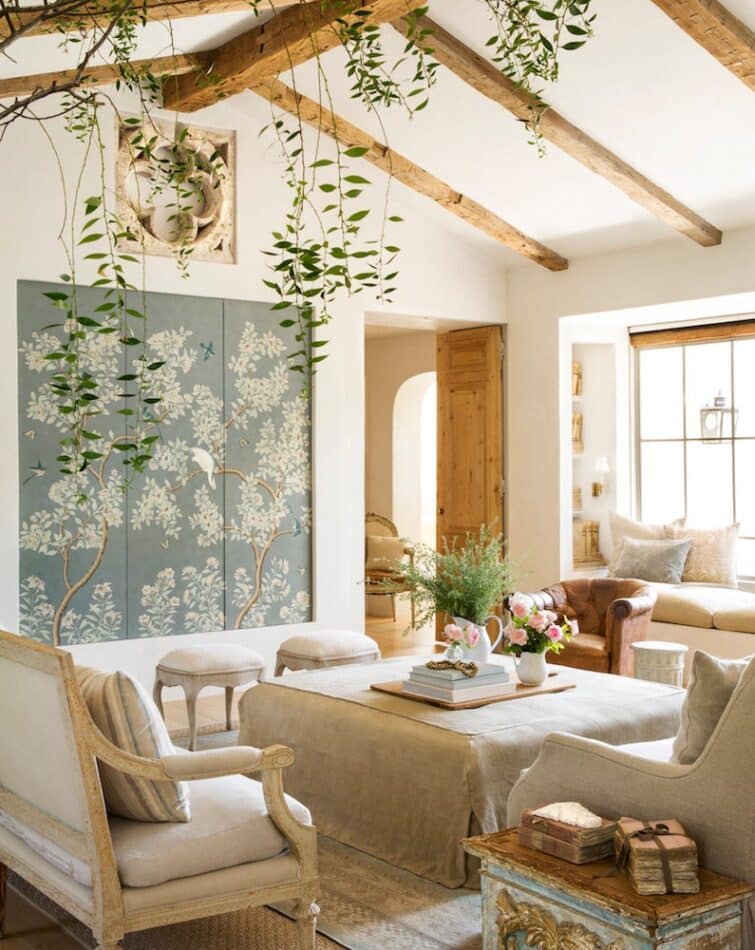 "This is our main living space, where we hang with our with family, friends and pups," Brooke Giannetti, of Giannetti Home, says of this room in Patina Farm, his Ojai, California, residence. "Because our home has an open floor plan, we decided to put the television behind the custom Gracie wallpaper panels. It's a much prettier focal point." The living room includes an Alix sofa and Mason ottoman, both by Giannetti Home, and an antique Swedish settee.
---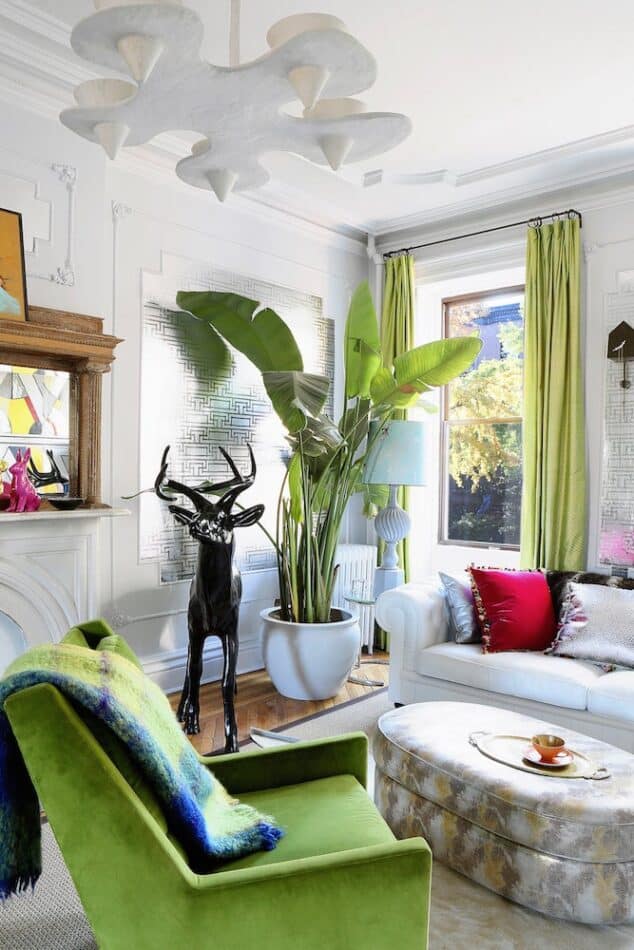 "In my living room, I wanted to create a modern, nature-inspired, worldly interior," Fawn Galli says of her Brooklyn townhouse. "I enjoy pairing whimsy with hard-edged modern. I love to mix different styles to create something new. I believe all these elements make a room unidentifiable and magical." The space contains a Milo Baughman armchair, a vintage chesterfield sofa ("for British funk," Galli says), an Eileen Gray side table and drapes from Laos.
---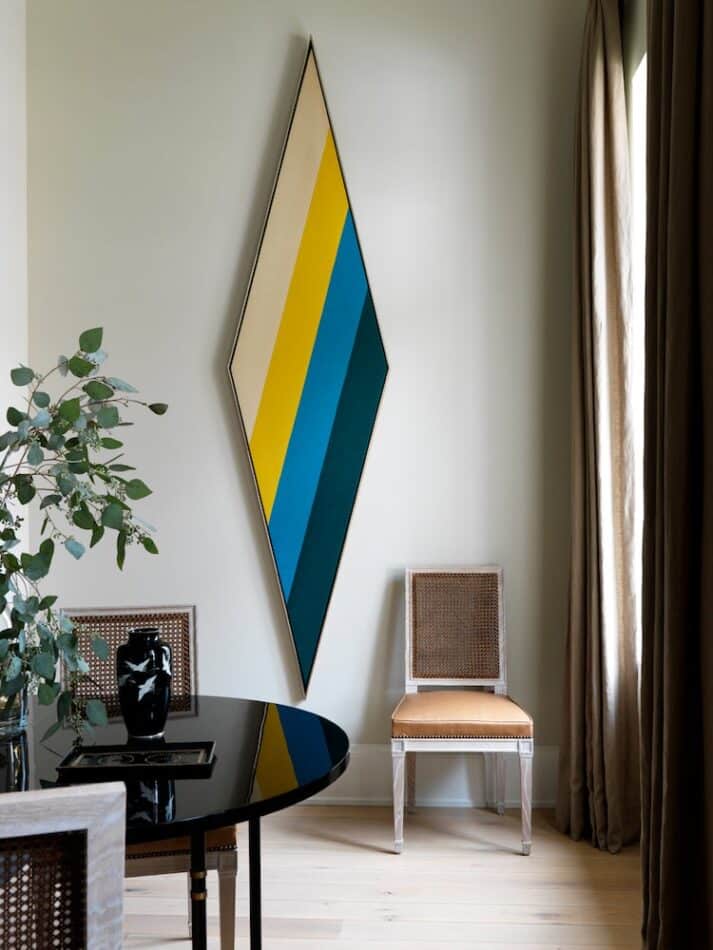 "In my living room, a circa 1960 picture by Kenneth Noland, one of the best-known American Color Field painters, is shown in conversation with a Jean-Michel Frank chair and a Maison Jansen dining table from France, circa 1950," Sandra Nunnerley says of this room in her New York townhouse. "I created a classically proportioned space with classical details, such as custom-made crown moldings and baseboards. And then, I did something a little subversive: I put in wide oak floorboards instead of the usual parquet. Somehow, it's antique and contemporary at the same time, which means I could have this classical space that still feels loft-like. The tension in the space and furnishings makes the room more interesting."
---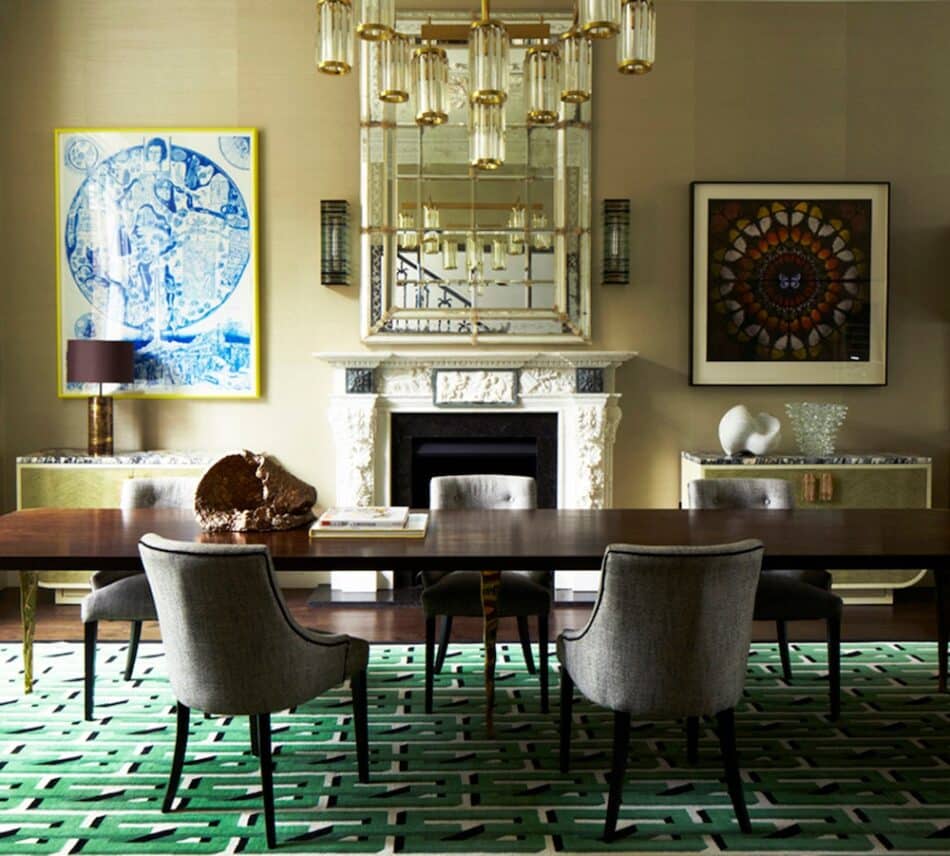 "Pattern and colors play a huge part in my home," says Peter Mikic, who lives in a London hotel that was converted into a house. "I find greens calm and inviting. The dining room has sage-green grasscloth wallpaper for texture and a jade-green wool rug for warmth and softness. The brass drop pendant is a bespoke piece made with crystal glass. I was inspired by Hans-Agne Jakobsson's ceiling lamp model T348/15. The bespoke dining table has solid bronze legs made by a local foundry, and the curved dining chairs are a bespoke design. The shape gives a very comfortable 'hug.' The 1890 Venetian mirror is from a palace in Vienna, and its pair is still there in a ballroom. We found this in a storeroom in Murano."
---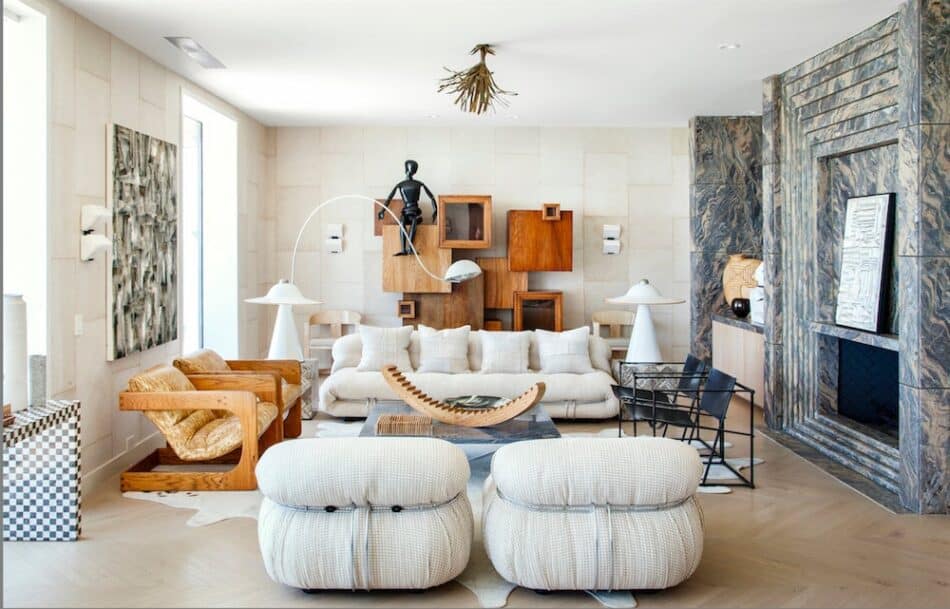 The living room in Kelly Wearstler's Malibu beach house features Afra and Tobia Scarpa's Soriana sofa and a pair of matching lounge chairs.
---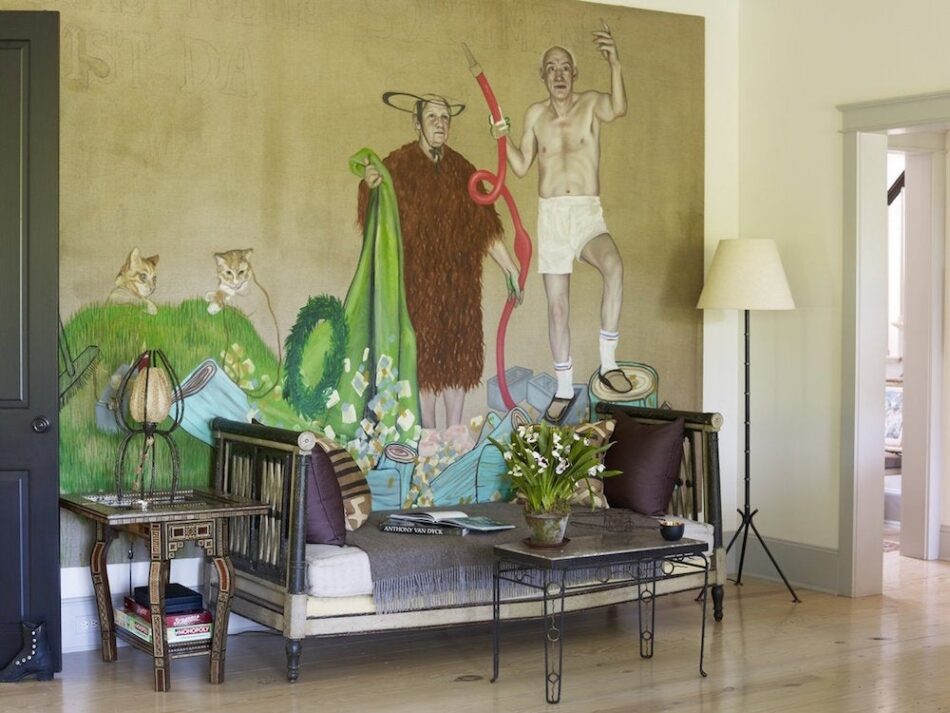 Spring Cleaning by Kati Heck hangs behind a directoire-style daybed in the living room of Brian J. McCarthy's country house in the Hudson Valley region of New York.