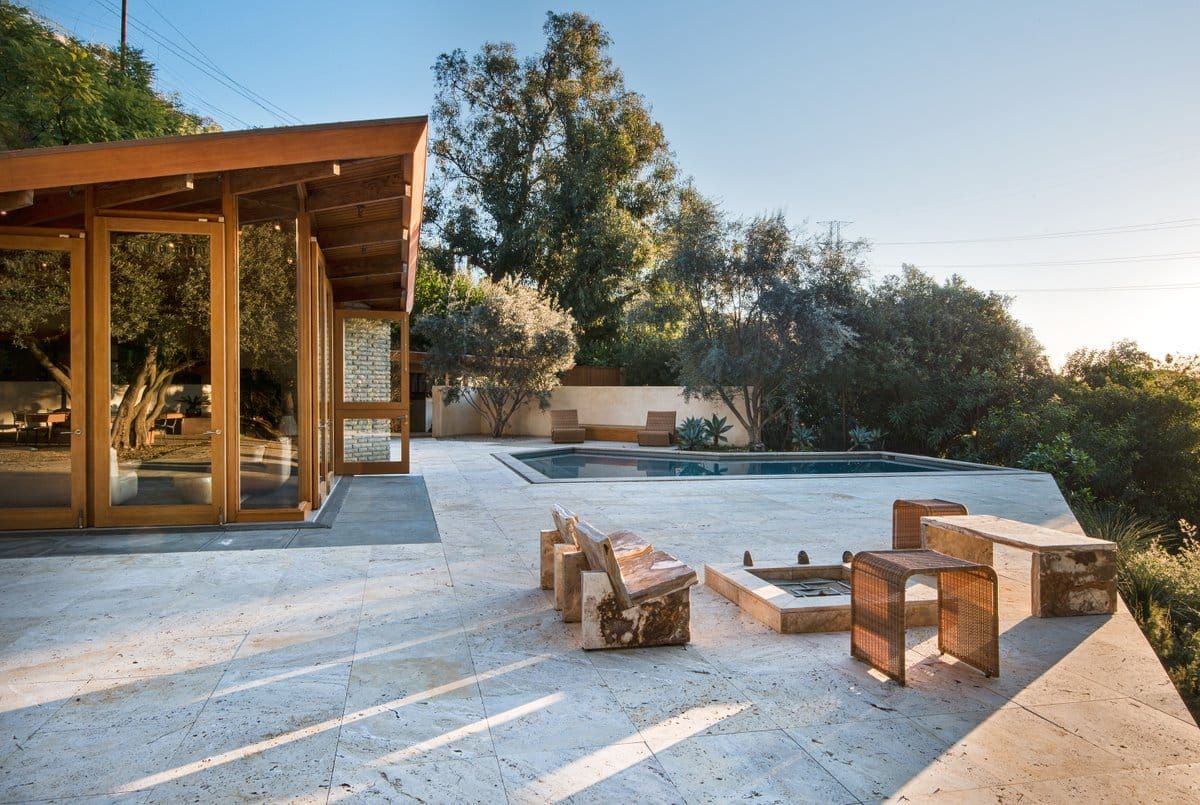 Unheim designed the contemporary pool terrace of this Mulholland Drive home, which received a new travertine piazza, onyx benches and a fire pit, with views of the Los Angeles skyline. Down from the patio is a manicured wilderness, accessed by what the designers call "Alice in Wonderland pathways."
Photo by Robert Ransom
---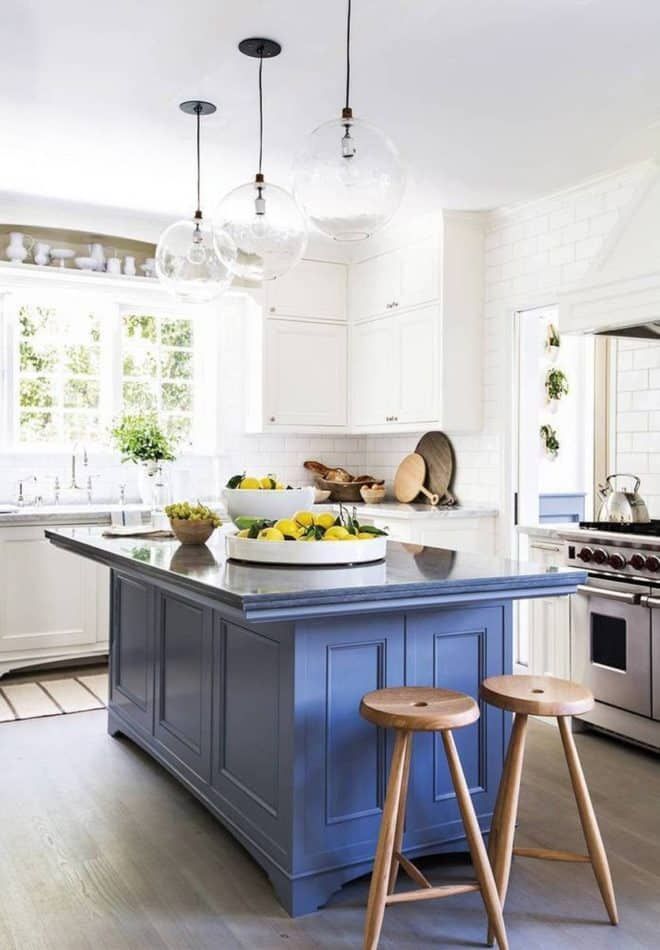 In Consort's color scheme for the Hollywood home of fashion designer Erin Fetherston, a blue island adds a refreshing pop to the predominantly white palette.
Photo by Laure Joliet
---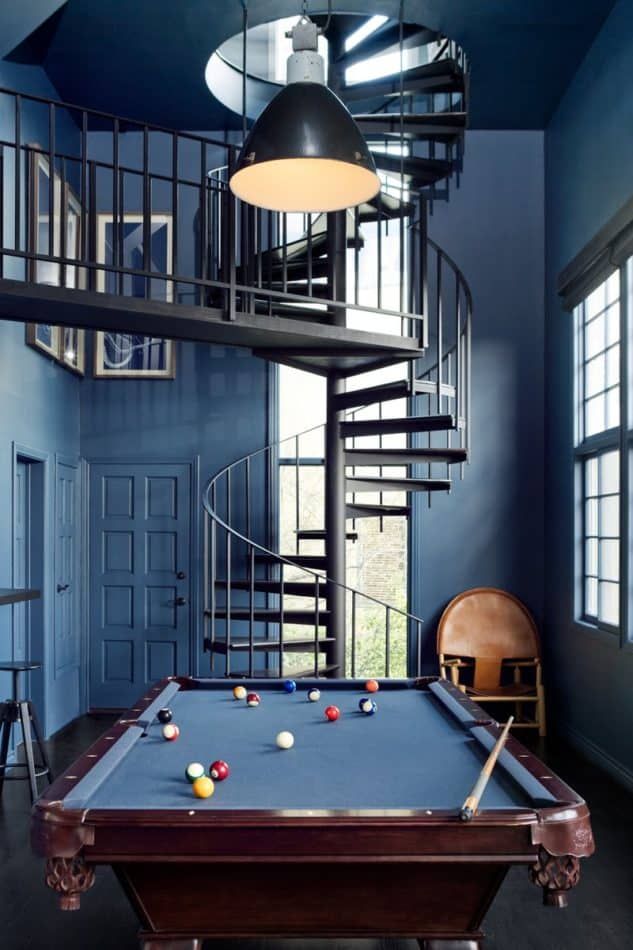 Consort also designed Jessica Alba's guest house, where the game room features a pool table and a Werther Toffoloni and Piero Palange Hoop chair.
Photo by Chris Patey
---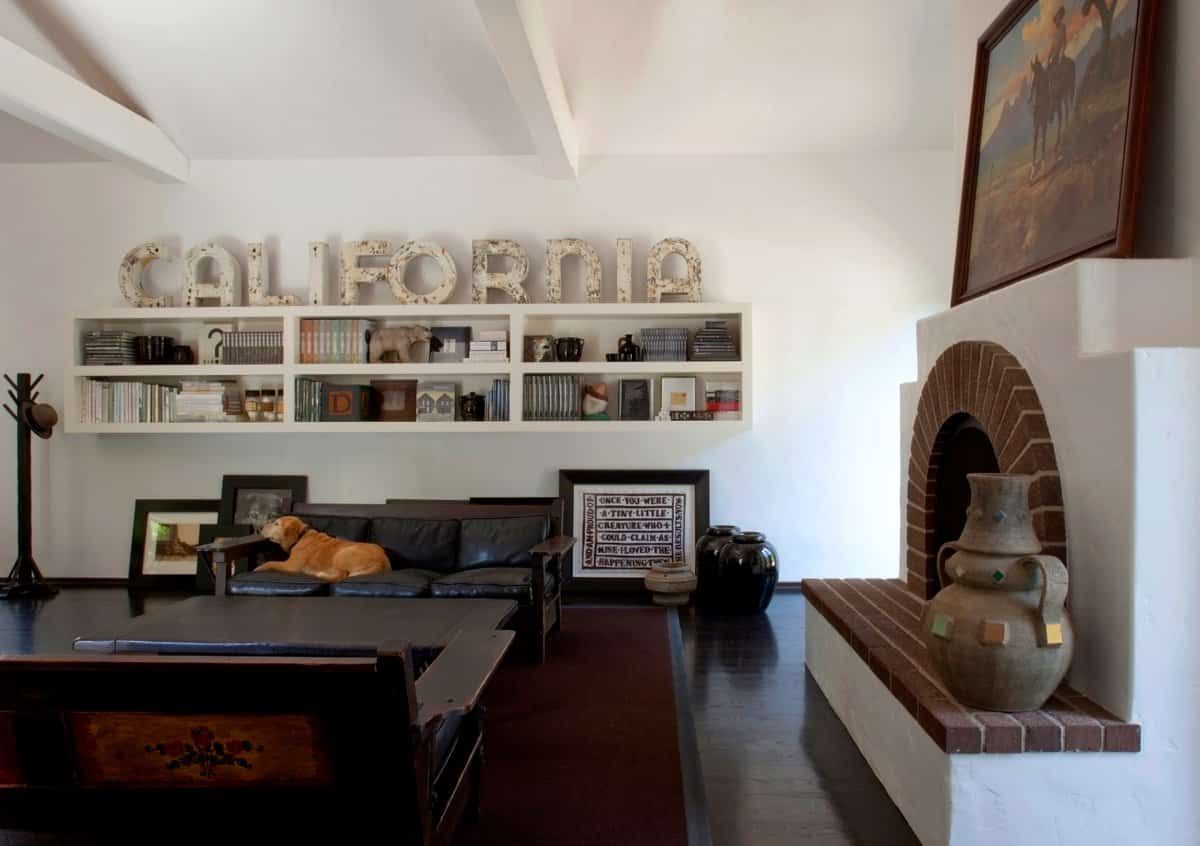 Stephen Shadley designed this Spanish Colonial home for his client and frequent collaborator, Diane Keaton.
Photo by David Glomb
---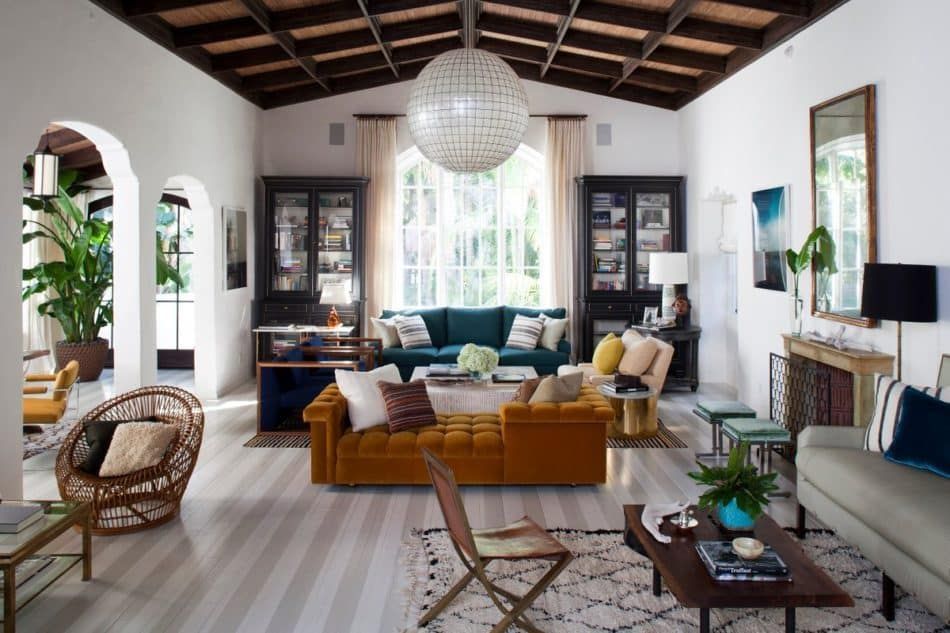 A capiz shell globe light fixture hangs over this Nate Berkus–designed living room, which features painted-wood floors and an eclectic mix of materials, like velvet and rattan.
Photo by Roger Davies
---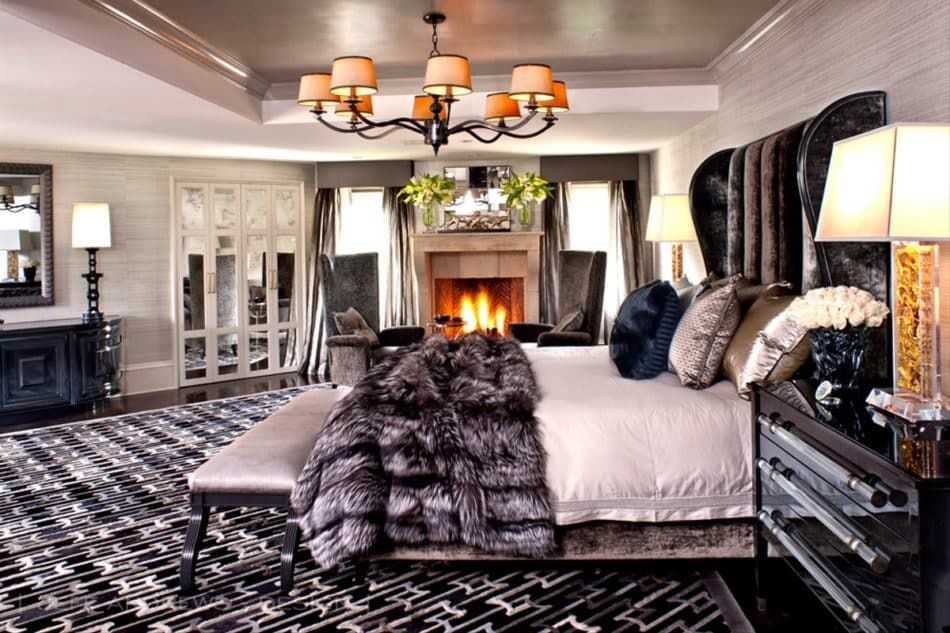 "The irregular shape of this master bedroom led me to create a number of large custom pieces, including the bed," says designer Jeff Andrews. The bed, which is covered in Romo velvet, is flanked by Rueil commodes in lacquered walnut with Lucite handles and brass accents from Jean de Merry. The vintage Lucite and gold lamps are from Fat Chance.
Photo by Grey Crawford
---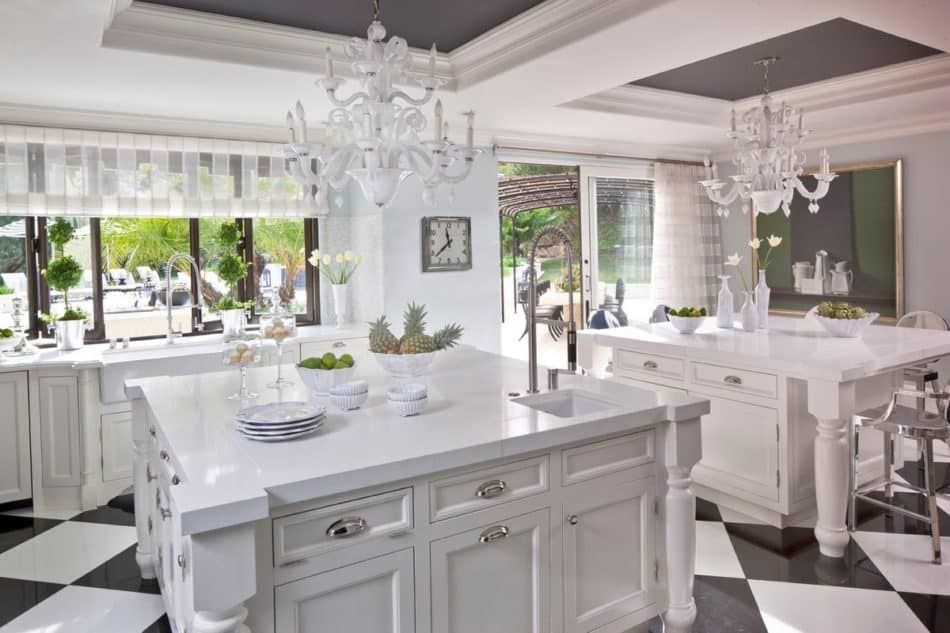 "The untitled 2001 oil painting by Raymond Han hanging on the far wall is the center of style in this bright kitchen," Andrews says. A pair of vintage white Murano glass chandeliers by Paul Ferrante are installed above the dual islands.
Photo by Grey Crawford
---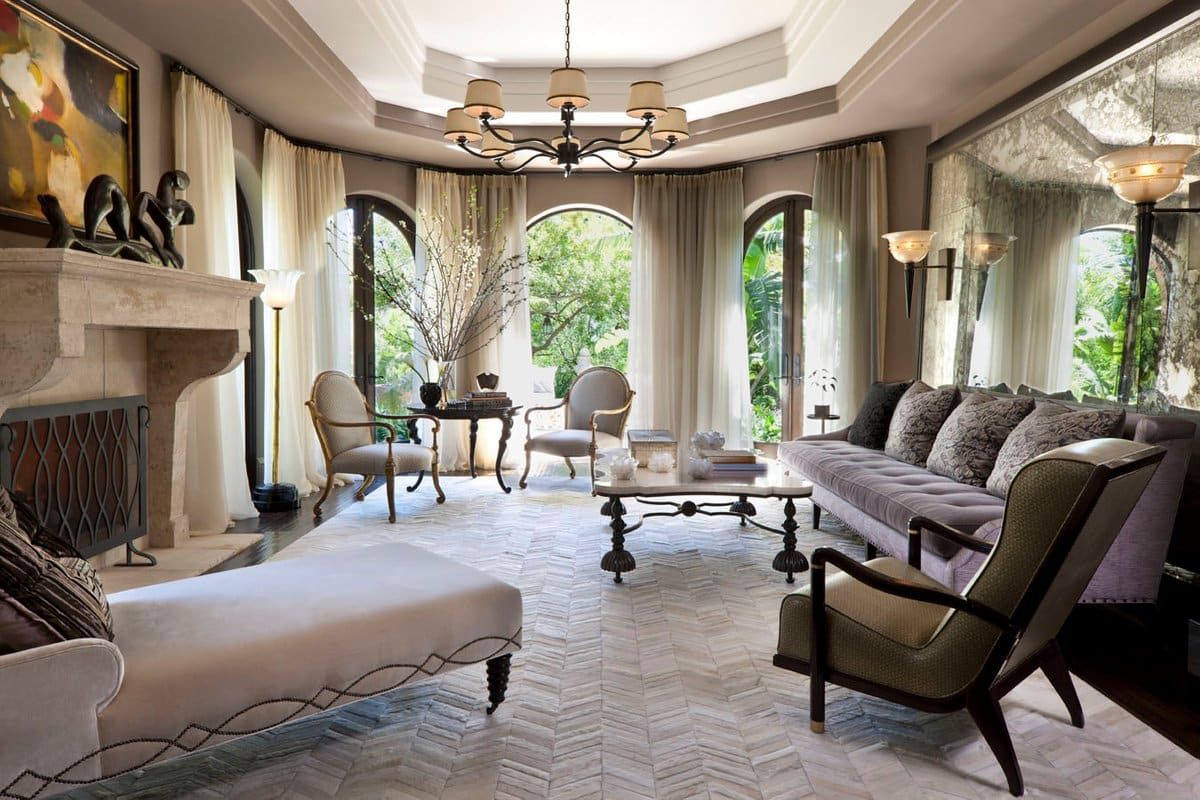 "The antique French fireplace surround was a starting point for this particular living room," says Andrews, who also notes that it inspired the overall aesthetic. A custom-framed hand-antiqued wall mirror features sconces from Jean de Merry and a Mr. Crowley hair-on-hide rug in ivory chevron from Kyle Bunting.
Photo by Grey Crawford
---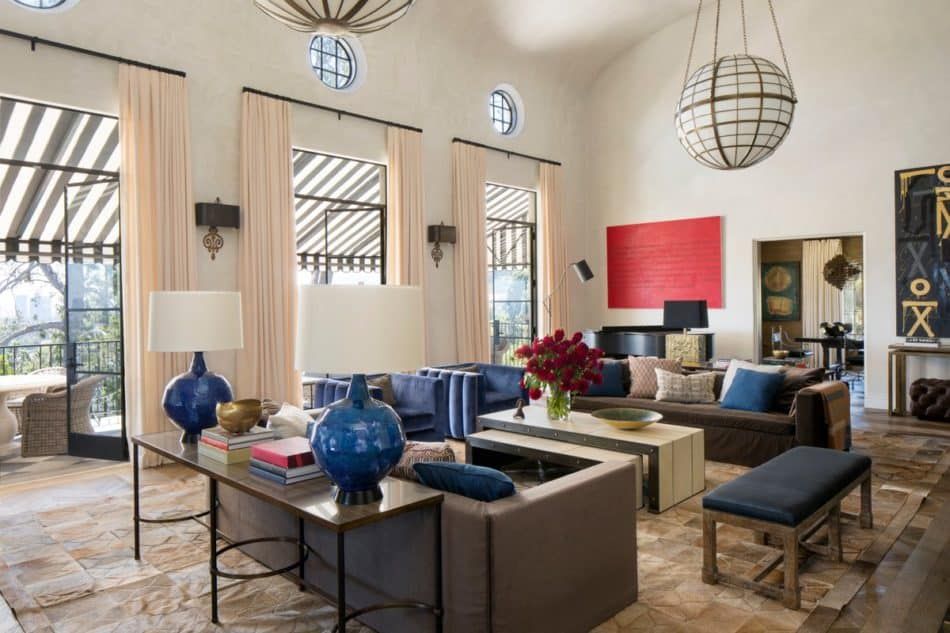 "The furniture is a mix of antique '40s, '50s and '70s pieces — all with classic lines yet updated with fabrics and materials," Martyn Lawrence Bullard says of Villa Luna, a home in West Hollywood. The living room features a pair of light fixtures from Bullard's MLB Atelier, a Jean de Merry coffee table and a console from Bourgeois Bohème. The art is by Retna.
Photo by Roger Davies
---
Here we see the Tuscan-style stone exterior of Villa Luna, originally created by architect Paul Revere Williams in 1929, as well as its sparkling pool.
Photo by Roger Davies
---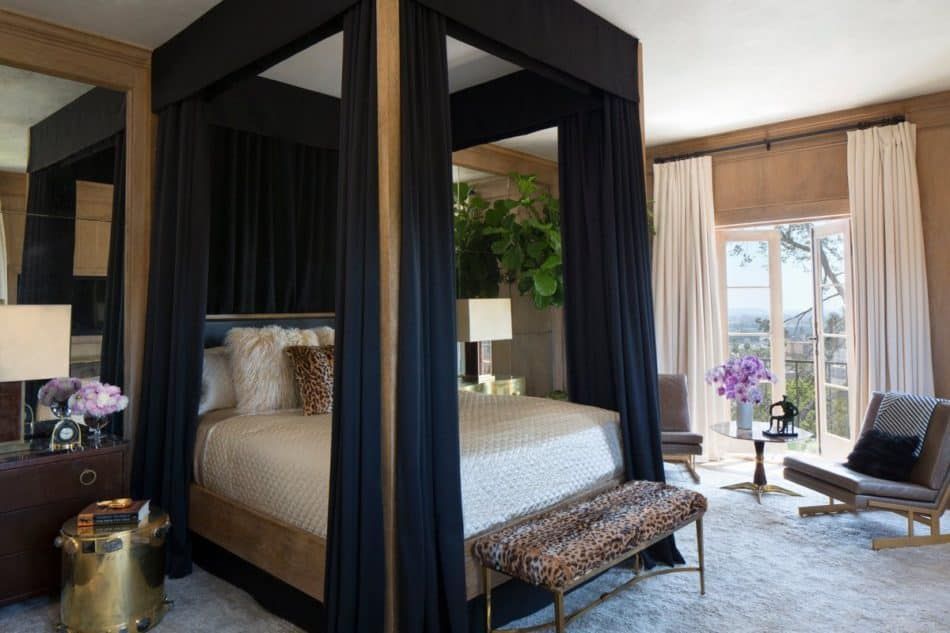 Mirrored wall panels and vintage Karl Springer lamps flank this dramatic canopy bed. On the left, a leather table from Paul Marra is paired with a bejeweled banded stool by Kelly Wearstler. A sitting area in front of the balcony features vintage 1970s chairs from Fat Chance.
Photo by Roger Davies
---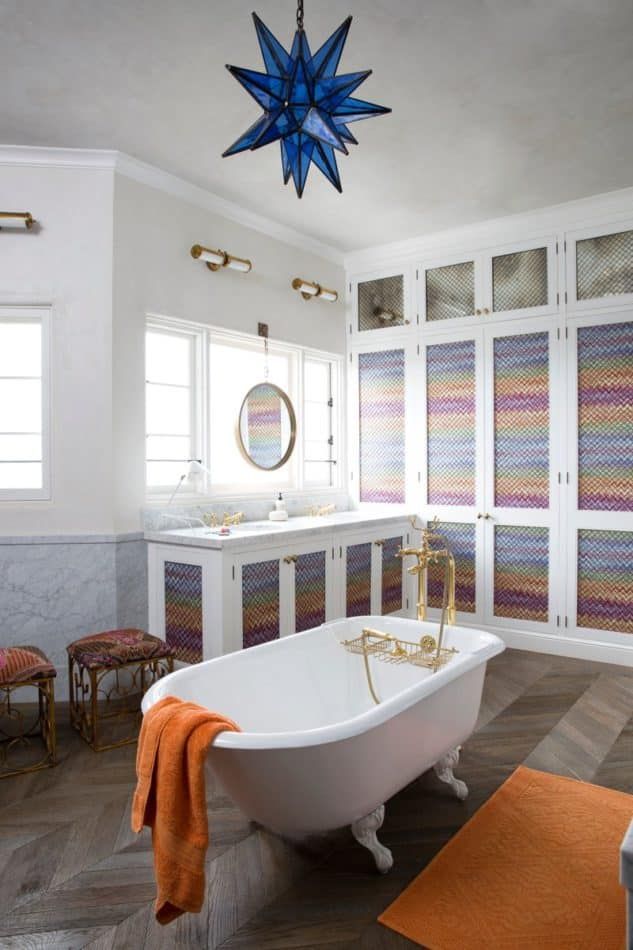 A blue star pendant light from MLB Atelier hangs above the clawfoot tub in the bathroom, which features Waterworks fixtures and vintage stools from Downtown.
Photo by Roger Davies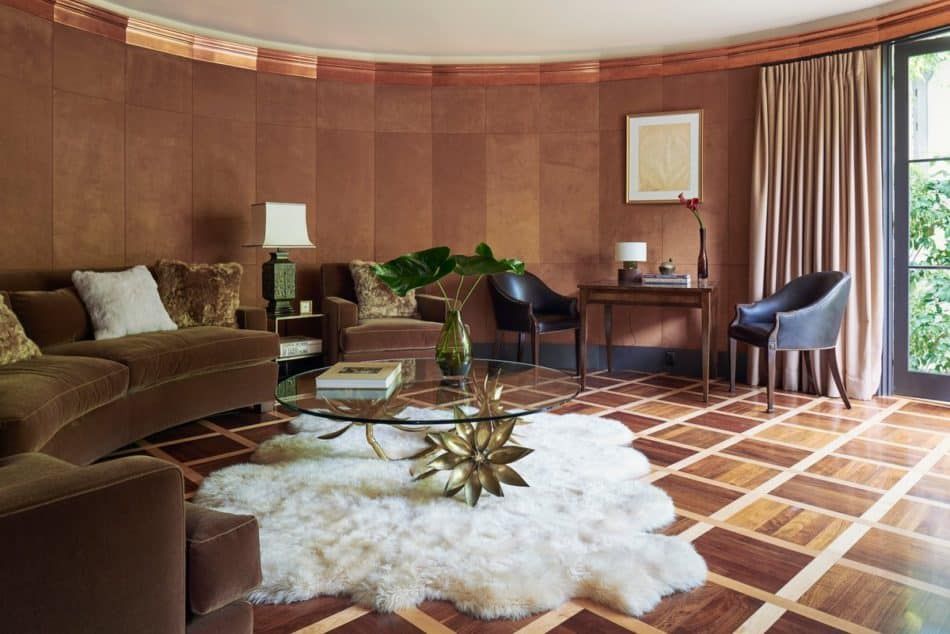 The bar and games room of this Hollywood Regency–style home by Madeline Stuart was inspired by the spectacular living room that William Haines designed for legendary director George Cukor. The suede-paneled walls are topped with copper molding, and the mohair seating and leather chairs were custom made by Stuart's firm. The antique Italian walnut game table is from BK Antiques, and the 1970s brass and glass coffee table is French.
Photo by Dominique Vorillon
---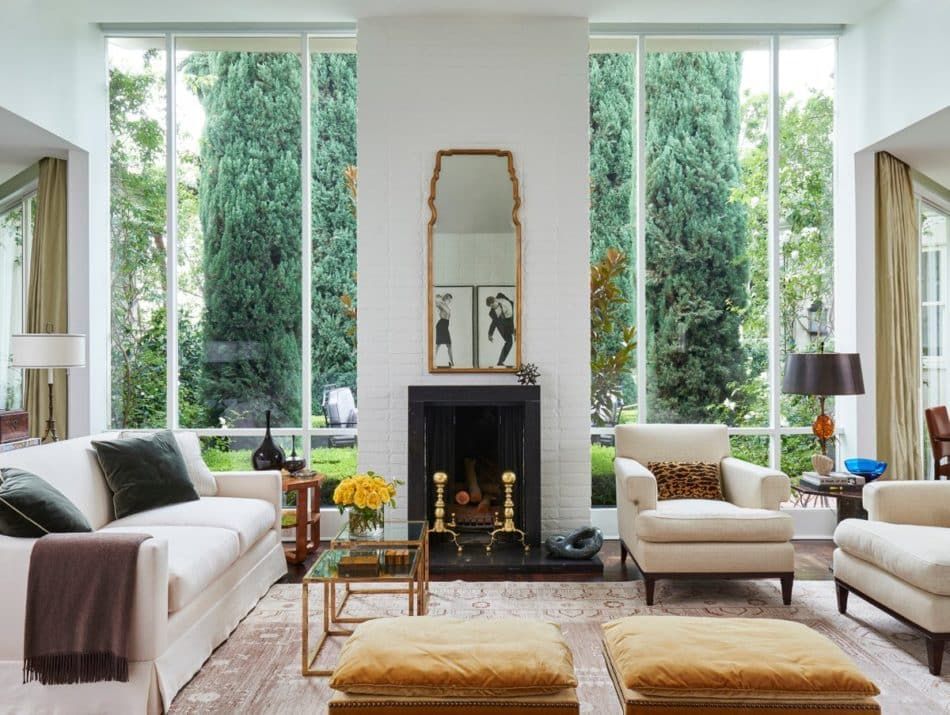 The living room features ivory-colored linen seating, celery-hued silk curtains and marigold velvet-upholstered stools. A fringed throw by Hermès is draped over the arm of the Stuart-designed sofa. The lounge chairs, which were also designed by Stuart, are upholstered in a Stark fabric.
Photo by Dominique Vorillon
---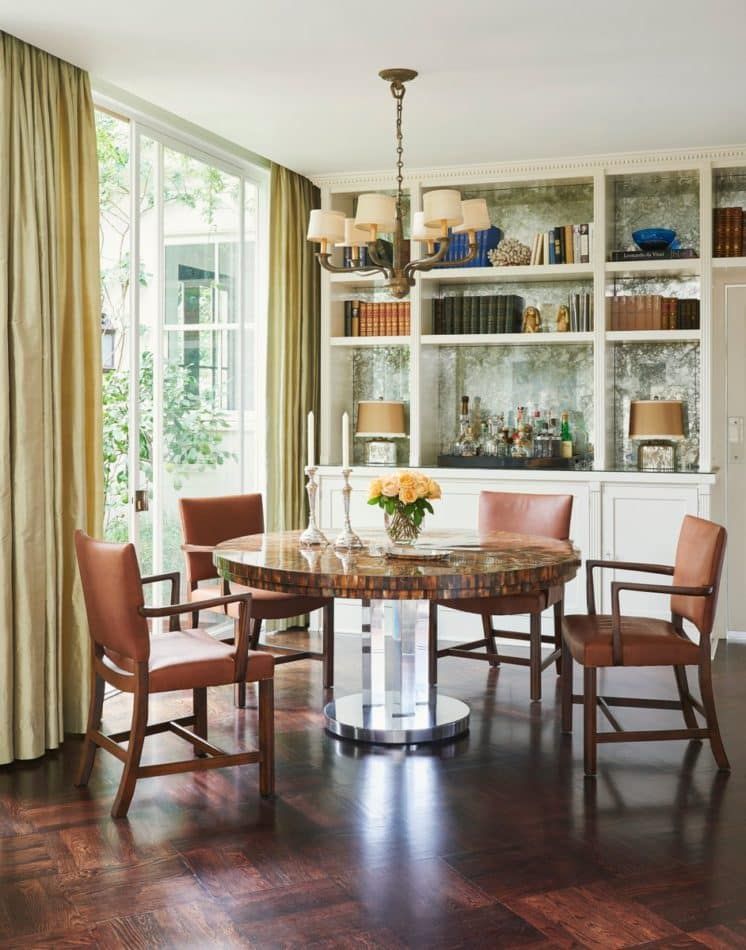 The dining room features a table that the client's grandmother commissioned from famed furniture designer Karl Springer. A 1940s French chandelier hangs over the space, which also includes a built-in bookcase with an antiqued mirror backing.
Photo by Dominique Vorillon
---
"We created a room that was masculine, sparse but warm, with the various woods and leathers," Kishani Perera says of the office in this Hollywood Hills home. "The rest of the house was rather colorful, so it was important that the office remain a calm and serene departure. "The room's mid-century feel was inspired by the vintage desk that the client had acquired years ago. The office also includes a Charles and Ray Eames chair and a drip-glazed vintage lamp.
Photo by Jean Randazzo
---
"The chartreuse color in the dining room actually inspired the entire space," Perera says. "When my client purchased the home, the color was existing, and he told me that was one of the reasons he loved the house so much! My instinct would have been to repaint, but since it was such an important element for him, we ensured that the eclectic and colorful decor we found complemented the shocking shade." The dining table and pendant light are from Environment Furniture, and the chairs are vintage.
Photo by Jean Randazzo
---
Peter Dunham designed this pool house and screening room — which once belonged to Merv Griffin — for Juicy Couture cofounder Pamela Levy. "The first piece we purchased was the huge 18th-century Chinese screen that retracts to reveal the projector," Dunham says. "It fit to within an inch and set the look of the room, which we treillaged and then layered for a California take on English garden rooms."
Photo by Karyn R. Millet
---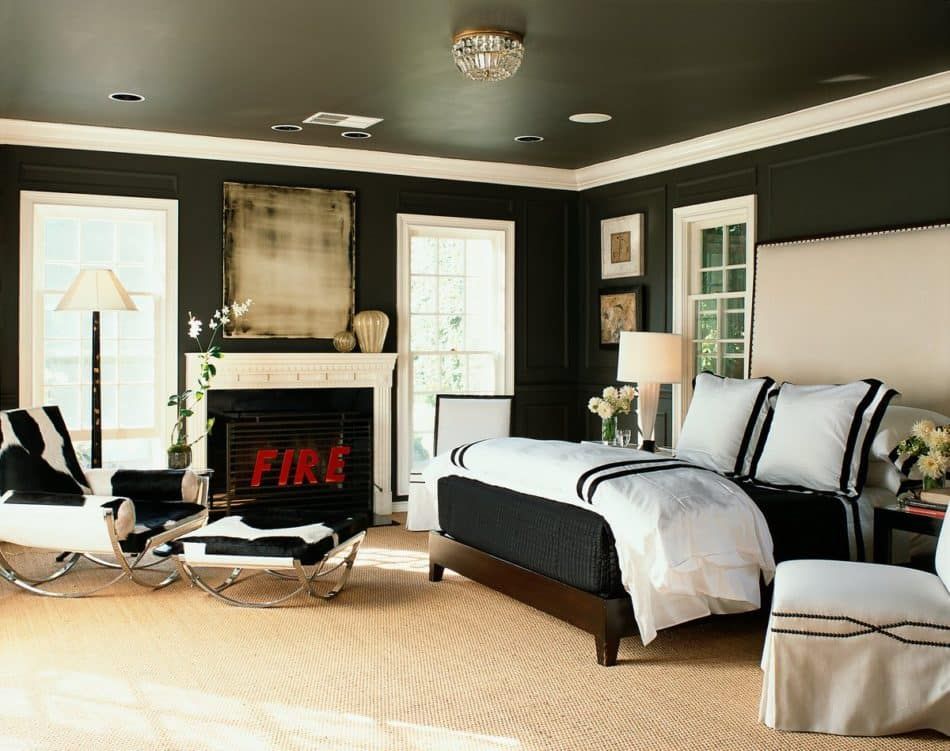 "The paint color set the tone for the design, and it is the perfect complement to the vintage cowhide and chrome chair and ottoman," designer Philip Nimmo says of his West Hollywood bedroom. "The warm, rich brown shade of the walls is strong and masculine, yet sophisticated and complements metals well." The floor lamp is by Rose Tarlow, and Nimmo designed the Ed Ruscha–inspired "FIRE" fireplace screen.
Photo by Roger Davies
---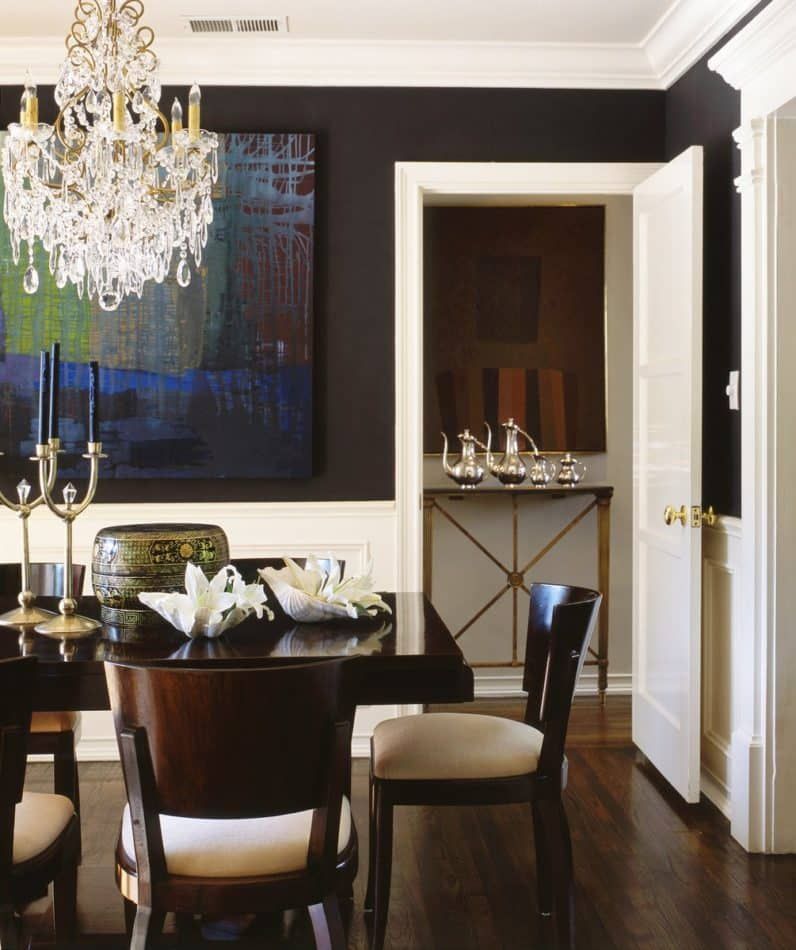 "The architectural detail of the home shines through in the dining room wainscoting, which I painted white so that the detail would stand out," Nimmo says. "I left the walls chalky — instead of polishing them — to absorb the light as much as possible. The charcoal shade above the wainscoting creates an ideal backdrop for Blue Intensity, 1999, by Laurie Zagon." A teardrop crystal and bronze chandelier hangs over the 1940s French dining table and Italian Art Deco chairs.
Photo by Roger Davies
---
"The chairs are by Casa Midy, and we liked that they have pretty backs since you see them from the entry," says Reath Design founder Frances Merrill of this Hollywood Hills craftsman home. "But everyone's favorite piece is the mustard yellow daybed that we designed for the space.
Photo by Laure Joilet