"Children always find the smallest, coziest room in the house," Michelle Nussbaumer writes in her book Wanderlust, noting that in her own Dallas home, that's the TV room. There, a ceremonial mask from Africa sits in one corner, balanced on the opposite side of the window by a painting from the 1940s. End tables that belonged to her grandmother flank the sofa.
Photo by Melanie Acevedo
---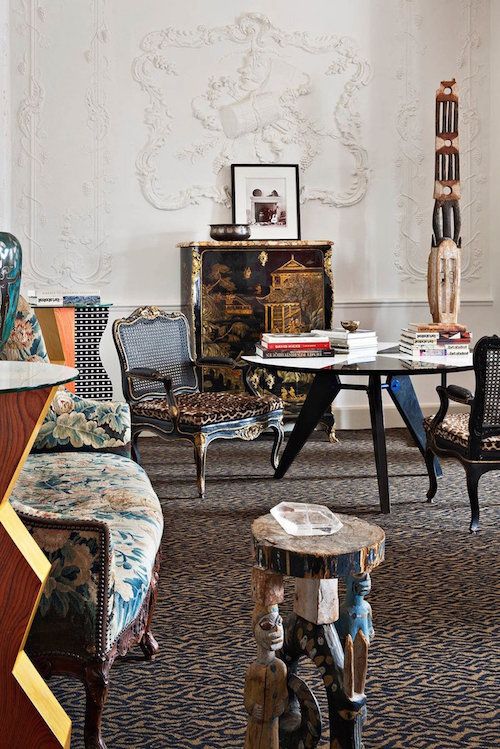 Suduca & Mérillou designed this 18th-century mansion in Toulouse, France, where the living room features a transcontinental mix of furniture from the 17th, 18th and 20th centuries. The firm also created custom carpeting for the space.
Photo by Manolo Yllera
---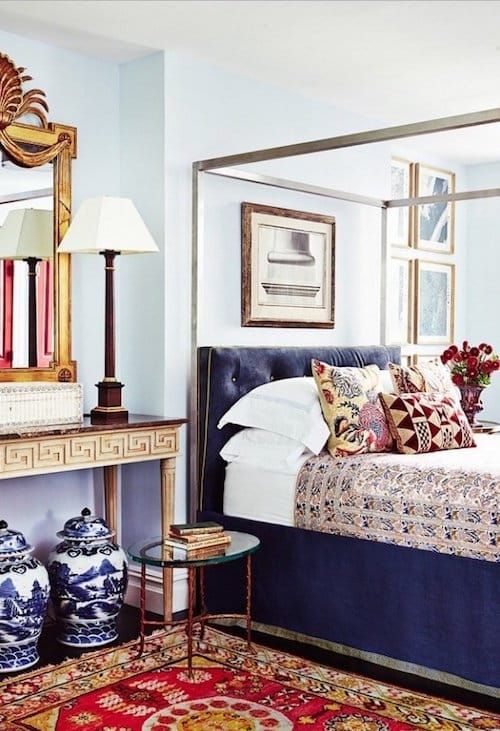 For a 19th-century townhouse in Brooklyn, Nick Olsen created a worldly aesthetic in one bedroom, which includes a pair of Chinese ginger jars and a Greek-key-patterned console.
Photo by Reid Rolls
---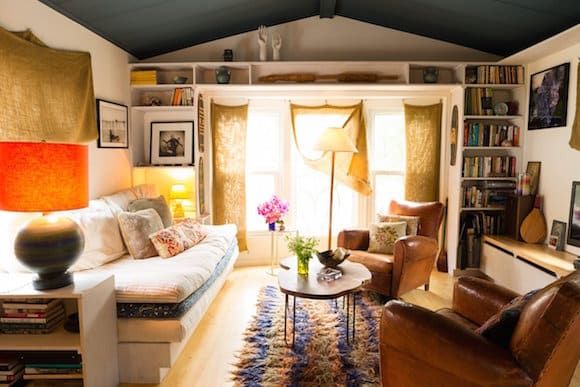 There's a strong bohemian vibe in this surf retreat that Reath Design created in Malibu's famed Paradise Cove trailer park. The living room features pillows covered in Moroccan textiles as well as skateboards (displayed as wall art) from Scorpion Bay in Mexico and a talking stick from the San Juan Islands in Washington State.
Photo by Teri Lyn Fisher
---
Kishani Perera's former Los Angeles home has a distinctly international feel, even if she didn't source objects while traveling. "Believe it or not, none of the pieces were personally picked up by me abroad," she says, adding, "however, the purple African textile was purchased in Africa by one of my vendors. The rest were of the pieces were custom, or they were sourced from vintage and antique shops."
Photo by Joe Schmelzer
---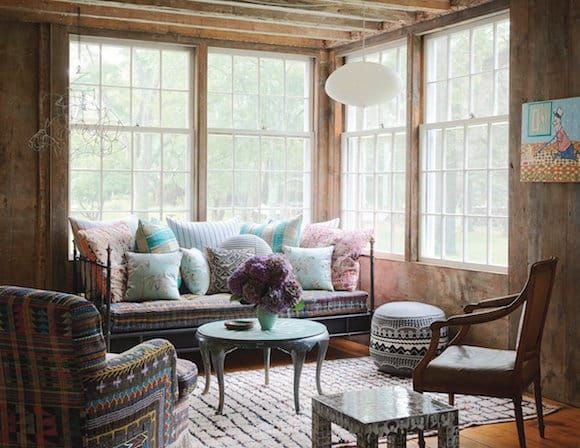 Billy Cotton designed this home in East Hampton, New York, whose living room includes an Akari lantern by Isamu Noguchi and an antique French campaign bed with a cushion covered in Pakistani ralli weaving.
Photo by Jason Schmidt
---
In this dining room by Scout Designs, a pierced-copper lantern from Morocco hangs over the table, which is surrounded by a set of metal-wrapped dining chairs from India with custom seats in teal patent leather. The room also includes a wedding trunk from Afghanistan and an elephant mask from Africa.
Photo by Patrick Cline
---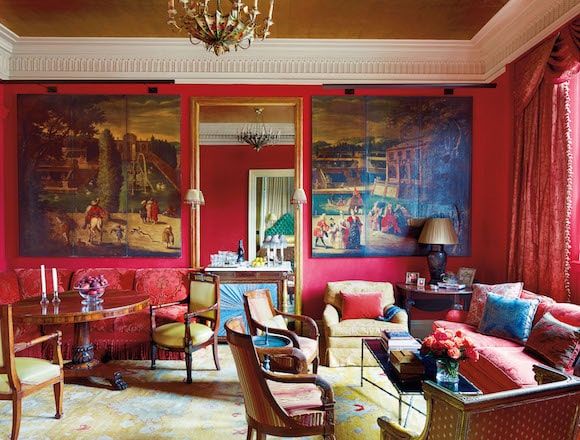 For a pied-à-terre overlooking Central Park on Manhattan's Upper East Side, Amelia Handegan flanked the doorway with the six panels of an antique French painted screen. The banquette is upholstered in hand-embossed fabric by Sabina Fay Braxton, and the sofa under the window is sheathed in a Schumacher damask, topped with pillows in vintage Fortuny.
Photo by Pieter Estersohn, courtesy of Rizzoli
---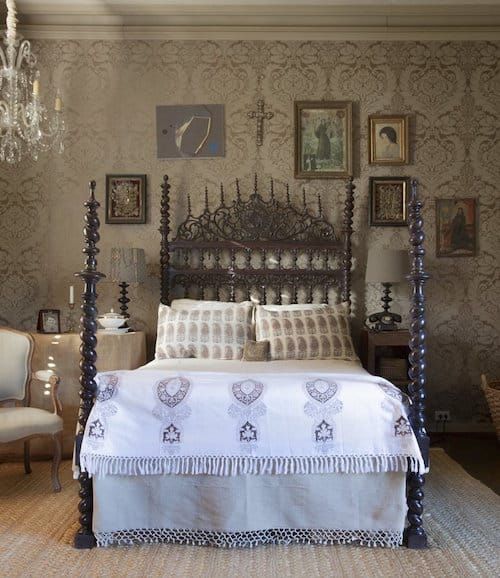 "This is our bedroom, and this is a Portuguese bed bought at auction in London," Annie Kelly says of the Los Angeles home she shares with photographer Tim Street-Porter. "The framed embroideries on either side of the bed are from the Tony Duquette auction here in California. The painting of a girl is of my great-great-aunt in Sweden by her brother, M.W. Fromen."
Photo by Tim Street-Porter
---
For the living room of this desert residence, Jean Claude Huon incorporated pieces like a richly carved wood daybed purchased in Turkey (left) and another from Africa (foreground) in a space with streamlined architecture.
Photo by David Glomb
---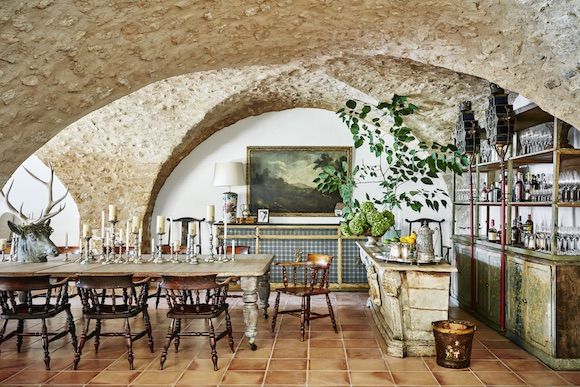 Ken Fulk and his team updated Domaine de la Cavalière, a 400-year-old, 240-acre operating farm in southern France, including this vaulted stone sheep barn, which they converted into an eclectic dining space.
Photo by Douglas Friedman, courtesy of Abrams
---
The double-height living room of this Sara Story-designed Singapore home includes a Mendocino mirror from Pagoda House Gallery flanked by a pair of Serge Mouille appliqué sconces, situated above a teak credenza from Morentz.
Photo by Masano Kawana
---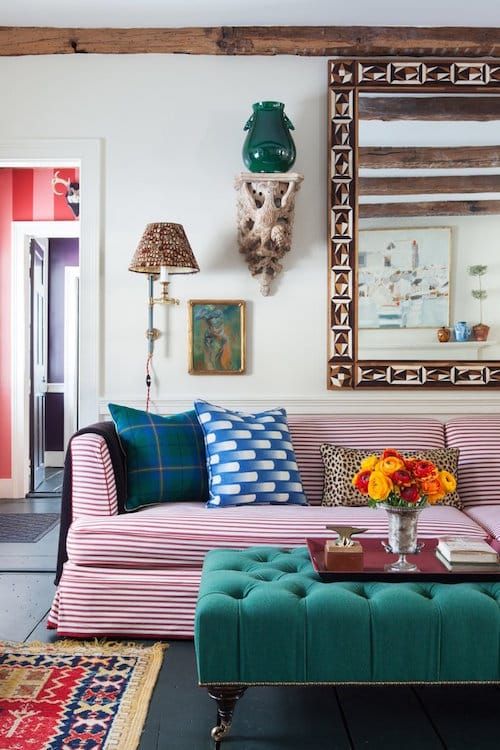 Nick Olsen embraced bright colors and pattern mixing when designing this home in Millbrook, New York, (which happens to be one of the oldest houses in the county) to create a space that spans styles and time periods.
Photo by Reid Rolls
---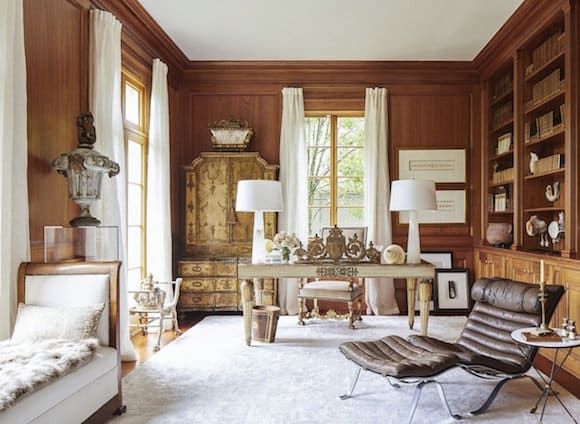 The study in Tara Shaw's New Orleans home features a mix of antique and contemporary pieces, like a Louis Philippe daybed from her shop and an Ari lounge chair and ottoman by Arne Norell.
Photo by Max Kim-Bee
---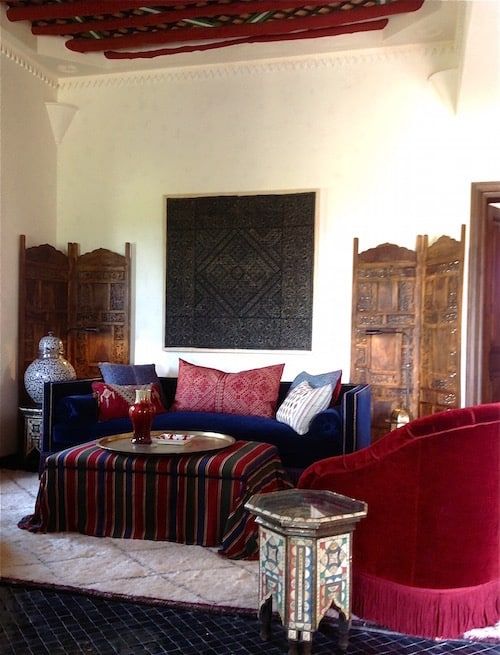 Douglas Mackie designed a series of guest villas on the property of his client's beach house in Kuwait, including this Moroccan-themed sitting room, which includes carved wood screens, a porcelain vase and a thick-pile area rug.
Photo by Douglas Mackie
---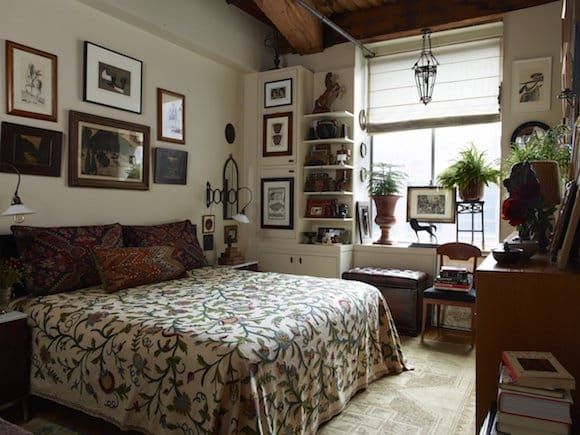 Alexandra Loew designed this Manhattan loft to show off the homeowner's pieces from around the world, including the Art Nouveau lantern in the window from a Paris flea market and Venetian leather masks that the client got on a trip to Italy. Loew sourced the industrial scissor sconces flanking bed from a dealer from Italy via 1stdibs, and she found the early Swedish burl Beidermeier chair in New York.
Photo by Simon Upton