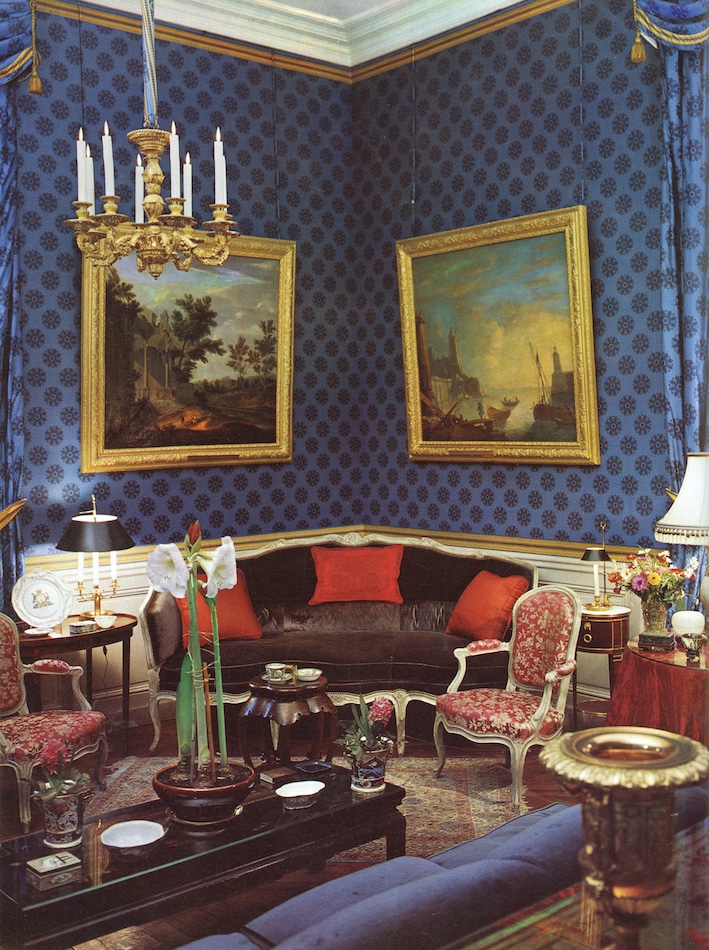 When it came to decorating, Henri Samuel (1904 –96) was a natural. As cliché as it sounds, he had exquisite taste. Describing what made for his extraordinary discernment, what other decorators reverently described as the "Samuel style," is difficult. No one was more challenged in accounting for it than Samuel himself.
He insisted that he tried not to repeat an interior's style twice and always adjusted his decorative approach to the home and client. "I could never explain to you why I do what I do, how I make decisions," the Frenchman told the Chicago Tribune in 1986, shortly before he retired. "It's a gift."

Samuel did think that whatever this gift was, it was born of both nature and nurture. He was the son of a banker, but the grandson of an antiquarian, and he grew up among people with beautiful things, which captivated him from an early age. After a two-year stint in the world of finance, apprenticed to a friend of his father's on Wall Street, he decided at age 21 to devote his life to decorating.
His first job, in 1925, was at Jansen in Paris, arguably the most illustrious decorating firm in the world, with literally hundreds of artisans in its employ. There, he assisted the revered decorator Stéphan Boudin. After nine years, Samuel went on to work at two other highly respected Parisian firms, Ramsay and Alavoine, bringing with him his devoted clientele, which included Rothschilds, Vanderbilts and Hearsts. "Even while very young, I had important clients," he recalled in the Tribune article. "I felt established nearly from the beginning."

In the late 1950s, Samuel embarked on another daunting endeavor: the renovation of the Chateau de Ferrières, the imposing family seat of the Rothschild family, built in the mid-19th century. "I really think he was the only choice for the task," Marie-Hélène Rothschild later commented. "He's very, very good with everything to do with the 19th-century, which is of course what made him so ideal for Ferrières. Everything was very well-executed and very refined. And I can tell you it's not easy to get the proportion and colors right in a place and scale of Ferrières."

He didn't establish his own firm, however, until 1956, when he was 52 years old. The following year, he had the extraordinary honor of being selected by Gerald Van Der Kemp, the former Louvre curator in charge of restoring Versailles, with reconstructing its Empire rooms. Conferring this responsibility to someone who was not a curator caused quite a stir within the museum world. Yet there was no disputing Samuel's knowledge of the period, nor his ability to interpret it in way that was as charming as it was correct. His success with the assignment brought him two other museum commissions near the end of his career: conceiving room settings for the Wrightsman and Linsky collections of 17th- and 18th-century decorative arts at the Metropolitan Museum of Art in New York, and a renovation of the 18th-century decorative arts galleries at the Musée de Camondo in Paris.

Among his other beau monde projects was decorating the Paris apartment of the Count and Countess Hubert d'Ornano in the fin de siècle style. For this extravagant commission, he used masses of fabric to drape windows, walls and doors, carefully selecting the colors according to the light and orientation of the rooms. In fact, his eye for color and virtuoso ability to compose unusual-but-pleasing color schemes are key aspects of the Samuel style. Another aspect no doubt was his preference for quilted upholstery on chairs and his passion for stocking rooms with as many marvelous objects as he could, which was also very much in keeping with le goût Rothschild.

What's so interesting about this erudite classicist is just what a revolutionary he came to be. Many historians of the decorative arts credit Samuel as one of the inventors of the eclectic style, for which his former employee Jacques Grange is now one of the great exemplars.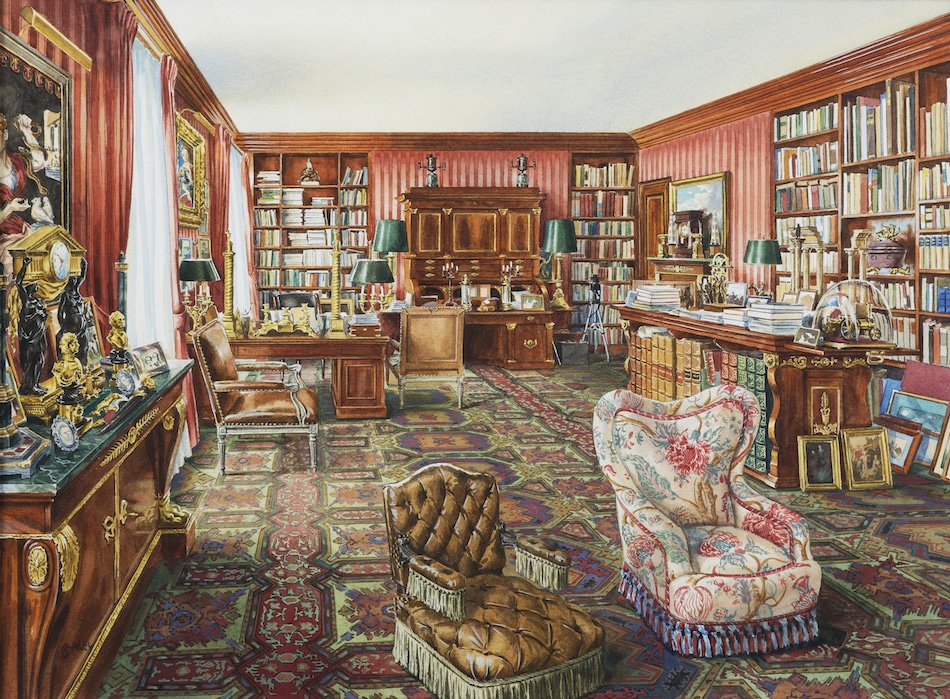 Of course, when he started including contemporary furnishings into his lavish projects in the late 1960s, the "Samuel mix" was considered quite shocking, as it broke so many decorating rules. Up until then, he'd occasionally included contemporary paintings in his interiors — Balthus was a great friend — but now, he began commissioning furniture and objects in materials like brass and Plexiglas from artists like César, Guy de Rougemont and Philippe Hiquily.
His innate talent for balancing materials and proportions is what made his addition of these directional works in rooms crammed with antiques so electric, especially in his own Paris apartment. And there perhaps, the Samuel style is most apparent. For the rooms are a masterful mix of period art and furnishings, awash in unexpected tones, and while rigorous in their proportion, they are utterly inviting.