Interior designers spend their days creating the perfect spaces for their clients. But where do they do the work? When it comes to their own offices, 10 designers told us they seek out comfort, flexibility, function, airiness and of course style. Below, they show us around their inspiring ateliers.

---
Seitz Design
Fort Worth, Texas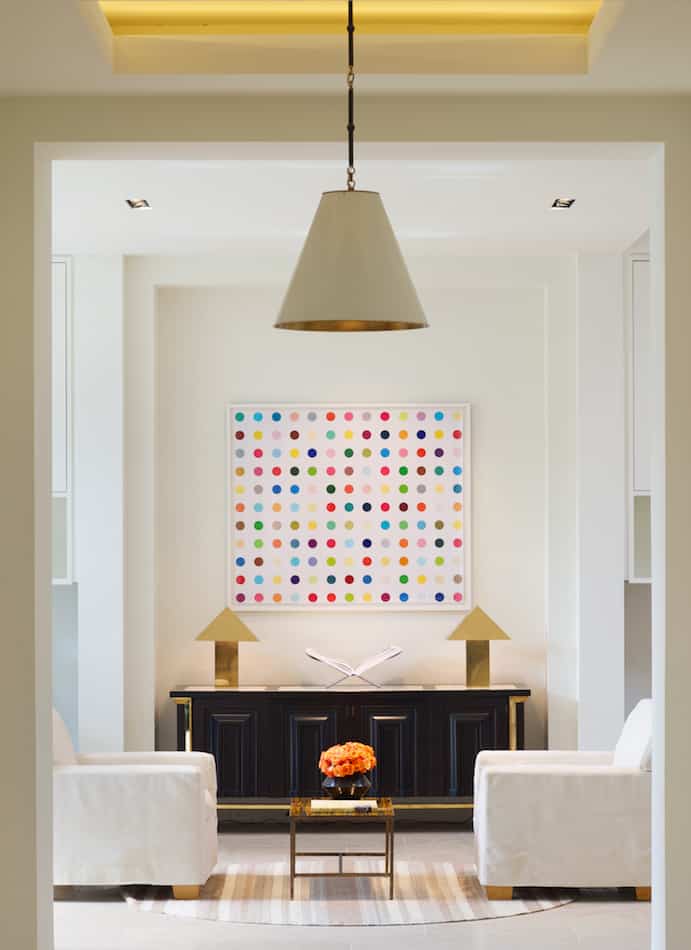 "We designed this project from the ground-up to be a clean, curated space," says Justin Seitz. "Natural light, intuitive organization, and 'air' were the focus of the design, with the minimal envelope creating a soft foil against which art and furnishings are allowed to breathe and shine."
An artwork by Damien Hirst adorns the reception. The office was furnished with chairs by René Prou, a daybed by Mies van der Rohe, a French architect's desk from the 18th century and a Traccia table by Meret Oppenheim.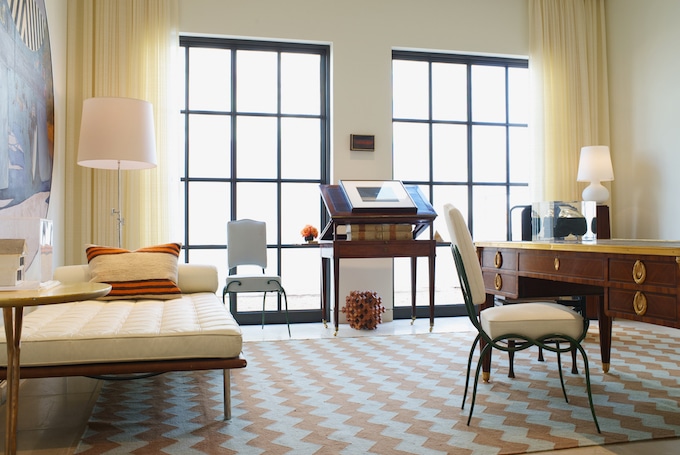 ---
Neal Beckstedt Studio
New York City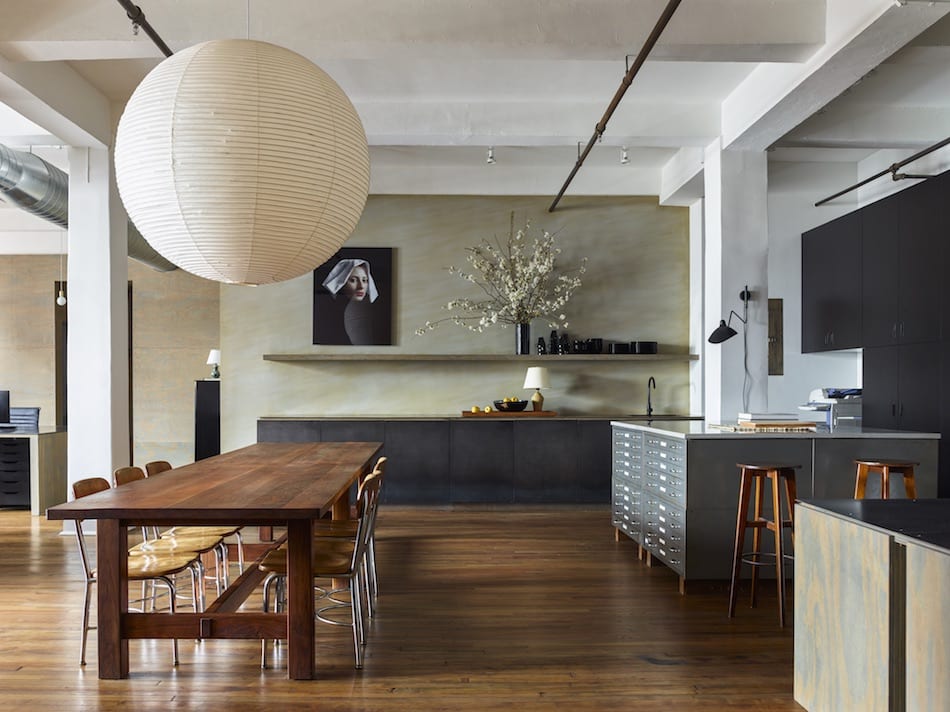 "I kept the floor plan as open as possible and used the existing column bay as an organization tool to create three zones: individual work stations, a middle communal space and a library and reception area," says Neal Beckstedt.
"I wanted a clean, modern space that was still warm and relaxed with an eclectic mix of objects and furniture tossed in: so a reflection of my style and how I like to live. The inspiration was to find a balance between capturing the original industrial space while retaining a comfortable residential retreat."
---
Dylan Farrell Design
Sydney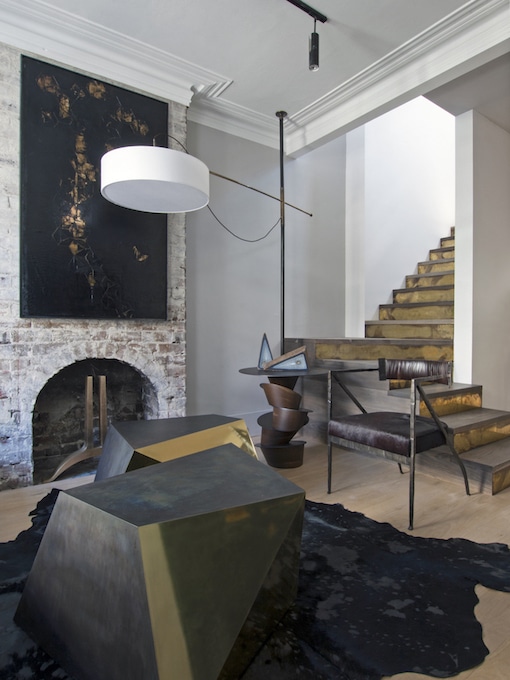 Dylan Farrell describes his Paddington atelier as "a work-slash-display and occasional retail space set within a modern renovation respectful to an existing, heritage-listed terrace house."
He adds: "We wanted to create a laboratory for experimentation, enacted exclusively by Australian artisans inside a casual, rough-edged space that was designed specifically to both complement and juxtapose some of the more upscale, polished interiors our firm is most known for. The overall effect is moody, layered, inviting and it inspires our team to create fresh, novel ideas for new designs each day we arrive."
The Tension light, Module coffee table, Leveller chair, Rachis table and Harp Leg are all by Dylan Farrell Design. The artwork is by Scott Richler.

---
ASH NYC
Sag Harbor, New York
"The Hamptons staging office is located in a historic cottage steps from Sag Harbor Village," says Andrew Bowen, director of staging at ASH NYC. "We wanted to create a space that would serve our growing Hamptons staging business and be in itself a microcosm of our site-specific East End work and style, ultimately serving the dual purpose of office and showroom. The 'living room' also functions as a reception and waiting area, as well as staff lounge. The 'dining room' functions as our conference room, too. There's a sunken rear room, separate from the common areas — which has a collection of individual workstations for staff — as well as a kitchen and a bath, set up as a staged space but fully functional for daily use."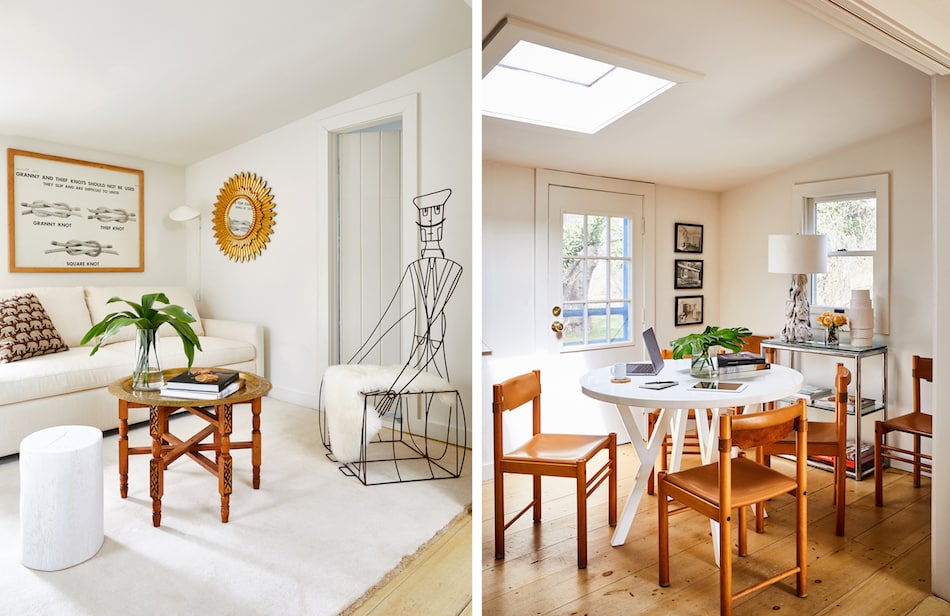 Combining vintage items for patina with contemporary items for function, the ASH team furnished this new Hamptons office with a figurative John Risley Garçon chair, Ibisco Sedie side chairs, vintage Herman Miller cherrywood and leather dresser, two photographs by Lyle Owerko, a stool in the manner of Tony Paul and a wide array of vintage accessories and art collected throughout Long Island over the years.

---
ECHE
San Francisco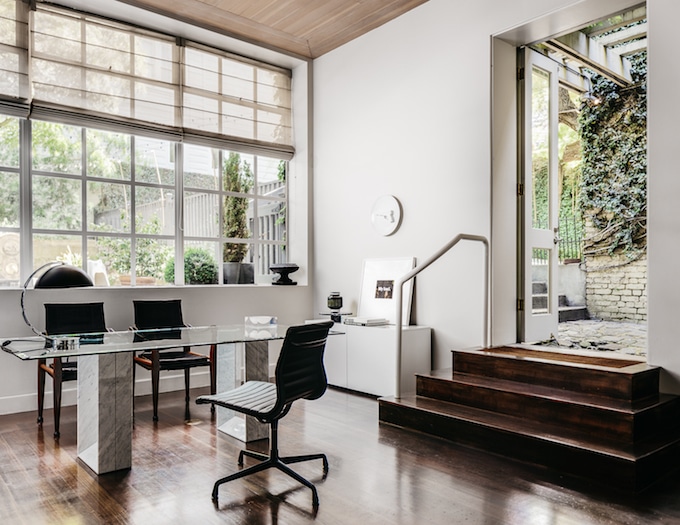 "When designing our offices, which are nestled in a 1908 Mediterranean-style building that served as the home of Therien Antiques, I wanted to create a clean yet inviting space for client meetings and all the behind-the-scenes work that goes into designing spaces," says Eche Martinez, founder of San Francisco–based design firm ECHE. "The challenge was to create a space that spoke to our vision, while providing a neutral enough backdrop for the important process of discovery and inspiration."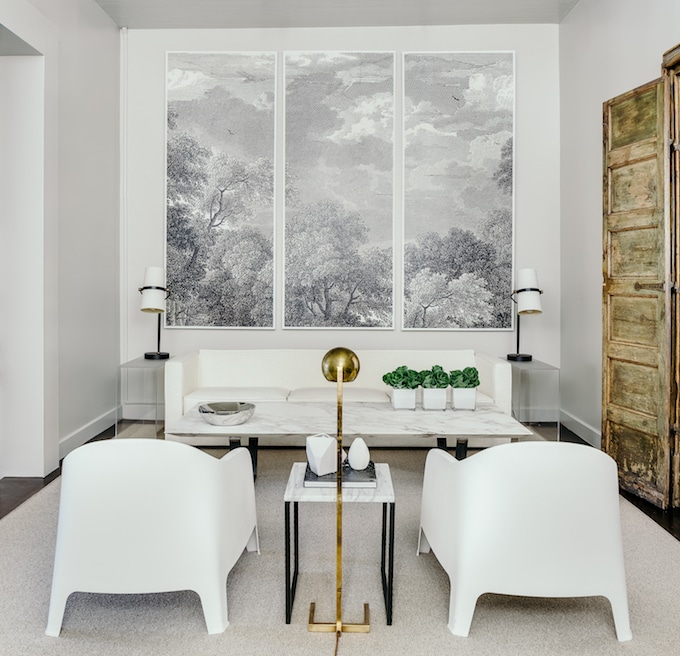 Among the key elements are a triptych of a 19th-century arboretum etching, which Martinez used in the room he designed for the 2015 San Francisco Decorator's Showcase, a custom coffee table produced by Fox Marble in honed Arabescato and a 19th-century Spanish doors that separate Martinez's personal office from the meeting areas.
---
Nicole Hollis
San Francisco
"For our studio, we desired a 'white canvas' where we could clear our minds of daily clutter and focus on a creating a new concept for each and every design project," says San Francisco designer Nicole Hollis. "The studio is located in a historic building built in 1924, located in the South of Market, or SOMA, neighborhood. And we just recently expanded from 5,000 to approximately 10,000 square feet. With its natural light and minimalist sensibility, the space acts as a laboratory where we can experiment."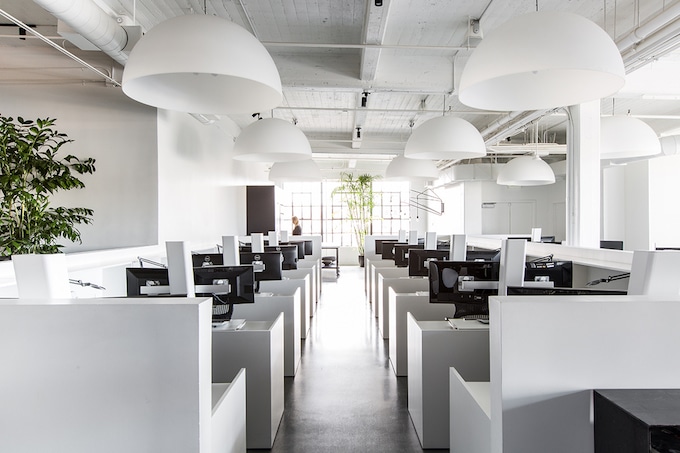 Hollis continues: "The central work area is open and with custom white workstations built with standing desks. An entry salon with hand-applied Italian plaster walls is styled in the manner of a residential living room setting, with a marble fireplace and soft furniture for intimate meetings or taking private calls.
"The reception desk is my ode to Donald Judd: a brass-clad box. The kitchen is set up with a custom island designed to invite socializing. The dining table is large to have lunch family style, which allows employees to gather at lunchtime or have informal design meetings. The expanded studio features a new conference room and custom table, which can now sit up to 28 people. It includes a new and expanded materials library and additional kitchenette, 28 additional workstations and new private offices."
---
Thomas Hamel & Associates
Sydney
"The self-established brief for the design studio was to create a cosmopolitan and utilitarian space that loosely reflected the building, which was Sydney's first electrical-light station, built in 1891," says Thomas Hamel.
"We wanted to portray the vibe of a Soho or Tribeca loft in New York City, while also giving a nod to our location of being in Sydney. Clients regularly visit the office to work on projects with us of all shapes, sizes and styles. Therefore, the space needed to feel aesthetically flexible and not impose a singular style or period on the viewer. The result had to be eclectic and timeless."
A sofa by Thomas Hamel & Associates sits on a custom-made rug by Behruz Studio. The rattan chairs were purchased at Orson & Blake, and the stool was also designed by Thomas Hamel & Associates.
---
Greg Natale
Sydney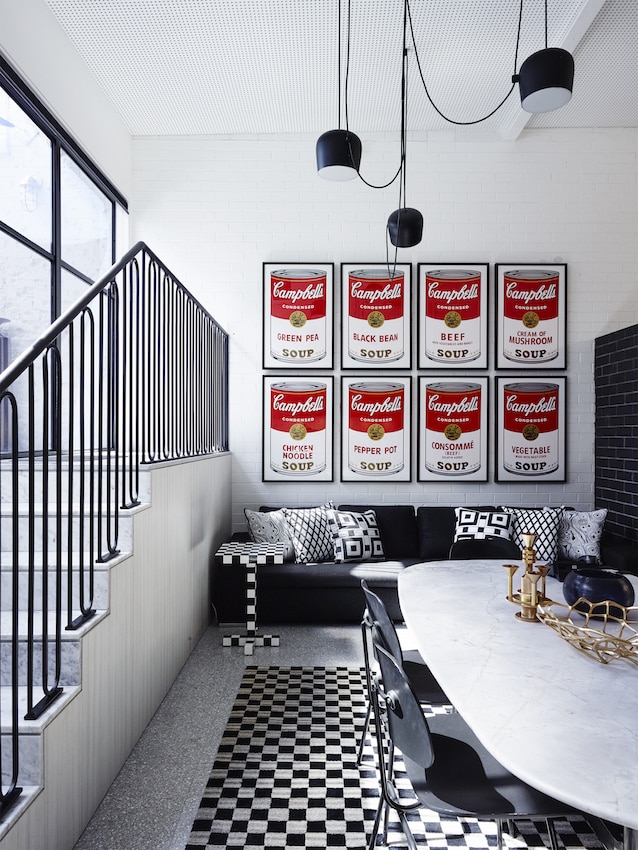 "I had the peculiar, but rewarding, role of playing client and designer on this project," says Greg Natale. "Stylistically, I have always been fascinated by Paul Rudolph's design for the Halston house on the Upper East Side. There was a perfect blend of public and private spaces in the building and this was something that I wanted to explore in creating my own commercial headquarters — but in a way that it spoke to my high-end residential client base who visits our offices.
Natale adds: "Predominately, the space works with a monochromatic base palette, over which I layered metals and pops of color in artworks. The space is also textured with perforated ceiling panels, fluted glass and subtly patterned rugs. I have a broad range of product lines from tiles to rugs, mosaics and furniture and enjoy being able to ease these into the space."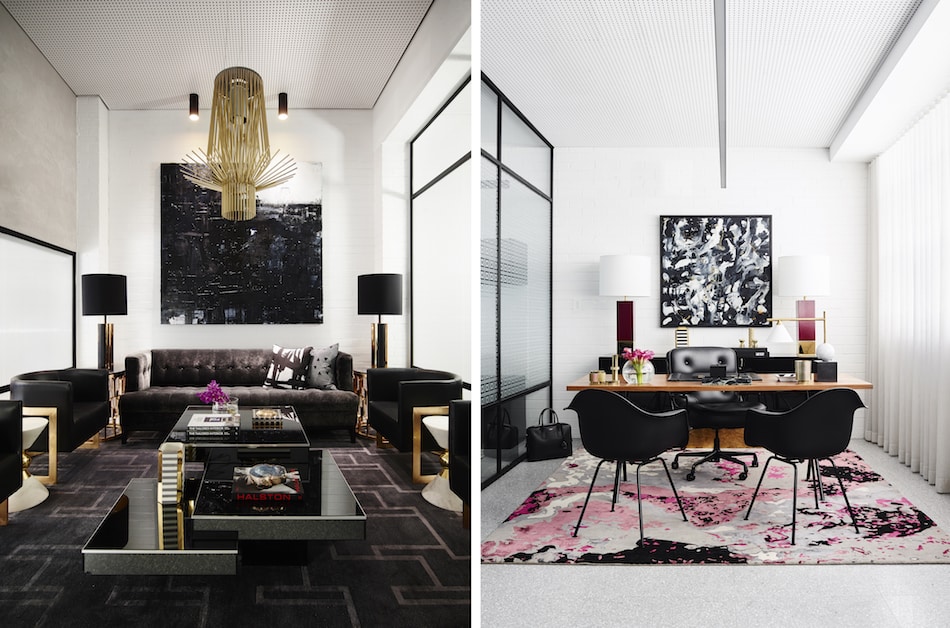 ---
Mary McDonald
Beverly Hills, California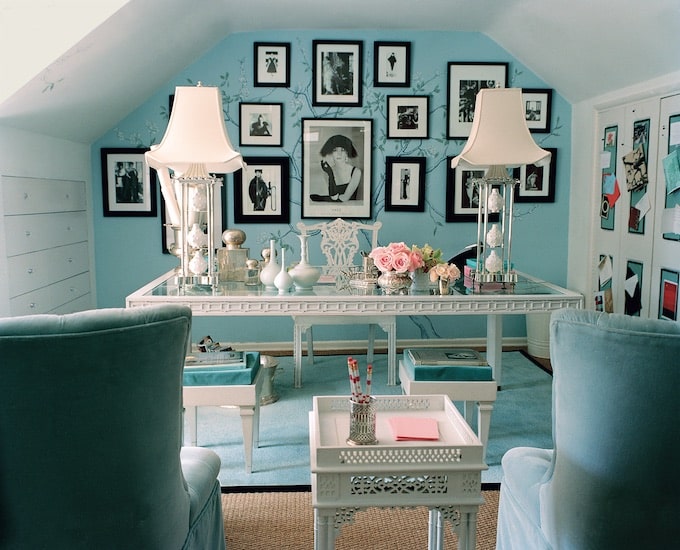 "I really loved my old office, which was actually a little house repurposed to be an office space only," Mary McDonald says of the project pictured here.
"What I wanted to achieve at the time was a very pretty salon environment without a lot of visual noise. There was definitely a fashion influence for me — as seen in the high-low mix of fashion photographs, including some by Avedon on the gallery wall behind my desk. I loved the feminine charm of the curtains, fireplace, double doors and whimsical silver-plated J.F. Chen Pagoda lamps, especially when paired with the clean modern lines of simple white furniture, Philippe Starck Ghost chairs and Kartell lamps. There was nothing truly important in there, yet the space resonated with old-world charm, which I played on to achieve a small contemporary salon."

---
Robert Stilin
New York City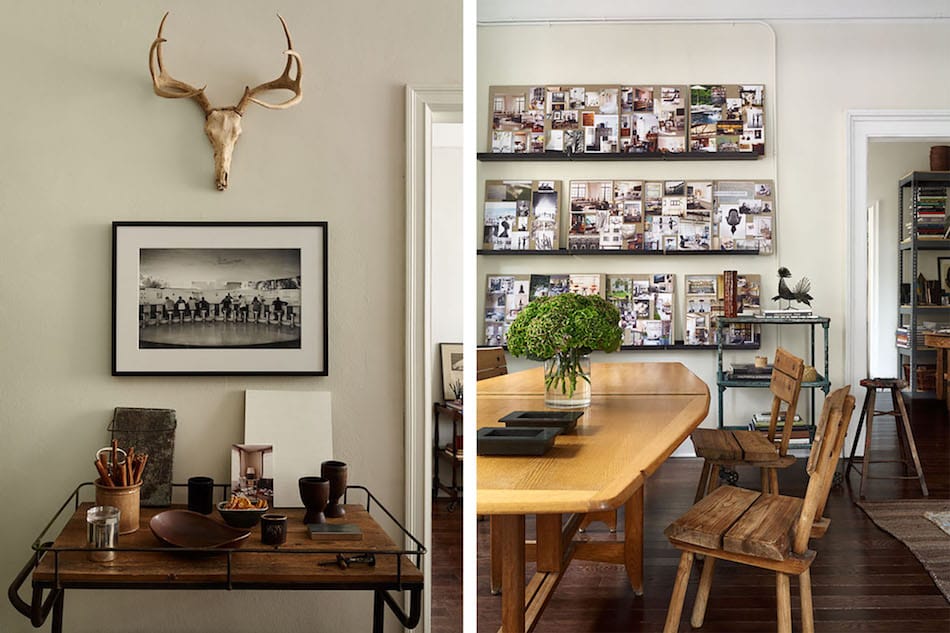 "My office is an extension of my life," says Robert Stilin. "It's important for me to have a comfortable and inspiring place to work, but also that it reflects my style and is great for hosting design meetings with my clients. I use my office as a laboratory to try things out and live with objects to see how they function and perform. Vintage and antique furniture is layered with interesting art, objects and design books that I have collected, just like I would do for a client's home. The space already had great architectural details, but the layers add warmth to the space. I love that I can draw inspiration for my design projects from right in my office."