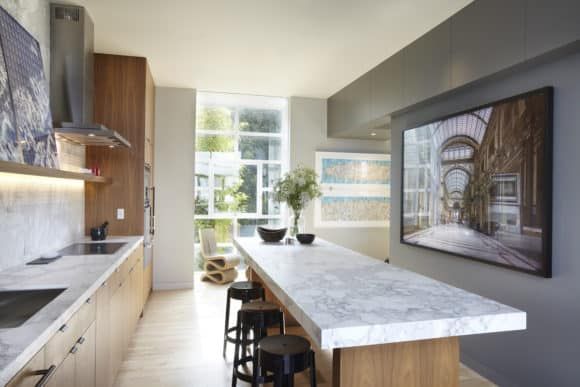 Nicole Hollis's design for this San Francisco kitchen reflects a rich materiality, embodied by walnut cabinetry and a Calcutta marble work surface. Spare, deliberate furniture pieces — including a Frank Gehry Wiggle chair and bar stools by Kartell — add modernist polish.
Photo by Mark Adams.
---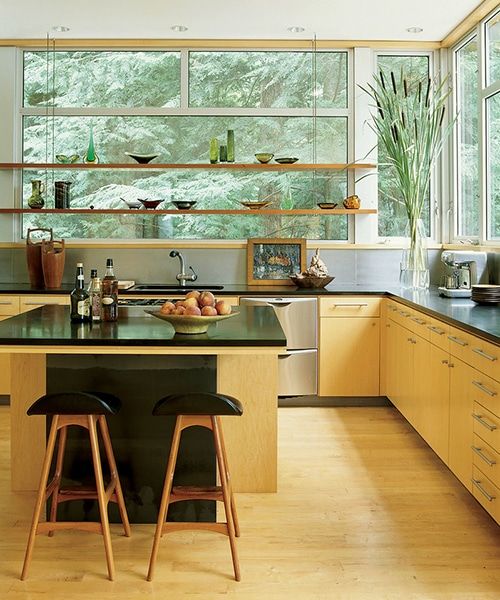 In this upstate New York kitchen, Amy Lau sought to emphasize the room's natural light and backdrop of dense foliage. The Danish Modern bar stools are by Eric Buck and the 1960s ice bucket is Jean Quistgaard for Dansk Designs Denmark. The mid-century Scandinavian glassware and ceramics are from the owner's personal collection.
Photo by Josh McHugh.
---

Deliberate thoughtful, accents punctuate this white oak kitchen by Jan Showers in Scottsdale, Arizona, including a pair of 1950s Murano glass chandeliers — purchased from Marc Heiremans — and a 1960s wooden lamp. The kitchen design is by Bulthaup.
Photo by Jeff McNamara.
---

In the kitchen of Ellen DeGeneres's Los Angeles horse farm, Cliff Fong placed early-American Windsor chairs around a stone-top table from Belgium. The kitchen has a bluestone counter and sink and stained-oak cabinets. Behind the high-back Ib Kofod-Larsen Seal chair is a Gustavian chest.
Photo courtesy of Art and Commerce.
---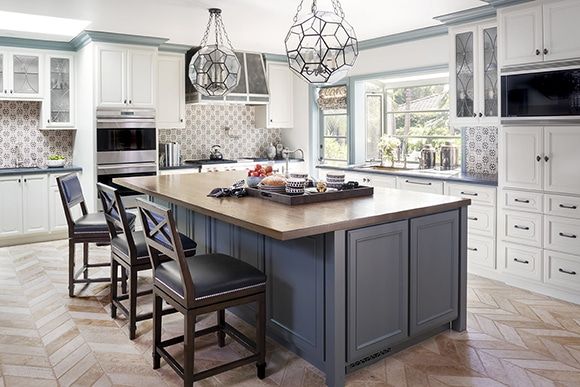 Annette English had an unlikely collaborator on the kitchen design of this 1937 Federalist-style Los Angeles: renowned chef Thomas Keller. Keller, a friend of the clients, provided perspective on the room's layout. English chose a backsplash tile with a motif that echoes the shape of the two prismatic chandeliers above the island.
Photo by Grey Crawford.
---
In Amagansett, New York, Fox-Nahem Associates used 18th-century Dutch tiles and antique barn planks to had personality to a formerly bland spec kitchen. The oxblood lacquered cabinetry offsets a lava stone countertop.
Photo by Pieter Estersohn.
---

In Pacific Palisades, California, Kishani Perera used a tonal mosaic tile to add pattern to the home's kitchen, while still adhering to the client's directive to maintain an all-neutral palette. The reclaimed wood flooring was laid in a herringbone formation.
Photo by Joe Schmelzer.
---

Hubert Zandberg's design for this London kitchen was broadly inspired by 1940s French decor. The dining table is Gervasoni, the bridge chairs and metal bowls were sourced in Paris and the light fixture is a custom design by Zandberg.
Photo by Simon Upton.
---

The residents of this Madison Avenue apartment requested an all-white color palette to visually enlarge their small New York City kitchen. Kapito Muller responded with a traditional design scheme that's punctuated with more modern accents, including a Gerrit Rietveld–style dining chair and an Eames round table.
Photo by Nick Johnson.
---

A sleek, indoor-outdoor kitchen by Philip Nimmo supplants a formal dining room in this Laguna Beach, California vacation home. Pocket doors and dark-colored cabinetry were nods to Balinese design.
Photo by Scott Frances.
---
This upstate New York retreat by Shawn Henderson features a Chris Lehrecke dining table and Drop chairs by Fritz Hansen. Henderson clad the refrigerator and cabinetry in the same light-hued wood for a clean, light look.
Photo by Steven Freihon.
---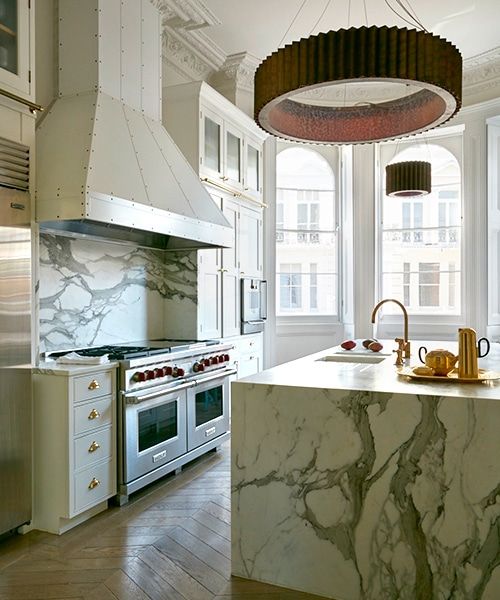 This London kitchen by Maddux Creative speaks to the home's Victorian-era origins with patinated copper light fittings and brass cabinet hardware, while the book-matched Statuario marble work surfaces reference contemporary design preferences. The coffee service is by Tom Dixon.
Photo courtesy of Maddux Creative.
---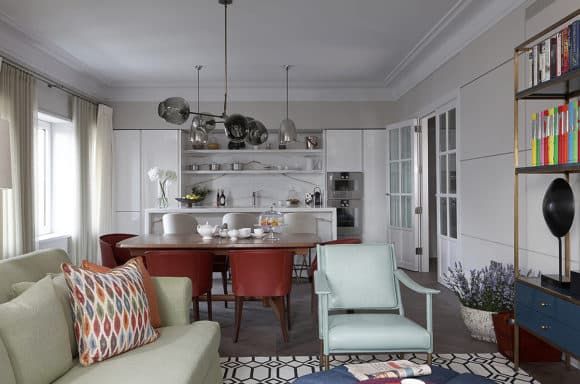 This London kitchen by Martin Brudnizki mixes pieces from a number of styles and eras, including a contemporary chandelier by Lindsey Adelman, a vintage 1960s dining table and a trio of bespoke bar stools by the designer.
Photo courtesy of Martin Brudnizki.
---
Inspired by French farmhouse kitchens and Belgian cabinetry, Brooke and Steve Giannetti designed a large, white oak center island for dining and prep work in their Ojai, California home. The stone quatrefoil and copper pots are both European antiques.
Photo by Lisa Romerein.
---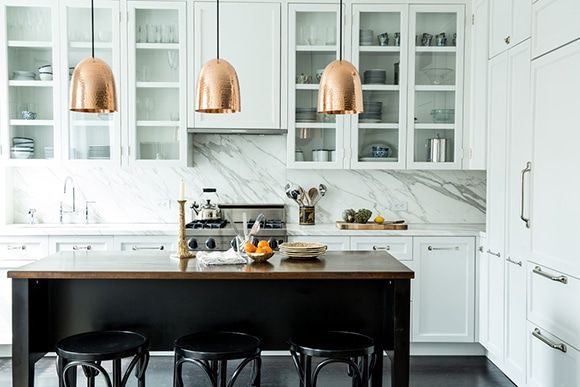 In a 150-year-old brownstone in Manhattan's Greenwich Village, Katie Martinez chose classic materials to honor the old building's bones, including the kitchen's Stanley 1 brass pendants by Original BTC. "I was hoping to create interiors that were timeless and classic, but also youthful and current, much like the owners' own sense of style," she says.
Photo by Aubrie Pick.
---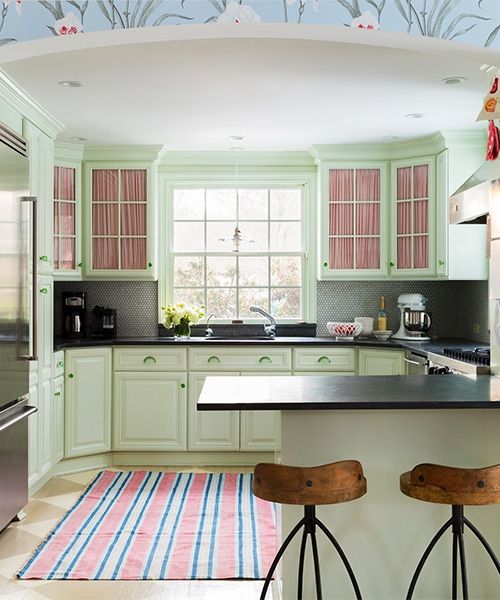 Kemble Interiors' bright, cheerful scheme for this Locust Valley, New York kitchen includes seersucker curtains, an iris-print wall covering by Lee Jofa and industrial-chic bar stools by Arteriors.
Photo by Ball & Albanese.
---
In Vance Burke's own monochrome kitchen in Palm Springs, California, a Lucite table by the designer creates a grand-but-airy feeling. The painting above the fireplace is a 2006 work by Heidi Van Wieren from Margaret Thatcher Projects, and the 1970s Murano globe lamp was purchased at J.F. Chen.
Photo by Richard Powers.
---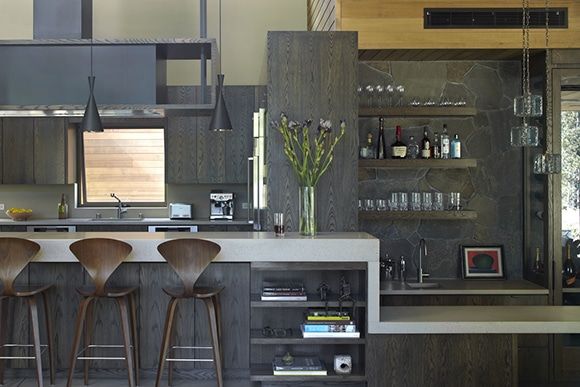 This Lake Tahoe, California kitchen by Kim Alexandriuk features a 1950s Italian Fontana Arte chandelier from Downtown, Norman Cherner bar stools and black pendant lights by Tom Dixon.
Photo by Dominique Vorillon.
---
According to architects Christoff-Finio, this double-height Sagaponack, New York kitchen acts "as a mediator" between three 19th-century barns and a more modern bedroom wing. The firm describes the effect as "that of a palimpsest, where generations of building are layered one over the other."
Photo by Scott Frances.
---
Geremia Design worked with a developer to rebuild and renovate this San Francisco home after it was destroyed in a fire, and the heavily grained cabinetry is meant to subtly evoke burnt wood. The marble backsplash tiles were locally sourced, as were the wood-turned vessels lining the shelves, at left. The stools were purchased at Lawson-Fenning.
Photo by Laure Joliet.
---
For their Los Angeles home, Landry Design's clients requested an inviting, casual kitchen for friends and family, with an aesthetic loosely drawn from rustic Belgian homes. Accordingly, the firm incorporated subdued, neutral colors, reclaimed Tunisian tiles and distressed gray wood tones in the room's finishings.
Photo by Erhard Pfeiffer.
---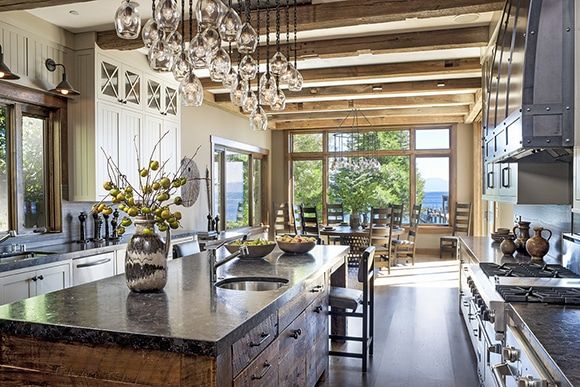 In Lake Tahoe, California, Jeff Andrews combined artisanal elements with durable organic materials to create a functional kitchen for a family vacation home. The chandelier and range hood are custom pieces by the designer.
Photo by Grey Crawford.
---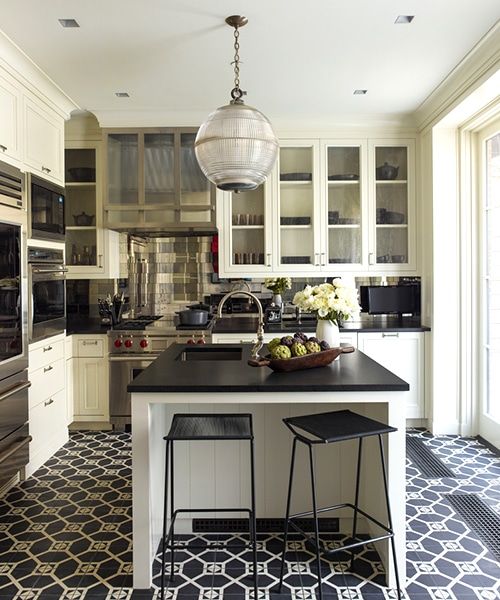 Architect Peter Pennoyer lowered the floor of this New York City kitchen in order to create a stronger relationship with the adjoining terrace garden. His firm designed the bespoke glass range hood, and collaborated with interior designer Shawn Henderson to source the concrete mosaic floor tiles and circa 1950 French holophane light.
Photo by Eric Piasecki/OTTO.