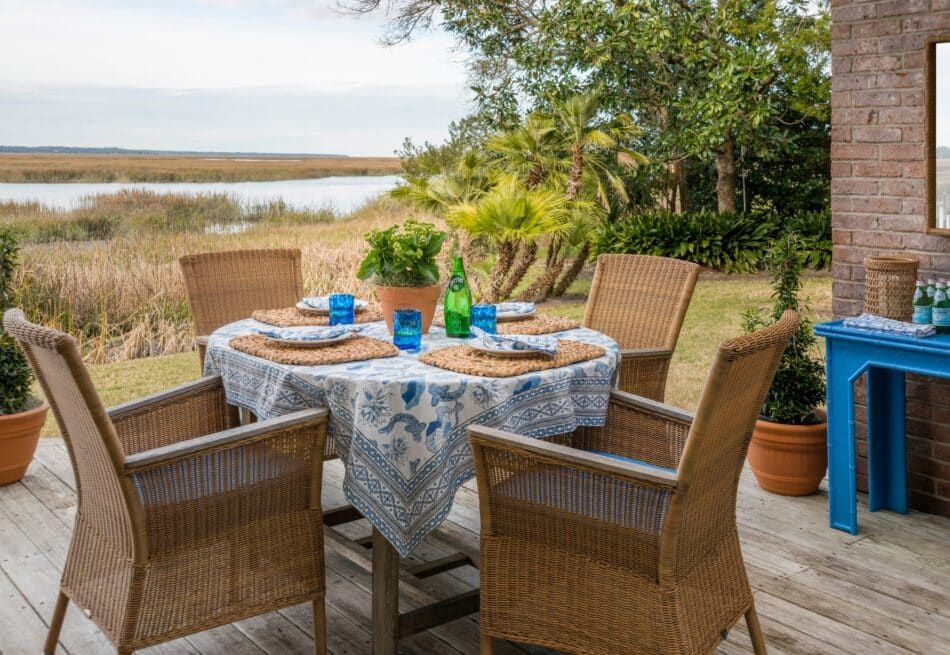 "I like treating outdoor spaces as rooms, with everything needed to make entertaining a breeze. The console provides an area to serve from, functions as a bar during larger gatherings and can hold hurricane lamps for additional lighting once the sun goes down," says Jason Schwartz, of Meg Braff Designs.
A vibrant cerulean is prominent throughout the Sea Island, Georgia, home, so when it came to painting the vintage bamboo-trimmed console in the outdoor dining area, continuing the color scheme was a no-brainer. Photo by J. Savage Gibson
---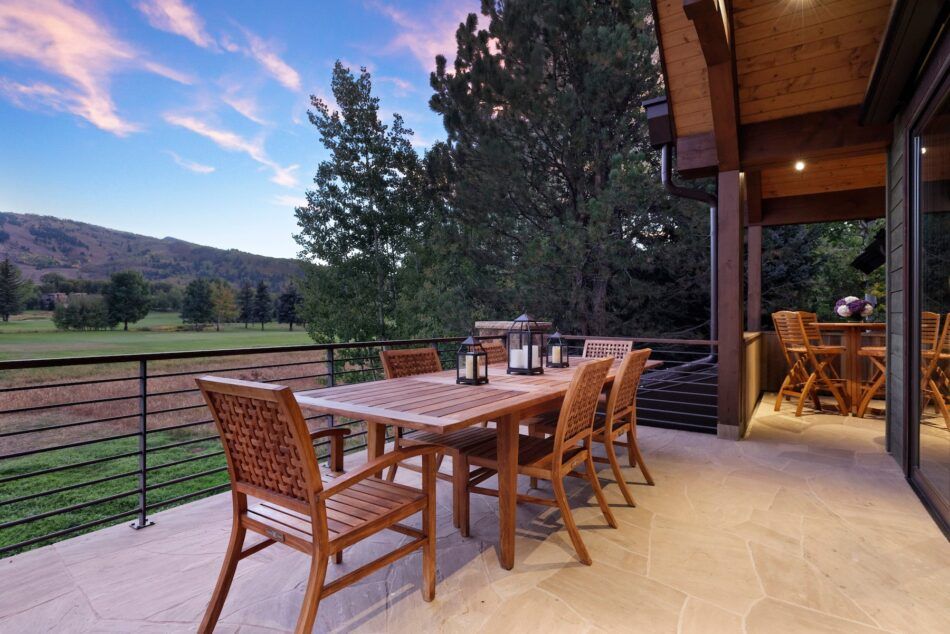 Designer Betsy Shiverick's deck in Aspen has many fabulous features, but one of her favorites is the automatic striped awning that instantly cools the space off on scorching summer days. "We sit outside all the time and enjoy the 180-degree view of the mountains and fields," she says. Photo courtesy of Betsy Shiverick Interiors
---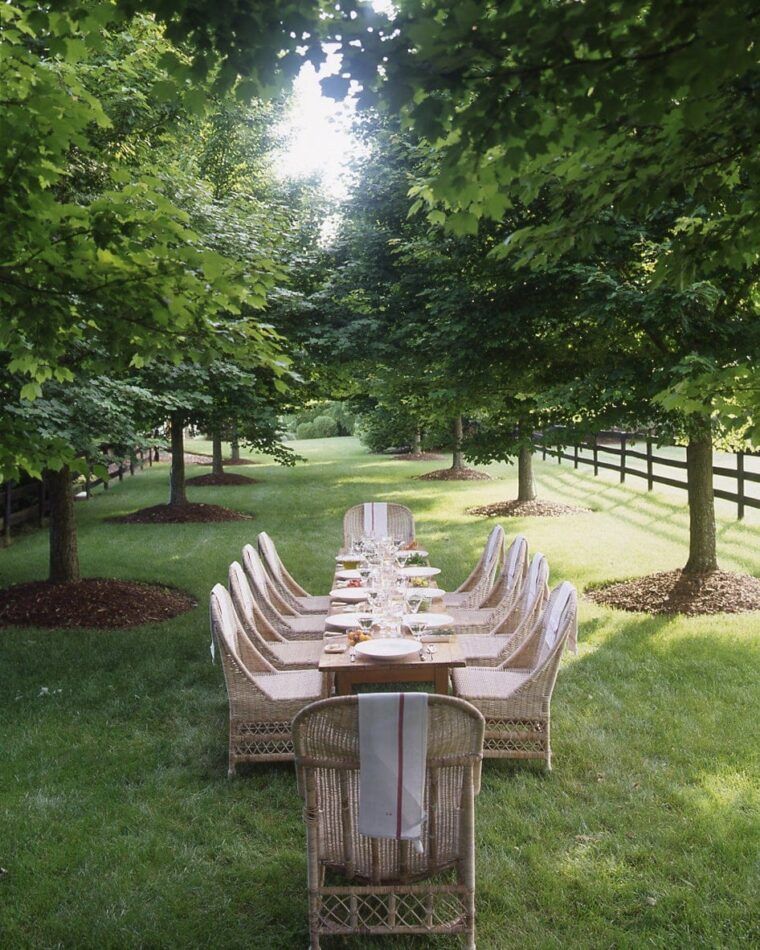 Los Angeles–based Suzanne Rheinstein designed a sophisticated oasis in the allée of a farm in the Virginia countryside, surrounding the clients' own table with 10 wicker chairs flown in from Montecito, California. "The owners entertain beautifully, and this was for one of their relaxed country lunch parties," she says. Photo by Victoria Pearson
---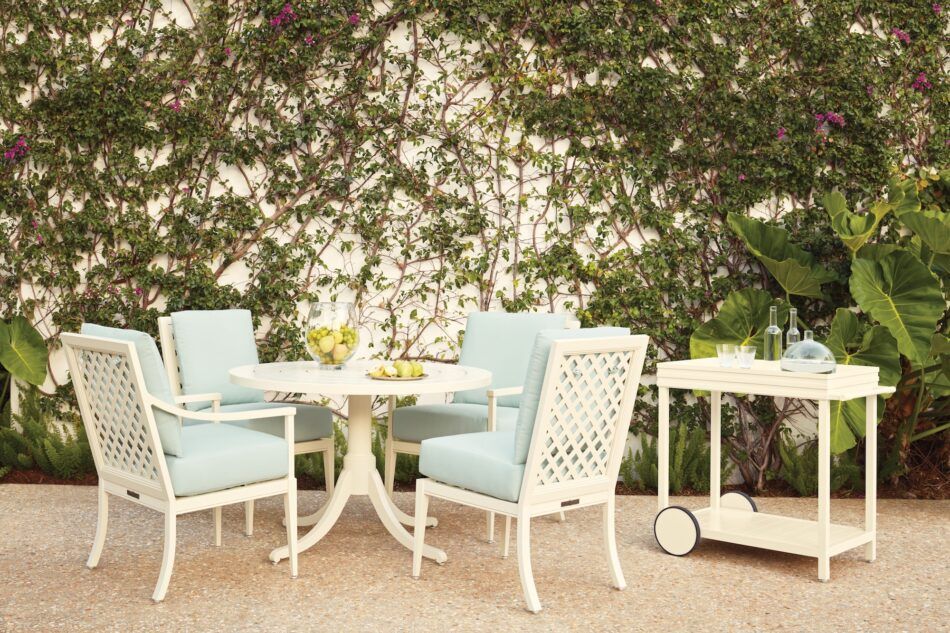 "When the weather is warm, our family dines outdoors for most every meal," says McKinnon and Harris cofounder Anne Massie. As demonstrated by this vignette, in a tropical Mario Nievera–designed garden in Palm Beach, the company's outdoor furniture makes alfresco eating both elegant and easy.
"The essential elements to create a relaxing fresh-air dining room in the garden are all here: our comfortable enduring duVal dining chair, Maury dining table and Perrow drinks cart," says Massie. "The bougainvillea climbing on the wall created the perfect backdrop for a dining theater." Photo by Kip Dawkins Photography
---
"We wanted to achieve a sense of serenity, with all furnishings as a backdrop to the ocean," says Chris Barrett, describing her design for the patio of a Los Angeles home overlooking the Pacific. Shopping was a breeze, since Barrett found everything she needed from Janus et Cie.
Seeking to make the space a true sanctuary for the clients, she covered the seating with fabric in their favorite color from Perennials. Mission accomplished. Photo by Victoria Pearson
---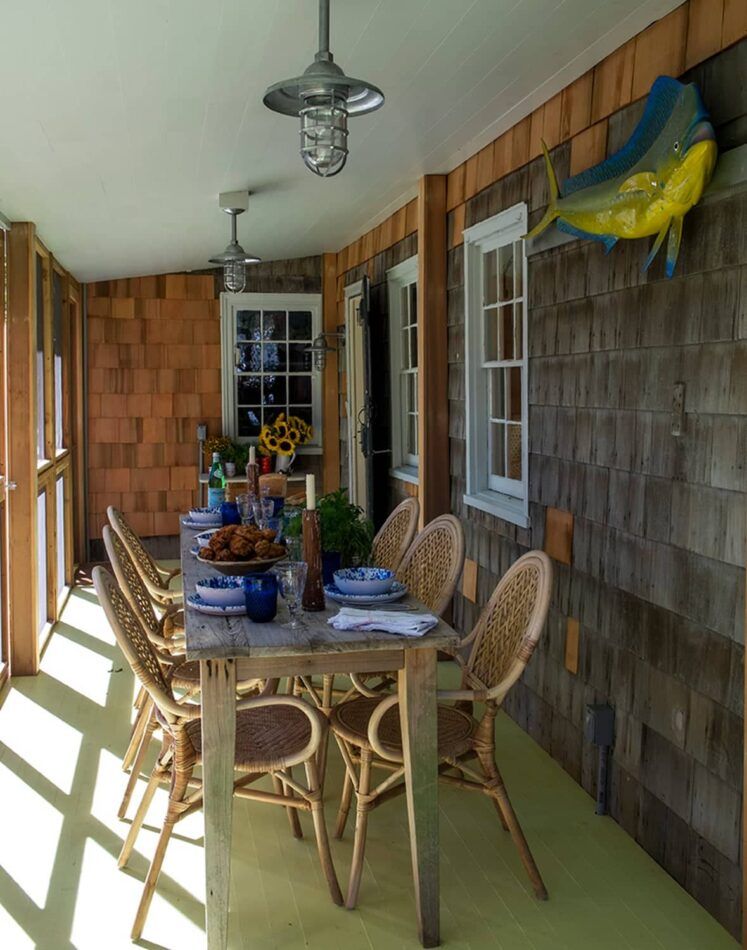 "A quaint whaler's cottage near Sag Harbor village, built in 1790, this home was purchased with my mom as a weekend getaway. A mix of antiques sourced from 1stDibs and Round Top Market, together with custom pieces, fills the home," says Michelle R. Smith. "The screened dining porch off the back was added — a reference to my Louisiana childhood. "
---
In her outdoor dining area in Houston, Jana Erwin, of Nest Design Group, went for French country style with a modern flair. "I wanted the space to always have a living room feel without having to remove the art when we were having bad weather, so I found this for a steal and leave it out all year round!"
With flea-market art and a vintage table from Jardin de France, the designer certainly nailed the rustic Gallic look! Photo by Julie Soefer
---
Whether the family is gathered around the fire on the wicker seating or dining alfresco at the custom iron table, nights in this Linda Burkhardt–designed outdoor space in Charlotte are sure to be delightful.
"I love to incorporate a mix of vintage, made-to-order and ready-made pieces," Burkhardt says. Of the custom table topped by a marble slab with a gray vein running through it, Burkhardt says, "It was reminiscent of the owner's favorite cheese: Humboldt Fog." Photo by Costas Picadas
---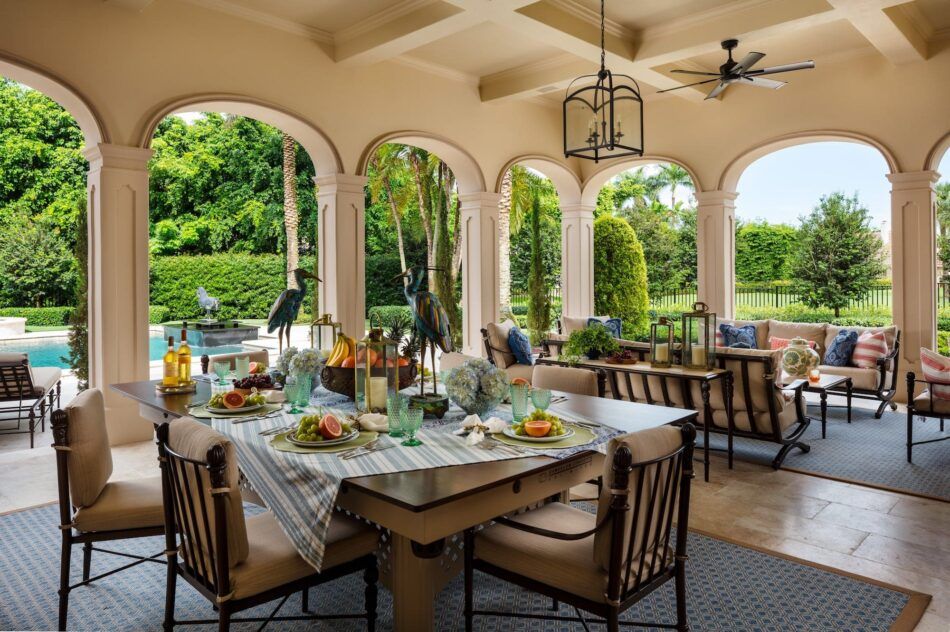 "The design for this Palm Beach outdoor area was inspired by the client's desire for a relaxing, easy space in which to enjoy time with the family," says Ashleigh Wilson, senior designer at Gil Walsh Interiors. And what could be easier than a table that switches from serving pool players to seating hungry diners with the addition of a locally crafted cypress wood top.
The vintage hurricane lanterns pair perfectly with the Murray's Iron Works chairs, which pop against the neutral background. Photo by Kim Sargent
---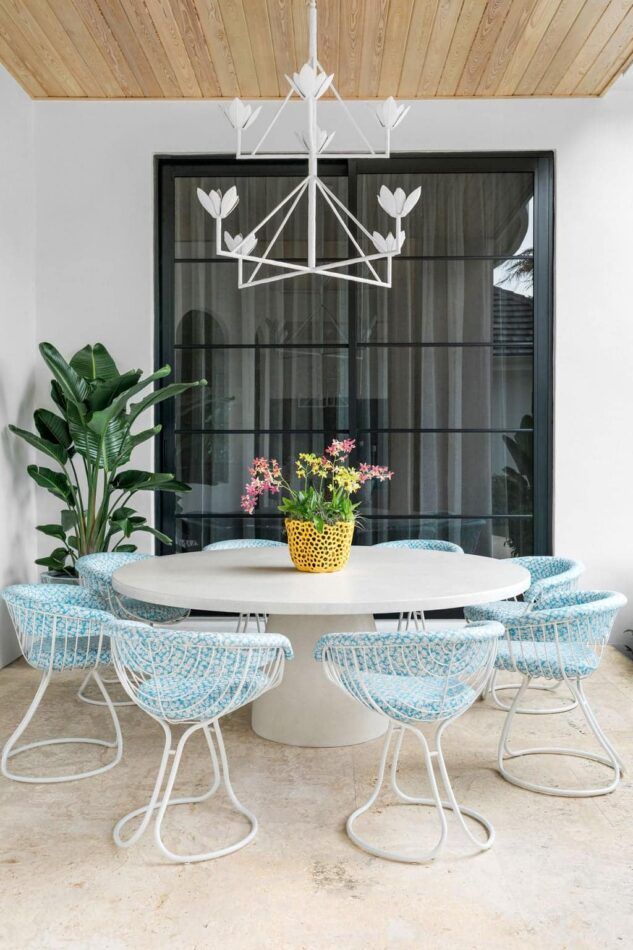 "Our overall goal with the exterior living spaces was to make them super social and capable of entertaining lots of people," says Tami Ramsay, describing the vision she and fellow Cloth & Kind cofounder Krista Nye Nicholas had for this West Palm Beach abode.
In the outdoor dining room, the designers surrounded a Zachary A. Design table with sandblasted and freshly painted vintage Pan Am chairs. Our favorite piece? The Paul Ferrante chandelier that they prepped for outdoor usage. The clients — a professional equestrian couple who live most of the time at their horse farm in Wellington, Florida — "love color, a playful approach to design and really unique, funky, vintage pieces," says Nicholas. Photo by Rustic White Photography
---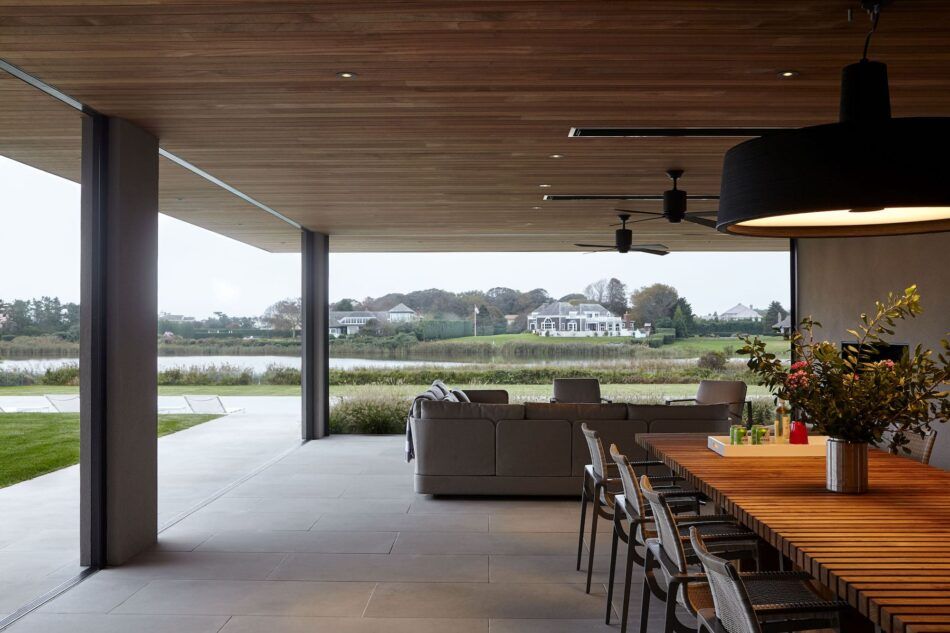 "We were inspired by the location, on the water in Southampton," says Damon Liss. The custom teak Janus et Cie table was designed to mimic the wooden slats on the ceiling, while the organic frame of the Holly Hunt dining chairs relates to the surrounding nature.
Perhaps the most striking feature of this outdoor dining space is the Marset ceiling fixture, which casts a romantic glow on the table's surface. Photo by Joshua McHugh
---
Lynn Morgan placed McKinnon and Harris Beaufort chairs around a Skye dining table, echoed by the firm's red and white Virginia bench set back on the lawn, to create a sumptuous dining area that does ample justice to the awe-inspiring surroundings: a Greenwich, Connecticut, garden created by Doyle Herman Design Associates (now split into James Doyle Design Associates and Kathryn Herman Design).
"This has all the hallmarks of a Doyle Herman landscape — simplicity, elegance, timelessness, modern and traditional all rolled into one," says McKinnon and Harris's Anne Massie. "As beautiful as the garden is, it is also a living, breathing thing — loved and lived in by the family." Photo by Ellen McDermott
---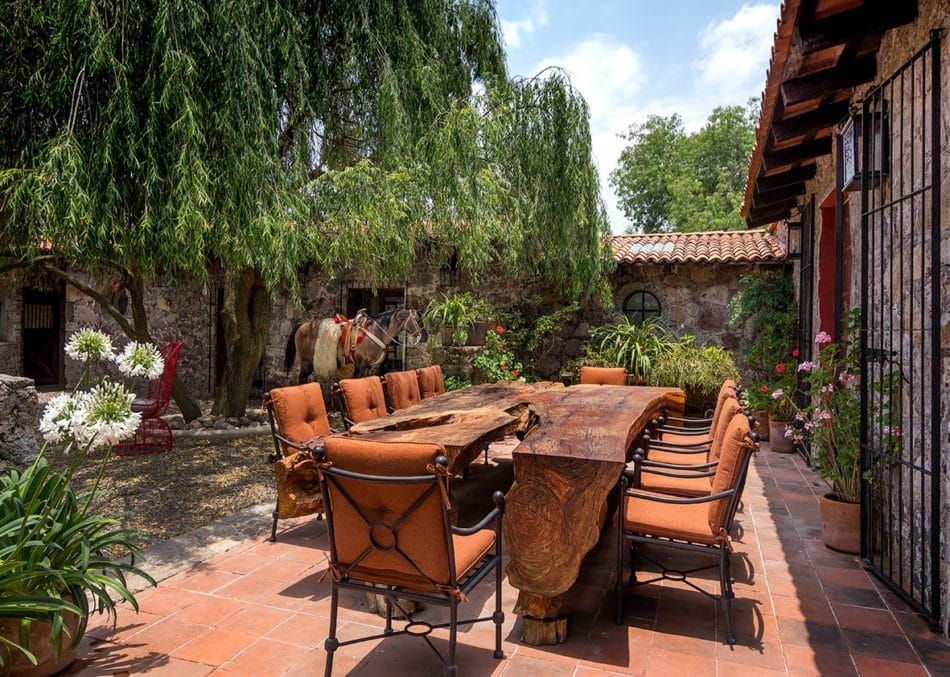 This dining area at a Sofía Aspe–designed ranch in Querétaro, Mexico, features a table from Bali that weighs more than 1,500 pounds and seats 10. The custom wrought-iron chairs are by local maker Dewayne Youts. Photo by Alfonso de Béjar
---
In updating a 1922 Spanish Colonial in Los Angeles, Studio Shamshiri added this interior courtyard, complete with hanging gardens and a Stan Bitters ceramic fireplace. Photo by Lisa Romerein, François Halard
---
Babcock Peffer designed this Sagaponack, New York, retreat for a client who wanted comfortable lounge spaces where he could relax with family and friends. Photo by Tria Giovan
---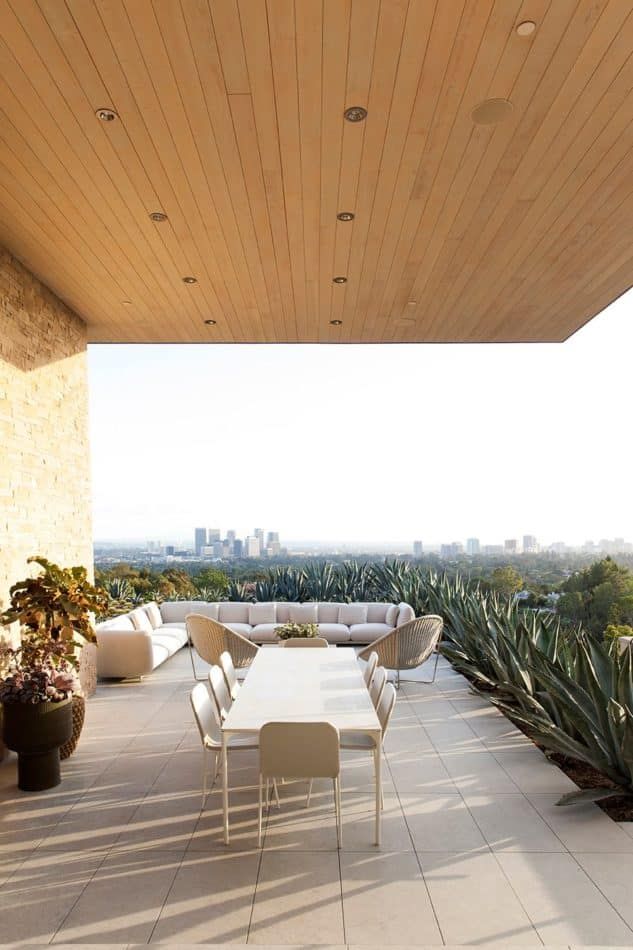 Each level of this Marmol Radziner–designed home in Beverly Hills, California, has a green roof and private patio with a scenic overlook. Photo by Roger Davies
---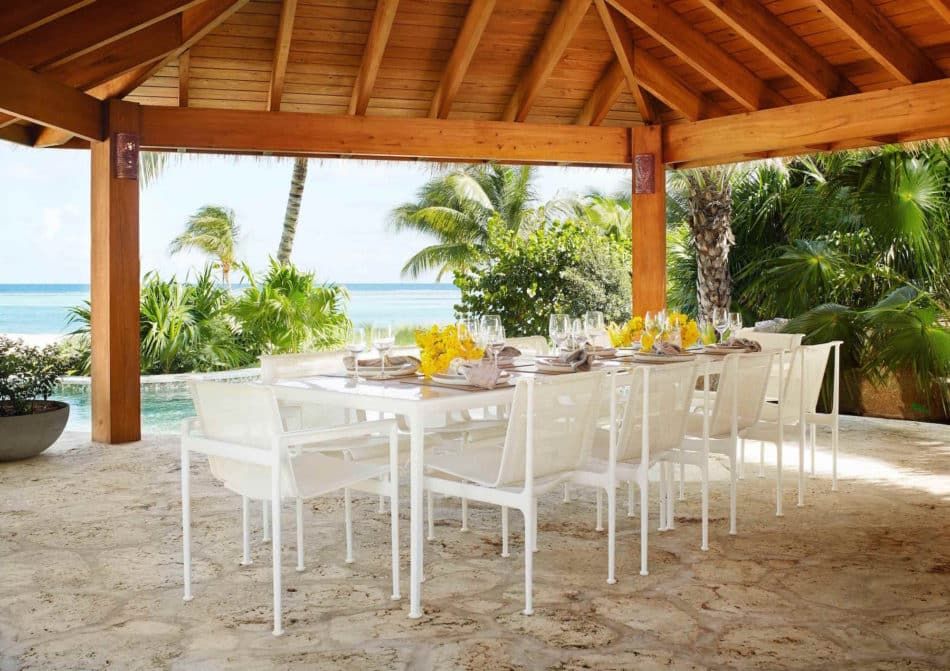 This British Virgin Islands family getaway by Soucie Horner is defined by wooden accents, textured stonework and seamless integration between indoors and out. Photo by Werner Straube
---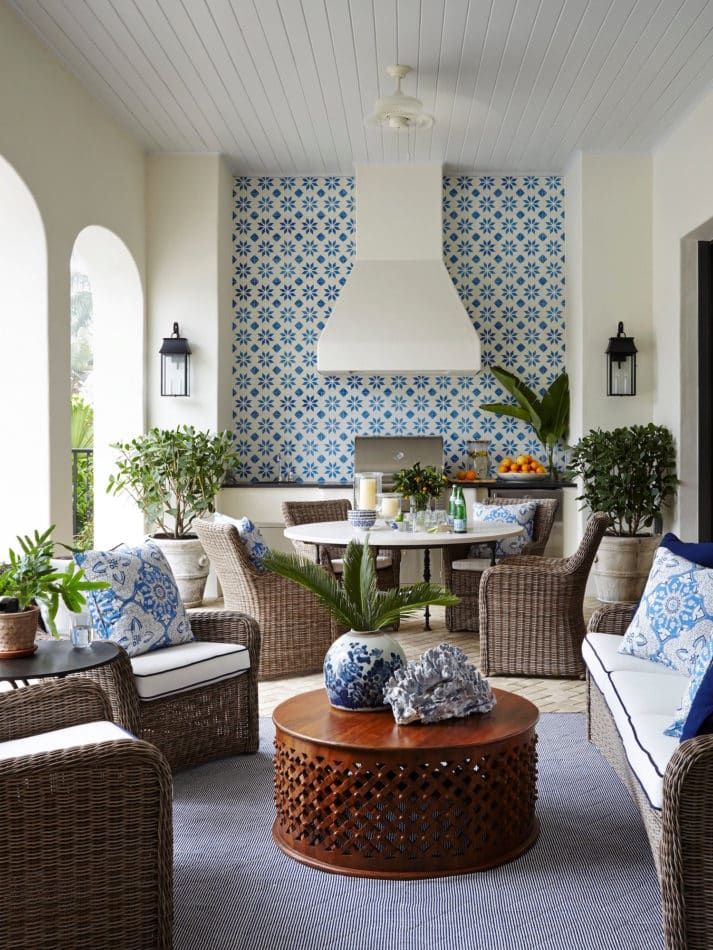 Summer Thornton designed this vacation home in Naples, Florida, whose outdoor dining area features an kitchen with a graphic tile backsplash that extends to the ceiling. Photo by Brantley Photography
---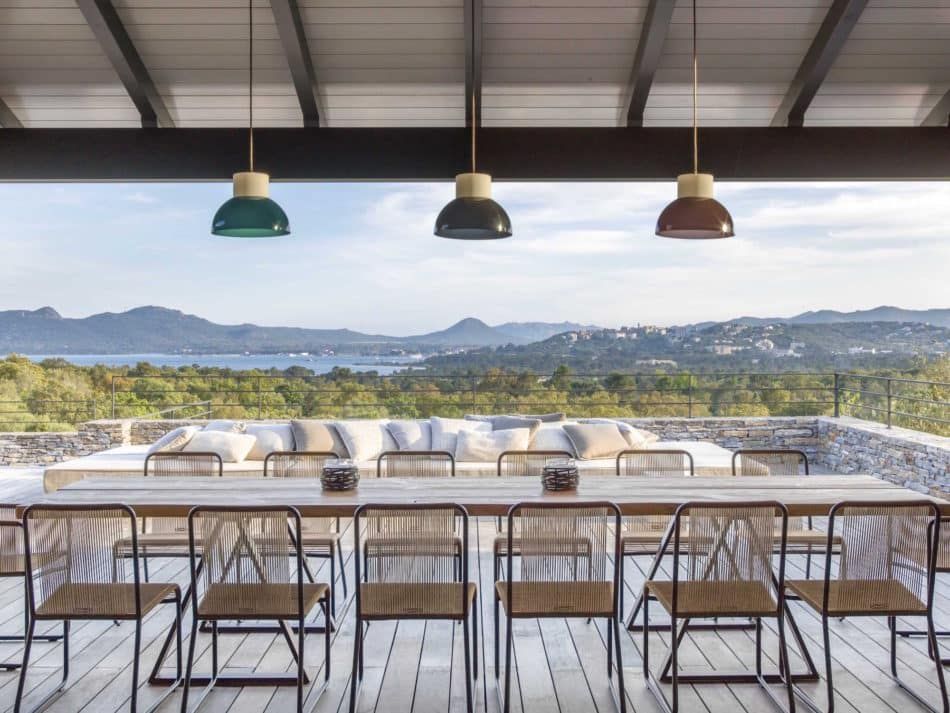 Jean-Louis Deniot created this deck in Corsica, France, with leisure in mind. "I design outdoor dining with the same components as interior dining: chandeliers above the table, outdoor speakers, hurricane candles on the table, table lamp on the bar. . . . I like when outdoor dining areas have the same comfort as indoor ones, but they are surrounded by nature," he says. Deniot designed the dining table as well the large outdoor daybed. Photo by Stephan Juillard
---
For this home in East Quogue, New York, "We wanted to avoid trite beach house décor, but worked in subtle nautical references such as the fretwork that mimics rope sailing knots," says Gary Brewer, a partner at Robert A.M. Stern Architects, who designed this space, as well as all the light fixtures.
"The dining porch, sized to accommodate a table for eight, opens off the dining room and adopts the circular shape of a gazebo to take advantage of 180-degree ocean views," Brewer adds. "Edmund Hollander designed the landscape — I admire the way the dune grasses come all the way up to the porch railing — and Steven Gambrel was responsible for the furnishings." Photo by Peter Aaron / OTTO
---
Sara Gilbane Interiors created an urban oasis at this Tribeca townhouse with groupings of large potted plants and trellises with climbing vines. A set of pendant lights hang from the pergola over the banquette-style dining area, making it ideal for both daytime and evening entertaining. Photo by Zach deSart
---
A brick fireplace lends an air of formality to this patio of a Jeffrey Alan Marks–designed home in California's Pacific Palisades. A set of iron lanterns loom over the space, which features a table with seating for 10. Photo by Douglas Friedman
---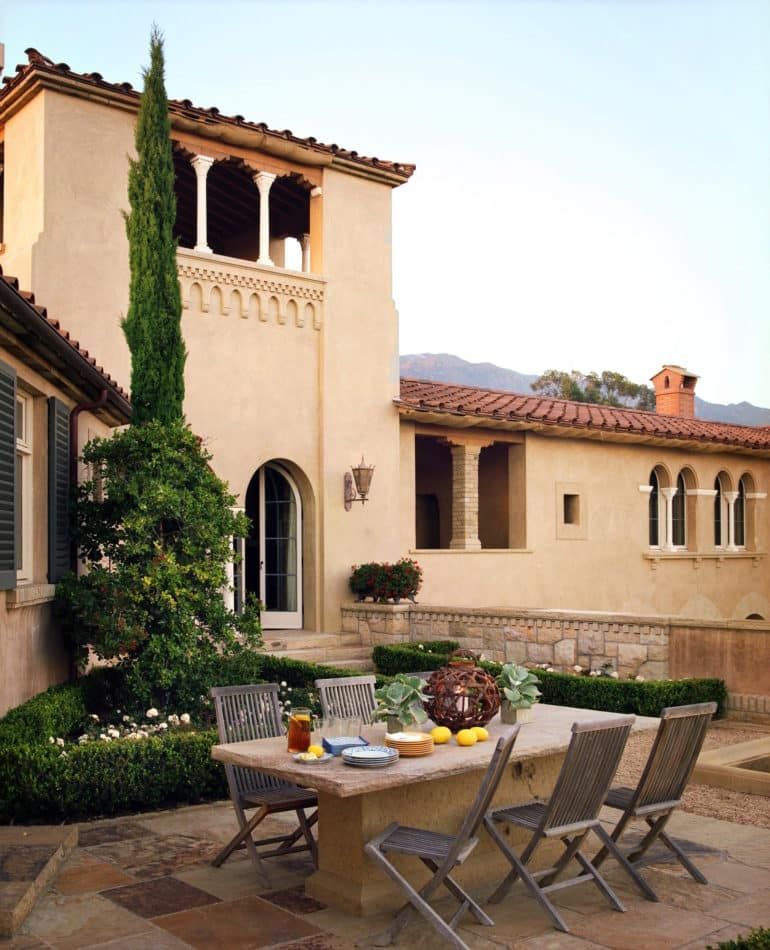 Inspired by the homeowners' travels to the hill towns of Italy, this ridgetop American villa by Tucker & Marks features a rustic stone table surrounded by a set of wooden chairs. Photo by Lisa Romerein
---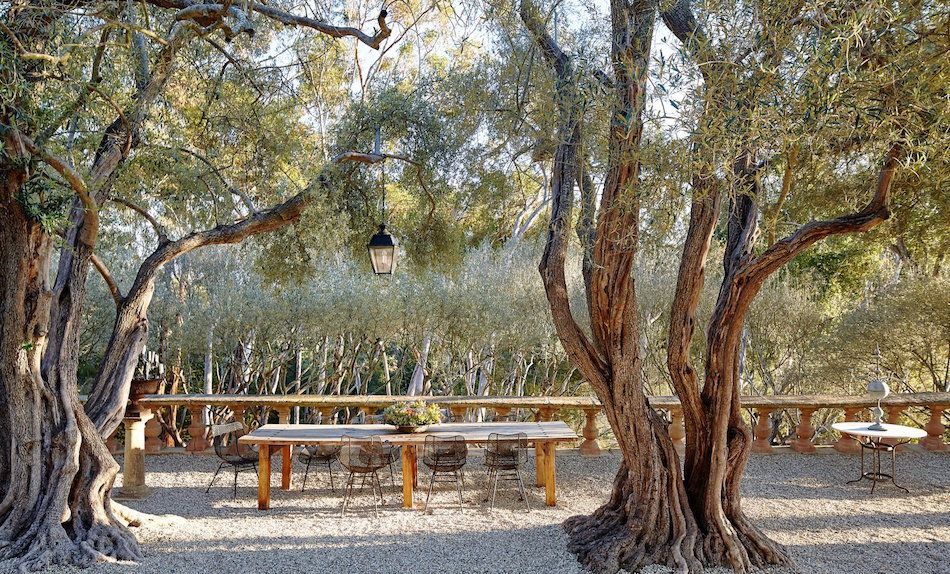 An early 20th-century tole lantern hangs above a vintage industrial table surrounded by Russell Woodard's Sculptura steel side chairs in this Santa Barbara, California, outdoor dining area by Matt Blacke. He said he wanted the space to feel romantic and rustic, and embraced by nature. Photo by William Abranowicz
---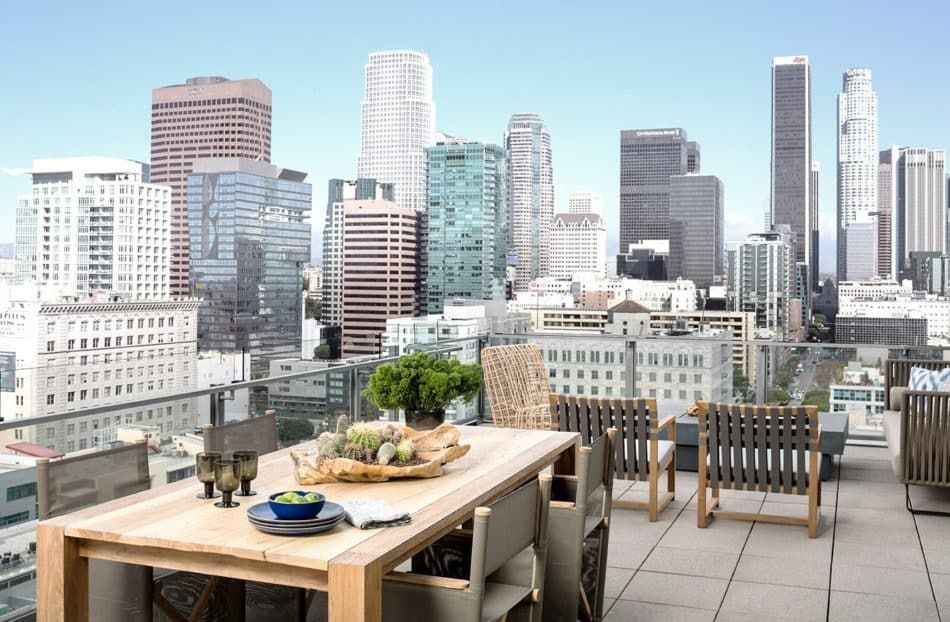 The patio of this downtown Los Angeles loft by Jeff Andrews offers sweeping city views, which the designer maximized by creating both a dining area and a lounge space. Photo by Grey Crawford
---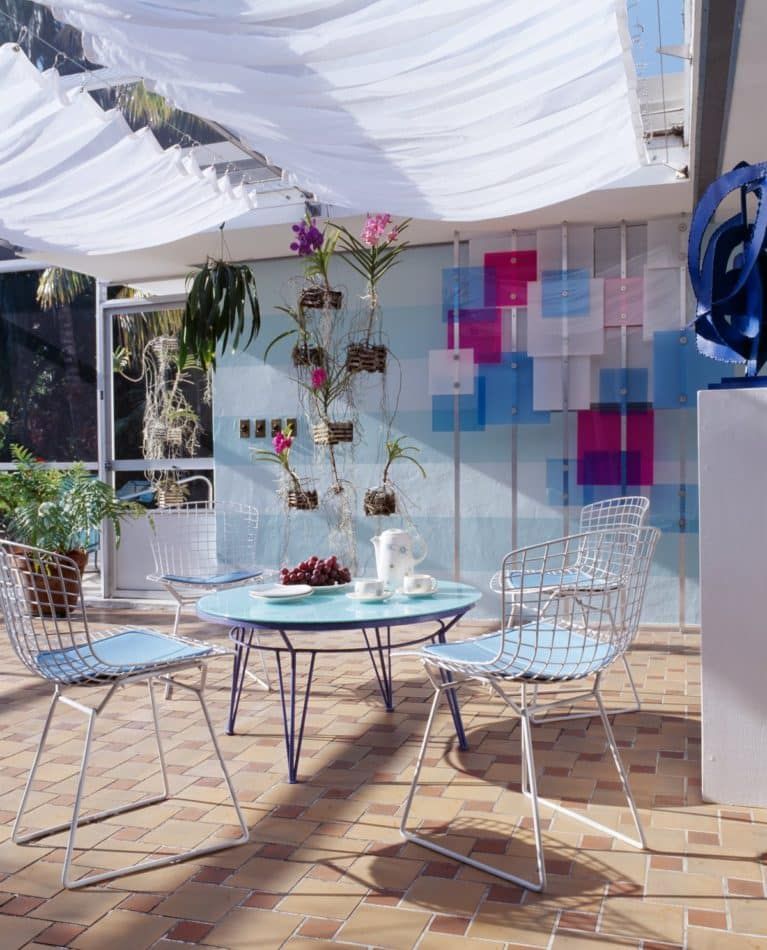 This patio of a mid-century house in Miami by Doug Meyer Studio features a striped painted wall and a bright dining table surrounded by Harry Bertoia chairs. Photo by Mark Roskams
---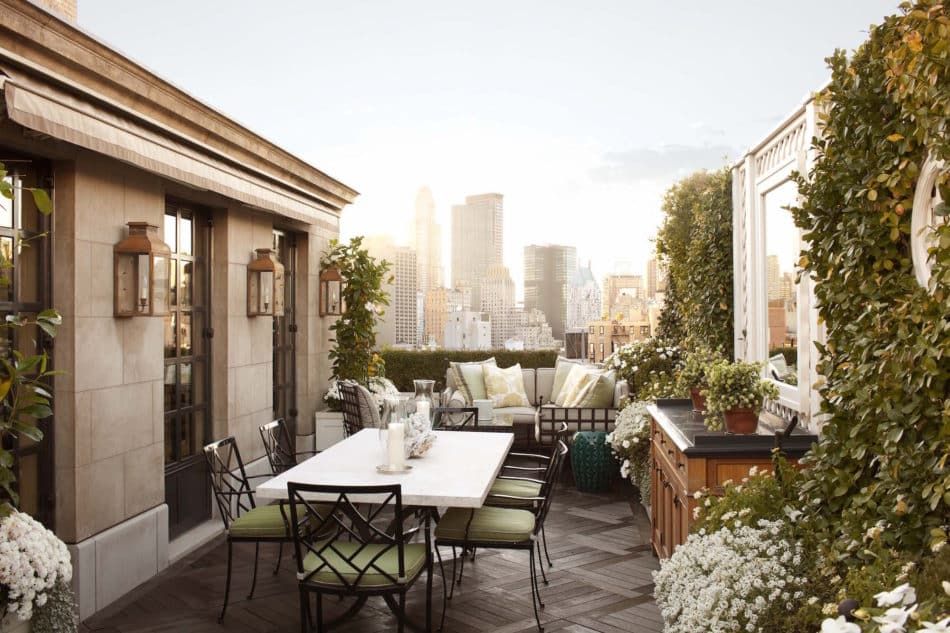 Brian J. McCarthy designed this Manhattan terrace for a couple with young children, so it needed to be casual and accessible for all ages. The large French wall lanterns in a bronze finish were from Charles Edwards, and the outdoor furniture was from Janus et Cie and Munder Skiles. Photo by Max Kim-Bee
---
"I was trying to create an outdoor space that had a dialogue with the interior of the apartment and that felt a little 1920s Breakfast at Tiffany's, but that was also thoroughly grounded in the present," Timothy Whealon says of this Manhattan apartment. An Hermès ice bucket and a silver bowl by Buccellati add further touches of luxury. Photo by Tim Street-Porter
---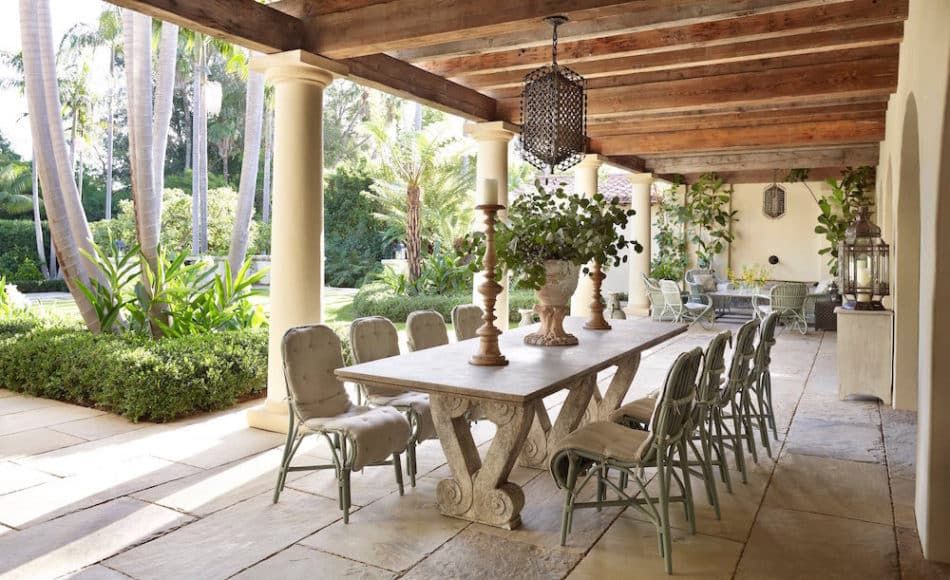 "The idea was to create a mood of gracious contemporary relaxation with a bit of 30s glamour," Suzanne Rheinstein says of this 1920s Mediterranean home in Bel Air. The painted cane chairs are a mix of old and new, the Moroccan lanterns are vintage and the stone table was custom made. Photo by Pieter Estersohn
---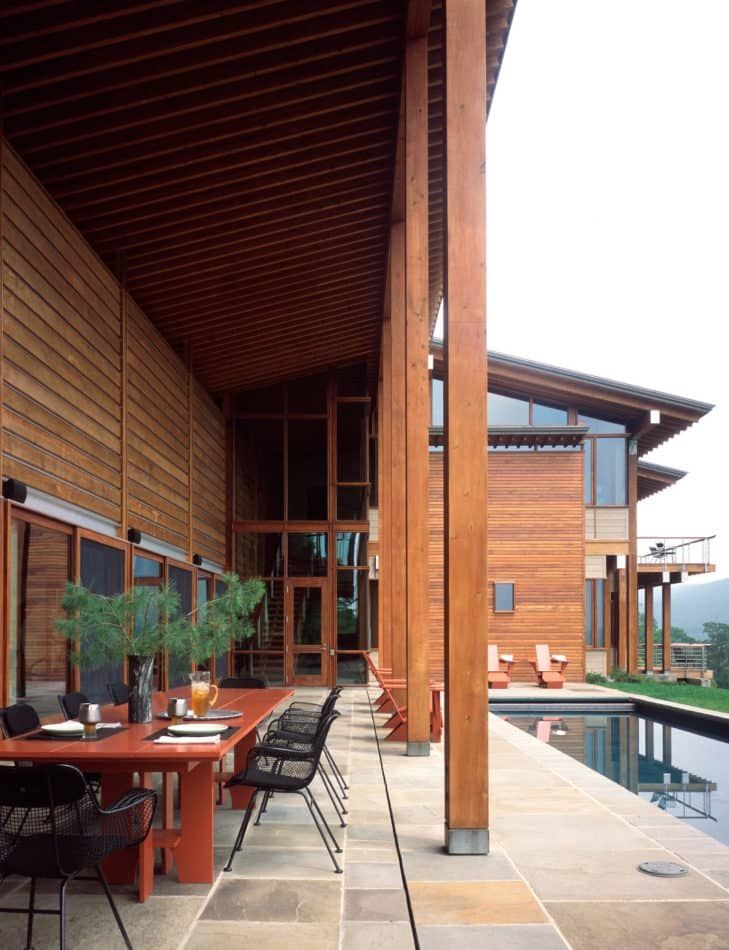 In designing an outdoor dining area for this home in the Blue Mountains of Pennsylvania, Stephen Shadley wanted to create "a comfortable and covered outdoor dining area focused on an extraordinary view!" The custom dining table is surrounded by vintage Sculptura chairs Woodard. The home's architecture is by Bohlin Cywinski Jackson. Photo by David Glomb
---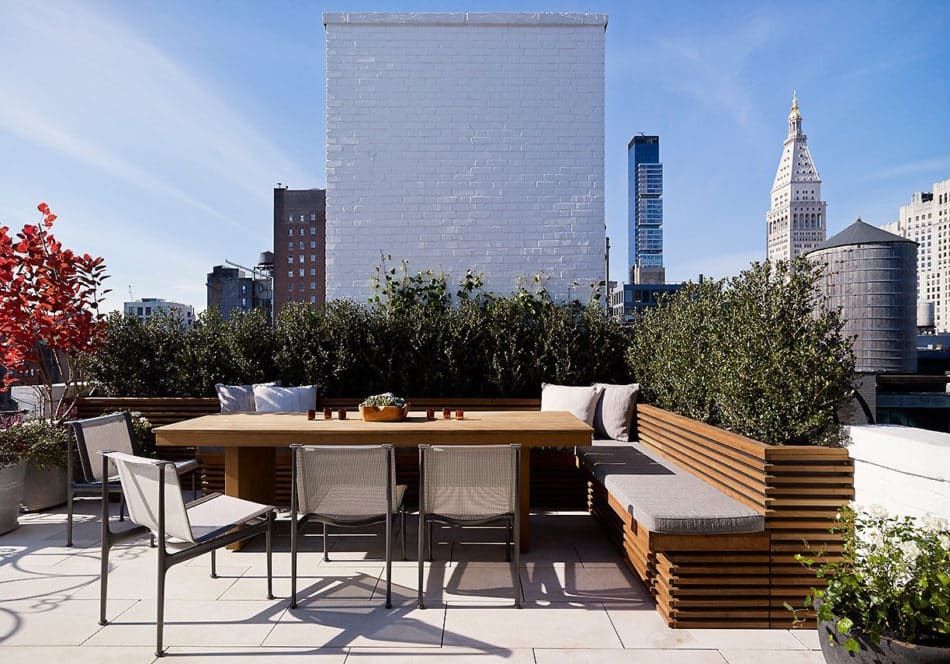 Fox-Nahem Associates designed this outdoor space for a Manhattan penthouse, which includes an L-shaped planter for shrubs that doubles as a banquette for the dining table. Photo courtesy of Fox-Nahem Associates
---
Kim Alexandriuk designed the outdoor space at this Tuscan-style Bel Air home, which includes sets of wrought-iron lanterns and sconces. A stone console behind the dining table doubles as a buffet. Photo by Dominique Vorillon
---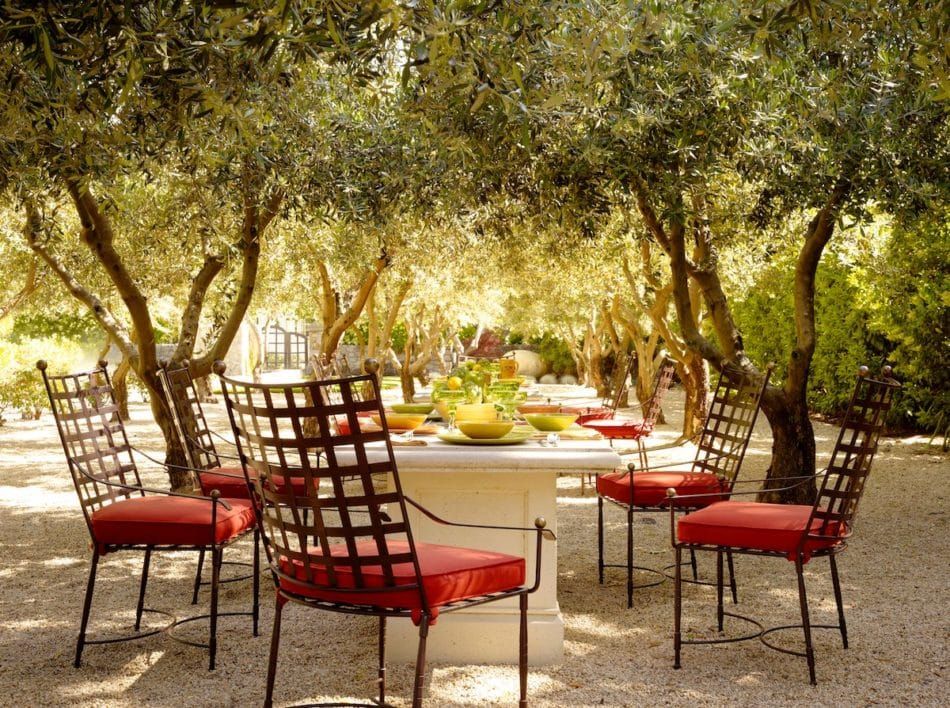 "We wanted to create a cozy spot in the olive orchard and used the warm colors to contrast the green of the trees and the neutral stone of the table and crushed granite on the ground," Jeffry Weisman of Fisher Weisman says of this Napa Valley, California, dining area. The wrought iron chairs are topped with cushions upholstered in fabric from Perennials. Photo by Grey Crawford
---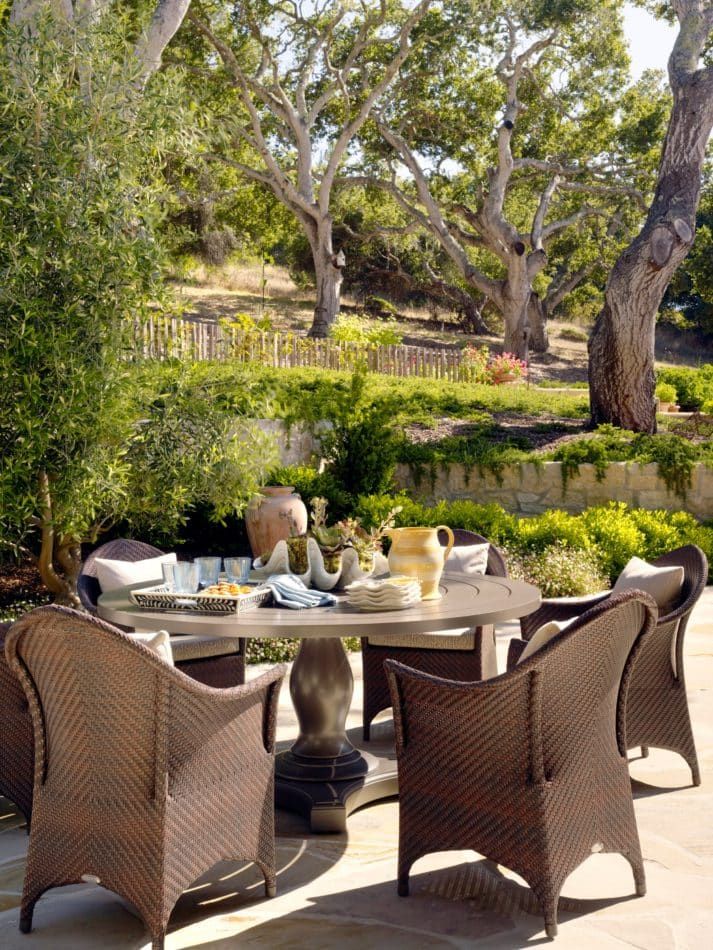 Tucker & Marks was going for a 1920s Mediterranean vibe at this new-build home in California's Carmel Valley, whose patio features a set of wicker armchairs. Photo by Matthew Millman
---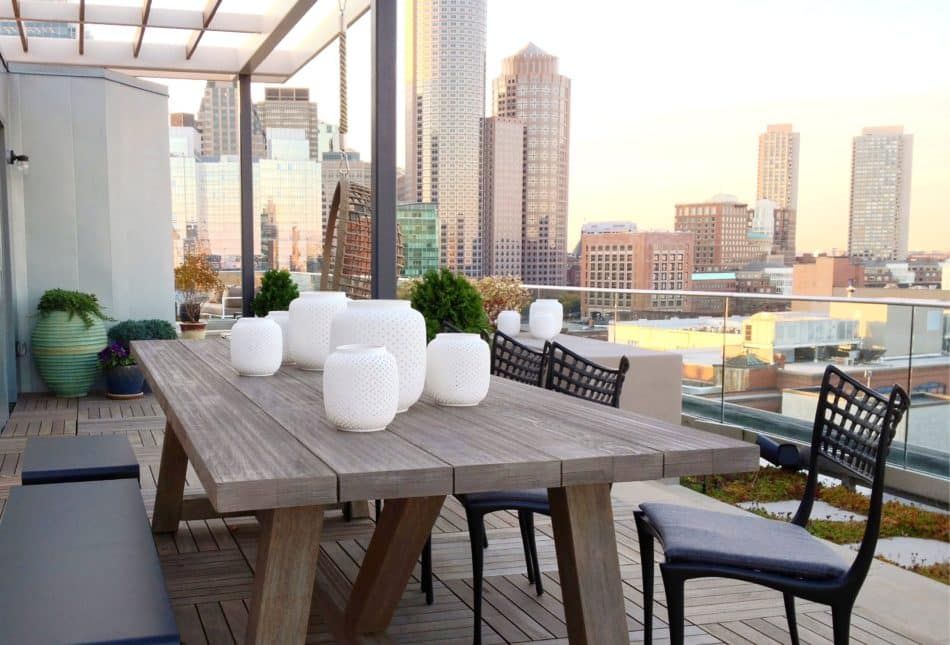 "We set out to create a rooftop oasis in the middle of the city," Marty Dykas of Studio Dykas says of this Boston penthouse. "Pulling inspiration from the client's travels through Southeast Asia and the Caribbean, we designed a contemporary space with a bohemian spirit. Earthy tones and natural materials mesh with modern amenities and furnishings to create an urban sanctuary from which to enjoy views of both downtown Boston and the harbor." A set of Dan Johnson's Sol y Luna chairs are pulled up to the teak dining table. Photo by Marty Dykas