Every September, Vogue Italia, in collaboration with Vogue Gioiello, runs a feature called the U.S. Protagonists, spotlighting a group of talents who are taking fine jewelry design in new directions. For this year's edition, Bali-based jeweler Alexandra Mor conceived the idea to ask 12 such protagonists to make bijoux incorporating the tagua nut. The tagua nut? you ask. Yes.
It might not yet be well known, but the tagua nut, a product of the ivory palm tree — native to Panama, Ecuador and Colombia — when properly dried, hardened and polished bears a striking resemblance to elephant ivory. And as we all know, despite a worldwide ban on the gruesome trade in elephant tusks, there are many consumers across the globe who still crave ornaments fashioned from the material.
Through promotional efforts like Vogue Italia's, it is hoped that the tagua nut will soon be deemed precious for its beauty, and therefore play a significant role in the development of a rising high-end retail category: mindful luxury.
The U.S. Protagonists and their tagua jewels are featured in the September issue of Vogue Italia. It is the first such edition under the stewardship of editor in chief Emanuele Farneti. In addition, on September 6, Vogue Gioiello for Vogue Italia will host a U.S. Protagonists selling exhibition in the opulent sunken living room of Spring Place, in New York, and 1stdibs is offering the pieces online. Twenty percent of the proceeds will go toward preserving elephant habitats.
Take a look at these exceptional works of craftsmanship, and see if you don't get "woke."
---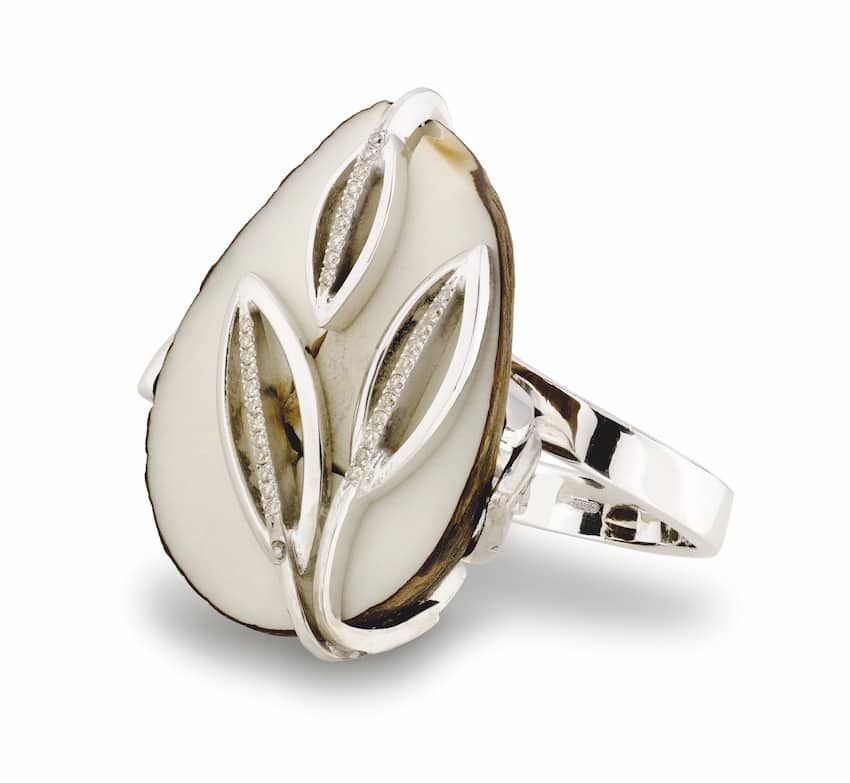 1884 Collection
Ancient and contemporary notions of luxury align in the jewels of the brand 1884 Collection, founded by the Roman jeweler Alberto Petochi, whose family atelier has catered to European royalty for more than a century. "I haven't used ivory in any capacity and never will," says Petochi, "but working with the tagua nut has inspired me, as it is in line with my efforts to show unique luxury items but also protects the environment."
---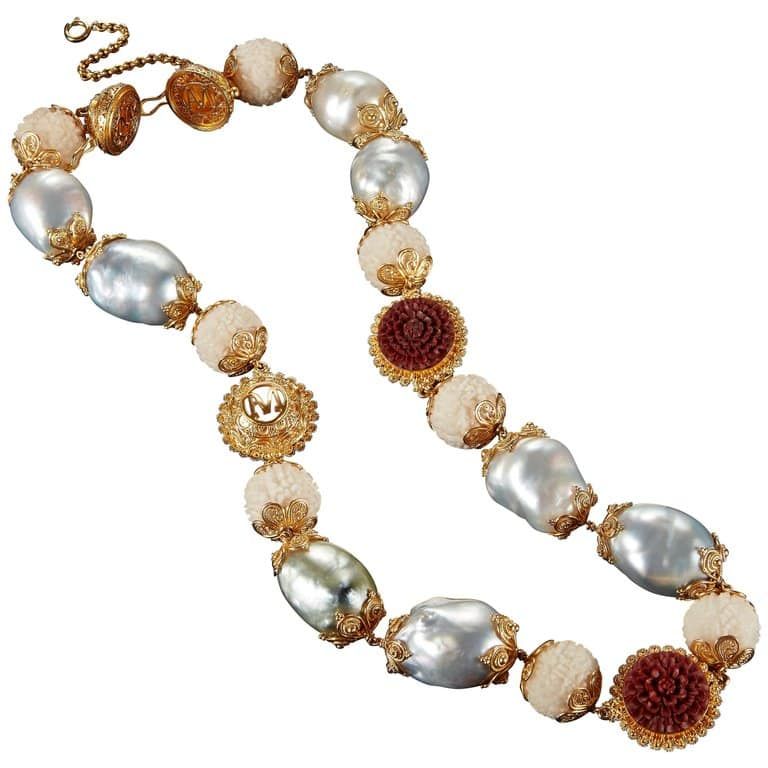 Alexandra Mor
Alexandra Mor could be the ambassador for a new breed of globe-trotting enlightened creatives. The daughter of a French couturier mother, she was raised in Israel and came to New York to study film. Yet it was in the city that she discovered that she achieved her greatest creative expression through fine-jewelry design.
For 10 years, Mor ran her business in New York, but has since decamped to Bali, where she now collaborates with native master carvers designing sustainable, socially conscious jewels, like those in her Tagua Seed Collection. Committed to empowering women, Mor is heartened by the knowledge that it's typically women who harvest tagua nuts in the Amazon region and they who will be most benefit if its popularity grows.
"As I see it," says Mor, "there is a synergy between the tagua, with its ancient symbolism of harmony, love of family and friends, fertility and tranquility, and where I am in my own journey as a creative spirit and a woman."
Above: Alexandra Mor necklace with tagua rudraksha beads, sawo wood and baroque South Sea pearls, 2017
---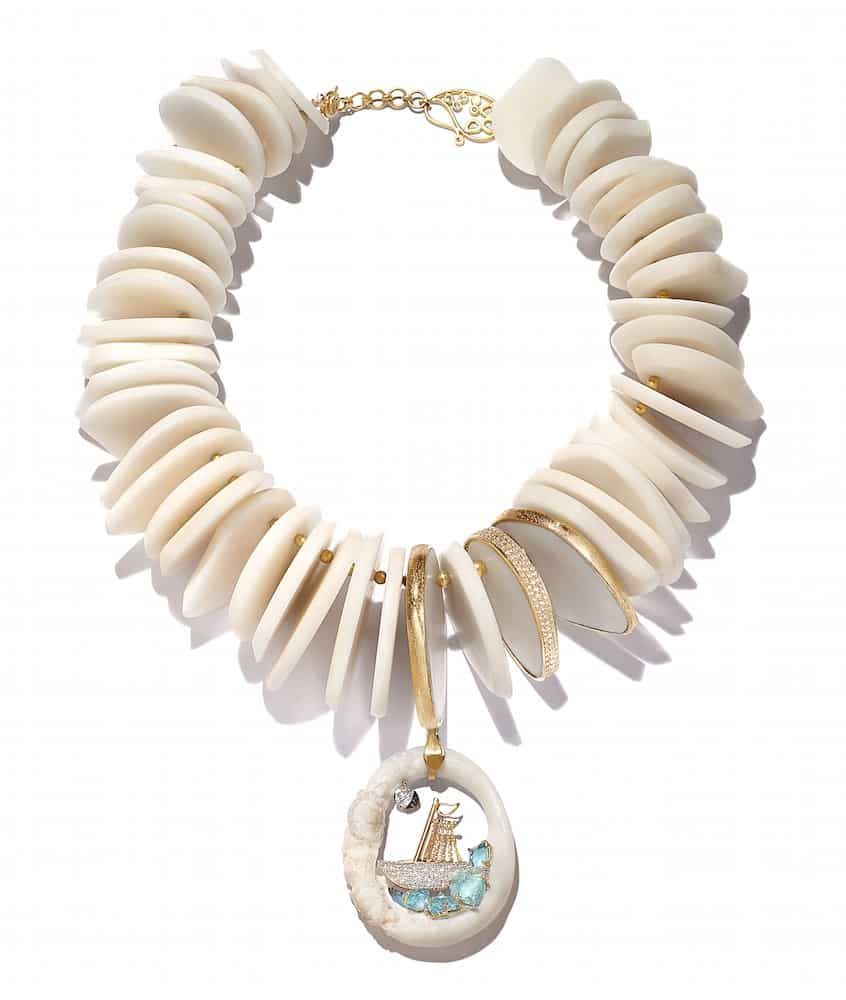 Coomi
Before becoming a jewelry maker, Coomi worked as a textile designer, so a deep understanding of construction — along with a studied appreciation for color and texture — informs her pieces.
"When I saw the nut for the first time, I felt I was embracing the unknown, as it was just a brown pod," she confesses. "It did not seem to have the potential to be jewelry."
The project started an elaborate dialogue between Coomi and her wood carver, out of which a synthesis of methods and ideas emerged to create this wearable piece of art. The necklace has "a magical romantic spirit," says Coomi, who was born in India and moved to the U.S. in 1977. "Slices of the Tagua nut become rippling waves, as well as a boat sailing on the deep blue sea."
---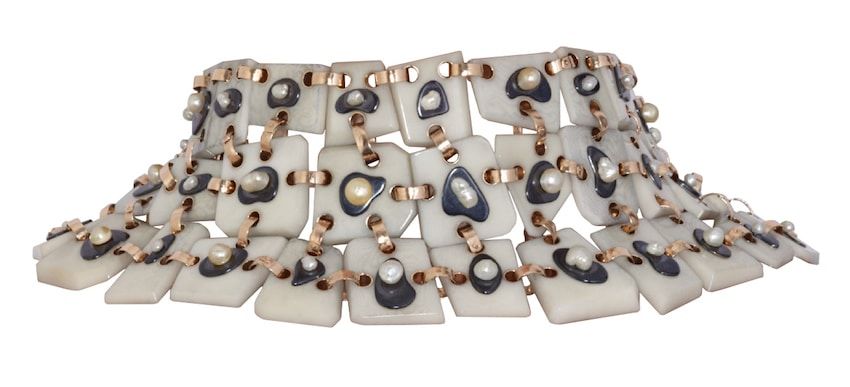 Hind Matar
Although best known as a rising star of the fashion world, the Baharaini-born, London-based Hind Matar has bijoux in her blood. Her great grandfather Salman Matar was one of her country's top pearl merchants, supplying such esteemed houses as Cartier and Boucheron with the finest natural Bahraini pearls. "I've called my tagua nut collection Futuristic Antiquities, because the jewels redefine what a statement piece can be," she says.
---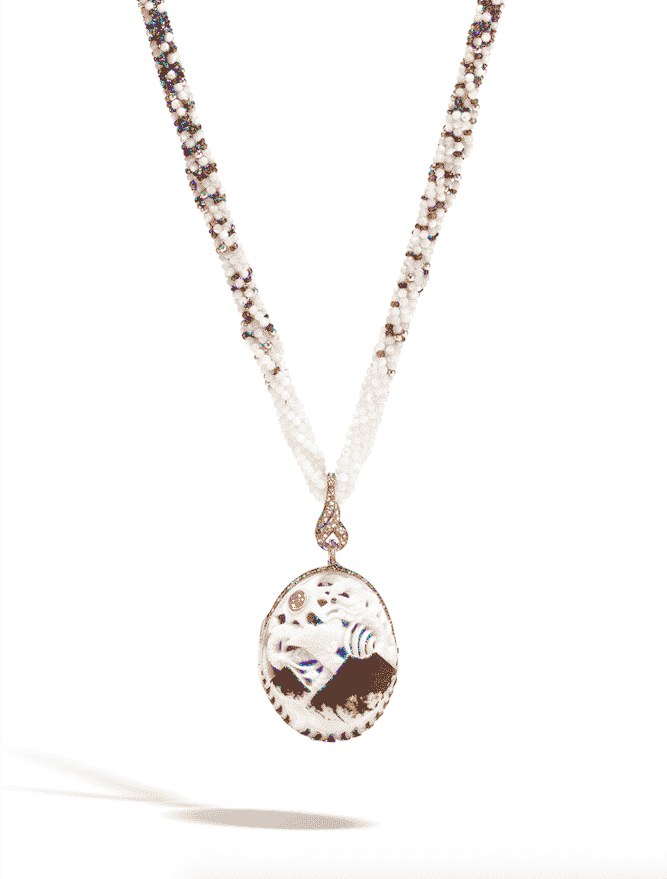 John Hardy
It's fitting that the John Hardy brand is represented in this year's U.S. Protagonists, as he established his jewelry collective in the late 1970s to support community, artisanship and sustainability in Bali.
Hollie Bonneville-Barden, Hardy's creative director, designed this striking locket, which took five months to make, "to celebrate the natural character, warmth and purity of the tagua nut," she says. "The citrine hidden inside has amazing flashes of light and energy. This transformable piece plays on the idea that it is up to us to protect and preserve nature."
---
Justin von der Fehr
Former fashion-model-turned-renegade-accessories-designer Justin von der Fehr, or JvdF, has made his name by transforming utilitarian objects like carabiners into wearable ornaments.
His mischievous virtu in 14-karat gold, include joint and tampon cases. To best understand the tagua nut's potential and limitations, he fashioned his signature pill case in tagua, detailing it with 14-karat gold to highlight its beautiful veining.
"I'm definitely interested in understanding how we can use this eco-friendly material as an alternative iteration of what we currently produce, while also developing complimentary pieces that speak to our world and philosophy," says von der Fehr.
---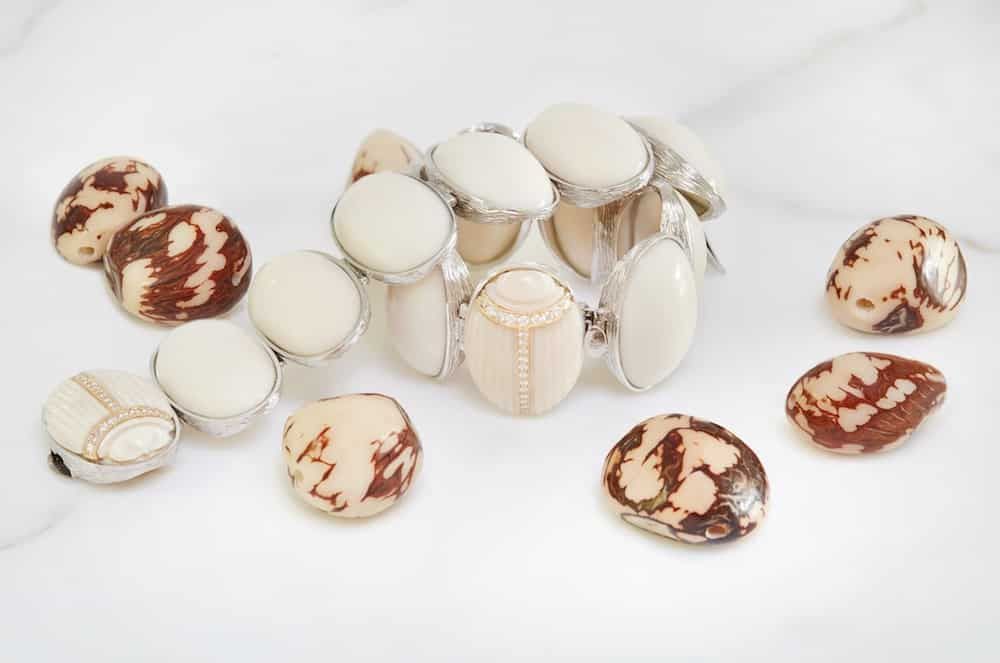 K. Brunini Jewels
The power and grace of Mother Nature is what inspires Katey Bruinini's jewelry design, so working with sustainable materials is "the heartbeat" of her brand. Although she's based in San Diego, Brunini travels the globe in search of new visions and materials for her collections.
She was fascinated by the tagua nut, which she describes as being easy to carve, more like a vegetable than brittle bone. Her choice of a scarab design is significant to her own history. When she was a college student, she visited Egypt and was captivated by the tombs of the ancient pharaohs and their notions of immortality. (The scarab symbolized resurrection.) It was then she decided to pursue a career in jewelry and make ornaments that might bridge the worlds of the primeval and modern day.
---
KC Sukamato
Los Angeles–born KC Sukamato is the very embodiment of today's multiculti millennial esprit, as she is the daughter of a Filipino-French mother and a Chinese-Indonesian father. Fittingly, her jewelry designs draw on her associations with various Asian cultures, histories and art forms.
In fact, her earliest experiences making jewelry date back to girlhood, when she and her mother would buy beads of semiprecious stones at outdoor markets in Indonesia and India, and then they'd string them together into necklaces. Sukamato likewise enjoyed exploring the tagua's potential as a jewelry material.
"It became so lustrous after several fine polishing treatments," she says. "And its light weight made it ideal for the kind of statement earrings that I love." She notes that she rooted the design in a Southeast Asian style, as that demographic is known to use ivory.
---
Kristin Hanson
Modern and contemporary art has always influenced award-winning couture jewelry designer Kristin Hanson. For her tagua design, she looked to the delectable frosted-cake paintings of Wayne Thiebaud and came up with the idea of a choker pendant that looks like a sprinkle-covered glazed donut! This yummy bauble consists of a ring-shaped tagua nut with diamonds spread over its top like icing with a dusting of tiny gemstones. A tagua doughnut?
---
MCL Design
Matthew Campbell Laurenza trained as an architect before turning his design talents to jewelry. While he applies his knowledge of construction to jewelry design, he thinks of his pieces more as wearable sculptures. To highlight the luscious, creamy beauty of the tagua, Laurenza hand-polished 11 nuts and transformed them into large beads, which he then embellished with an array of fancy colored sapphires and semi-precious stones to make a glamorous, tribal-looking choker.
---

Sharon Khazzam
Iranian-born Sharon Khazzam admits to being jewelry-obsessed since childhood. Her early infatuation developed into an exceptional talent. Sixteen years ago, she launched her own eponymous line of one-of-a-kind jewels and was soon celebrated for her flamboyant, colorful designs.
Still, Khazzam was captivated by the cream-colored tagua nut, and provided it the same respect she would give to an impressive gemstone. When conceiving her dramatic design, she first had to figure out how best to show off this lustrous kernel within her own aesthetic, so that the piece might fit naturally into her jewelry collection.
"As a nod to the cause, I fashioned the jewel's prongs to resemble elephant tusks," she says. And like those noble creatures, Khazzam's pendant necklace abounds in majesty.
Above: Ellie necklace by Sharon Khazzam
---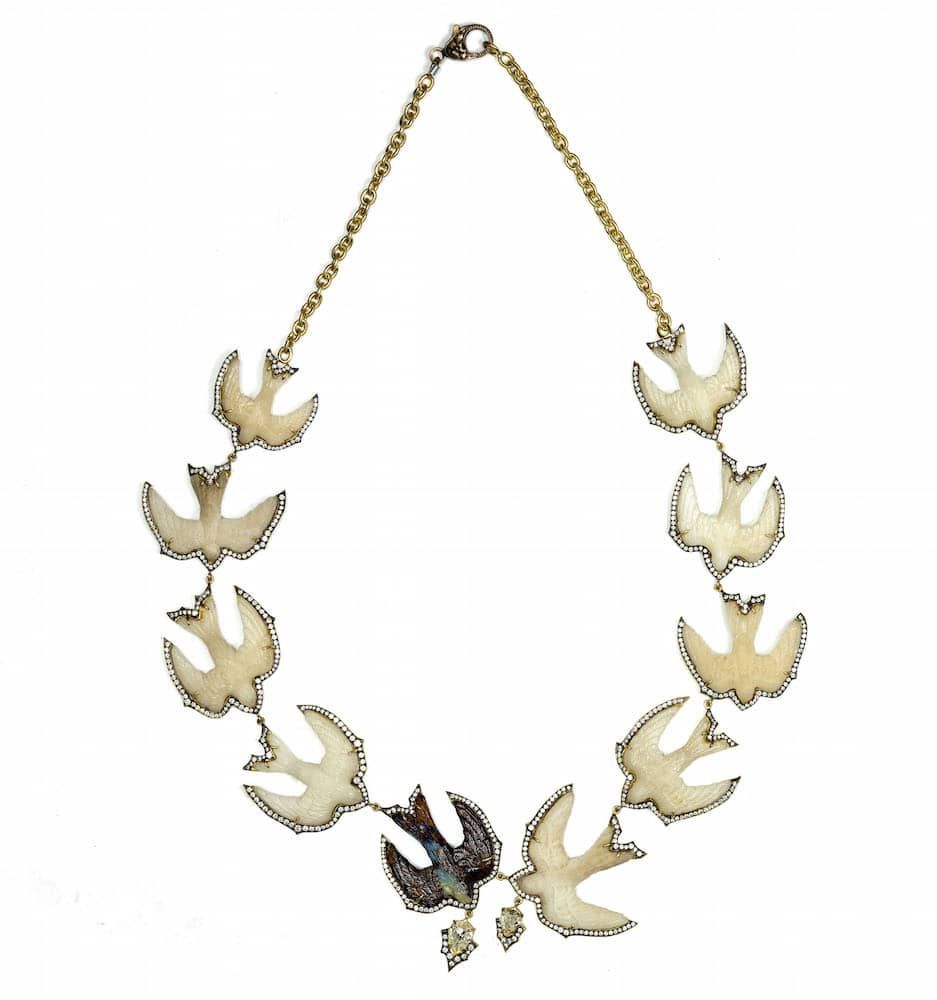 Sylva & Cie
Married couple Sylva and Raffi Yepremian of Los Angeles–based Sylva & Cie are second-generation jewelers, whose fathers were close friends and colleagues in Beirut when they were very young. Sylva creates jewels that radiate an old world craftsmanship, while still having a bohemian vibe.
When the pair launched the company in 2008, it was with a collection of skull jewelry. Adept at employing ancient glass and mummy beads in her work, Sylva welcomed the challenge of finding a way to incorporate the tagua into her jewels and was delighted with the result.
"I've always been interested in sustainable jewelry, and frequently employ reclaimed diamonds and vintage components in my designs," she says. "The luxury jewelry industry hasn't been at the forefront of the sustainable movement, and I believe jewelry should be part of the story. So I was proud do be part of this project."
Above: photo courtesy of Alexandra Mor, all rights reserved by Russell Starr