Scandinavian Modern Collection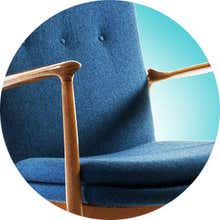 Scandinavian Modern Furniture Collection (Denmark, Finland, Sweden; 1930–present)
The designers of Scandinavian modernism created the warmest and most human iteration of modernist ideals. Their work was founded on centuries-old beliefs in both quality craftsmanship and the ideal that beauty should enhance even the humblest accessories of daily life. The gentle, organic contours that are typical of vintage Scandinavian modern furniture appear in the work of Danish, Finnish and Swedish designers not as a stylistic gesture, but rather as a practical, ergonomic — and, as importantly, elegant — response to the human form.
Each nation produced exceptional talents in all areas of the applied arts, yet each had its forté. Sweden was home to Bruno Mathsson, creator of the classic Grasshopper chair, but the country excelled most notably at ceramics. In the '20s at the great Gustavsberg porcelain manufactory, Wilhelm Kåge introduced Scandinavian modern pieces based on influences from folklore to Cubism; his skills were passed on to his versatile and inspired pupils Berndt Friberg and Stig Lindberg.
Likewise, Finland produced a truly ingenious Scandinavian modern furniture designer in the architect Alvar Aalto, a master at melding function and artistic form in works like the Paimio chair. Yet Finnish glassware was pre-eminent, crafted in expressive, sculptural designs by Tapio Wirkkala and Timo Sarapaneva.
The Danes excelled at chairs. Hans Wegner and Arne Jacobsen were exemplars of the country's facility with wood, particularly teak. Wegner created such iconic pieces as the Round chair and the Wishbone chair; Jacobsen — while he produced the best-selling plywood Ant chair — designed two classic upholstered pieces of the 1950s: the Swan chair and Egg chair. The list of great Danes could go on and on, including Finn Juhl, maker of the bold Chieftain chair; Poul Kjaerholm, with his lean metal-and-rattan aesthetic; and Vernor Panton, who introduced a vibrant Pop note into international design.
On 1stDibs, you will note both instantly recognizable Scandinavian modern designs and many new discoveries. Even more than 50 years on from their heyday, the prolific, ever-evolving Scandinavian modernists continue to amaze and delight.