1. The mask became the literal must-have accessory of the year.
December 20, 2020Face masks were unquestionably the must-have item of 2020, quickly evolving from medical necessity to fashion accessory. Props to luxury brands like Ralph Lauren and Prada for turning their production facilities to the manufacture of medical masks early in the pandemic. By summer, everyone from Etsy sellers to Burberry, which donates profits from its signature-plaid masks to COVID-impacted communities worldwide, was having some fun with them.
In July, Phillips auction house held an online sale of playful limited-edition masks designed by leading contemporary artists, including the Haas Brothers. Lady Gaga made masks the height of couture at the MTV Video Music Awards in August, parading a series of outrageous ensembles topped with dazzlingly inventive masks that seemed to have sprung from sci-fi movie tradition, and used her acceptance speeches to remind the public of the importance of mask wearing.
Long associated with ancient rituals, Venetian carnivals and Halloween festivities, masks are now the stuff of daily life, with Instagrammers around the world posting masked looks on a daily basis. If we have to wear masks (and we do), why not make them stylish ones? — Cara Greenberg
---
2. America rethought public monuments after massive protests and topplings.
The only American monuments guaranteed to survive 2020 are the 270 million-year-old pinnacles of Arizona's Monument Valley. Everywhere else, public sculptures have been coming down — from depictions of Robert E. Lee throughout the South to a statue in Boston that renders Lincoln's Emancipation Proclamation freeing the slaves a bit too literally.
Some had been controversial for years, but the killing of George Floyd on May 25 brought new urgency to the Black Lives Matter movement, and to the removal of sculptures that seemed to celebrate a racist past. But this isn't the end of monuments.
Architects, artists, writers, poets and activists are helping to find new ways to commemorate tragedy. Statues of Black Americans, including Kehinde Wiley's Rumors of War, depicting a dreadlocked man on horseback, in Richmond, are replacing statues of Confederate generals. And in many cases, institutions are erecting monuments that avoid figuration altogether in favor of abstract forms — descendants of Maya Lin's 1982 gash of a memorial to Vietnam veterans in Washington, D.C.
In 2018, Bryan Stevenson's Equal Justice Initiative unveiled a staggering memorial to the victims of lynching in Montgomery, and just this year the University of Virginia completed a stirring tribute to the enslaved builders of its Thomas Jefferson–designed campus. Both are powerful examples of what architect David Adjaye calls "spatial storytelling."
There will be many more, because New York's Mellon Foundation, led by poet Elizabeth Alexander, has pledged $250 million to an effort to "transform the way our country's histories are told in public spaces." The grant will fund the creation of new memorials as well as the relocation or recontextualization of existing ones.
And Spencer Bailey — the former editor of Surface magazine and himself the survivor of a 1989 plane crash that is the subject of four memorials — has just published In Memory Of: Designing Contemporary Memorials (Phaidon), which focuses on 60 monuments to victims of war, genocide, terrorism, famine, slavery and, yes, global epidemic (the New York City AIDS Memorial). In the book's introduction, Adjaye, designer of the National Museum of African American History and Culture, calls the building of memorials "an important act of un-forgetting." — Fred A. Bernstein
---
3. We reimagined our homes as our lives were transformed by the pandemic.
As COVID-19 disrupted our days and threatened our sense of well-being in ways previously unimaginable, those of us lucky enough to have a safe and stable space in which to hunker down found that we needed our houses and apartments to serve not only as sanctuaries against the dangers lurking beyond our walls but also as buzzing hubs in which we worked, worked out, studied, played, connected (with those with whom we were now sharing those domestic spaces 24/7 and those only accessible to us on our laptops) and cooked — and cooked, and cleaned, and cooked some more.
Corners of living rooms were outfitted as home offices, dining tables were transformed into mini classrooms, and kitchens became more than just places where you plunked down the latest delivery from Grubhub. As pandemic days stretched into weeks and then months, we found solace in making our homes warm and comfortable and visually pleasing, in addition to multifunctional.
So, we purged, painted and reupholstered. And we went online and shopped (and shopped, and shopped some more) for furniture, art and decorative objects — vintage, antique and newly crafted alike. Because 2020 has taught us that a house filled with practical things helps us manage our lives, but a house filled with beautiful things enriches them immeasurably. — Anthony Barzilay Freund
---
4. More people got engaged in the time of coronavirus.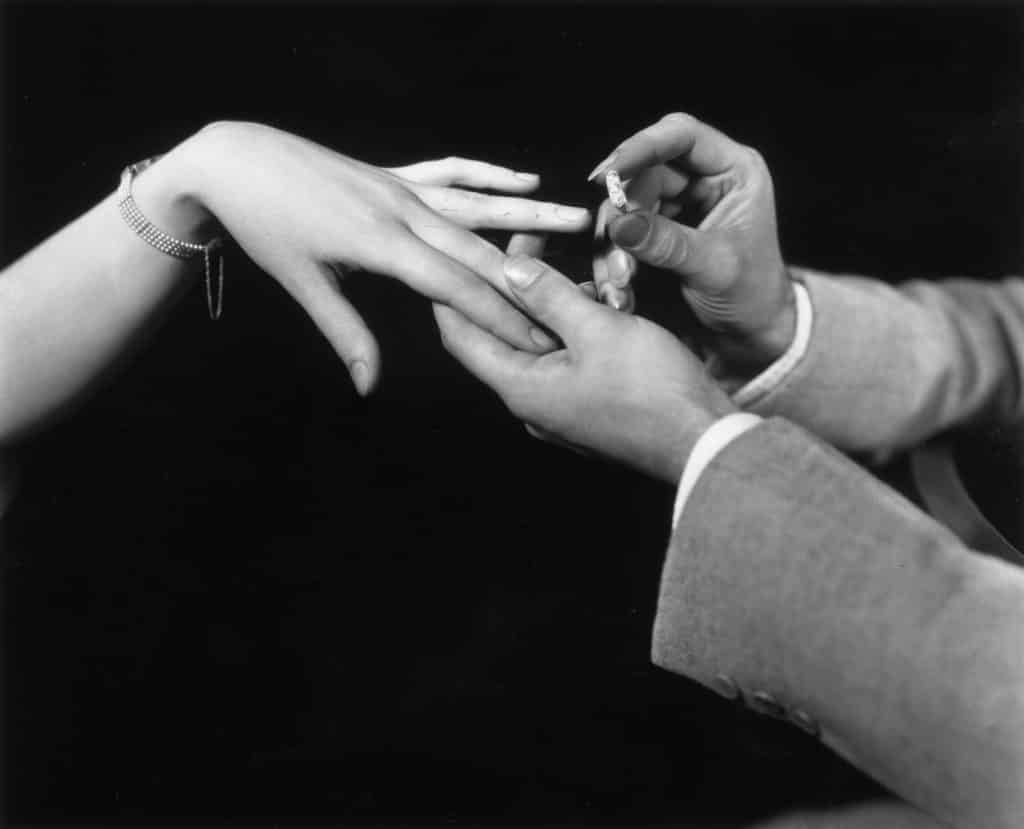 This has been a make-it-or-break-it year for relationships. Weathering a pandemic together has tested the mettle of couples around the globe as they faced challenges that range from mundane irritations to life-altering tragedies.
Not surprisingly, the stresses of 2020 have made some pairs realize that it's time to call it quits. But for others, the experience has only strengthened their bond — so much so that they're getting engaged. Or, in this era's parlance, they're promising to shelter in place together forever.
If pledging yourself to another person for life is the ultimate act of optimism, a rise in engagements would be a welcome sign of optimism at a time when hopefulness is in short supply. Of course, it also makes for a good story. But the increase in engagement ring sales is more than anecdotal. In fact, at 1stDibs, engagement ring orders from March to October were up nearly 30 percent from the previous year.
Among the top-selling ring styles are of-the-moment contemporary, ornate Edwardian and Art Deco designs. The last is always a favorite among 1stDibs shoppers, but it seems especially timely now, given that the movement originated in the 1920s, when the world was emerging from the Spanish flu pandemic.
The Art Deco aesthetic is sleek, bold and modern — emblematic of an era when people were ready to leave the past behind and stride bravely into the future. If that's not symbolic of couples in love in general, and our 2020 mindset in particular, then what is? — Colleen Egan
---
5. Clever structures took over sidewalks, streets and parking lots as restaurants moved outdoors.
When the coronavirus made indoor dining risky, restaurants all over the world created outdoor seating areas — New York alone issued more than 10,000 permits. Tables in the streets need protective enclosures. And some restaurants turned to professional designers: Roman and Williams did the job for their own La Mercerie, while Buddakan tagged David Rockwell, who also made plans available to do-it-yourselfers on his website.
But most of the outdoor dining areas were the handiwork of resourceful restaurateurs, who became designers and builders overnight. Their efforts to avoid bankruptcy (and keep employees working) also made city streets livelier than ever. As winter approached, however, some restaurateurs got too ambitious, creating elaborate enclosures that seemed to replicate the conditions that made indoor dining unsafe in the first place. Chicago offered owners grants to pay for safer solutions, including bulk purchases of blankets.
Still, the best urban spaces have always been animated by people, and at a time when cities themselves seemed under threat, these structures kept us fed — and satisfied our hunger for community. — F.B.
---
6. Designer showhouses went online and were actually pretty fun.
Showhouses have typically been collaborative, communal affairs. So, this year, as in-person collaboration and communion became increasingly fraught, organizers of many decorating showcases found novel digital solutions.
Although its spring Manhattan outing was canceled, the Kips Bay Show House made its first foray into Dallas with a fall debut that offered both in-person and virtual tours of a Provençal-accented five-bedroom. This meant COVID-cautious design hounds could experience rooms by 26 decorators — Cravotta Interiors, Jan Showers, M Interiors and Michelle Nussbaumer among them, with art by Letitia Huckaby — without ever leaving home.
One of the first digital-only events, with no bricks-and mortar component, was our very own 1stDibs Virtual Showhouse. It launched over the summer, featuring 10 top designers' reimaginings of storied spaces from the past — Courtney McLeod's take on Dorothy Draper's grand stair hall at West Virginia's Greenbrier Resort, for example, and Sara Bengur's spin on the living room of socialite Francine Weisweiller's Madeleine Castaing–decorated, Jean Cocteau–painted Côte d'Azur home — all furnished with pieces from 1stDibs.
And then, just last month, Architectural Digest and the Black Interior Designers Network created another all-digital showhouse: The Iconic Home was born out of a desire not only to display outstanding decor but also to make a statement that would shine a light on long-standing racial inequities in the design world — specifically the lack of representation of people of color — and help correct them. A groundbreaking move toward prioritizing diversity, equality and inclusivity, the house displayed the work of nearly 20 top African American decorators.
Among the rooms were ones by Brigette Romanek (who also participated in the 1stDibs Virtual Showhouse), Michel Smith Boyd, Elain Griffin and married duo Jason Bolden and Adair Curtis, all occupying a sleek house conceived by Brooklyn-based architects Samantha Josaphat and Luis Medina. Although these digital avatars didn't offer quite the same experience as actually being in a showhouse, they took advantage of technology so impressive it was almost as if you were there. And that, in these strange times, was something to be grateful for. — Andrew Sessa
---
7. Beyoncé's Black Is King demonstrated the creative power of the African diaspora.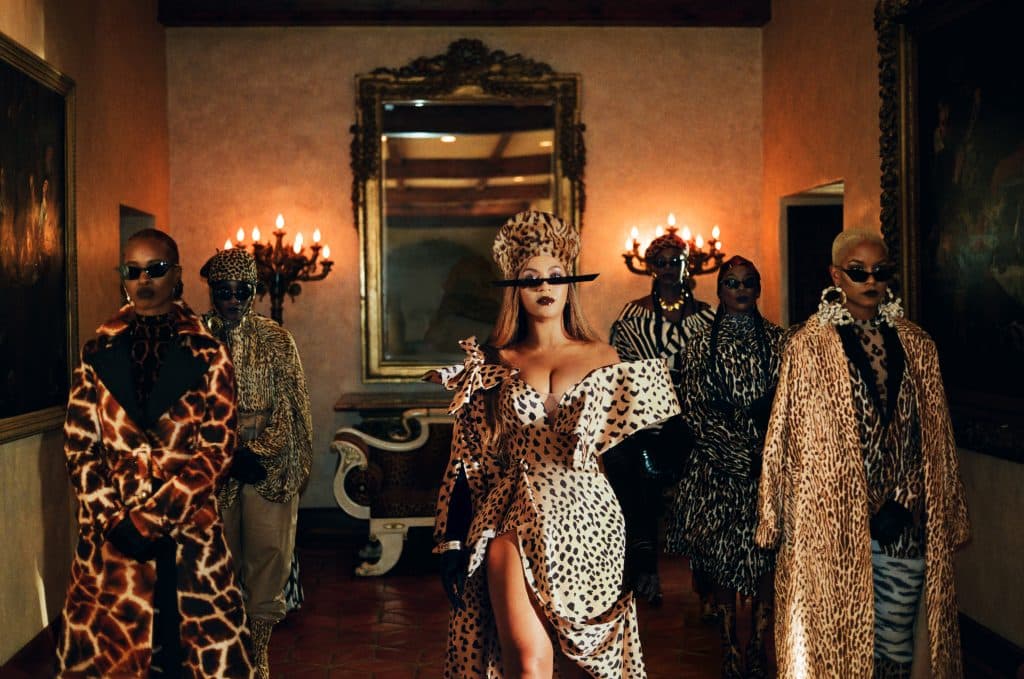 The Beyhive was abuzz with excitement at the end of July when Beyoncé dropped Black Is King, a dazzling visual ode to Black culture, on the streaming service Disney+. The 85-minute film arrived as a companion to The Lion King: The Gift, Queen Bey's album inspired by her role in Disney's 2019 Lion King remake, and it loosely traces the journey of a young king from birth through a period of exile to the reclamation of his rightful place.
Although it was more than a year in the making, the timing of the release was striking, as its messages of Black excellence and resilience coincided with the summer's wave of Black Lives Matter activism.
Beauty is a major theme throughout the piece — "We were beautiful before they knew what beauty was," Beyoncé says in a voiceover — and the artist/singer/pop icon assembled an impressive team of creatives to conjure the film's lush settings, from an emerald forest to the opulent 1920s-era Beverly House, in Los Angeles.
The production team's MVP, however, was undoubtedly stylist Zerina Akers, whose costumes enraptured the fashion world. For Beyoncé's 60-some looks, Akers tapped Black-owned brands, like fashion label Loza Maléombho and jewelers Lorraine West and L'Enchanteur, in addition to the usual suspects, such as Chanel, Valentino and Burberry.
That said, it's Beyoncé's vision, artistry and uplifting intent that make Black Is King a cultural moment. "I am a whole mood," she sings while roaming the Beverly House in a Kujta & Meri leopard-print gown and matching Eric Javits hat. We're feeling it. — Karen Quarles
---
8. Blue and green wandered indoors.
With millions of us spending much, much, much more time inside our homes than usual during this year's pandemic-induced lockdowns, we're finding ourselves second-guessing our wall-color choices. Are we sure that fire-engine red or wet-sidewalk gray are the hues we'd like to be surrounded by while sitting in front of the laptop all day?
It turns out, a lot of us would rather look at the colors of nature — specifically, blue and green. The two-year-old paint brand Curator saw a 57 percent rise in sales of its most popular greens during the pandemic, while purchases of its most popular gray dropped by 90 percent. And Farrow and Ball is reporting a 28 percent increase in orders of blue paints over last year.
1stDibs' just-released Interior Designer Trends Survey confirms the trend. Bold versions of the hues topped the list for "Expected Hottest Colors for 2021," with 23 percent of designers voting for emerald green and 22 percent naming cobalt blue. Those colors' fairer siblings sage green (21 percent) and sky blue (12 percent) were not far behind.
Both blue and green are refreshing, cooling and uplifting when brought indoors, evoking an oxygen-rich ocean or wide-open sky, dense rainforest or wispy herb garden. When viewed from outer space, much of planet Earth is a jigsaw puzzle of green and blue. What could be more natural than that? — Trent Morse
---
9. Millennials became the biggest art collectors out there.
Remember all those articles and clichés a few years back about Millennials and their spending habits? They don't want things — they want experiences. They are all about the sharing economy. They are too saddled with student-loan debt to ever buy a house, a new car or any other big-ticket item.
Well, here we are in 2020, 40 years after the first Millennials were born, and we're finding out that the group is acquiring more art than are Generation X and Baby Boomer collectors. According to this year's edition of the Art Basel and UBS Global Art Market Report, in a survey of 1,300 high-net-worth art buyers, "Millennials spent $3 million over two years [2017–19], on average. That is more than six times the spending of their parents' generation (the Boomers)."
And the Millennials' ascendancy isn't measured just in money. These collectors are picking up a larger volume of artworks: 24 on average, compared to 16 for Gen Xers and seven for Boomers. The New York Art Market Report also found that "Millennial New York collectors had by far the highest share of works by emerging artists in their collections (66 percent)," and they are the most likely group to buy photography. Millennials, it seems, are interested in things after all. — T.M.
---
10. Zoom rooms were a new interior design trend.
For design lovers, the world's pandemic-induced move to Zoom had a silver lining: the chance to see how other people lived. It wasn't just your boss's beach house. Suddenly, anyone could see Jimmy Fallon's Hamptons getaway, with its birch-bark walls and built-in playground; John Krasinski and Emily Blunt's tasteful Brooklyn Heights apartment; and Patti Lupone's Connecticut rec room, complete with jukebox.
It wasn't long before people were turning parts of their houses into Zoom rooms, sometimes even choosing books that seemed to signal smarts or savvy. Robert Caro's classic The Power Broker showed up everywhere. And wags began dissecting backdrops the way Joan Rivers used to work red carpets.
Room Rater, on Twitter, gave Bette Midler and Joe Biden perfect scores (10/10) but Josh Groban just 3/10 ("a hostage video") and Tom Brady 2/10 ("looks like the lobby of a hotel"). Wait! Someone remembers what a hotel looks like? —F.A.B.
---
11. Italian mid-century furniture was more desirable than ever.
The sinuous, expressive furnishings of Carlo Mollino, a maverick Italian designer of the mid 20th-century, have a way of smashing auction records. A skeletal molded plywood dining table, designed by Mollino in 1949 for the Brooklyn Museum's "Italy at Work" exhibition the following year — a legendary piece dealers sometimes refer to as the "whalebone" — fetched a heady $6.18 million against an estimate of $2 million to $3 million at Sotheby's in October.
The astonishing price recalled the 2005 Sotheby's auction where New York–based dealer Cristina Grajales, stunned the art and antiques world by paying $3.8 million, 20 times the estimate, for a 1948 Mollino trestle table at Christie's New York on behalf of a client, a move that now seems prescient.
Italian postwar design by such names as Mollino, Giò Ponti, Carlo Scarpa, Luigi Caccia Dominioni, Ignazio Gardella and BBPR have long been stellar performers in the marketplace (as have the slightly later pieces of Mario Bellini, whose 1972 Camaleonda sofa is among the most consistently sought-after seating designs on 1stDibs). But a few exceptionally high-profile transactions this year have taken even experts and insiders by surprise.
In November, a wall-mounted marble console designed in 1950 by architect Osvaldo Borsani, with a ribbon-like gilded-wood support by the artist Lucio Fontana, was the top lot at Philips London, bringing a gobsmacking $1,500,000, against an estimate of only $133,000 to $200,000. Even in a tough year, prices for rare and emblematic design can still soar. — C.G.
---
12. A British princess and a Kennedy heir upcycled their grandmothers' gowns.
Vintage fashion, specifically haute couture, received not one but two royal seals of approval in 2020. A real-life British princess and a descendant of an American dynasty broke precedent: Instead of a bespoke creation by a high-profile designer, each chose to wear her grandmother's old — well, mid-century — gowns to tie the knot. Upcycling can't get more up.
HRH Princess Beatrice, aged 32 and ninth in line to the British throne, wore her 94-year-old grandmother Queen Elizabeth's 1947 Norman Hartnell embroidered ivory peau de soie taffeta gown when she married Edoardo Mapelli Mozzi on July 17. (It wasn't the Queen's wedding dress, but Hartnell also designed that special garment, along with her coronation gown.)
Beatrice made the dress her own by having short puffed sleeves added and the hem tweaked. As is royal tradition, she borrowed a family tiara for good luck, a dazzling 1919 Garrard and Co. creation of 47 diamond bars, worn by the Queen on her wedding day. Some borrow!
Three months later, on October 17, Eunice Kennedy Shriver — who is named after her late grandmother, a sister of President John F. Kennedy — married Michael "Mikey" Serafin Garcia in Miami. The 26-year-old bride wore her eponym's exquisite 67-year-old Christian Dior wedding dress, the skirt a froth of aged vanilla silk-chiffon crepe.
Embracing its fragility and the occasional hole, the bride replaced the original scoop-neck bodice with a strapless design and had an ivory tulle veil made. She also borrowed her "something blue" — the elder Eunice Kennedy Shriver's robin's-egg blue 1965 Lincoln Continental convertible.
That these two beautiful Millennial women of privilege opted for (genteelly) used garments on their special occasions places vintage clothing forever in the upper echelons of aspirational fashion. It also highlights what many a stylish commoner already knows: Choosing vintage is as smart as it is chic. — Clair Watson
---
13. The joys of gardening were even more joyous during the pandemic summer.
Our gardens, it turns out, are oblivious to the pandemic. Flowers don't social distance, vegetables are not masked, and there is no abundance of caution when it comes to birds and their travel patterns. All's well (at least it seems) with nature, and the garden — be it a country estate, a city windowsill or something in between — offers refuge, sanctuary, comfort and no Zoom.
Numbers tell the story: The Cornell Lab of Ornithology reports that downloads of its bird-identification app, Merlin ID, have shot up by 102 percent since last year; seed company sales have soared, with demand far outstripping supplies; public gardens have experienced fierce competition for limited admission slots; and parks are deluged with visitors. Rare butterflies are returning, and fewer car fumes have helped reverse sharp declines in the bee population.
More of us have been in the garden growing vegetables and tending flowers. More of us are learning that some plants are lazy, some are hard workers, and some, like people we know, don't always behave as we would like. Take my agapanthus: I fed it lavishly and coaxed it gently all summer. To no avail — it simply would not flower. Infuriating! But these are the absurdly normal ups and downs of gardening that make it a lifeline during this pandemic. — Jane Garmey
---
14. The CDC's coronavirus rendering got shortlisted as a Design of the Year.
The ominous spiky red rendering of the 2019 novel coronavirus is a surprise inclusion on the Design Museum of London's short list for Designs of the Year. Sharing the Graphics category with the likes of a Banksy-designed stab-proof vest emblazoned with a drippy Union Jack, a "Hellscape" jigsaw puzzle by artist Cold War Steve and "Color of the Year: Bleached Coral" (a sharp rebuke to Pantone's tone-deaf choice of Living Coral as its 2019 Color of the Year), the chilling portrait is, in our opinion, the most powerful of the contenders.
Created by Dan Higgins and Alissa Eckert, medical illustrators at the U.S. Centers for Disease Control and Prevention, whose bosses requested the rendering following the activation of the CDC's emergency response to the novel coronavirus in January, the arresting and alarming image was designed to put a face to the threat.
Aiming to draw public attention to the coming public health crisis, Higgins and Eckert developed the now-famous red spikes — representing the S-proteins that are ultimately responsible for transferring the virus to humans — which cast long, foreboding shadows along the cracked gray orb of the viral envelope. The 3-D portrait of the deadly microbe is what medical illustrators paradoxically call a "beauty shot" and was intended to make the invisible visible, to put what's out of sight into mind.
The exhibition of nominees at the Design Museum is on view until March 28 (albeit only virtually, as the museum recently announced its temporary closure due to the latest anti-coronavirus measures). The instantly recognizable rendering conjures a strange planet, like the one we all seem to be inhabiting in the midst of the pandemic. — Joann Plockova
---
15. Ikea digitized 70 years of its famous catalogues.
It feels like Ikea has been selling the same modestly modern furniture for ages, but its history is more complex than that. In September, the company made 70 years of catalogues available online, providing a wealth of information both about itself and about the course of postwar design more generally.
And just in time. This month, the company announced that its current (2021) catalogue would be its last. Visits to Ikea's websites have skyrocketed, so getting rid of its fat book, a company official said, was an "emotional but rational decision."
The first Ikea catalogue, in 1951, featured crystal chandeliers and ornate furniture (described as rococostil in Swedish). But by 1957, the company was offering streamlined products, like the Hansa shelving system, that could still be in its stores today.
The 1960s and '70s, which brought playful space-age designs like Karin Mobring's tubular-steel Amiral armchairs, were followed by the even wackier postmodernist years. In 1995, Verner Panton designed the geometric Vilbert chair, made from four sheets of boldly painted MDF, which is now one of a surprising number of collectible Ikea pieces.
On the heels of a minimalist stretch in the 2000s, today's merchandise is more eclectic, with surprising bursts of maximalism in the mix. The online cache (so far only in Swedish, though there have been English catalogues since 1985) offers a mask- and meatball-free stroll down Ikea's memory lane. — F.A.B.
---
16. Social events were canceled, but sales of fine jewelry still soared.
It might seem paradoxical that fine jewelry sales have seen an uptick at a time when athleisure purchases are also soaring. Tiaras and yoga pants, anyone? Then again, trying to make sense of anything that has happened this year could be a mistake.
And there is some logic to the rising interest in glittering jewels. As COVID raged across the globe, plans for international travel or even heading out for a night on the town were halted indefinitely, if not scrapped entirely. This prompted some to reallocate their budgets to gold and gemstones — investments that feel safe in the long term while sparking instant joy. Signed pieces from venerable jewelry houses like Cartier, Van Cleef & Arpels, Tiffany & Co. and Bulgari are deemed particularly desirable, and smart purchases in uncertain times.
In addition, the pandemic is changing how people shop, or at least dispelling antiquated ideas about e-commerce in the luxury market. Jewelers have pivoted to Zoom consultations and product videos to communicate with clients, proving that the inability to see and touch something in person is not necessarily a deal breaker.
Record-setting auction prices have also demonstrated that online-only sales are not a deterrent for serious buyers. Perhaps all the time they've spent at home has made them even more determined to seek out rare pieces and round out their collections. And once it's safe to socialize again, just imagine the sparkle that will be on display. — C.E.
---
17. Harry and Meghan traded their cottage at Windsor Castle for a Montecito palazzo.
Last March, the Duke and Duchess of Sussex (a.k.a. Prince Harry and Meghan Markle), in search of what Harry called "a more peaceful life," resigned their official duties as members of the British royal family and embarked on a new chapter as private, self-supporting citizens.
Highlights of their first months in the real world: inking a lucrative deal with Netflix to produce "inspirational family programming" (a tad awkward, as the streaming service recently debuted the fourth season of The Crown, a popular drama that portrays Harry's family in unflattering ways) and buying their own home, a first for both of them.
It's a Mediterranean-style palazzo on seven acres in Montecito, California, a secluded redoubt in the hills 90 minutes north of L.A. Their neighbors are other single-name celebs, such as Oprah, Ellen and Gwyneth, who have had roots there for some time, along with Hollywood power couples, like Katy Perry and Orlando Bloom and Natalie Portman and Benjamin Millepied, driven to the generally paparazzi-free enclave by the pandemic. Local residents, many of them high-net-worth individuals hailing originally from L.A. and San Francisco, barely give such folks a glance if they're spotted on the laid-back community's one main street.
Dramatically sandwiched between ocean and mountains, Montecito began as a Franciscan monastery in the 18th century and became an agricultural settlement of lush citrus groves in the 19th. By the 1920s, it was a favorite playground of Hollywood moguls and millionaire socialites who lived a giddy polo- and pool-centric lifestyle in Spanish Colonial Revival–style mansions. Celebrity culture flourished there long before Jackie and John Kennedy honeymooned at Montecito's legendary 500-acre San Ysidro Ranch, in 1953. The most recent A-list arrivals have shone a bright spotlight on Montecito as a highly desirable place to live.
Built in 2003, Harry and Meghan's $14.5 million manse has nine bedrooms and 16 baths arranged around a lushly planted courtyard, with the requisite pool and tennis courts, a rose garden, an olive grove and a play cottage for Archie, the couple's toddler. Panoramic ocean views included. — C.G.
---
18. The ancient site of Pompeii yielded more secrets.
Archaeology is a process; the discoveries just keep on coming. About 750 yards outside the city walls of Pompeii, which was engulfed by ash, pumice and rock in the 79 A.D. eruption of nearby Mt. Vesuvius, a recent dig unearthed the remarkably well-preserved remains of two men, tentatively identified as a wealthy landowner and a younger enslaved person, entombed in an underground corridor.
Their draped woolen garments, folds as crisp as those on a marble statue, lend credence to the new idea that the eruption took place in October, not in August, as previously thought.
Other recent excavations at Pompeii have uncovered a horse with a brass-plated saddle, a trove of fertility amulets and a Narcissus wall fresco in a state of exquisite preservation. Research has overturned the long-held belief that the distinctive deep Pompeii red was the color of choice for the walls of the wealthy. Turns out they were actually yellow ocher, discolored by high-temperature volcanic gases.
Although there have been intermittent digs since the 18th century. Pompeii is by no means exhausted. The over-touristed site has been plagued by mismanagement and other problems, which the European Union is helping to address. And with about 50 acres still unexplored, it will continue to yield ancient treasure. — C.G.
---
19. Museums got crafty with their virtual tours.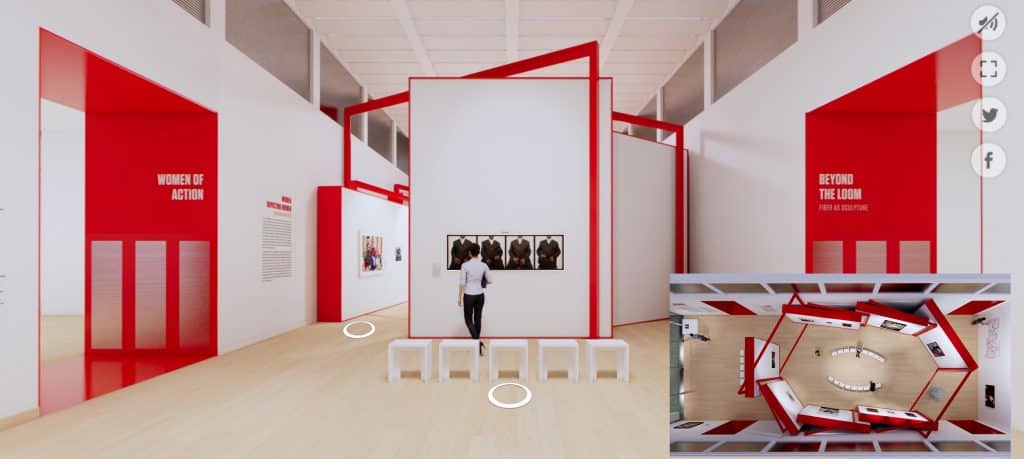 One slightly silver lining to the limitations the pandemic placed on museums' hours and occupancy has been the way these strictures encouraged institutions to rethink their digital offerings.
Many dipped a toe in with YouTube video tours and curator talks plus expanded slideshows of works. The most impressive innovations, however, have been self-guided three-dimensional virtual walkthroughs, such as the one the Museum of Fine Arts, Boston, created for "Women Take the Floor." That exhibition showcases more than 100 20th-century female creators in 8,000-plus square feet of gallery space, and the digital version almost makes you feel that you're there, browsing through to zoom in and out on works by (and wall text about) the likes of Ray Eames, Helen Frankenthaler, Frida Kahlo and Lorna Simpson.
The Contemporary Arts Center, Cincinnati, meanwhile, devised a digital walkthrough of its entire six-story Zaha Hadid–designed building, with audio-guide commentary launching when you click on a work. The Dallas Museum of Art did something similar for its current shows on migration, Frans Hals, women in modern Mexican art, the concept of home and — aptly — experiential design.
The Cincinnati and Dallas experiences are akin to wandering around a favorite foreign city from home using Google Street View — only an approximation of the real thing, to be sure, but one that is edifying and horizon expanding nonetheless. — A.S.
---
20. Kendell Jenner's Italian Renaissance panels were a surprise decor choice in her AD home tour.
Kendall Jenner is excited to show off her burgeoning art collection. In an Architectural Digest tour of her Mediterranean-style house in Los Angeles, newly renovated by Kathleen and Tommy Clements and Waldo Fernandez, the model and reality-television star name checks a James Turrell work in her entryway and a pair of Barbara Kruger paintings in the hall. In the airy lounge outside her bedroom, she shows off a Tracey Emin neon text piece mounted above the fireplace. It includes a list of numbers that, Jenner has surmised, are the measurements of Emin's ex-boyfriend's, ahem, manhood.
Contrasting with this work, yet perhaps in keeping with the home's generally breezy bohemian style, are a pair of panels that seem to have been transported from a centuries-old palazzo. Instead of naming the gallery or fair from which she procured them, the 25-year-old describes a more personal provenance. "These are really old doors from Italy, and my mom had them in every single house that she owned that I grew up in," Jenner explains. "When I bought this house, she was like, 'I saved those doors. I think they'll be perfect for your house.' "
As young people turn to collecting contemporary art and caring about their interiors, it's nice to know that they still gravitate toward antiques, which have their own long histories and burnished charm, not to mention happy associations with the preceding generations of owners. Of course, it's not uncommon for twentysomethings to outfit their first adult homes with hand-me-downs from their parents, but it helps if said parents have really good stuff.
And if your mom is Kris Jenner, you don't get, say, the banged-up coffee table that has been languishing in the basement for the past few decades — you get lovely Renaissance-era panels. — C.E.