At the end of a highly productive day, what could be more relaxing than to sip a well-crafted cocktail in a well-designed bar? We've rounded up 16 images of beautiful bars in locales ranging from London to New York to San Francisco. View them, then browse antique and vintage barware while enjoying your favorite libation. Cheers!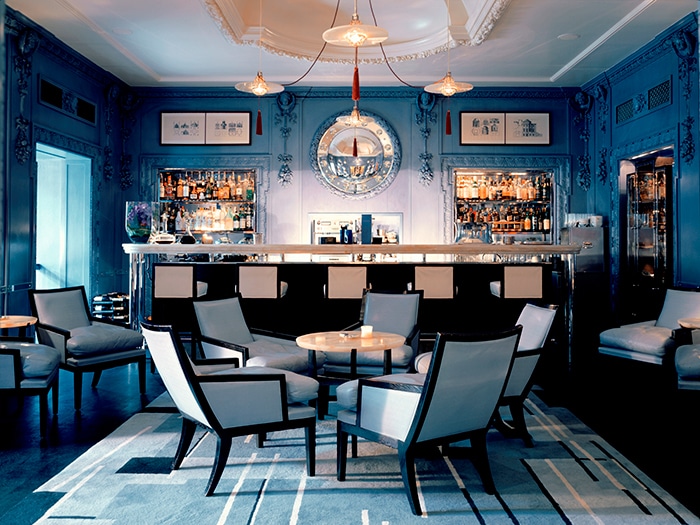 The late designer David Collins created the famous Blue Bar at London's the Berkeley hotel in 2000. His bold, deft use of the shade remains fresh a decade-and-a-half later.
Photo by Luke White via David Collins Studio.
---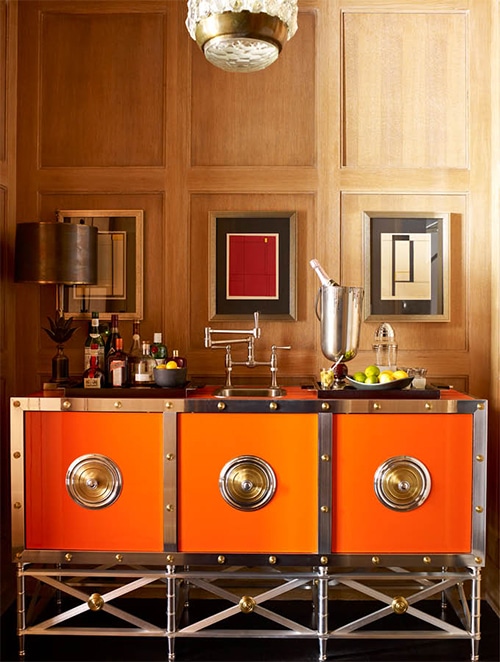 With a twist. Steven Gambrel used a bright, citrus-colored metal bar by contemporary designer Paul Benson in a project for clients located in the Flatiron neighborhood of Manhattan.
---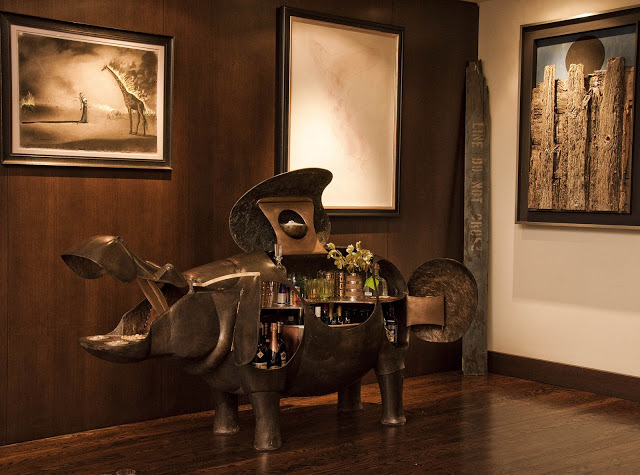 Francois-Xavier Lalanne created only eight of his patinated bronze Hippopotame III bars in the 1990s. The rarity of these bars makes them highly coveted by collectors — the model pictured above sold at auction for over $134,000 in 2009.
Photo via Vogue.
---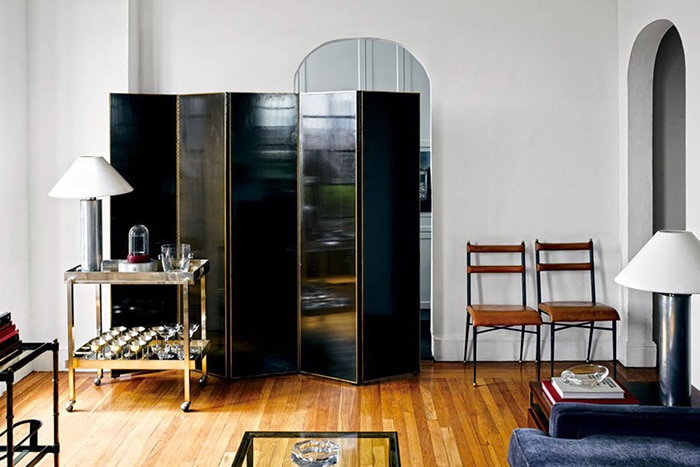 Fashion designer Thom Browne has a penchant for crisp tailoring and muted tones. The bar cart in his lower Manhattan home reflects the same kind of orderly angularity.
Image via Architectural Digest.
---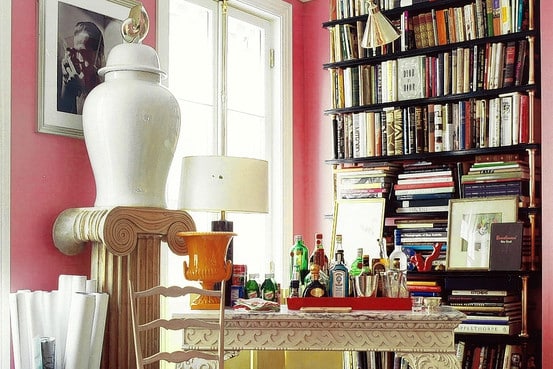 Interior designer Miles Redd carved out a nook to create a desktop bar in the corner of the oft-photographed pink and red living room of his Manhattan townhouse.
---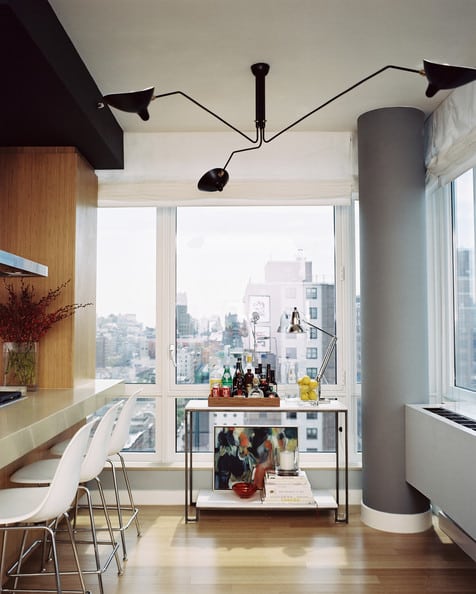 The sharp angles and tidy arrangement of this geometric bar cart — tucked underneath a Serge Mouille light fixture — offer minimalist solution for home entertaining.
Photo via Lonny.
---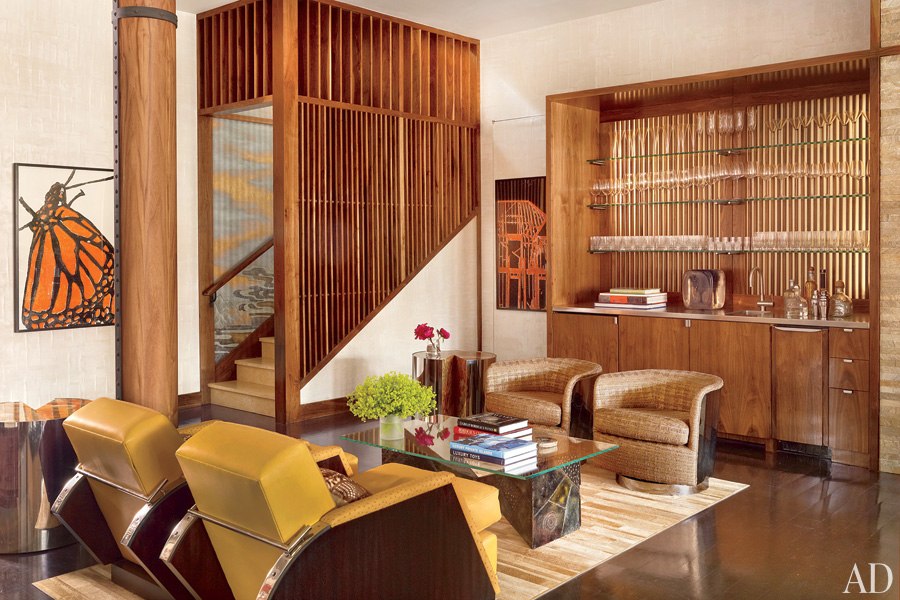 For a New York City townhouse that borrows idioms of Japanese architecture, designer Edward Siegel of Cooper, Robertson & Partners created a custom bar that references the country's woodworking tradition.
---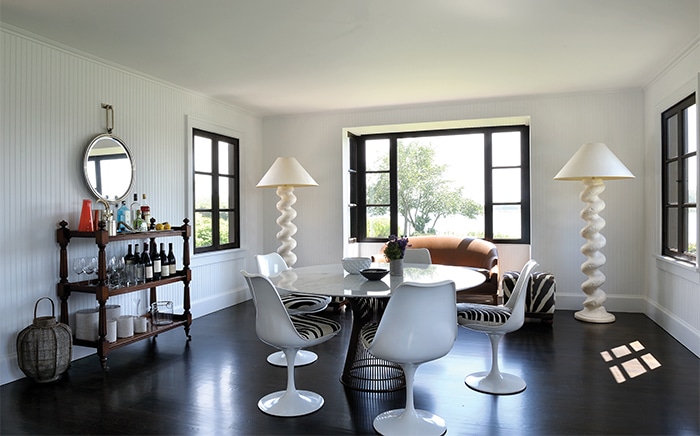 For the Southampton home of 1stdibs founder Michael Bruno, interior designer Kathryn M. Ireland took an eclectic approach to decor, mixing mid-century classics with a tradition, brown wood bar.
Photo courtesy of Gibbs Smith.
---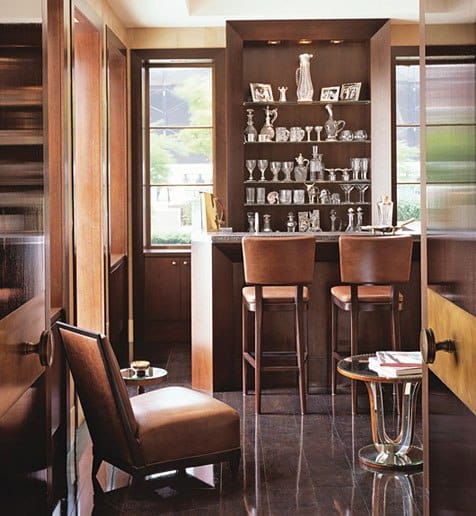 Designer Charles Allem used leather-covered walls and wide-plank walnut floorboards to lend a masculine feeling to this home bar for a New York City penthouse.
---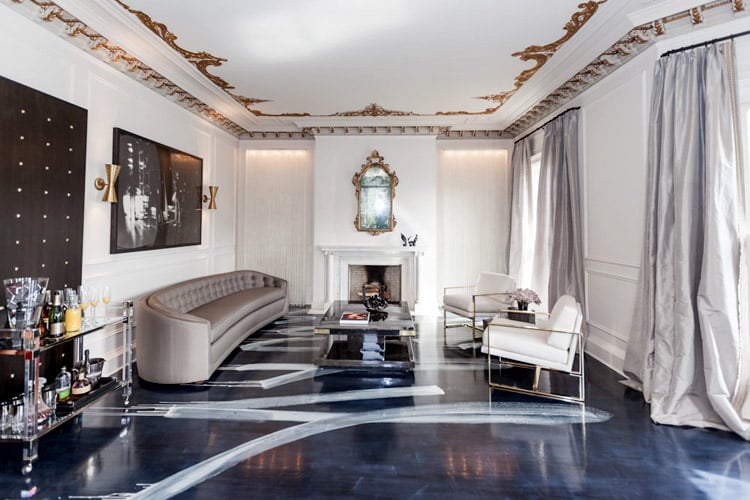 Catherine Kwong was inspired by Mick and Bianca Jagger when she designed this living room for the 2013 San Francisco Decorator Showcase. A Lucite bar cart adds to the louche, 1970s-esque atmosphere of the space.
---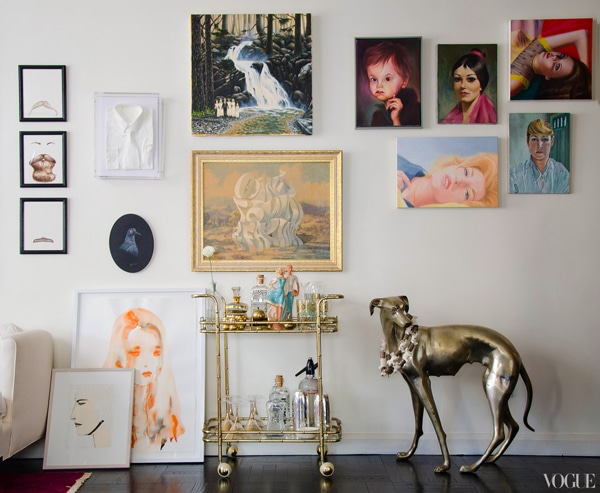 The delicate scale and proportion of Kyle DeWoody's brass bar keep the focus on her incredible art collection.
Photo by Claiborne Swanson Frank via Vogue.
---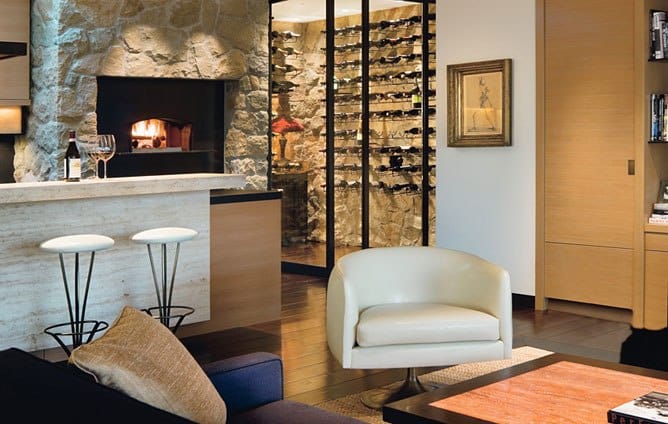 Interior designer Stephen Shadley placed stainless steel Piet Hein stools alongside a travertine bar when he renovated the Hal Levitt–designed Beverly Hills home of actress Jennifer Aniston in 2010.
---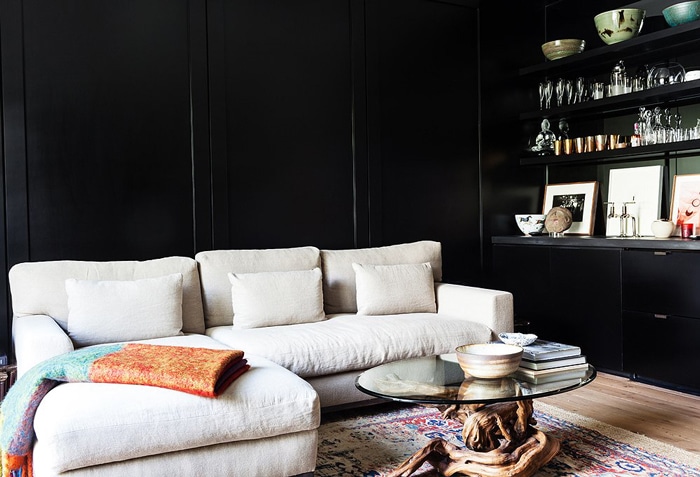 Fashion designer Jenni Kayne stocks the black-lacquered bar of her Los Angeles home with glassware by Hermès and brass, rose gold and pewter drinking cups.
Photo via House Beautiful.
---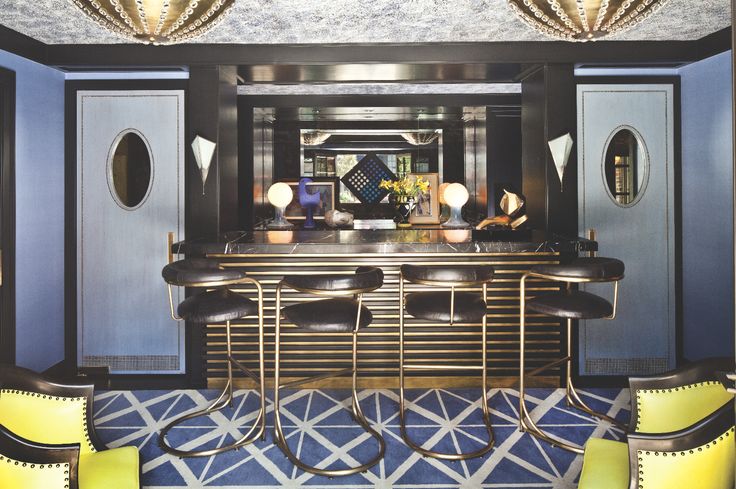 This glamorous bar by Kelly Wearstler — photographed for her 2012 tome, Rhapsody — reflects an updated approach to the Hollywood Regency style.
Photo courtesy of Rizzoli.
---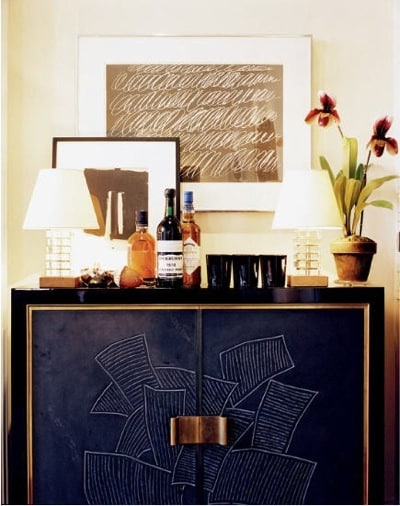 Designer Jacques Grange created a commode-top bar for his client, beauty mogul Aerin Lauder.
---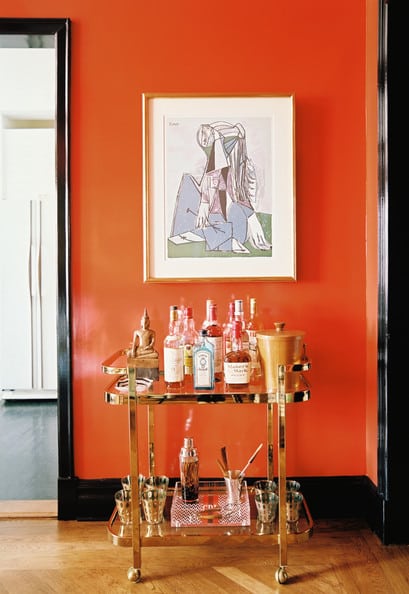 Campari-colored walls are a great — and relevant! — choice for design-lovers with a taste for Italian aperitivos.
Photo via Lonny.
---