Characterized by whimsical contrasts of scale and asymmetrical, fanciful imagery, most often imaginary, chinoiserie (pronounced sheen-waz-er-ee) is an evocation of Chinese motifs and techniques in Western art, furniture, and architecture. Although the style is especially associated with the 18th century, the following modern-day rooms embrace a similar mixture of East and West, incorporating idyllic elements particularly favored in the Rococo period with contemporary abstract paintings, sculpture, and geometric furniture whose stark expressionism sets into relief the intricate and ornamental aspects of this enthusiastically decorative style.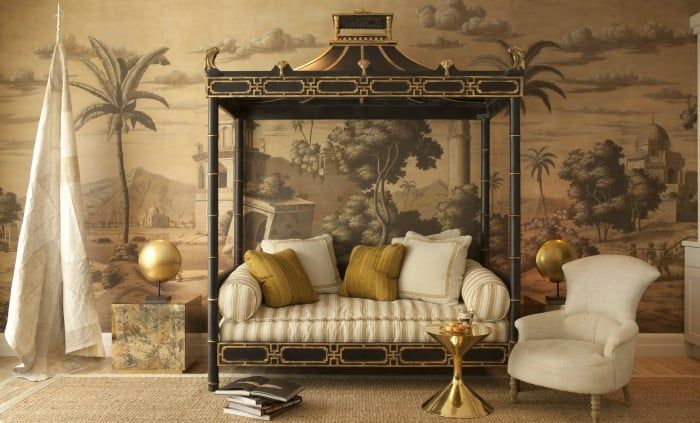 In San Francisco, interior designer Benjamin Dhong used an exquisite, hand-painted wall covering by de Gournay to offset a Thomas Chippendale–inspired daybed.
---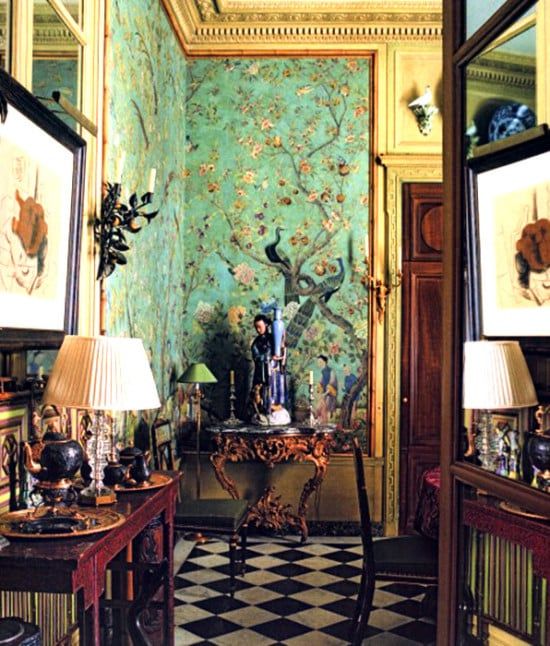 Pierre Bergé recalls that Yves Saint Laurent "preferred to travel in his imagination," a journey undoubtedly made easier when surrounded by the finest of East meets West in Bergé's Rue Bonaparte residence, above.
---
Paul Montgomery's wallpaper murals combine time-honored hand-painting techniques with modern materials and technology to create floral and nature vignettes of exceptional quality and enduring impact within refined contemporary settings.
---
Every room in Ann Getty's Pacific Heights residence testifies to her sophistication and connoisseurship. In the living room, for example, paintings by Gustave Moreau, Pierre-Auguste Renoir, and Camille Pissarro, depicting interiors and landscapes, are complemented by expressive gilt-wood furniture.
---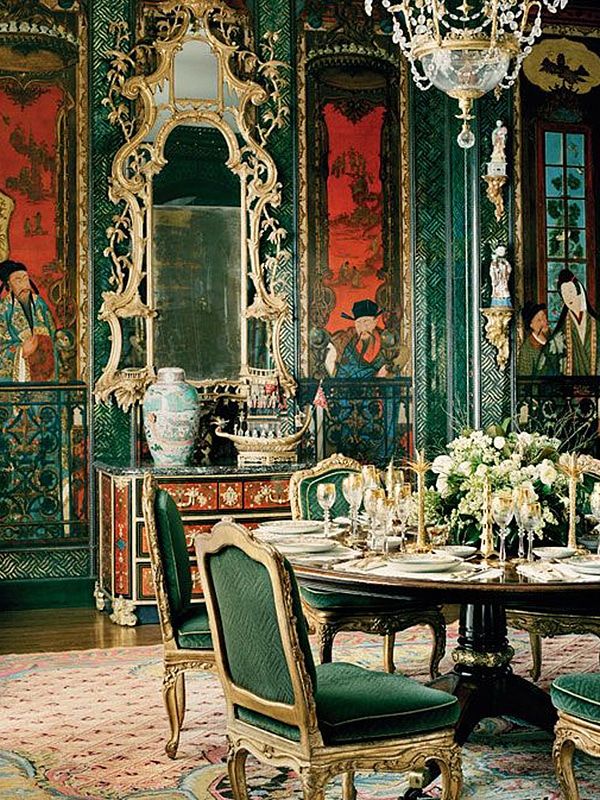 The circa-1720 chinoiserie panels in Getty's dining room, made for the king of Poland, are thoughtfully paired with a circa-1740 Italian lacca povera bureau once owned by Pope Pius VI. The table at front is set with a circa-1820 Canton famille rose dinner service.
---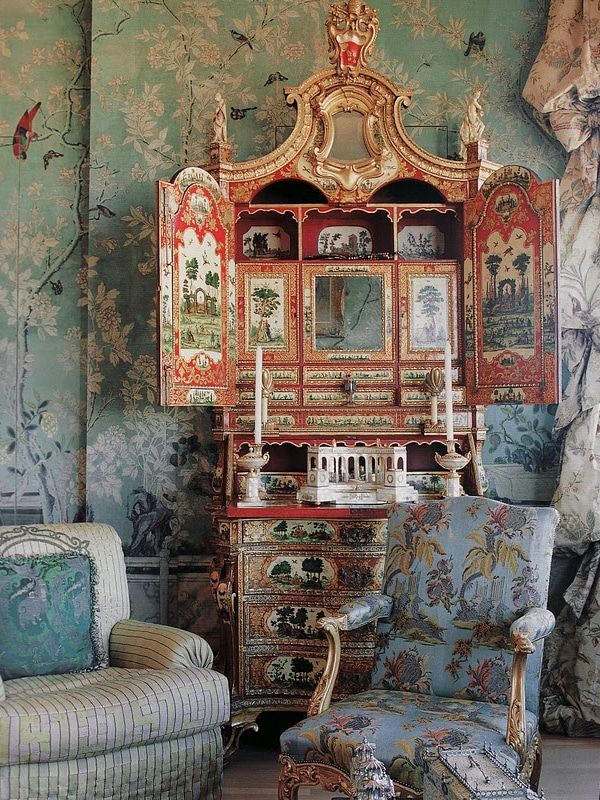 Getty founded Ann Getty and Associates, a residential interior design firm in 2002 and, shortly thereafter, Ann Getty Home, a line of custom furniture and reproductions of important historical pieces. Here a room in one of her San Francisco residences contains all original pieces, most notably a Kangxi jar sitting on a Louis XIV marquetry chest.
---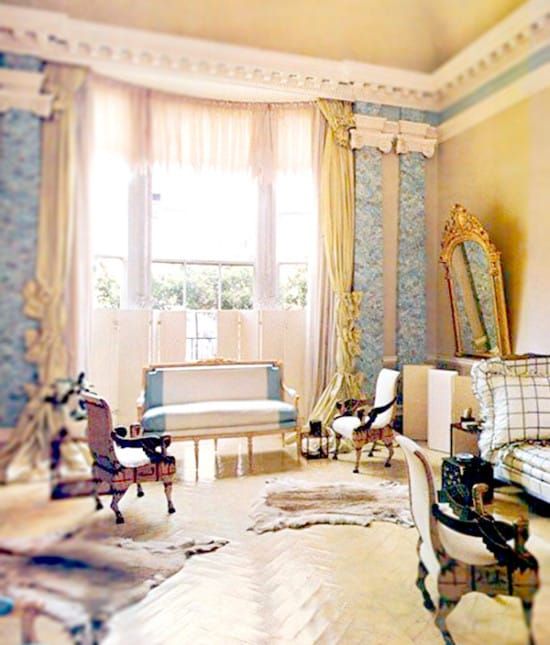 Baroness and tastemaker Pauline de Rothschild's drawing room in her London apartment includes such furnishings as a steel-frame sofa of her own design, retour d'Égypte chairs and contemporary cube tables. The room, according to the Baron de Rothschild, is an especially personal expression. "It is all in the color," he says. "She would sit for hours with the painters, drinking mugs of tea, until they got the color she wanted."
---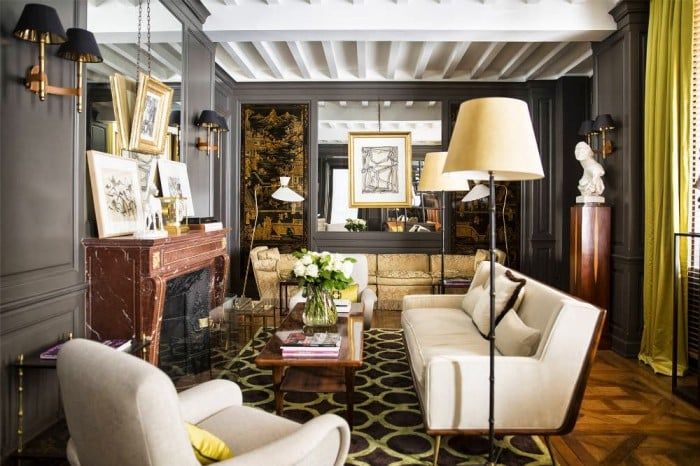 At the Marquis Faubourg Saint-Honoré hotel in Paris, interior designer Michele Bönan mixed midcentury Italian pieces with an antique chinoiserie screen to stunning effect.
Photo by Brittany Ambridge via Domino.
---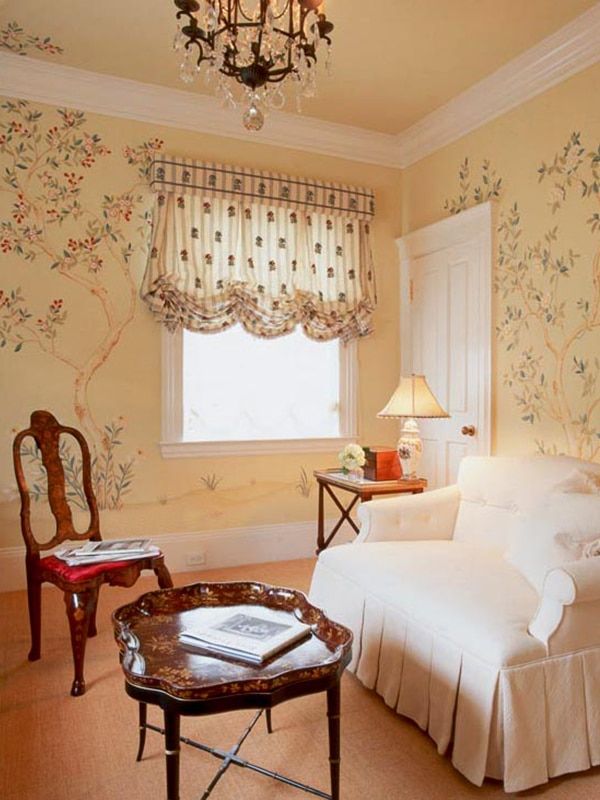 A modern interpretation of a chinoiserie mural, the custom-painted Lynne Rutter wallpaper produces an airy, open garden feeling, particularly evident in the doses of intense, rich color on the subtle curry-yellow field.
Photo via Lynne Rutter.
---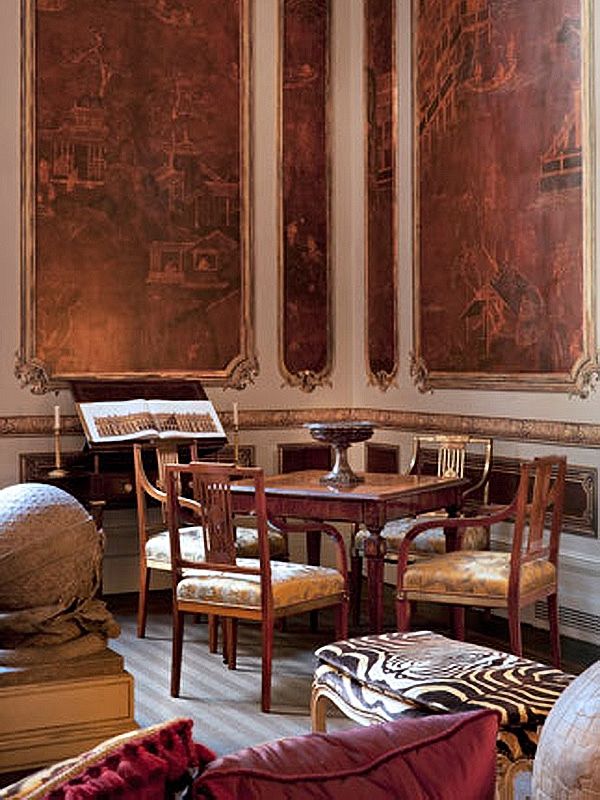 A committed classicist, Juan Pablo Molyneux creates spirited interiors that are rooted in history without being historical re-creations. This Upper East Side salon serves as an ideal stage for the handmade furniture he's been designing since his student days in Santiago, Chile, 35 years ago.
---
Troels Holch Povlsen possesses a passion for antiques, especially Queen Anne–style furniture. His aim was particularly true in this 18th-century period restoration of 16 Queen Anne's Gate in London. Of particular note is the de Gournay's Abbotsford wall design, an unmodified reproduction of one of the most impressive surviving antique sets of chinoiserie panels that maintains the full drama, grand scale and finely worked floral renderings of the original.
---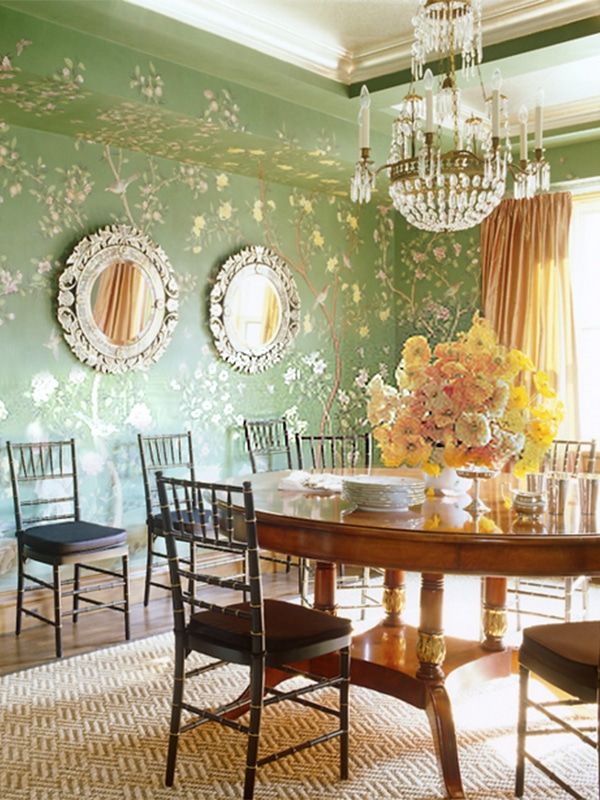 In Marjorie Gubelmann's dining room, an ormolu and cut-glass chandelier is suspended above an antique mahogany table. The pair of Venetian mirrors mounted on Gracie chinoiserie-inspired wallpaper were Paris flea-market finds.
---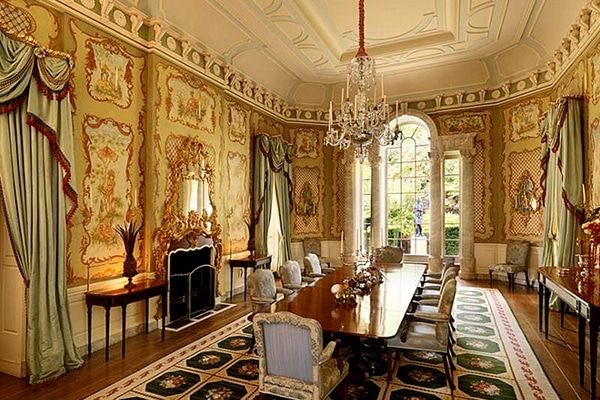 A black and rose needlepoint rug contrasts with the wall motifs in the dining room of Albemarle House, a spectacular 45-room Georgian-style mansion in Virginia's Hunt Country that architect David Easton planned from the ground up in the mid-1980s for mogul John Kluge.
---
A brown Axminster rug with a red floral trellis pattern complements the vividly green and white chinoiserie Gracie wallpaper in the dining room of the same home.
Photo via David Easton.
---
Interior designer Thad Hayes's expertise in mixing design eras is evident in his renovation of the Palm Beach home of the late Evelyn Lauder and her husband, Leonard. Hayes plays homage to old Florida style by combining Neoclassical and Art Deco items — such as the mirror, chandelier and chairs — with a reproduction of the original 1930s wallpaper by Gracie. The table is antique, having originally belonged to Evelyn's mother-in-law, Estée.
---
Abbotsford reflects the eccentricities and epitomizes the 19th-century Scottish baronial style of the man for whom it was built, Sir Walter Scott, who called it a "Delilah of his imagination." The landmark home is full of personal treasures, like the standout wallpaper, hand-painted in China, which was a gift from Scott's cousin Hugh Scott, who worked for the East India Company. The ebony chairs were purchased for Scott in London by the actor and impresario Daniel Terry.
---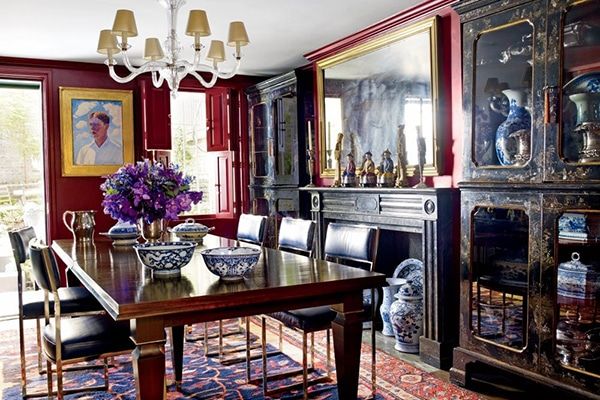 This Manhattan dining room pairs a Richard McGeehan mahogany table, with nickel-plated mounts, with a set of circa-1970 chrome chairs by Willy Rizzo. In a similar exercise, the Regency lacquer chinoiserie cabinets from Liz O'Brien, fitted with glass fronts in the 1930s, face off against a chandelier by Nesle.
---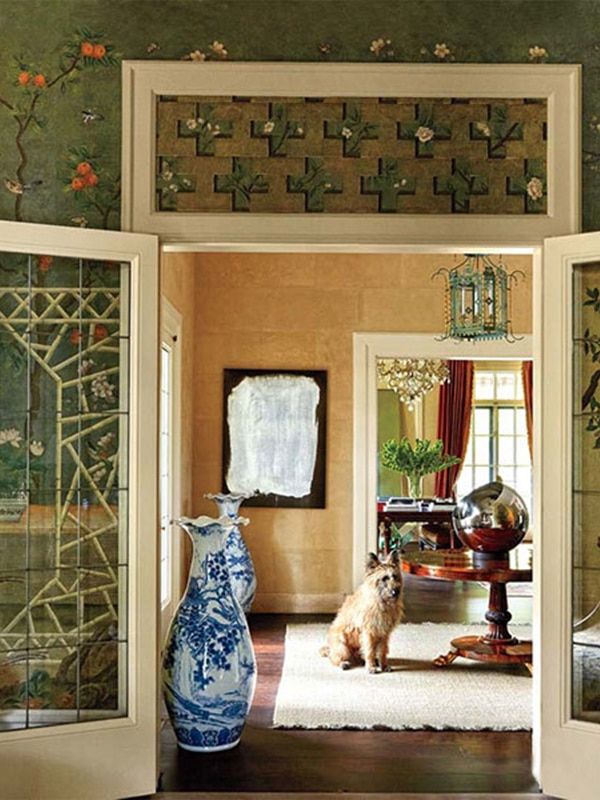 In his update of a historic Minneapolis mansion, designer Michael S. Smith looked across eras, drawing inspiration from the owner's favorite Merchant Ivory films. Here the entrance hall showcases modern art alongside traditional chinoiserie. Most notably, a painting by Jacob Kassay hangs above Qing Dynasty vessels, and a tabletop sculpture by Anish Kapoor reflects the custom-painted fretwork patterns by Gracie.
---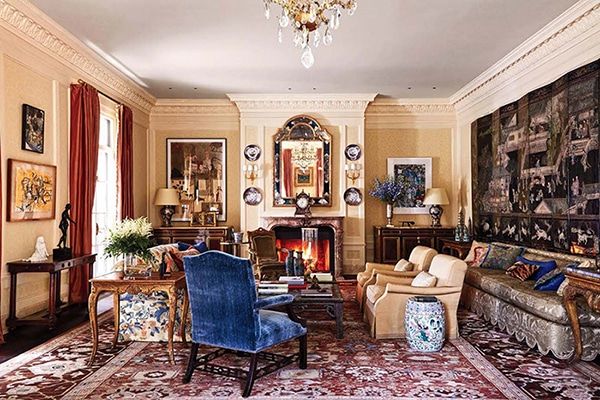 In the living room of the same home, paintings by Katy Moran and Franz Kline, on the wall at left, counterbalance the wealth of antique pieces: a 19th-century Italian mirror, a sofa upholstered in a Lee Jofa fabric, an armchair from O'Sullivan Antiques done in blue Scalamandré silk velvet, and a Sultanabad carpet.
---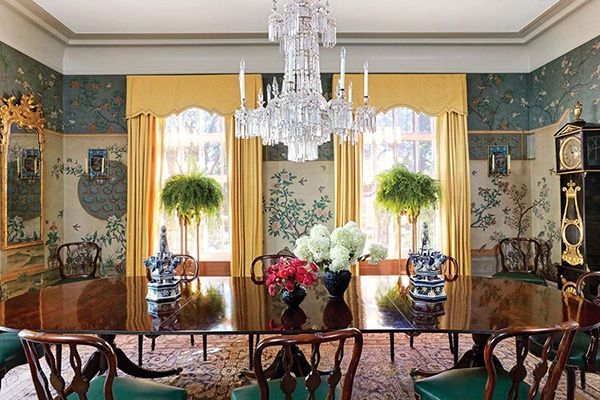 In the dining room, the Scalamandré fabric of the curtains picks up the Gracie chinoiserie wallpaper's brighter accents, while a Victorian chandelier projects equally brilliant detail.
---
This bedroom abounds in fine exports. Of particular note are the Chinese wallpaper; the English-made Gillows of Lancaster George III bed; and a 19th-century Portuguese coverlet.