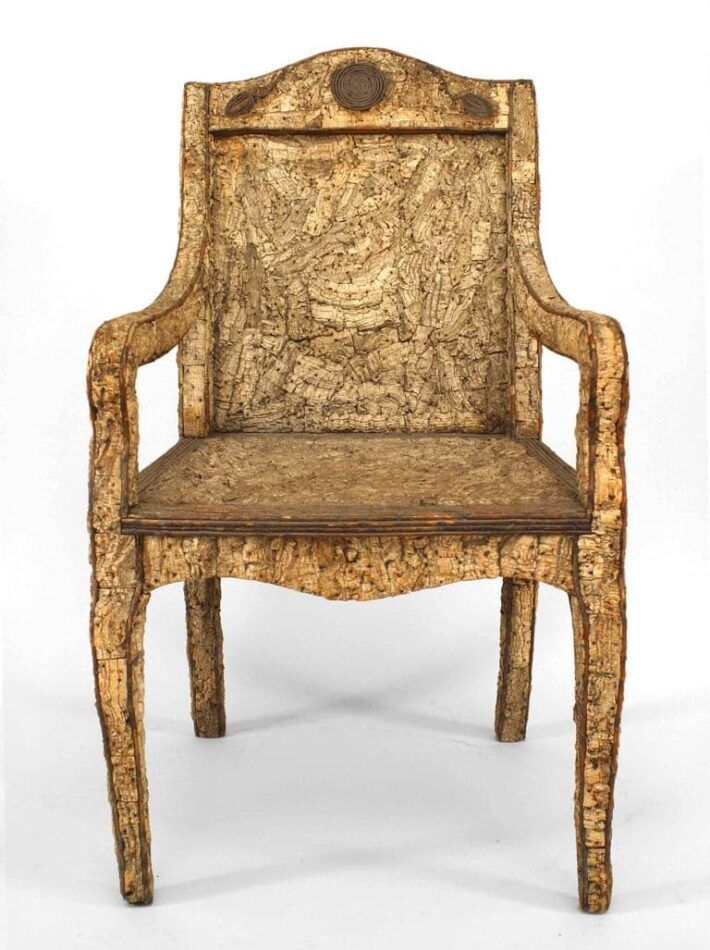 Cork is back — and for good reason: Renewable, recyclable, lightweight, inexpensive and warm, it seems to have no downside. The versatile material has cycled in and out of fashion in furniture and interior design since its mid-century heyday, when visionary creators from Edward Wormley to Frank Lloyd Wright used it in some of their most famous work.
Today, the wheel has turned once more in cork's favor, as designers trend toward more eco-friendly options. In addition to its aforementioned attributes, and the fact that it is waterproof and highly insulating, the cork oak trees (native to Portugal and Spain) from whose bark it is made are unharmed by the harvesting.
Cork, in short, is more than just a convenient bottle stopper. As environmental impact becomes an increasingly important consideration, furniture designers are turning to the material in droves. Below are 10 examples (both old and new) that show off cork's chicness.
---
Schimmel & Schweikle Blown-Up with Lamp Chair
The German design duo Janne Schimmel and Moreno Schweikle, of Schimmel & Schweikle, tell us they "always try to break the border between the physical and digital realms." They've done just that with their Blown-Up with Lamp chair, made of 3-D-printed plastic and recycled cork, with a lamp jutting through its frame.
The environmentally friendly vegan leather coating, unlike animal hide, is seamless, "giving the illusion of a digital material," the pair explain. The piece totally blows up how cork can be used in furniture design.
---
Note Design Studio Tembo Stool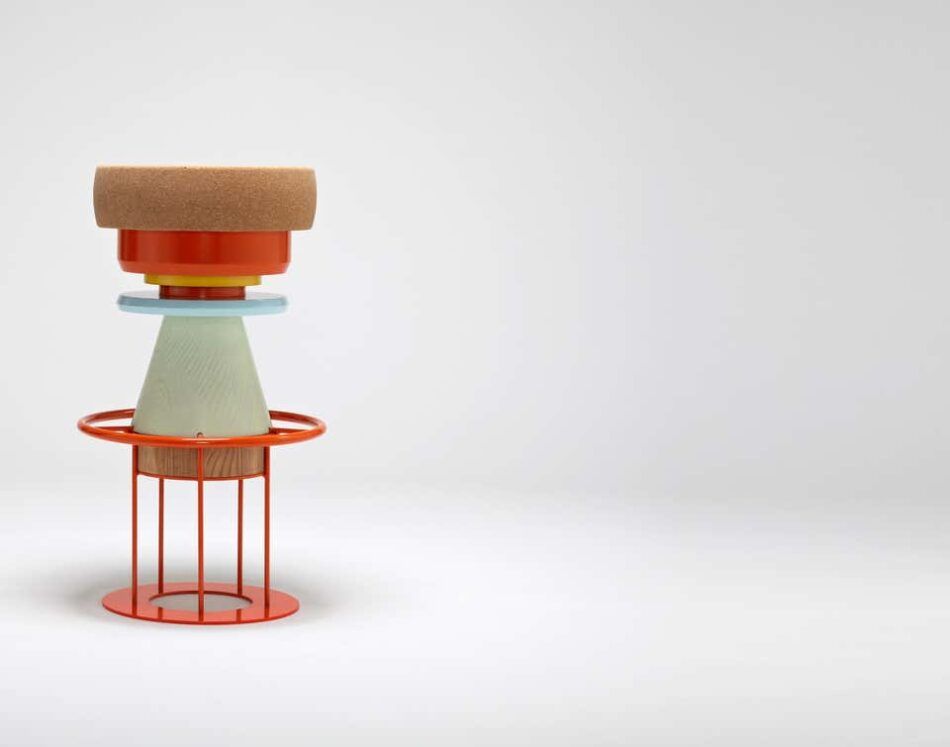 Stockholm-based Note Design Studio calls the Tembo stool a "modern day totem," due to its colorful stacks of wood, metal, lacquered MDF and cork. These segments are also, alternately, shiny and matte.
The word tembo is Swahili for elephant, and the designers note that the stool's silhouette is reminiscent of both "children's toys and African tom-toms." Whatever the inspiration, this eye-catching stool, which also comes in black, is certainly playful.
---
OTQ BISU Cork Bed Frame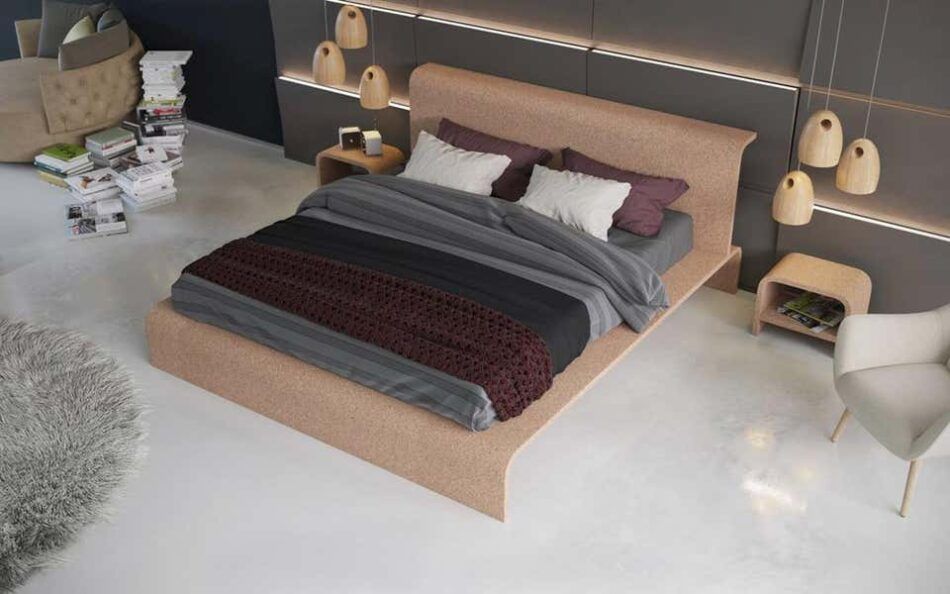 For Italian design firm OTQ, the BISU cork bed frame is the ideal remedy for the nightly tossing and turning that results from lingering stress.
"The cause of insomnia or bad sleep is very often due to the environment in which our sleep takes place," says OTQ designer Matteo Congiu. "BISU, thanks to the properties of cork, removes the negative action of any exogenous force, donating quality and balance to the healthy sleep."
---
Paul Frankl Coffee Table, 1950s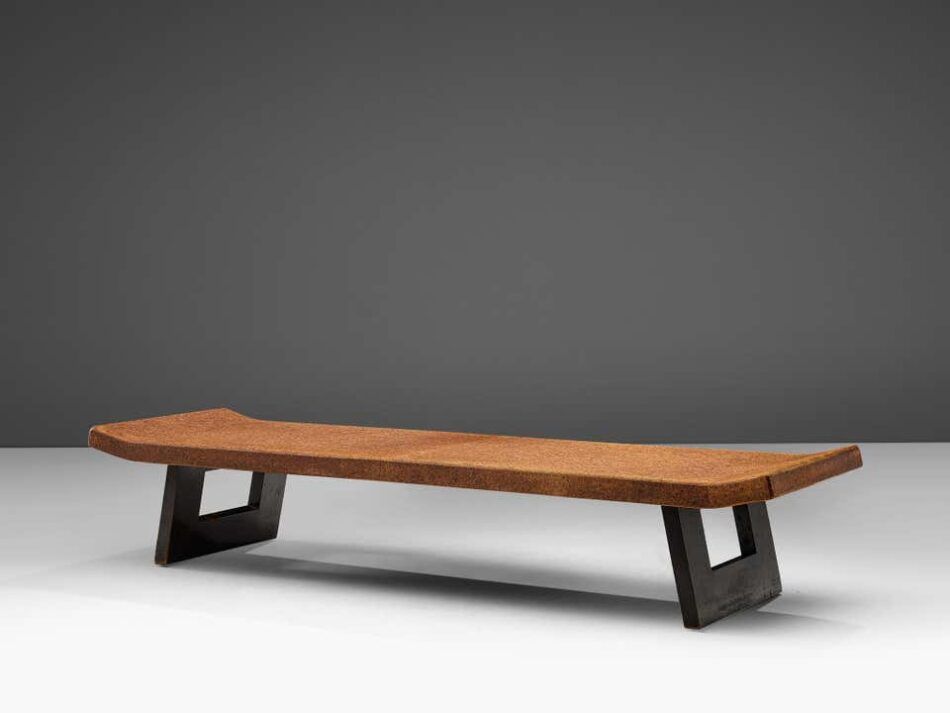 Austrian designer Paul Frankl, famed for his Art Deco and Asian-inspired creations, is the godfather of modern cork furniture. Long before contemporary designers discovered its eco-friendly aspects, Frankl had invested in the long game, believing that cork would become one of the foremost materials for making furniture.
"The design and use of the material for this piece," says Joost Bullens, of Morentz, "really tells me something about the renewing and optimistic vision that Paul Frankl had toward the future."
---
Jasper Morrison for Vitra Cork Family Stools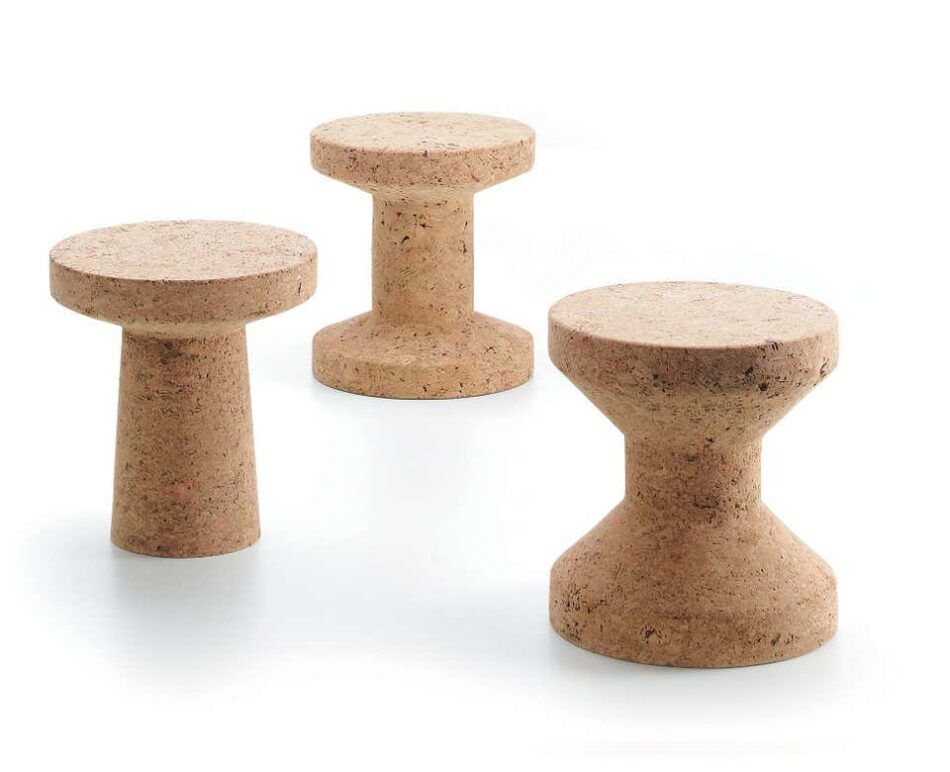 Jasper Morrison's Cork Family stools for Vitra, designed in 2004, are already considered classics for the lauded British designer. The stools' simple silhouettes are reminiscent of thread spools, and the use of solid cork makes them particularly alluring. As Morrison told Introspective, he believes that "humble" items, such as these, "often outperform their designer equivalents."
---
Campana Brothers Sobreiro Cabinet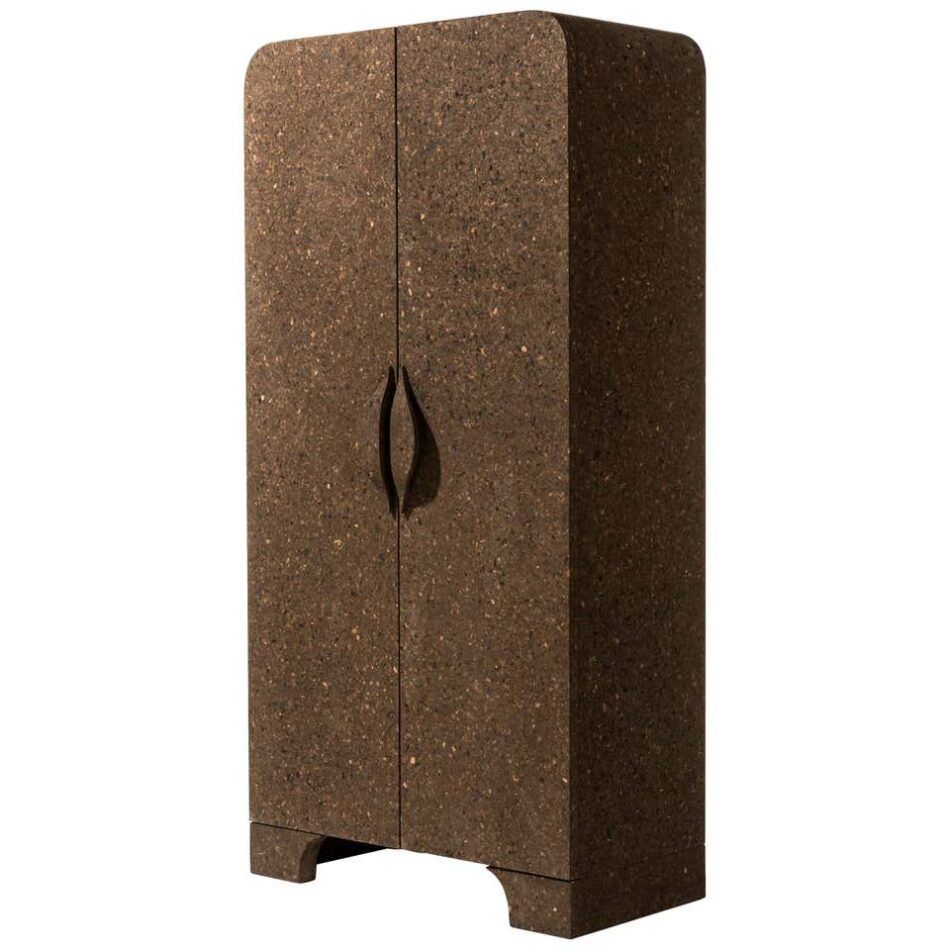 Venerated brother design team Fernando and Humberto Campana (the first Brazilian artists to have their work displayed, in 1998, at MoMA) aren't strangers to using atypical materials. In the past, they've experimented with everything from palm fronds to fish skin to stuffed bears. But with cork, they seem to have truly found their muse.
"We've always been fascinated by cork, not only because it is an ecological material but because of its lightness," explains elder brother Humberto. "The texture, variety of applications and insulation properties enrich the possibilities of using this material to express new concepts and gestures. It's like marble that can be sculpted."
---
Cork Carving of Castle Scene, circa 1880
Not much is known about the creation of this detailed carved-cork castle scene, but one doesn't need to know the artist's name to recognize the work as uniquely special. Markus Mix, of ArtFour, which offers it, notes that, like tramp art in the United States, cork carving was common in the late 19th century in Bavaria.
The castle depicted, Mix notes, looks strikingly similar to Neuschwanstein, a Romanesque Revival palace on Germany's southern border.
---
Nendo for Emeco Su Barstool
"I believe design should make people happy while solving small inconveniences in our daily life," Nendo cofounder and chief designer Oki Sato told Introspective, and his sleek but eminently practical Su barstools for Emeco beautifully fulfill those goals. The light wood of the legs complements the grain of the stool's comfortable cork seat, which is able to serve its function fashionably without demanding that attention be paid.
---
Edward Wormley Cork-Top Table, 1947
Although best known as a modernist pioneer, Edward Wormley had a soft spot for classical aesthetics. As director of Dunbar furniture for three decades starting in 1931, he designed two lines of furniture annually for the company: one modernist, the other more traditional. His 1947 table synthesizes his two impulses, combining warm cork with a large mid-century brass support.
---
Laurie Wiid van Heerden and Lionel Smit Lineage Cabinet
Designer Laurie Wiid van Heerden and artist Lionel Smit's Lineage cabinet is a dream collaboration, the work of one perfectly complementing that of the other. The Cape Town–based Wild's cork cabinet, which recalls historic Cape Dutch architecture, is elevated by Smit's thoughtful painting of two Cape Malay women facing each other, eyes shut.
"The one-off collectible piece finds its harmony in a historical narrative," says Lezanne van Heerden, of Southern Guild gallery. "It speaks of the Western Cape's rich cultural heritage."