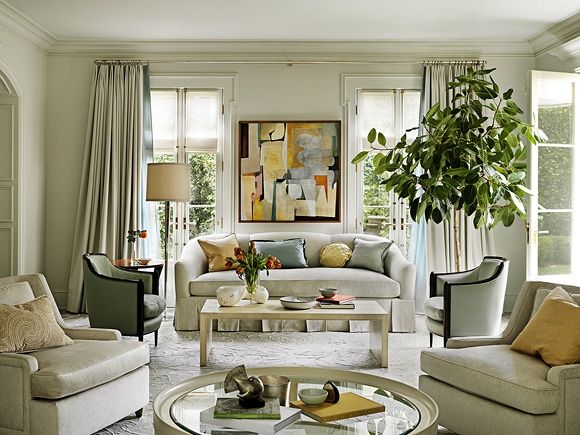 "When you have light-filled rooms, subtle textures and color shifts are illuminated. The walls and moldings, as well as the larger pieces, are all painted a matte, soft pale grey to act as a neutral backdrop for the pops of color that come from smaller gestures like the blue lining of the draperies, the accessories and the art," Barbara Barry says of her Beverly Hills living room. The seating pieces, cocktail table, pillow fabrics, carpet and floor lamp were all designed by Barry.
Photo by David Meredith.
---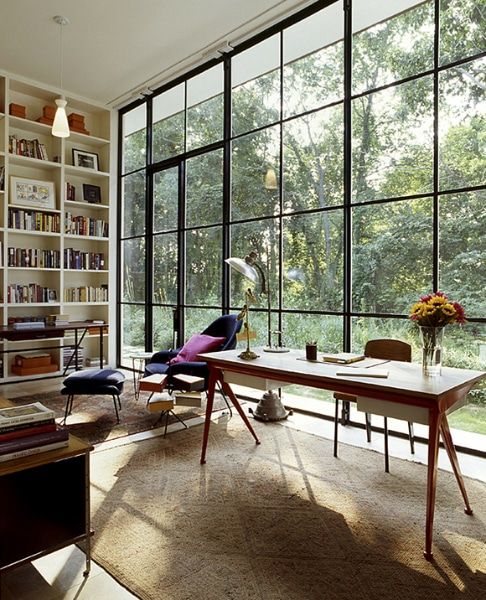 Michael Haverland's East Hampton study is a simple-yet-elegant glass box that the architect designed to showcase pieces from his blue-chip furniture collection, including a 1953 Jean Prouvé Compass desk and Standard chair; a 1946 Eero Saarinen for Knoll Womb chair; and a 1950s Jacques Adnet leather desk.
Photo by Bill Cunningham.
---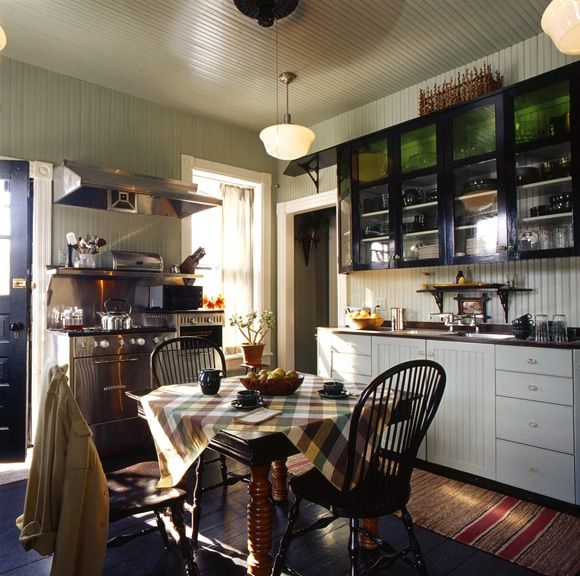 Stephen Shadley cites his client Diane Keaton as one of his inspirations behind the decor of his upstate New York retreat. "She has an eye for antiques, and taught that you really need to make a statement with your collection by having a large amount of pieces. I became an avid collector and have never stopped." The Windsor chairs are by Heywood-Wakefield, and the table linens and china are by Russell Wright.
Photo by Steve Gross and Sue Daley.
---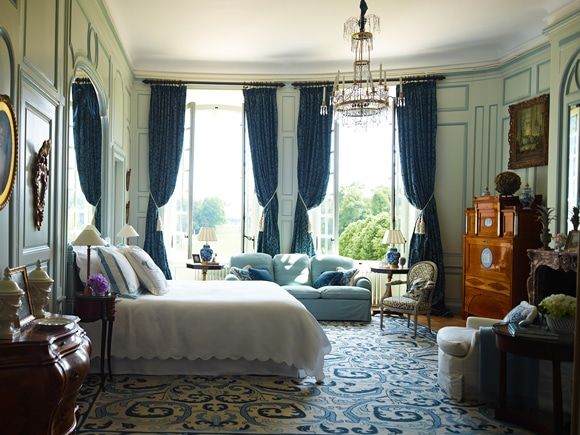 Each of the 14 bedrooms in Timothy Corrigan's 18th-century Loire Valley estate Château du Grand-Lucé reflects a distinct design sensibility. This blue-gray guest room includes an antique Portuguese rug, an 18th-century Swedish chandelier, a pair of 19th-century British side tables and a Louis XVI chair.
Photo by Eric Piasecki.
---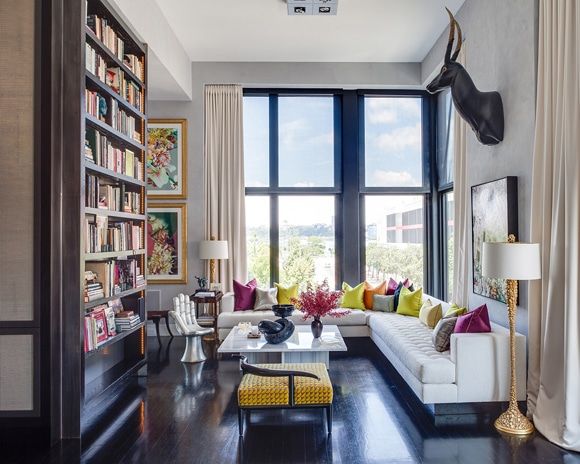 Jamie Drake — one of the two principals of DRAKE/ANDERSON — designed his colorful West Chelsea loft with a focus on entertaining. The 1960s Hand chair is by Pedro Friedeberg and the resin-cast floor lamp is by Alpha Workshops.
Photo by Marco Ricca.
---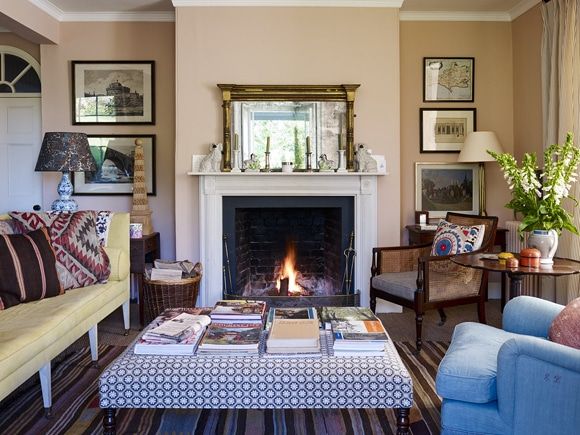 Ben Pentreath, who says that he "always takes inspiration from the past," oufitted his Dorset, England country home with a yellow sofa by Max Rollitt and several pieces of his own design, including the marble-patterned lampshade, the Imari vase lamp and the patterned textiles.
Photo by Jason Ingram.
---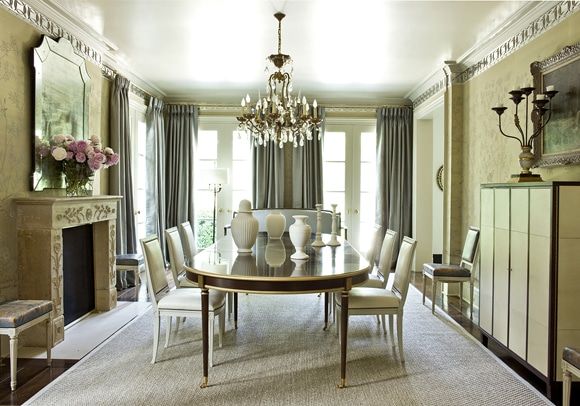 Suzanne Kasler's dazzling Atlanta dining room is clad in floral De Gournay wallpaper and ringed with antique mirror at the cornice line. Of the dining table and chairs, Kasler says that she does not "have any qualms about mixing dark wood with light wood — oftentimes it is far more interesting than having a matched set.
Photo by Erica George Dines.
---
"I absolutely love the color blue and decided to use this shade in my own home, because I find it to be very soothing," says Sheila Bridges of her 1901 Harlem brownstone. Bridges also notes that she "did not do a one-stop-shop to furnish my home, but instead acquired interesting and eclectic pieces over time." These include a small marquetry table, an alabaster Swedish chandelier and an antique French convex mirror.
Photo by Manuel Rodriguez.
---
Kelly Behun's beachside Long Island, New York home is furnished with organic textures — woven textiles, hand-made ceramics and potted trees — that contrast with the residence's clean-lined contemporary architecture. The antique Samarkand rug is from Doris Leslie Blau, the Boa sofa is by the Campana Brothers and Behun designed the macrame plant holders.
Photo by William Waldron.
---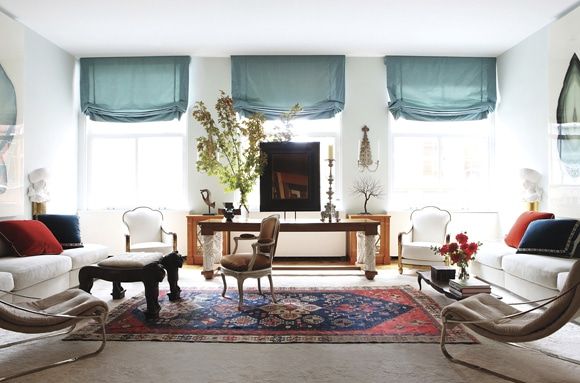 In Robert Couturier's New York apartment, a photograph by Ron Agam hangs above a sofa — at right — that Couturier designed himself. The oak and porcelain table, at left, is by Jacques Adnet and Maurice Savin, and the low 1930s cocktail table is by Frances Elkins. "I can try things in this space because I don't live here permanently. "An apartment is a little bit like a suit," says Couturier. "When you're tired of it, you can easily change it to reflect your current taste."
Photo by Bill Abranowicz.
---
Shawn Henderson's upstate New York Colonial retreat was inspired by the look of Scandinavian summer homes. Fittingly, the designer used a pair of Papa Bear chairs and a floor lamp by Danish creator Hans Wegner.
Photo by Steven Freihon.
---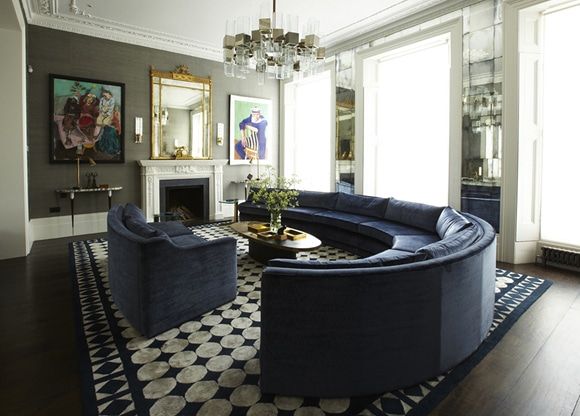 Peter Mikic describes the vibe of his London home as "Claridge's meets 1950s Milan." The drawing room features a scene-stealing blue velvet sofa of Mikic's own design.
Photo by Kate Martin.
---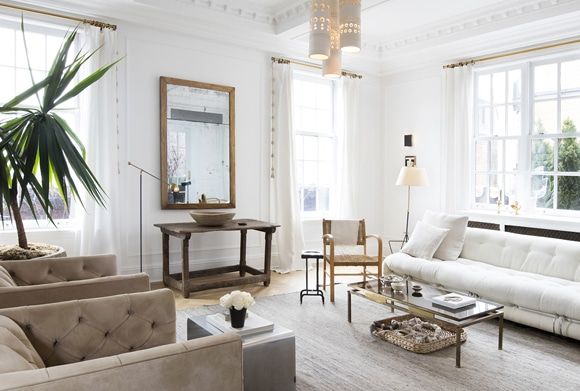 "We subtracted all the color so you would notice the fantastic textures," says Nate Berkus about his Fifth Avenue Manhattan penthouse. The home is a showcase for Berkus's and his partner Jeremiah Brent's incredible collection of vintage furnishings. These include the pictured 1970s Maison Jansen brass and smoked glass coffee table, a George Pelletier ceramic pendant light, a 1970s chrome Soriana sofa by Tobia and Afra Scarpa, a circa 1950 Jacques Adnet leather vide-poche and a 19th-century French gilt mirror.
Photo by Julie Holder.
---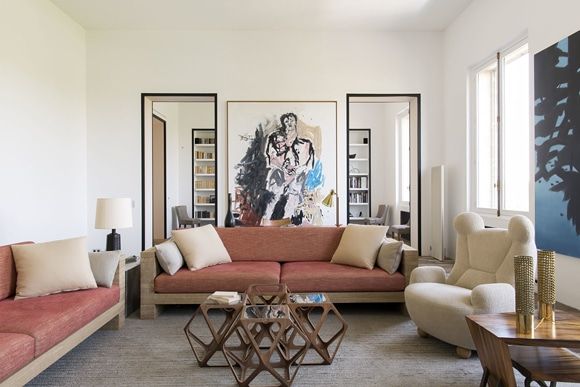 Pierre Yovanovitch's Paris apartment is reflective of the designer's signature "warm minimalist" style. The high-ceilinged space features armchairs and sofas of Yovanovitch's own design, plus artworks by Alex Katz and Georg Baselitz. "Art is very important to me: it gives life to an interior. Artworks dialogue with both architecture and interior design," he says.
Photo by Stephan Julliard/Tripod Agency.
---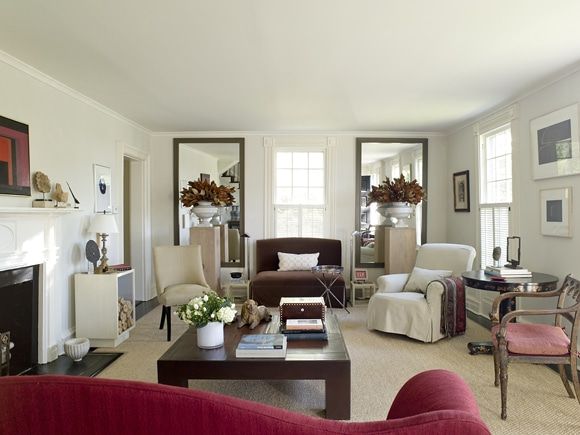 Matthew Patrick Smyth says that he sought to respect the 18th-century architecture of his Litchfield County, Connecticut Colonial weekend house. Accordingly, the living room includes a Schumacher-upholstered 19th-century camel back settee and a pair of late-19th-century iron urns. The carpet is by Patterson, Flynn and Martin.
Photo by John Gruen from Living Traditions: Interiors of Matthew Patrick Smyth, by Monacelli Press.
---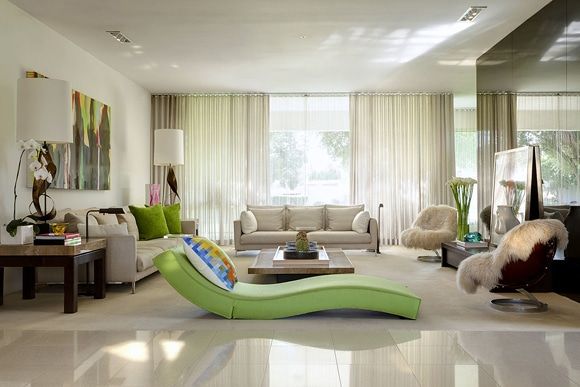 Vance Burke's Palm Springs home is a paean to mid-century style — but with a modern twist. In the living room, brightly colored upholstery and bold shapes emphasis the scale of the home and complement the desert landscape, as seen through the large panes of glass.
Photo by Richard Powers.