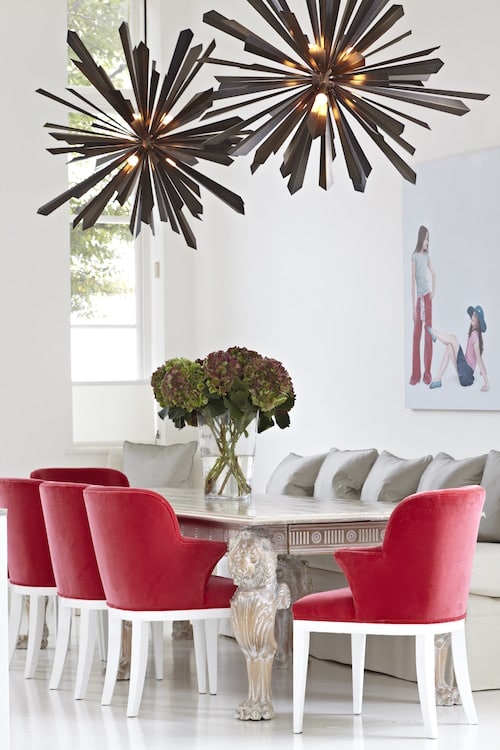 "The choice of the watermelon-pink velvet upholstery on the dining chairs was to act in contrast to the white walls in this large restored open plan Victorian schoolhouse," Samantha Todhunter says of the dining room in this London home. "By using the watermelon, we were able to delineate and fix the dining area perfectly and without risking it fading into the overall space." The light fixtures are Tony Duquette's California Sunburst from Remains Lighting.
Photo by Oliver Clarke
---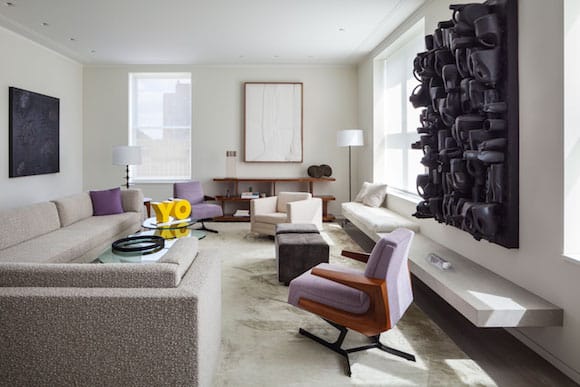 Rees Roberts & Partners designed this duplex in a prewar building on Manhattan's Upper East Side, where the living room's neutral palette is punctuated by a pair of lavender armchairs and a vibrant sculpture.
Photo by Elizabeth Felicella
---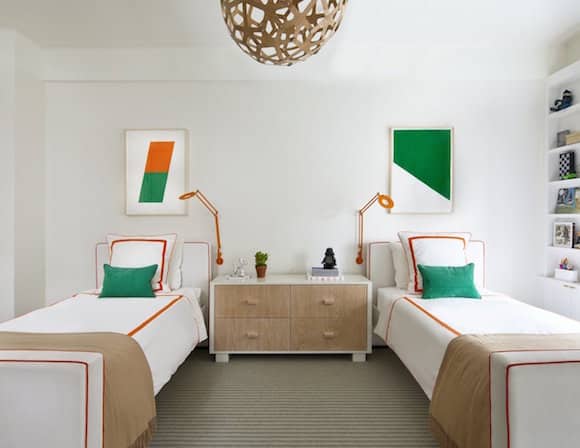 A pair of Ellsworth Kelly prints — Orange/Green, 1970, and Green Curve, 1999, from Susan Sheehan Gallery — set the color palette for a Kapito Muller–designed children's bedroom on the Upper West Side of Manhattan.
Photo by Nick Johnson
---
"For this foyer, we played a dramatic black and white game with a red flash," Thierry Mérillou of Suduca & Mérillou says of this townhouse they designed in Toulouse, France. A 1960s brass chandelier hangs above the space, whose walls are covered with a vintage Rubelli fabric. The red bamboo chair and black bamboo desk are by Maison Jansen, and the table lamp is by Madeleine Castaing.
Photo by Manolo Yllera
---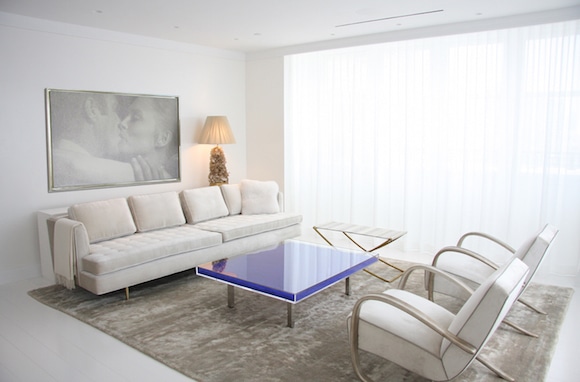 Kelly Behun designed this New York penthouse, whose predominantly white living room features an Yves Klein cocktail table in the designer's trademark hue.
Photo courtesy of KBS
---
"Each element in the room was thoughtfully and deliberately selected and planned to exude a feeling of calming atmosphere, positive energy and renewal that each day brings," Jennifer Post says of this bedroom in a Miami penthouse she designed. "Yellow is a happy color that strengthens the whites in the room and welcomes you into the room." La Prière, 1932, by Jean Lambert-Rucki is positioned at the foot of the bed, and Untitled, 2008, by Thilo Heinzmann, hangs on the wall. The marble floor has a bamboo inset so that the homeowner can practice yoga with oceanfront views.
Photo by Jennifer Post Design with Ken Hayden
---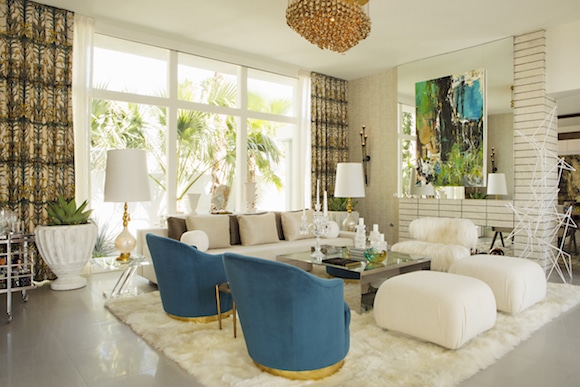 In a Palm Springs, California, living room by Woodson & Rummerfield's House of Design, a pair of jewel-toned swivel chairs on brass bases anchor this airy space.
Photo by Karyn Millet
---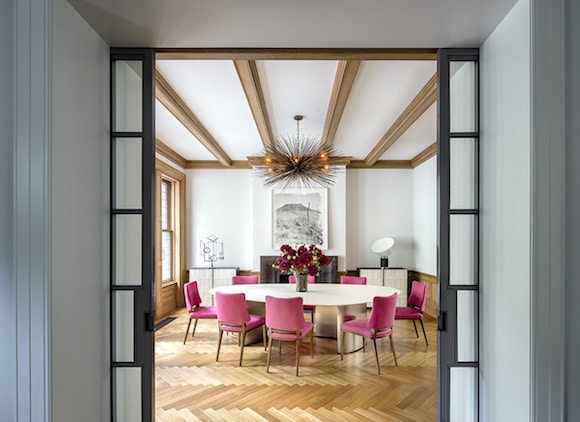 A brass sputnik chandelier hangs over the table and peony-hued chairs in this Rees Roberts & Partners-designed dining room in an 1898 New York brownstone, which features expose beams and a herringbone wood floor.
Photo byScott Frances / OTTO
---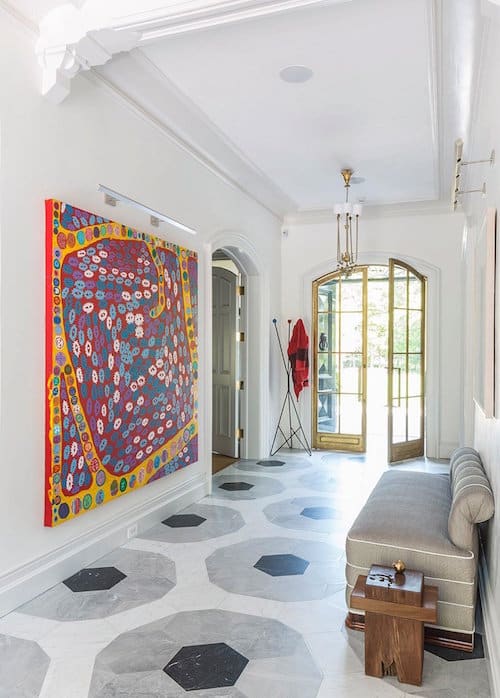 "I designed the scale of the marble to really accentuate a dramatic entrance and the architectural features are a perfect backdrop to this fabulous Yayoi Kusama painting called Dance Party," Sara Story says of the entryway in a gothic Victorian estate in Palisades, New York. The space includes a light by Pietro Chiesa, a 1920s Swedish settee and custom brass doors designed by Story. "I selected the Brazilian sides tables for a nice textural contrast to the smoothness of the marble floor and sculptural form of the settee," Story says of the reclaimed wood stools by Zanini de Zanine.
Photo by Marco Ricca
---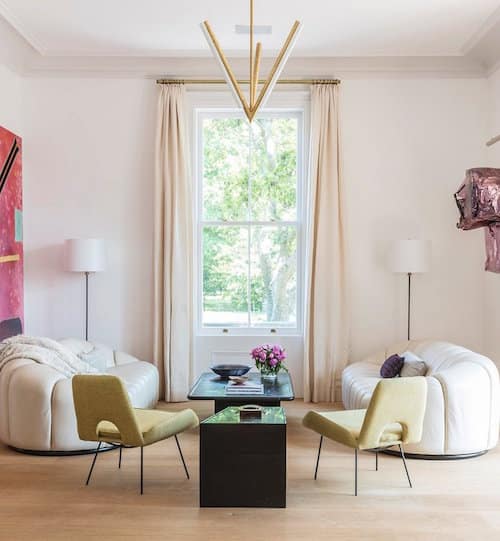 "I wanted a very neutral palette but with pops of pink as accent focal points," Sara Story says of the living room she designed in the same gothic Victorian estate. "I love incorporating art as dramatic elements to a space," she says, noting that the art piece on the left is by Sterling Ruby, and the sculpture on right is by Jim Lambie. The sofas are Pierre Paulin, the side table is by artist Rashid Johnson and the 1950s Brazilian yellow chairs were designed by Carlo Hunger and Martin Eisler for Forma.
Photo by Marco Ricca
---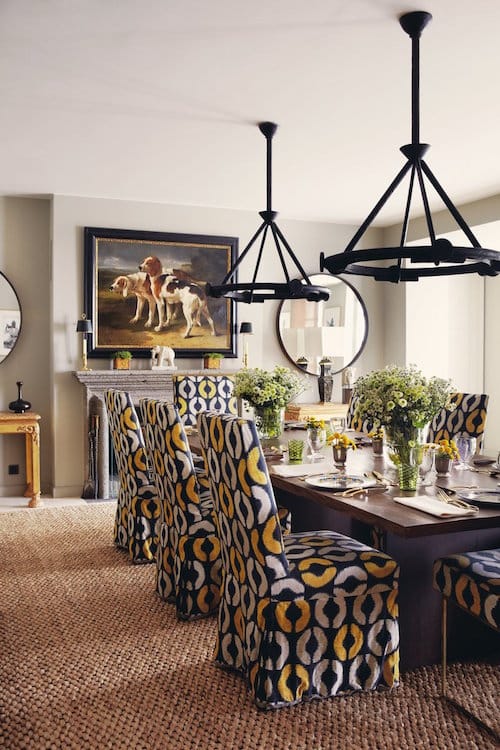 For the dining room of a Timothy Whealon–designed villa in Monaco, the color palette was inspired by the giltwood early Queen Anne side table and the French 19th-century painting of hounds above the fireplace. The custom dining chairs, designed by Whealon, are slipcovered in a Dedar fabric that reminded him of vintage African textiles and further complemented the color palette. Custom pendant lights by Philippe Anthonioz hang over the table, which is topped with Damien Hirst plates.
Photo by Simon Watson
---
The dining room of a Paris home by Bismut & Bismut features the firm's 2+1 table, so named because it is constructed of three pieces. Around it are 1970s chrome chairs and a trio of vibrant shell chairs by Charles and Ray Eames. The room also includes wall art by Claire Adelfang and an existing 19th-century console that the brothers topped with polished blue onyx. "The existing floor being black and white, we kept the same colors for walls and ceilings and added an orange touch with the chairs to lighten up," says Daniel Bismut.
Photos by Francis Amiand
---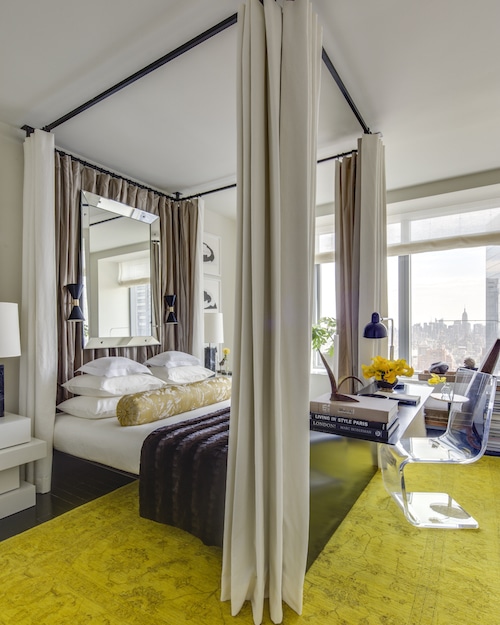 The saffron-hued area rug wasn't the only dramatic element in the bedroom Caleb Anderson designed for the 2014 Lenox Hill Hospital Designer Showhouse. His custom-built steel canopy bed, which included a cantilevered desk as a footboard, weighed more than 800 pounds.
Photo by Marco Ricca
---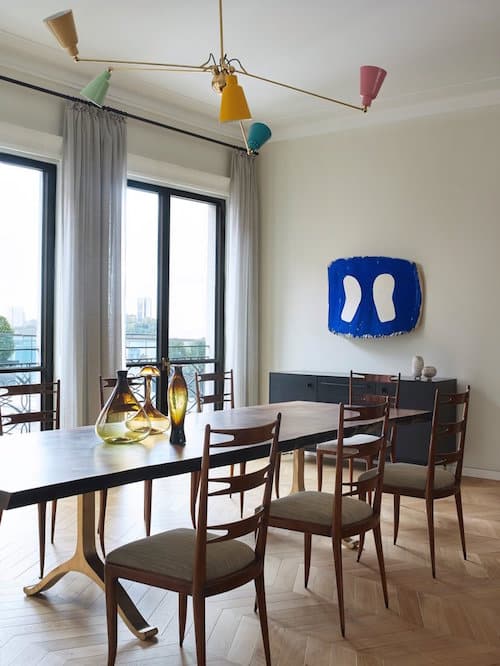 "Using a pop of color on a light fixture or art can create an air of sophisticated playfulness," says Damon Liss, who did just that in this Manhattan dining room. A Fedele Papagni chandelier hangs over the BDDW dining table, which is surrounded by Giuseppe Scapinelli chairs. A saddle-shaped canvas by Ron Gorchov lends a burst of blue to the space.
Photo by Joshua McHugh
---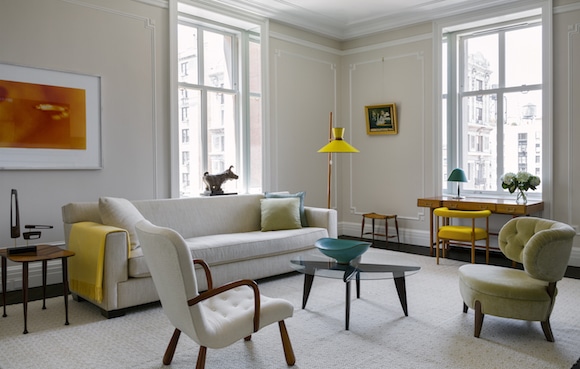 The designing sisters known as 2Michaels renovated this apartment in an early 20th-century Italian Renaissance Revival building in Manhattan, and they opted to keep the rooms spare with with bright accents so as not to detract from the neoclassical architectural details. The living room includes a Jacques Hauville floor lamp, Giò Ponti glass coffee table and Philip Arctander armchair.
Photo by Trevor Tondro
---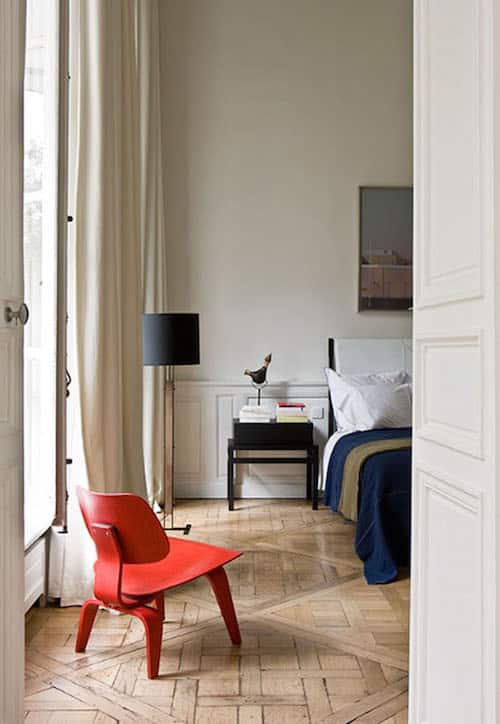 For this home in Paris, Bismut & Bismut kept the color palette limited, save for bright accents like this Eames LCW lounge chair. "The client wished to mix navy blue and white, and we added a red chair," Daniel Bismut says.
Photo by Francis Amiand
---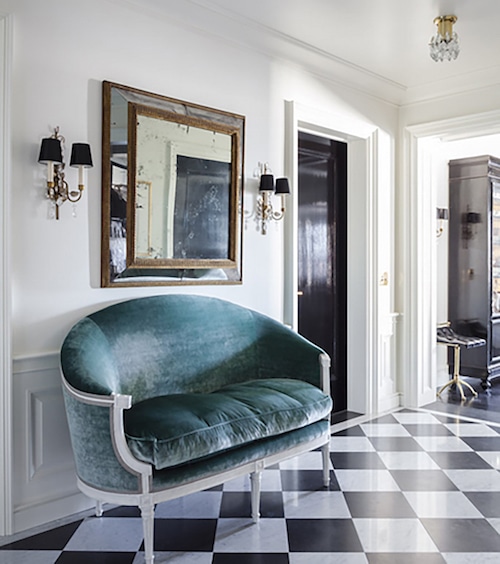 For this residence on Madison Avenue in New York, Jennifer Vaughn Miller opted for "very neutral walls and materials punctuated with soft hues of greens and blues." An 18th-century Italian gilt wall mirror flanked by a pair of Baguès-style rock crystal wall sconces hangs above a Swedish Gustavian canapé upholstered in a Rubelli velvet. "I wanted very classic, traditional materials for this context," Vaughn Miller says.
Photo by Kris Tamburello
---
At John Ike of Ike Kligerman Barkley's home in San Diego, the entryway features a bright red Dutch door and a multicolored glass table from a furniture collection Ike designed with photographer Irene Mamiye.
Photo by William Waldron