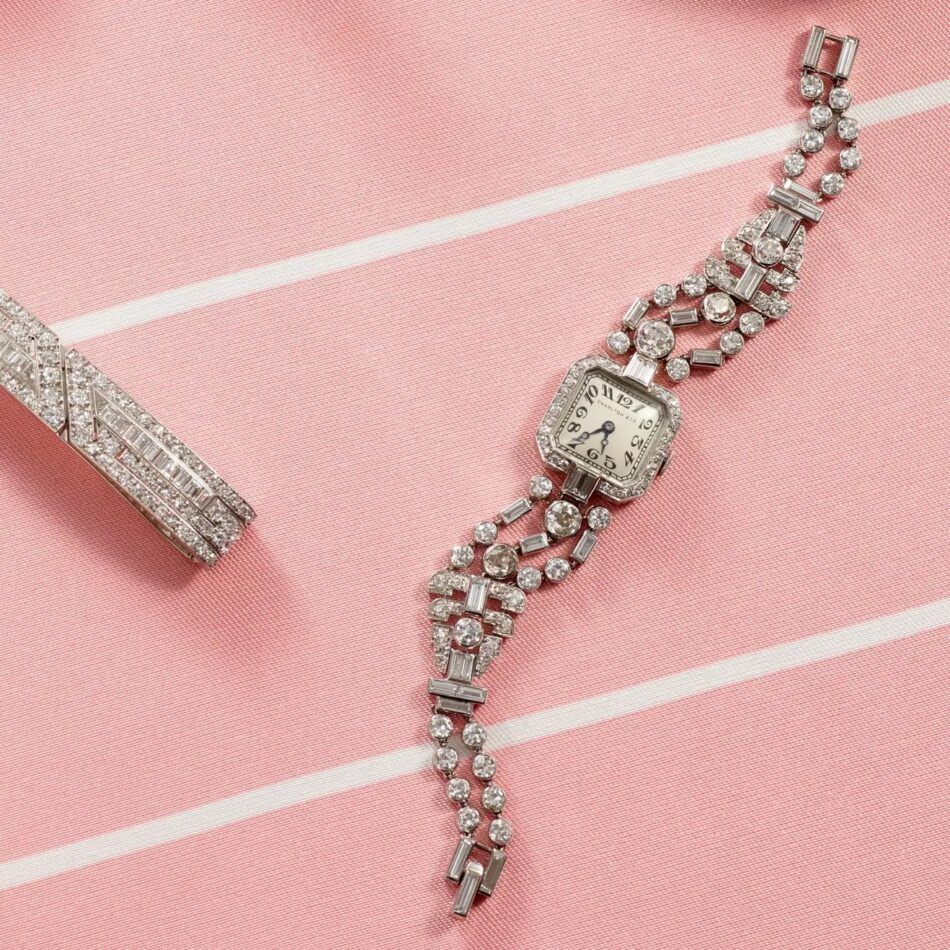 A decorative watch is the world's most versatile accessory. Whether in bracelet, pendant, brooch or ring form, these timepieces can be worn with anything from casual looks to cocktail wear to full evening dress. And yes, it is perfectly acceptable — in fact, perfectly au courant — to wear a watch with a ball gown, despite some objections to the contrary.
In a recent example, model Kaia Gerber paired a diamond-set Omega De Ville with a classic Oscar de la Renta frock at the 2021 Met Gala. Though the combination was stunning, she was initially pilloried for it. On Instagram, Vogue columnist Marina Rust, for one, took issue with the choice on the grounds that "it implies one might have somewhere else to be" and "if you wear a watch to dinner, there is always the danger of being seen checking the time, appearing rude."
The post, since retracted, seemed to many like something from a 1950s etiquette book, implying that a woman's only role is to look appropriate and follow the rules — whatever those are.
Truth be told, a beautiful woman probably does have somewhere else to be, including heading to the curb at the appointed time to meet her driver, who will whisk her away into the night. Checking the hour is essential, not just to catch your ride but to show off your lovely watch. Rude, you say? Well, it's better than pulling out a cell phone. Unless it's to take a selfie. Maybe a wrist shot.
By the way, any one of these gemmy timekeepers would make a great statement piece for a stylish loved one or friend of any gender on your gift list. It's dress-up time! Throw out the rule book, and add some drama!
---
Who needs a disco ball when you can light up the dance floor with the flash of the 3.23 carats of brilliant-cut diamonds on this cocktail watch? It combines antique provenance with forward-looking technique: Full-cut diamonds like the ones in this piece were a rarity when it was produced in the 1920s. The manual-wind movement was made by the world's oldest watch company, Vacheron Constantin.
---
This intricately woven bracelet that happens to tell time is classic Van Cleef & Arpels. The geometric ribbed-gold links provide a dash of 1970s chic. Wear it over a long black sleeve to make the diamonds pop and sparkle.
---
The pin watch, with its upside-down face, was popularized by early-20th-century nurses, who needed a hands-free way to tell time at a glance. This ribbon-and-bow design, lavishly set with diamonds and sapphires, was created for more festive occasions. Trimmed with onyx, it has black-tie written all over it.
---
When it comes to vintage watches, it doesn't get any better than a Patek Philippe movement and a Gubelin case. From the flinqué enamel to the 132 small rose-cut diamonds and single larger old-mine-cut stone, this is the perfect piece for a plunging neckline.
---
There's nothing like 10 carats of diamonds to take your holiday look to the next level. This Charlton & Co. watch with a Cartier bracelet delivers substance as well as style. The mechanical movement was made to rigorous Geneva Seal quality standards, and the diamonds' modern cuts radiate maximum brilliance.
---
Secret watches, which hide their dials under hinged covers, were developed as an elegant way around the now-outdated notion that women shouldn't wear watches in formal settings. This showstopping diamond example from Longines — created in the 1980s, the decade of big hair, big shoulders and lavish accessories — is all you need to make the fashion statement of the season.
---
Victorian jeweler Wilson & Gill was famous for its goldsmithing and enamel work, paired here with the precision of Swiss watchmaker Vulcain. The pendant is in near-new condition, with no signs of use, and is still in its original fitted box. It could stand on its own or layer nicely with other necklaces for a lush look.
---
This Tiffany & Co. lapel-pin watch would make a perfect men's tux accessory, but don't be limited by the label. You could fasten it to a little black dress or tack it onto a silk scarf. Set with 4.75 carats of crystal-clear old-mine-cut diamonds, it oozes old-world charm.
---
This dramatic (but not over-the-top) cuff bracelet is both classic 1930s and right on trend. It is a remarkable example of the artistry of French jeweler René Boivin and his signature fish-scale design, with its overlapping tiers of rose-cut diamonds set in 18-karat gold.
---
This whimsical Cartier jade pendant with gold starbursts seems destined to be the life of the party. The movement was designed by Edmond Jaeger and produced by Swiss watchmaker LeCoultre — two famous names that later united to form the elite Swiss watch brand Jaeger-LeCoultre. The dial is surrounded by 24 diamonds set in 18-karat gold.
---
The beauty of nature-inspired jewelry is that it seems alive, as witness this delicate bracelet, which coils around the wrist like a sprouting vine. Made by famed Swiss watch brand LeCoultre around 1950, it contains a manual-wind movement and gleams with a full carat of marquise-cut diamonds.
---
Cartier, refusing to be confined by the round form, is the master of shaped watches. The 3D, semicylindrical case of this 1941 model is flanked by festive flower clusters composed of 16 rubies totaling four carats. The floral motif was a house favorite during the prewar era.
---
Is there any more perfect way to ring in the New Year than with a cocktail ring that tells time? This Art Deco jewel is the real deal — a rare authentic period piece made in 1930s France, with a half carat of antique single-cut diamonds set in hand-engraved platinum.
---
This piece is literally fit for a queen. The inside cover is engraved "To the Queen, Le Roy & Fils." The French jeweler, founded in 1785, was not only an official watchmaker to the Bourbons but also held a royal warrant to supply the court of Queen Victoria. And the 32 old-cut diamonds add weight to an otherwise dainty bauble.
---
This Belle Époque Cartier pendant watch is described by the seller as in "museum condition": no missing diamonds on the clasp or garland, no chips in the flinqué enamel and no pearls missing from the triple-strand sautoir. But the best place to exhibit it is around your neck, where it will transform you into the most spectacular specimen in the room.