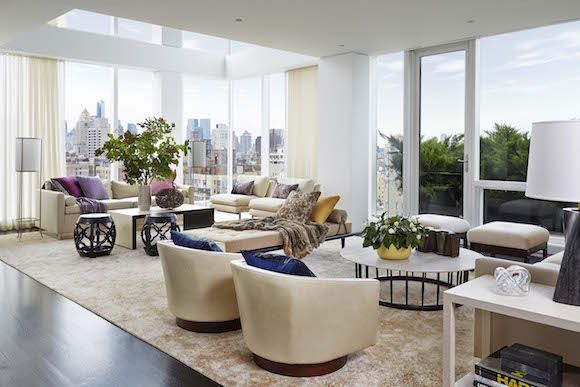 "The living room is subtle, glamorous and refined, with dark wood, chrome accents and a muted palette of tan, yellow gold and soft touches of lavender complementing this gracious approach," Russell Groves of Groves & Co. says of the duplex penthouse at the Lucida, the first LEED-certified luxury residential tower on the Upper East Side. The space features custom sofas by Groves & Co. and a pair of 1970s Milo Baughman–style cantilevered chairs with nickel bases.
Photo by Max Kim-Bee
---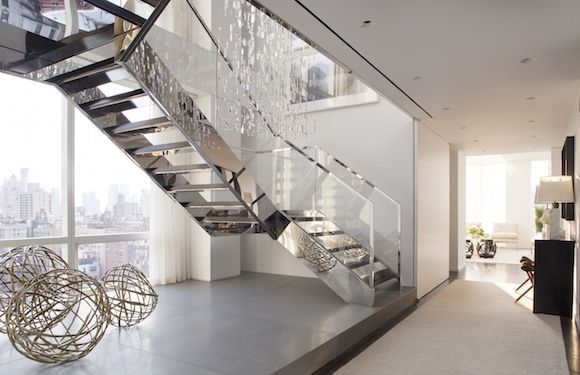 "At the core of the residence, around which all these spaces pivot, is the home's centerpiece: a gleaming foyer, featuring a floating chrome and glass staircase, elegantly set against a framed vignette of an iconic New York City vista," Groves says of the Lucinda penthouse. "This dynamic axis is complimented by a seductive, cascading custom Swarovski chandelier of shimmering crystals that reflect off the aural staircase. A Sam Samore triptych, of his famed work Allegories of Beauty, brings dynamism to the space."
Photo by Max Kim-Bee
---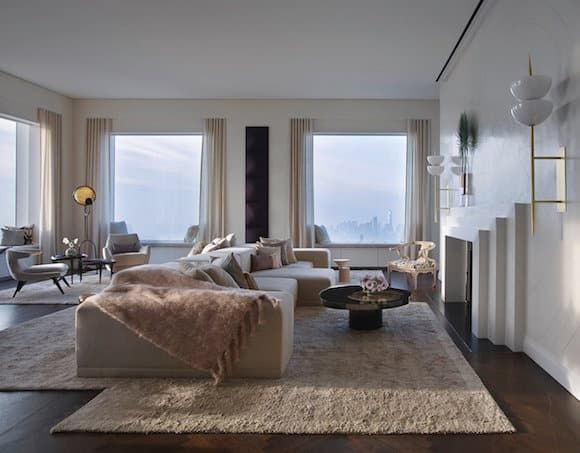 Kelly Behun designed this penthouse on the 92nd floor of 432 Park Avenue, the tallest residential building in the Western Hemisphere. The silk rug has been shaped to mimic the omnidirectional couch. Callidus Guild created the plaster bas-relief wall, which derives from an Art Deco pattern in Behun's archive, and gold accents, like the Vincent Collin floor lamp, add notes of opulence and warmth.
---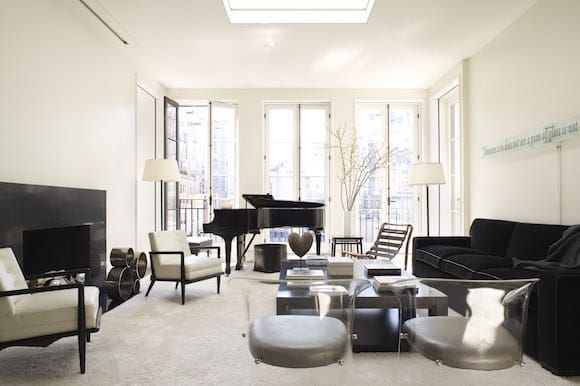 Peter Pennoyer Architects designed the two penthouse levels of this modern townhouse, one of which includes this minimalist black and white music room, which is brightened by a skylight and French doors on three sides. Victoria Hagan designed the interior, working with sleek pieces and clean lines.
Photo by Scott Frances/OTTO
---
Kelly Behun says that her client "wasn't afraid to go for a 'whiteout' effect in the principal rooms." The brightness is amplified through the use of nickel accents, shimmery silk rugs and lacquered finishes. Sheer curtains filter the sunlight and create a soft glow in the living room.
Photo by KBS
---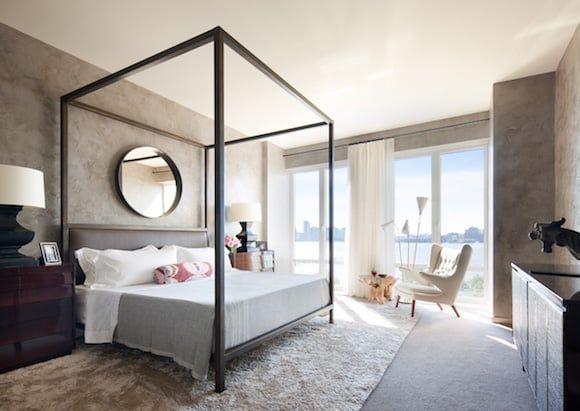 "This room was flooded with light, so I wanted to make it dark and cozy," Shawn Henderson says of this Manhattan home with expansive views of the Hudson River. "I did a plaster finish on the walls and matched the floor coverings to it. I then created some lightness by adding a custom silk shag rug on top of the carpeting. I love the idea of stepping on something soft and luxurious when getting out of bed." The master bedroom features a custom blackened-steel bed by Henderson and a Hans Wegner Papa Bear chair.
Photo by Steve Freihon
---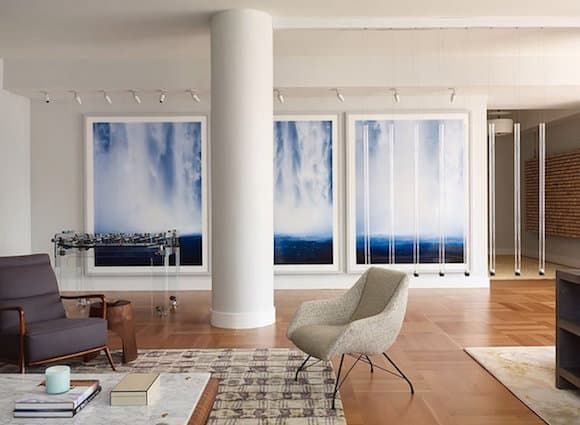 For this penthouse overlooking the High Line, Damon Liss created a gallery-like space for displaying artwork as well as an incredible crystal foosball table by Teckell.
Photo by Joshua McHugh
---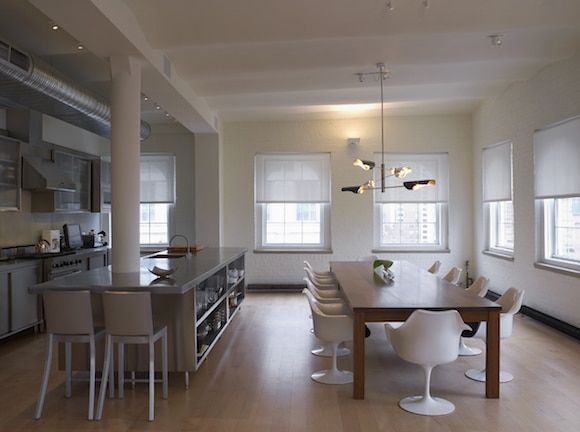 The kitchen of this Tribeca penthouse by MR Architecture + Decor includes a wide stainless steel island with a small seating area as well as a long wooden table surrounded by Eero Saarinen tulip chairs.
Photo by Eric Laignel
---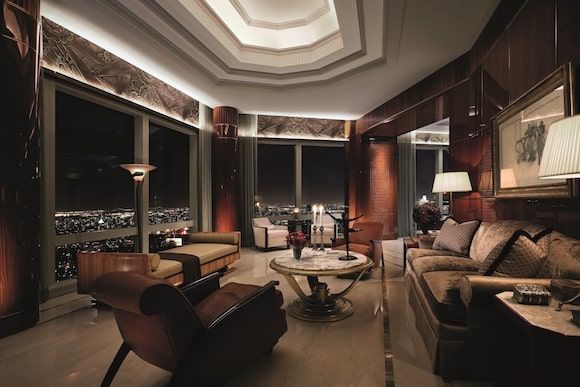 The living room of this Juan Montoya–designed 75th-floor penthouse on Manhattan's west side features custom bas-relief bronze panels that frame the room and its city views. The wood paneling with bronze inlay highlights the owners' collection of Art Deco furniture and objet d'art. An Edgar Degas sculpture is displayed on the coffee table, and the floor lamp is by Edgar Brandt.
Photo by Scott Frances
---
"The clients' preference was for clean spaces where the art collection would be front and center without resorting to dull, minimal furniture," Thad Hayes says of this Upper East Side home. "We started off knowing that a select number of pieces would reference history and tradition, further distancing furniture from art, stylistically. The Damien Hirst triptych forms a starry, dreamy backdrop for dining. The English 19th-century table grounds the dining room in an otherwise expansive, loft-like space."
Photo by Scott Frances
---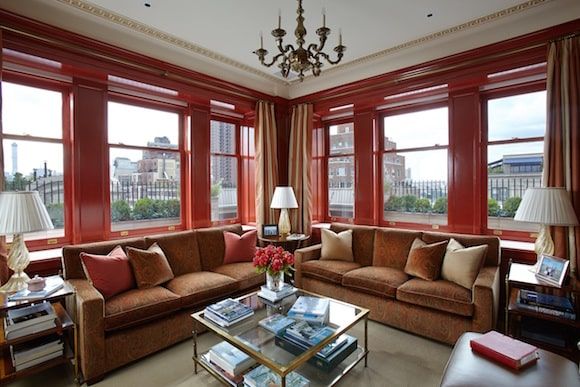 For this prewar Park Avenue duplex penthouse, Cullman & Kravis worked with John Murray Architects and Peter Cosola Inc. to gut renovate and redefine the layout to make the residence feel like a family home. The architectural details and furniture are a nod to the building's history, while the open spaces and bright colors are meant to add a certain freshness to the design.
Photo by Keith Scott Morton
---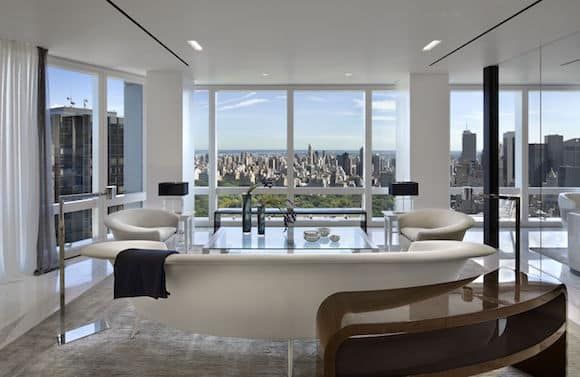 "One of the most important goals was to introduce immediate views of the Central Park," Jennifer Post says of designing this residence. " The living room needed to be casual for everyday use and lounging as well as nighttime leisure, but at the same time magnificently elegant for a cocktail party and formal entertaining." The library console is by J. Robert Scott, the 1950s-style sofa and chairs with custom alternations are attributed to Nanna Ditzel, and the custom bronze bench is by Desiron.
Photo by Jennifer Post Design with Michael Moran
---
"I wanted to create an airy New York loft, using blackened metal, cast glass, walnut, mohairs and leather," Sara Story says of this renovated triplex penthouse in a 1929 Manhattan building. "The juxtaposition between the warmth of wood and leather mixed with the crispness of the blackened metal and glass inspired by Gramercy Park and old New York!" This space features a P40 chair by Osvaldo Borsani, vintage Niels Otto Møller dining chairs and a Roman Thomas console.
Photo by Eric Laignel
---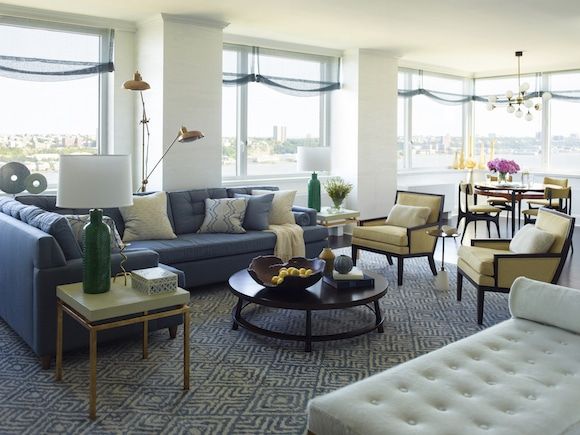 "When you walk into this room, it is the breathtaking view that stops you in your tracks," Gideon Mendelson of the Mendelson Group says of this Riverside Boulevard residence. "So we chose a palette of blues and greens to connect to that view. The room is full of comfortable seating and has a contemporary-yet-vintage and global vibe. It's a place for this young family to unwind, chat and connect." The cocktail table was made by T.H. Robsjohn-Gibbings and the green lamps flanking the sofa are from Bitossi. A chandelier from Le Lampade hangs over the dining table from Lorin Marsh, which is surrounded by dining chairs from Balsamo.
Photo by Eric Piasecki
---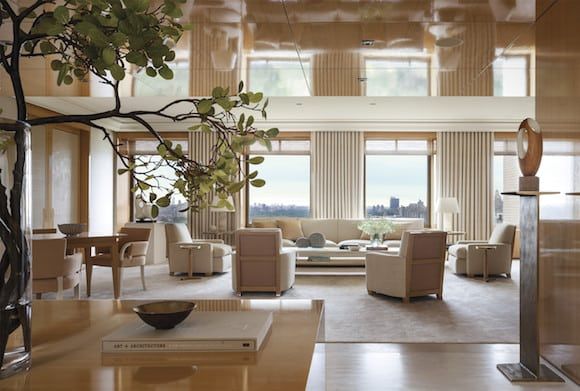 "My vision was to create an oasis that would appear to float above Central Park," Thomas Pheasant says of this Manhattan apartment. "The glossy, reflective ceilings helped me to 'suspend' the apartment visually by bringing the sky into every room. My clients's only request was that I bring focus to the light and the amazing view." The ceramic bowl on the game table is from Bernd Goeckler and the chairs around the table are by Jonas.
Photo by Durston Saylor
---
Matthew Baird Architects designed this residence in Soho, a former artist's loft that combines two duplex apartments. The space includes a 26-foot-tall glass-walled wine vault with a custom steel framework that can accommodate 1,500 bottles. A glass catwalk allows access to the upper wine cabinets from the apartment's penthouse level.
Photo by Elizabeth Felicella/Esto
---