In this Greenbrae, California, living room, Eche Martinez created an inviting atmosphere, with walls of bookshelves and a Charles Eames lounge chair and side table (right) serving as an ideal reading spot.
Photo by Christopher Stark
---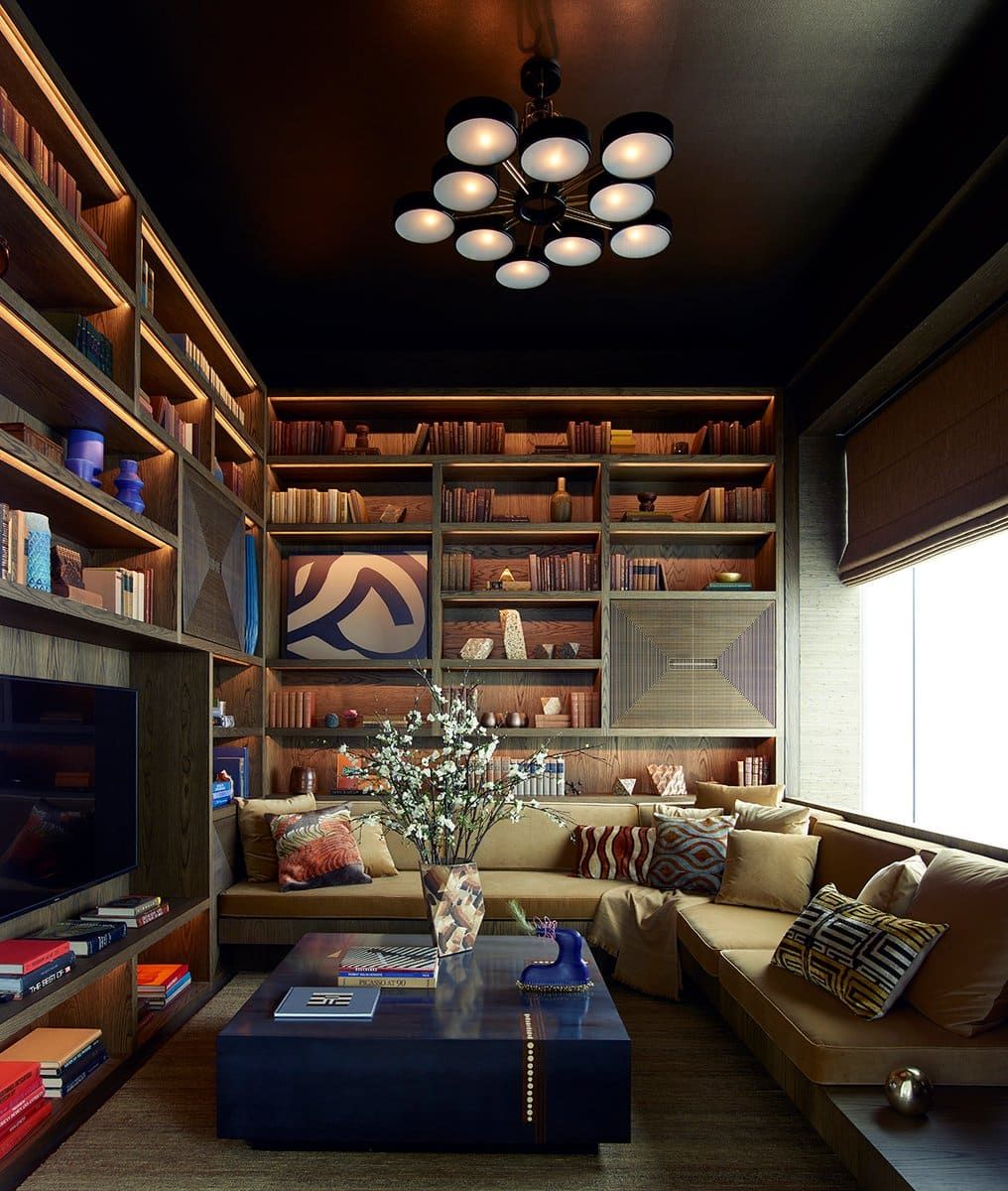 A Kelly Behun–designed penthouse in Manhattan, located in the tallest residential building in the Western Hemisphere, features this cozy walnut-paneled library. The space includes walls of built-in bookcases, a custom sofa and a wood marquetry cocktail table by Behun.
Photo by Richard Powers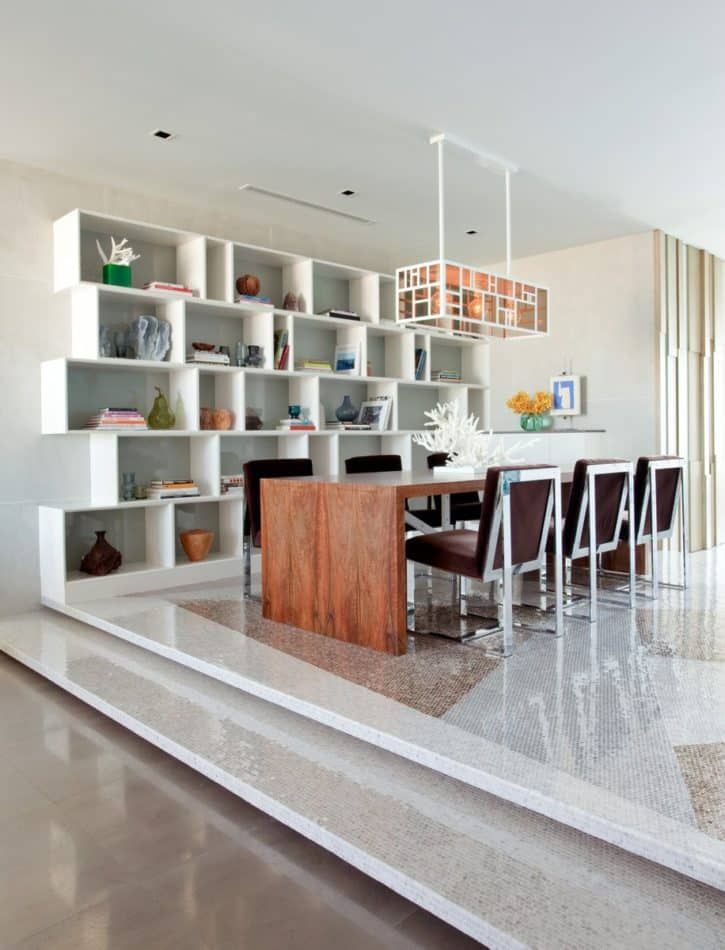 This shelving unit, with its unexpected proportions, adds another element of visual interest to a South Miami Beach dining room by Frank Roop.
Photo by Eric Roth
---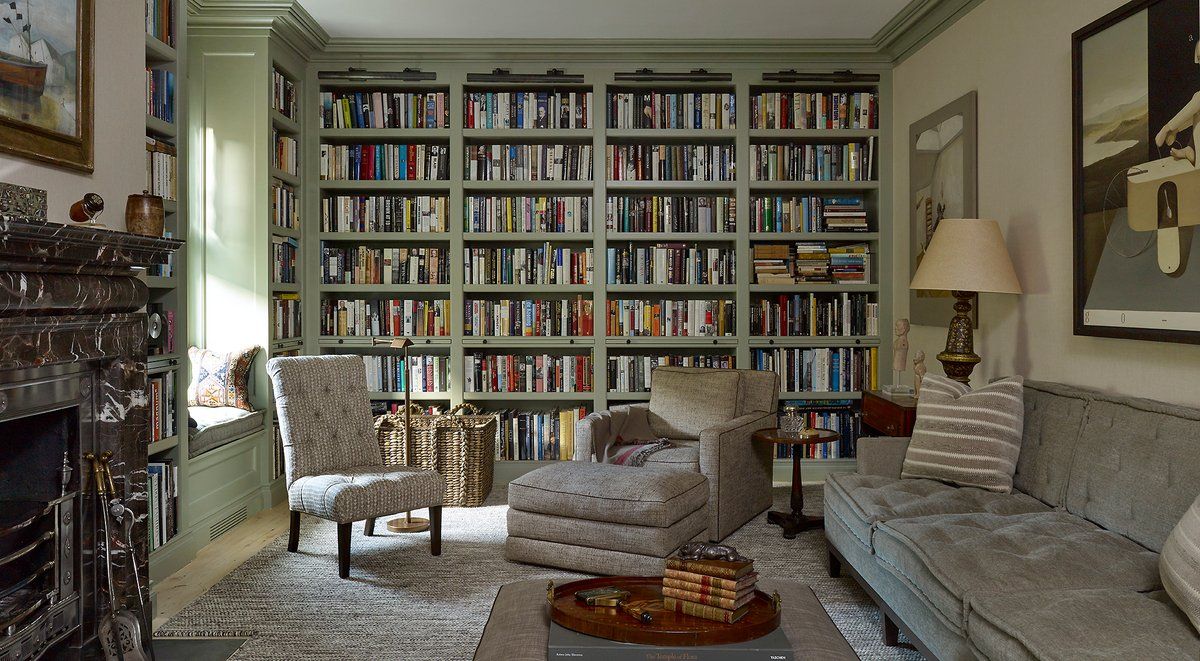 In this Sag Harbor, New York, library by David Kleinberg the wall of bookshelves, window seat and fireplace make for an undeniably cozy space.
Photo by Peter Murdock
---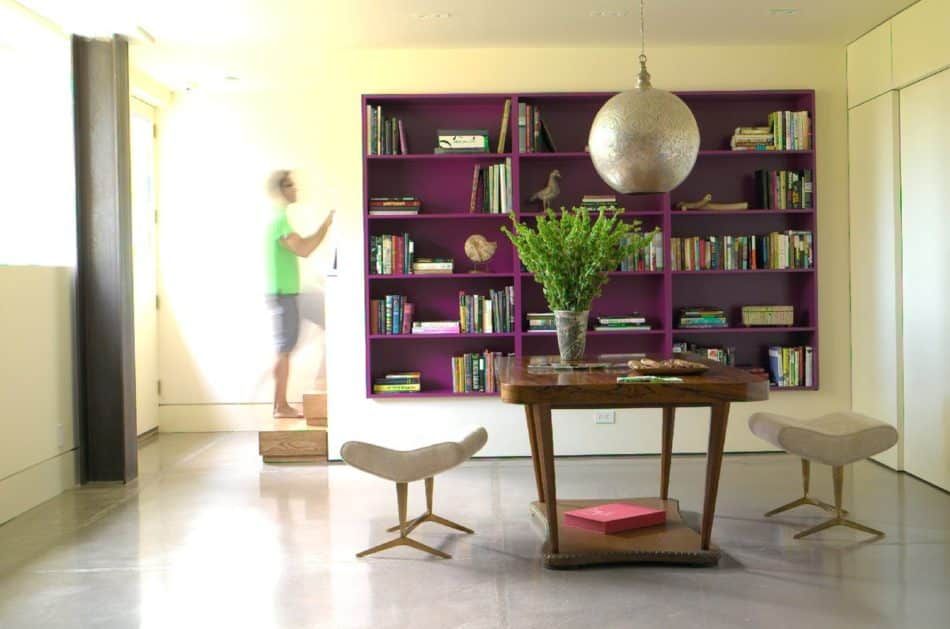 A built-in bookcase painted a vibrant shade of purple pops in this modern White Webb–designed weekend home in upstate New York.
Photo by Tim Street-Porter
---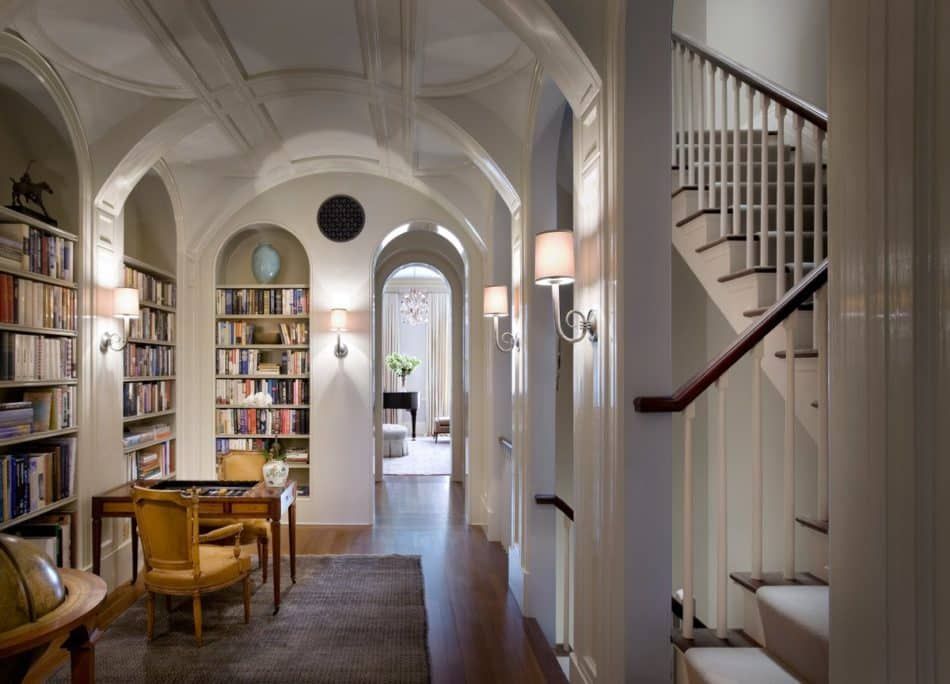 The library on the landing of this New York townhouse by Peter Pennoyer Architects features arched niches the echo the shape of the doorways and the vaulted ceiling.
Photo by Scott Frances/OTTO
---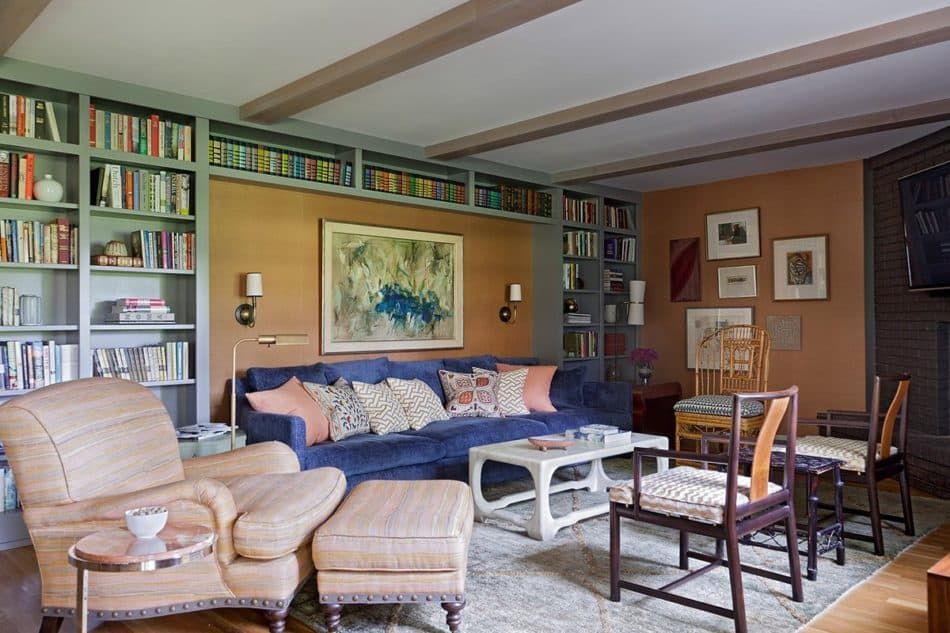 Custom shelving frames the sofa in this Bargersville, Indiana living room by Angie Hranowsky.
Photo by Julia Lynn
---
"We like to use vintage and antique storage pieces whenever possible," says Kristen Zeff, who works with her husband, Mark Zeff. "For spaces that are unusual in size, custom-designed pieces like library shelving are also a great option." For the Zeffs' home in East Hampton, New York, their architecture and design firm custom made the shelving, which was produced in Italy by Tedeschi Italia. The safari chairs are by Kaare Klint and the side table is vintage.
Photo by Gianni Franchelluci
---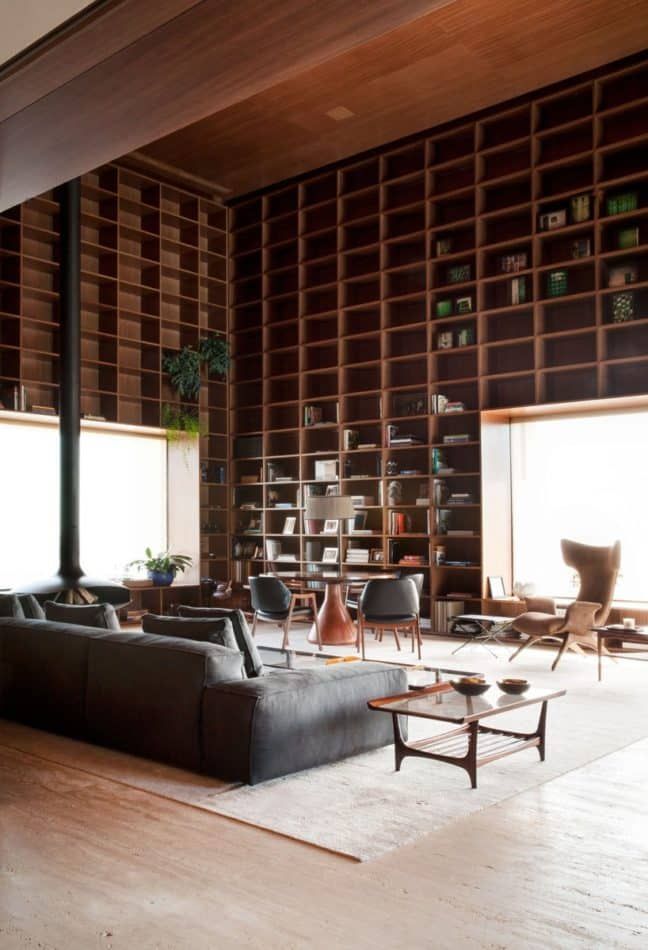 There is an astounding amount of storage in the library of this Brazilian penthouse by Studio MK27, a double-height space for which they designed floor-to-ceiling built-in shelving. The NeoWall sofa is by Piero Lissoni and the Ondine 530 chair by Vladimir Kagan.
Photo by Jonas Bjerre-Poulsen
---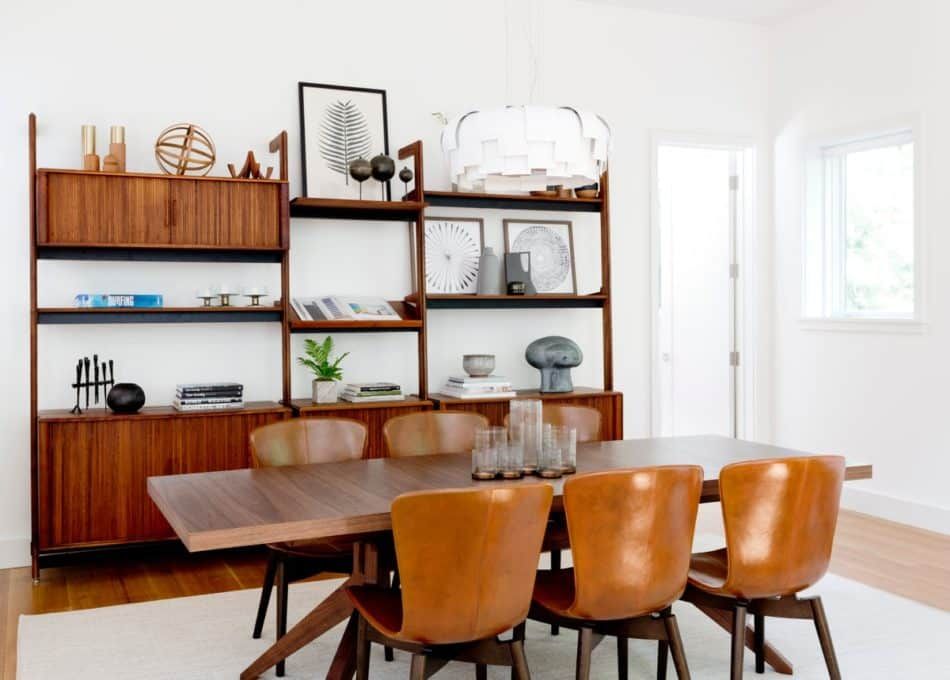 The shelving unit in this East Hampton, New York, dining room by Timothy Godbold combines open and closed components, so it doubles as a display space as well as a storage unit. A Fontana Arte Wig suspension lamp by Chris Hardy hangs over the table.
Photo by Rikki Snyder
---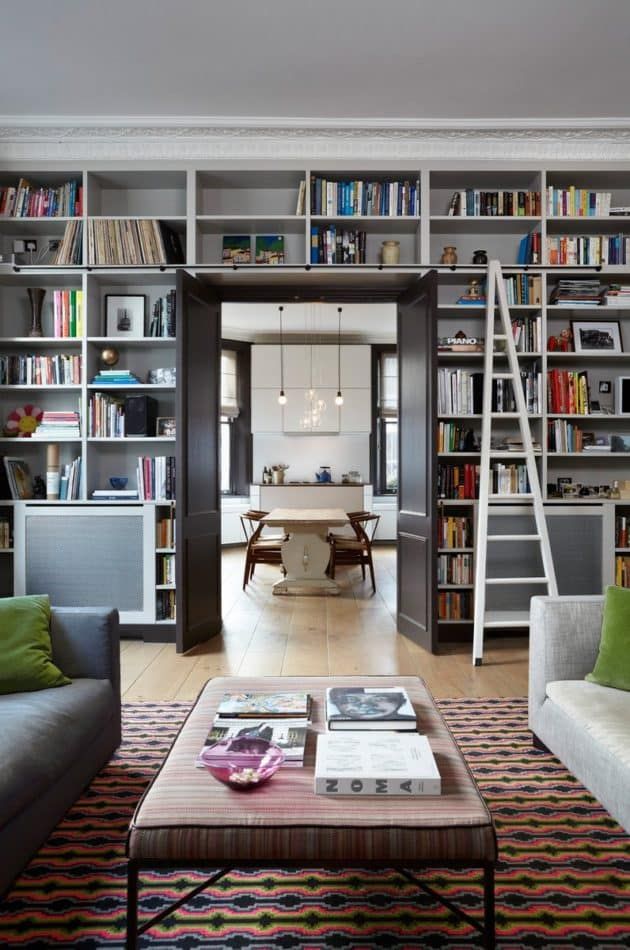 "At Sigmar, we always like to include storage in our projects as it helps to keep spaces uncluttered," says Barbara Braeunlich, a designer at Sigmar, who adds that books give homes a "lived-in feel." The firm designed the custom bookshelf and ladder in this London flat. Through the doors, the dining area features a vintage table and Hans Wegner wishbone chairs.
Photo by Petr Krecji
---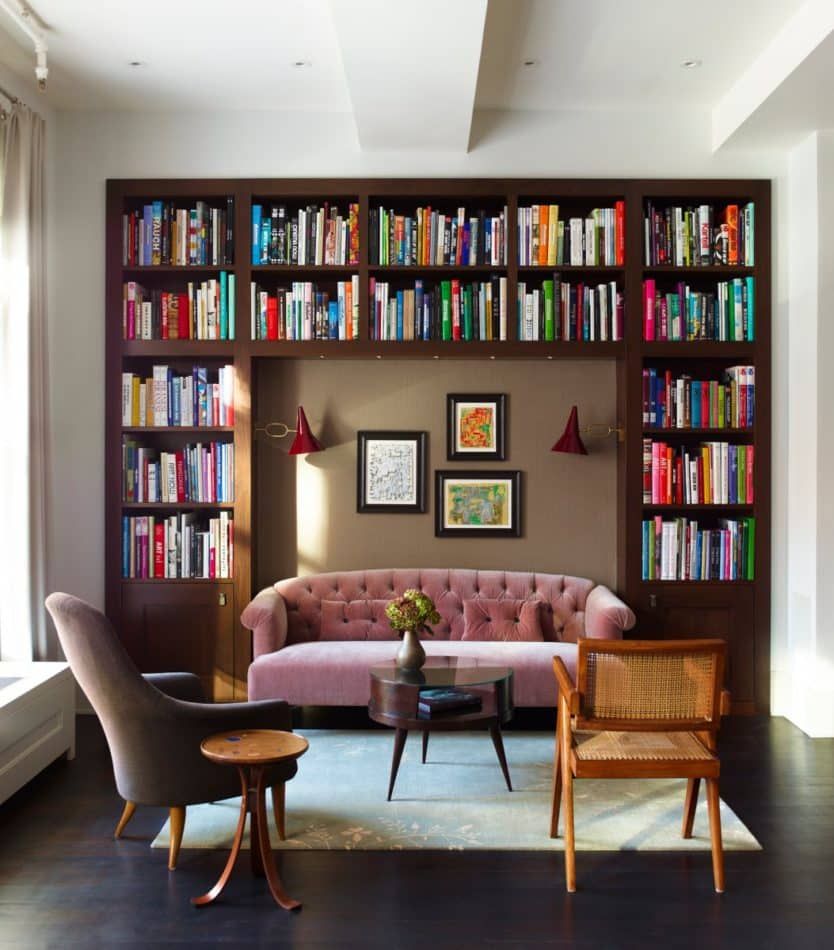 "We provide a solution for each unique situation," says Damon Liss, who designed this Tribeca loft for his family. "Sometimes custom millwork, like this photo, is ideal to achieve a library feel. In other spaces, it might make sense to select a beautiful vintage cabinet." The living room features his custom millwork, and the space also includes Kerstin Hörlin-Holmquist's Adam armchair, a teak conference chair by Pierre Jeanneret and a Martin Eisler coffee table.
Photo by Eric Piasecki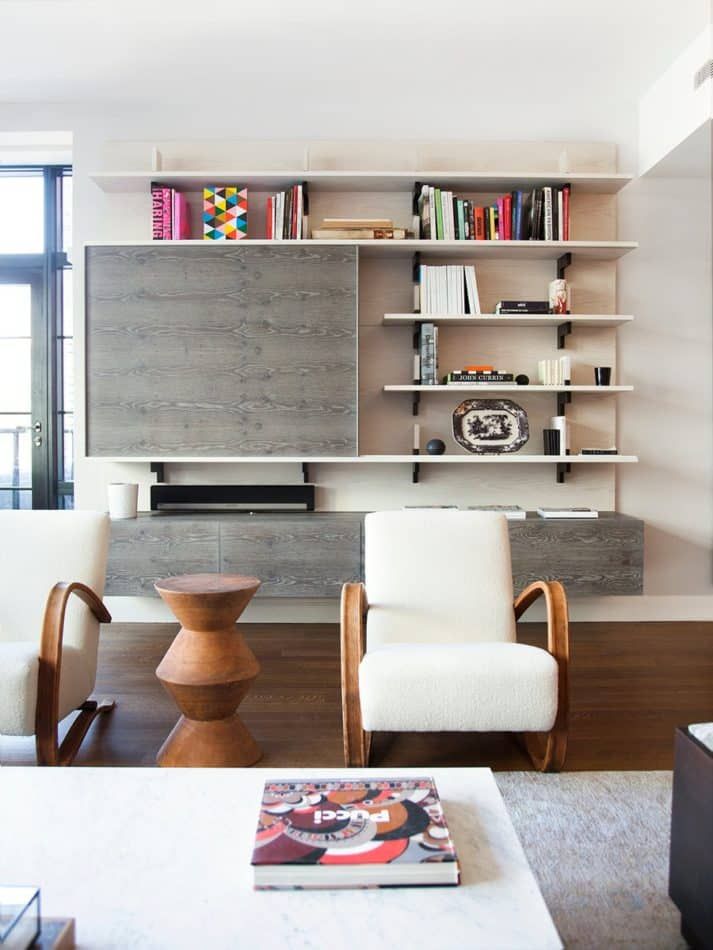 Ashe + Leandro designed this apartment for a family in New York's West Village, and the living room features custom bookshelves by Robert Pluhowski.
Photo by Miha Matel
---
"I love to have a space for everything so planning for storage is a big part of my design process," Shawn Henderson says. For this Manhattan family room, he designed built-in desks and shelving. The sofa is by Dunbar and the coffee table is by Paul Frankl.
Photo by Steve Freihon
---
The study of this historic Harlem townhouse designed by Sheila Bridges features a cabinet with glass-paneled doors that displays books, art and objects. The room also includes textured wall covering by Phillip Jeffries and mahogany floorboards.
Photo by Dana Mejelison
---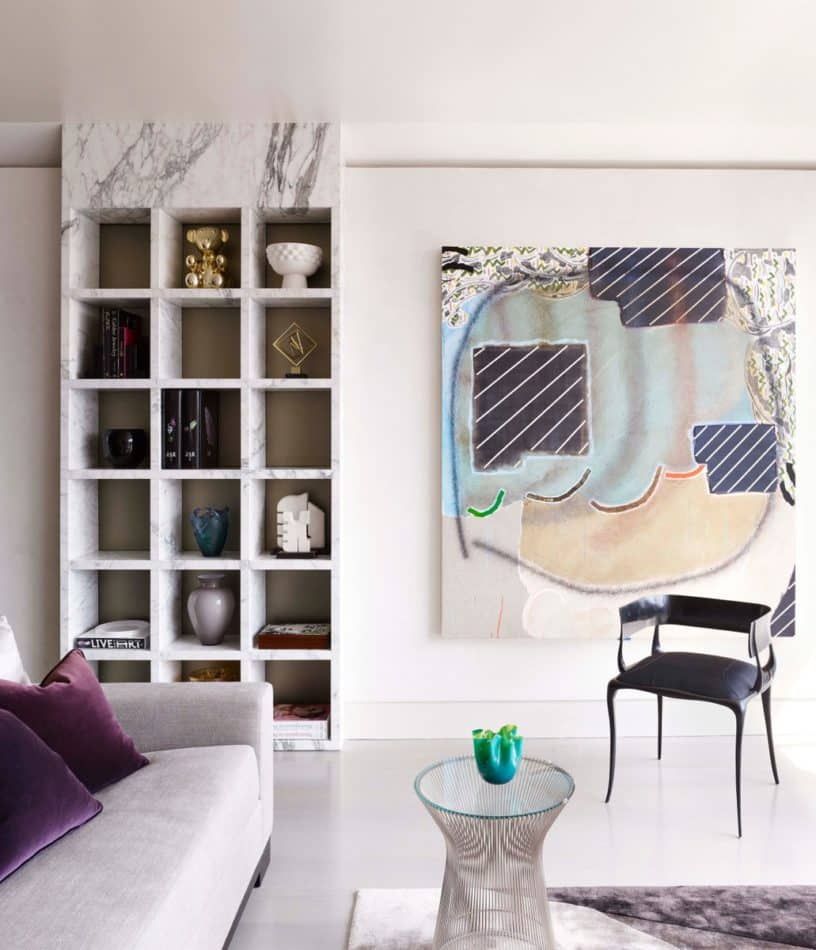 Rafael de Cárdenas designed the marble shelving unit in the living room of an apartment in Manhattan's Olympic Tower high-rise. The room also includes a Christian Liaigre sofa, a Warren Platner side table and a Paul Mathieu Aria armchair.
Photo by Bjorn Wallander
---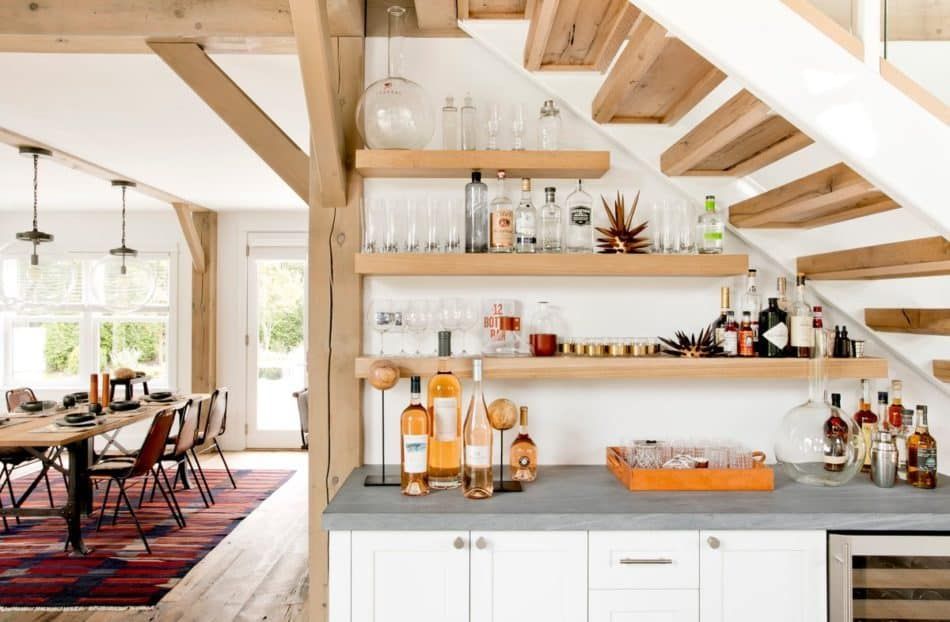 Timothy Godbold transformed a small space under the stairs into a bar nook in this Sag Harbor, New York, home. The open shelving, which mimics the open steps, features bottles, glass accessories from the Future Perfect and spiky sculptural pieces from Towne Palm Springs. There's also a wine fridge and beer from local Montauk Brewing Company on tap.
Photo by Rikki Snyder
---
"Use the art of display to arrange your things in a curated way on open shelving rather than squirreling everything away," says Sophie Ashby of Studio Ashby, who took her own advice in this London mews house. She highlights geodes, a silver tea set, drawings and more on this shelving unit.
Photo by Philip Durrant
---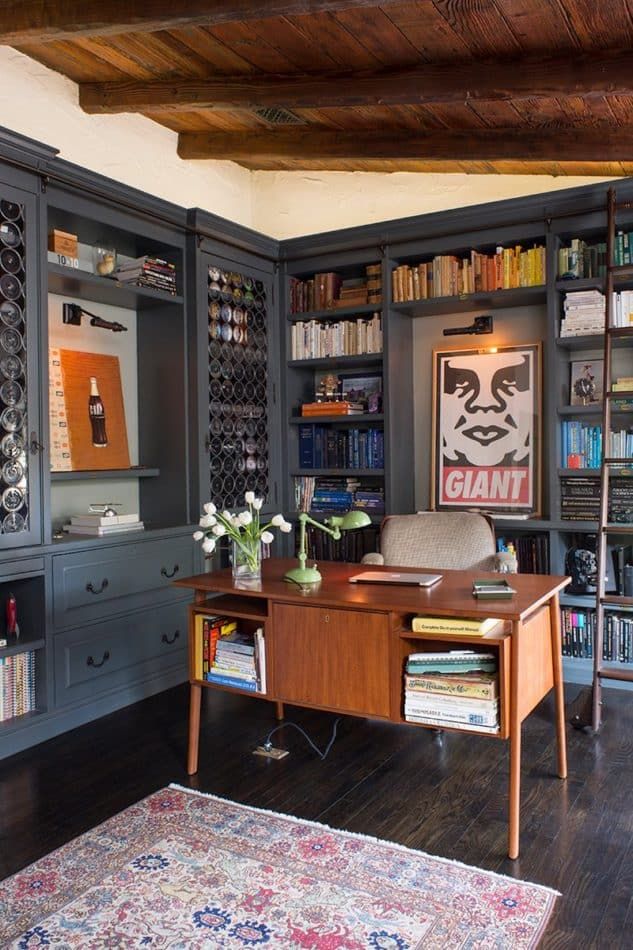 "When you have the height, even in a small space, my favorite way to add storage is to go high and line the walls with bookshelves," says Deirdre Doherty, who updated this Spanish bungalow in Los Angeles. "If you are worried it will feel heavy, add an element like glass or mirror to reflect light and add dimension," explains Doherty, who did just that with these cabinet doors. The mid-century modern desk offers additional storage. "We loved the Mad Men vibe and the open and closed shelving."
Photo by Meghan Beierle O'Brien
---
Shawn Henderson designed the built-in bookcases in this Manhattan apartment with a wood backing to add warmth to the space. The room features a custom sofa and Ward Bennett swivel chairs.
Photo by William Waldron
---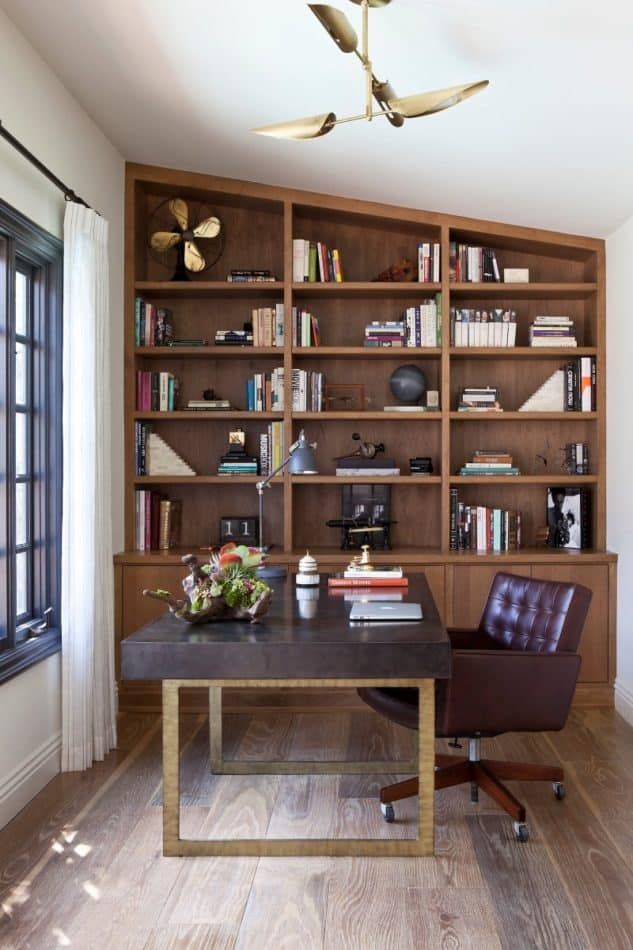 "We love a combination of cabinets with open bookshelves because it allows you the opportunity to make storage a focal point in the room," according to Brown Design Group. "Great books and objects deserve to be featured, and the discreet cabinetry on the bottom is perfect for tucking away those certain belongings that are less than display-worthy." The firm custom made the storage wall in this Santa Monica, California, home, which includes a desk from Julian Chichester and a vintage chair by Vincent Cafiero for Knoll.
Photo by Matt Weir
---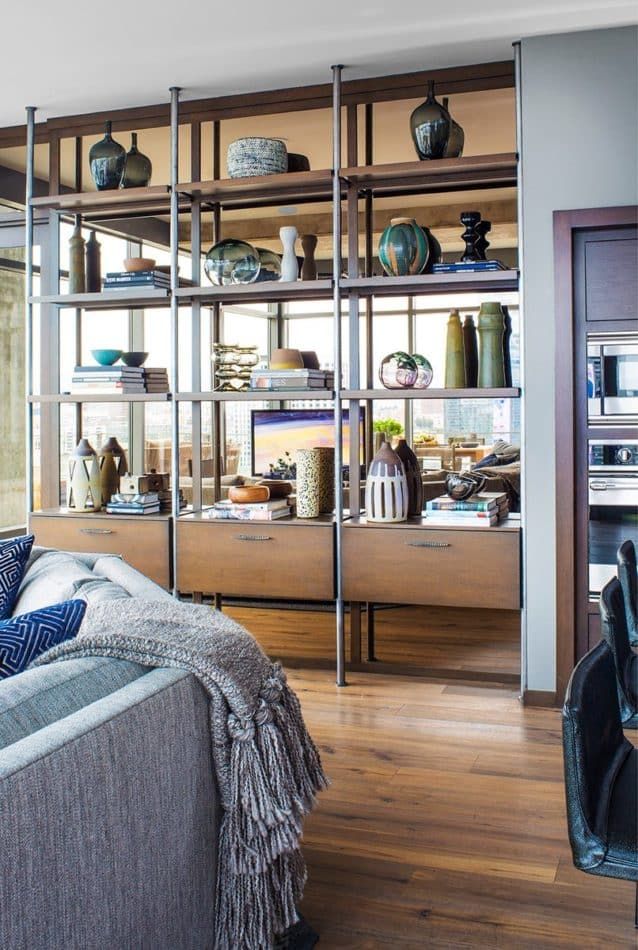 "My favorite way to add storage is to do it as inconspicuously as possible," says Jeff Andrews, who designed this shelving unit of oak and pewter-plated steel with a bronzed mirrored backing for a loft in downtown Los Angeles. The shelves feature ceramic pieces by Adam Silverman, Victoria Morris and Heather Levine.
Photo by Grey Crawford
---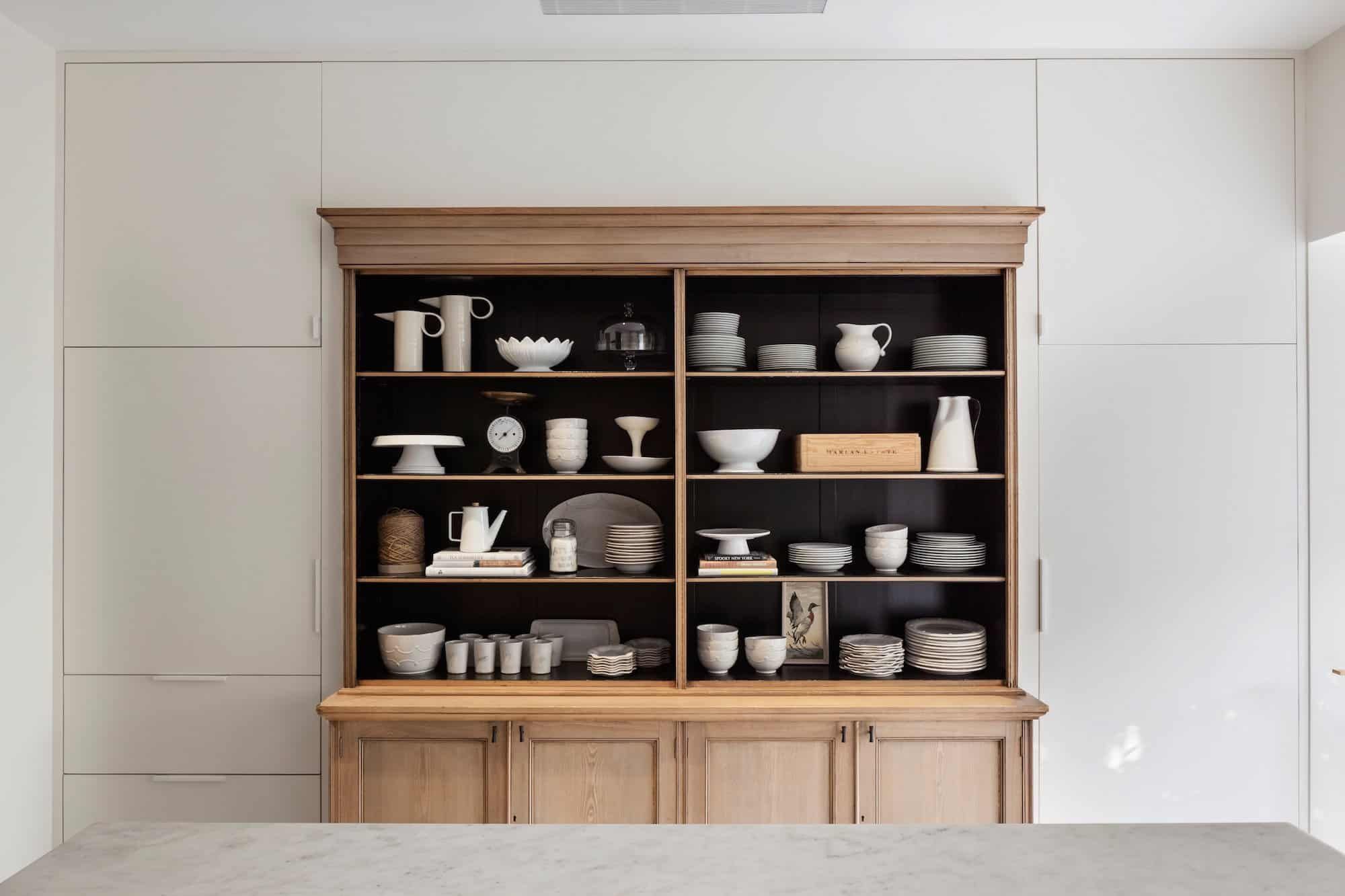 "My favorite way to add storage space to a room is partially hidden storage and partially open," says Tamara Eaton, who designed the kitchen of this townhouse in Brooklyn's Park Slope neighborhood. Eaton updated the vintage case piece that the homeowners purchased in the United Kingdom by painting the inside black and replacing the hardware. "Introducing storage that is beautiful to look at is an important element of the room to create layering. However, most items are functional and don't need to be displayed, so quiet, hidden storage is a lovely way to disguise all the necessities of life."
Photo by Francis Dzikowski
---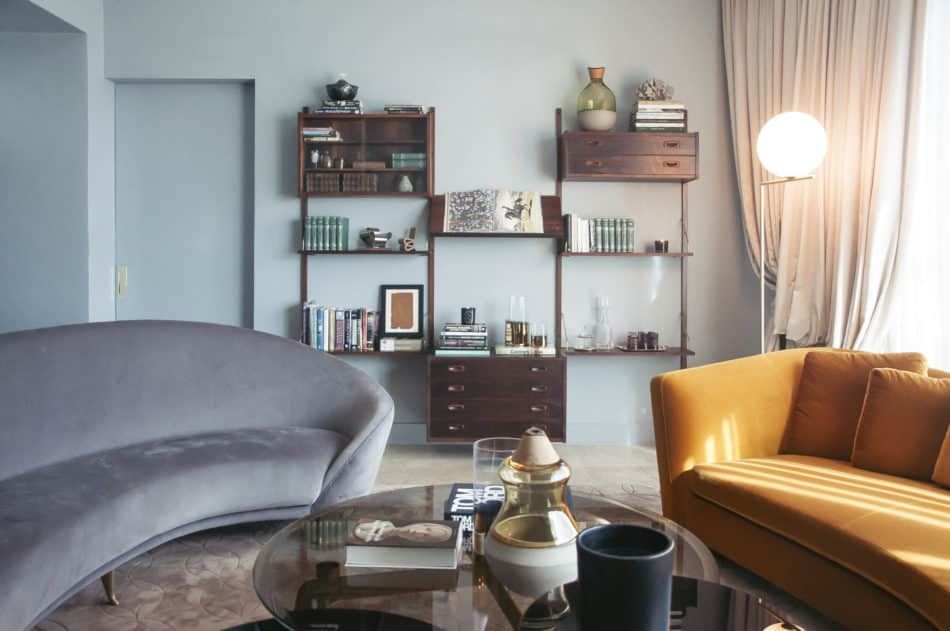 Desiree Casoni added storage and display space to this living room in the Dominican Republic with a rosewood wall unit by Peter Sorensen. "It is vital for the soul to be in daily contact with books," she says. "In addition, objects acquired in travels or on an ordinary day allows for memories to be present in the family's routine, sparking conversations and contemplation."
Photo by Victor Stonem
---
Alexandra Loew designed the living room of this downtown Manhattan loft for a collector, and it needed to have plenty of built-in shelving to store and show off books, objects and artwork. A side table with open shelves holds even more books.
Photo by Simon Upton