This West London flat by the design firm Sigmar mixes clever storage solutions — note the fireplace wine rack — with textured wall coverings and Modernist pieces, inlcuding a Thonet chair, a Henning Larsen chandelier and a "comfort-oriented" Osvaldo Borsani lounger.
Photo by Petr Krecji.
---
This Park Avenue apartment by Shamir Shah thoughtfully combines a green Vladimir Kagan sofa, a Caste Design coffee tables and a pair armchairs by Milo Baughman to create an air of "functional modernism."
Photo by Manolo Yllera.
---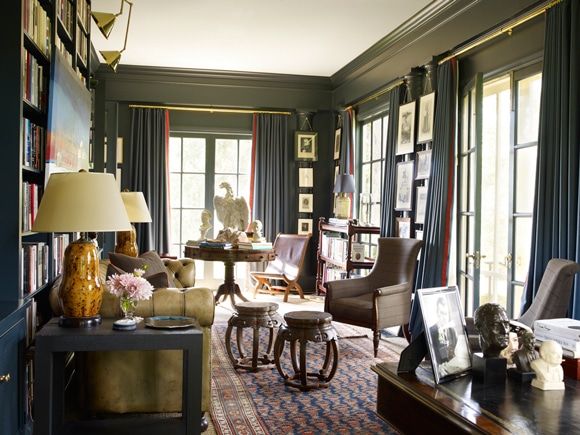 Brockschmidt & Coleman designed this marine blue-hued Nashville study for an author with a large collection of presidential memorabilia. The antique Chesterfield sofa is circa 1890, and was purchased at Lee Stanton Antiques, and the round English Regency pedestal table, circa 1830, was sourced at O'Sullivan Antiques. The large terra cotta eagle, at the rear of the photo, was salvaged from a Philadelphia building.
Photo by William Waldron.
---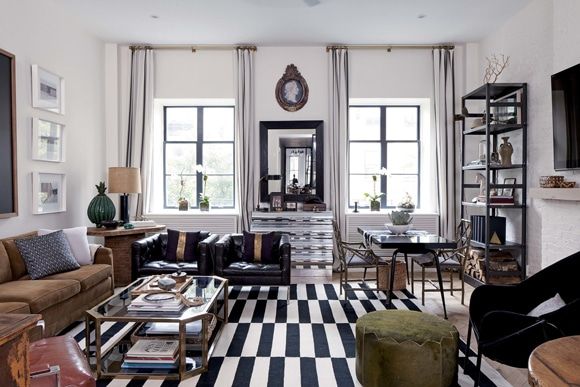 In the living room of Nate Berkus's former Greenwich Village townhouse, the designer placed a green mohair pouf by Henry Begulin alongside a 1950s French desk, a 1950s corduroy-upholstered Danish sofa, a 1970s smoked glass and brass coffee table and vintage Hermès and Louis Vuitton from the 1940s and 1950s. The 19th-century terra cotta Italian plaque (between the windows) is currently for sale via Berkus's 1stdibs storefront.
Photo by Roger Davies.
---
Brown Design Group designed this "masculine, warm and inspiring" study for a Santa Monica-based writer. The desk is by Julian Chichester and the executive chair is a vintage Vincent Cafiero for Knoll design.
Photo by Matt Weir.
---
In this 1881 Victorian home in St. Helena, California, Katie Martinez used a 1950s Nanna Ditzel armchair, a vintage Moroccan rug and oak burl-top coffee table to create an unfussy, eclectic sitting room.
Photo by Drew Kelly.
---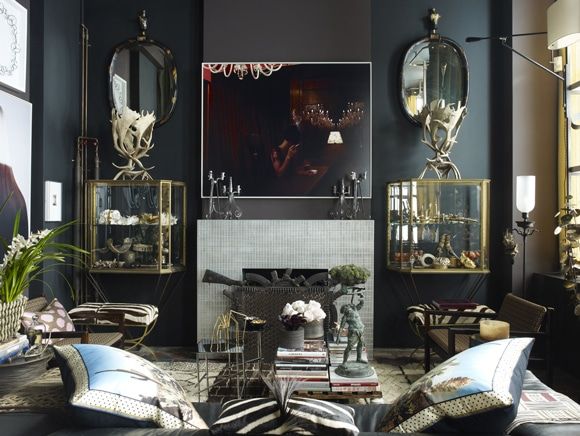 Designer Hubert Zandberg's own London townhouse reflects both his passion for collecting, as well as his South African heritage. The eclectic sitting room mixes contemporary art, animal ephemera and vintage weaponry for a chic, cabinet-of-curiosities effect. The oval mirrors are by Tommi Parzinger and the cushions are upholstered in Paul Smith fabrics.
Photo by Simon Upton.
---
In a late 19th-century Arts & Crafts building in Amsterdam, Riviere interiors sourced vintage volumes from a numbers of eras to create a patinated library space reminiscent of Dutch colonial style. Trompe l'oeil shelves line the back of the door.
Photo by Elizabeth Zeschin.
---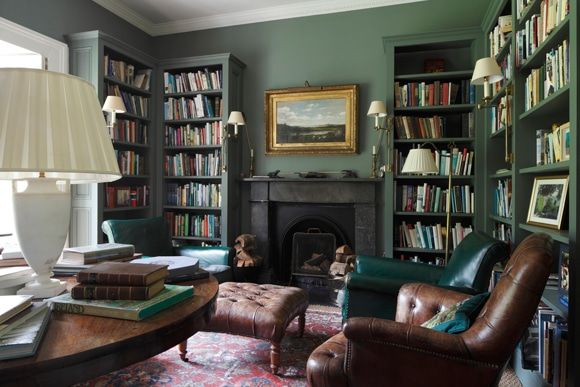 For a home on the Irish coast, Devas Designs created a study that was inspired by the dusky palettes of the Bloomsbury Group artists, as well as the sets for Virginia Woolf's home in the film The Hours. The blue, green and gray tones subtly evoke the seaside setting.
Photo by James Balston.
---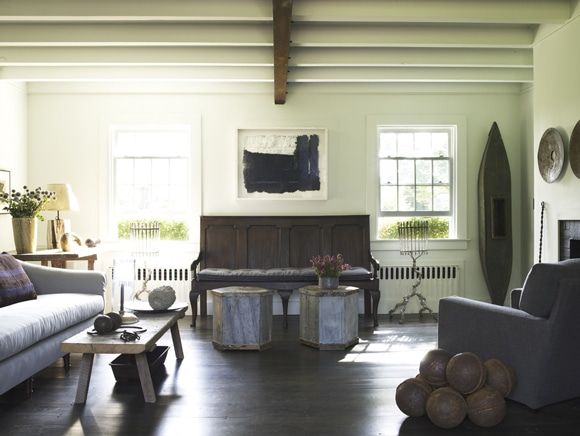 When renovating this Bridgehampton living room, Huniford Design Studio uncovered a Corten steel ceiling beam that recalled the work of artist Richard Serra. The room's other furnishings reflect a similar refined-slash-industrial style, including an 18th-century settee and metal painter's stools. The black and white collage is by Ingrid Pritzer.
Photo by Pieter Estersohn.
---
Sheila Bridges designed this mahogany-paneled library in New York City's Gramercy Park to resemble a traditional men's club. The leather club chairs are antique, and the desk is a circa-1840 writing table from Ireland.
Photo by Dana Meilijson.
---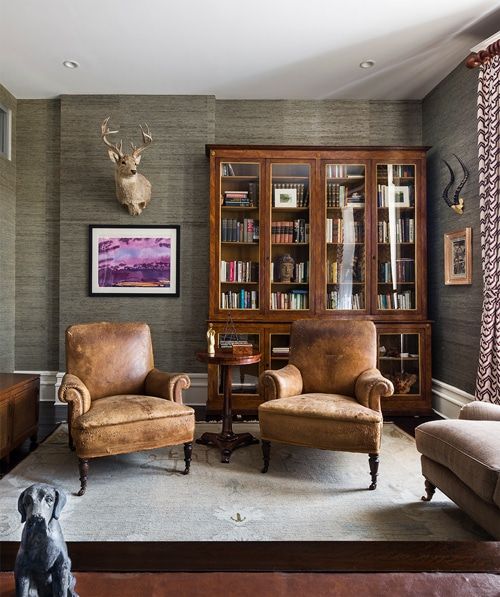 A textured wall covering by Phillip Jeffries and mahogany floorboards add gentlemanly appeal to this historic Harlem townhouse, also by Bridges.
Photo by Dana Mejelison.
---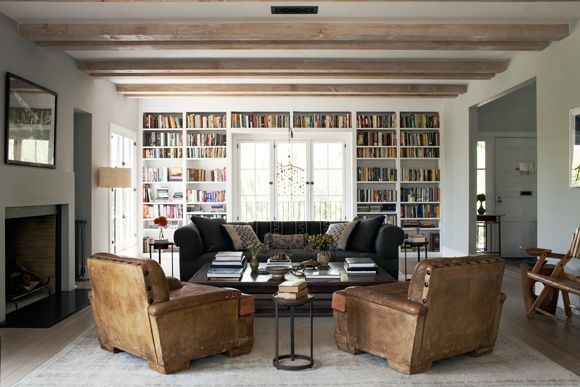 Kishani Perera collaborated with her client on this inviting-yet-masculine living room in Los Feliz, California, where two leather club chairs from J.F. Chen take center stage.
Photo by Joe Schmelzer.
---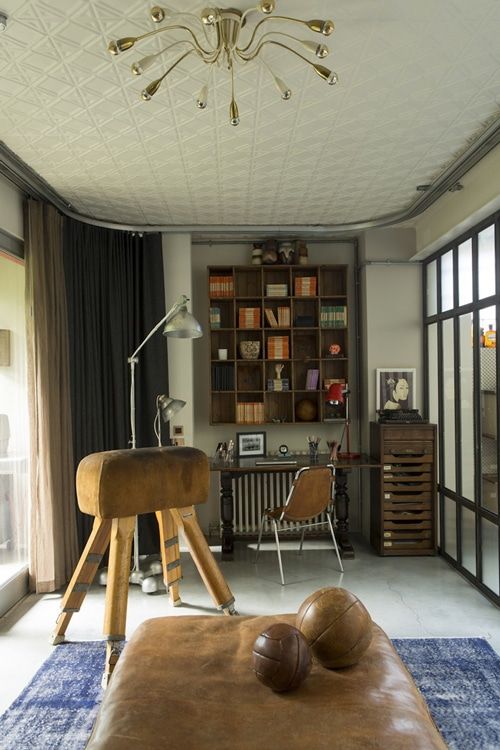 In this London home — a converted early-20th century factory building — Maddux Creative ably layered vintage gymnastics equipment and a mid-century chandelier over industrial finishings like concrete flooring and pressed tin ceilings.
Photo by Ricardo Labougle.
---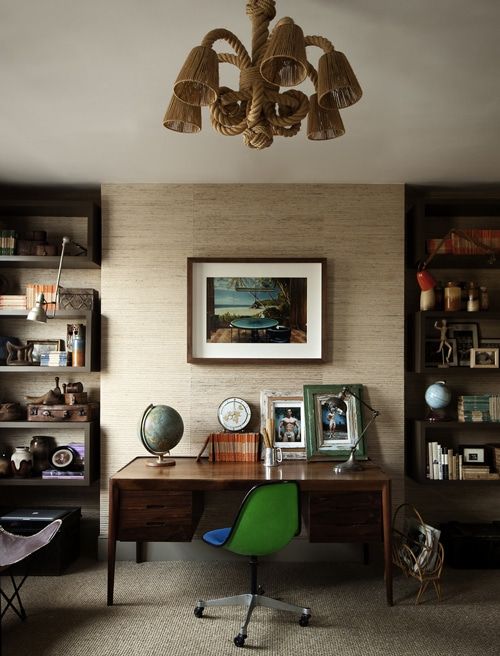 In another Maddux Creative-design project in London, the firm used an eclectic array of objets and furnishings to evoke a sense of history and worldliness.