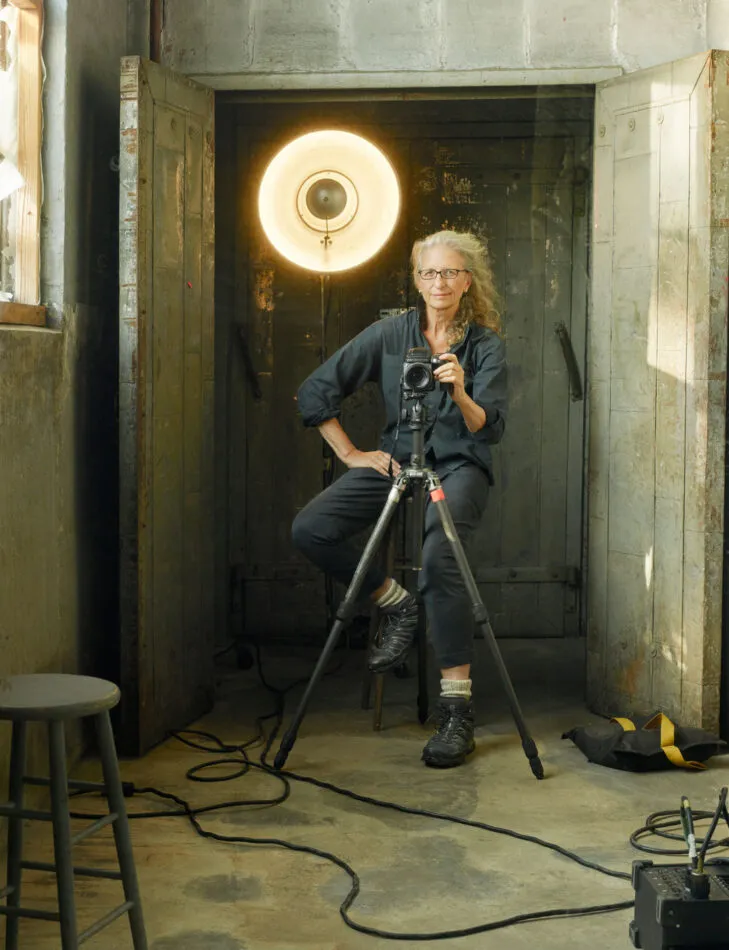 For more than five decades, Annie Leibovitz, arguably the best-known portrait photographer in the world, has used carefully staged sets, unmatched lighting and conceptual approaches to create images that demand — and hold — our attention.
Leibovitz studies her subjects for days before a photoshoot, thinks through the details of each picture and then brings her vision to life on the day of the shoot. "Working with Annie isn't for the faint of heart. Annie never wants to have regrets," says her set designer of 30 years, Mary Howard. The careful planning shows.
Leibovitz was just a student in the 1970s when her photos were published for the first time: pictures of Vietnam War protesters in Israel, taken on assignment for Rolling Stone, one of which landed on the cover. Since then, she has captured film stars, politicians, athletes, royalty and artists for features and cover stories in other major publications, including Vanity Fair, Vogue and Time. To be seen through Annie Leibovitz's lens has become a hallmark of true fame.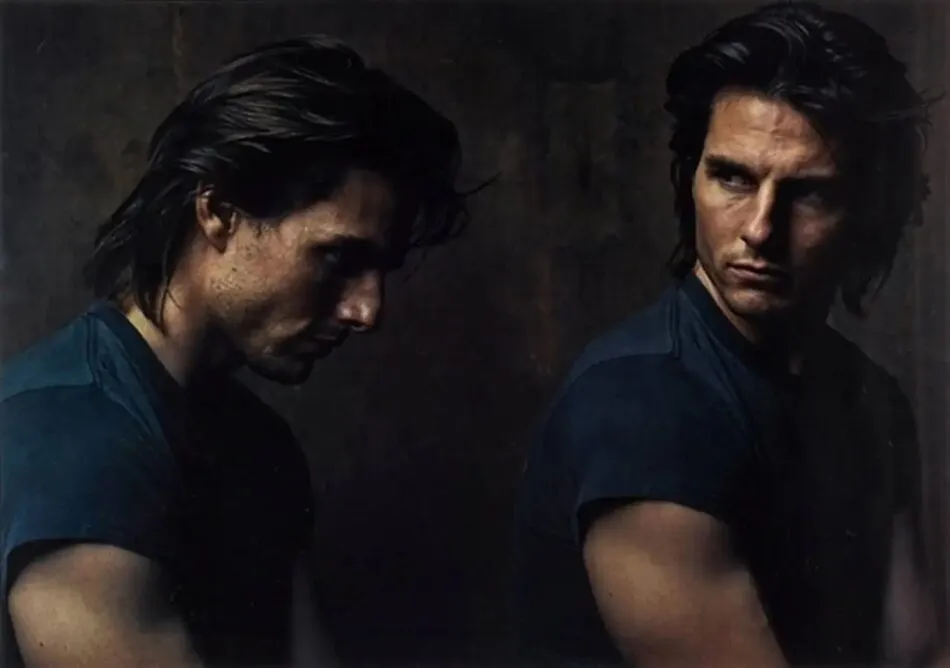 Although she has technically inched past the age of retirement, Leibovitz shows no signs of slowing down. Consider her recent portraits of famous artists — Amy Sherald, Cindy Sherman, James Turrell — on view in "Annie Leibovitz at Work," a retrospective of her photographs at the Crystal Bridges Museum, in Bentonville, Arkansas, now through January 29. And don't forget the buzz over the gorgeous, groundbreaking 2015 photos she took of Caitlyn Jenner for Vanity Fair.
Throughout her career, Leibovitz has created work that sparks a cultural conversation, whether the tone is outraged, admiring, shocked or some amalgam of all three. Here, we take a look back at 11 of Leibovitz's most widely discussed portraits.
---
1. Demi Moore, 1991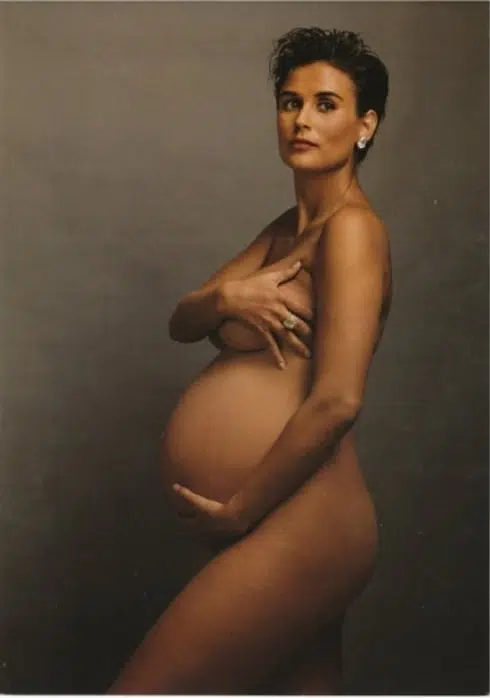 When Leibovitz photographed Demi Moore for the cover of Vanity Fair, in August 1991, editors at the magazine worried about showing the actress's seven-month-pregnant figure. So, they asked Leibovitz to shoot a tightly cropped portrait of Moore's face.
Leibovitz spent a day trying to do as they directed before suggesting that Moore — with whom she had a close relationship — disrobe. The arresting, unapologetic result became one of the most discussed magazine covers in history.
Leibovitz herself is skeptical of the photo's quality. In 2012, she said, "It was a popular picture, and it broke ground, but I don't think it's a good photograph per se. If it were a great portrait, she wouldn't be covering her breasts. She wouldn't necessarily be looking at the camera."
---
On December 8, 1980, Leibovitz was commissioned by Rolling Stone to photograph John Lennon and Yoko Ono as part of the promotion for their joint album Double Fantasy. Leibovitz had hoped that both would pose nude, but Ono was uncomfortable with shedding her clothes that day. Her reluctance led to a legendary improvisation.
Of the experience, Leibovitz has commented, "I was kinda disappointed, and I said, 'Just leave everything on.' We took one Polaroid, and the three of us knew it was profound right away."
It was the last photo ever taken of Lennon. Later that evening, he was shot and killed outside the New York City apartment building where he lived. The magazine ran the haunting image (sans headline) as its cover the following month.
---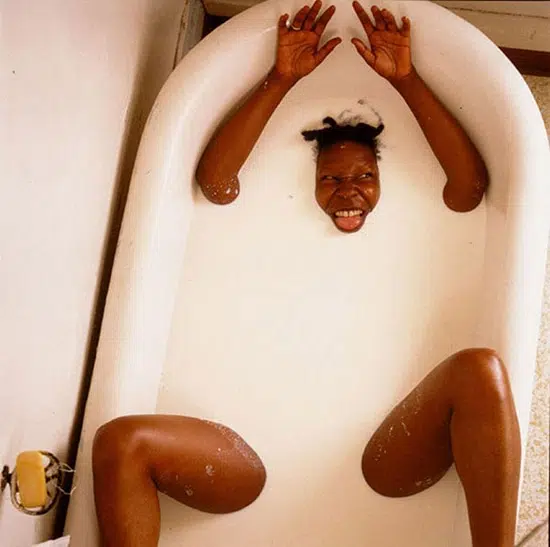 In 1984, Whoopi Goldberg was an up-and-coming comedian, drawing comparisons to Richard Pryor and Lenny Bruce for her raw, racially charged routines. Assigned by Vanity Fair to photograph the young talent, Leibovitz was inspired by a poignant Goldberg set piece in which she joked about trying to bleach her skin with Clorox.
The photographer decided to use milk for the portrait after a friend in advertising told her it registers as true, opaque white in photographs. Although the picture's political implications were deliberate, Goldberg's exuberant pose was not: The actress slipped while getting into the milk-filled bathtub. Of the moment, Leibovitz has said: "And I went, Oh, my goodness, this is graphically amazing and interesting."
---
4. Miley Cyrus, 2008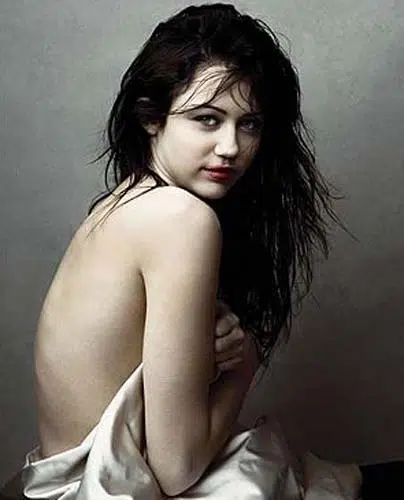 Given the transformation of pop star Miley Cyrus in the intervening years, the uproar caused by Leibovitz's 2008 portrait of the singer for Vanity Fair seems almost quaint.
At the time, Cyrus's young fans — and, presumably, their parents — were scandalized to see the teenage singer and actress, who starred in the Disney Channel's Hannah Montana, pose with only a satin bed sheet covering her torso.
A Disney spokeswoman blamed Leibovitz and the publication for "deliberately manipulat[ing] a 15-year-old in order to sell magazines."
Leibovitz and Vanity Fair issued a joint statement defending their work: "I'm sorry that my portrait of Miley has been misinterpreted. Miley and I looked at fashion photographs together, and we discussed the picture in that context before we shot it. The photograph is a simple, classic portrait, shot with very little makeup, and I think it is very beautiful."
Following the recent release of her single "Used to be Young," Miley Cyrus reflected on some of the pivotal moments of her two-decade career. It's no surprise that Annie Leibovitz's photographs — which the singer calls "really brilliant choices" — made the list.
---
5. Gisele Bundchen and LeBron James, 2008
The April 2008 cover of Vogue paired supermodel Gisele Bundchen with basketball phenom LeBron James in a Leibovitz image that, to a casual observer, simply looked like a clever, casual fashion photograph.
Closer viewers, however, noticed that Leibovitz had included in the photo visual references to the 1933 version of King Kong, recasting James as the titular character and reimagining Bundchen — right down to the bias-cut silk gown — as a modern-day Fay Wray.
Critics were divided. One camp maintained that Leibovitz and Vogue were recklessly propagating disturbing racial stereotypes, while others suggested it was a progressive upending of those tropes. Leibovitz has remained mum on the issue.
---
6. Bob Marley, 1976
Annie Leibovitz's photographs of Bob Marley capture the reggae musician's essence as a cultural icon and trailblazer. The photos, taken in 1976 for Rolling Stone during Marley's Rastaman Vibration tour, capture his charisma and the energy that connected him to his audience.
"I staked out his dressing room for two days," Leibovitz has said of her efforts to get the singer to pose for her. She succeeded, and her expert eye caught on film what the audience experienced live: Marley's passion. The photographs celebrate Marley as an artist and a human being, as an advocate for social justice and hope.
---
Taken in 1997, the year the Hollywood megastar and four-time Mr. Universe turned 50, Leibovitz's single photo captured the many facets of Arnold Schwarzenegger.
By posing him amid Idaho's snow-covered ski slopes and mountaintops, Leibovitz created a setting that accentuated Schwarzenegger's chiseled physique and larger-than-life presence.
A few years after the famous image appeared on the cover of Vanity Fair, Schwarzenegger became the governor of California.
---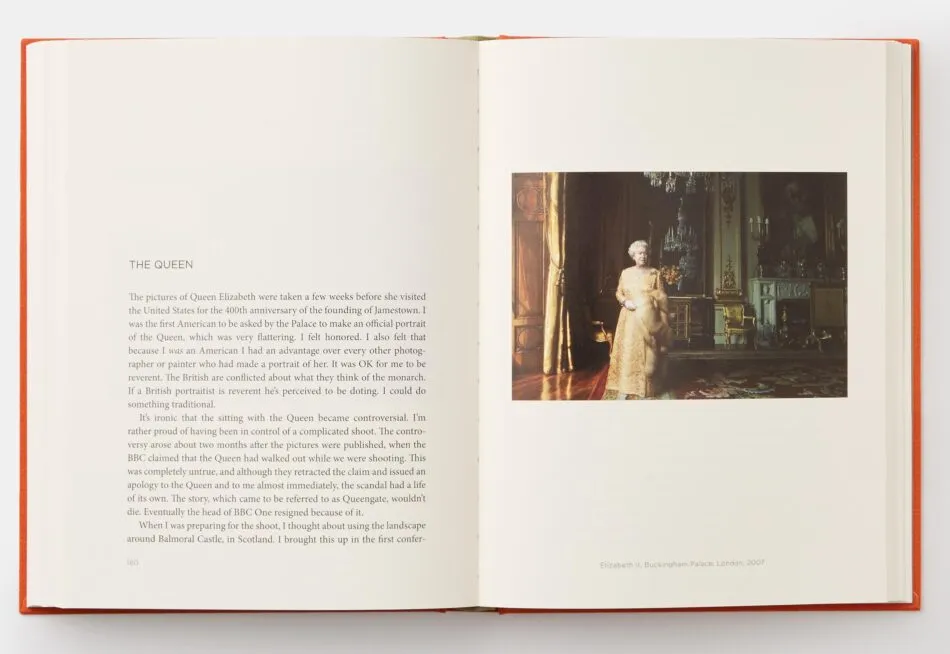 Leibovitz was the first American to receive an invitation from the royal family to photograph Queen Elizabeth II. Her initial concept was to show the Queen on horseback at Windsor Castle.
What she got was a 25-minute sitting at Buckingham Palace with a moody Queen who arrived late, topped off by a miscommunication during the photoshoot about her tiara. The masterful images resulting from the first two sessions don't reveal any of this turmoil.
On the contrary, the Queen's composed posture against the backdrop of a regal room conveys her powerful role and the grandeur surrounding her.
In an interview with Vogue, Leibovitz noted, "I never understood why the Queen asked me to take her picture the first time. I found out when I went in for the second shoot 10 years later." (More on that sitting below.) "I said, why did she ask me? And they said that I had asked. And actually, I had asked five years earlier. I wanted the Queen to sit for my book Women."
---
9. The Royal Family, 2016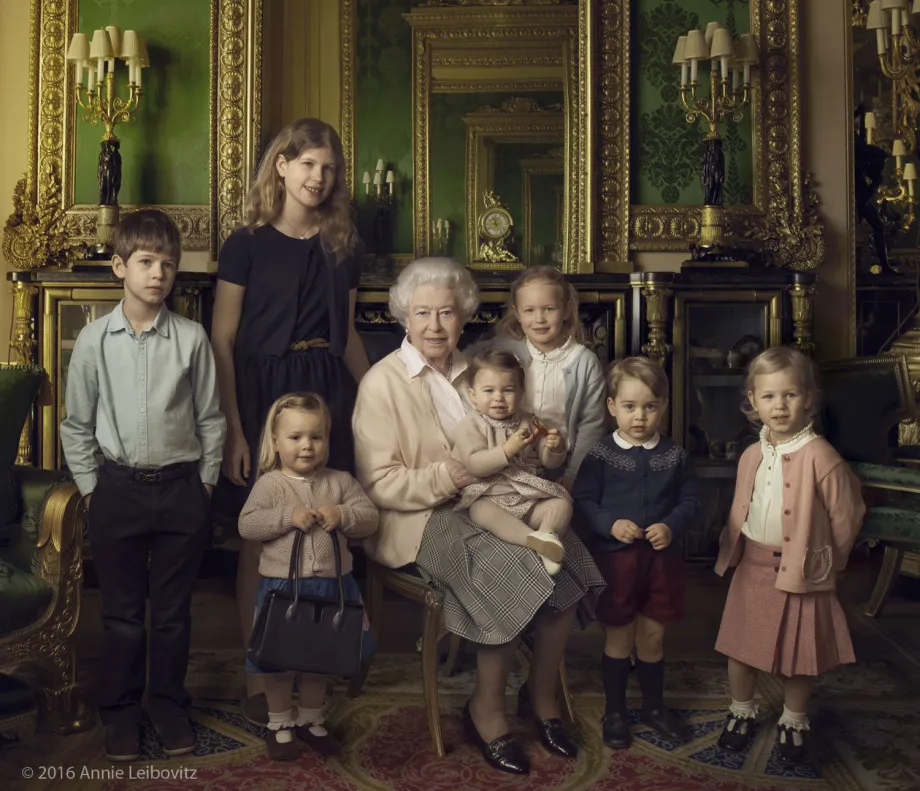 "I remember coming away thinking, I don't know if I did the right thing," Annie Leibovitz has said of her thoughts after her second photo shoot with Queen Elizabeth II.
The resulting image was significantly different from those previously taken of the Queen, who was arguably the most photographed person in the world. In this session with Leibovitz, nearly a decade after the first, the now-90-year-old monarch posed in a variety of intimate and informal settings alongside members of the royal family.
In a recent interview, Leibovitz recalled, "This time, she had ideas for the shoot. She wanted her grandchildren and great-grandchildren and Princess Anne and her corgis. Probably the most endearing sitting on that shoot with her was with the grandchildren."
The departure from tradition in background and posture gave the world a more intimate vision of the monarch. No crown, tiara, cloak or fur coat (except those of her beloved dogs) in sight.
---
10. The Rolling Stones, 1975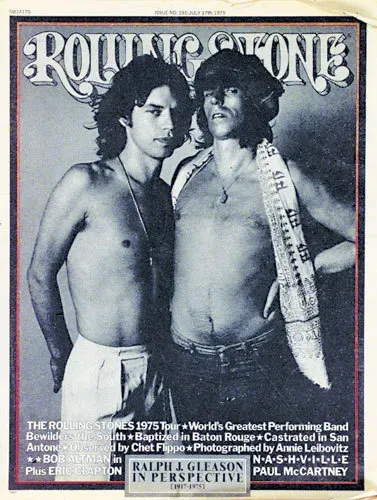 After Leibovitz's first shoot with the Rolling Stones, in the early 1970s, Mick Jagger invited her to be legendary rock band's 1975 tour photographer. Although well used by then to capturing the rock world, Leibovitz found this undertaking particularly demanding.
In the book Annie Leibovitz at Work (Phaidon), which accompanies the Crystal Bridges exhibition, Leibovitz describes the challenges: "You never could take your eye from the camera and you were at the mercy of the lighting people, who were usually on drugs. Plus, you had to be prepared to be crushed by the audience."
Before the last couple of songs, Leibovitz would put all but one of her cameras into her bag to keep them safe. She would then strap the remaining camera to her chest and join the fans rushing the stage.
The images of the tour betray none of the behind-the-scenes chaos. Rather, they reveal the band's electrifying stage presence and present a candid, unfiltered snapshot of the world of rock 'n' roll.
---
Leibovitz had a clear vision for the photos she was commissioned to take of Keith Haring: She wanted the New York street artist to transform his body and surroundings into a work of art — Keith Haring camouflaged within a Keith Haring. The painter agreed, and they met for the shoot in an all-white living room.
Black brushstrokes were added to the furniture and walls by the master himself in less than 45 minutes. He then painted his torso while wearing white painter's pants.
"But it just seemed obvious to both of us at that point that he should paint the rest of him." Leibovitz recounts in Annie Leibovitz at Work. "I loved the way he painted his penis. It was so witty, with an elongated line. The pictures took only a few minutes, and when we finished, Keith didn't want to stop. He said he felt dressed and wanted to go out."
Haring and Leibovitz decided to test the cultural boundaries of 1986 New York City by visiting Times Square with the painter still naked except for paint. Leibovitz expected to get arrested, or at least stopped, within minutes. To her surprise, she writes, "nobody, including a couple of policemen who were there, paid any attention to us."
---
As each of the preceding portraits demonstrates, Annie Leibovitz stands out as singular creator in the world of contemporary photography, with a body of work whose subjects extend from figures in the arts and entertainment to politicians and royalty. Through her lens, moments become narratives, capturing the essence of her subjects in unique, often witty ways.
Her vision, refined technique and crisp style have demonstrated the power of storytelling through photography in the pages of the world's most popular and prestigious magazines, as well as several art monographs.
For more than 50 years, Leibovitz has been a visual chronicler, blurring the lines between photojournalism and fine art and capturing the spirit of both individuals and eras. As she continues to build her legacy, her multifaceted portraits show that a single frame can speak volumes.