The most popular artists on 1stdibs are also some of the most influential figures in modern art. Period. Their instantly recognizable works can be found in the most prominent museums and institutions in the world.
This primer on their sources of inspiration and creative journeys reveals how they each changed the course of art history. Here, we present these creative heavyweights in order of their birth years.
---
Pablo Picasso
One of the most prolific and revolutionary artists the world has ever seen, Pablo Picasso (1881–1973) had a tremendous impact on the development of 20th-century modern art. Although he is best known for his association with the Cubist movement, which he founded with Georges Braque, Picasso's influence extends to Surrealism, neoclassicism and expressionism.
"Every act of creation is, first of all, an act of destruction," the Spanish artist proclaimed. In his Cubist paintings, he emphasizes the two-dimensionality of the canvas, breaking with conventions regarding perspective, foreshortening and proportion.
Picasso was inspired by Iberian and African tribal art. One of his most famous pre-Cubist works is Les Demoiselles d'Avignon (1907), a painting considered immoral and shocking at the time for its depiction of nude women whose faces resemble Iberian tribal masks.
He made many portraits in this style, most often of the women in his life, their expressively colored faces composed of geometric shards of surface planes. In Woman in a Hat (Olga), 1935, he painted his first wife as an assemblage of abstract forms, leaving the viewer to decipher the subject through the contrasting colors and shapes.
Picasso was a tireless artist, creating more than 20,000 paintings, drawings, prints, ceramics and sculptures. Tracing his life's work reveals the progression of modern art, on which he had an unparalleled influence.
---
Joan Miró
With his wide-ranging oeuvre, comprising strikingly original paintings, prints, ceramics, sculptures, metal engravings and murals, Catalan modernist Joan Miró (1893–1983) was a critical force in moving 20th-century art toward complete abstraction. Although often considered an early Surrealist because of his nonobjective imagery and evocation of the subconscious, he defies neat categorization.
Miró's identity is largely rooted in the city of his birth: Barcelona. To this day, a number of his public artworks can be found there, including the 72-foot-tall statue Dona i Ocell (Woman and Bird), 1983. Female and avian forms, along with bright colors and the theme of Catalan pride, are recurring elements in his work.
The radical visual world Miró created with his expressive lines, signature symbols and biomorphic shapes influenced such American Abstract Expressionists as Jackson Pollock and Color Field painters like Mark Rothko and Barnett Newman.
Mirò continued to work and experiment until his death at the age of 90 in 1983. Five years before that, he was quoted saying, "I painted these paintings in a frenzy, with real violence so that people will know that I am alive, that I'm breathing, that I still have a few more places to go. I'm heading in new directions."
---
Salvador Dalí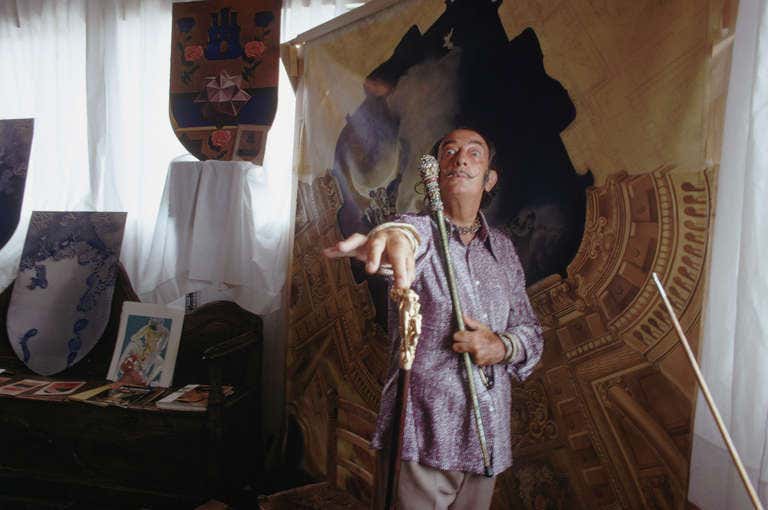 Instantly recognizable by his waxed, upturned mustache, the flamboyant Salvador Dalí (1904–89) is one of modern art's most distinctive figures. He is also one of the icons of the 20-century avant-garde Surrealist movement, whose dreamlike images, drawn from the depths of the unconscious, he deployed in paintings, sculptures, prints and fashion, as well as in film collaborations with Luis Buñuel and Alfred Hitchcock.
Dalí was born in Figueres, Catalonia, and even as a youngster, displayed the sensitivity, sharp perception and vivid imagination that would later define his artworks. In these, he conjured childhood memories and employed religious symbols and Freudian imagery like staircases, keys and dripping candles to create unexpected, often shocking pieces.
His use of hyperrealism in conveying Surrealist symbols and concepts that subvert accepted notions of reality is epitomized in what is perhaps his most recognizable painting, The Persistence of Memory (1931), in which he depicts the fluidity of time through melting clocks, their forms inspired by Camembert cheese melting in the sun. Dalí's artistic genius, eccentric personality and eternal quest for fame made him a global celebrity. "Each morning when I awake, I experience again a supreme pleasure," he once said. "That of being Salvador Dalí."
---
Slim Aarons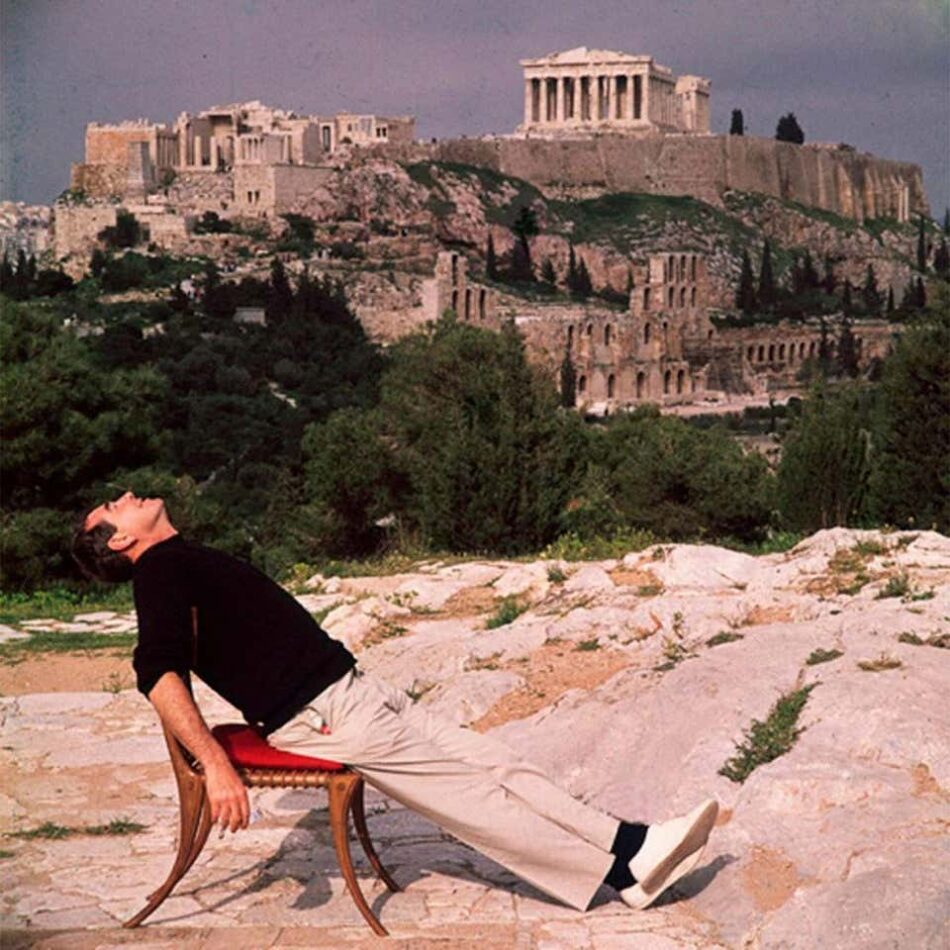 Photographing the rich and famous in luxury locales like Monaco, Saint-Tropez and Palm Beach may seem a frivolous pasttime, but American photographer Slim Aarons (1916–2006) elevated his subjects through candid compositions skillfully exploiting the interplay of light and color. Aarons loved "beautiful people in beautiful places, doing beautiful things," he once said, and he made a successful career out of capturing these moments of visual splendor.
Aarons arrived at his métier by an unlikely route: Having enlisted at 18, he served as an army combat photographer during World War II, earning a Purple Heart. After the war, he moved to California and began shooting socialites and movie stars for publications like Life and Town & Country.
Apart from his sharp visual sensibility, Aarons's greatest asset was his ability to win the trust of his elite subjects, who gave him an extaordinary level of access to their parties and homes.
His best-known photo, Poolside Gossip (1970), depicts two women — Nelda Linsk, the wife of art dealer Joseph Linsk, and Helen Kaptur, who was married for many years to the mid-century architect Hugh Kaptur) — lounging by the Linskes' pool. Bathed in hazy golden sunlight, they are set against the backdrop of the modernist Kaufmann house, designed by Richard Neutra and owned at the time by the Linskes, with the desert mountains of Palm Springs in the far distance. The scene is idyllic, intimate and informal, embodying the casual glamour of the high society Aarons so dearly loved to shoot.
---
Andy Warhol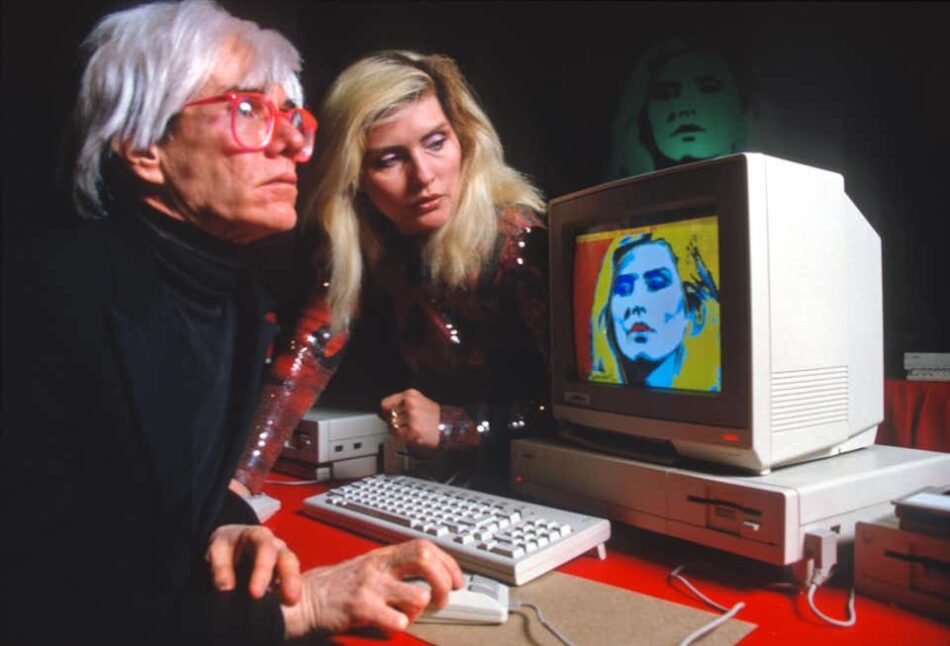 Some of the 20th century's most enduring images were created by leading Pop art figure Andy Warhol (1928–87). His screenprints of luminaries like Marilyn Monroe and Muhammed Ali and consumer culture objects like Campbell soup cans and Brillo pads are instantly recognizable and continue to influence contemporary artists and designers today.
Warhol moved in 1949 from his native Pittsburgh to New York City, where he found work as a commercial illustrator. This experience, combined with his lifelong obsession with celebrities and popular culture, helped shape Warhol's style and subject matter.
One of his most significant contributions was his use of silkscreen printing, a mass-production technique. Warhol overlaid brightly colored inks to produce varying images, which he repeated in large grids in such works as his famed Marilyn Diptych (1962). The process, which removed any traces of the artist's hand from the finished piece, greatly appealed to Warhol. "The reason I'm painting this way is that I want to be a machine," he said in an interview published in ARTnews. "And I feel that whatever I do and do machine-like is what I want to do."
Known as well for his Manhattan studio, The Factory, plus friendships with stars and artists including Jean-Michel Basquiat, not to mention aphorisms like "In the future, everyone will be world-famous for 15 minutes," Warhol was an artist and cultural figure like no other.
---
Hunt Slonem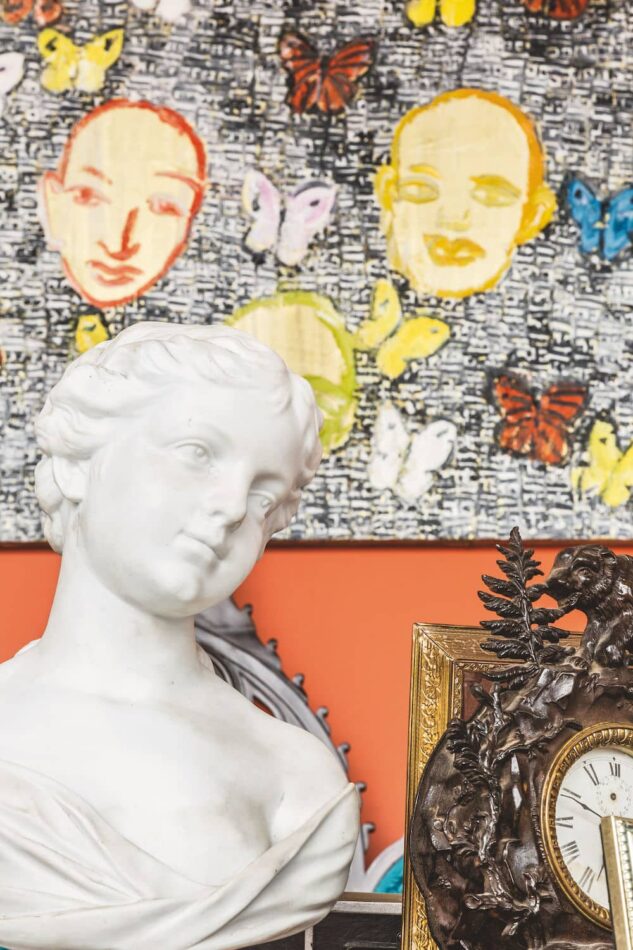 "I believe in repetition like a holy mantra or rosary," neo-Expressionist painter Hunt Slonem (b. 1951) told Introspective, referring to his artistic method. "I am slightly influenced by Pop art, like the repetition of soup cans, postage stamps and celebrities. It's something I have been doing my whole life."
Slonem, who often depicts birds, rendered in thick, gestural brushstrokes and arranged in a loose grid, developed his fascination with tropical avian life during a childhood spent in Hawaii and Nicaragua. Today, his 30,000-square-foot studio in Brooklyn contains an aviary, along with a personal garden, a collection of antiques and walls and walls of artworks.
Besides birds, Slonem also paints bunnies — so many that they've become a signature. Limned in expressive, urgent strokes on flat, vibrantly colored backgrounds, these creatures fascinate through their subtle variations. "I have painted hundreds of rabbits, but each one is different," the artist has explained. "Each has its own personality, and it just comes through me."
The multitalented Slonem also sculpts, makes prints, creates installations and restores historic spaces. His work has achieved cult status among collectors and is represented in the permanent collections of such esteemed institutions as the Metropolitan Museum of Art. The only still-living artist on our list, he has even made an appearance on Real Housewives of New York.
---
Keith Haring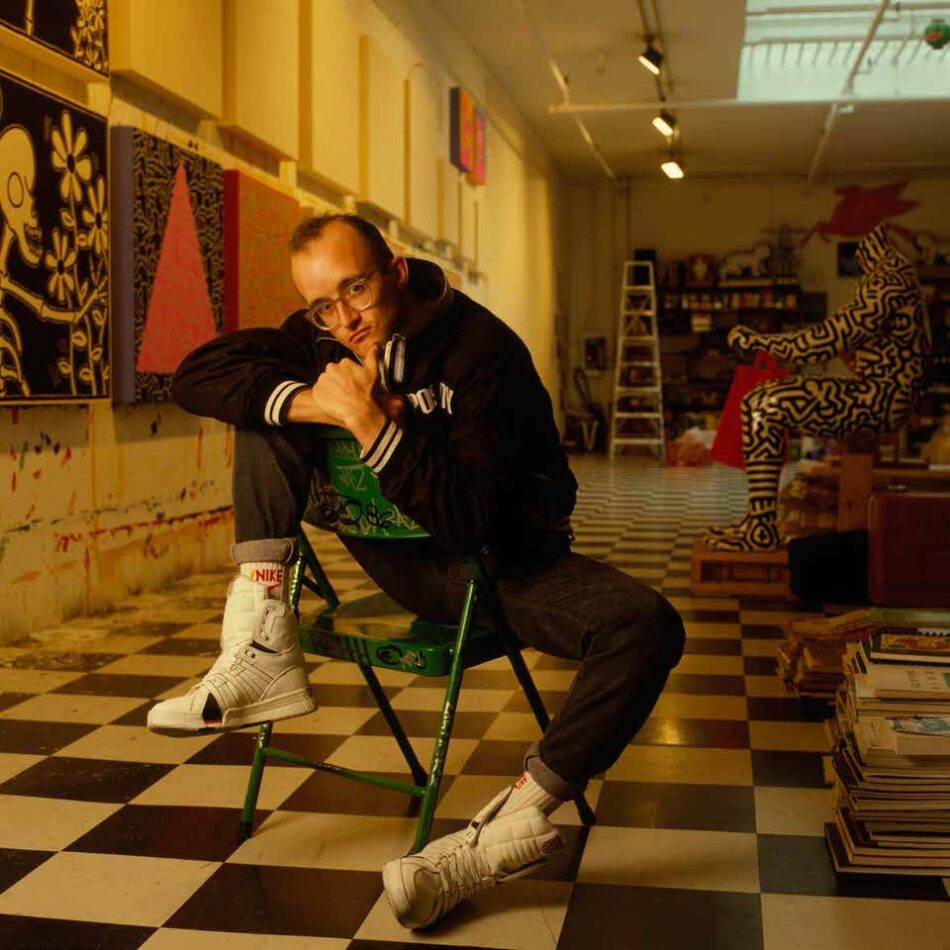 Keith Haring (1958–90) began experimenting with his bold, graphic lines and cartoon-inspired figures on the walls of New York City subway stations in the early 1980s. He called them his "laboratory," places to develop a radical new aesthetic based on an ideology of creating truly democratic public art.
Haring's paintings, prints and murals address the universal themes of death, love and sex, as well as contemporary issues he experienced personally, like the crack-cocaine and AIDS epidemics. They derive much of their impact from the powerful contrast between these serious subjects and the joyful, vibrant pictographic language he uses to express them, full of dancing figures, babies, barking dogs, hearts and rhythmic lines, as well as references to pop culture.
To make his art even more accessible, in 1986, Haring opened the Pop Shop in Soho. In a foreshadowing of today's intermingling of art and fashion, the shop sold merchandise and novelty items featuring imagery by Haring and contemporaries like Kenny Scharf and Basquiat. While his works sometimes included text, for the most part, he chose to communicate through drawing. "Drawing is still basically the same as it has been since prehistoric times," Haring once declared. "It lives through magic."